This post may contain affiliate links. By clicking and making a purchase through the links, I earn a small commission at no extra cost to you. See my disclaimer for more information. This and display ads allow me to keep the site up to date and give back.
Looking for things to do in St. John's, Newfoundland? Let me help you! I grew up in St. John's and love to explore this whimsical city.
Welcome to the edge of North America. St. John's is my hometown and one of my favorite cities in the world.
Home to some of the friendliest people on earth, St. John's has a wonderful atmosphere that will make you fall in love with Newfoundland.
There are so many awesome things to do in St. John's, from hiking, whale watching, and stuffing your face with delicious food.
Free Things to do in St. John's Newfoundland
Enjoy the East Coast trail
While visiting St. John's, you must hike at least a section of the East coast trail. It's an impressive wilderness trail spanning 336 km in length, linking many communities with each other. There are 25 sections of the trail you can hike, ranging from simple day hikes to overnight camping trips. If you're feeling adventurous, you can even trek the trail in its entirety in one go.
Some of my favorite hikes on the east coast trail are Stiles Cove Path from Pouch Cove to Flatrock and 'The Spout', from Goulds to Bay Bulls. On this trek you can see a geyser, which is actually the ocean splashing up through the rock. It's super neat! For a list of all the trails, visit the East Coast Trail website.
View the Narrows from Signal Hill
One of the best views of the city is from on top of Signal Hill National Historic site. You can either walk or drive up. At the top, enjoy the sweeping views of St. John's and the Atlantic ocean.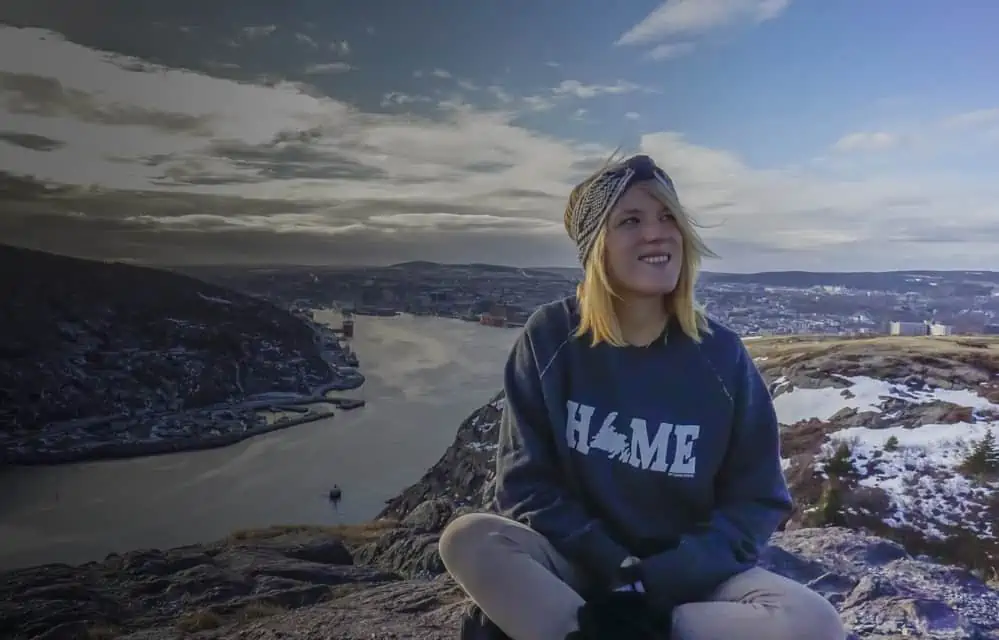 Take the time to walk around the Signal hill trails where you can learn some history via the interpretive signs. Signal hill was the site of the harbor defense from the 17th century to the Second World War, and there are still cannons there which you can see. It's also where the world's first transatlantic wireless signal in 1901!
Address: 230 Signal Hill Rd.
Visit Jellybean Row
Jellybean Row is not one exact place in St. John's but the name of the colorful clusters of houses you can find walking around downtown. Start from Bannerman Park and make your way downtown to Water Street, along the way you will pass by many colorful houses. Be sure to admire all the unique doors.

Have a Bon Fire at Middle Cove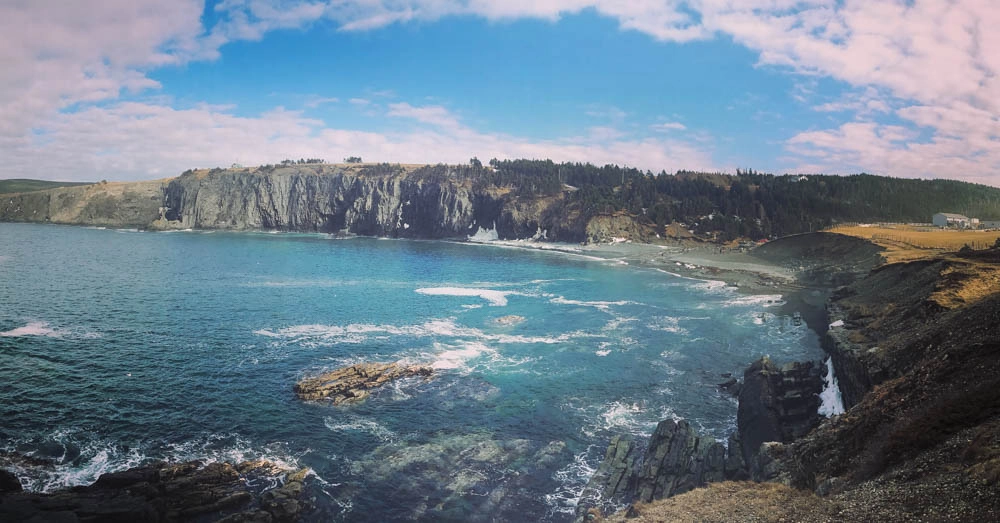 One of the best things to do in the summertime in St. John's is to gather some friends and go to Middle Cove Beach for a bonfire – this is one of my favorite childhood memories. Grab a case of beers, a pack of s' mores, and spend the night sharing stories with friends over a fire. During a summer night, you'll see over a dozen fires along the beach, so get there early to grab your spot.
If you visit St. John's during the winter, Middle Cove Beach is still worth checking out. You can often see beautiful ice caves alongside the cliffs.
Go Iceberg Hunting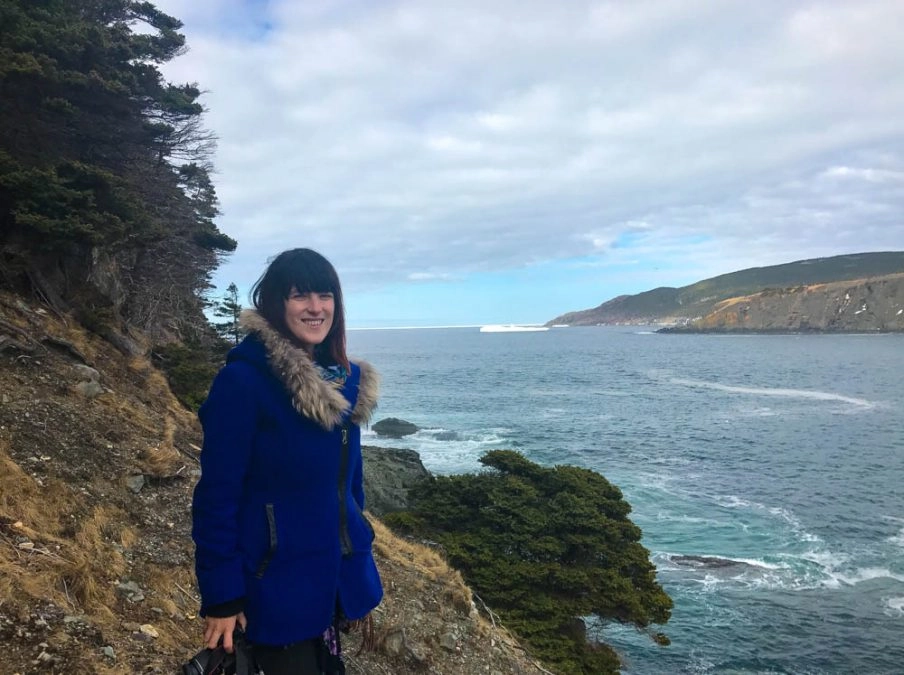 If you visit Newfoundland during the spring, one of the best things to do in St. John's Newfoundland is witness 10,00-year-old icebergs make their way down the coast. Icebergs start to come around April, but the best time to see them on a boat or kayak is in late May/early June. The best locations for bergs will change depending on the year, but they can often be seen from Signal Hill or Cape Spear. Newfoundland tourism even has an Iceberg Finder!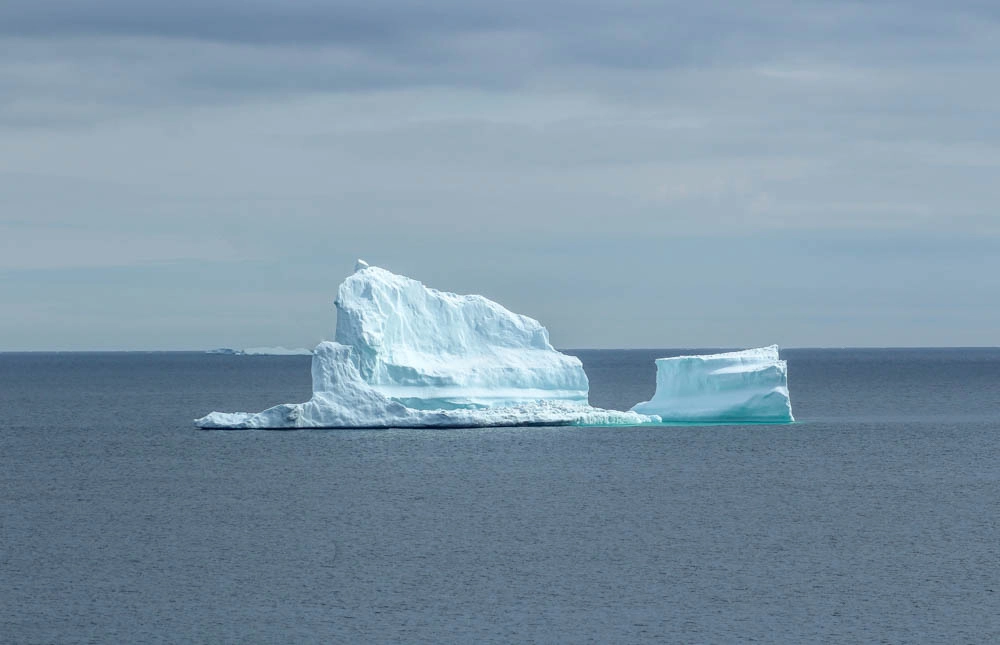 Visit Seals at the Ocean Science Center
Get up close with seals while visiting the Ocean Science Center. It's a research center that's part of Memorial University, but you can visit anytime to enjoy the presence of adorable harp seals.
Location: 0 Marine Lab Road
Picnic in Bannerman Park
If you visit St. John's during the summer then pack a picnic and spend an afternoon in Bannerman park lying in the grass. If you forget food, don't worry, there is a pizza shop across the street from the park (Venice Pizza), as well as an Ice Cream shop and Gelato store.
Address: Military Road
Skate the loop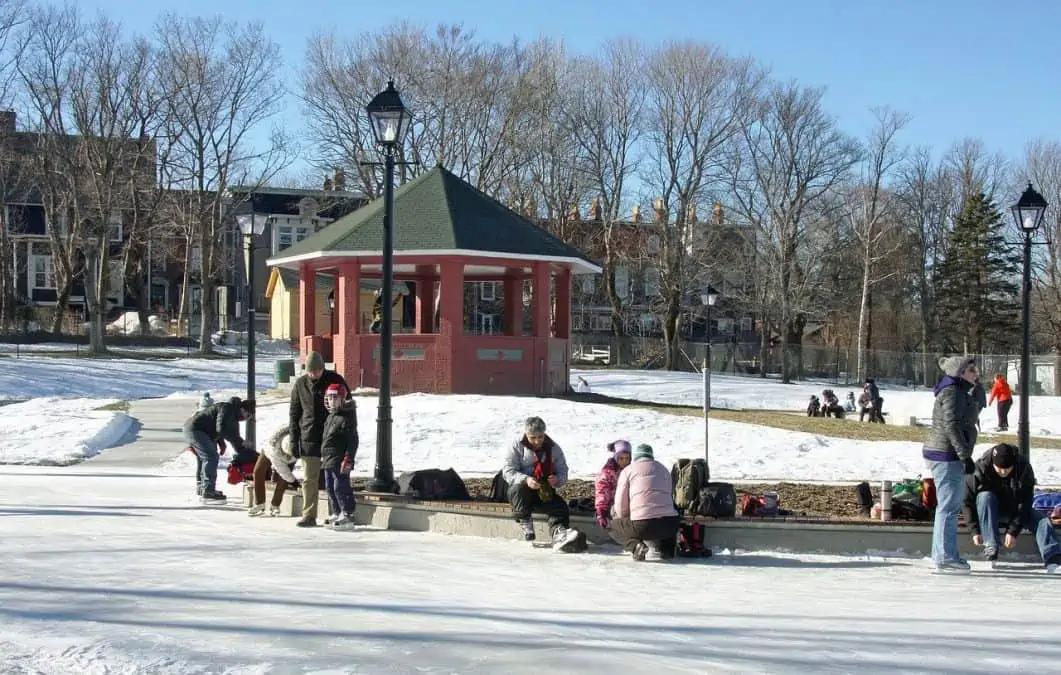 If you visit St. John's during uring the wintertime, then Bannerman Park becomes a winter wonderland. Rent a pair of skates and enjoy the beautiful skating loop which goes around the park.
Address: Military Road
Take a Stroll through Bowering Park
Bowering park is one of the most beautiful parks to explore in St. John's. While there, be sure to stop into Marie's Mini Mart on Blackmarsh Rd. and buy a one-dollar bag of duck food to feed the adorable ducks and swans in the pond. They will be grateful!
Address: 305 Waterford Bridge Road
Visit Quidi Vidi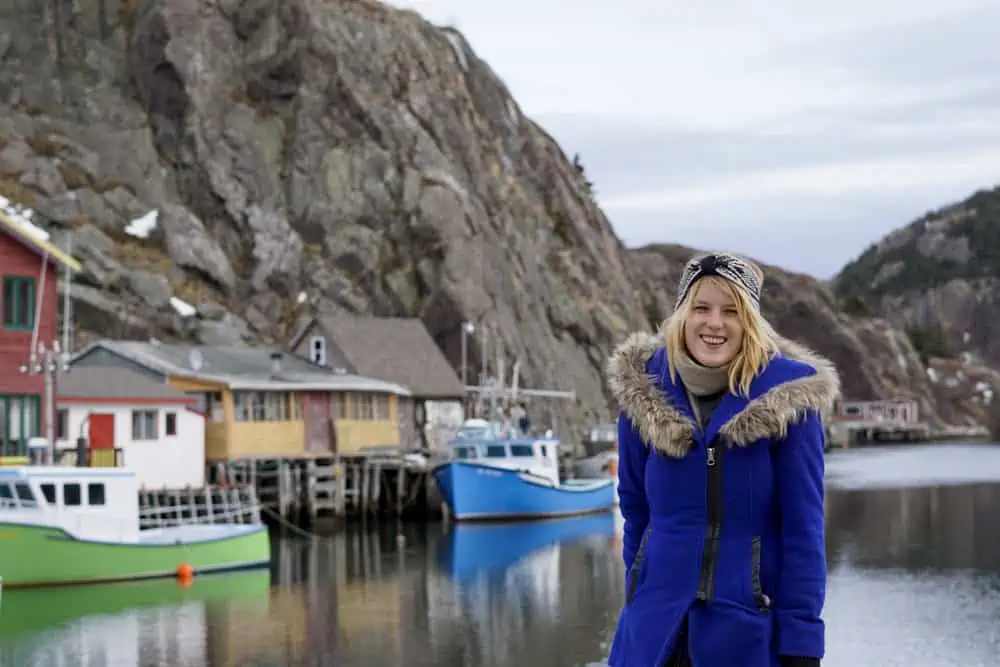 Quidi Vidi is a picturesque fishing village about a half-hour walk from downtown. It's a perfect place to take colorful photos, making it one of the most popular things to do in St. John's Newfoundland. Nearby is Quidi Vidi lake, which makes for a lovely, easy walk. For a more challenging hike, take Sugarloaf path, which goes from Quidi Vidi village to Logy Bay. It's a 9km linear trail that's part of the East Coast Trail.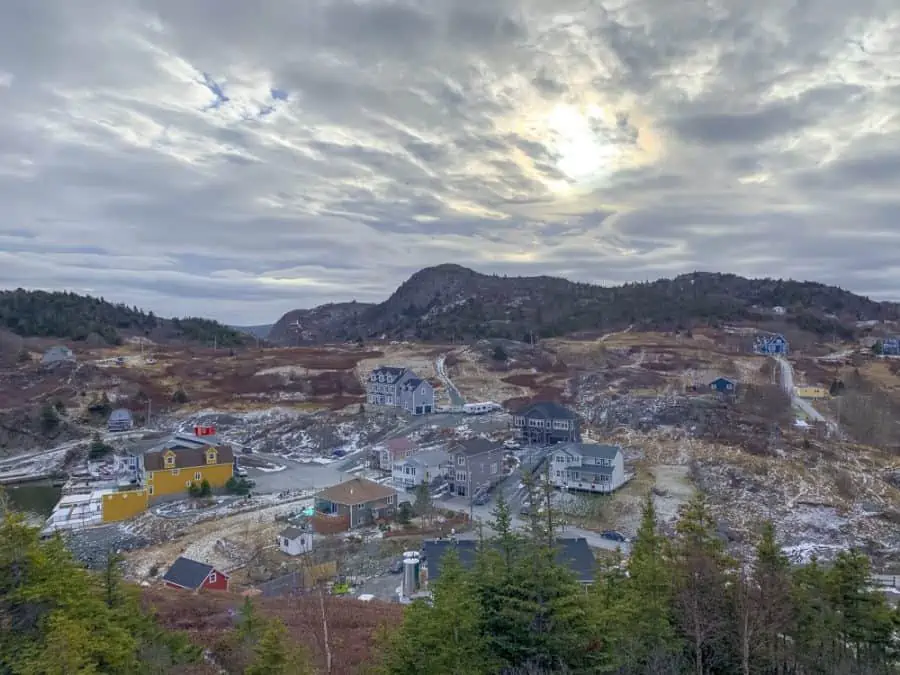 If you don't want to walk at all, take a brewery tour at Quidi Vidi Brewery and enjoy the views while sipping on one of the ten award-winning ales and lager. Nearby there is also Quidi Vidi Plantation, a craft enterprise for emerging artists.
Stand at the edge of North America at Cape Spear
Cape Spear Lighthouse National Historic Site is the most easterly point in all of North America. It's home to the second lighthouse built in Newfoundland in 1836, which is now the oldest surviving lighthouse in the province. The site is accessible year-round, but tours and exhibits of the lighthouse are only open from May to October, daily from 10 am to 6 pm.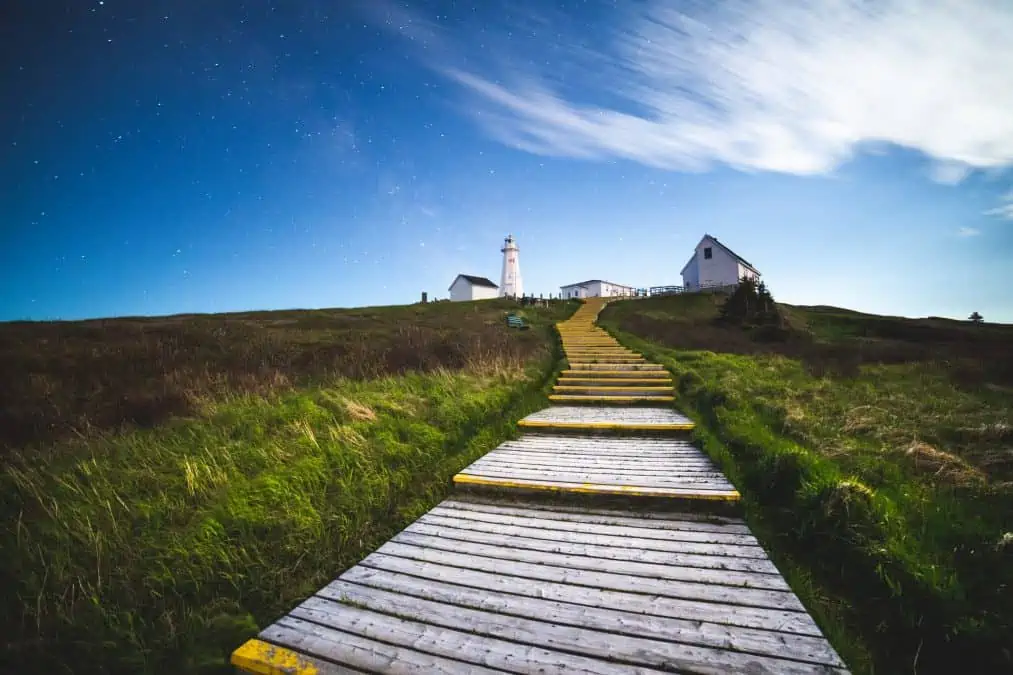 If you're an early riser be sure to catch the sunrise at Cape Spear. It's also a popular spot for whale watching in the summer and spotting icebergs in the spring. Cape Spear is a great place to go hiking – try the section of the East Coast Trail which stretches from Cape Spear to Maddox Cove (10km).
Address: Blackhead Road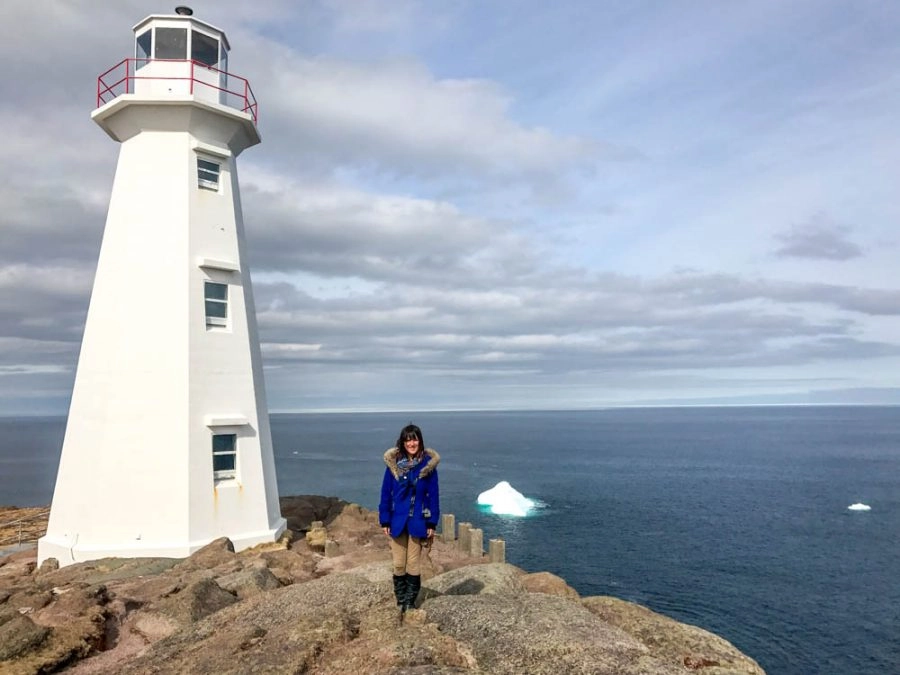 Take a Scenic Drive
If you've got a car while visiting St. John's, one of the best things to do is just take a drive and admire the scenery. The best part about St. John's is that you're never far from a beautiful coastline. Some of my favorite drives are Logy Bay Road to Middle Cove Beach and Blackhead Road to Cape Spear.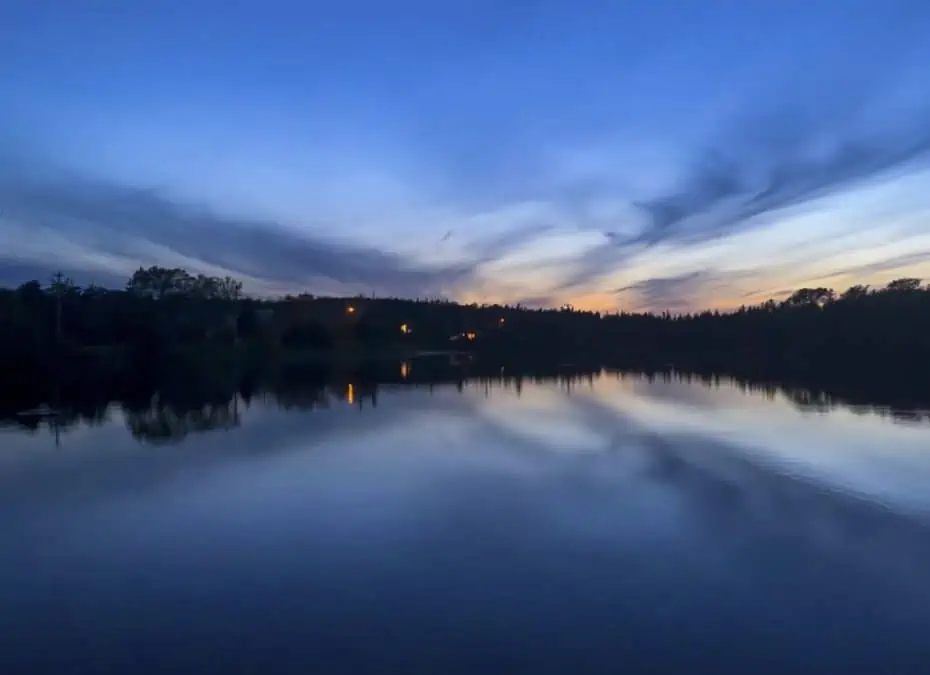 If you've got time, take a drive further out around the bay and explore more of Newfoundland on an East Coast road trip.
Go to a house party
I know this may seem like a strange thing to put on a list of things to do in a city you're visiting as a tourist, but house parties are a big part of life in St. John's. While locals are often found downtown on George Street, they usually gather at someone's home beforehand to drink a few beers with the bys (also known as your friends). We also almost exclusively congregate in the kitchen, commonly known as a 'kitchen party.'
The best way to get invited to a house party is to simply talk to locals. We are known for being the friendliest people on earth, and I can confirm that stereotype is 100% correct. Start talking to any local, and they will likely chat your ear off. Before you know it, you'll be invited in for a cup of tea. Seriously!
Indoor Things to do in St. John's
Johnson Geo Center
On your way back down from Signal hill, stop in the Johnson Geo center to learn about Newfoundland's unique geological history. Inside, there are exhibits on geology, space exploration, natural resources, and the Titanic. You can actually touch the rock the sits under Signal hill!
Address: 175 Signal Hill Road, St. John's
Eat Fish and Chips at the Duke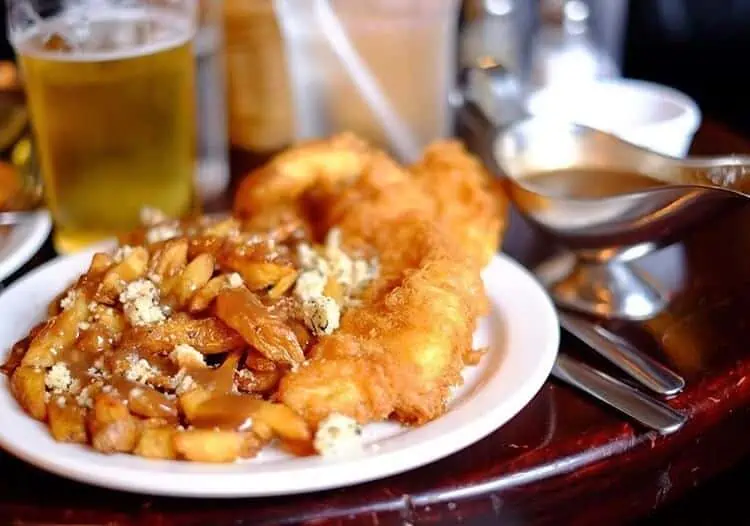 When visiting St. John's one of the things you must do is eat fish and chips. We have the best seafood in the world. My favorite place for fish and chips is the Duke of Duckworth, a charming little pub tucked away between Duckworth Street and Water street.
I'm also a big fan of Chess', which is a fish and chip chain throughout Newfoundland. If I were you, I would try both and compare for yourself. Because can you really ever eat enough fish and chips? Don't forget to ask for dressing and gravy on your fries – it's the Newfoundland version of Poutine.
Go for a night on the town on George Street
Did you know St. John's has the highest density of bars per capita of anywhere in North America? Yeah, we like to drink. The majority of those are on George Street, a small street downtown off water street. Head there for an evening of bar-hopping fun. Expect a late night out – the bars in Newfoundland stay open until 3 am (an hour later then mainland Canada), and you usually don't stumble out until past 4.
If you visit during early August, you'll get to join in for George Street Fest – a week-long festival of outdoor concerts on George street. The entire street gets closed off so you can walk around with your drink between bars. It's so much fun!
If you want to catch a late-night snack (because let's be honest, that's what we all want after a night of drinking), hit up the Ziggy peel goods truck for poutine. Or if you prefer to sit down with friends to cap off the night, The Celtic Hearth restaurant is just a couple minute walk away on Water Street. It's open 24 hours and serves great pub fare.
..And Get Screeched In
If you are a 'come from away' aka someone whose not from Newfoundland, then you have to get screeched in on your visit! This is a fun tradition of becoming an honorary Newfoundlander via a small ceremony involving local rum and a codfish (I won't ruin the surprise). There are a few places that do the ceremonies in St. John's, but Christians Pub is the best. They do screech ins at 5 pm and 11 pm nightly.
Location: George Street
Watch a hockey game at Mile One
Did you know St. John's has its own hockey team? Catch a Growlers game at Mile One Stadium during your visit to St. John's.
Catch a show downtown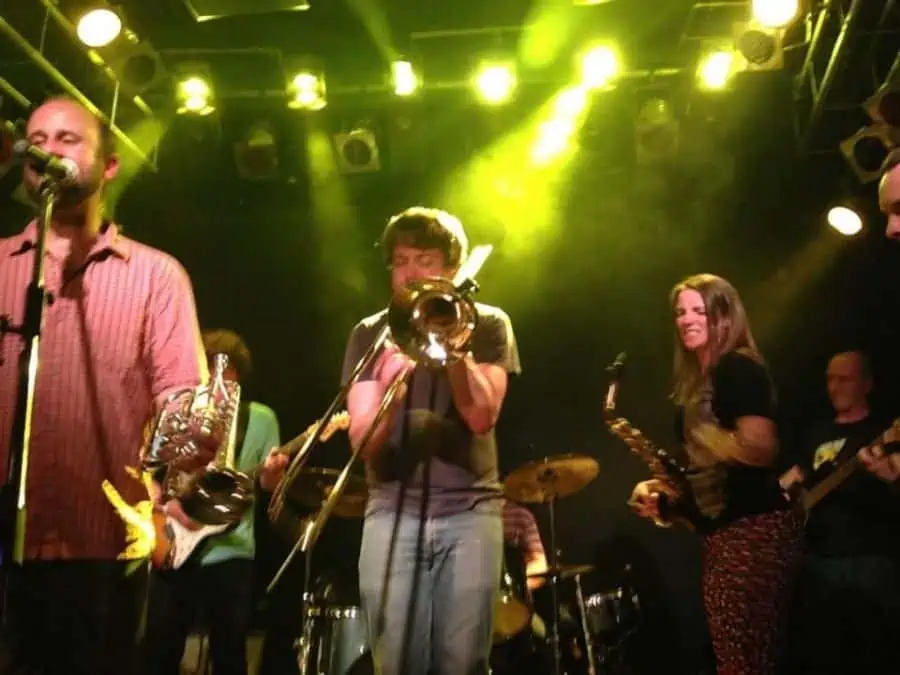 St. John's has a great live music scene – try to catch at least one show while you're in town. Most of the venues are downtown on George Street. Some of the main spots for music are The Ship for folk (also a great place to grab fish and chips), Fat Cat for blues and jazz, and The "deck" which is three different venues on one deck across the street from George Street (CBTG's, Distortion, and Bull and Barrell) for alternative music.
O'Reilly's is a popular spot to go to hear live traditional music. It's a similar style to Ireland where they go out to listen to 'trad at the pub. Put your dancing shoes on – it's going to be a good time.
Support Local Stores Downtown
Be sure to spend an afternoon strolling around downtown St. John's during the day. Make your way through Duckworth and Water street, browsing the shops for souvenirs and local crafts. Some of my favorite shops are Posie Row & Co., Model Citizens, and Johnny Ruth.
If you get hungry, there's no shortage of delicious restaurants and cafes to dine in. Bring your appetite and visit Sun Sushi on Duckworth Street for all-you-eat Sushi. Make sure to save room for the matcha green tea ice cream!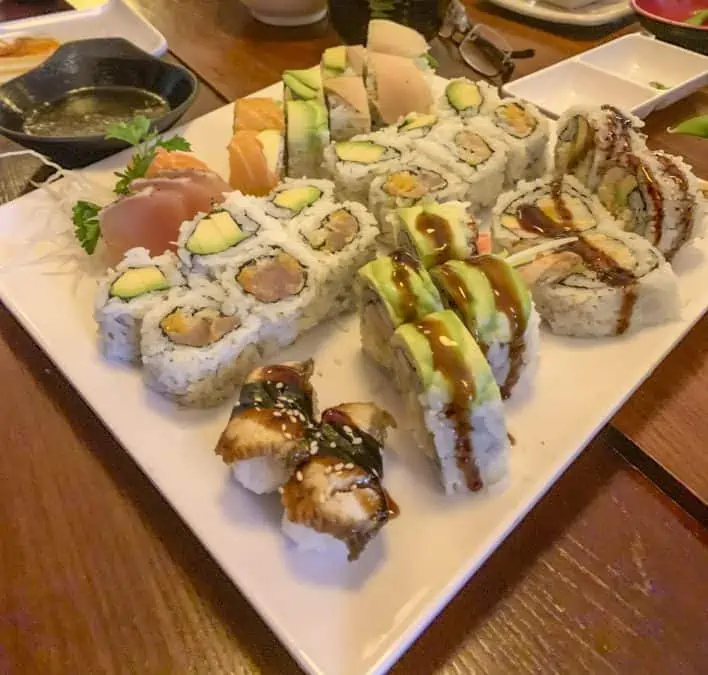 Another place I love to eat downtown is Rocket Bakery – try the toutons, a which is a delicious Newfoundland pancake. The fish cakes here are also delightful.
If you need a cat fix, be sure to visit the Mad Catter Cafe, where you can play with cats while enjoying a coffee. All proceeds go to the humane society.
You could also join a historic walking tour of downtown to learn about the unique history and culture of Newfoundland.
Explore an Art Gallery
There are several beautiful art galleries you can visit downtown, including Eastern Edge and Leyton Gallery, which are free of charge to enter.
Address Eastern Edge: 72 Harbour Drive
Address Leyton Gallery: 6 Clift's – Baird's Cove
Watch a Show at the LSPU Hall
St. John's has a fantastic theatre scene, and the heart of it is at The Resource Centre for the Arts, lovingly known as 'The Hall.' Be sure to check out the upcoming events and catch a show while you're in town.
Address: 3 Victoria Street
Visit the Rooms
The Rooms is the province's main art gallery, museum, and archives. It was named one of the top 15 museums in Canada! With floor to ceiling glass windows, you'll get beautiful views of the city from here. Admission is free on Wednesday nights from 6-9.
Address: 9 Bonaventure Avenue, St. John's
Visit Canada's second largest church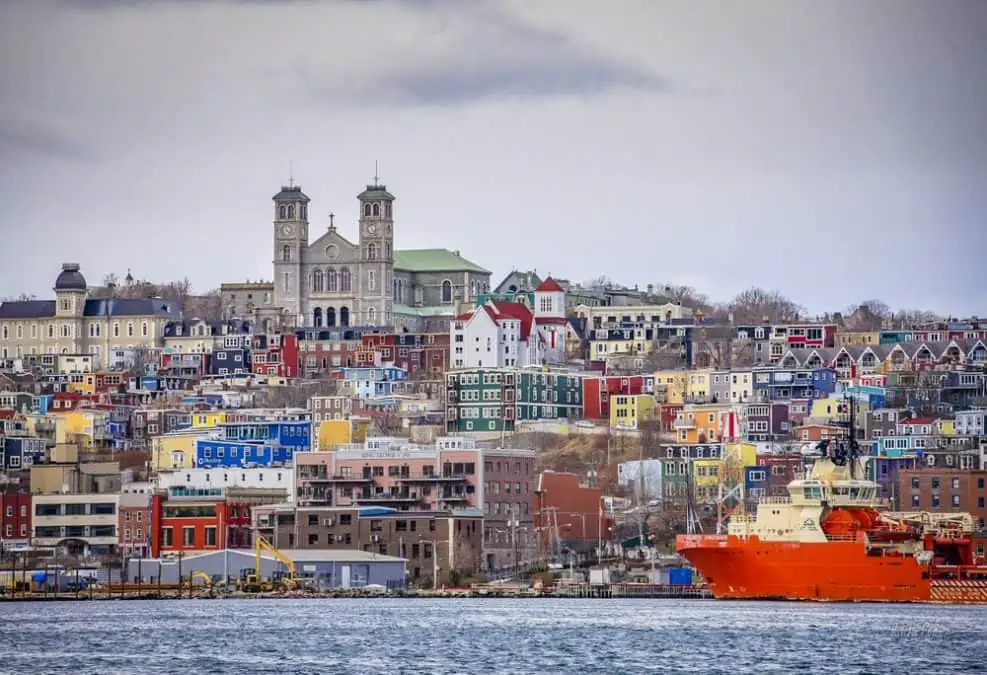 Nearby the Room is The Basilica Cathedral of St John's – one of the most prominent pieces of historical architecture in the city. It was built in the 1850s and is still standing strong today. Inside you can visit the Basilica Museum.
Address: 200 Military Road
Dine at one of Canada's Top Restaurants
It may be a small city but St. John's is home to two of the top 100 restaurants in Canada. Visit one of these while in St. John's for an incredible dining experience. Raymond's is a fine-dining restaurant located on Water Street. It was even featured on Anthony Bourdain's Parts Unknown. Be prepared for a hefty bill though – this is one of the most expensive places to eat in the city.
Address: 95 Water St.
For a more affordable experience, head to Mallard Cottage in Quidi Vidi. This cozy cottage-turned-restaurants offers local sourced seasonal meals. The menu changes daily, which you can check online. I highly recommend coming here for brunch, but you may want to make a reservation in advance.
Address: 8 Barrows Rd.
You could also join a St. John's Food and Wine tour, where you'll dine at multiple restaurants across downtown.
Throw Axes at Jack Axes
Embrace your inner lumberjack and throw axes while drinking some of the cities finest craft brews. In fact, Jack Axes has one of the best local beer selections in town!
Address: 152 Water St.
Indulge your sweet tooth
If you've got a sweet tooth, then be sure to visit MooMoo's Ice Cream on Military road for a scoop. Try the turtle cheesecake ice cream; it's my all-time favorite. There is also a new Gelato spot, Parlour, which opened up just a block away.
Another place to indulge your sweet tooth in St. John's is the Newfoundland chocolate factory, which now has four locations across the city. A box of chocolates makes for a fantastic souvenir!
Enjoy Craft Beer
Newfoundland may be late to the craft beer scene, but we've certainly been catching up in recent years. One of the best things to do in St. John's is to visit one of Newfoundland's local breweries to enjoy a cold beer. Try Yellow Belly on Water street, which happens to be one of the few mercantile buildings that survived the Great St. John's fire of 1892. I love the basement room in Yellowbelly – it's so cute. They also host trivia on Tuesday nights.
Address: 288 Water Street
A new brewery to check out in St. John's is Bannerman Brew co. which has an indoor taproom with communal tables where you can enjoy beer, coffee, and snacks. They also do takeaway beers to bring home.
Address: 90 Duckworth Street
Railway Coastal Museum
Newfoundland used to have a railway that went across the province, but sadly is no longer an operating part of the train across Canada. However, at the railway coastal museum, you can learn about the vital role the railway played in shaping Newfoundland during the 1900s. Inside the museum, there are ship models and working model trains.
Address: 495 Water Street West, St. John's
Taste Port at Newman Wine Vaults
Portuguese Port in Newfoundland? Yup! in the 1600s, A Portuguese ship filled with port wine ended up in Newfoundland. Learn the full story on a tour at Newman's Vine Fault. Today, you can still visit the ancient vaults and sample port for yourself.
Address: 436 Water Street
Outdoor Things to do in St. John's Newfoundland
Zip Line over Petty Harbour
If you want adrenaline plus amazing views while visiting St. John's, then try the zip-lining over Petty Harbour with North Atlantic Ziplines. You'll get incredible views of the surrounding wilderness. I can't wait to try this – I've been craving another Zip-lining since doing it in La Fortuna, Costa Rica.
Address: 32 Main Road, Petty Harbour
Go on a Scavenger Hunt around St. John's
A fun thing to do in St. John's Newfoundland is go on a St. John's scavenger hunt, where you'll work together as a team to rack up points by finding attractions using clues, all while enjoying the beauty of the city.
Epic Whale Watching Opportunities
Newfoundland is one of the best places to go whale watching in the world. During the summer, the world's largest population of Humpback whales make their way to the coast of Newfoundland to feed. You can often spot whales dancing off the coast while hiking along the East Coast Trail, but for a more up-close experience, be sure to take a whale-watching cruise.
Go Shipwreck Diving
Did you know you can go diving in Newfoundland? Book a dive with Ocean Quest Adventures to explore the underwater world of Newfoundland, including shipwrecks from World War II. It's cold water diving, so you'll be wearing a dry suit. This is an entirely different experience than diving in the Caribbean!
Address: 40 O'Leary Avenue
Visit Bell Island
Bell Island is a small island you can visit, which makes an excellent day trip option from St. John's. On the island, there are beautiful hiking trails, lighthouses, and remnants left from WWII. Grab lunch at Dick's Fish and Chips (Newfoundland has the best names).
Address: Ferries leave from Ferry Terminal Road, Portugal Cove-St. Phillip's
St. John's Haunted Hike
If you're into ghost tours, then check out the St. John's Haunted Hike. You'll be guided through the streets of St. John's, learning about the memories of public hangings, duels, and horrific murders. I'm a huge wuss and can't handle things like this – but I know some people love it.
Visit Pippy Park & the Fluvarium
Another beautiful park to visit in St. John's is Pippy Park, where you can also go camping overnight. Inside the park is the Fluvarium, an environmental education center focusing on freshwater and riparian ecology. It has these neat glass windows where you can see under the waters of Nagle's brook and view huge brown trout. We came here on field trips as a kid, but honestly, if you are a nature nerd like me, it's pretty cool.
Address: 5 Nagle's Place, St. John's
Spot puffins
If you've ever wanted to see a puffin, Newfoundland is the spot. 90% of North America's Atlantic puffins breed in Newfoundland. Thousands of puffins nest along the coasts of Newfoundland, which you can see during the summer on a puffin and whale watching cruise.
Explore the Local Farmer's Market
If your visit to St. John's lands on a Saturday morning, don't miss the farmer's market. It's home to local vendors selling fresh produce, sweet delicacies, and hot prepared local and international food. It's also a great place to pick up handmade crafts!
Address: 245 Freshwater Road, St. John's
Go on a Harbour Cruise
One of the best ways to see St. John's is from the harbor. Join a cruise with Iceberg Quests to see stunning views of the St. John's skyline as well as incredible whale watching and Iceberg opportunities.
Where to Stay in St. John's
Budget: City Hostel – Okay, so there's only one hostel in St. John's – but at least it's a good one! This cute hostel is located right downtown in a colorful row house. Perfect if you are traveling solo in St. John's!
Mid-range: Alt Hotel – A relatively new hotel in a prime location downtown. It has great reviews online!
Mid-range: Cabot Guest House – a beautiful B&B in Georgetown which is a lovely neighborhood I used to live in. Try to get the room with the jacuzzi tub! If you stay here, grab your morning coffee and bagel at the Georgetown Bakery. You won't regret it!
Luxury: Luxus Boutique Hotel – A beautiful boutique hotel located in the heart of downtown on Water Street. They have an awesome cafe inside the hotel so you don't have to worry about wandering far for your morning coffee!
There are also a number of Airbnbs in St. John's that you can rent, including the house that I grew up in. If you stay there – let me know!
Final Thoughts
I hope this post could give you some inspiration for thing's to do in St. John's while you're visiting Newfoundland! I know this city like the back of my hand so if you have any questions about things to do here – just let me know in the comments below.
Found this post helpful? Pin it for later!