This post may contain affiliate links. By clicking and making a purchase through the links, I earn a small commission at no extra cost to you. This and display ads allows me to keep the site up to date and give back. Thanks for reading!
Need some inspiration on where to go for your next whale watching adventure? You're in the right place! I wanted to put together the best compilation of where to go whale watching in the world, so I asked the travel blogging community what their favorite spots were. And the response was huge! So big that I had to make it into two posts.
In case you missed it, the first part of the post covered the best whale watching destinations in the Northern Hemisphere: Canada, USA, Europe, and Asia. This post will continue the series with the best destinations to see whales in the Southern Hemisphere: Australia, New Zealand, Africa, South America, & Antartica.
Find your next whale watching destination!
Best Whale Watching in The Southern Hemisphere: Australia, New Zealand, Africa, South America & Antartica
Whale Watching in Australia
Whale watching season in Hervey Bay, Australia
Recommended by Fiona from Passport and Piano
Hervey Bay is just a 3-hour drive north of Brisbane and its one of the best places to see humpback whales in the world.  The whale watching season is between mid-July and November but the best time to spot them is from August to Mid September.
These fantastic mammals travel 5000 Km from the cold sea of the Antarctic to the warmer water off the coast of Queensland to give birth to their young. Hervey Bay is a great resting spot for the mothers and calves on this migration route.  The bay is sheltered by Fraser Island, and the calm water is perfect for the young to learn the basics of survival from their mothers. Seeing calves playing with their parents is both a unique and privileged experience.
There are lots of tours from Hervey Bay during the whale watching season, and the chances of you seeing them are pretty high.  Humpback whales are one of the most acrobatic whales and when they breach it's a spectacular sight to witness.
However, watching whales does require patience and a bit of luck.  You can't help but feel disappointed when you spot them breaching in the distance but by the time the boat gets closer they've disappeared.  However, there's nothing more amazing than when they approach your vessel.  It's known as mugging and if you're lucky they'll hang around for a while as they'll be as interested in you,  as you are in them.
Whale Watching in Moreton Bay, Australia
Recommended by Tracy of Tracys Travels in Time
Every year between the months of May and November thousands of humpback whales make their way from the cold Antarctic Ocean to give birth in the warm tropical waters off the coast of Northern Queensland in Australia.
There are many wonderful places along the Australian coast to see the whales from the shore and also lots of fantastic tours which take you out to get close to these beautiful creatures.
I live north of Brisbane in Queensland in a place called Moreton Bay and every year the excitement builds as we prepare to welcome the whales. An annual event is held which includes a "Whale wishes'" ceremony where children and adults place a pebble on a sand sculpture of a whale to wish them safe passage through the bay.
Over 25,000 humpback whales travel through the bay on their way up north to breed. A few months later the whales return with their offspring and head back to the Antarctic.
I take a tour at least two or three times a season and choose the Brisbane Whale Watching company for an unforgettable whale watching experience. They have an eco-accreditation and the catamaran is especially designed to ensure minimum impact on the marine environment.
Whale Watching in Woolgoolga, Australia
Recommended by Erin of Curiously Erin
One of the best whale watching destinations is in Australia is at Woolgoolga Headland. Woolgoolga is a small coastal town on the mid-north coast of New South Wales. This headland has been aptly named Whale Watch Headland for the great vantage point it gives of the humpback whale migrations. The seasonal migration happens in the late Autumn and Spring months. During Autumn, whales will head north to breed. Once they have had their babies they start swimming back south to feed and wait out the warmer months in the Antarctic waters.
Due to a rising population of humpback whales, it's almost impossible not to see whales during the migrations. Thousands of humpbacks make their way playfully south in the Spring with their newborn calves. You will no doubt see the mothers jumping about teaching their babies how to hunt.
A great thing about this headland is you don't need to be on a boat to experience the beauty of these mammals. For close up views make sure to pack a pair of binoculars or a nice zoom lens. The best time to visit is between August and October for the most activity. While you can see the whale during Autumn they aren't as playful without their new calves.
Whale Watching in Byron Bay, Australia
Recommended by Chris of Backpacker Banter
As well as being my favorite spot on the East Coast of Australia, Byron Bay is also one of the best destinations for whale watching too – with the annual humpback whale migration taking place each year between June and October.
Its location on the most Easterly Point of Australia means all the whales (including the famous albino Mingaloo) pass by the bay each year and their return with calves at the end of the season offers heaps of opportunities to see them leaping and tail slapping in the Bay and along the surrounding coastline.
Whether you jump on a local whale watching tour to get up close, grab a kayak and get lucky (like the guys in the pic I took), are surfing ((seriously we've had them pop up 20m away!) or simply head along the coastal walk up to Byron Bay lighthouse these gentle giants put on an epic show each year and it's well worth checking out!
Definitely one of the highlights of winter in Australia. 
Whale Watching in New Zealand
Whale Watching in Kaikoura, New Zealand
Recommended by Thais Saito of World Trip Diaries
Kaikoura is New Zealand's best spot for whale watching!
The underwater Kaikoura canyons are the perfect stop for whales looking for food and rest. Throughout the year, there are sperm whales around. During summer months (December to February), you may be lucky enough to find pods of orca. But then, during winter (June to September) you have high chances of spotting some migrating whales, such as blue whales, pilot whales, and humpback whales!
Make sure you have your sea bands, take your sea sickness meds before you go and have something to eat, because it's a very bumpy ride. And keep your eyes open for the incredible Kaikoura wildlife, because you'll see a lot of it! Fur seals, albatrosses, and dolphins are commonly sighted all year round!
The whole tour, including a safety briefing, takes around 3 hours, but only 2 of those are spent in the sea. And it's some awesome two hours, for sure.
Whale Watching in Africa
Whale Watching in Plettenburg Bay, South Africa
Recommended by Rishabh & Nirali of Gypsy Couple
South Africa is a known destination for Whale watching but most people associate Hermanus with this activity and not Plettenburg Bay which we will be talking about. Although Hermanus is one of the best land watching sites to observe whales, Plettenburg bay offers the same experience but out in the wide sea.
This small town on the Garden route coastline in South Africa offers multiple options for boat-based whale excursions and offers guided tours which take the boats up to the permitted 50m distance from sighted whales. There have even been instances where curious pods of dolphins or whale calves come very close to the boat as well. Apart from the resident Bryde's, the bay is visited by Southern Right and Humpbacks who migrate all the way from Antarctica to mate and calve.
Although the medium-sized Bryde's can be seen all throughout the year, the whale watching season itself is from June to November when the migrating whales also arrive. The peak calving season being July to August when a number of them can be seen frolicking around. Even in the off chance, you do not sight a whale, it is impossible to miss the numerous playful pods of bottlenose dolphins or the cape fur seals.
The whale watching industry in the bay is tightly regulated and well organized. Every guided tour is monitored so that tourists cause the least interference to the marine life around them making it an added bonus in their favor in our books.  
Whale Watching in Cape Town, South Africa
Recommended by Rai of A Rai of Light
A tiny seaside town located in the southeast of Cape Town, in South Africa's Western Cape Province, Hermanus is most well known as a whale-watching destination. And with good reason. Hermanus has been acknowledged by the WWF as one of the best whale watching destinations in the world.
Each year over 100 Southern Right whales gather in the warm waters off the coast of this region, particularly Walker Bay, to mate and calve. It is the job of The Whale Crier to alert shore-based whale watchers to the whereabouts of whales, by blowing a message using a horn made of kelp.
The gathering of these beautiful creatures is a sight that every whale lover needs to witness at least once, with the spectacle typically taking places during the winter and spring months of June to December.
Whale Watching in Tofo, Mozambique Africa
Recommended by Kate & Jeremy of Our Escape Clause
Every year, you can get double the whale-watching experience in Tofo, Mozambique: southern right and humpback whales both migrate to this tiny town on the Indian Ocean each winter. The whales give birth in the waters surrounding Tofo each year, and their enormous size and huge numbers mean that they're easy to spot–even from the shore!
If you want to get even closer to the whales, though, you definitely can: ocean safaris on small boats are available from virtually all of the dive shops in Tofo, or you can simply book a scuba trip and hope that you pass whales on the way to the dive site (it's not rare!).
If you want as much whale-watching time as possible, book a hotel with a view of the ocean–from there, you'll almost certainly be able to admire the whales from the comfort of your own deck. Whale season in Tofo runs from June to October, with the highest concentration of whales being present in August and September.
Whale Watching in South America
Whale Watching in the Galapagos Islands, Ecuador
Recommended by Bret Love & Mary Gabbett of Blue Ridge Mountains Travel Guide
Even if your only knowledge of the Galapagos Islands (which are located about 850 miles off the coast of Ecuador) is that it's the place where naturalist Charles Darwin developed his Theory of Evolution, you're probably aware that this is one of the world's great places for wildlife watching.
From giant Galapagos Tortoises and Blue-footed Boobies to tiny Galapagos Penguins and Marine Iguanas that look like miniature dinosaurs, the archipelago is packed with plenty of unusual endemic species. Because they're so spread out, the best way to explore the islands is via a small ship cruise, which leaves lots of time for whale watching along the way.
You can find 24 different cetacean species in the Galapagos throughout the year, but the cooler months of July through November are generally considered the best time to see them. The western side of the archipelago is generally best, especially the waters between Fernandina and Isabela, where we've seen pods of Humpbacks and Orcas (a.k.a. Killer Whales).
[irp posts="1383″ name="How to visit the Galápagos Islands on a budget"]
Whale Watching in Puerto Lopez, Ecuador
Recommended by Wendy of The Nomadic Vegan
Puerto López is a small fishing village in the Manabi province of Ecuador. Every year between June and September, humpback whales migrate from Antarctica to breed in the waters here.
While it's sometimes possible to see them directly from the shore, for the best sightings you should join a boat trip that will take you closer to the whales. A number of tour operators in Puerto López run trips specialized in whale watching. These typically last 30 minutes to an hour and cost 20 to 25 US dollars. Some even guarantee sightings and will refund your money if you don't see any whales.
Whale watching in Puerto López is often combined with a trip to nearby Salango island for swimming and snorkeling, or a visit to Isla de la Plata. The latter is known as the "poor man's Galapagos" because it is home to many of the same bird and animal species that live in the Galapagos Islands, one of the best wildlife viewing destinations in the world. While you won't see as many animals on Isla de la Plata as you would in the Galapagos, it can be visited at a fraction of the cost.
Whale Watching in Choco, Colombia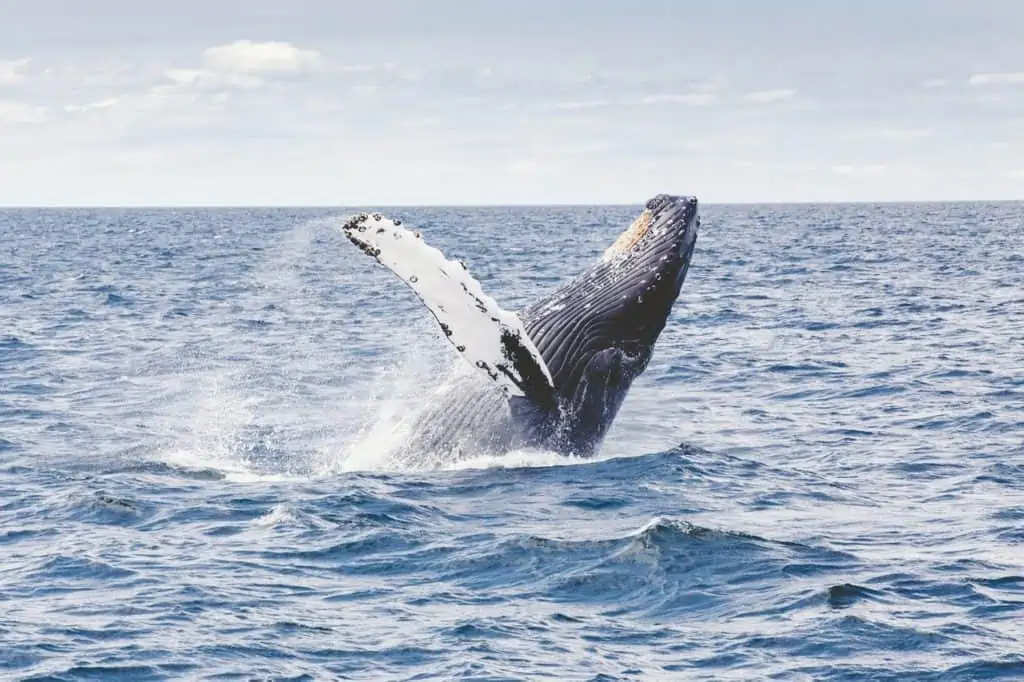 Recommended By Daniel James of Layer Culture
When traveling in South America and looking for top Whale watching destinations. Chocó in Colombia should be on your list. Located on the Pacific coast, you'll find Humpback whales which migrate to this region in search of warmer waters. Whales reside in this region for the winter, and if you time it right, you'll see them as they jump in and out of the water. The best time to spot the Humpback whale in this particular part of the country is between August and October.
However, if you like to travel by land, getting to the right spots in Chocó can be quite a challenge. There are 3 unique places from which you can see them: Bahia Solano, Nqui and Bahia Malaga. You can easily fly direct to Nqui from Medellin, or, take a boat from Buenaventura, which can take up to 24 hours.
If you want a really good adventure, though, it is recommended that you take the boat from Buenaventura, which is located around 3 hours from Cali. This type of travel offers a great opportunity to be able to connect with locals and learn more about this wonderful part of Colombia. Make sure you take a good camera and carry the right provisions for this long journey.
Whale Watching on the Valdes Peninsula, Argentina
Recommended by Sinead of Map Made Memories
We were fortunate to visit the Valdes Peninsula in eastern Patagonia in Argentina during whale watching season, which in this specific location is from August to December. The tiny coastal town of Puerto Piramides is the departure point for boat trips to see the Southern Right Whales but it is not uncommon to see the whales from the town beach and the surrounding cliffs. Another fantastic land location from which to view the whales is El Doradillo beach between the city of Puerto Madryn and Puerto Piramides.
A handful of companies offer small group whale watching excursions on small boats; we thought the trips were well managed in terms of safety and sensitivity towards the animals. The chances of seeing the Southern Right Whales is high during peak season due to the sheer concentration of whales in this area. We encountered a pod of whales very close to the shore and my daughter was thrilled to see a whale breach for the first time. Plus, we were lucky enough to see a mother and calf very close to our boat. It was a wonderful trip and a memorable experience.
Whale Watching on the Beagle Channel, Argentina
Recommended by Claudia Tavani of My Adventures Across The World
A tour of the Beagle Channel, in Tierra del Fuego (Argentina) is a fantastic way to admire the local marine wildlife and to learn more about the region. Boats depart from the tourist harbor of Ushuaia several times a day on tours that can last between 3 and 8 hours. I recommend going on a long-ish one, for higher chances of seeing more animals.
On a Beagle Channel tour you'll get to see a huge variety of birds – though most are cormorants. Tours stop by Isla Mirtillo, which is a small island completely inhabited by penguins. Only one company allows passengers to get off the boat and on the island – something I find completely unnecessary as penguins are very easily visible from the boat.
Yet, the cherry on the cake of a Beagle Channel tour is spotting the Southern Right whales. These can occasionally be seen placidly swimming through the channel, showing their tails or playing. Keep in mind that the Beagle Channel is not specifically a whale watching destination (you'll have better chances of seeing whales in Puerto Madryn), but it is not uncommon to spot them.
For higher chances of seeing whales during a Beagle Channel tour, make sure to carefully listen to the guide on the boat – they are trained to spot them and will point you in the right direction. They are hard to photograph – mostly because you'll be sitting inside while the boat moves (it's too cold to stay outside) and by the time you make it to the deck, the whales will be gone.
[irp posts="835″ name="Chasing penguins at the end of the world in Ushuaia, Argentina"]
Whale Watching in Antartica
Recommended by Matilda and Patti of The Travel Sisters
Antarctica is one of the best and most unique places in the world to spot whales as you can see them against the beautiful backdrop of icebergs.  There are many species of whales in Antarctica but the most common species that you are likely to see include humpbacks, orcas and minkes. If you visit Antarctica on a cruise or expedition you are likely to spot whales swimming along your ship and if you are lucky you can even see them up close while kayaking.
The best time to of the year to see whales in Antarctica is during the summer which is also when tourists can visit Antarctica – especially late summer (February and March). You don't have to make a special effort to see whales in Antarctica, just keep an eye out for them or be prepared to run to out to the deck if your captain makes an announcement that there is a sighting.
Conclusion
Thanks to all the travel bloggers who helped make this post possible. I hope it gave you some inspiration on where to go whale watching next! Have you been whale watching before? Let me know in the comments below! : )
Like it? Pin it for later!