This post may contain affiliate links. By clicking and making a purchase through the links, I earn a small commission at no extra cost to you. This and display ads allows me to keep the site up to date and give back. Thanks for reading!
Twillingate is a charming town in Newfoundland that has been booming in popularity in recent years. I've only heard great things about it and was dying to get there myself so I was pumped when I found it was part of my itinerary on my FAM trip to Central Newfoundland. There are so many fun things to do in Twillingate, especially for outdoor lovers.
From iceberg hunting to sea kayaking, boat tours and boil ups on the beach, Twillingate is a paradise for outdoor activities. This guide will tell you the best things to do in Twillingate so you can plan a perfect trip there!
The Best Things to do in Twillingate
Captain Daves Prime Berth Fishing Museum
As soon as you enter Twillingate, you'll see Captain Daves Prime Berth Fishing Museum on the left-hand side. It's impossible to miss, as he has two very impressive whale skeletons you can see from the road. This place is well worth stopping into!
Captain Dave has created a museum of sorts, where you can see antique fishing gear, a gallery of iceberg photography, a live underwater camera stream, and all kinds of fun Newfoundland items he's collected over the year inside various sheds. It's free to visit the museum, but Captain Dave also runs boat tours and fishing tours which you can book at the shop or online.
Chase Icebergs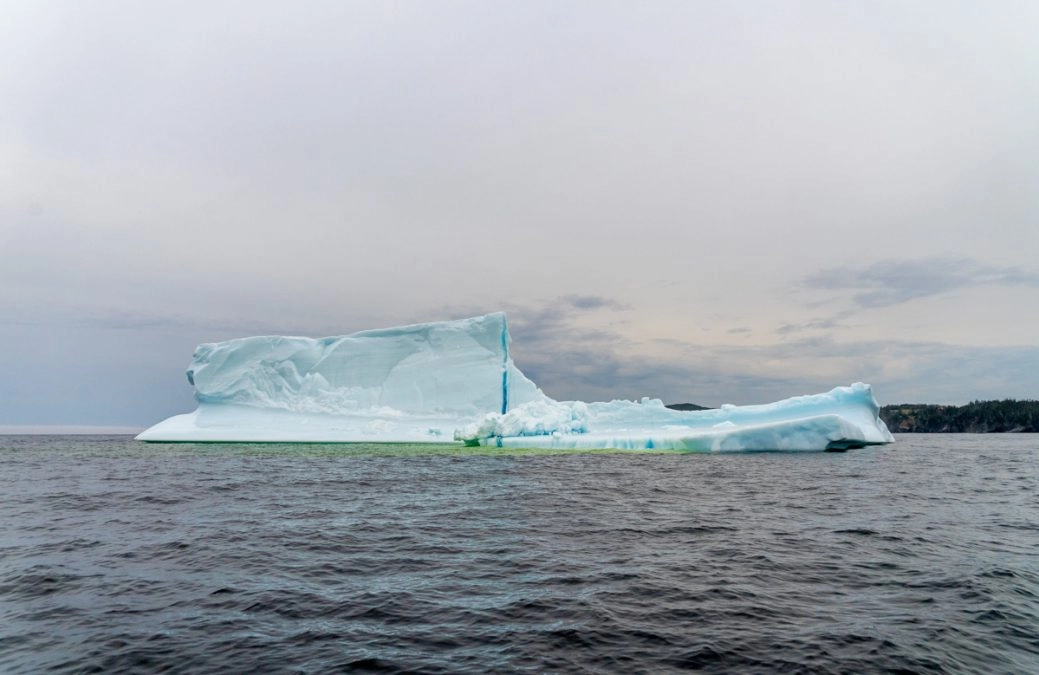 Twillingate is part of Newfoundland's Iceberg Alley, which refers to the passage of ocean that 10,000-year-old icebergs make their way down every Spring all the way from Greenland. Icebergs often come by Twillingate, sometimes even getting stuck in the bay, making it a perfect place to try and see one.
While it's more then possible to see icebergs from shore, there are also some pretty cool iceberg tours you can do if you want to get closer. You can join a boat tour, or even go sea kayaking with icebergs which is high on my bucket list! Rock Adventures run the iceberg kayaking tours.
Twillingate Boat Tour
One of the best things to do in Twillingate is to join a boat tour to explore the stunning area. We went with Twillingate Adventures Tours and Chris and Geoff were fantastic guides.
If you're visiting during the spring, there's a good chance you'll see icebergs on a boat with Twillingate Adventures tours, and if you visit during the summer, there's a good chance you'll see whales. Newfoundland is one of the best places to go whale watching in the world!
However, even without icebergs and whales (which was sadly the case for me) joining a boat tour is still a great way to spend a couple of hours in Twillingate. Because they can always guarantee the coastline, and the coastline in Twillingate does not disappoint.
The landscapes around Twillingate are STUNNING. There are so many neat rock formations you can see around here, as well as several species of birds. We saw osprey and bald eagles!
The boat passed by several small islands, including one named Burnt Island, which apparently they use to quarantine people on for smallpox. A potential idea for this year? haha! Finger rock was another interesting rock formation, which indeed does look like a finger!
The boat that Adventures Twillingate uses is also incredible, it was actually built specifically for the waters around Twillingate. It's the smoothest boat I've ever been on in Newfoundland, you could barely feel the waves. The boat fits a maximum of 30 people, but to support social distancing this year the capacity is limited to ten people which is plenty of space to stay in your bubble.
Hiking in Twillingate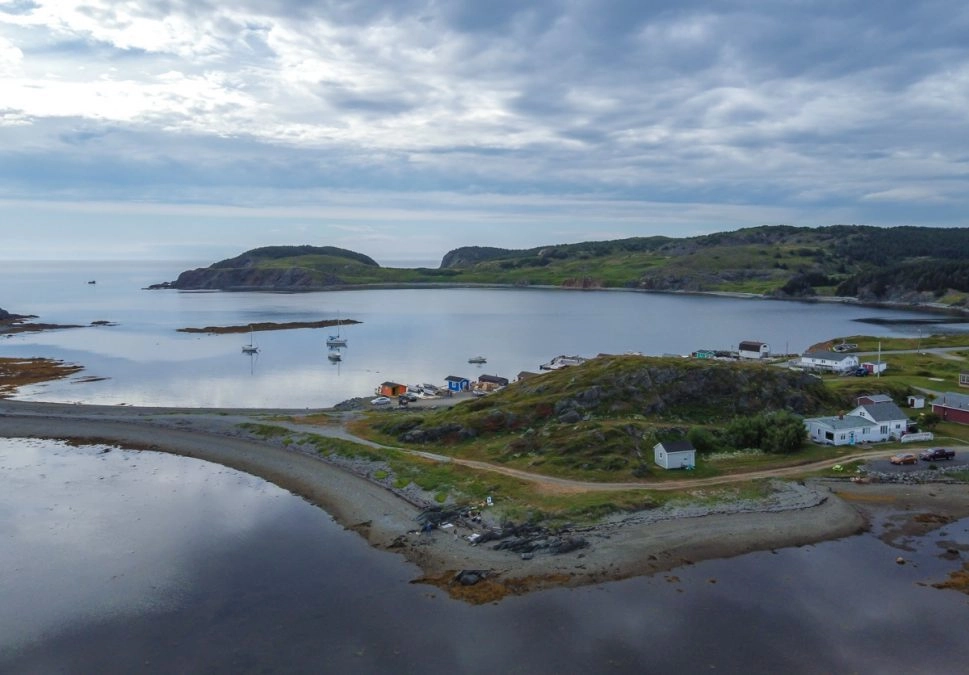 Like most of Newfoundland, Twillingate offers some spectacular hiking opportunities where you can see rocky cliffs, lighthouses, icebergs, whales, and picture-perfect photo ops. In fact, it was named by Reader's Digest as one of the best places for hiking in Canada.
Some popular hikes in the area are Long Point Lighthouse to Sleepy Cove, Lower Little Harbour trail (5 km), and Spiller's Cove to Codjack's Cove Trail. The latter is a 6.5 linear trail that starts in the community of Durrell. You can see caves, sea stacks, caves, and rugged cliffs along the trail.
Swimming
If you're looking for a place to cool off after a hike, there are a few places to go in Twillingate. In fact, I saw people swimming in the ocean during our boat tour! If you're not brave enough for the ocean, a good option is hospital pond.
Fuel your Adventure with Experience Twillingate
If you want an amazing meal with an equally good view, then check out Experience Twillingate with local Crystal Anstey. She cooked us an incredible four-course meal right on the beach in Twillingate, and it was one of the best I've had this summer in Newfoundland. My mouth is drooling just thinking about it.
The four-course meal started with a serving of scallops, cooked to perfection and served in a very adorable mini-sized cast iron pan. Following the scallops, Crystal prepared a cod dish with kale which melted in your mouth. Then came the main event of the night, the lobster, which was boiled up using ocean water. Last but not least, we had mini strawberry pies made with fresh strawberry jam using local berries.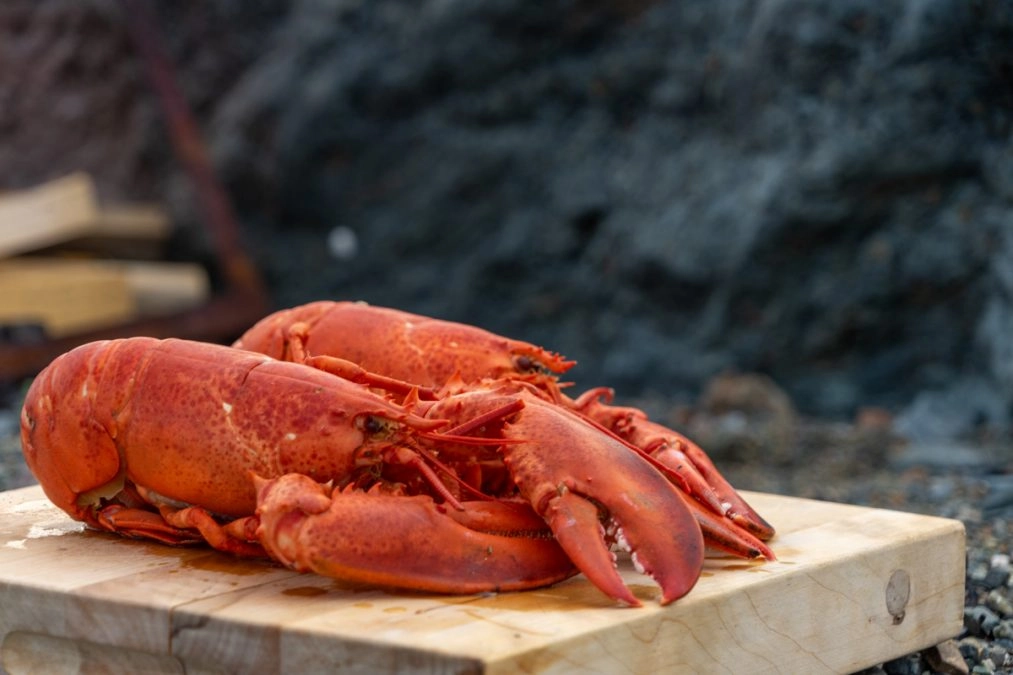 What I loved about this experience, aside from the amazing flavours, is that every single item Crystal uses during the experience is local and sustainable, downright to the wood boards she serves the food on.
It's also a beautiful setting, on a small beach in Twillingate during sunset. As the light changed throughout the evening, it only became more and more beautiful. Crystal is also an awesome person to be around, and by the end of the evening you will leave feeling like you spent the night with friends.
Auk Island Winery
Wineries are definitely not something commonly associated with Newfoundland but there are two of them of the island, one of which is Auk Island Winery in Twillingate. What's special about this winery is that it harvests pieces of icebergs found on the shores in Twillingate, and uses the pure water as it's base for the wines.
Museums and Exhibits in Twillingate
If the weather isn't on your side in Twillingate, or if you just have an interest in it, there are a number of museums and exhibits to check out in Twillingate.
At Long Point Lighthouse there is a Titanic Exhibit, where you can learn about the history of the titanic. There's also a Beothuk Interpretation Centre, the Durrell Museum, Twillingate Museum, the Twillingate Historic Fishing Vessels Museum, and the Isles Wooden Boat Museum. Lastly, you can visit the Ted Stuckless Fine Arts Gallery.
Where to eat in Twillingate
Experience Twillingate is the best meal you can find in town, but if you need a restaurant there are plenty of great ones to choose from.
Annie's Restaurant – we stopped here for lunch before the boat tour with Twillingate Adventures, it's right next door on the harbour. The food was delicious, I had the fish cakes which I highly recommend!
If you want to get your lobster fix, check out Doyle Sansome & Sons Lobster Pool. It's located just outside of Twillingate on a small fishing pier. The lobsters get brought in fresh from the ocean and dropped in the pool, so you can pick which one you want!
For sweet treats, check out the Crow's Nest Cafe or Lickety Split for ice cream.
Nightlife and Music in Twillingate
Despite it's small size, Twillingate turns into a pretty booming place during the summertime. There is live entertainment every day of the week!
On my visit, headed over to the Captain's Pub at the Anchor Inn to check out who was playing. I was pleasantly surprised to walk in and find my old friend Adam Baxter performing!
Another place you can go out in Twillingate is Split Rock Brewery. We briefly stopped in here to pick up some beer for the boil up and it had a great atmosphere. I can also confirm their beers are delicious!
In non-covid times, Twillingate also hosts several festivals. Unscripted Digital Arts Festival, and the Fish Fun and Folk Festival are of the big ones. Unscripted is going virtual this year from September 17-20, while Fish Fun and Folk is cancelled but will hopefully be back next year!
Getting to Twillingate
Twillingate is in Central Newfoundland, so it's easily accessible whether you are coming East or West. From St. John's, it's about a 5-hour drive. Coming from Gros Morne National Park, it's just over four hours. Twillingate is also just an hour away from where you can the ferry to Fogo Island, so the two make an excellent combination trip.
Where to stay in Twillingate
Twillingate has some great accommodation options to stay.
We stayed at the Hodge premises which is absolutely gorgeous. The rooms are so cozy, I could have honestly stayed there for a week and been content. The rooms also have gorgeous views of the harbour.
The Old Salt Box Co is another great option, they have a few properties around Newfoundland and consistently get good reviews.
If you're on a budget or just want to be outdoors, you could also camp in Twillingate. There is Dildo run provincial park, as well as Peyton's Woods RV Park and Campground. The night sky in Twillingate is just incredible, I really want to come back and camp here!
—
It didn't take me long to fall in love with Twillingate, just as so many others have! There's definitely some magic to this place, and I'm already itching to get back.
Big thanks to Adventure Central Newfoundland and Newfoundland and Labrador Tourism for making my trip to Twillingate possible.
Traveling around Newfoundland? Don't miss these posts!