This post may contain affiliate links. By clicking and making a purchase through the links, I earn a small commission at no extra cost to you. See my disclaimer for more information. This and display ads allow me to keep the site up to date and give back.
Looking for the best things to do on Fogo Island, Newfoundland? Let me help you! I grew up in Newfoundland, and Fogo is one of my favorite places in the province!
Newfoundland is already a remote destination, but a trip to Fogo Island brings it to a new level.
Fogo is an island within an island, so for most visitors, it takes several planes, a long drive, and a ferry trip to get there. Yet, it's becoming one of the most popular places to visit in Newfoundland. So what's all the fuss about?
After years of wanting to go, I explored Fogo Island while touring Central Newfoundland with the tourism board.
Beautiful hiking trails, whale watching from the beach, rich folklore, charming communities, and incredible restaurants are just some of the things that make this island unique.
Yeah, it's easy to see why so many people are falling head over heels for Fogo.
This travel guide will help you plan a perfect Fogo Island itinerary, including tips on getting there, where to stay, and the best things to do in Fogo.
Things to do on Fogo Island
1. Learn about the history on a walking tour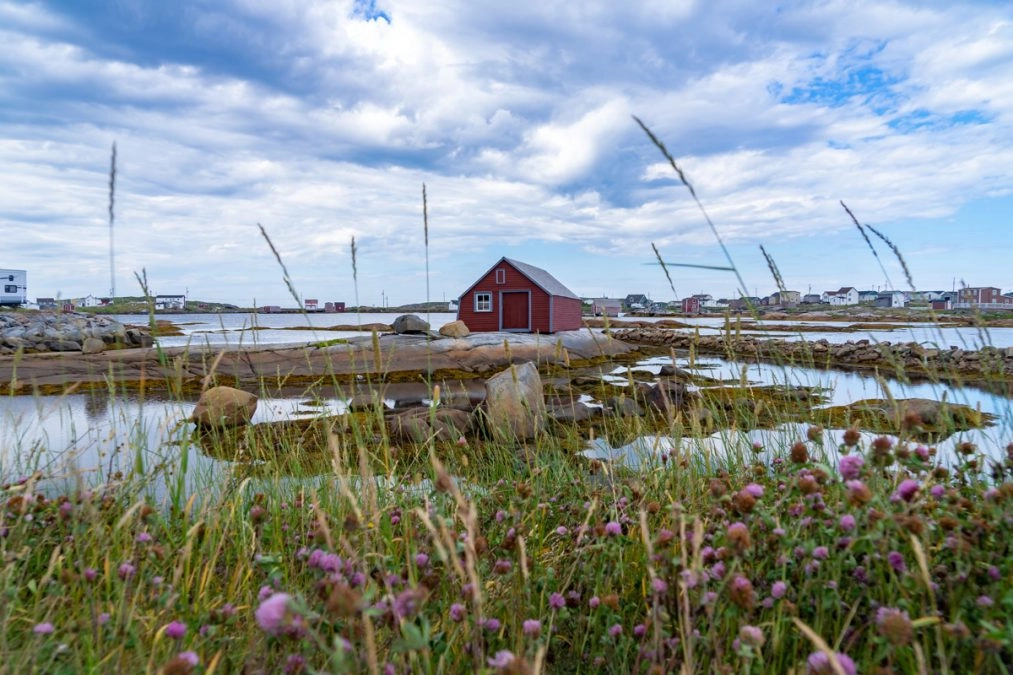 If you want to learn more about Fogo's fascinating history, join AL's Walking Tour of Tilting and Oliver's Cove.
We met with local Al Dwyer in the charming town of Tilting, the only Irish settlement in Fogo.
The accent of those from Tilting, including Al, sounds remarkably Irish, similar to what you would find along Newfoundland's Irish Loop. Al is also a great storyteller and a wealth of information about the area.
We walked through the Tilting Heritage site, where you can see well-preserved fishing stages and saltbox houses. It's a beautiful place to take photos.
From there, we followed along Oliver's Cove Trail, which is a gorgeous place to go hiking. Al had a story to go with every place we walked by.
It was fascinating to learn about what life was like when the Irish first came to the island and the challenges that they faced.
While walking by a garden, Al pointed out that it is the only arable land on the island.
Even though the climate on Fogo Island was much harsher than what the Irish left behind, it was still a better choice for them to come here.
The trail continued along the gorgeous coastline, passing through notable landmarks such as the Devil's Rocking Chair, where some Newfoundland tourism commercials were filmed.
At the end of the walk, we were looking back at Tilting with a gorgeous view.
2. Go Iceberg Hunting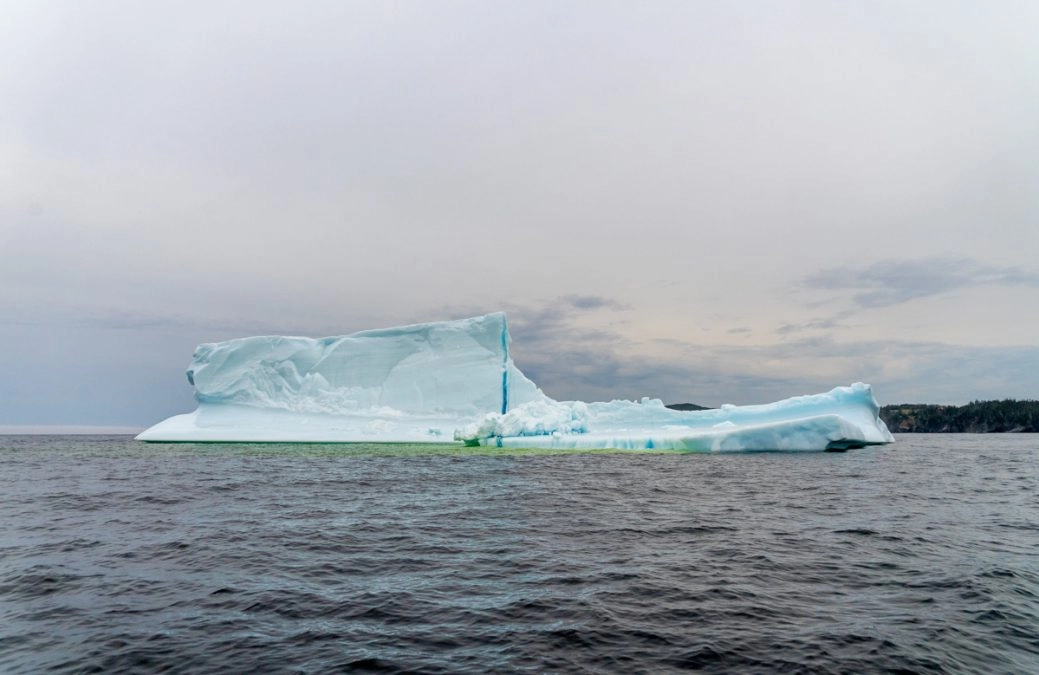 Depending on when you're visiting Fogo, you may be treated to a fantastic show of icebergs. Every spring, giant glacial works of art break off from Greenland and float down the coast of Newfoundland, passing through what is known as Iceberg Alley. Fogo Island is a prime location to see those icebergs!
3. Fogo Island Whale Watching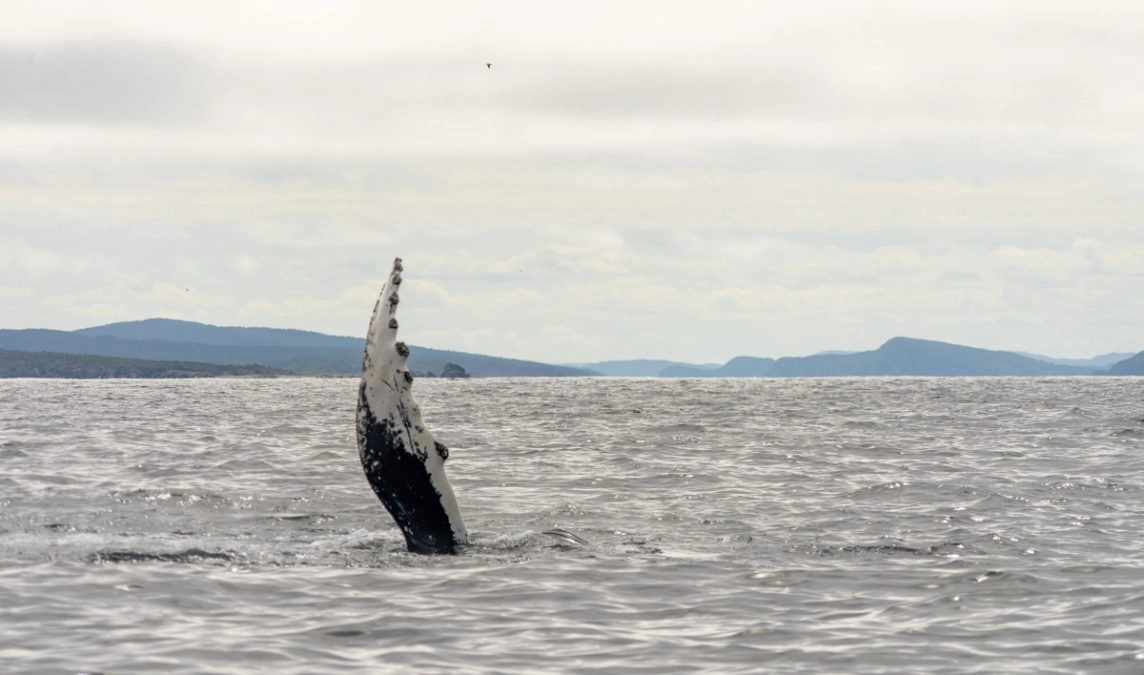 During the summertime, you can spot whales from the shores of Fogo Island.
Humpbacks and Minkes are the most common whales you can see here, but many other species are there – including dolphins! If you want to get closer to the whales (or icebergs), you can also join a boat tour.
Fogo Island is also home to several other wildlife species, including birds, puffins, and a healthy population of Caribou which were placed on Fogo Island in the mid-twentieth century. It's one of the best places for whales and puffins in Newfoundland.
4. Visit the Fogo Inn
If you've heard of Fogo, you've likely heard of the Fogo Inn, the 5-star luxury hotel built on the island in 2013.
The idea came from Zita Cobb, a local who went away to study and returned several decades later a multi-millionaire with a desire to turn the economic situation of Fogo Island around.
While locals have been surviving on Fogo Island for years, the increase in tourism, thanks to the Fogo Island Inn, has breathed new life into the economy.
As local Al put it, the Inn gave Fogo much-needed oxygen.
The Inn was built with sustainability in mind, with 100% of the hotel's operating surpluses reinvested into the communities. They even commission local residents to make furniture for each room (which you can purchase).
Unfortunately, the Inn was closed in 2021 because of COVID (not that I could afford to stay here anyway..) But when it's open, you may be able to go inside by either calling ahead and requesting a tour or booking a reservation at the restaurant inside.
They always put the needs of their guests first, but I've been told they do accommodate non-guests if possible.
Even if you're not going inside, it's still worth seeing the Fogo Inn from the outside. The architecture is impressive, as it stands on stilt-like structures in front of the Atlantic Ocean.
5. Go on a scavenger hunt to find the artist's home
Along with the Fogo Inn, the Shorefast Foundation was started, an international residency program for artists.
The artists-in-residence come to the island to research, disconnect, and live within the communities of Fogo Island.
The artists work out of four contemporary studio buildings designed by the same architect that built the Fogo Inn. All the studies are self-sustaining and entirely off the grid.
They are scattered across the island, so a fun way to spend an afternoon in Fogo is to try and find them all on a self-guided scavenger hunt. The four are Squish Studio, Long Studio, Bridge Studio, and Tower Studio.
You can find more info about Fogo Island Arts and the art galleries here.
6. Fogo Island Hiking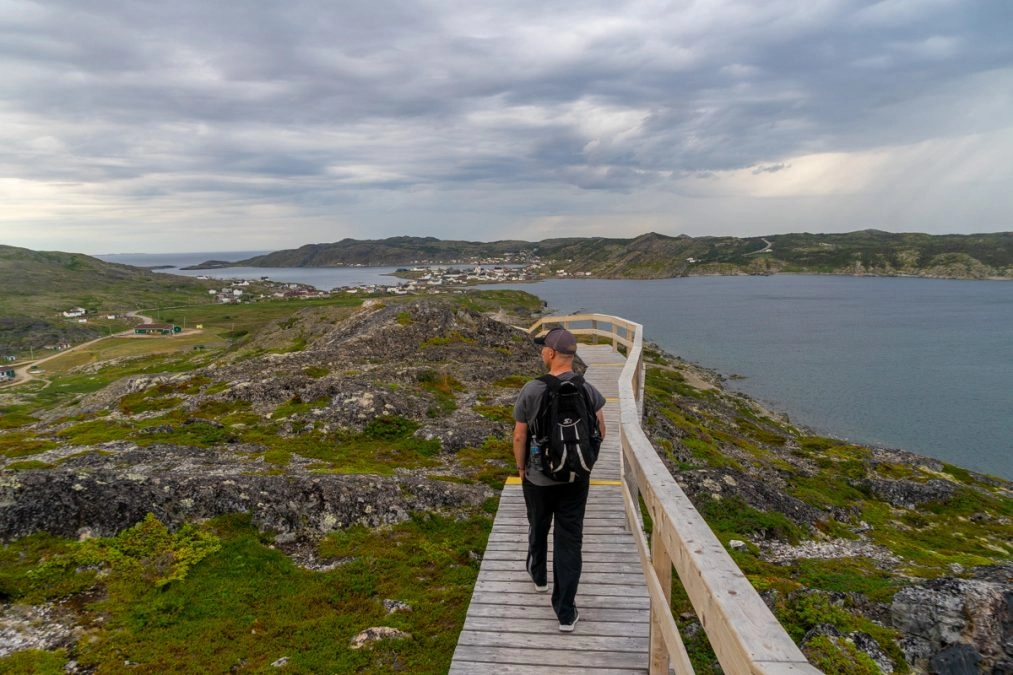 Fogo Island is the perfect place to get lost in nature; dozens of hiking trails are scattered across the island.
One of the best things to do on Fogo Island is Brimstone Head, which is believed to be one of the four corners of the flat earth by the Flat Earth Society.
Whether this interests you or not, it's worth going up here for the view – especially at sunset.
On one side, you can see the town of Fogo, and on the other, the Atlantic Ocean with the sun setting over it. It's only about a 15-minute walk to the top.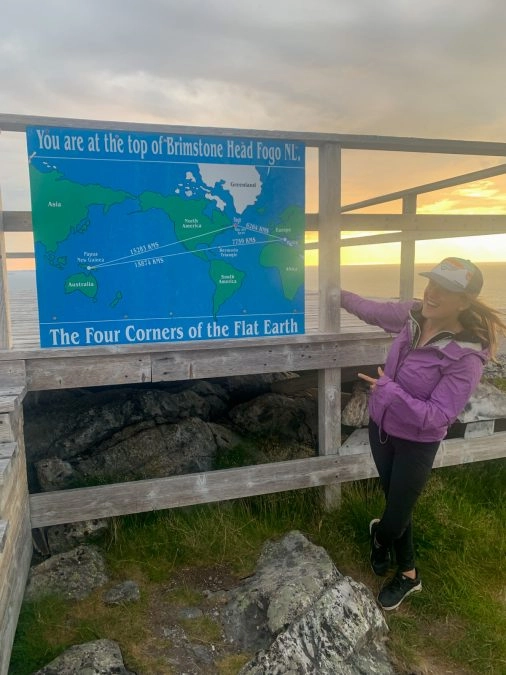 There are also several other hiking trails in Fogo.
Oliver's Cove Path is a nice trail along the ocean. There's also Turpin's Trail in Tilting, where you can see the first ground radar station in North America, and Waterman's Brook Trail, which ends at a waterfall.
7. Visit Sandy Cove Beach
Fogo Island is home to one of Newfoundland's most beautiful beaches, Sandy Cove Beach.
It's in the community of Tilting and is the perfect place to cool off if you're visiting during the summer. Yes, you can even go swimming here!
8. Explore the Communities
Some 3,000 friendly locals make up the 11 distinct communities on the island. The main community on the island is the Town of Fogo, where you can find restaurants, shops, and accommodations.
This is a great area to stay in, but one of the best things to do in Fogo Island is to drive around and explore the other communities.
Engage with the locals, learn about traditional cod fishing practices, and savor fresh seafood at a local eatery.
Tilting is one of the most picturesque communities, with well-preserved saltbox houses and fishing stages. In fact, Tilting was named a national historic site of Canada.
There's also a festival that happens every year in Tilting called Féile Tilting, which celebrates the Irish heritage and traditions of the community.
Some others you may want to visit at Joe Batt's Arm (home to the Fogo Inn) and Little Seldom and Seldom, which has the Fogo Island marine interpretation center.
9. Stargaze and Aurora Hunt
Fogo Island's remote location and lack of light pollution make it an ideal spot for stargazing. If you're lucky, you might even catch a glimpse of the mesmerizing Northern Lights.
How to get to Fogo Island
Fogo Island is located in Central Newfoundland, about 120km North of Gander. There is an airport in Gander, so the most direct way is to fly there and then drive to Farewell to take the ferry to Fogo.
However, most people who visit Fogo Island come from St. John's on the East Coast or Gros Morne National Park on the West Coast.
Fogo is in the middle of the two, so it's about five hours of travel from either.
To reach Fogo, you'll get on Trans Canada Highway 1 and then turn onto Highway 430 towards Farewell, where the ferry departs.
Many people also combine a trip to Fogo with Twillingate since it's just an hour from where the ferry departs. I highly recommend doing this, Twillingate is magical!
Unfortunately, you can't book the ferry to Fogo beforehand. It's a good idea to get there at least an hour before departure to ensure you get on, as it only takes 64 vehicles at a time.
It leaves five times a day; you can check the schedule here. At the departure port in Farewell, there is a bathroom but not much else.
Most of the ferries go to the Change Islands first and then to Fogo, which takes about an hour and 15 minutes.
If the ferry is going direct to Fogo, it only takes 45 minutes.
You can walk on, but I recommend taking a car to explore this beautiful island. You can also book a direct charter flight from St. John's airport with the Fogo Island Inn. Fancy!
How long should I stay on Fogo Island?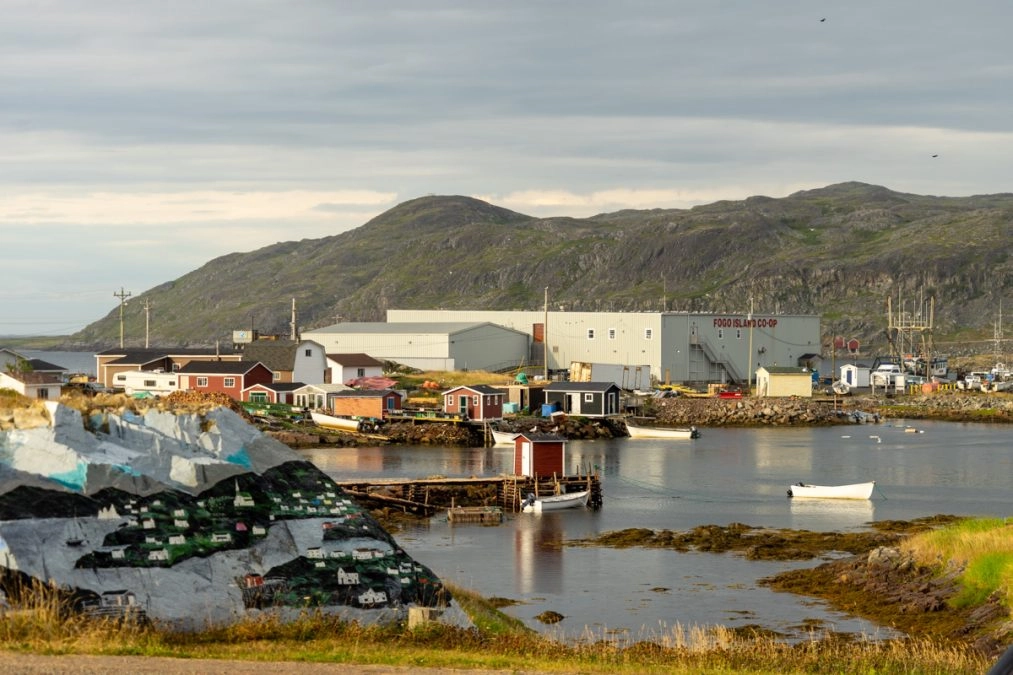 Fogo is just 20 miles long and 9 miles wide, so you could drive it in a day if you wanted to. I'd recommend spending longer than that, especially if you want to hike.
While visiting with the tourism board, we spent one night, and I didn't feel it was enough – especially when considering that you have to take the ferry there and back.
If I were to go back, I'd stay 3-4 nights to fully experience everything the island offers.
Places to eat on Fogo Island
Upon arriving in Fogo, we were starved, so we headed straight to the Bangbelly Cafe, a locally owned restaurant.
They have such a diverse menu with many delicious-sounding items. I eventually decided on the special, which was a shrimp Bahn mi. You can upgrade your fries to potato wedges AND nacho toppings, which come highly recommended.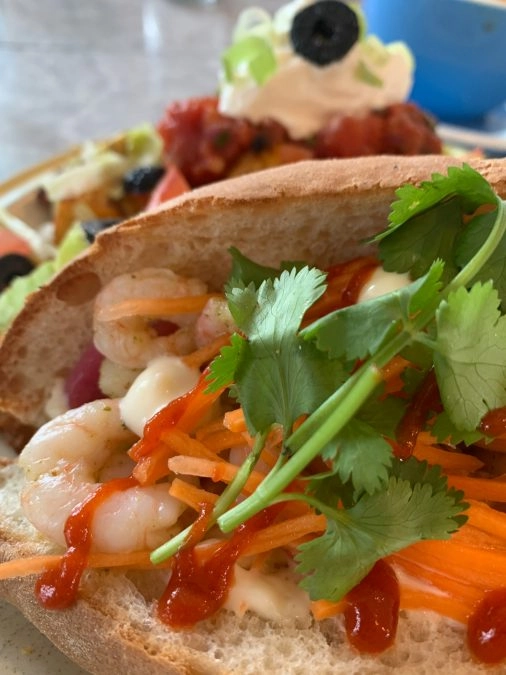 You can also make a reservation to eat at the restaurant inside the Fogo Inn, which was voted one of Canada's 100 best.
If you're visiting during the summertime, get a scoop from Growlers ice cream shop in Joe Batt's Arm.
Where to stay on Fogo Island
The ultimate place to stay on Fogo Island is the Fogo Island Inn, but since most people don't have that kind of money to spare, here are some other options.
For something more affordable, check out Peg's place. This is where we stayed, and it was perfect.
Centrally located and right across from a gorgeous view of Fogo.
The woman who co-runs it, Eileen, made us a delicious breakfast and had many suggestions on what to do. It's not fancy, but it's very comfortable and clean.
The Old Salt Box Co. is another popular place to stay on the island, which will give you the chance to stay in a traditional Newfoundland saltbox house.
If you love the outdoors and want to save some money, you can go camping at Brimstone Head, where there is a privately owned RV campground. It's a great location, close to the town of Fogo yet next to the ocean.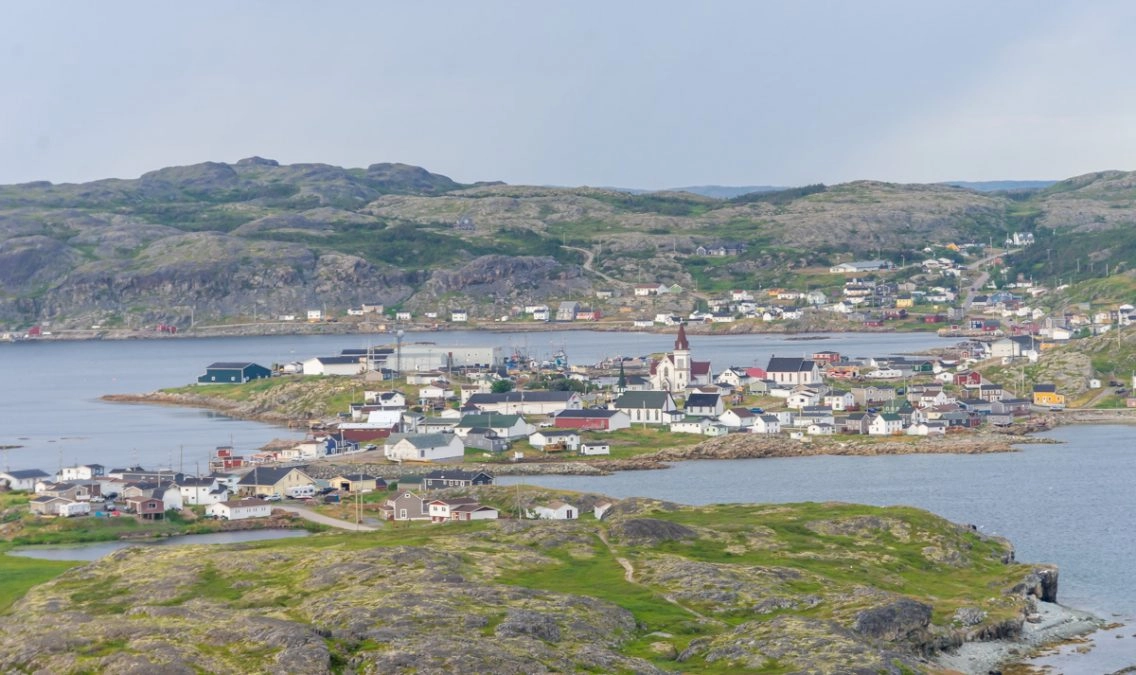 What to pack for Fogo
Like all of Newfoundland, the weather in Fogo is crazy. Perhaps even more so. On the Fogo Island Inn website, they joke about having seven seasons.
During our walk in Tilting, I made a classic Newfoundland mistake and wore a tank top and shorts because it was 30 degrees and full sun when we left.
It started to downpour along the walk, and I got completely drenched because I had nothing else with me. You can never, ever trust the weather in Newfoundland!
When packing for Newfoundland, you must be prepared for multiple seasons in a day.
A rain jacket is a must, along with a warm sweater and layers such as merino wool. If you're visiting in the summer, you'll also want some cool clothes as it can get hot.
In winter, you'll want an insulated jacket with hat, scarf, and gloves. Bringing a pair of quality hiking shoes is also a good idea, as the paths here can be muddy.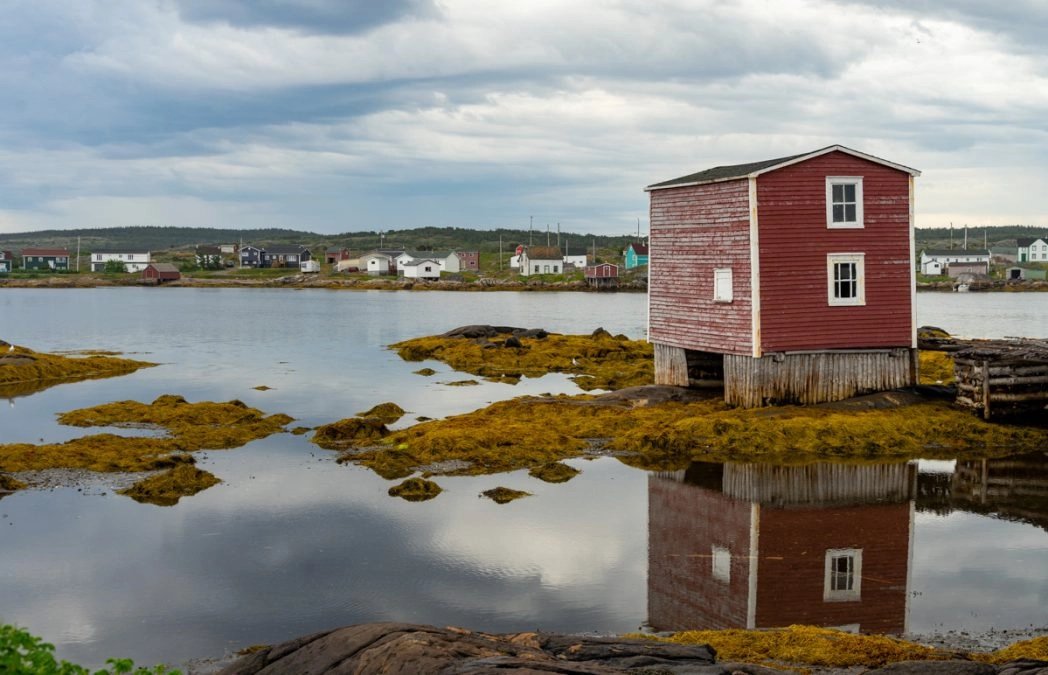 FAQ: Things to do on Fogo Island
Is it worth going to Fogo Island?
Absolutely! Fogo Island's breathtaking landscapes, rich culture, and warm community make it a unique and worthwhile destination.
What is Fogo Island known for?
Fogo Island is known for its stunning natural beauty, vibrant arts scene, and distinctive architecture, including the iconic Fogo Island Inn.
How long does it take to drive around Fogo Island?
The driving distance around Fogo Island is approximately 180 kilometers (112 miles), and it takes about 4-5 hours to complete the scenic loop.
What is the best month to visit Fogo Island?
The best time to visit Fogo Island is from late spring to early fall, specifically from May to September when the weather is milder and seasonal activities such as iceberg viewing and whale watching are available.
Do I need a car on Fogo Island?
Having a car offers more flexibility and will make your trip more enjoyable, but you can get by without one. Local taxis are available, and many Fogo Island attractions can be explored on foot.
Can you see the northern lights from Fogo Island?
Yes, Fogo Island's northern location and low light pollution make it an excellent spot to witness the magical Northern Lights, especially during the winter months.
Can you swim on Fogo Island?
Yes, you can swim on Fogo Island during the summer when the waters are relatively milder for an Atlantic coastline.
What language is spoken on Fogo Island?
English is the primary language spoken on Fogo Island.
Can you see icebergs from Fogo Island?
Yes, icebergs can often be spotted off the coast of Fogo Island during the spring and early summer months as they drift south from Greenland.
Does Fogo Island have Internet?
Yes, Fogo Island has internet access, but due to its remote location, the connection may be slower compared to urban areas.
What are the best outdoor activities to do in Fogo Island?
Hiking, whale watching, iceberg spotting, and stargazing are among the best outdoor Fogo Island activities.
Final thoughts: What to do on Fogo Island
Fogo Island is such a magical place to visit. I loved my time here and wish we could have stayed longer!
If you're seeking a remote destination with unique experiences, look no further than Fogo Island.
Big thanks to Adventure Central Newfoundland / Newfoundland & Labrador Tourism for making my trip to Fogo Island possible!
Planning a trip to Newfoundland? Don't miss these posts!