This post may contain affiliate links. By clicking and making a purchase through the links, I earn a small commission at no extra cost to you. This and display ads allows me to keep the site up to date and give back. Thanks for reading!
Newfoundland and Labrador is a province packed full of outdoor adventures, but when it comes to the top places to visit, Central Newfoundland is a region that's often overlooked. If you ask most people in St. John's about Central, they tend to draw a blank face and make some comment about getting gas in Gander. Admittedly, I didn't even know how much it had to offer, but after spending a week visiting with Adventure Central Newfoundland, my perception has done a complete 180.
Rafting, whale watching, sea kayaking, hiking, icebergs, and white-sand beaches – there are so many amazing adventures waiting in Central Newfoundland. I am blown away by the beauty of this part of Newfoundland and can't wait to share it with you. If you don't think there's outdoor adventure in Central Newfoundland, think again.
Go on a Marine Wildlife Safari in Hare Bay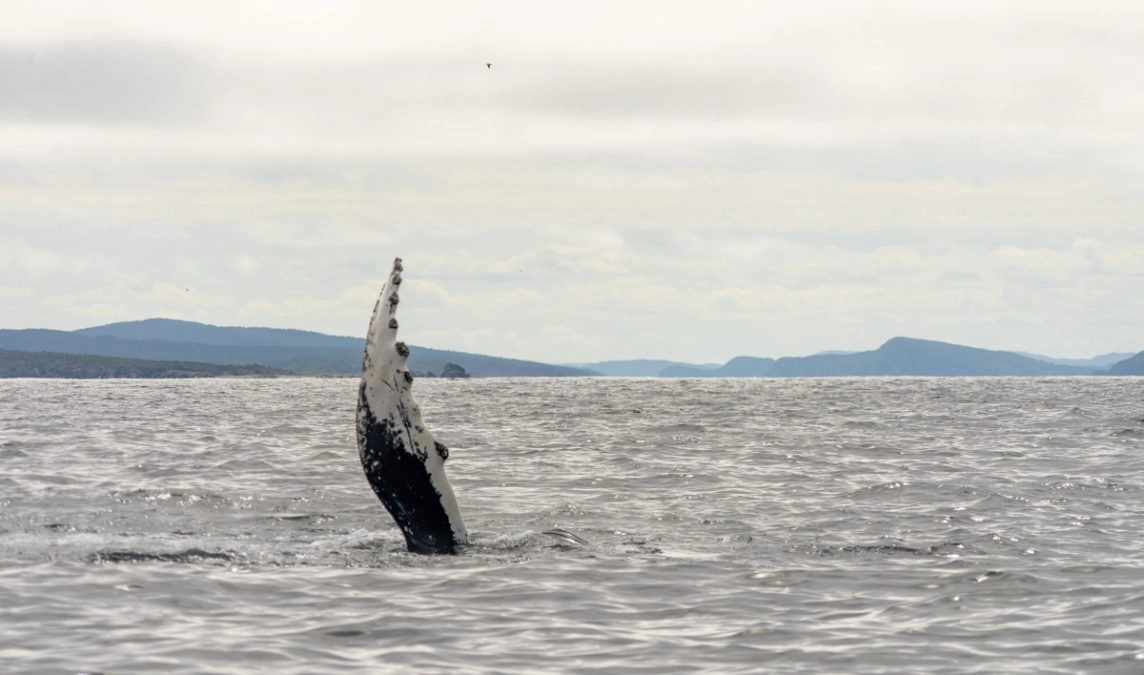 On the last day of my trip in Central Newfoundland, we were scheduled to go out with Hare Bay Adventures on a wooden row boat adventure. However, the owner Duane called the day before to ask us if we wanted to go whale watching instead, as he believed the area currently had the best whale watching on the island. Being the wildlife lover that I am, jumped on the opportunity.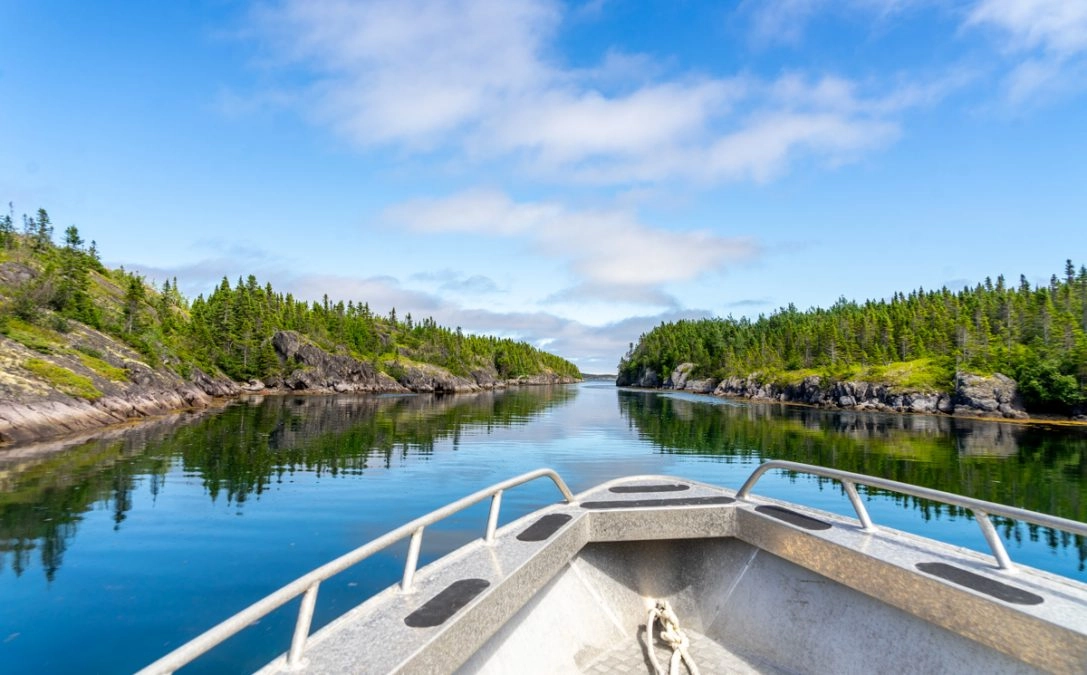 We met with Duane in Hare Bay and set off in the boat with Bryan, who also runs The Shark Co. The ride through the Northern Bonavista Bay was beautiful, we passed by several islands that were former communities that got resettled in the 1960s. The guides shared some of their stories of the resettlement history which was so fascinating to hear. If you're interested in learning more about this part of Newfoundland's history and visiting some of these islands, Hare Bay Adventures also offers resettlement tours.
After a while spouts started to appear in the distance so we followed them, making our way towards the playful whales. As we got closer, I couldn't believe how many whales there were. I have been whale watching several times in Newfoundland and it's never been this good. The whales were on all sides of the boat, I didn't have enough heads and cameras to keep up with how many there were. It was mainly humpbacks and a few minkes.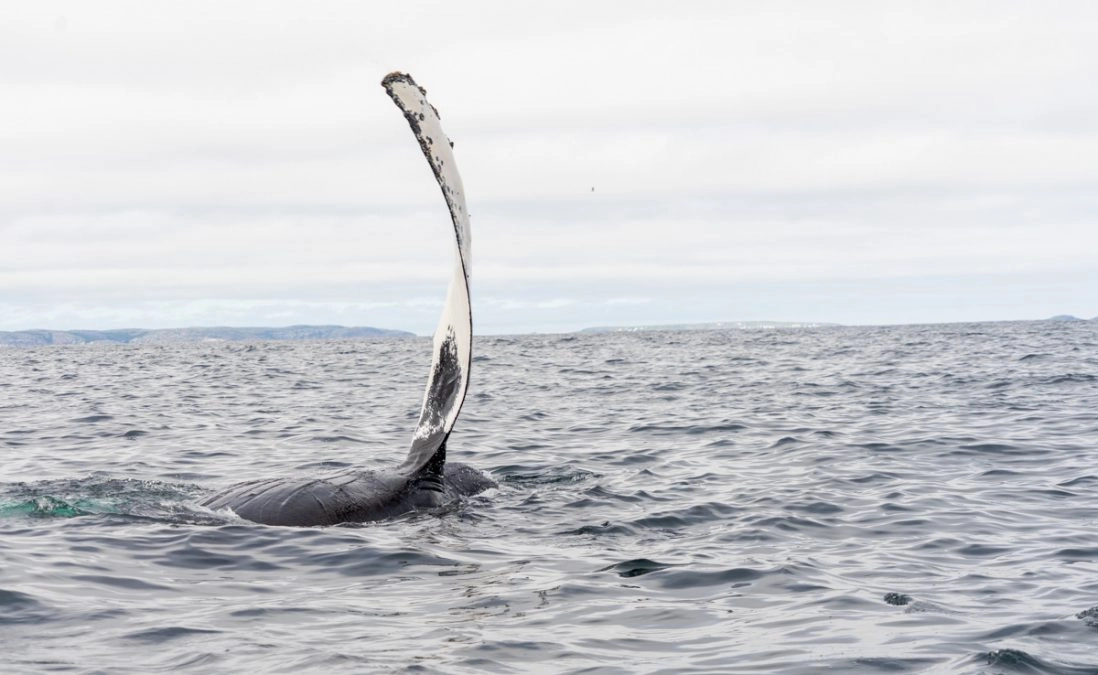 More to that, the whales were so playful. They were happily flapping around in the water, which to me looked like they were waving at us. It was such a magical experience!
The whales aren't the only marine life you can see here either, the area is full of birds. We went past a small island, that dozens of Northern Gannets were perched on.
I was busy trying to get a photo of the Northern Gannets, only to turn around and see literally thousands of birds flying over the boat. It was a feeding frenzy and an incredible experience to witness. It felt like an episode of planet earth! We even saw puffins diving for fish in the water.
After an exciting afternoon of whale and bird watching, we headed over to Braggs Island for dinner. Duane fried up some freshly caught trout and cod over a campfire, followed by a delicious partridgeberry cake, all in this magical setting you see below. It was the perfect ending to a perfect day!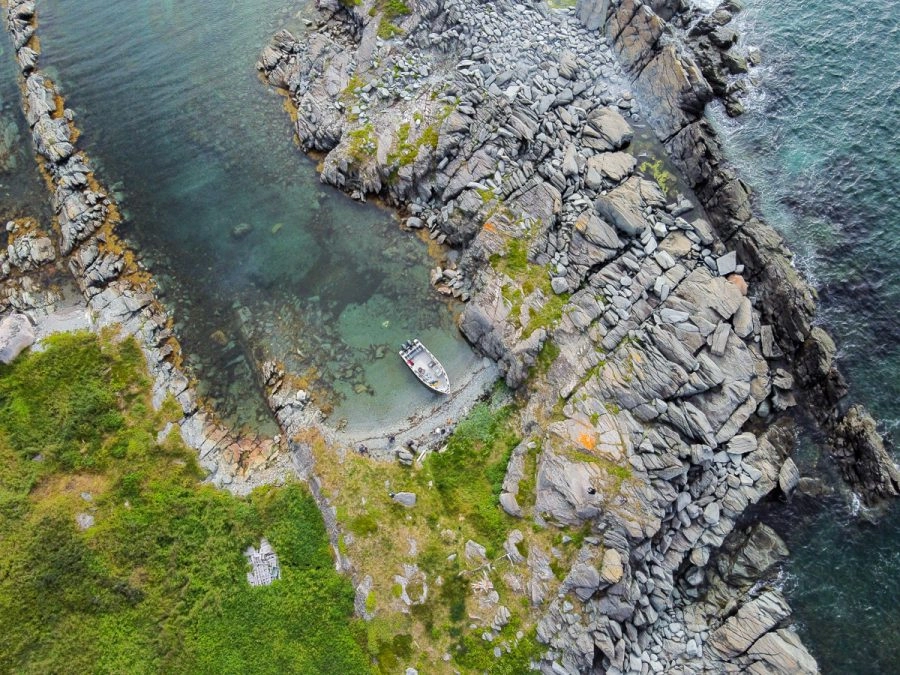 Hare Bay Adventures offers private whale watching tours when the whales are in the bay, as well as a variety of other adventurous tours including hiking, campfires, row boating, bird-watching, fishing, and more. Basically anything you want to do in that area, they can help you with.
Get Wet on the Canyon Run with Rafting Newfoundland
If you're looking for an adrenaline-packed adventure in Central Newfoundland, then visit Grand Falls-Windsor and join Rafting Newfoundland for a tour on the Exploits River. It's the only place you can go rafting in the province, and it does not disappoint.
Rafting Newfoundland offers two different rafting tours: the Canyon Run, and the Badger Chute. The latter is a family-friendly run suitable for ages 5+ and up, while the other is marketed as non-stop thrills from start to finish. The last time I went rafting was on the Zambezi River in Victoria Falls, so OF COURSE, I opted for the more adventurous one.
After getting geared up and given a safety briefing, we climbed down the rocks to the river. The tour starts right by the dam so there's a sign indicating the area is dangerous, only adding to the ambiance that this is going to be a thrilling adventure.
We started off with a 15-foot cliff jump into the water, which was much more effective at waking me up then the 3 cups of coffee I had prior to that. You get soaked on this tour, but the water is surprisingly warm. Before heading out on the raft, we swam over to check out a small waterfall, which the guides said that you can sometimes see salmon jumping over. How neat!
We hit the first rapid soon after, which as the guide explained changes daily as it depends on the dam outflow. So much fun! Although the rapids can be intense here, the route is actually very safe because there's always a large body of calm water after each rapid.
GH010138 from Laura Pope on Vimeo.
There are only a couple of major rapids on this route, but the guides make it fun by 'playing' in the water. We purposely took the raft back into several of the rapids, which is unlike any other rafting experience I've done before. One of these is called the 'toilet bowl' where you flood the raft with water. It's a blast!
The guides can basically customize this tour to be as adrenaline-packed as you want it. You wanna flip the raft? You got it! All of the guides are stoked with energy and make the experience so much fun. The route itself is also gorgeous, taking you through the canyon along the exploits river. After the last rapid we floated gently back to the starting point, which was the perfect way to end the afternoon.
Hike to the top of Alexander Murray Hiking Trail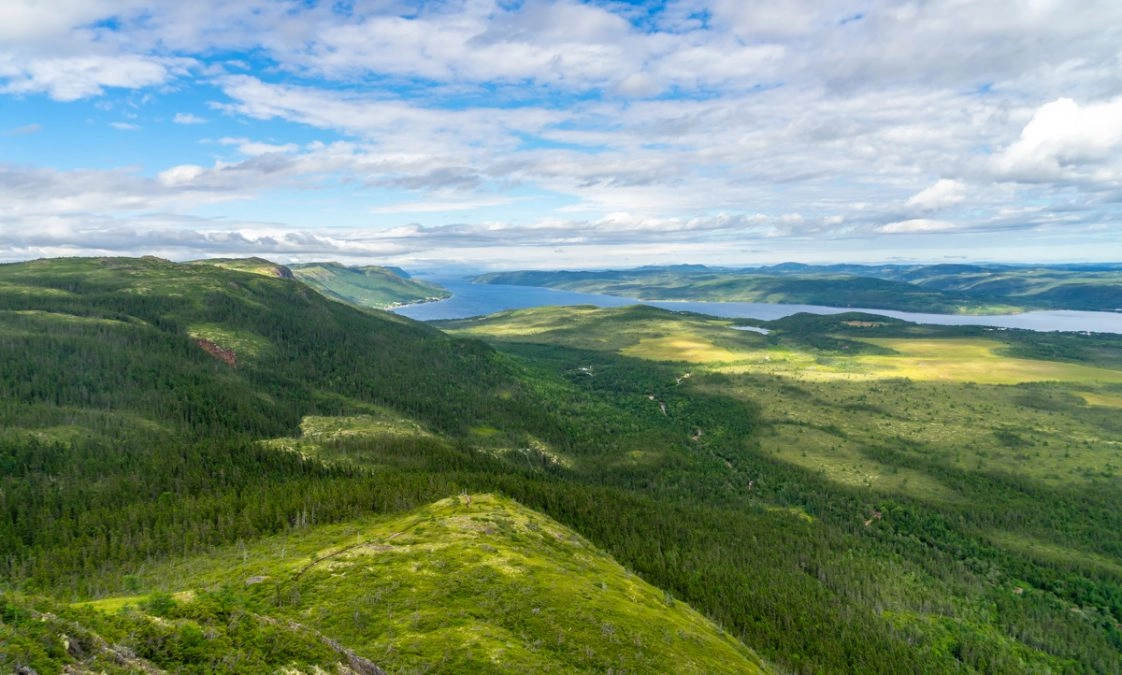 For one of the best views in Central Newfoundland, take a hike on the Alexander Murray Hiking Trail in King's Point, which is just outside of Springdale. The hike is named after Sir Alexander Murray, who was the first person to make a geological map of Newfoundland.
It's only 8km round-trip hike, but what makes this hike challenging is the number of stairs. The trail starts off seemingly easy through the forest, but as you get closer to the top you will be faced with what feels like never-ending staircases. To be more precise, it's actually 2200 stairs, but that's up AND down.
It's all worth it though, the views at the top are incredible. The summit, called HayPook, offers 360-degree views of Green Bay. It's definitely one of the best views I found while traveling in Central Newfoundland.
There are also several waterfalls along the trail, although they were pretty dry when we hiked it as it hadn't been raining much (remind me why I live in Eastern Newfoundland again)? I'd imagine these would be pretty gorgeous though after a heavy rainfall!
In total it took us about 3 hours round-trip to hike, which included lots of photos at the top. The trail starts by the entrance of King's Point at the Visitor Center on Highway 391, just 12 KM off the Trans Canada Highway.
Go Sea Kayaking around The Bay of Exploits with Adventures Newfoundland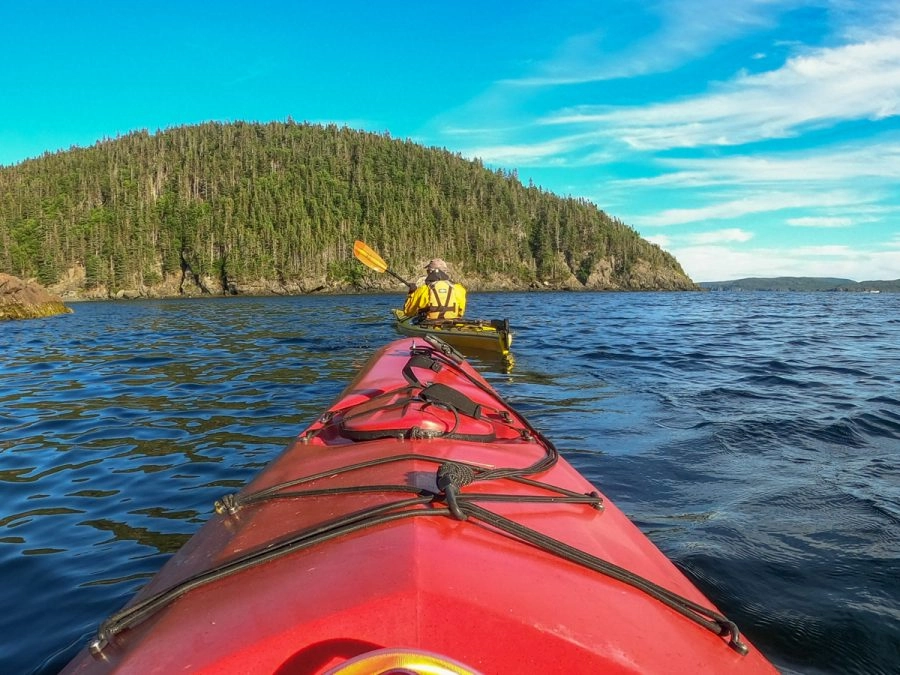 One of my favorite adventures in Central Newfoundland was sea kayaking around the Bay of Exploits with Adventures Newfoundland.
After spending the night in gorgeous Fortune Harbour, we met the owner Paul in nearby Lawrence's harbor where we hopped in his boat to the Bay of Exploits. Along the way, we passed by cliffs which have 450 million-year-old lava pillow crusts. Just a casual boat ride in Newfoundland!
The weather was not looking overly favorable in the morning, so we decided to wait it out because in Newfoundland, you can always count on the weather changing. Paul took us inside his cozy cabin and entertained us with stories over scones and coffee.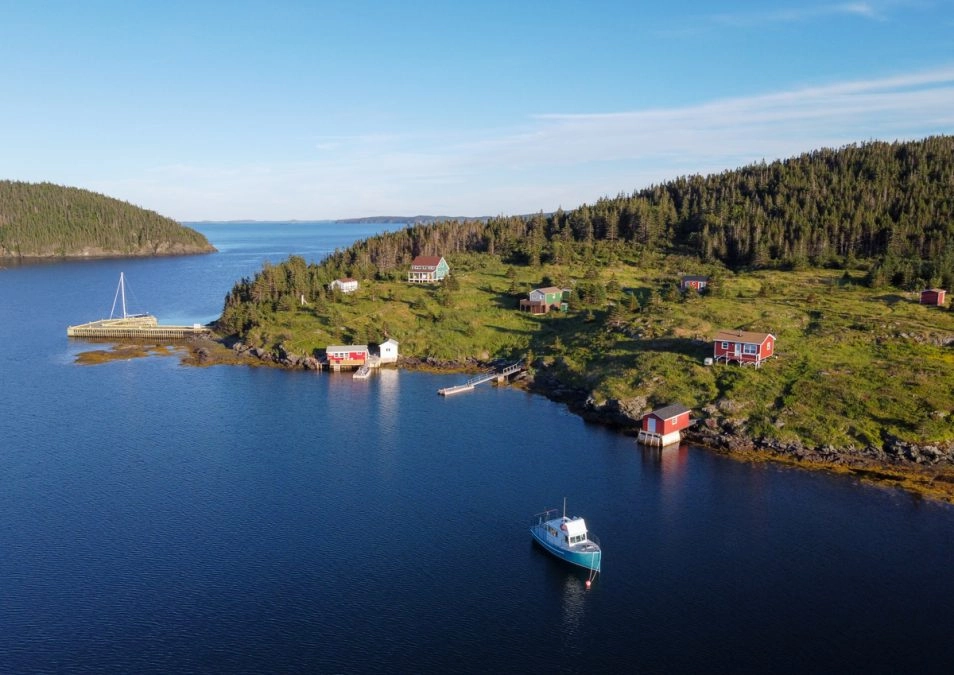 The Bay of Exploits has a fascinating history that Paul is a wealth of knowledge about. The land was inhabited by the Beothuk Indians before the arrival of European settlers, and when European settlement began, serious conflict developed. If you join a sea kayaking tour with Paul you will not only get to see this beautiful part of Newfoundland but also learn about the native Beothuk population and their fascinating but tragic story.
Our waiting paid off and the skies became perfectly clear in the afternoon, so we headed out into the kayaks and set off for a beautiful sunset paddle. Located within the much larger Notre Dame Bay, the Bay of Exploits offers very sheltered paddling among its many islands.
I was a bit worried that the ocean kayaking would be tough, but the kayaks that Adventures Newfoundland uses are top-quality, and the bay is so sheltered that it's a breeze to go through. My travel partner, Matt, may have also been kindly pulling the weight in our double kayak while I took photos, but he agreed that it was an easy paddle.
For the more adventurous paddlers, Adventures Newfoundland also offers multi-day journeys that will take you to the exposed Northeast coast of Newfoundland. Whether you want a one-day paddle or a week-long camping adventure, Paul can customize the tour to your needs. Visit his website to learn more!
Go Hiking in Fogo and Visit One of the Four Corners of The Flat Earth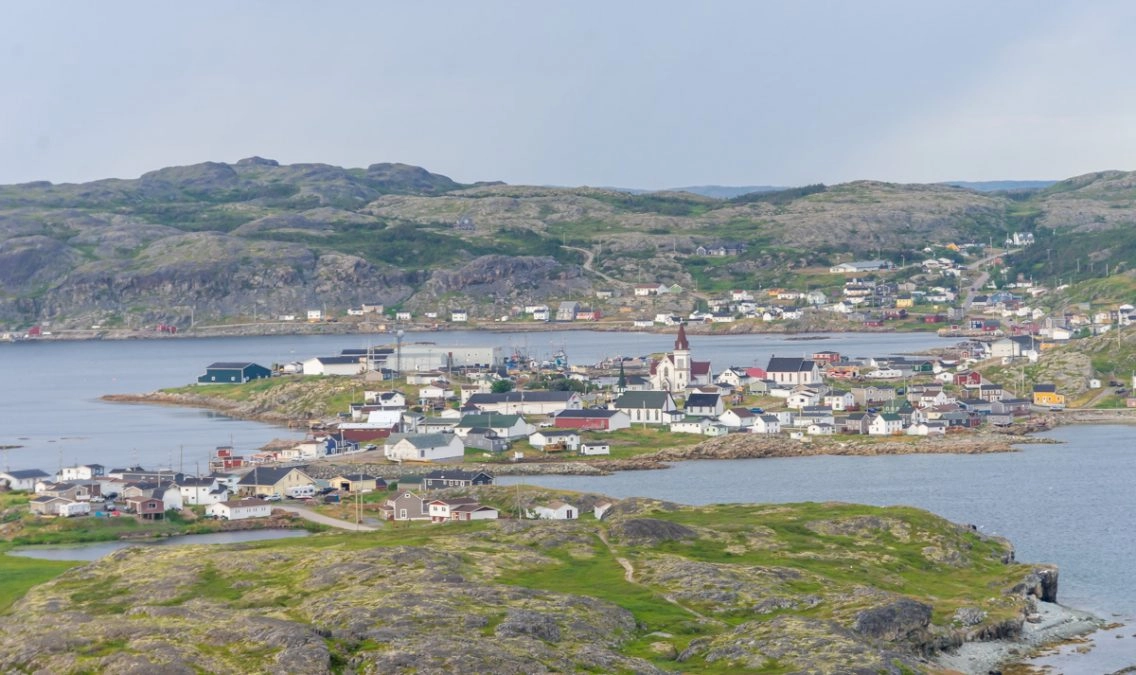 Fogo is a small island that has become increasingly popular in recent years largely in part to the five-star Fogo Inn. While the inn is certainly impressive, what attracts me about Fogo is its ease of access to nature. Walking around, it feels although the entire island is a hiking trail.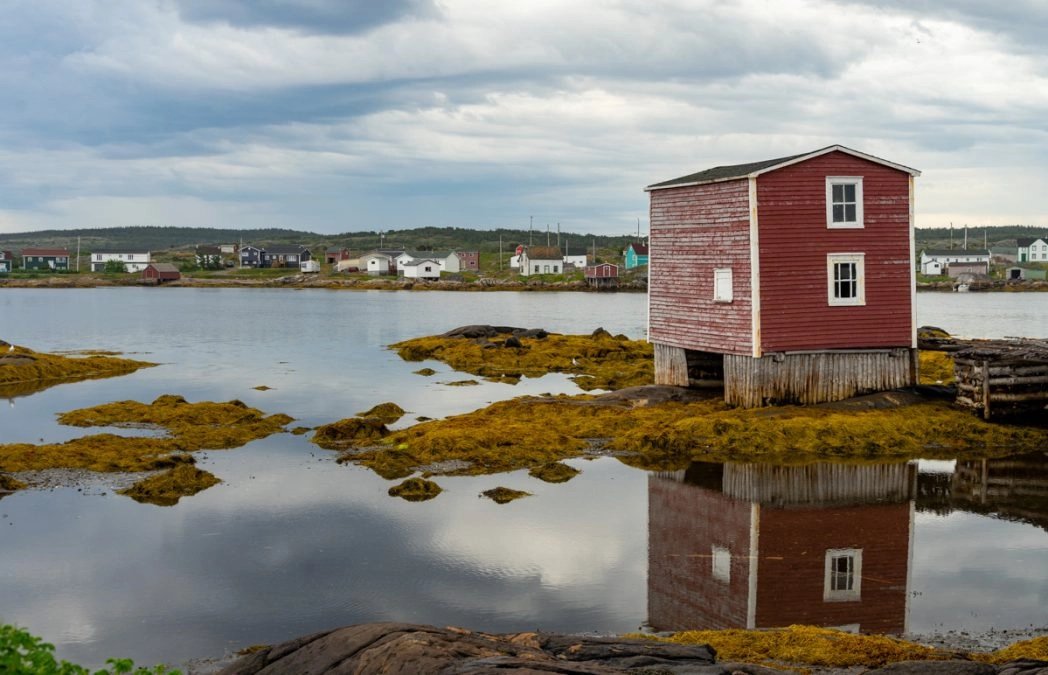 We met with local Al Dwyer, who runs a walking tour in Tilting, one of the communities in Fogo. Aside from being incredibly picturesque, what's interesting about Tilting is that it's the only Irish settlement in Fogo. The accent of those from Tilting, including Al, sounds remarkably Irish. I could listen to him talk all day!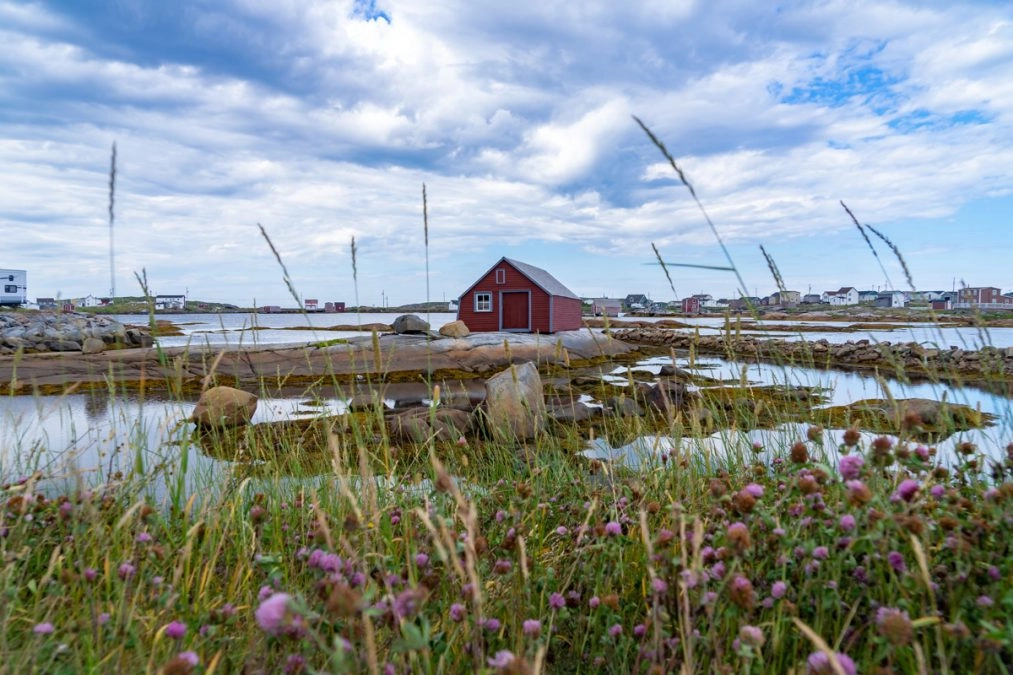 We started at the Tilting heritage site, where you can see well-preserved fishing stages and saltbox houses. Hiking along Oliver's Cove Path, we got to see traditional gardens, ancient graveyards, stunning coastlines, and interesting monuments such as the Devil's Rocking Chair. Throughout the walk, Al told us many stories about what life was like here when the Irish first came and growing up in Tilting, which was just fascinating to learn about. He has stories for days!
Just in time for sunset, we headed up to Brimstone head for a quick hike to one of the four corners of the flat earth, or at least what's believed by the Flat Earth Society. The other three are Hydra, Bermuda Triangle, and Papa New Guinea (new travel goal)?
Whether you believe it's one of the four corners of the earth or not, this is an epic place to catch the sunset and get stunning views of the town of Fogo. It's only about a 15-minute walk to the top.
See Where the Continents Collided at the Dover Fault
Newfoundland is full of fascinating geological history. From the tablelands of Gros Morne National Park that helped develop the theory of plate tectonics to 650 million-year-old fossils in Mistaken Point on the Irish Loop, a trip to Newfoundland will help you understand how the present-day shape of the planet was formed.
One incredibly significant geological area to visit in Newfoundland is the Dover Fault. It's the site where the North American and European continents collided 150 million years ago.
The town of Dover has set up an interpretation site where you can go and learn about it. Although you can visit on your own, I highly recommend going with Duane from Hare Bay Adventures. He is a wealth of knowledge about the area (history, geology, biology – there didn't seem to be a question Duane couldn't answer).
As he explained to us, the rocks you see on either side of the Dover fault are completely different from each other. The remnants of Africa and/or Europe occur east of the Dover Fault (the Avalon) and the Appalachian rocks occur immediately west of the fault. I will never stop being amazed at how cool the geology of Newfoundland is.
There's also the remnants of a plane crash from 1942 that you can see at the Dover Fault interpretation site!
Hike the Brand New Damnable trail system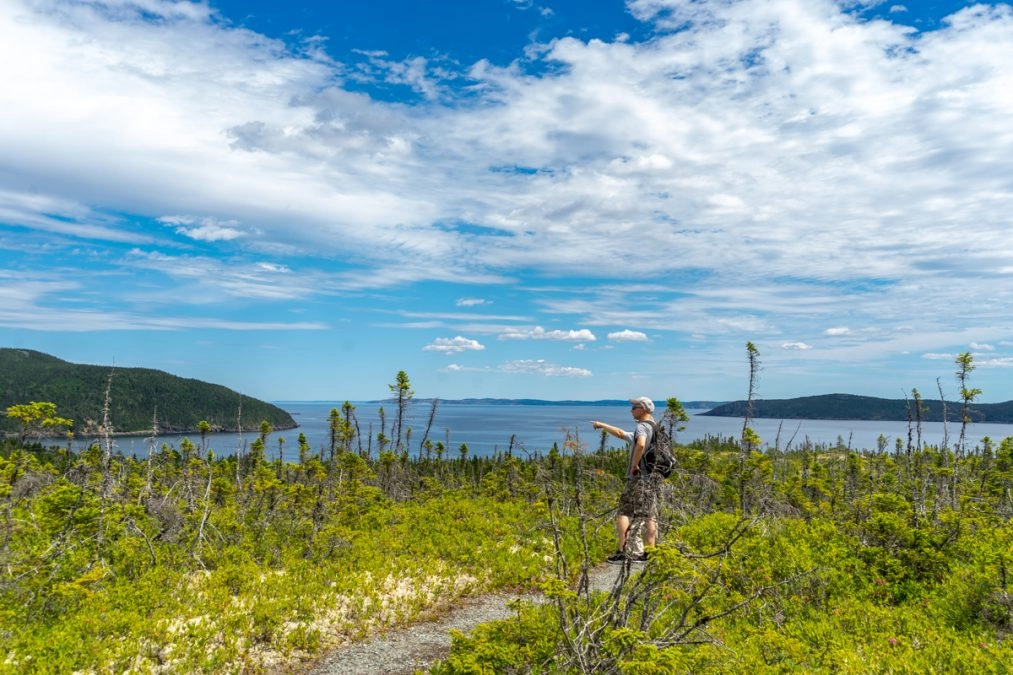 If you're looking for a new place to go hiking in Newfoundland, check out the Damnable trail system on the Eastport Peninsula. The trails were just completed last fall, and they've done an amazing job building them.
The paths which were largely developed from the remnants of old waking trails and hauling paths forged by the first settlers to the area. The trails are a great compliment to nearby Terra Nova National Park, which is mostly inland trails. The ones you'll find on the Damnable network are mainly coastal views, where you can sometimes spot whales in the summer!
We spent the afternoon with local Wayne and his friendly dog exploring the various trails. The trails were built with the principles of being both accessible and challenging so there are trails for all levels, including ones that are wheelchair accessible. The trails were also built to take you through the communities in the area. One of them actually starts right behind the museum in Salvage, taking you to a gorgeous viewpoint of the community.
Swim in the Ocean next to White Sand Beaches
White sand beaches in Newfoundland? This is another great feature of Central Newfoundland – beaches that aren't just rocks (although those do have their own charm). After hiking the Damnable trail system, we went to Eastport beach to cool off for a swim. I know, swimming in the ocean next to sandy beaches? this definitely isn't the Newfoundland I'm used too!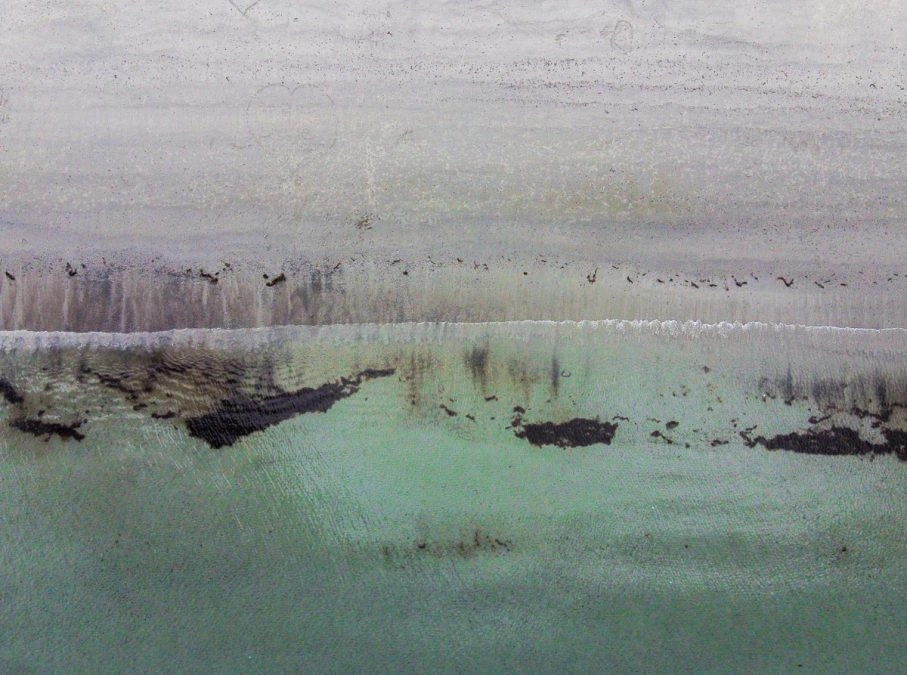 Because it was getting late in the day, The water wasn't quite as warm as I hoped it would be but I did manage to go in for a partial dip. I can count the number of times I've been swimming in the ocean in Newfoundland on my hand so the fact that I got in without immediately getting hypothermia is remarkable to me.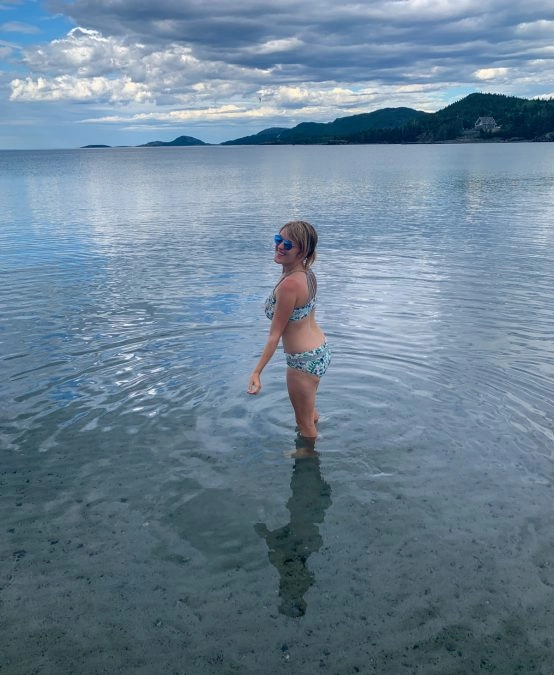 As I sat back on the beach a friendly doggo came over to me to say hi, followed by his owner who asked us if we were allergic to chickens (he had a box with him). It was a strange question to be asked on a beach and I expected him to pull out a box of BBQ chicken or something, but instead, a dozen or so baby chicks came out. I had to go over to see them.
The owner told me that he just got the chicks and he can't leave them at home alone so they come everywhere with him, including the beach. You'll meet all sorts of characters while traveling in Newfoundland, it's just part of the charm of being here.
The beaches don't stop in Eastport either, I've been told they are all over Central Newfoundland. Burgeo and Lumsden are apparently some of the best. I'm definitely adding these places to my list!
Another beach that's worth mentioning in Central Newfoundland is Glassy Beach in Springdale. It's not sand, but it's almost all beach glass which I haven't seen here before. Glassy Beach is marked on Google Maps and easy to find, it's just a short drive down a dirt road off the main road in Eastport. There's a well-marked sign to indicate where the beach trail starts, and it's just a couple minute walk down to the beach.
Search for Icebergs in Twillingate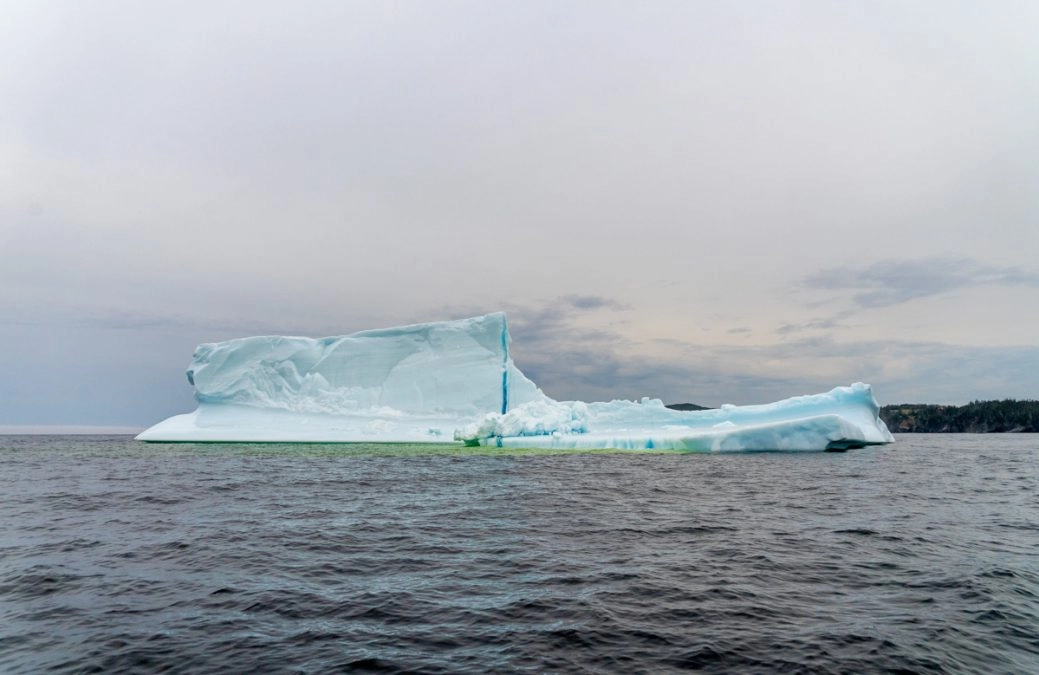 Twillingate is a gorgeous little town that has become a pretty popular tourist destination in recent years. One reason why is that its part of Newfoundland's Iceberg Alley, so every spring giant 10,000-year-old icebergs float by here, often getting stuck in the bay. The best time to see Icebergs in Central Newfoundland is late May into early June, although depending on the year, they can hang around into July.
Unfortunately for me, this wasn't a good year for icebergs (apparently the icebergs are social distancing too), but we still headed out on a boat tour with Twillingate Adventures. Even without icebergs, it's worth doing this boat tour in Twillingate. Because you are always guaranteed the coastline, and the coastline here does not disappoint.
The landscapes around Twillingate are stunning. There are so many neat rock formations you can see around here, as well as several species of birds. We saw ospreys and bald eagles on the boat tour!
There are also several species of whales that hang around the water here, especially when the capelin start rolling (usually around mid-July). I thought this boat tour was incredible without whales and icebergs, so I can only imagine how mystical it would be to see an iceberg or whale against these epic coastlines.
The boat that Twillingate Adventures uses, the Twillingate Spirit, is also the smoothest boat I've ever been on in Newfoundland. It was custom built for Twillingate with a wave dampening design, so you barely feel the waves you're going through, which is RARE in Newfoundland. If you're worried about getting seasick but want to do a boat ride in Newfoundland, this is a pretty safe bet!
Fuel your Adventures with Experience Twillingate
With so many outdoor adventures, you'll need to fuel up! And I know the perfect way to do that which is an adventure in itself. For one of the best food experiences in Central Newfoundland with an equally amazing view, check out Experience Twillingate with local Crystal Anstey.
We met Crystal at a gorgeous beach in Twillingate where she prepared an incredible four-course meal all using local ingredients right on the beach.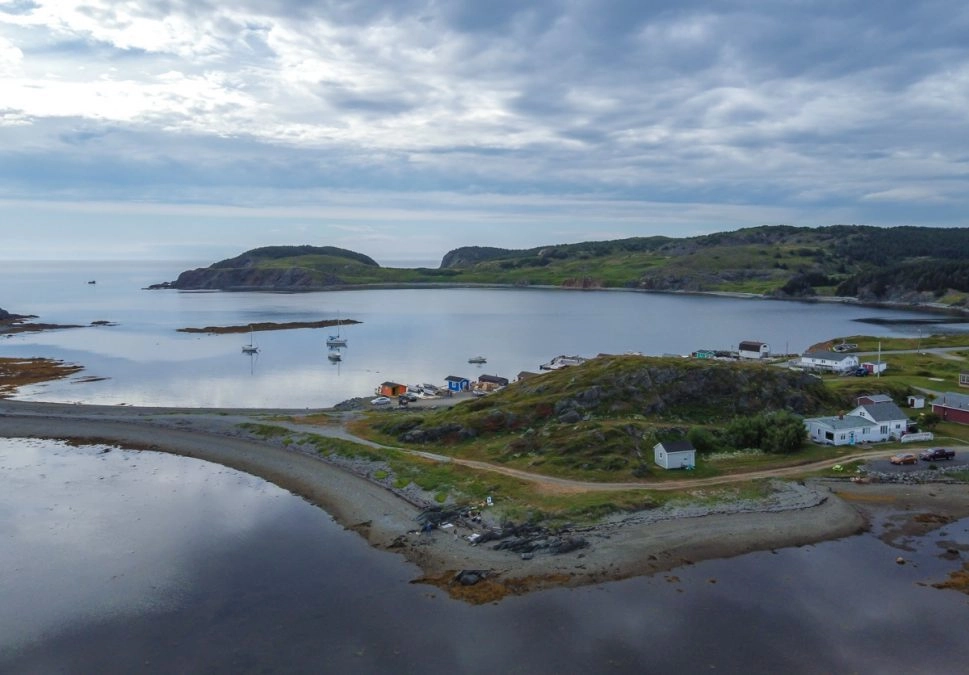 The dinner started with scallops, which Crystal made cooking look like a breeze. In fact, she gave me cooking tips the whole way through and almost had me convinced I could do it myself (cooking is not my strong suit). Using the campfire and a hot cast iron pan, the scallops were cooked to perfection and served in a very adorable mini-sized cast iron pan.
Following the scallops, was a cod dish with kale that melted in your mouth. Crystal is all about using minimal ingredients as the seafood in Newfoundland has so much flavor on its own. Another thing I loved about this experience is that every single item Crystal uses during the experience is local and sustainable, downright to the wood boards she uses to serve the food on. Her kids caught the fish!
Then came the main event of the night, the lobster. I "helped" by collecting the water from the ocean, which is the perfect amount of salt for cooking (how neat is nature?). Last but not least, we had mini strawberry pies made with freshly made strawberry jam using local berries.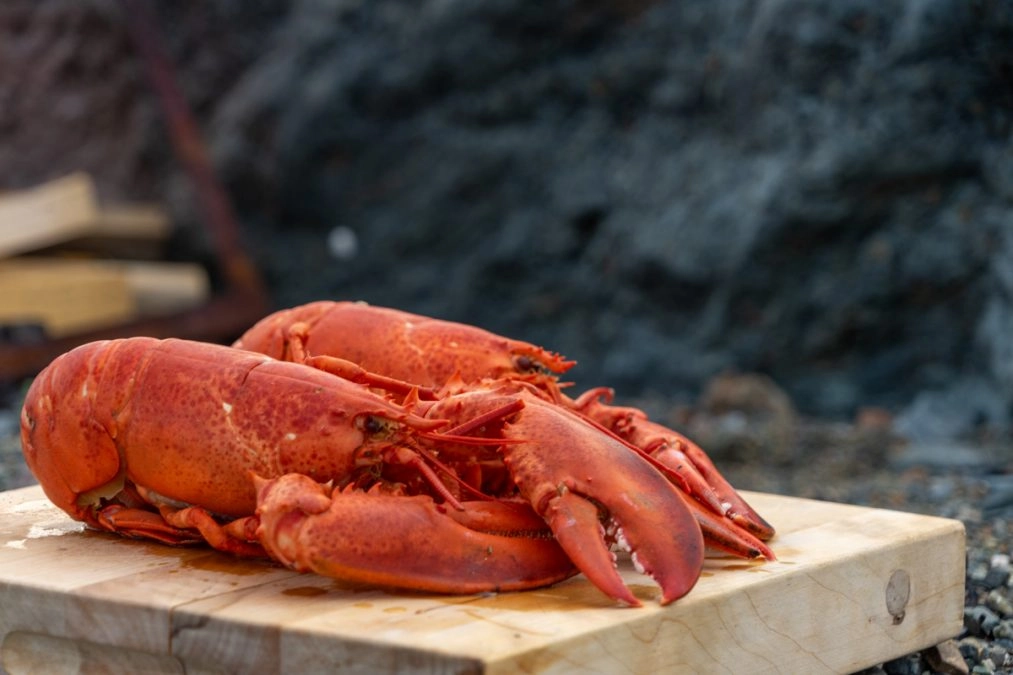 This entire meal was set amongst the sunset on the beach in Twillingate, which only seemed to become more beautiful with each passing minute. As the sun set, you could see the reflection on the houses in the water.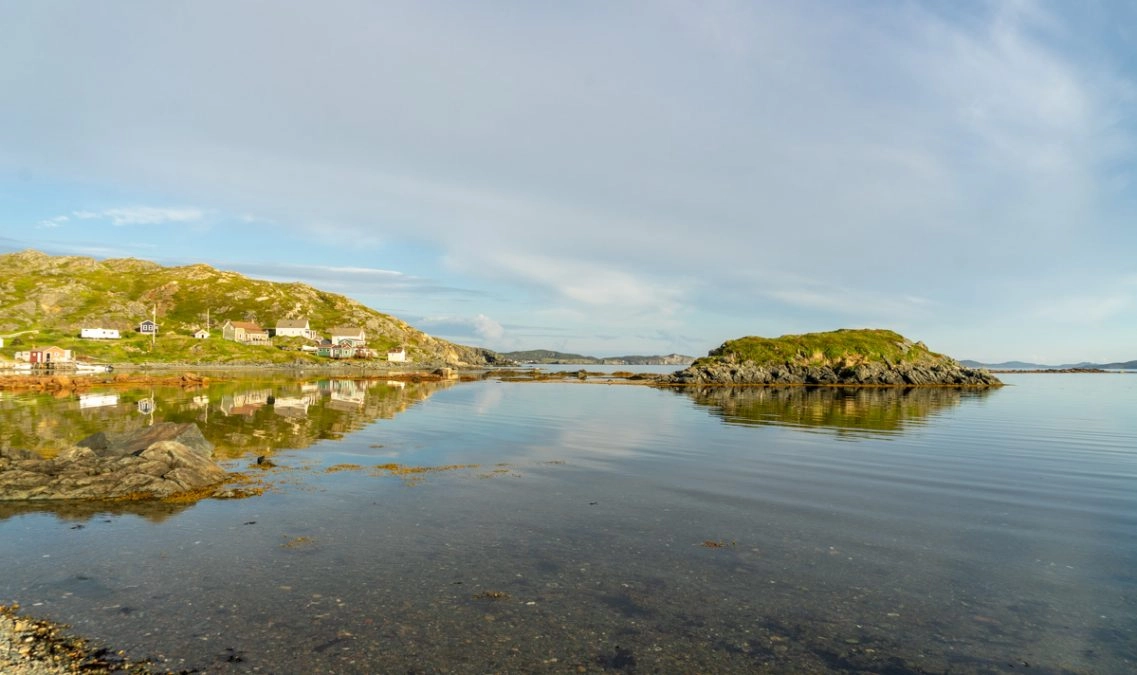 Aside from the delicious flavors and beautiful setting, Crystal is just an awesome person. You may start the night as strangers but I can guarantee you'll leave feeling like you spent the night with your friends. With such a beautiful backdrop, good company, and incredible food, I cannot think of a better way to spend a summer evening in Newfoundland. If you want to book this experience, visit her website here.
Final Thoughts
I'll never look at Central Newfoundland the same way after such an amazing week of experiences. If you just get off that highway, adventure awaits.
I hope this post could inspire you to visit this amazing part of Newfoundland and Labrador. Let me know in the comments below which adventure you would love to try!
Big thanks to Adventure Central / Newfoundland & Labrador Tourism for sponsoring this trip. As always, all opinions are my own.
Enjoyed this post? Pin it for later!