This post may contain affiliate links. By clicking and making a purchase through the links, I earn a small commission at no extra cost to you. This and display ads allows me to keep the site up to date and give back. Thanks for reading!
One of the best parts about living or visiting St. John's, Newfoundland is that you're never far from a walking or hiking trail. There are paths all throughout the city as well as many places to hike just outside it that make for great day trips.
I've spent most of my summer hiking around St. John's Newfoundland and created this post to share my favorite hiking trails with you! Many of the hikes in St. John's are part of the East Coast Trail, a 336 km trail that runs along the eastern edge of the Avalon Peninsula.
Since I've already written extensively about hiking the ECT here, I'm going to focus on other hiking trails in St. John's with some of my favorite ECT ones thrown in.
Hiking Trails in St. John's Newfoundland
Quidi Vidi Lake Loop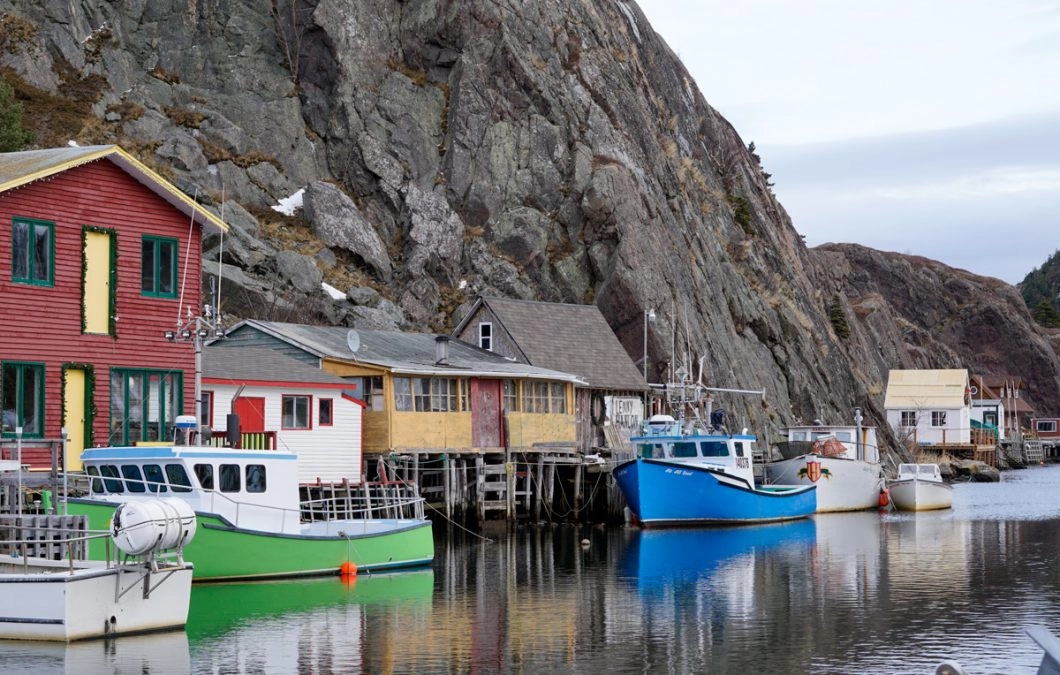 The Quidi Vidi Lake trail is an easy 3.8 km loop that goes around Quidi Vidi Lake. It's a fairly popular trail that can be crowded on a nice day.
While hiking along the trail, it's well worth adding on a stop to Quidi Vidi village, one of the most picturesque spots to visit in St. John's. There is also a brewery you can visit there!
If you're looking for a more challenging hike near Quidi Vidi, you can take Sugarloaf Path from the Quidi Vidi Village to Logy Bay. It's a difficult but rewarding 9km hike, it takes about 4-5 hours.
North Head Trail, Signal Hill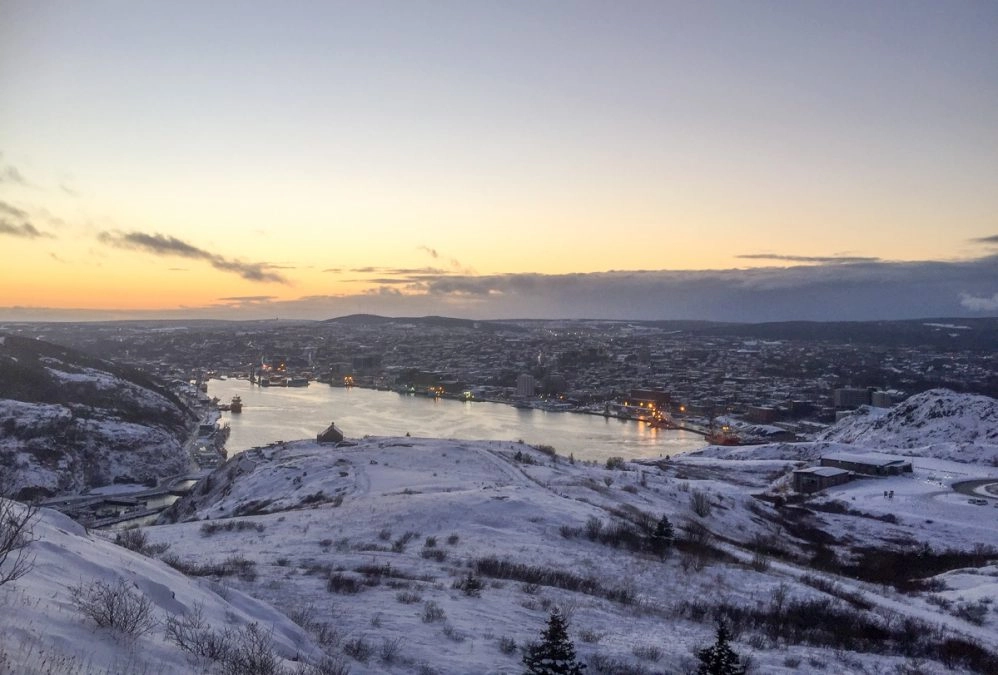 Signal Hill is not only an interesting place to visit historically but one of the best spots for photography and hiking in St. John's. At the top of Signal Hill, you can get stunning sweeping views of the St. John's Narrows and Fort Amherst across the way.
There are a 5km network of trails around Signal Hill but one of the best to do is the North head Trail, which is 1.7km one-way. If you take it from the top of Signal Hill, it takes you down 500 steps along the coastline and ends in the battery, which is another cute community in St. John's.
You can also do this hike in reverse starting at the battery (which is much more challenging) but due to COVID, Parks Canada has it set up as a one-way hike only from the top.
You can also combine the Quidi Vidi Lake Loop and Signal Hill North Head Trail into one loop, which is about 9km in total. It took me about three hours to do.
Fort Amherst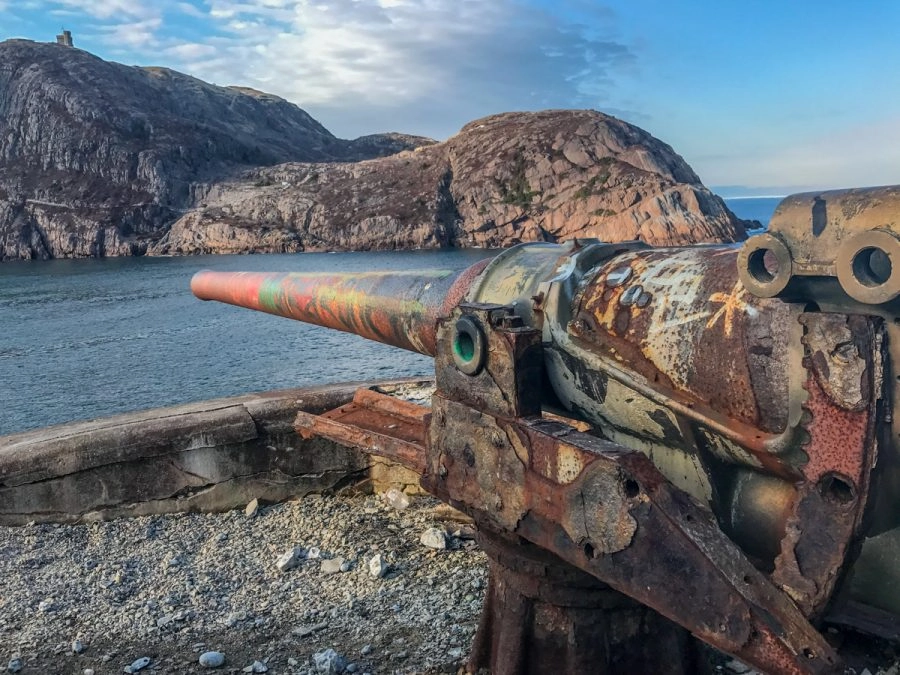 Fort Amherst is across the harbor from Signal Hill and is another interesting historical place to visit. There you can see the remains of a WWII battery complex that consists of many rooms, stairways, and old artillery guns. It's a fun place for photos!
If you're looking for a challenging hike, you can take Dead Mans Path (part of the East Coast Trail), from Fort Amherst all the way to Blackhead. It's a 10km hike that's quite steep. Expect this hike to take 4-7 hours, and bring lots of water!
Blackhead Path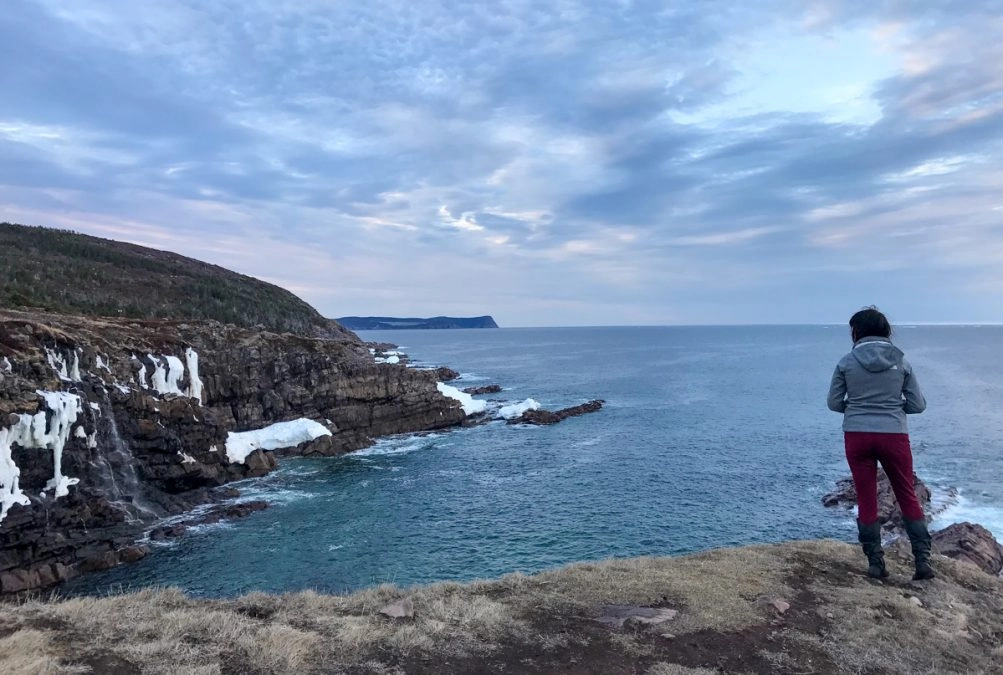 The East Coast Trail association has now combined Blackhead Path with the Cape Spear Path (a 15km total hike), but you can still do it just as a 3.7km hike which is a great option if you're looking for a shorter hike.
It begins in the community of Blackhead where there is a small parking lot, and goes to Cape Spear. It's a moderate hike that only takes 1-2 hours but has gorgeous coastal views.
Freshwater Bay
Following the same road that goes to Cape Spear, about half way there is a parking lot to the left where you can park and take the trail down to Freshwater Bay.
It's an easy 5km out-and-back, which takes you down to the ocean where the trail connects with Dead Man's Path on the East Coast Trail.
Cape Spear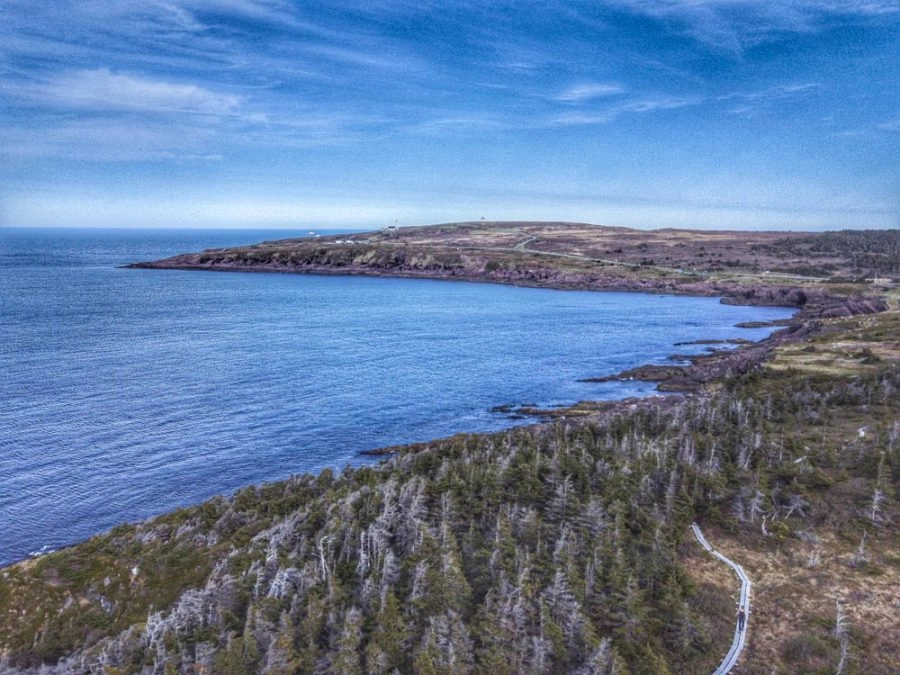 Cape Spear, which is the most easterly point in North America, is also a great place to go hiking near St. John's. You can simply drive to the area and walk around the lighthouse and get your photo taken by the most easterly point in North America sign.
Or you can turn it into a longer hike by taking the East Coast Trail Cape Spear Path to Maddox Cove, which is a 10km moderate hike.
Three Pond Barrens
Located in Pippy Park, Three Pond Barrens is a great place to go hiking with dogs because they can be off-leash. There's a pretty big network of trails here, and from my experience, most are relatively flat.
I did up following one trail that went steadily up, and eventually, I got some pretty nice views overlooking St. John's. I've been hiking here in both the summer and wintertime, and it's well maintained.
Manuel River Trails
Located just outside of St. John's in the community of Manuels is the Manuels Interpretation Centre and hiking Trails. It's a 5km network of trails that goes along the river. It's an easy walking path and a lovely place to cool off in the summer as you can go swimming there.
Cobblers Path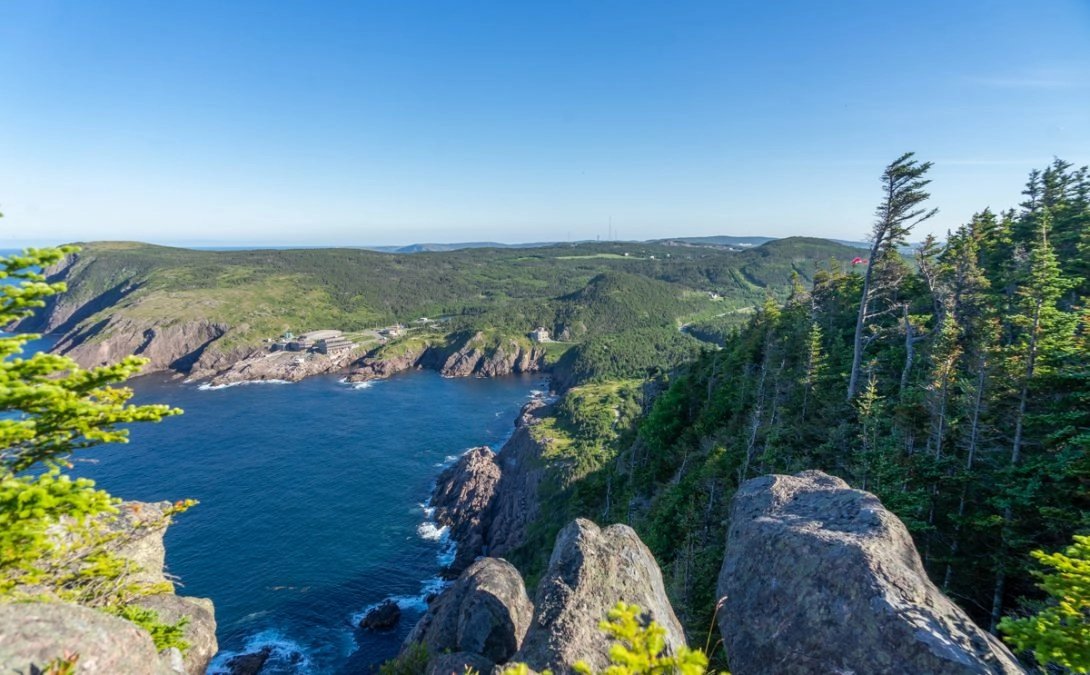 This is one of my favorite hikes on the East Coast Trail. It goes from Red Cliff to Outer Cove and only takes 1-2 hours to complete each way. You can park a car at either end or do it as a return trip easily. There is an extra lookout at the end of Logy Bay which is so gorgeous – don't miss this!
Topsail Beach Bluff Trail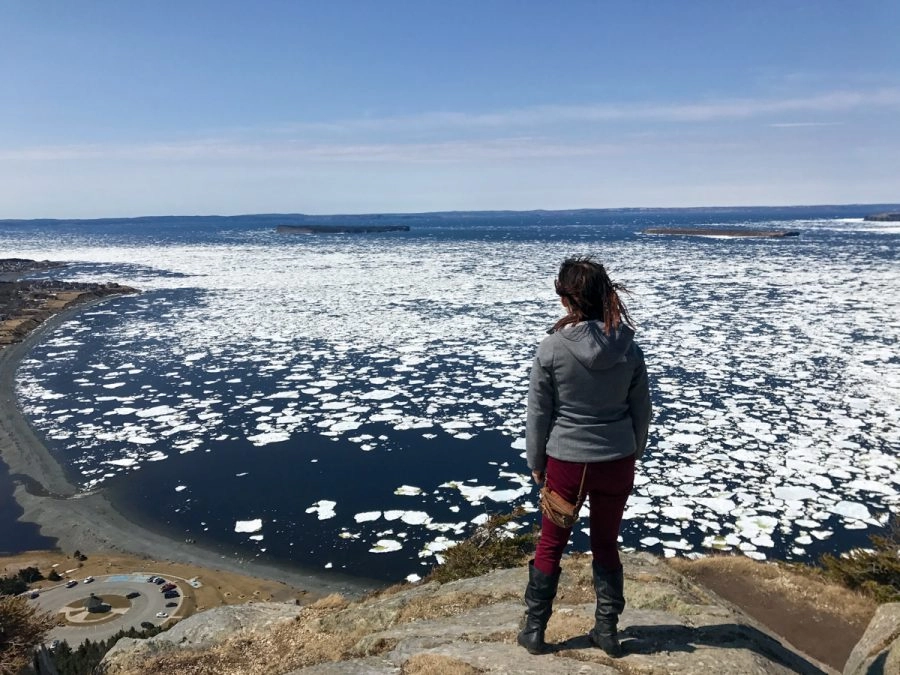 Located near Topsail Beach, the TopSail Beach Bluff Trail is a short climb to the top of the bluff where you can get views overlooking the ocean. I went here when a bunch of pack ice had come into the harbour and it was a great spot to see it from!
Day Trip Hiking Trails from St. John's Newfoundland
These hikes are further away from the city but make excellent day trip options.
Bell island
If you're looking for a fun day trip from St. John's, take the ferry over to Bell Island from Portugal Cove. On the island, there are several hiking trails to explore. Check out the newly developed Gregory Normore Coastal Walking Trails where you can see coastal beaches.
Irish Loop Trails
The Irish Loop is a beautiful drive which also has some of the best hiking trails just outside of St. John's. It makes up a large part of the East Coast Trail and there are over a dozen hiking trails you can do here. I've written about many of them on my ECT Guide but here are a few more ideas:
The Tolt in Witless Bay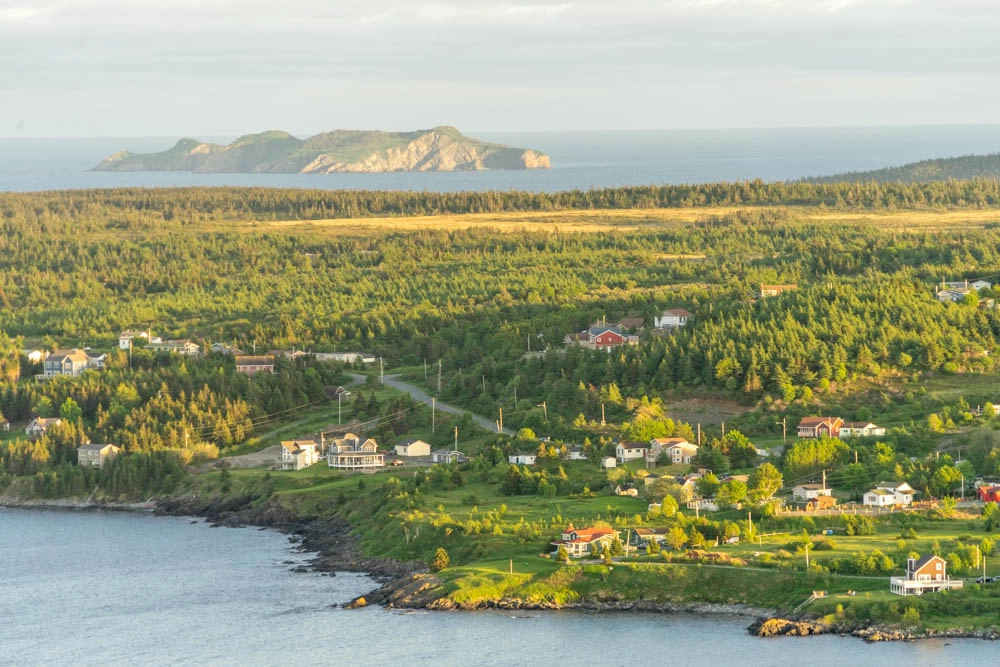 This is a very quick 10-minute hike that takes you to a gorgeous 360-viewpoint of Witless Bay. On one side, you can see the ocean with the Witless Bay Ecological Reserve (a great place to see puffins and whales). On the other you can see a beautiful sunset over the forest. The trailhead is on Google Maps – you just park next to the cemetery.
Ferryland Lighthouse Trail
Another great quick hike on the Irish Loop is the Ferryland Lighthouse Trail. It's just a 25-minute walking trail that leaves from the Colony of Avalon. This is also where the Ferryland lighthouse picnics take place, which is a great activity to do on a summer day. Book early, because they fill up fast!
Spurwink Island Path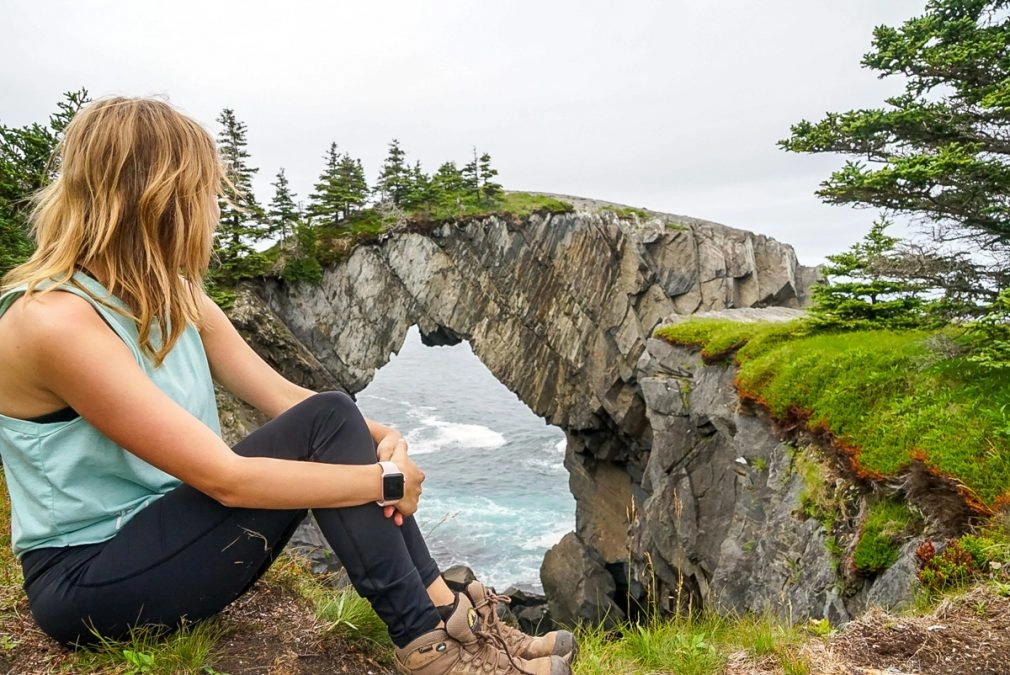 This is one of the most unique hikes on the East Coast Trail, but it's about a two-hour drive to the trailhead from downtown St. John's.
You can do it as a one-way hike from Port Kirwan to Aquaforte, but if you're by yourself you can also do it as an in-and-out from Port Kirwan to the Berry Head Sea Arch, which is the most interesting part of the hike. I did this hike by myself and it took about six hours in total (16 km round-trip).
Chance Cove
Chance Cove has gotten much more popular over the last year and with good reason. This place is absolutely gorgeous, parts of it made me feel like I had been transported back to South East Asia! It's about a two hours drive from St. John's though so this is definitely a day trip.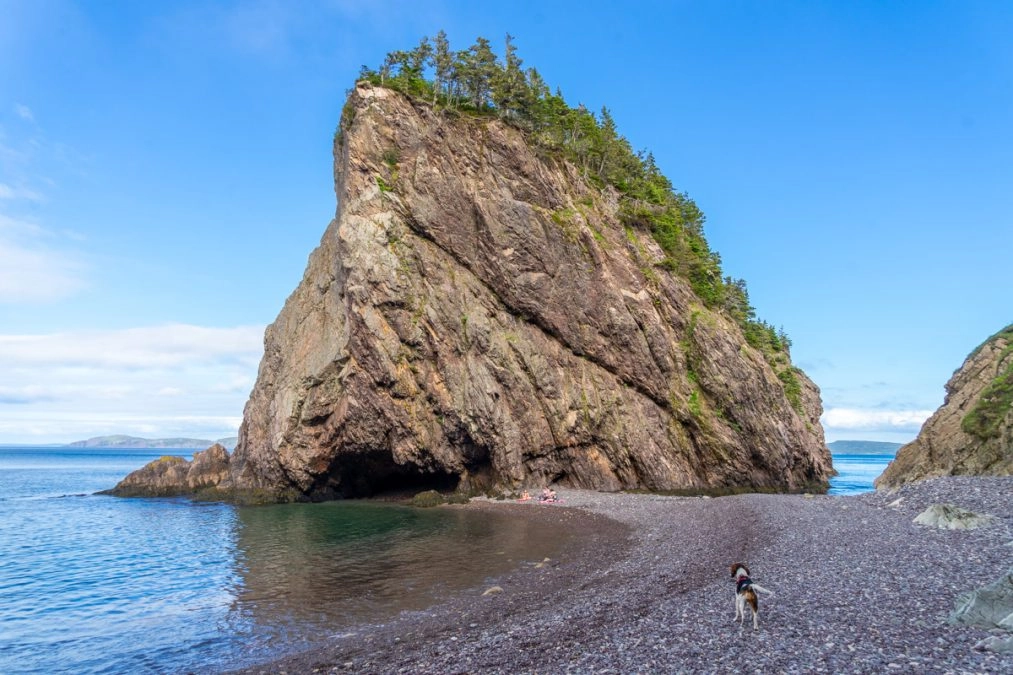 The hike starts off with a walk along the beach and then you climb through the forest to the top, where the trail continues along the coast with several beautiful viewpoints.
As you follow along the trail, there are points you can climb down into various beaches and coves. It's very steep, but there is a rope to help you get down. I highly recommend going down and exploring these areas, as it's a completely different perspective below and incredibly beautiful.
Sunnyside Centre Hill Trail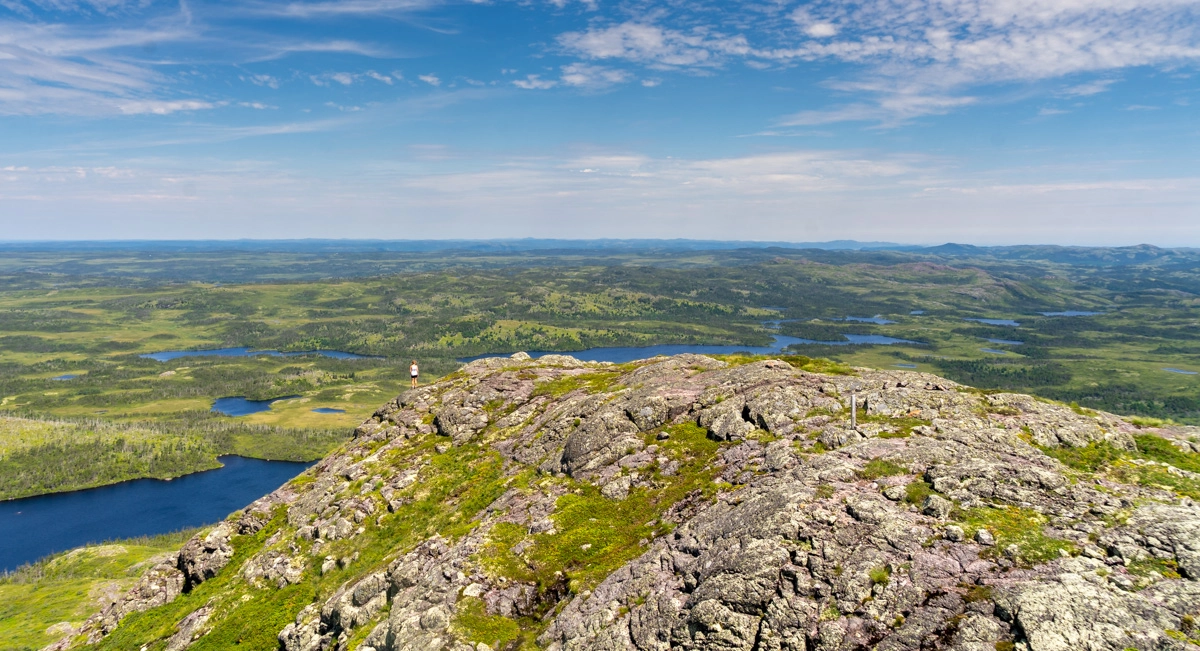 Wanna hike to the highest point in Eastern Newfoundland? Go to center hill in Sunnyside! It's actually an ancient volcano. The hike was recently upgraded so the path is easy to follow there, although it does get challenging as you get closer to the top.
The views are incredible at the top, but try to go on a clear day to make the most of this hike. It's a 10km round-trip hike that took us about four houses in total to do, with a long break at the top for photos. It's a total of 384 metres, so this isn't an easy hike!
What to Bring Hiking in St. John's
Check out my day hiking gear guide which outlines all the things you should bring on every day hike. As a summary, while hiking in St. John's you should bring:
Navigation – ECT Maps, phone with offline maps, GPS, and or compass
Adequate hydration for the duration of the trek
Adequate Food (always bring more then you need)
Sun protection – sunscreen, sun hat, and sunglasses
Safety tools – lighter/Fire starter kit + whistle or safety alarm
Pocket Knife
Headlamp/flashlight + extra batteries
Emergency Shelter
Extra Layers (the weather can change quickly)!
A comfortable day pack to put all of this in
For many hiking trails in St. John's, especially around the ECT, you will need a good pair of hiking boots. Preferably something with ankle support that is waterproof/mud proof.
I have been wearing my La Sportiva Hiking Boots while hiking this summer in St. John's and they have been amazing. I've stepped into giant puddles of muddy water and they keep my feet nice and dry.
I also strongly recommend wearing a good pair of socks such as smart wool + an extra pair in case your feet do get wet.
I hope this post could help you find some amazing hikes around St. John's. What's your favourite hike in the city? Let me know in the comments below!
Looking for more Newfoundland inspo? Check out these posts!
Enjoyed this post? Pin it for later!