This post may contain affiliate links. By clicking and making a purchase through the links, I earn a small commission at no extra cost to you. This and display ads allows me to keep the site up to date and give back. Thanks for reading!
When I was 19 years old I traveled solo to Dublin, Ireland on working holiday without knowing a single person there. I have no idea where I got the courage to do this, but I thank my younger self all the time for doing so. That trip changed my life. It gave me exposure to the world of backpacking and sparked my lifelong love of travel.
I recently visited Ireland again a decade later (where does the time go?!) and it reminded me how great Ireland is for solo travelers, especially if it's your first time! Keep reading to find out why.
Why Ireland is the Perfect Destination for Solo Travel
Ease of Transportation
Getting around Ireland is easy, and this is from someone with no sense of Direction!
Ireland has an excellent network of trains and buses that connect the country. One of the most popular bus companies is Bus Eireann. You can see the bus timetables and book a ticket online on their website beforehand, or buy them at the station. I just bought my tickets at the station before I got on the bus and never had any trouble getting a seat.
They also offer a 60 Euro 6-day unlimited travel pass which is a great deal if you're traveling quickly through Ireland. The busses are comfy and they have free wi-fi on board! Plus, the scenery in Ireland is gorgeous so you won't find yourself getting bored.
Ireland also has an extensive railway system, which is a lovely, relaxing way to get around the country and take in the scenery.
Availability of Day Tours
Even if you come to Ireland on your own, there are so many wonderful day tours you can take to explore the country. It can be unaffordable to rent a car on your own, but wherever you want to go to Ireland you won't have a problem finding a tour to take you there. Check out my guides on the best day tours from Dublin and day tours from Cork for ideas on where to go.
Day tours are also a great way to meet new people when you're traveling alone. This is often how I make friends as a solo traveler. During a day tour, you will be participating in activities with like-minded people and that's naturally going to get the conversation flowing.
Likely by the end of the tour, you'll be making plans to go out to dinner that night. I met my best friend when I lived in Dublin on a day tour to Trim Castle. We ended up living together and are still in touch today!
Great & Safe Night Life for Solo Female Travelers
One thing I loved about Ireland was how much it was like my hometown of Newfoundland. Every night you could go out to a pub and there would be live music playing! This is such a fun thing to do in Ireland, and a great way to meet people.
Even if you don't want to drink, the atmosphere at the pubs is welcoming and the music is usually fantastic. Nightlife is an easy way to meet people, and hostels will usually have group outings so you don't have to go out alone.
Nightlife is always a big safety concern for women traveling alone. But you'll be happy to know that 14 towns in Ireland have been awarded the Purple Flag! This means that they are recognized for their vibrant but safe nightlife.
Network of Hostels
Hostels are another great place to meet other travelers when you're traveling solo, and there's a huge network of them in Ireland. Whether you want a party hostel or quiet place to rest your head after a day of exploring, there's a range to choose from.
And if you don't want to stay in a hostel, Ireland is the land of B&Bs and guesthouses. There are so many cute places you can stay that will feel like a home away from home with the charm of Irish hospitality.
Safety
Millions of tourists visit Ireland every year with few complaints of crime or issues. If you're planning a trip to Ireland, it's one of the safer places to choose. No country is completely free of crime however, I got burgled in the safest country in the world. But as far as Ireland goes, the likelihood is low. It was ranked 12th on the global peace index.
I still took my normal precautions, but never felt uncomfortable or unsafe in my surroundings. I wasn't worried about being robbed, assaulted, or scammed. Just remember to buy travel insurance in case of an unlikely situation to protect yourself and your belongings.
Friendly Locals
The locals in Ireland are always up for a chat, especially over a pint of Guinness! On many occasions, when I asked a simple question to a local it would turn into a 20-minute chat, or a night on the town!
Another good thing about solo travel in Ireland is that the pubs serve delicious food so if you don't like eating alone, you can always go sit at the bar where you'll find plenty of people to talk with while you chow down on some fish and chips.
English speaking
One of the most daunting things about traveling in another country is how frustrating the language barrier can be. While I've gotten myself around most of the world through miming and pointing, it's much easier if the people around you speak English.
Although Irish Gaelic is the official language in Ireland, it's only spoken on a daily basis in pockets of the Gaeltacht regions. Even then, it's extremely rare for someone to not also be fluent in English. you won't have any issues getting around speaking English, which makes traveling Ireland solo much easier!
Lots to see and do
Ireland is not a place you're likely to get bored, even if you're on your own. Whether you're learning about the history at one of the museums, hiking along the gorgeous coastlines, or simply enjoying a pint at a traditional pub, there's something for everyone in Ireland.
What I love most about Ireland is all the nature! There's so much great hiking in the country that I could spend days getting lost in the trails. Just make sure to bundle up with the right gear using this Ireland packing list!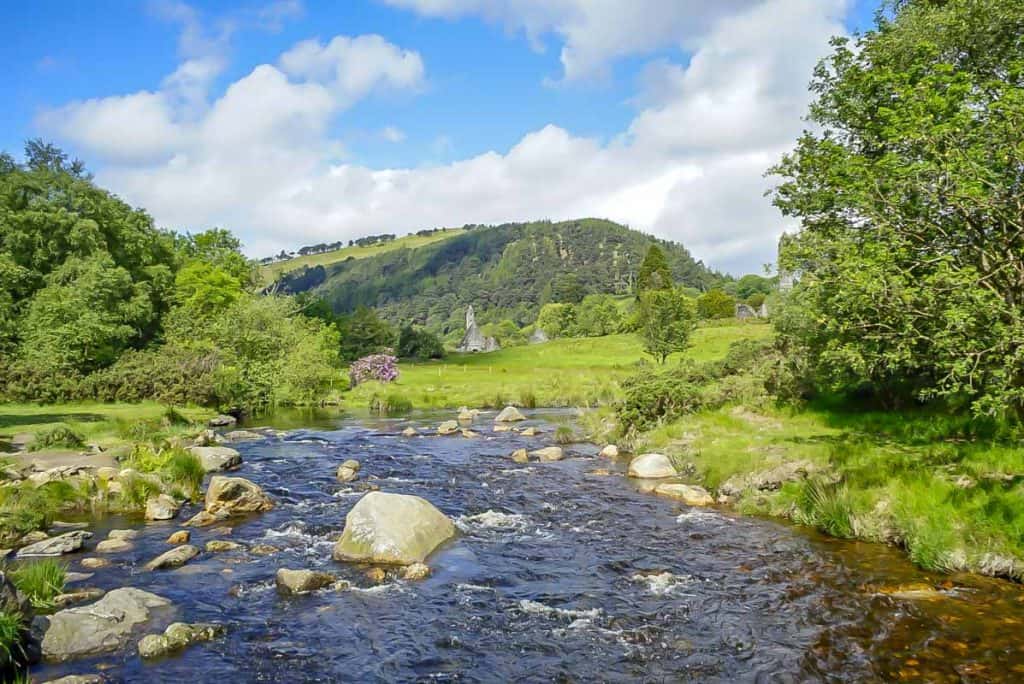 The usual things that can make solo travel stressful – not speaking the language, safety concerns, and not being able to meet people – are not a factor in Ireland. It's an incredible travel destination that attracts tourists from around the world. Ireland will always have a place in my heart for being my first solo trip!
So what are you waiting for? Take a solo trip to Ireland now! Don't forget to check out my travel resources page to make sure you get the best price on flights, accommodation, and tours when planning your trip!
Like it? Pin it for later!