This post may contain affiliate links. By clicking and making a purchase through the links, I earn a small commission at no extra cost to you. This and display ads allows me to keep the site up to date and give back. Thanks for reading!
I've been whale watching all over the world, but nothing compares to seeing whales in Newfoundland. The world's largest population of humpback whales come to feed every summer, and they put on quite the show.
You can easily spot whales while hiking along the coast during the summer. However, if you want a closer experience, there are many whale-watching tours in Newfoundland to take you out to meet these friendly giants. On these tours, it is also common to see large colonies of puffins.
Whales are magical creatures. Despite growing up with them just outside my house, I still jump with excitement whenever I see one.
I've seen whales and puffins in Newfoundland more times than I can count, and I am rounding up my favorite places to spot them in this guide.
Best Time to See Whales and Puffins in Newfoundland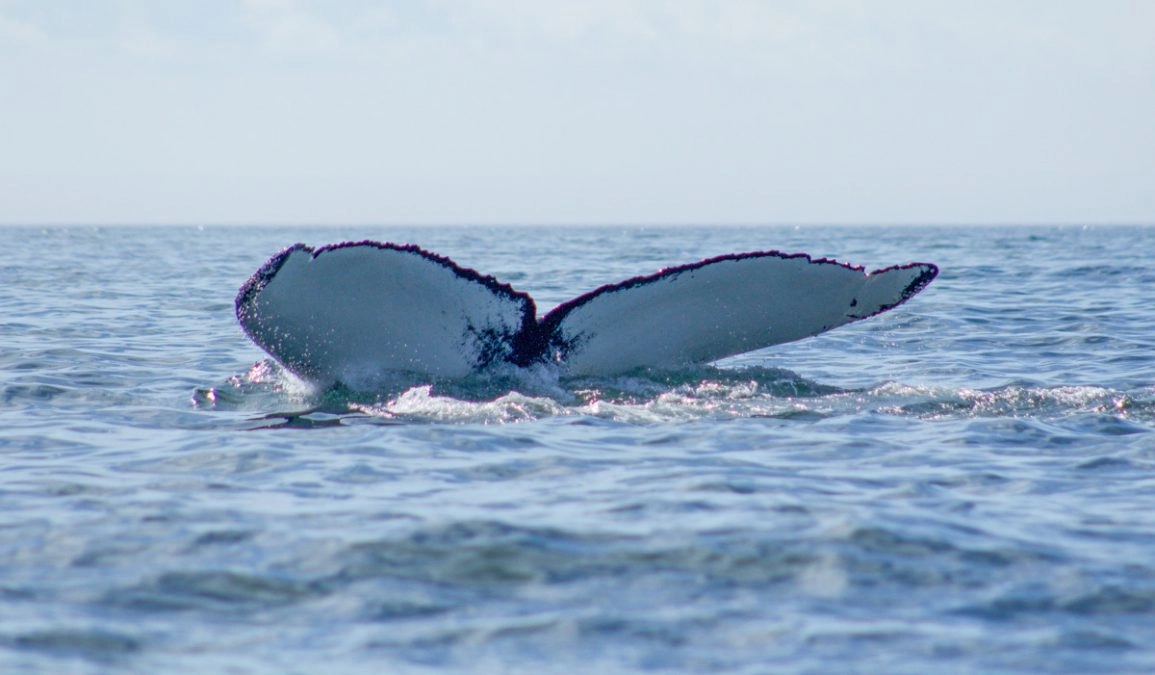 The best time to see whales in Newfoundland is from mid-May to September, with the peak season from mid-July to mid-August.
This is when the Capelin start rolling into the shores, which attracts huge pods of humpback whales who come to feed near the shores.
You can see whales outside these months; it's just a lot easier during the summer as many migrate here to feed.
With puffins, the best time to see them is from mid-May to mid-September when they come to land to nest.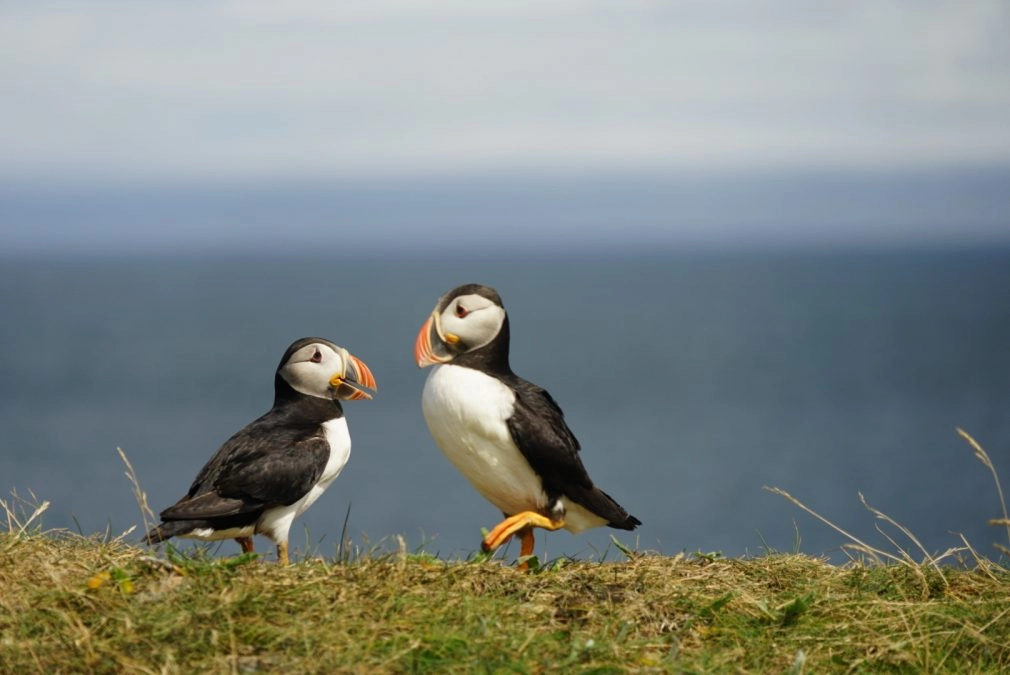 Types of Whales in Newfoundland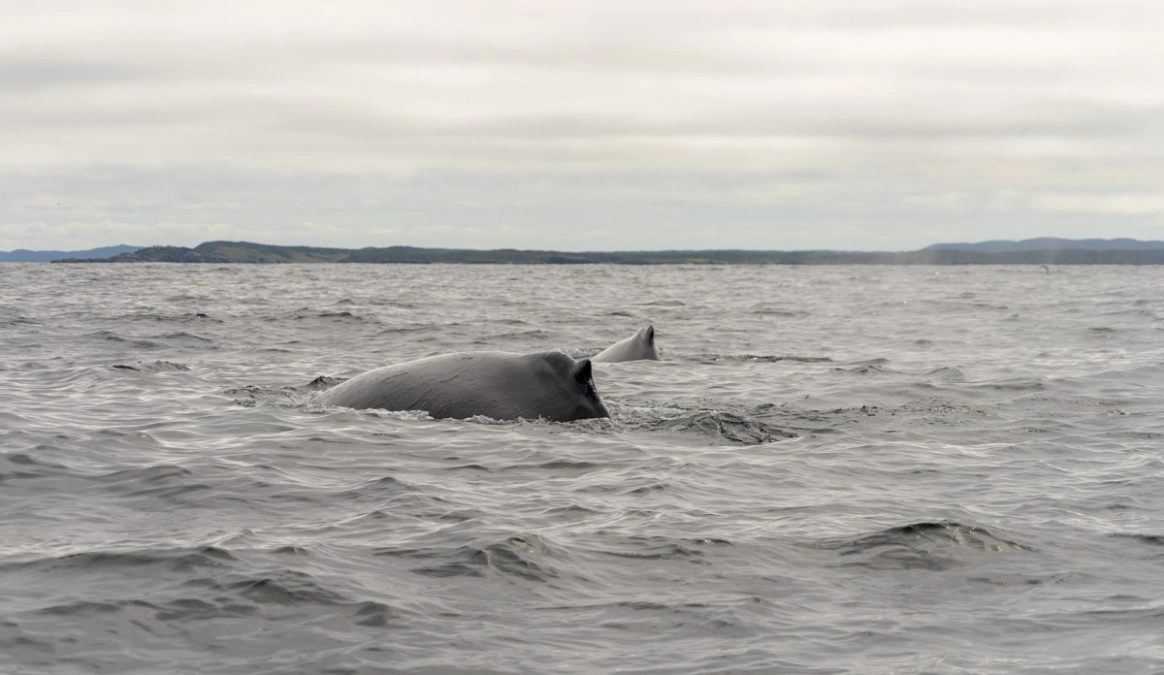 There are over 22 different species of whales in Newfoundland.
The most common type are humpback whales, who migrate here in large groups every summer, searching for Capelin and other feed.
Another common species are minkes, although these are much harder to see because they are solitary and not nearly as aerobatic as the humpbacks. I have seen them before, but it's usually just a quick glimpse before they go back underwater.
Other species of whales include fin whales, sperm whales, belugas, dolphins, porpoises, killer whales, and blue whales, which are the largest species.
Best Places to go Whale and Puffin Watching on the East Coast of Newfoundland
The Eastern Coast of Newfoundland is the best place on the island for whale and puffin watching.
Whale Watching St. John's Newfoundland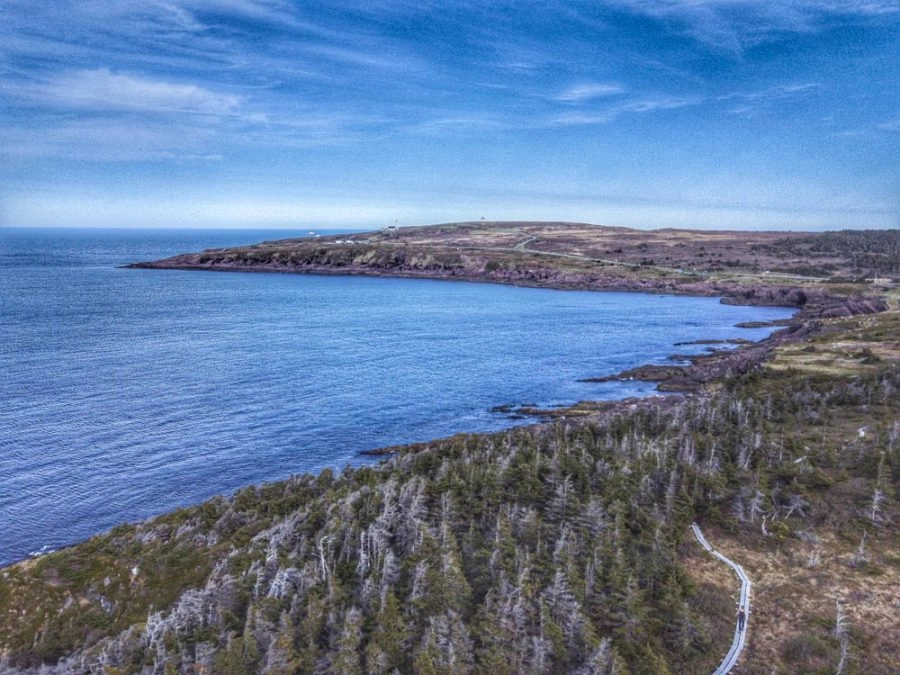 The capital of Newfoundland, St. John's, is a city surrounded by the ocean. During the summer, you can easily spot whales from many of the coastal hiking trails.
The best way to do this is by hiking a portion of the East Coast Trail, a 336-km hiking trail that goes along the Avalon. The trail is broken into 26 paths, most of which I've hiked.
Some of the best places to see whales are along the trails near Cape Spear (the most Easterly point in North America) and any trails along the Irish Loop, especially near the Witless Bay Ecological Reserve.
If you want to get closer to whales and don't know anyone with a boat, you can join a whale-watching tour from downtown St. John's with Iceberg Quest.
Bay Bulls Whale Watching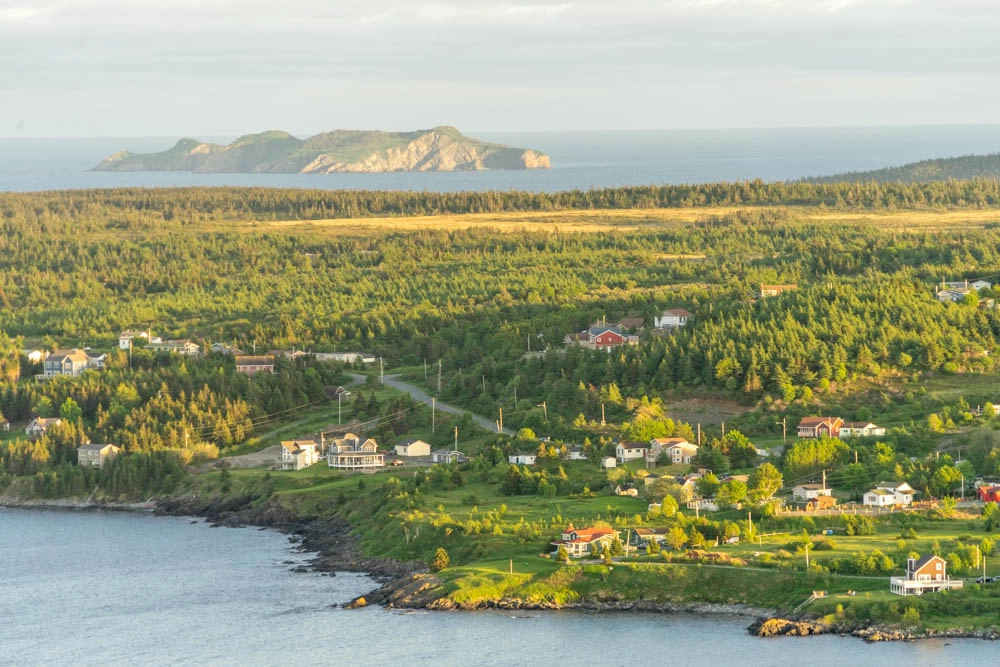 One of Newfoundland's best places to see whales and puffins is Bay Bulls on the Irish Loop, around the Witless Bay Ecological Reserve.
This area has whales and several bird species, including puffins, common murres, black guillemots, northern gannets, greater shearwaters, and northern fulmars. I did a whale-watching tour here a few years ago and loved it. The puffin colony is amazing!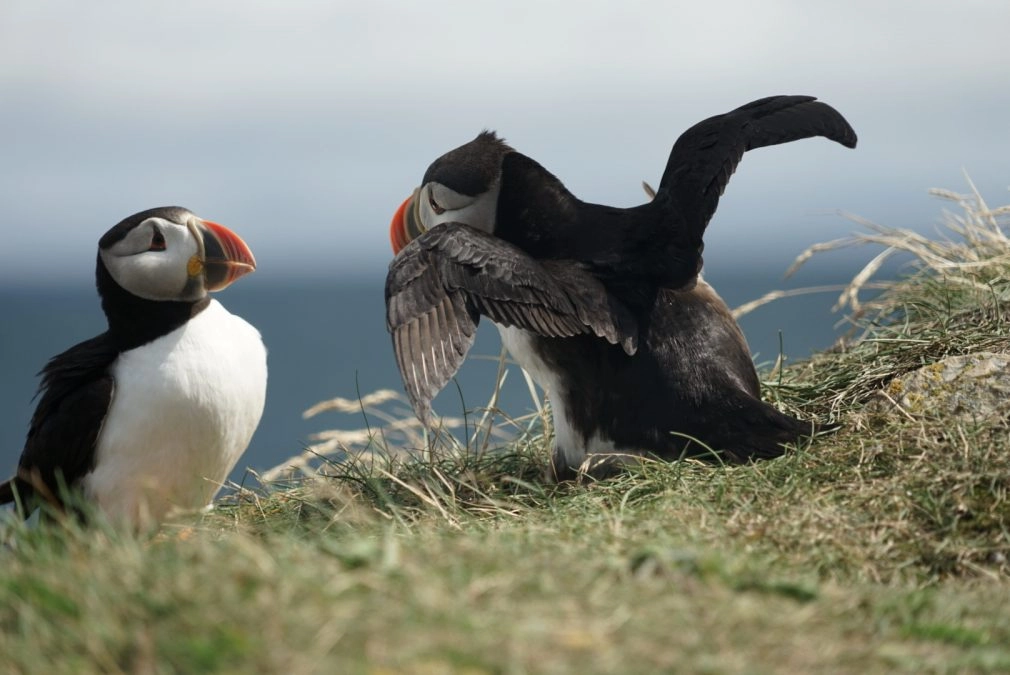 You'll have to hop on a boat tour from Bay Bulls to visit the island. This is an easy day trip from St. John's; it's just a 25-minute drive from the city. The tour takes about an hour and a half.
St. Vincent's is another popular spot for whale watching from the shore on the Irish Loop. It's about two hours from St. John's. The sea quickly becomes deep, so the whales often come very close to shore!
Trinity Whale Watching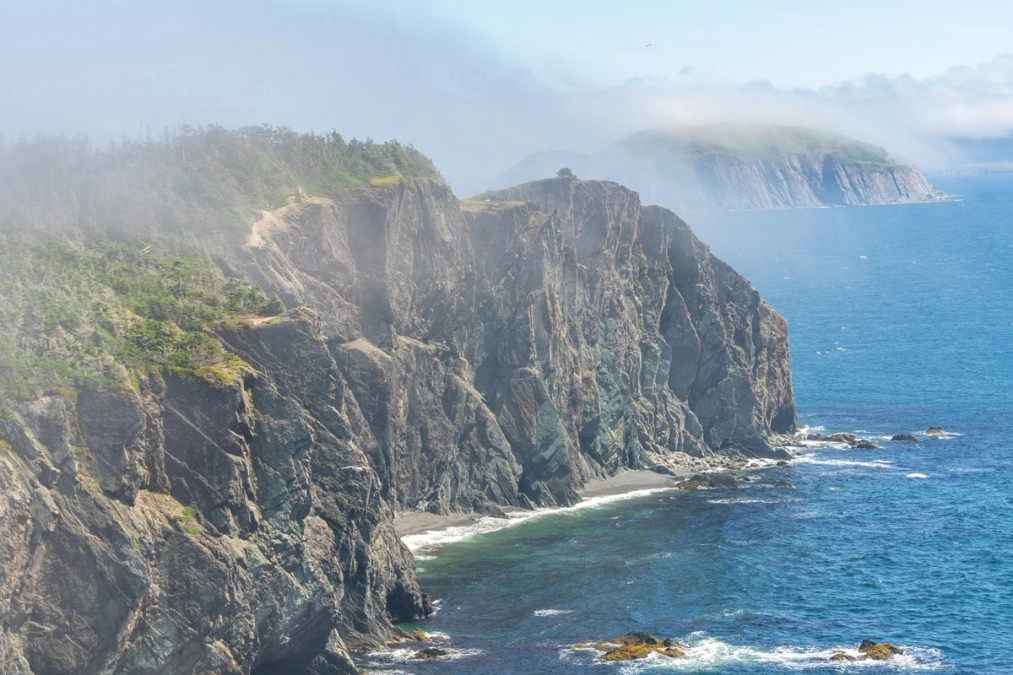 Trinity is a gorgeous town about three hours from St. John's that is popular for whale watching. I recently went hiking around the Skerwink trail and saw whales from the trailhead.
If you want to get closer, you can join a tour with Trinity Eco-Tours on one of their zodiac boats. I did this tour in May, but for a different purpose.
The spring isn't a great time to see wildlife, but it is for icebergs. Every spring, huge icebergs make their way down the coast from Greenland to what is known as Iceberg Alley in Newfoundland. Trinity is one of the best places to see them.
Aside from the whales and icebergs, a boat tour in Trinity is great because you will see the beautiful coastline around the Trinity harbor.
The tour takes you to a sea cave, next to waterfalls, the random passage movie site, and some other small communities near Trinity, including where my cabin is!
During a tour in May, we even saw a Minke whale. Bald eagle sightings are also common. If you time it right, you may see icebergs, whales, and birds here on the same tour, which is the ultimate trifecta.
Bonavista Puffin and Whales Tours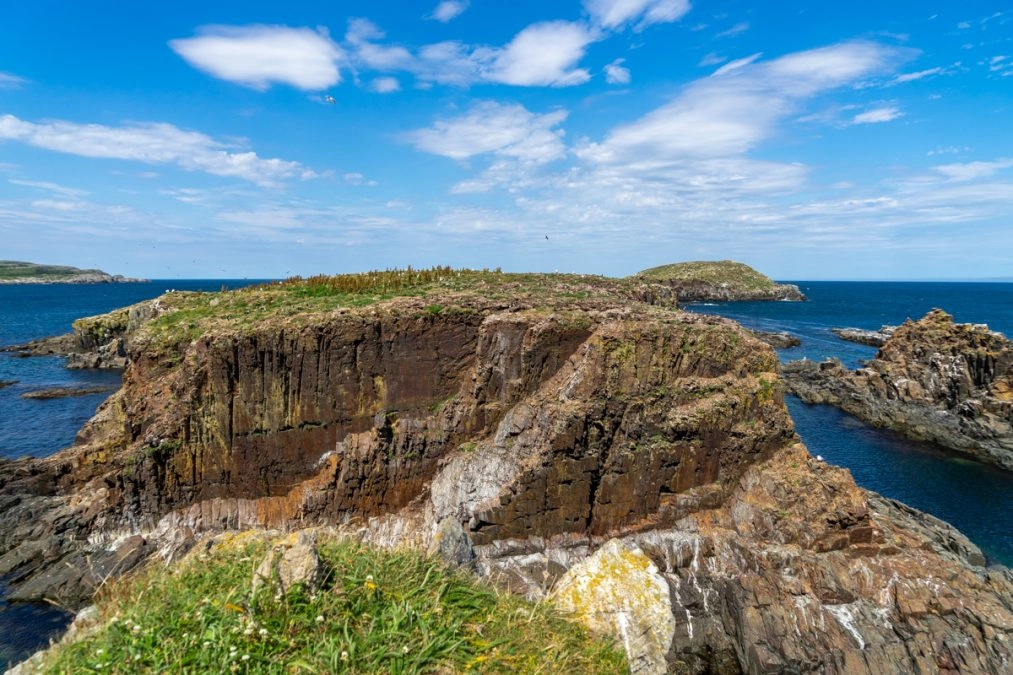 Bonavista Bay is one of the best places to see whales in Newfoundland. I haven't done a boat tour here, but I have seen whales from the beach, as well as puffins. There is a boat tour operator here that can bring you to a closer encounter.
Tip: Head to Ellison to look for puffins! There is a huge puffin colony here that may come up close to say hello.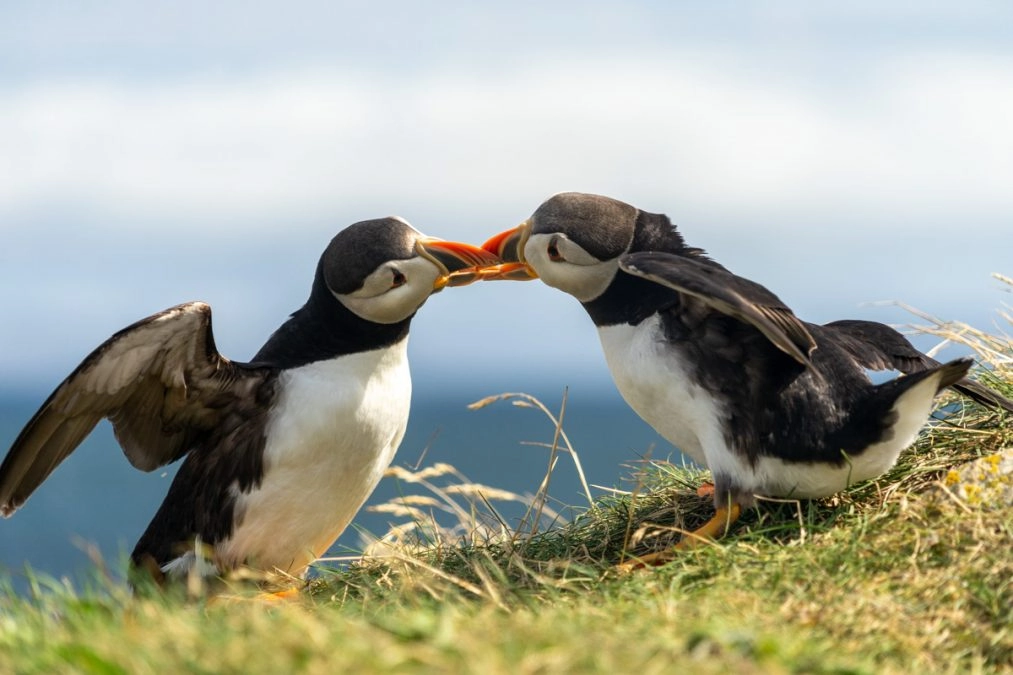 Best Places to go Whale Watching in Central Newfoundland
Hare Bay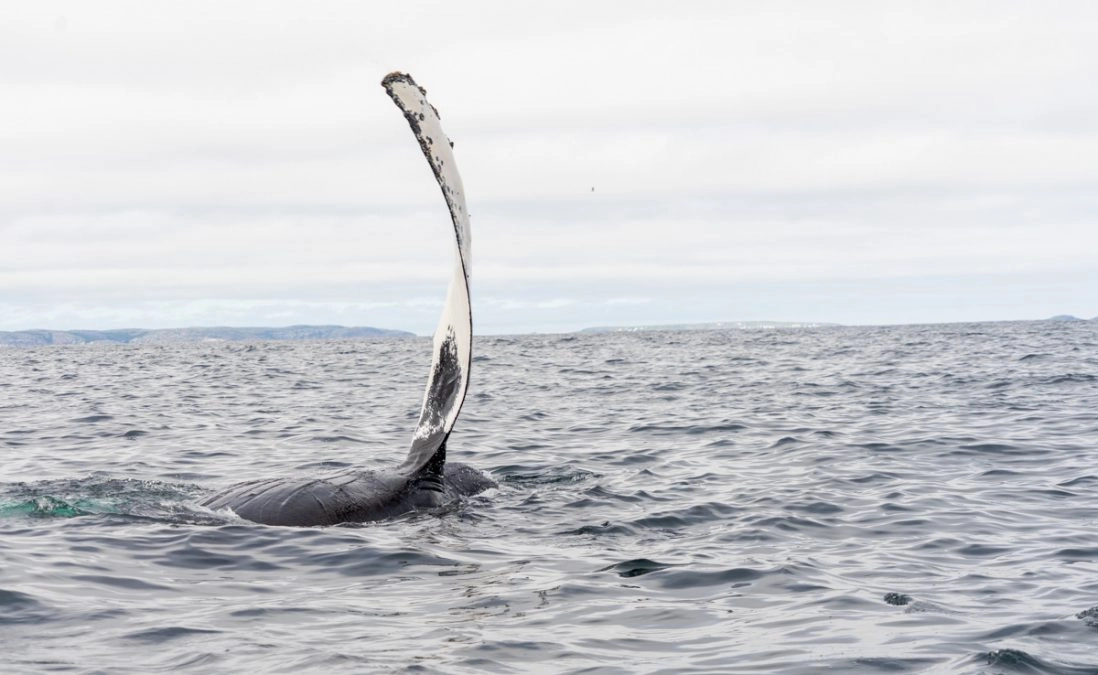 On my recent trip to Central Newfoundland, I went on a boat tour with Hare Bay Adventures in Northern Bonavista Bay.
I was booked to do a traditional wooden boat rowing lesson, but the day before, the owner called to ask us if we wanted to go whale watching instead, as he said he believed he had the best whale watching on the island. So, of course, being the wildlife lover I am, I immediately said yes.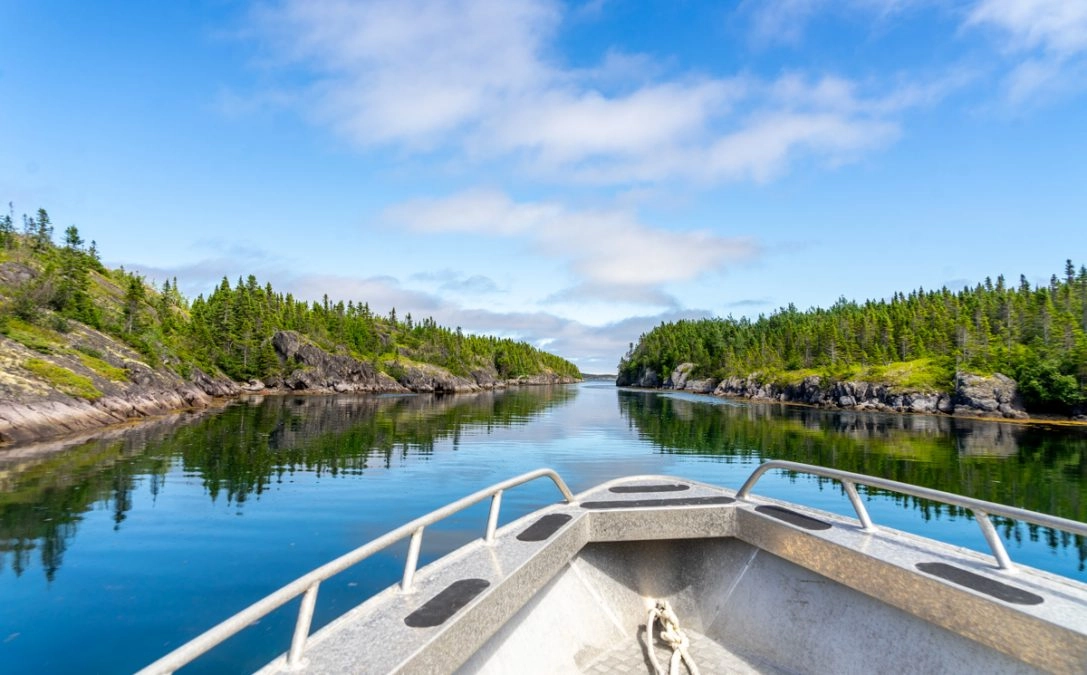 The boat left Hare Bay and went through some of the resettled communities, which were beautiful to see.
As we entered the open water, we started to see spouts in the water from a distance and made our way closer to the whales. I couldn't believe it as we got closer – they were on all sides of the boat.
I couldn't even keep up with how many whales there were! We mostly saw humpback whales and a couple of minkes.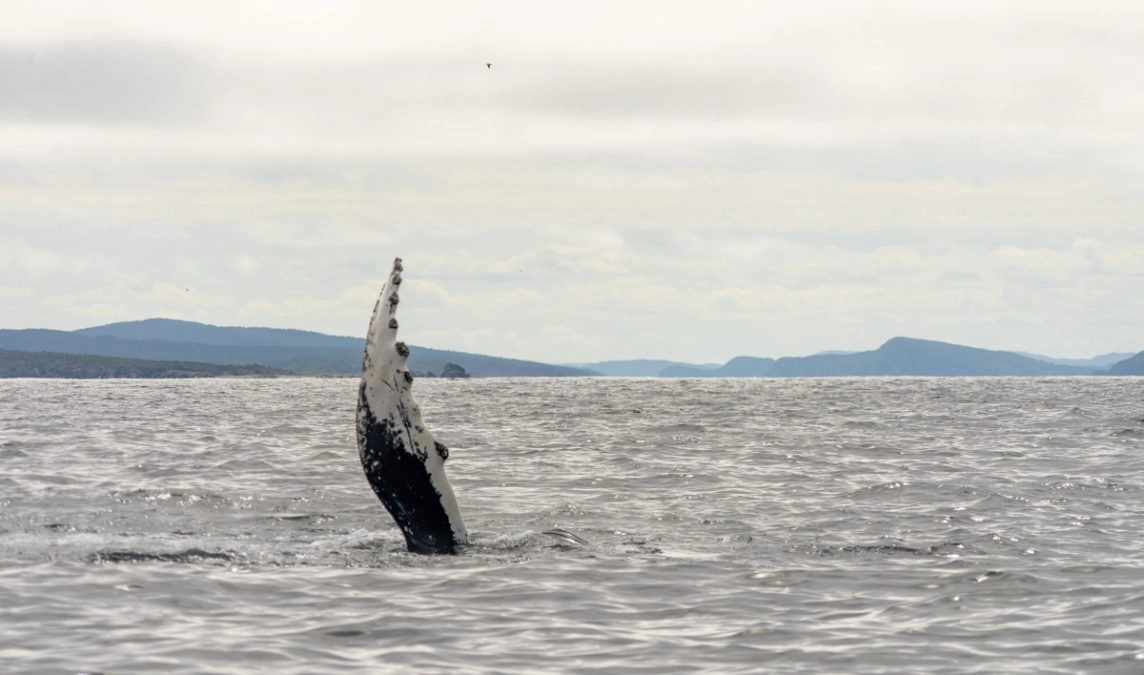 Not to mention all the unique birds we saw! We went past a small island on which hundreds of Northern Gannets were sitting.
When I turned around, there must have been thousands of birds flying over my head; it was so cool to witness. It felt like an episode of planet earth! We also saw puffins diving for fish in the water here.
After the four-hour whale-watching tour, we headed to Braggs island for a campfire dinner, one of the resettled islands. Such a nice way to end a fantastic day!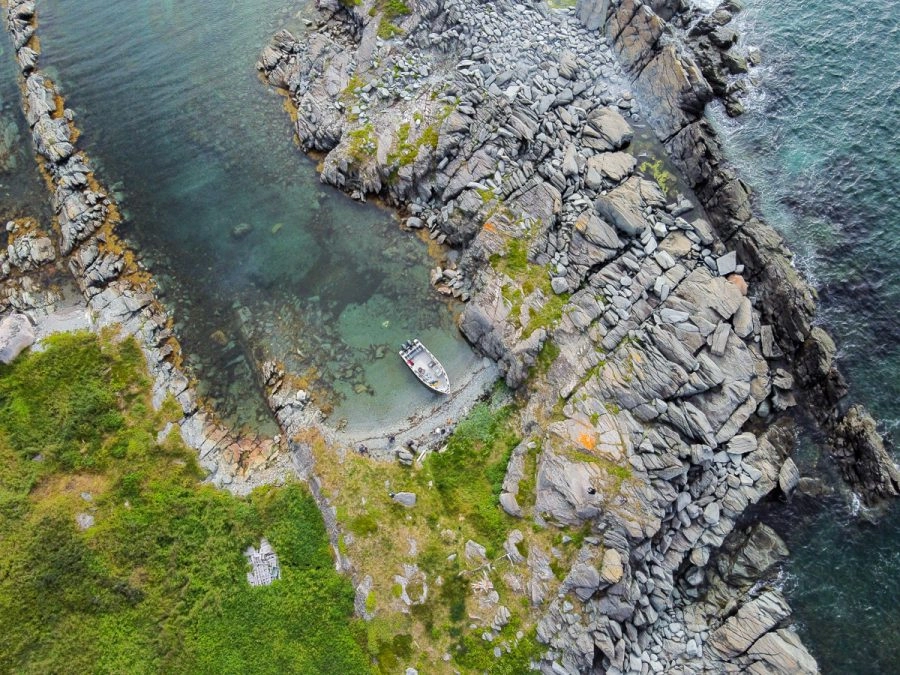 Twillingate and Fogo
Twillingate and Fogo Island are two other places where you can often see whales in the summer. I did a boat tour in Twillingate in July with Twillingate Adventures, but unfortunately, the Capelin hadn't come to shore yet, so we didn't see any whales.
However, even without the whales, a boat tour here is an excellent activity as the landscapes are stunning. We did see several birds, including bald eagles and osprey. Twillingate and Fogo are also among the best places to see icebergs in the spring!
King's Point
King's Point is another great place in Central Newfoundland to see whales. They even have a whale pavilion where you can see the world's largest reconstruction of a humpback whale!
Check out By the Sea Inn and Cafe for a great meal by the sea – it's also a lovely place to stay the night. If you want to get closer, you can join a tour with King's Point Boat Tours and Adventures.
Best Places to go Whale Watching on the West Coast of Newfoundland
While stunning, the West Coast of Newfoundland isn't the best place to see whales in Newfoundland compared to the East Coast. That said, there are places to see them here.
If you're in Gros Morne National Park, you can take a scenic boat tour of Bonne Bay with Bontours, where you can see whales as well as fjords, bald eagles, moose, and seabirds. It is a photographer's paradise!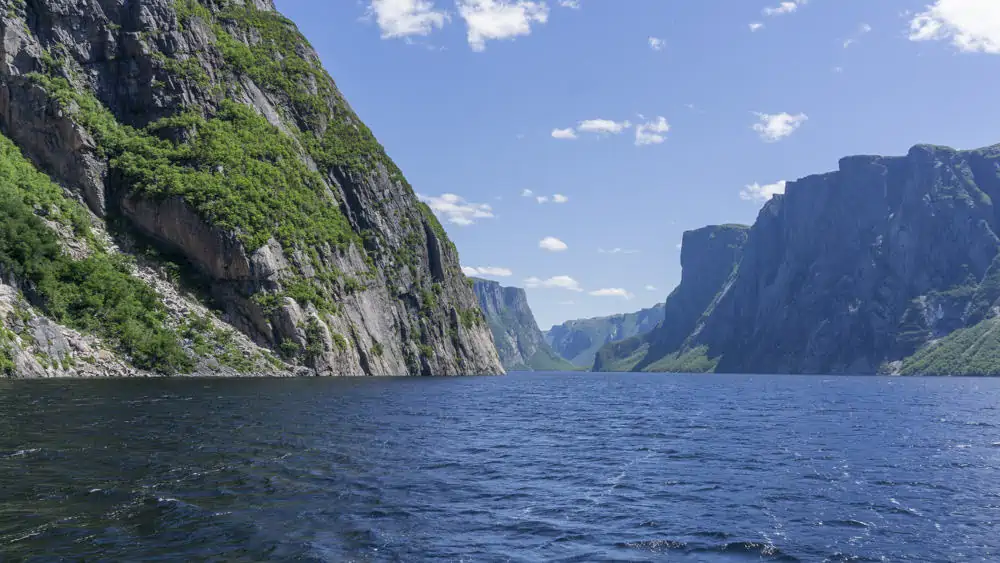 One of the best places to see whales on the West Coast of Newfoundland is further up the Viking trail on the Northern tip of the province.
Northland Discovery Boat Tours runs zodiac tours around the St. Anthony Coast, an area famous for its bounty of icebergs, humpbacks, and Atlantic-white beaked dolphins.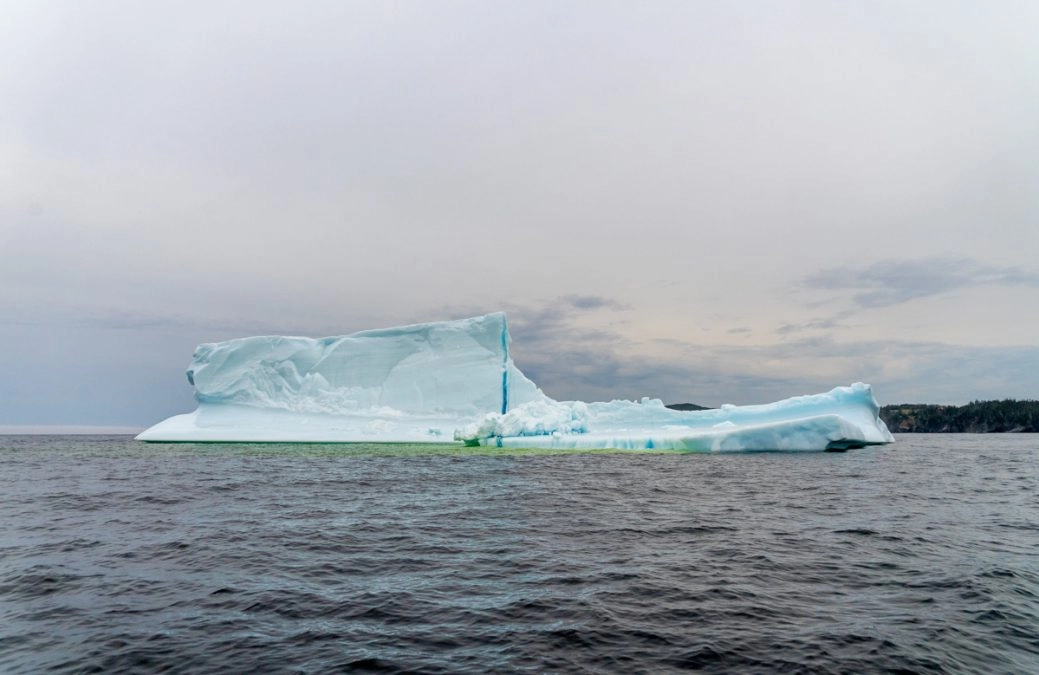 What to Bring Whale Watching in Newfoundland
Newfoundland weather is crazy, especially when you're out on the open ocean. Even if it's a nice sunny day, you'll want to bring warm layers with you as the wind can be very chilly on the boat.
A windbreaker/rain jacket is a good choice. If you're going to wear a hat, get a toque; otherwise, it might blow away!
If you're prone to seasickness, I recommend using a motion sickness patch, as the ocean in Newfoundland can be rough.
You'll want to bring a camera to capture these majestic beings. For capturing wildlife, zoom lens are key. I use a Sony A7II with a 24-240mm lens which allows me to get up close shots like this even when the whales are far in the distance.
Don't worry if you don't have a big lens; the whales come close to the boat during the tours, and you can still capture amazing photos and videos with your phone. It would be best if you had a zoom lens for puffins unless you get lucky and have them come up close to you.
—
I hope this post could give you some inspiration on where to find whales and puffins in Newfoundland during your visit to Newfoundland. It's one of the most magical things to do there, so be sure to add a day of whale watching to your Newfoundland itinerary.
Looking for more Newfoundland inspo? Check out these posts!
Enjoyed this post? Pin it for later!