This post may contain affiliate links. By clicking and making a purchase through the links, I earn a small commission at no extra cost to you. This and display ads allows me to keep the site up to date and give back. Thanks for reading!
Becoming a digital nomad is one of the best decisions that you'll ever make! But before setting off, you'll need to decide what digital nomad luggage to take with you.
As a remote worker, your luggage is one of the most important considerations since you will be away from home and need to take all your essentials along with you.
The type of work you do will determine the size and type of bag or suitcase you require.
Some digital nomads only require a laptop and an internet connection to be able to work. However, others are not so lucky and will have to cart a lot of heavy gear with them.
It all comes down to your work and what you need to carry with you. If you're like me and have many hobbies, this will influence your decision too.
This guide will look at factors such as having only carry-on luggage versus getting yourself a suitcase that will require you to check-in.
We will look at a couple of options for suitcases and travel backpacks and explore the pros and cons of each option. Finally, we'll look at a few of the essential accessories for digital nomads that make life a whole lot easier. Let's dive in!
Carry-on Luggage vs. Checked bags
If you often take planes, one of the most important considerations is whether or not to have carry-on bags or checked bags.
Let's take a look at the two options and why choosing one of the other might be favorable.
Pros and cons of Carry-on Luggage
Carry-on luggage, also called hand luggage or cabin luggage, is luggage that doesn't need to be checked in at the airport.
You simply arrive with it, pass the all-clear at security, and take it onto the plane.
It never leaves you, apart from when it's in the overhead storage locker above or stored under the seat in front of you.
There are several carry-on luggage pros, such as:
No need to check a bag which saves you time at the airport
No queue to get your bag at your destination, again saving you time
Flights are cheaper without a checked bag
No risk of lost luggage 
Your luggage is lighter and more compact
Less chance of your personal items getting damaged
It's easier to move around
No risk of overpacking, as you don't have the space
With everything in life, there are, unfortunately, a few cons with carry-on luggage:
There are many prohibited items that you can't carry with you (fishing equipment, trekking poles, pocket knives)
There is a strict weight limit, usually around 7kgs (15 lbs), depending on the airline
Aside from the weight limits, there is a size limit on your luggage (in order to fit into the overhead locker)
You have to constantly carry your luggage with you throughout the airport, even after check-in
There is a limit to the amount of liquid you can take with you (100ml or 3.4 oz)
Some budget airlines charge for carry-on luggage 
You often have to fight for space with other passengers in the overhead lockers
Your clothing options will be limited, so it isn't easy to pack for multiple seasons
You will have to do more laundry on your trip
No space for special items and souvenirs
Overall, only having a carry-on bag can be a great option for those digital nomads who don't have a lot of gear, like to travel light, and are generally not traveling too far and wide for an extended period of time.
Now let's take a look at checked luggage and the pros and cons.
Pros and cons of Checked Bags
Checked bags refer to luggage stored in an airplane's cargo hold, in the luggage hold of a bus, or in overhead luggage stores on a train.
The plus side of taking hold bags on a bus or train is that you don't have to pay for them (in my experience, at least).
An airplane is a different story, however, and we will look solely at airplane bags for the purpose of this article.
Sometimes, a checked bag is the only option, especially when going away for long periods of time or if you're traveling with specialized equipment.
Let's look at the pros of checked bags first:
There are fewer restrictions on items when using checked bags
There are better weight allowances (most airlines give at least one 23 kg/50lb bag, while some, such as Emirates and Qatar, allow two)
Checked bags can be much larger
Once you check your bag in, you don't have to carry it around the airport
You can pack a much larger wardrobe and cover all seasons
Laundry is not as much of a problem as you'll have more clothes 
You can pack special items and souvenirs 
Once again, there are cons associated with checked luggage. These are as follows:
Checked luggage will cost you money, especially on budget airlines (expect to pay between $25 and $50 one way)
Checked luggage will also take more time (checking bags in, waiting for them afterward)
Your luggage could get lost by the airline
Your luggage could get damaged during loading, travel, and unloading
There's the risk of over-packing
You can't fly on standby 
It's more challenging to move around with more luggage that is heavier 
Now let's look at the best options for carry-on bags, backpacks, and suitcases for digital nomads.
Carry-on Luggage for Digital Nomads
In my opinion, carry-on luggage is the way to go for digital nomads. It's convenient and will save you a lot of money in the long run.
The only downside is that you have limitations in terms of size and weight stipulated by the airlines.
I've selected a few options for your convenience below of backpack and suitcase options for digital nomads. They are all highly rated and should more than cover your needs.
Carry-on Digital Nomads Suitcases
First up, let's take a look at a great digital nomad suitcase option that will take care of your travel needs.
Nomatic 37L Carry-on Suitcase
This Nomatic carry-on suitcase is what I recently upgraded to. It's from Nomatic, a company that designs gear for digital nomads.
Like all their products, the carry-on suitcase is incredibly well designed, with every inch of space serving a purpose.
It uses a compression system with straps to pack down what you have in the suitcase.
I also use several Nomatic accessories (shoe bag, toiletry bag, and compression cube), which all fit perfectly in the bag and make it easy to pack.
The exterior is a hard shell durable polycarbonate case with a high-quality zipper. At the top, there's a TSA-approved lock, so you can keep your belongings safe while you're aware from them.
The handle is a 3 stage aluminum handle that pulls up and down seamlessly, and the silent Hinomoto Wheels make it easy to take and twirl around anywhere you go.
It's designed for 3-5 days of travel, although I'm currently using it to travel the world full-time.
I will say that this isn't the easiest thing to do and limits what I can buy abroad. I'm not traveling anywhere cold right now, so I mainly live have cropped tops and shorts, which makes living out of a carry-on easier. I do laundry once a week.
There's also the Nomatic carry-on pro, which has space for your electronics.
I keep mine separately in a backpack as I have several different cameras, but if you only have a laptop the pro carry-on may be a better option. The video below compares the two
Coolife Expandable Carry-on Suitcase
The Coolife hard-shell carry-on suitcase is an excellent option for digital nomads. Firstly, it's on wheels. So you don't have to carry it on your back.
It's light-weight, durable, and lockable, making this a great choice.
The best part – it's less than 100 USD, making it significantly cheaper than other options. It also comes with a 2-year warranty. However, this is a lot less than other bags, which generally carry a lifetime warranty.
Like anything, you pay for what you get. And in my experience, paying more for a quality bag is worth it in the long term.
Check prices of Coolife luggage on Amazon
Checked suitcases for digital nomads
If you're traveling through multiple seasons or just someone who needs more space, here are the best large suitcases for digital nomads that you'll need to check in at the airport.
Nomatic check-in travel bag
The Nomatic check-in bag is like the big brother of the Nomatic carry-on. It's a similar design but with loads more space.
It uses a magnetic compression system that maximizes volume in a virtually indestructible case. It can fit 78L – 90L when it's expanded, so combined with Nomatic accessories, you can fit a very large wardrobe in here.
It has the same high-quality polycarbonate case, zips, and aluminum handles as the Nomatic carry-on, so this bag is built to last the years.
Nomatic also has fantastic customer service. I once sent in a service request for my Nomatic backpack, and they sent me a brand-new bag immediately.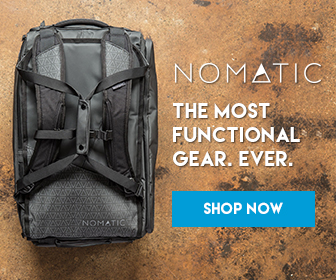 Carry on- Backpacks for Digital Nomads
Here are a few options for carry-on digital nomad backpacks.
Venturesafe EXP45 Anti-Theft Carry-On Travel Pack
The Venturesafe Anti-Theft pack is the ultimate security-smart carry-on pack for digital nomads. So if security is your main concern, look no further.
It features lockable zips, puncture-proof zips, and cut-resistant material. It's also spacious inside, fits up to a 16″ laptop, complies with most airline restrictions, and is fully adjustable. The list goes on.
Nomatic Travel Bag
The Nomatic 40L Travel bag is the bag that I traveled with for many years in my backpacking days.
The Nomatic travel bag is the perfect bag for those 3 – 7 day trips but can be used for longer travel (again, I traveled the world full-time using this bag).
The main selling point of the bag is the idea that there is a pocket for everything.
With more than 20 innovative features, it really is a great bag for digital nomads. It's both durable and water resistant and is, of course, within airline size limits.
At just under 300 USD, it's more expensive than the Venturesafe bag, but the array of extra features pushes the price up.
This guide has more options for carry-on backpacks for digital nomads.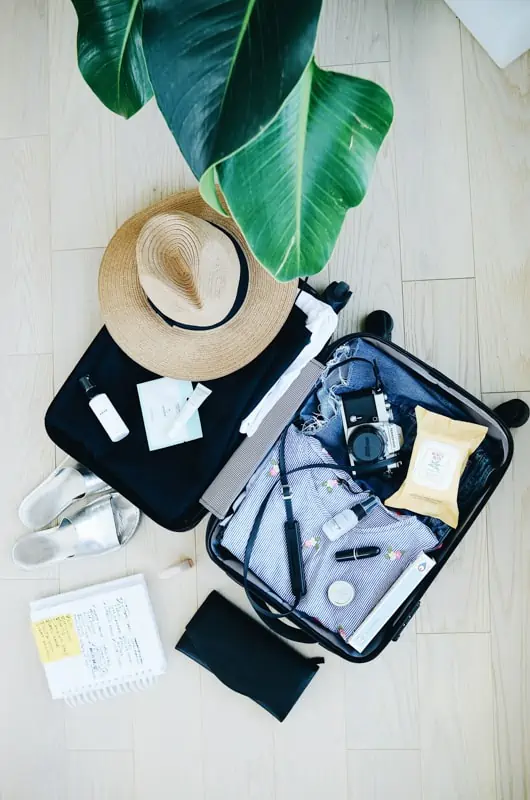 Accessories for Digital Nomads
Last but not least, let's take a look at some accessories to put on your digital nomad packing list.
Some of them are luxuries, others are essentials, but they will all help you in some way as you jump into the digital nomad lifestyle.
An international plug adapter – is an absolute must! It will ensure you can plug your devices into all power outlets around the world and stay charged!
A power bank – it will ensure you aren't without power, even in the most remote locations. 
A portable Wi-Fi router – this will keep you connected to the internet throughout your travels.
A USB stick/external hard drive – perfect for storing all your work and photos from your travels.
An extension cord – often a necessity when at a coffee shop where you don't have a conveniently located powerpoint.
Packing cubes – ideal for saving space in your luggage. I love the compression ones by Nomatic.
Noise-canceling headphones – a somewhat luxury item, they are great for planes, trains, and buses but also in noisy coffee shops (thank me later).
Laptop stand – I have no idea why it took so long to get one of these. It's an affordable and lightweight accessory that will make a huge difference for your back.
Digital nomad travel insurance
Did you know there is medical insurance MADE for digital nomads? SafetyWing is what I use to protect myself abroad from unexpected medical expenses.
It's only 42 USD a month and covers the majority of the world. It works on a subscription service, so you can stop and start it as needed – even once you're abroad! You can read my full SafetyWing review here.
—
This brings me to the end of my digital nomad luggage suggestions list. I hope it helps you decide what option to go for in your future travels.
If I knew then what I do now, I would have done things a bit differently. But hey, we live, and we learn. 
The accessories should also help you along the way and make your life as a digital nomad a lot easier and enjoyable. Happy travels and good luck!
Looking for your next digital nomad destination? Check out these posts!