This post may contain affiliate links. By clicking and making a purchase through the links, I earn a small commission at no extra cost to you. See my disclaimer for more information. This and display ads allow me to keep the site up to date and give back.
The Irish Loop in Newfoundland is one of the most beautiful road trips in the province.
Although I grew up not far away from it in St. John's, it wasn't until I decided to hike the East Coast Trail (ECT) that I got to know this area well.
Since many of the ECT trailheads are along the Irish Loop, I've spent a lot of time driving on this road – and it is breathtaking.
It takes you through coastal communities, historical sites, and geological wonders.
If you're visiting Newfoundland or just a local looking for a fun day trip or a weekend getaway, here are the best places to visit and things to do along the Irish Loop nl.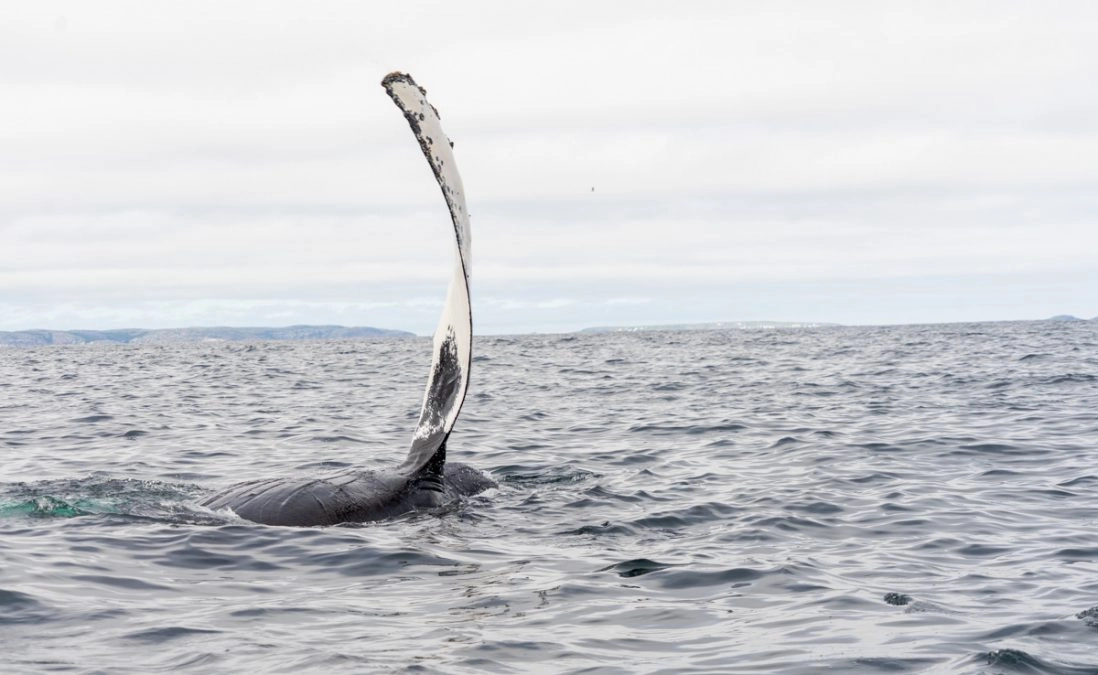 RECOMMENDED IRISH LOOP TOUR
If you're visiting the Irish Loop, don't miss the chance to go on this whale and puffin cruise. This is one of the best things to do on the Irish Loop NL.
This tour takes you to marvel at marine wildlife through the Witless Bay Ecological Reserve, home to over 2.5 million seabirds and one of the largest populations of whales in the North Atlantic!
Renting a car for the Irish Loop
Unfortunately, public transportation isn't great in Newfoundland, and you really need a car if you want to enjoy the Irish Loop drive and all the stops mentioned in this guide.
Car rentals do book up early in Newfoundland, especially during the summer months. If you're planning a trip here, be sure to book in advance. I recommend booking through Discover Cars, which searces local and international providers to find you the best deal.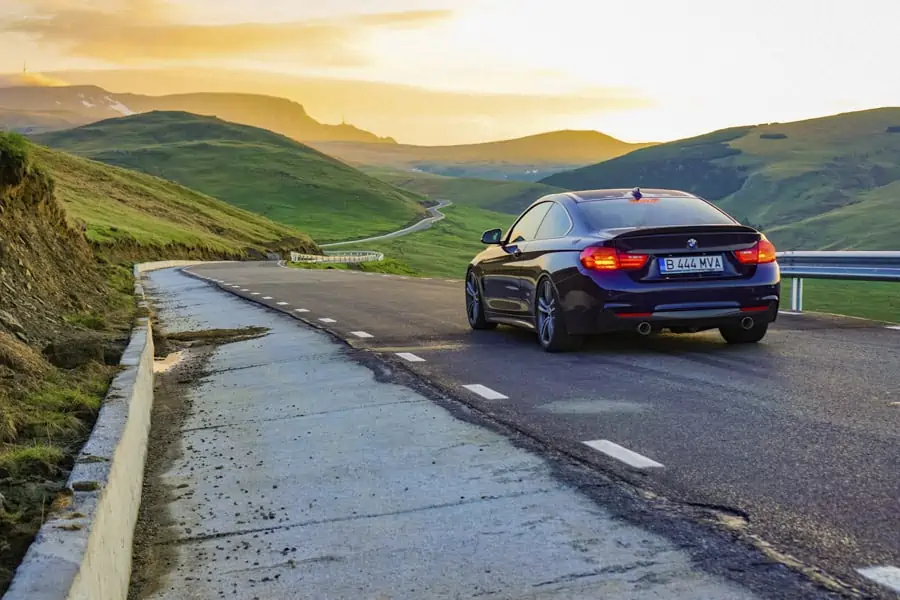 Irish Loop Accommodations
The Newfoundland Irish Loop is 312km in total distance and could be driven in 3-4 hours. However, I'd recommend staying overnight as there are so many beautiful places to stop along the way. Better yet, turn it into a fun weekend getaway.
There are plenty of cute cottages, campsites, hotels, and lodges to stay in along the way.
RECOMMENDED IRISH LOOP HOTEL
Edge of the Avalon Inn is an award-winning inn and restaurant located on the Edge of the Avalon in Trepassey. It's next to Mistaken Point and nearby other attractions on the Irish Loop.
The Wilds at Salmonier River is another great option for an overnight stay on the Irish Loop. It boasts an 18-hole golf course, an outdoor heated swimming pool, and a restaurant bar. The rooms are elegantly decorated with a kitchenette or full kitchen, and apartment units come with a BBQ!
If you prefer to camp, there are three provincial campgrounds you can stay at, including La Manche, Chance Cove, and Butter Pot. You can reserve campsites online here.
What is the Irish Loop in Newfoundland?
The Irish Loop is a beautiful road trip in Newfoundland along a section of the Avalon Peninsula (Highway 10). Its name comes from the Irish history dating back 400 years or so.
Many of the communities were settled by the Irish in the 17th century, so you'll encounter Irish surnames and friendly locals with accents similar to those found in Ireland!
The landscapes you'll find here are also similar to the ones you can see in Ireland. Jagged cliffs towering along the Atlantic Ocean with rolling green hills – it's such a beautiful area to hike through.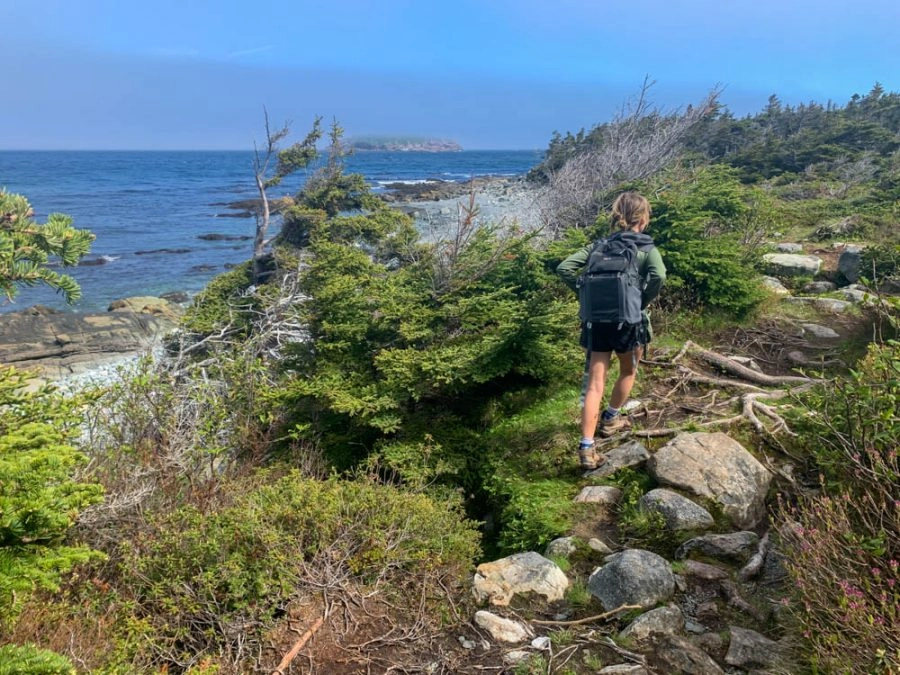 Best Places to visit on the Irish Loop Newfoundland
Leaving St. John's, you'll take the Irish Loop route towards Kilbride/Goulds, where you can see herds of dairy cattle and rolling hills of farmland. Much of this land is still being farmed by the descendants of the Irish who settled it.
Keep driving, and you'll reach Bay Bulls, home to one of the biggest attractions on the Irish Loop – the Witless Bay Ecological Reserve.
#1. Witless Bay Ecological Reserve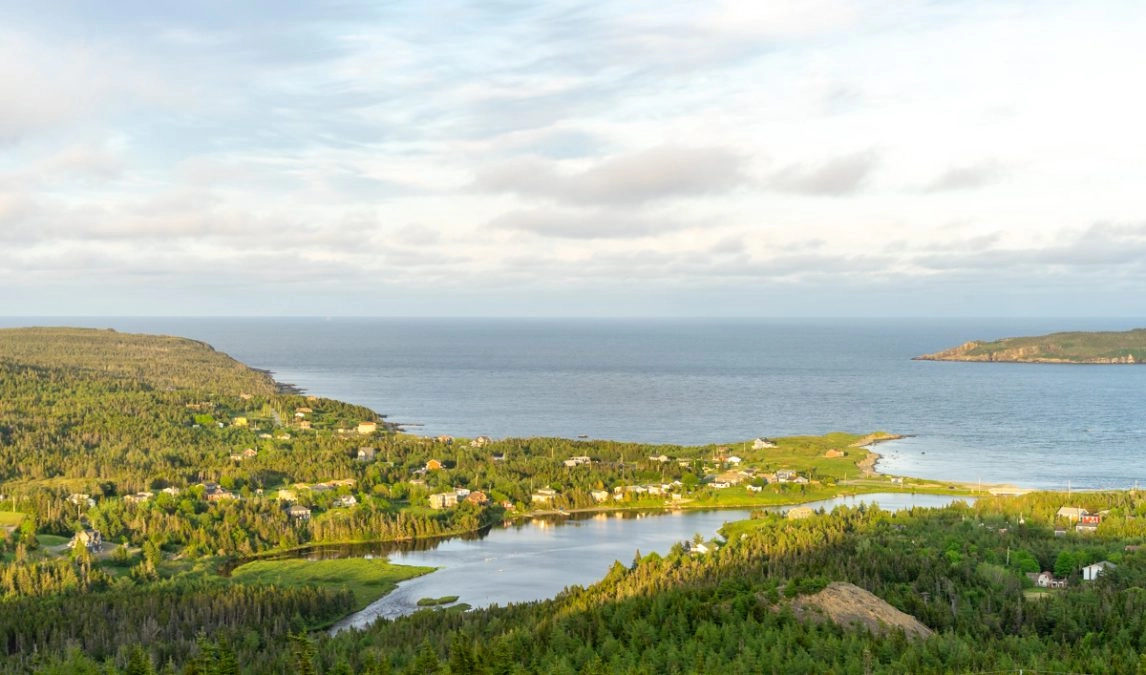 If you're looking for marine wildlife in Newfoundland, Witless Bay Ecological Reserve is one of the best places to visit on the Irish Loop.
The reserve is home to thousands of puffins who nest along the cliffs during the summer.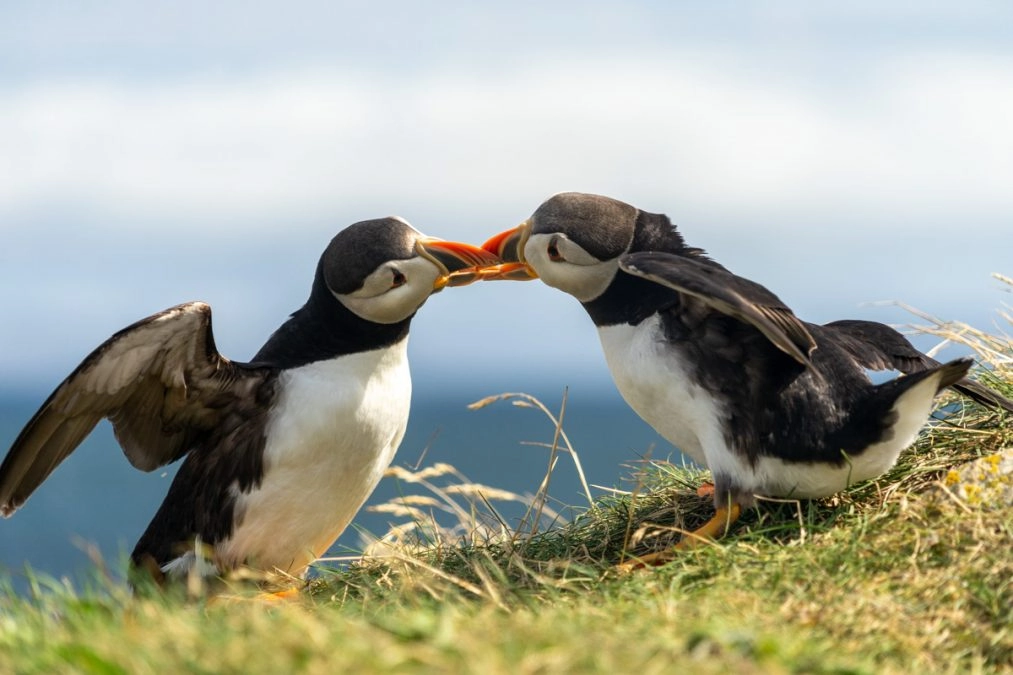 I could watch these guys all day – they are so cute and goofy! You can also see many other types of birds, including common murres, black guillemots, northern gannets, greater shearwaters, and northern fulmars.
Witless Bay Ecological Reserve is also the perfect place for whale watching in the summer when thousands of whales migrate to the coast of Newfoundland to feed.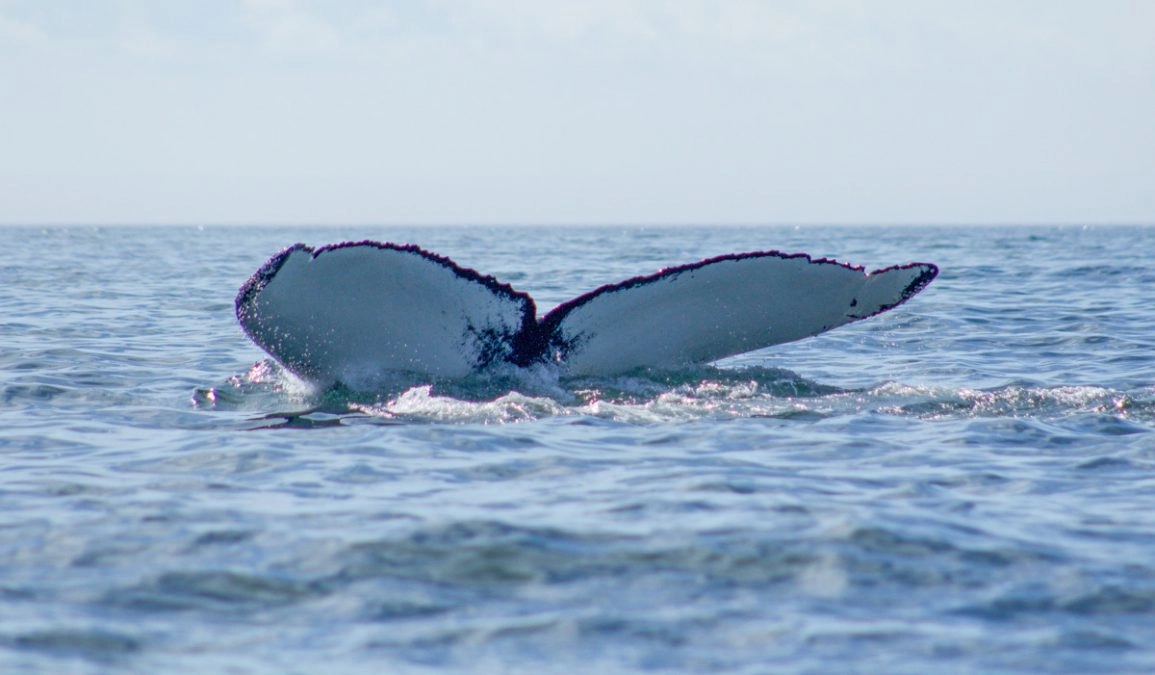 You can see more than a dozen species of whales in Newfoundland, but the humpback and minke are the two most commonly found at Witless Bay.
I've been whale watching all over the world, and it doesn't get better than Newfoundland. I always try to do this every summer since it's so amazing!
The best time to see the whales in Newfoundland is from mid-July to mid-August when the Capelin are rollin'; it sends the whales into a feeding frenzy!
Nothing is ever guaranteed with wildlife, but your chances are excellent if you go during this time. If you get fortunate, you may also see icebergs if you're visiting in the spring.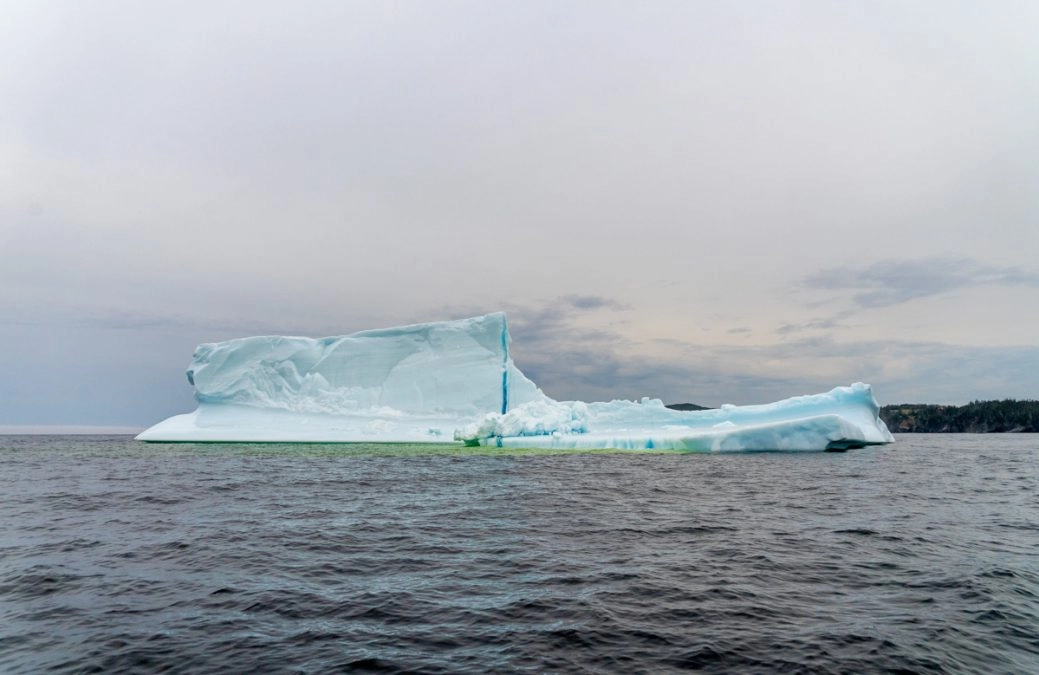 To visit the reserve, you'll have to hop on a boat tour from Bay Bulls. This is an easy day trip from St. John's, as it's just a 25-minute drive from the city.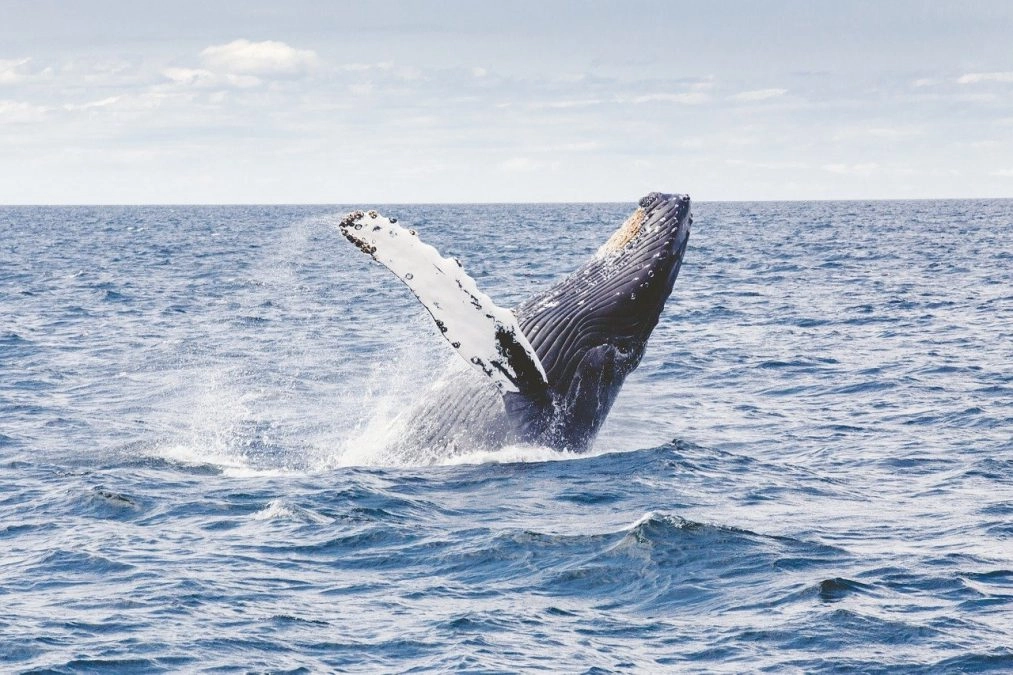 RECOMMENDED WHALE AND PUFFIN TOUR
Departing from Bay Bulls, this whale and puffin cruise will take you to marvel at humpback whales and puffins through the Witless Bay Ecological Reserve.
The reserve is home to over 2.5 million seabirds and one of the largest populations of whales in the North Atlantic!
If you're prone to seasickness, I recommend using a motion sickness patch, as Newfoundland's ocean can sometimes be rough.
#2. The Tolt
If you're looking for a quick hike with amazing views, head up to 'the Tolt' in Witless Bay (the trailhead is marked on Google Maps, you park by the graveyard).
It's just a 10-minute hike up the hill, but the views at the top are phenomenal, especially if you go for sunset!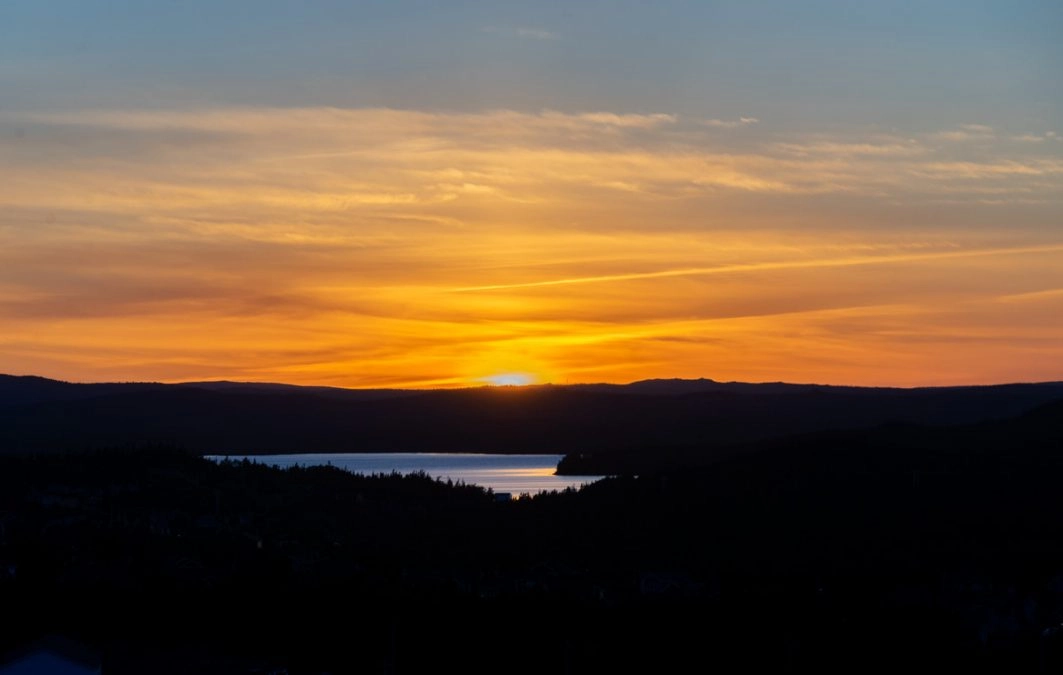 #3. Fork restaurant
While there are plenty of good fish and chips places to stop along the Irish Loop, check out Fork Restaurant in Mobile if you're looking for something different.
They are only open a few nights of the week and for brunch on the weekends, so it can be tricky to eat here if you don't time it right. Unfortunately, timing has never been on my side, but I have heard many people rave about this place. Reservations are recommended!
#4. Tors Cove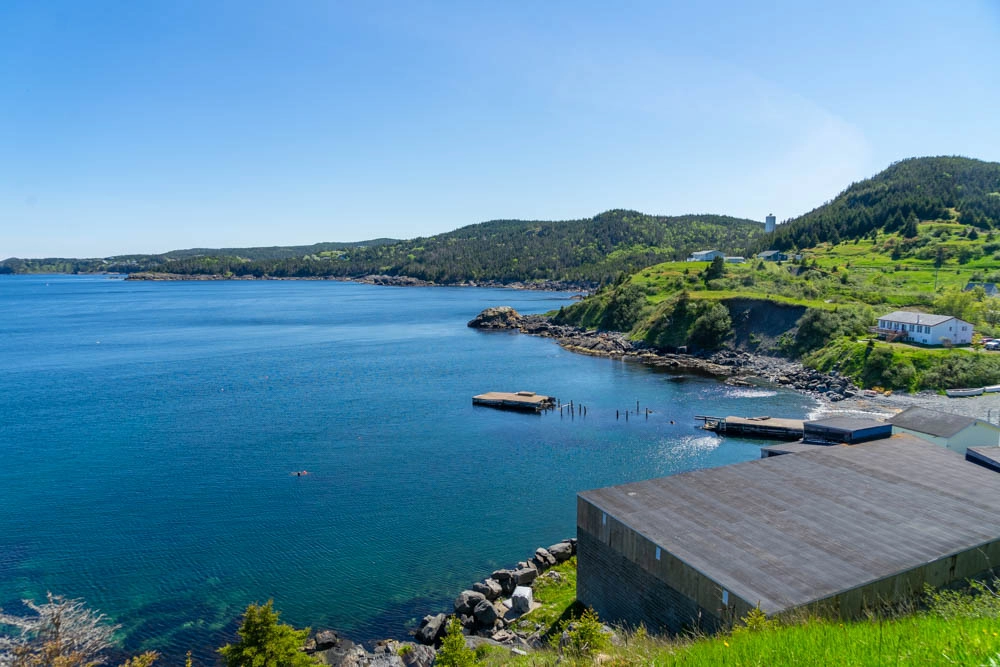 Tors Cove is a cute little community where two East Coast Trail paths meet. It marks the end of Tinkers Cove Path (starts in Mobile) and the beginning of La Mache Village Path. It's also a good place to look for whales from the shore!
Tors Cove is also home to Running the Goat press, where you can buy some unique Newfoundland souvenirs, including original prints, handmade books, and cards.
#5. La Manche Provincial Park
Keep driving along the Irish Loop, and you'll come across La Manche Provincial Park. This is the perfect spot to go camping in the summer.
Inside the park is La Manche River, which leads to a gorgeous waterfall you can go swimming in.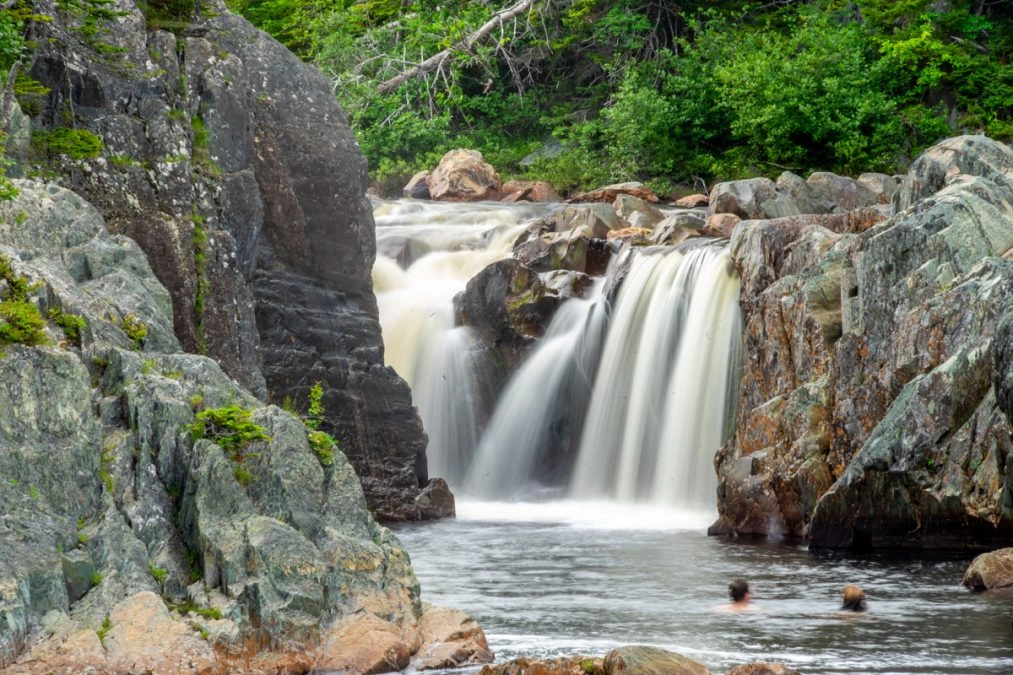 There's another trail there that takes you to the abandoned townsite of La Mache, which was once a French village that got destroyed by a bad storm.
This trail is part of the East Coast Trail, and along it, there is an impressive suspension bridge built by the ECT association.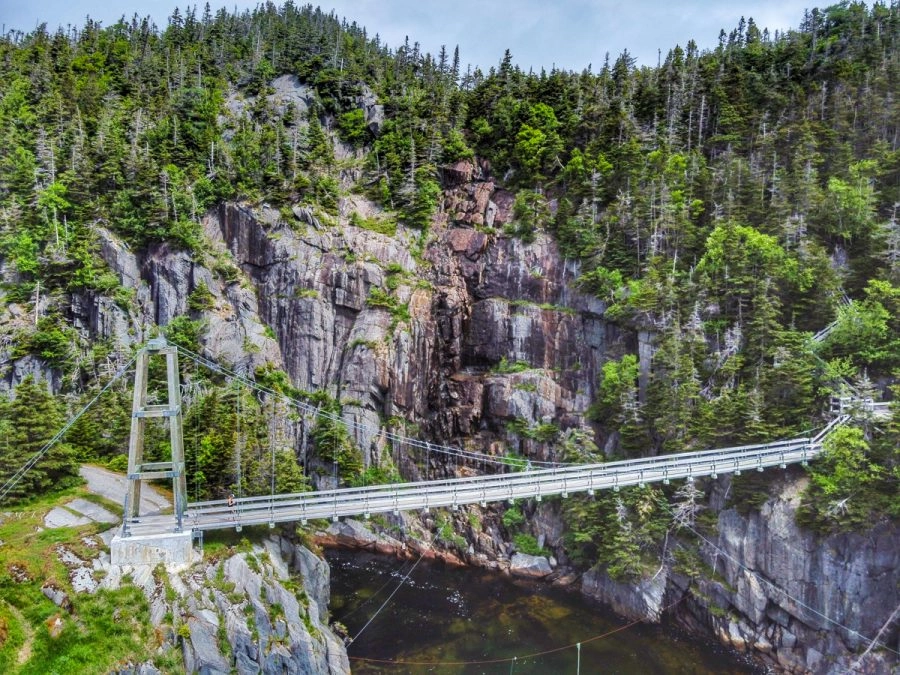 If you really want to get into the wilderness, you can obtain a permit for the Avalon Wilderness Reserve at the La Manche Park office. It's a 1,070 sq km reserve home to the world's southernmost woodland caribou herd. It is a great place to go canoeing, fishing, and hiking.
#6. Ferryland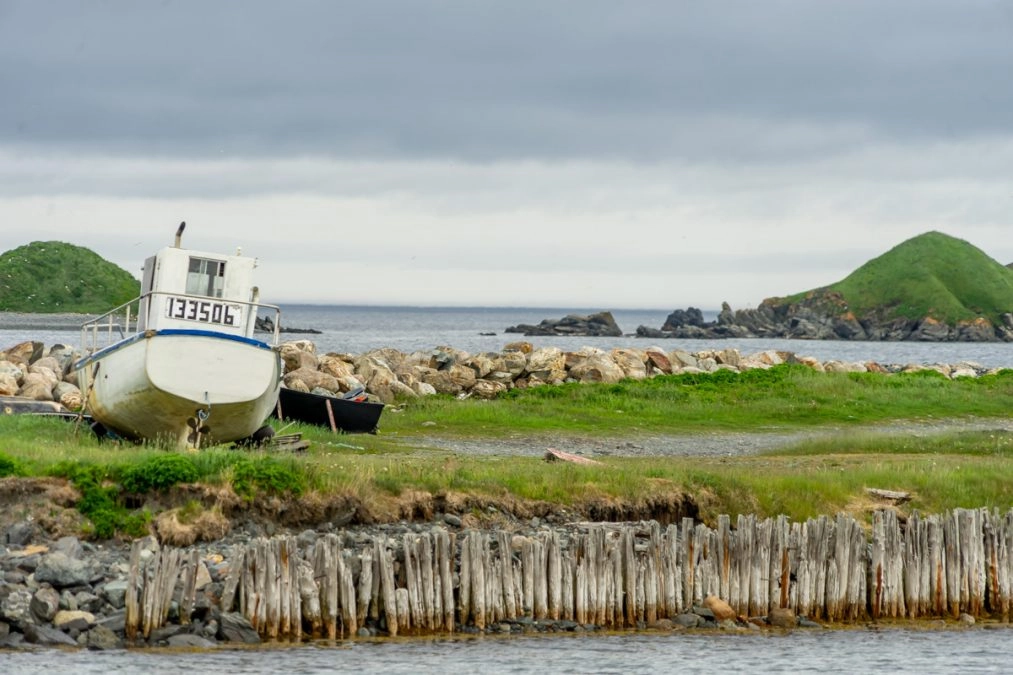 Continue along the route, you'll pass right through Ferryland, which is well worth a stop. There you can visit the Colony of Avalon, which was established in 1621 by Sir George Calvert.
It's an important archeological site widely recognized as North America's best-preserved early English colonial site. At the visitor center, you can see artifacts found from the colony.
My dad was an archeologist and worked on this site when I was very young, so I remember coming here often. At the time, I was disappointed because I thought it was FAIRY-land, and sadly, I didn't find any fairies there. But returning as an adult, Ferryland certainly has a magical feel about it.
Another fun thing you can do at Ferryland is book a picnic at the Ferryland lighthouse built in 1870. They will make you a gourmet lunch picnic that you can enjoy amongst the scenery of the lighthouse and the surrounding landscape. Another great place to spot whales in the summertime!
You need to book it well in advance, possibly months during the busy tourist season. You can either fill out the form on their website or e-mail to request a booking.
If you don't book in advance but are around the area and want to have a picnic, try calling them. Sometimes tourists don't show up, and you can get a last-minute spot.
#7. Berry Head Sea Arch
If you're looking for an interesting hike along the Irish Loop, consider the Spurwink Island Path from Aquaforte to Port Kirwan. It's a long hike (20km one-way), but you can hike to the trail's main attraction, the Berry Head Sea Arch, as an in-and-out trail from Port Kirwan.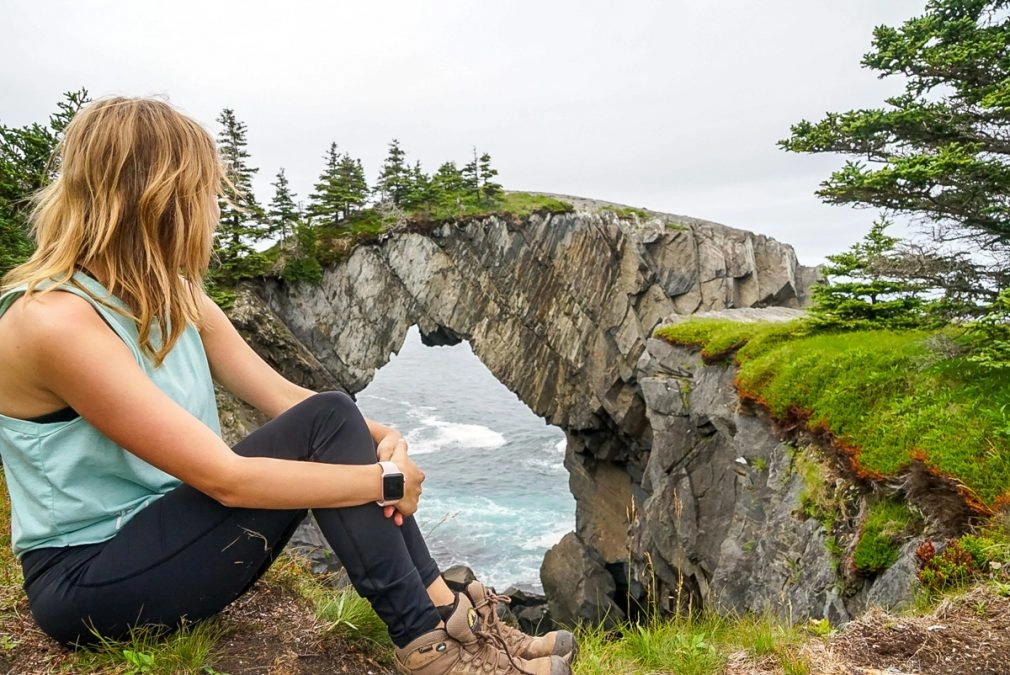 You park at the community center in Port Kirwan and walk up to the trailhead, which is well-marked. The hike starts with beautiful coastal views and then goes inland to the forest.
It's about 8km to the sea arch, which you will not miss coming from the Port Kirwan side. It's so impressive! It took me about 2 1/2 hours to hike each way, and it's a moderate hike.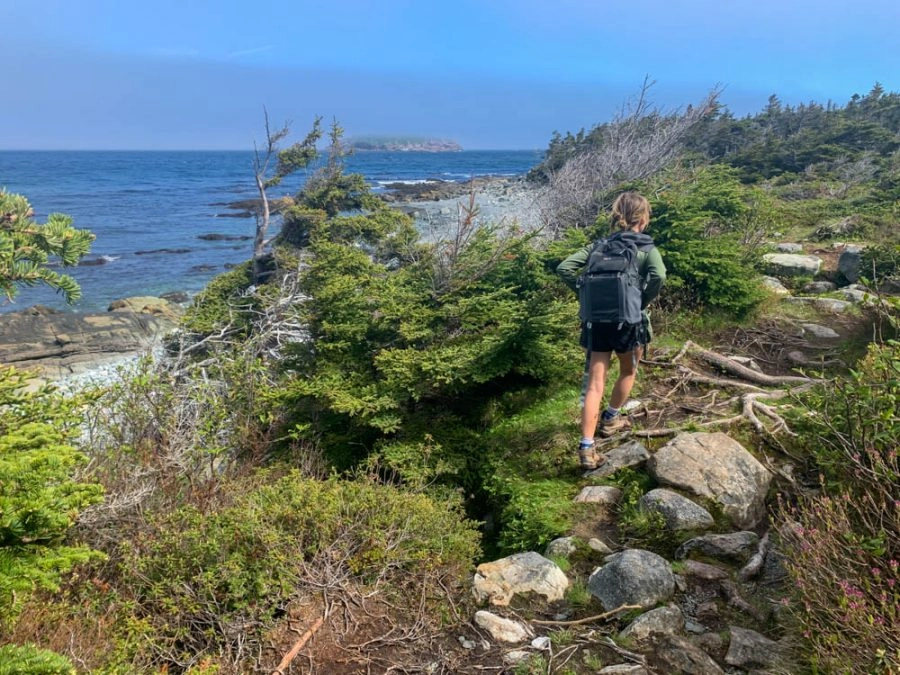 BEST NEWFOUNDLAND HIKING APP
If you're going hiking in St. John's, be sure to download the trail map on AllTrails before heading out.
There isn't service on most hiking trails in Newfoundland, but you can download the maps beforehand on AllTrails, which will work regardless of service. It's saved me more than once!
#8. Mistaken Point
Continue driving to the next major point of interest, Mistaken Point Ecological Reserve. Along the way, you'll pass by Chance Cove Provincial Park, which is a good option for camping. When you enter Portugal Cove South, you'll see the Mistaken Point visitors center.
Mistaken Point is one of Newfoundland's four UNESCO World Heritage Sites – the others are the Tablelands in Gros Morne, L'anse Aux Meadows, and Red Bay in Labrador.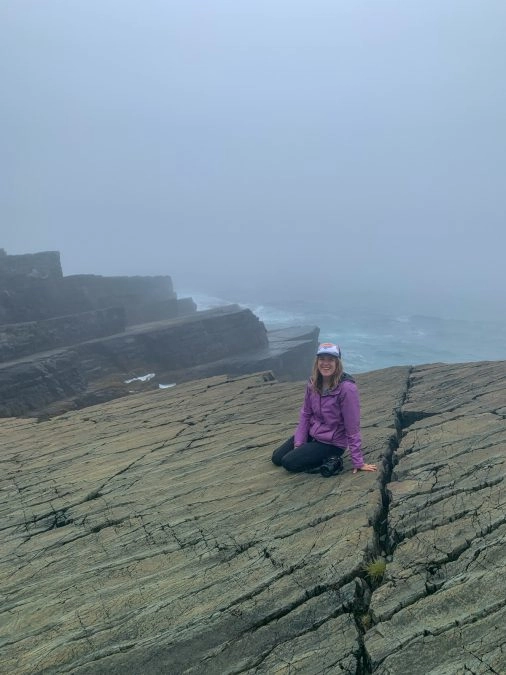 Mistaken Point is one of the world's best-preserved fossil sites and is incredibly fascinating to visit. I went for the first time in 2020 and can't believe I didn't go sooner.
The tour is a guided hike, 6 km in and out to the fossil site. It took us about 3 hours, although the guides said it could take four, depending on the group's speed.
The hike is through a wilderness reserve, and I enjoyed the walk as much as the fossil site itself. The land you'll walk through is an artic hyper oceanic barren landscape, so it feels different than anything else you'll see on the Irish loop.
The area is often windswept, which means it has these tiny little trees that never grow tall. I like to think Newfoundland fairies live inside them. There were also beautiful fields of iris and gorgeous ocean cliffs.
The actual fossil site is a massive slate of rock which, surprisingly, they let you walk on. You just need to remove your footwear beforehand.
There are fossils of over 700 organisms on the rocks that date back to 620 million years ago, so it's pretty impressive. The fossils are remnants of the oldest known creatures on earth from the Ediacaran Period. Our tour guides were so knowledgeable and made the whole trip enjoyable.
To visit Mistaken Point, you have to do a guided tour which you can book by emailing [email protected] or by phone at (709) 438-1011. Tours will open again in May 2023.
#9. Cape Race Lighthouse
Nearby Mistaken Point, you can see the Cape Race lighthouse, which received the titanic distress call in 1912. If you are driving out to Mistaken Point, I recommend stopping here too! It's just an additional ten-minute drive.
Cape Race is an excellent place to have a picnic, which I recommend if you visit Mistaken Point because there aren't any other food options here. We packed a picnic and ate it before our afternoon tour.
#10. St. Vincent's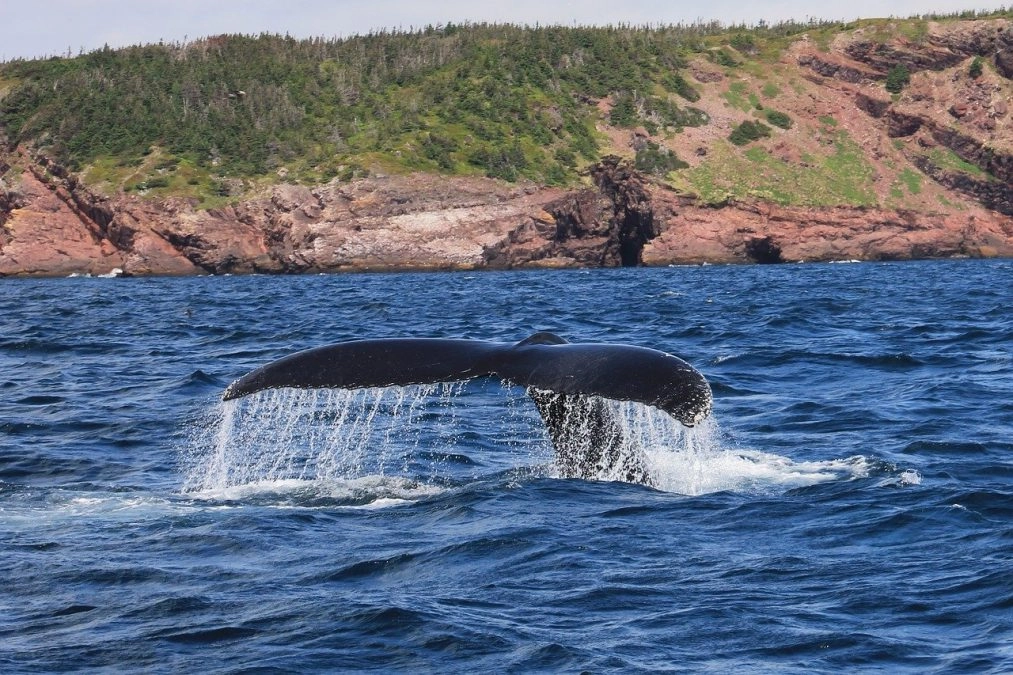 St. Vincent's is a lovely beach you can visit along the loop. It's a great whale-watching spot as the ocean becomes deep quickly, so the whales come close to shore.
Unfortunately, it's also an area prone to fog, and you have to visit on a clear day if you want to see whales. And just because it's nice in town doesn't mean it's nice out that way (as we discovered). It's best to visit when they are Northerly winds, which blow off the fog.
After St. Vincent's, you can continue the loop around following route 90.
#11. Salmonier Nature Park
Salmonier Nature Park is a 1,214-hectare wilderness reserve where you can see several animals and birds indigenous to Newfoundland and Labrador. It's an excellent place to see wildlife you might otherwise miss while traveling throughout the province.
Some animals you can see at the park are moose, caribou, beaver, owls, otters, foxes, and lynxes. I haven't been here since visiting with school when I was younger, but I remember loving it as a kid.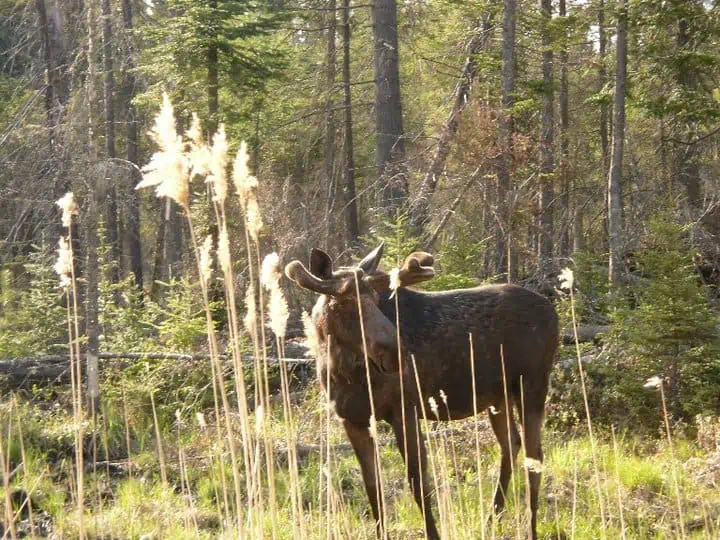 Continue driving along route 90, and you'll link back up with the Trans Canada Highway 1, which will take you back to St. John's and surrounding areas.
If you aren't ready to go home, you could spend a night camping at Butter Pot Provincial Park, which has a sandy freshwater beach and campgrounds.
The Irish Loop Newfoundland map
FAQ: Irish Loop Newfoundland
How long does it take to do the Irish Loop in Newfoundland?
The Irish Loop is 312km in total distance and could be driven in 3-4 hours. However, I'd give yourself at least a full day since there are so many beautiful places to stop along the way. Better yet, stay overnight.
What route is the Irish Loop in Newfoundland?
The Irish Loop is route 10 heading out of downtown St. John's. It goes along the coast before looping around Route 90 and ending back at the starting point.
Why is it called the Irish Loop in Newfoundland?
Its name comes from the Irish history dating back 400 years or so.
Is Ferryland in the Irish Loop?
Yes, Ferryland is part of the Irish Loop. St. John's to Ferryland is about 80km.
Is the Newfoundland accent similar to Irish?
Most people from Newfoundland descended from the Irish and have a similar accent, yet it is distinctly its own.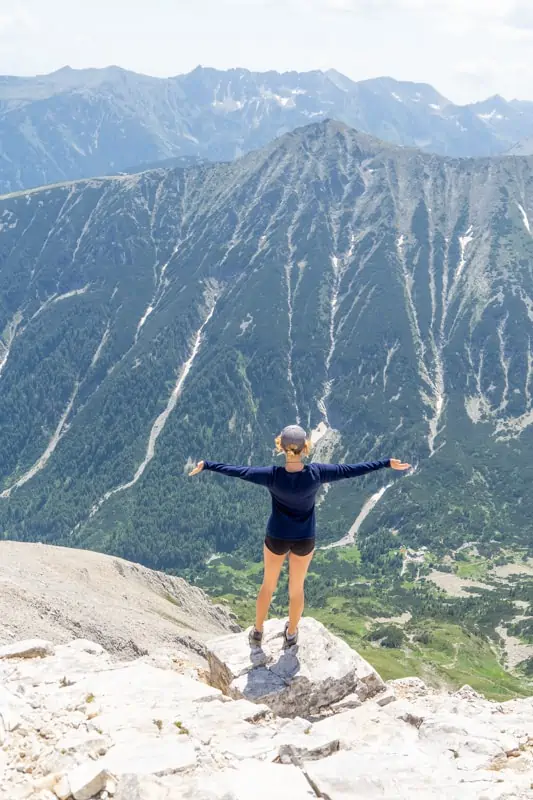 RECOMMENDED TRAVEL INSURANCE
Don't forget to protect your trip with HeyMondo travel insurance. Get peace of mind with:
24/7 worldwide assistance (including covid)
Extended Stays
Cover for non-refundable expenses
Heymondo assistance app
—
The Irish Loop is just another reason to fall in love with Newfoundland. I'm so happy that my hiking journey helped me discover this beautiful part of the Avalon Peninsula; it's got so much to offer. And I'm sure there are even more places I haven't discovered yet!
Planning a trip to Newfoundland? Don't miss these posts!
Enjoyed this post? Pin it for later!