This post may contain affiliate links. By clicking and making a purchase through the links, I earn a small commission at no extra cost to you. See my disclaimer for more information. This and display ads allow me to keep the site up to date and give back.
I can't believe I didn't go hiking in Gros Morne National Park until my adult life. It's not only one of the most beautiful area in Newfoundland, but a fascinating place to learn about the history of the planet's geology. If you're visiting Newfoundland or just looking for a fun weekend trip within the province, Gros Morne National Park is the perfect place to go.
Gros Morne is a UNESCO World Heritage Site and the second-largest national park in Atlantic Canada. It covers an area of 1,805 square kilometers! With unique geology, glacier-carved cliffs and fjords, and endless hiking trails, it's one of the best places in Newfoundland for outdoor adventure.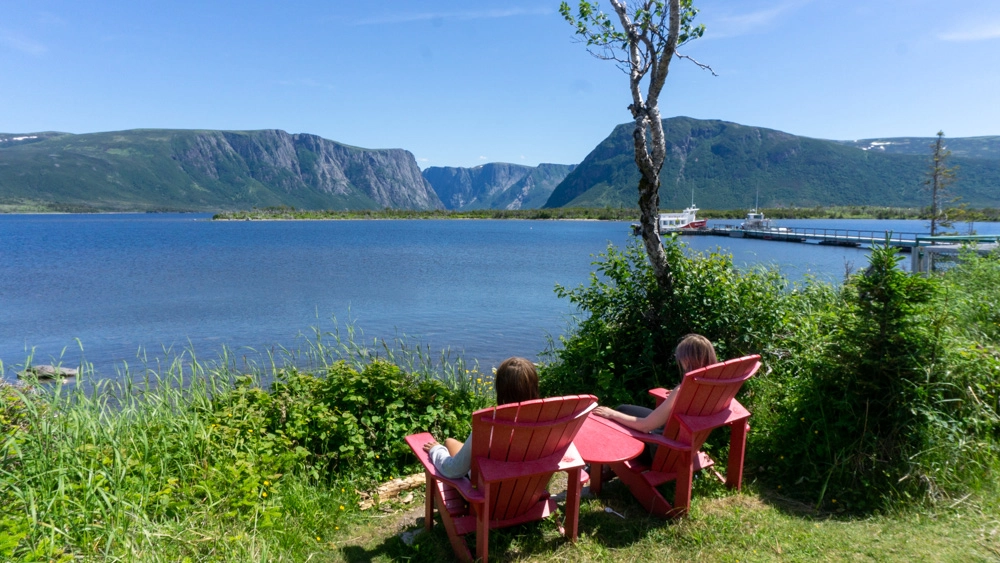 Gros Morne Hiking
Gros Morne National Park is an ideal setting for all kinds of outdoor adventure, particularly hiking, with so much incredible nature around. There are over 100 kilometers of pristine hiking trails to explore, with hikes ranging from easy one-hour loops to multi-day journeys. Here are some of my favorite hikes in Gros Morne National Park.
Gros Morne Mountain Trail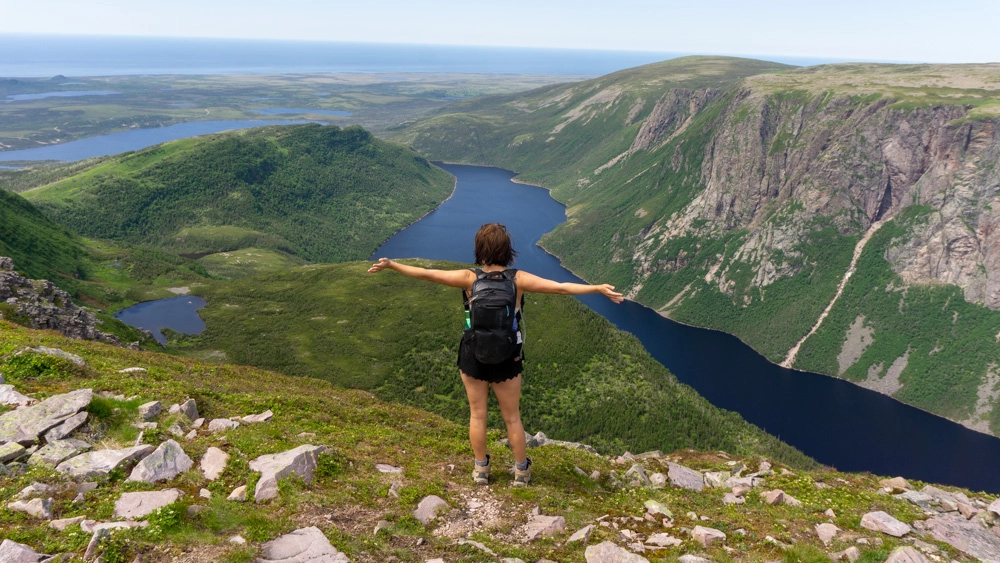 Quick facts: 16km return | 6-8 hours | 10-806m elevation | Difficult
Gros Morne mountain is one of my favorite day hikes that I've done. It takes you to the park's highest point at 806 meters, where there are breathtaking views of the Long Range Mountains and Ten Mile Pond.
Hiking the Gros Morne mountain trail is no easy feat. It's a 16km return hike, with an elevation gain of over 800m. The first two hours are seemingly easy, as a gradual walk through the forest.
Afterward, you'll come to an area with signs warning you about the difficulty of the rest of the hike. The last two hours involve climbing up steep rock, and at times it's a scramble.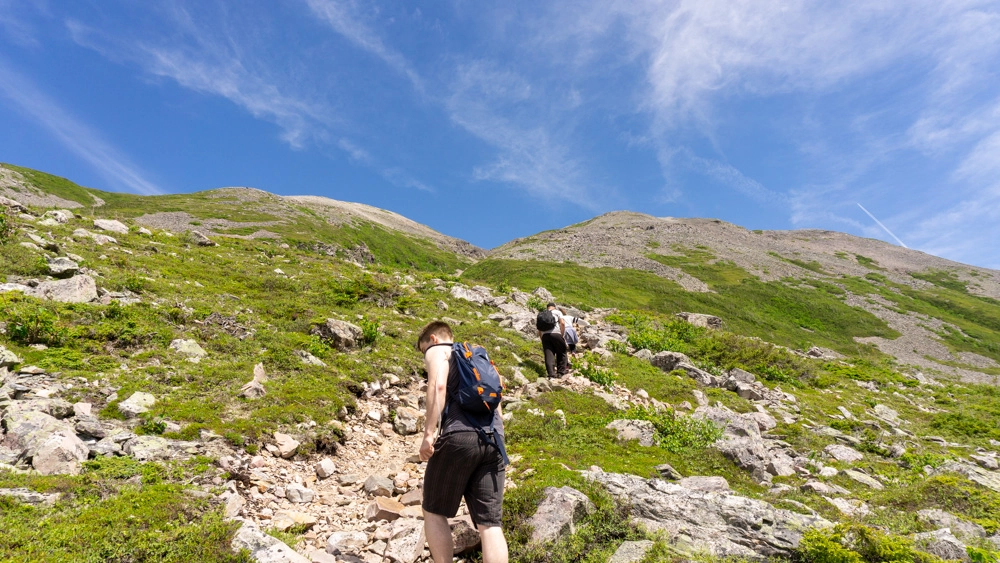 I was in pretty bad shape when I hiked Gros Morne mountain as I had just gone back from six months in South America, where I was living off empanadas and beer. I am so happy I didn't skip on this hike, though; it was so rewarding to get to the top.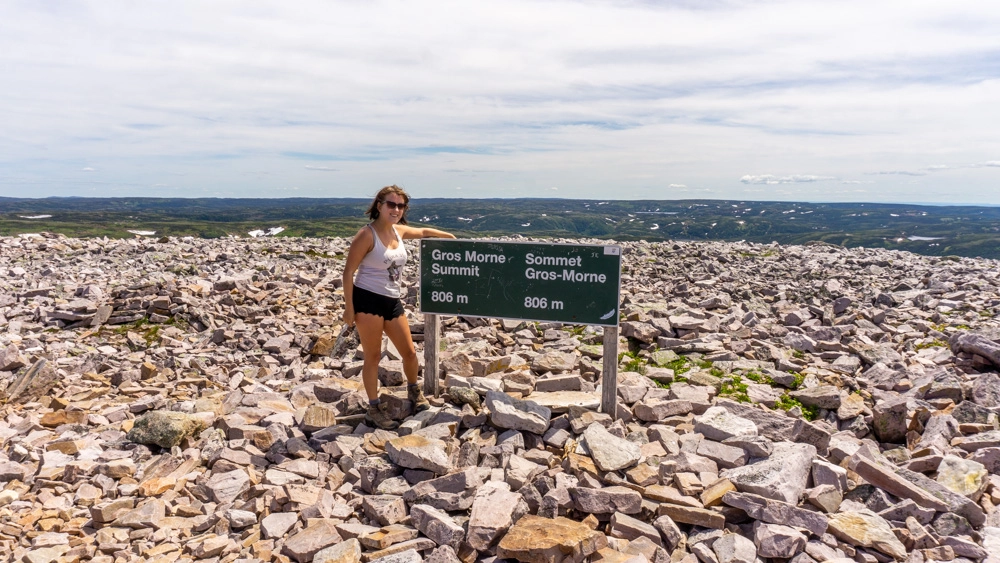 Even though it was the middle of summer, there was snow at the top of the mountain, so my hiking buddy and I decided to have a snowball fight. Great way to cool off from the heat! As you approach the top, the landscape almost felt like we were on the moon. It's just a barren rocky surface. Walk to the other side, and you'll get incredible views of the Long Range Mountains and Ten Mile Pond.
Going down is much easier and gives you a chance to appreciate the surrounding landscape's astounding views.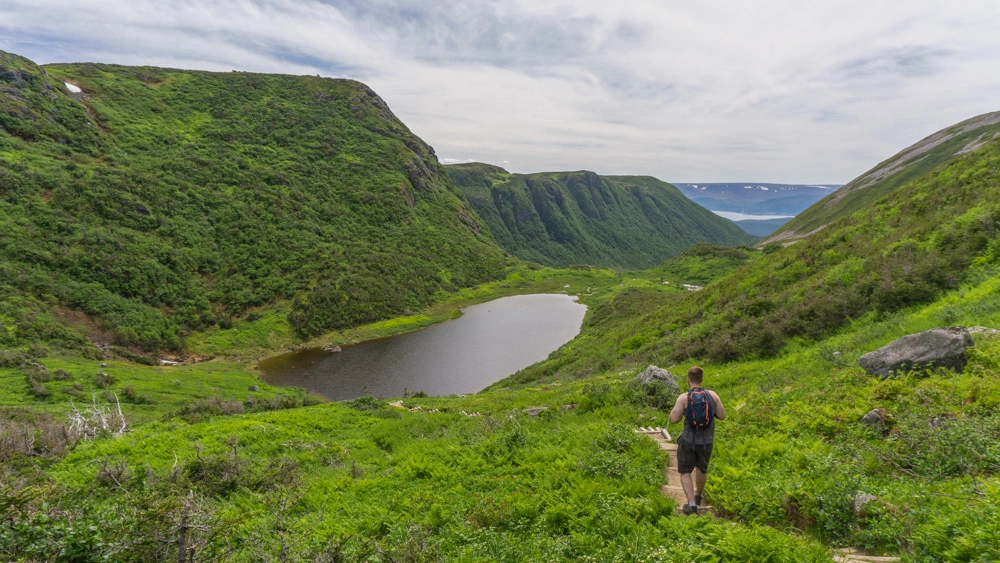 The Gros Morne mountain trail is a beautiful Arctic-alpine environment, so you may see wildlife such as arctic hares. We saw a grouse in the middle of the trail, which I was way too excited about because I'd never actually see one in person before. It just stood there looking stunned. You may also see moose or caribou on the trail -remember to maintain your distance if you do!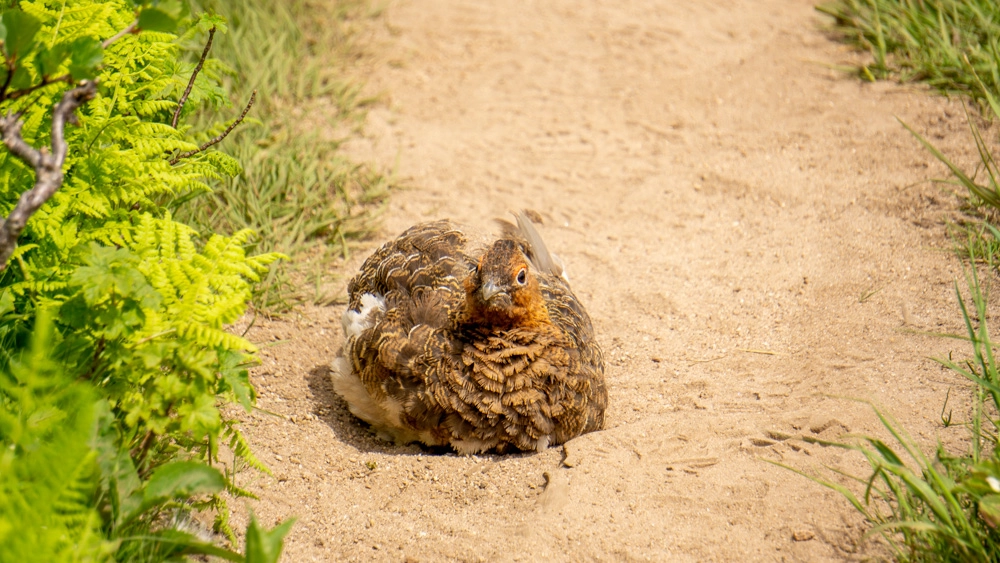 I encourage you to try hiking Gros Morne mountain if you're visiting the park, just bring a lot of water with you. Parks Canada recommends 2L per person, which I concur with. The best time to hike Gros Morne mountain is July and August. In May and June, the trail is off-limits to allow the local wildlife to raise their young in peace.
If you don't want to hike Gros Morne mountain on your own, there are also hiking tours in Gros Morne.
Gros Morone Long Range Traverse
Quick Facts: 35 km | 3-4 nights | very difficult
The first time I visited Gros Morne National Park, I wanted this iconic photo overlooking the fjords. What I didn't realize was that getting there is not so easy.
To get there, you'll have to backpack the long-range traverse, which was named by National Geographic as one of the best hikes in the world. This epic hike takes four nights but will take you to one of the most sought after photos in Newfoundland.
This trek is not for beginners – you must attend a briefing to receive a backcountry hiking permit for this trek and be given a satellite responder. If you aren't comfortable hiking the long-range traverse on your own, you can do a guided hike with Bonne Bay tours.
I haven't done this trek yet as it was sadly closed off due to COVID, but it's high on my Newfoundland bucket list!
Western Brook Pond Hike
If you aren't up for the Long Range Traverse hike, there is another way to reach this spectacular viewpoint on a guided hike with BonTours. You'll take the boat through the fjords of Western Brook Pond, and then meet a guide on the other side at the trailhead. From there, it's a four-hour excursion to the top of the gorge. They also offer an overnight version of this hike.
Green Gardens Gros Morne
Quick Facts: 9-15 KM Return | 3-6 Hours | 0-270m | Moderate |
Although it has green in its name, the green gardens trail actually begins near the barren Tablelands which feels desolate. Continue on the trail and you'll descend through the boreal forest to the coast, where you can find sea stacks, caves, and beaches. From there, you can explore the shoreline. At low tide, you can access a sea cave!
The Green Gardens trail only took me about an hour to the coast, and then an hour back. You can also extend it to the Wallace Brook trail for a longer hike, although this section of the trail was closed off when I visited in the summer of 2020.
Baker's Brook Falls
Quick facts: 9.2KM Return | 2-3 Hours | 80-130m | Moderate
Waterfalls hikes are the best hikes! Starting at Berry Hill Campground, the trail to Baker's Brook Fall follows a stretch of boardwalk over a marsh before taking you through a balsam fir forest. Along the way, you can see pitcher plants, which are a carnivorous species of flowers and the provincial flower of Newfoundland.
Soon after, you'll see Baker Brook Falls, a stunning series of waterfalls cascading over limestone ridges. There's a nice viewing platform where you can watch the falls from.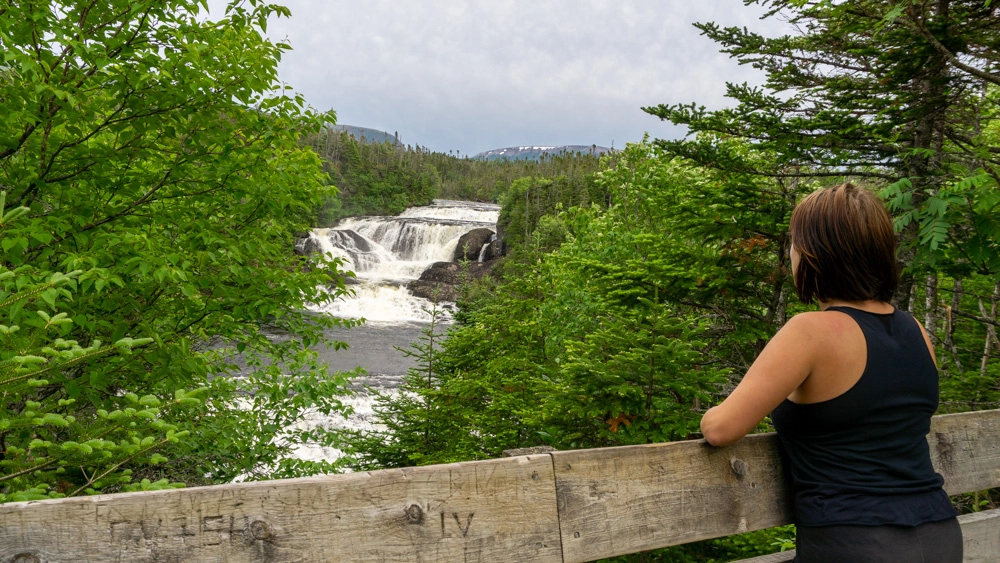 Tablelands Gros Morne
Quick Facts: 4KM Return | 1 hour | 160-235m | Easy
One of the most fascinating parts about visiting Gros Morne national park is getting to see the inside of the earth's crust! Hundreds of million years ago, a tectonic collision forced the rocks upward, leaving the Earth mantle exposed (normally, this part is found far below the earth's crust). So the rocks you are looking at in the tablelands once sat beneath the ocean. How neat is that?
Because of Gros Morne National Park's geology, the theory of plate tectonics was confirmed. The landscape is barren because it's full of rust-colored rocks and heavy metals that limit vegetation growth. It felt like we had entered Mars!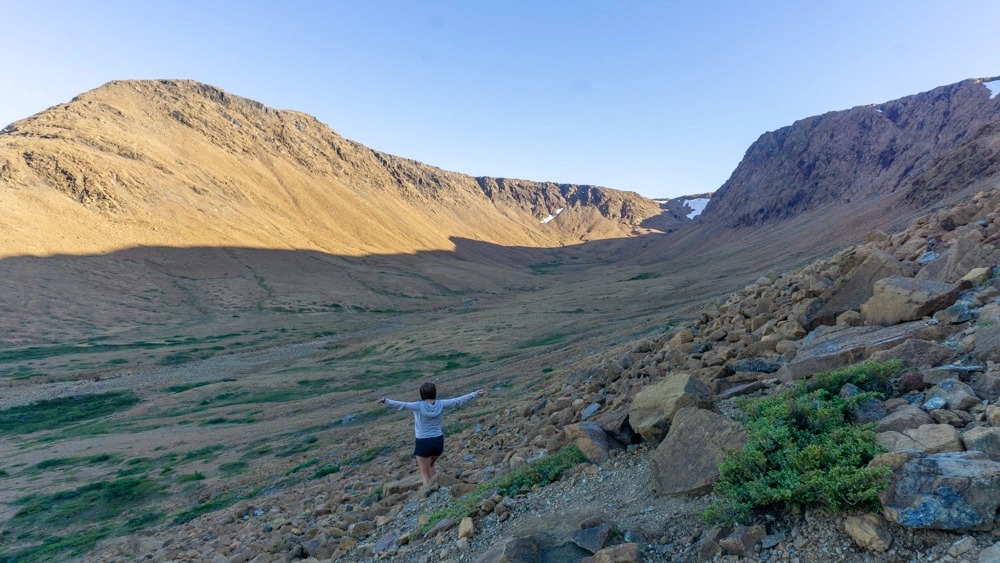 The best way to gain an appreciation for this incredible geological is to do the tablelands interpretative trail. It only takes an hour, following an old roadbed around the base of the mountain. There are signs along the trail which will help you understand this significance of the geology in Gros Morne.
Berry Hill Pond Trail
Quick Facts: 2KM Return | 0.5-1 Hour | 90-110m | Easy
If you're looking for an easy hike in Gros Morne that takes less then an hour, make the short loop that circles the shore of Berry Hill Pond. It's a great area for spotting beaver, as there are many dams here.
These are just some of my favorite hiking trails in Gros Morne. Other popular hikes in the area are Lobster Cove Head to a beautiful lighthouse, river pond trail, and snug harbor trail. There are over 20 hiking trails listed on the Parks Canada webpage.
Other Outdoor Activities in Gros Morne
Boat Tours Through Western Brook Pond
If you do any activity while in Gros Morne National Park, make it a boat ride through Western Brook Bond. I couldn't believe I was still in Newfoundland while taking this tour; it felt like I had been transported to Norway.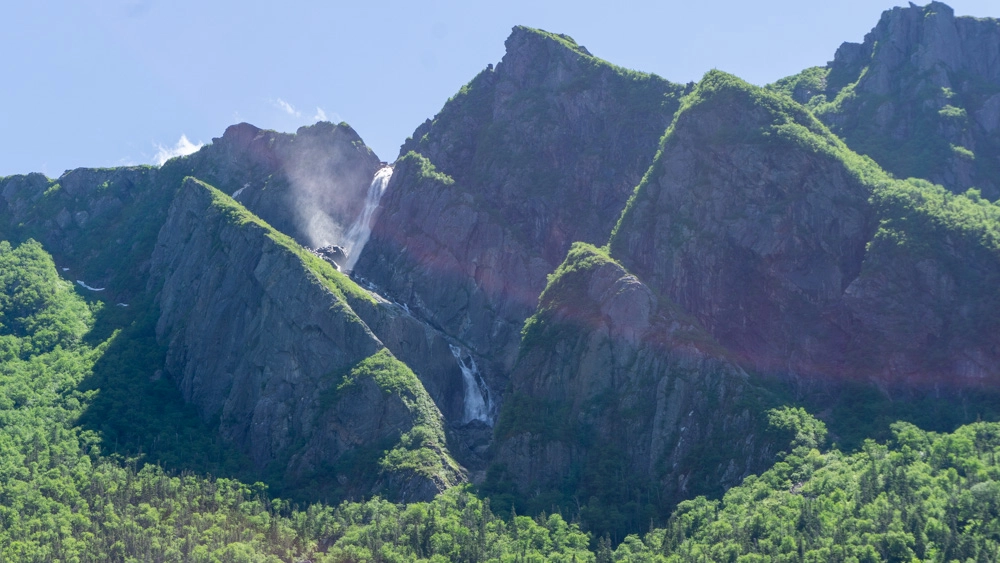 The two-hour boat tour goes through an incredible glacier-carved land-locked fjord full of waterfalls on all sides. No matter what way I looked, there was another beautiful waterfall! The waterfalls are some of the highest in Eastern North America, often cascading from over 2000 feet. Along the way, the knowledgeable guides provide an informative yet entertaining narrative about the area.
Whale Watching Boat Tour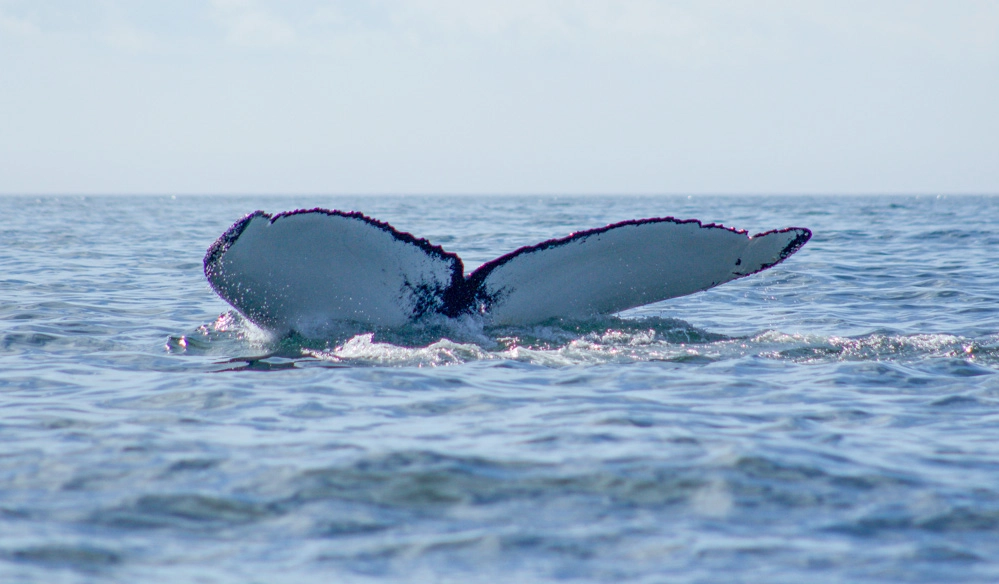 You can also join a boat tour of Bonne Bay where you can learn about the history of Newfoundland and its first settlers. You may also see whales, dolphins, and bald eagles on this tour! This is one of the best places for whale watching in Newfoundland.
Sea Kayaking
There are several beautiful ponds in Gros Morne national park that are perfect for kayaking. If you have your own canoe or kayak, you can use it on Trout River Pond and Bonne Bay. There are also guided sea kayak excursions in the park if you don't have your own. It's one of the best places for sea kayaking in Newfoundland!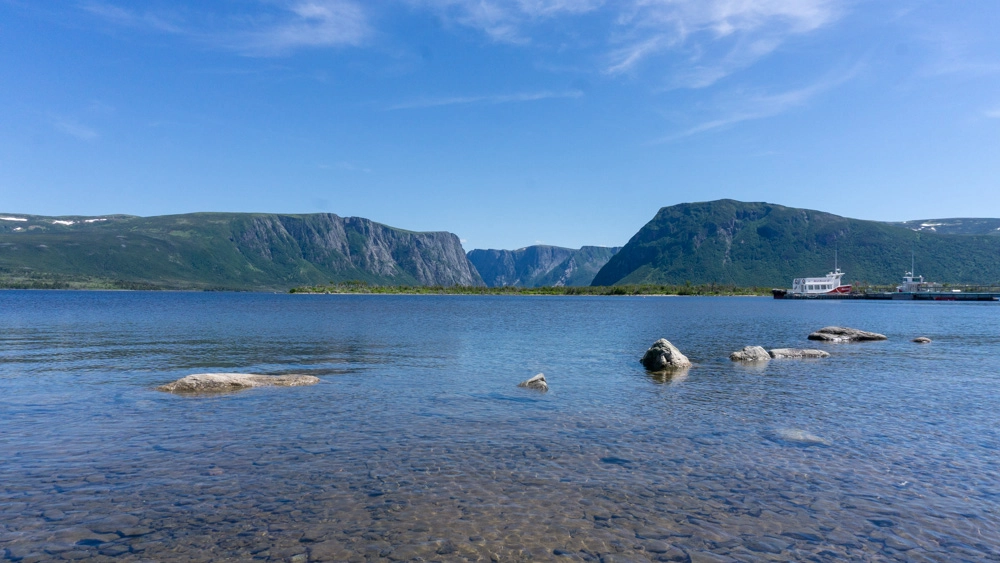 Swimming
There are a couple of places you can go swimming in at Gros Morne, which is the perfect thing to do in the summertime! Trout River Pond is great for freshwater, or Salt Water Bay and Lomond for saltwater swimming. Just know that it's the Atlantic ocean and it can be freezing!
Star Gaze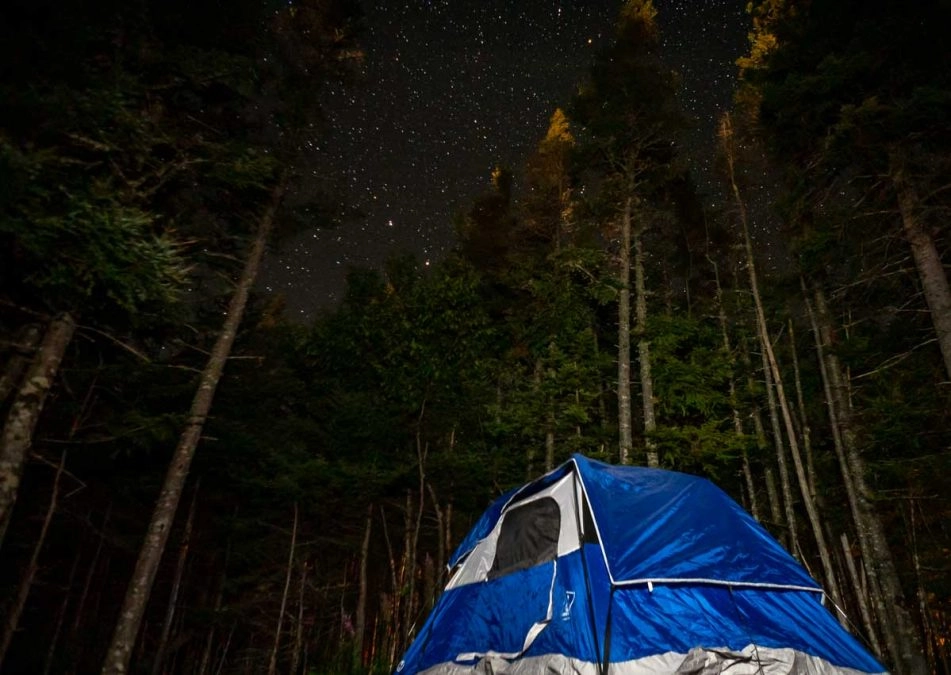 While staying overnight in Gros Morne, definitely take the opportunity to look outside and stargaze. On a clear night (which may be hard to come by in Newfoundland), the sky is mesmerizing. Gros Morne National Park is now in the process of applying to the Royal Astronomical Society of Canada for designation as a Dark Sky Preserve!
Watch the Sunset
Gros Morne has spectacular sunsets. Try to get a campsite by the ocean for the best views, and if you can't, take a drive out around dusk to watch the sky put on a beautiful show of colors.
Take a drive
Just driving through the park is a nice activity. Route 431, between Woody Point and Trout River, is a gorgeous drive through the mountains.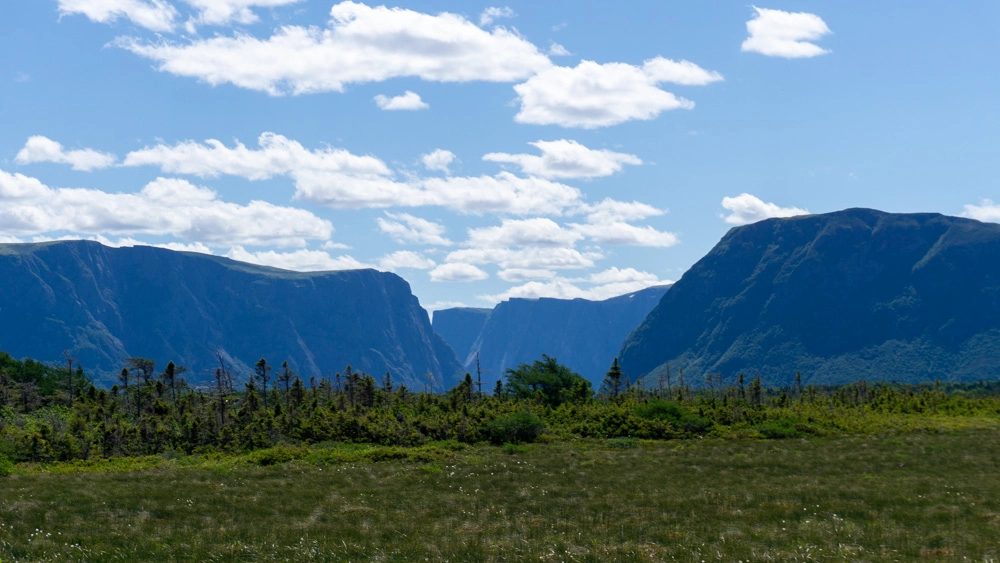 Getting to Gros Morne
The nearest airport to Gros Morne National Park is at Deer Lake (YDF), a 30-minute drive along the Viking Trail. Although if you're flying into Newfoundland, you'll likely be landing in St. John's International Airport (YYT). There's no public transit in the park, so plan to rent a car to get around.
St. John's to Gros Morne is a 7-hour drive along the Trans Canada Highway 1. You can rent a car at the St. John's airport. For more ideas on other places to visit between St. John's and Gros Morne, check out my guide on planning an East Coast Canada road trip.
If you're driving from the Nova Scotia via Cape Breton, take the Port Aux Basque ferry. You'll arrive early in the morning in Newfoundland. From there it's a 3½-hour drive along Route 1 to Route 430. If you plan to camp, stop in Corner Brook for supplies beforehand. Dominion and Sobeys are the two main grocery stores. There are some small stores in the park but they sell limited supplies and are more expensive.
Gros Morne Accommodations
If you love the outdoors then the best place to stay in Gros Morne is at a campsite inside the park! There are five different campsites inside the park which you can reserve online. Berry Hill and Green Point campground are two I recommend. Parks Canada also offers OTentTik and Rustic Cabins, which are a unique blend of comfort and outdoor adventure.
If you're looking for something more comfortable, there are a variety of accommodation options in nearby communities. Some of the best communities to stay in are Norris Point, Rocky Harbour, and Cow Head.
There are also a number of affordable Airbnb options in Gros Morne. I stayed at this Airbnb in Trout River which was perfect. It's a cute saltbox home with a very cozy inside!
Find more accommodation Gros Morne National Park here.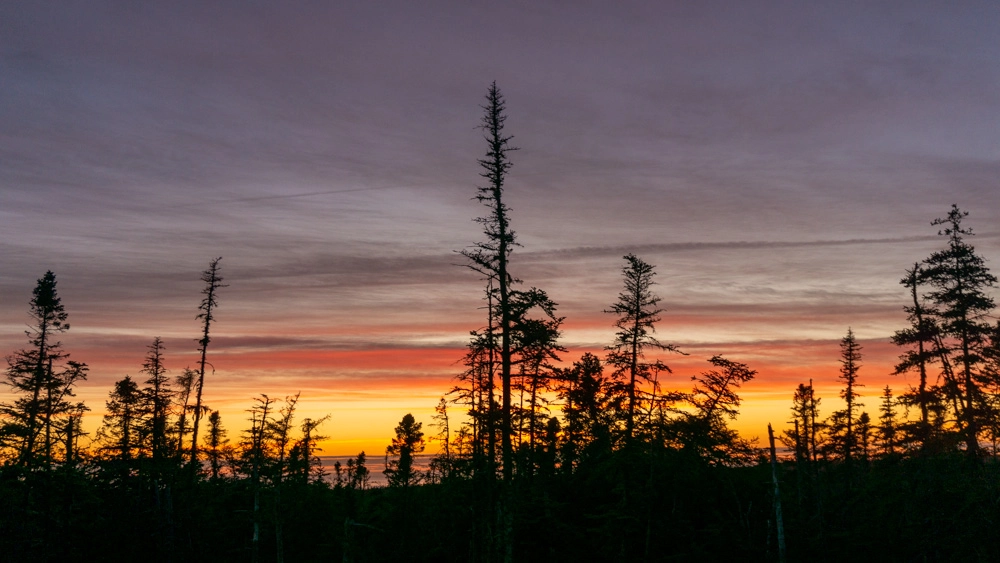 What to Wear in Gros Morne
Newfoundland is truly one of those places where you can expect to experience all four seasons in one day, so you'll want to pack accordingly.
During the summer, there may be days when it's hot (25 celcius+) and you'll be fine in shorts and a tank top. However, there will likely be other days when it's cold, foggy, and raining, so you'll want some warm clothes and rain gear to keep you comforted then. Packing layers is essential when visiting Gros Morne.
Where to go After Gros Morne
If you're looking for a scenic road trip to go on after Gros Morne, continue the drive down the Viking Trail all the way to the National Historic Site of L'anse Aux Meadows.
If you want to continue heading East, take the Trans Canada Highway all the way to St. John's, the capital city. Some other places to visit along the way are Twillingate, Fogo Island, and the Bonavista Peninsula. For more ideas on road tripping around Newfoundland, check this guide. Wherever you go on the island, you'll be sure to fall in love with Newfoundland.
If you're visiting Newfoundland, I strongly recommend adding Gros Morne to your itinerary. It's quickly become one of my favorite places on the island, especially for hiking.
Found this post helpful? Pin it for later!