This post may contain affiliate links. By clicking and making a purchase through the links, I earn a small commission at no extra cost to you. See my disclaimer for more information. This and display ads allow me to keep the site up to date and give back.
With so much to see, planning the perfect Sri Lanka itinerary can be tough.
Although Sri Lanka is a small island – it packs a powerful punch.
With world-class beaches, wild elephants, ancient ruins, epic beach parties, and some of the spiciest but delicious food you can find in Asia, there's no shortage of things to do in Sri Lanka.
This guide will help you plan the perfect itinerary for Sri Lanka, whether you are there for one week or one month.
I'll go over some of the best places to visit in Sri Lanka and things to do there, the best time to visit, as well as information on getting around, safety tips, and how much it costs to visit Sri Lanka.
How many days are sufficient for Sri Lanka?
If you want to see all of the places mentioned in this guide, I recommend spending one month in Sri Lanka. This is how long I was there, and still didn't cover every place I wanted to.
If you only have 1 to 2 weeks in Sri Lanka, I suggest sticking to either the South Coast, East Coast, or Central Area rather than trying to cover the whole country.
In this guide, I've suggested a one to four-week itinerary you can use as well as some shorter itineraries at the end if you have limited time.
When is the best time to visit Sri Lanka?
Sri Lanka has a tropical climate, with two different monsoon seasons affecting different parts of the island at different times.
This is actually a positive because it means it's dry somewhere on the island at any time of year, so Sri Lanka really is a year-round destination.
If you want to visit the South Coast, the best time to visit Sri Lanka is from October to March when it's the dry season.
If you want to visit the East Coast, the best time to visit Sri Lanka is from April to September.
Diving is a year-round activity in Sri Lanka. From October – March, you can dive on the southern coast, and from April- September, you can dive on the East coast.
Arriving in Sri Lanka
Sri Lanka is a small island below India, but you have to fly there to get into the country.
I asked about getting a boat from India to Sri Lanka, but it doesn't exist unless you want to go illegally via a fisherman. Sounds fun, but India takes border control pretty seriously, so I don't recommend it.
Flying into Sri Lanka will land you at Bandaranaike International Airport (CMB), which is in Negombo (about an hour away from Colombo).
There's no reason to stay in either for long, as there are many more beautiful places in Sri Lanka to see.
If your flight lands in the morning, you can travel to another town on the South Coast the same day.
When I landed in Sri Lanka, I stayed in Colombo for one day before heading south and regretted it. The beaches are so much nicer the further south you can go.
Tip: If your flight gets in late, but you plan to head South the next day, then it makes more sense to spend the night in Colombo since it's on the way.
If you plan to head East towards Kandy, then you should stay in Negombo for the night and get the train from there to avoid backtracking.
Accommodation in Sri Lanka
Sri Lanka has a wide range of accommodation options, from budget-friendly hostels to boutique hotels as well as luxury hotels.
You pay for what you get here, and I'll recommend some of my favorite places I stayed throughout this post.
If you're after a luxury stay, check out this post on some of the best luxury accommodations in Sri Lanka.
Sri Lanka Itinerary 7 days
If you only have 1 week in Sri Lanka, a great idea is to visit the beach towns on the Southern Coast.
Unawatuna & Galle (2-3 days)
Just two hours south of Colombo, you will start to hit many of the best beach towns on the South Coast.
If you take the train South from Colombo, you will follow along the coastline, with palm trees and ocean right outside the door. A fun feature of Sri Lankan trains is that the doors stay open the entire time!
My favorite town on the South Coast is Unawatuna, a small but lively beach town where you can swim, surf, relax, or party.
A big part of the reason I loved Unawatuna so much is because of Camp Kush hostel. This eco-friendly hostel is in the middle of the jungle, yet minutes away from town. They offer unique accommodation options in Tipi houses.
The hostel has a super welcoming atmosphere – you'll feel at home as soon as you walk in.
If you looking for places to visit in Sri Lanka and want to make quick friends, Unawatuna and Camp Kush hostel is a great place to start your itinerary in Sri Lanka.
Unawatuna is close to Galle, a popular city on the South Coast. The city is known for Galle Fort, a UNESCO World Heritage Site and fortified old city founded by Portuguese colonists.
Many travelers stay in the town of Galle, but I prefer Unawatuna. It's only a 15-minute drive if you want to visit Galle Fort, which can be done in one day.
Another option is to rent an affordable beach hut close to the town of Galle. I spent a night at Oynise Beach Cabins, which are basic beach huts next to the ocean.
There are only five beach huts in total, so it's a quiet accommodation option but a perfect place to stay if you want to relax for an affordable price.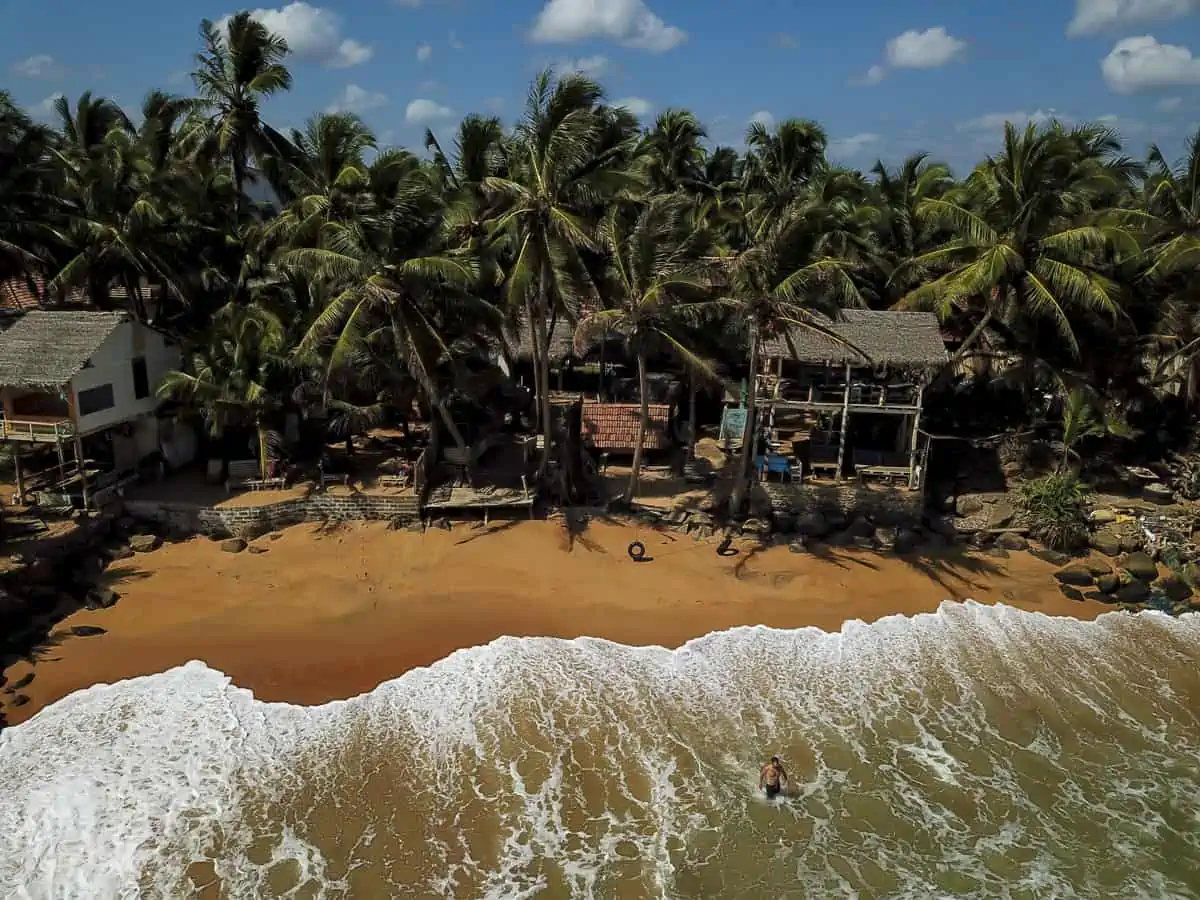 A great place to visit between Unawatuna and Weligama is the Koggala Sea Turtle Farm & Hatchery. It can be done as a day trip from either town.
It was my first time taking part in a baby sea turtle release, and I will never forget how incredible it felt to be part of this wildlife experience.
I actually felt my heart grow 20x bigger as the little guy walked toward the open sea.
Even though the turtles we released were only born the day before, they instinctively know to head toward the direction of the ocean.
I was skeptical about visiting a turtle hatchery in Sri Lanka as I'd heard negative things about them keeping turtles captive for tourism, but felt Koggala was genuine in their efforts to protect and conserve sea turtles in Sri Lanka.
All of the older turtles there had been brought in by fishermen because they had injuries, and Koggala was trying to rehabilitate them so they could go back into the ocean.
All of the sea turtle eggs at the hatchery were found on the nearby beach and kept there to hatch. The chance of survival in the wild is only 1-2%, but when released from the sanctuary, the odds of survival increase to 15%.
All of the profits from tours go back towards turtle conservation in Sri Lanka.
Weligama (2-3 days)
Weligama, on the South Coast of Sri Lanka, is the perfect place to go if you want to learn or brush up on your surf skills.
The surf in Weligama bay is perfect for beginners, but if you paddle further out, there are some bigger waves for the more advanced surfers.
Weligama is a great base to stay if you only have a week or so for your itinerary but want to visit other places in Sri Lanka due to its proximity to many of the major tourist attractions on Sri Lanka's South Coast.
Just half an hour to the west is Mirissa, and half an hour east is Galle. You can even do a day tour of Udawalawe National Park from Weligama.
Mirissa (2-3 days)
Mirissa is one of the most popular places to visit in Sri Lanka. If you want to party, this is the place to be. The beachfront is full of lively beach bars and restaurants.
During the day, Mirissa Beach is a good place to work on your tan or hit the waves. Plus, it's home to one of the most Instagramable spots in Sri Lanka.
Whale watching in Mirissa is another popular activity in the area. The whales are usually there from October to March.
Sri Lanka 2 week itinerary
If you have 2 weeks in Sri Lanka, it's possible to include both the beaches on the South Coast and then up to the beautiful mountainous area of Ella and Kandy.
Udawalawe National Park (1 day)
Sri Lanka is home to the highest density of wild Asian elephants in the world, and going on an elephant safari is one of the top things to do here.
There are several national parks in Sri Lanka where you can see elephants, but Udawalawe National Park is considered to be one of the best.
The park is beautiful with the backdrop of mountains and is full of wildlife.
We saw many elephants on our safari, as well as water buffalo, crocodiles, lizards, monkeys, and various bird species. If you're really lucky, you may even spot a leopard.
There's not much else to see near Udawalawe National Park, and the accommodation options near the park can be pricey, so I wouldn't spend more than a day here.
If you only have a week in Sri Lanka, you can visit Udawalawe as a day tour from Weligama or Mirissa (That's what I did).
If you are headed up North to Ella, it's a great place to stop on the way.
Ella (2-3 days)
Ella is a small town in Sri Lanka surrounded by mountains and lush green fields of tea. It is the type of place I could get stuck for weeks, as there are so many wonderful things to do and endless hiking trails to explore.
If you're a nature lover, spend at least a few days in Ella.
Things to do in Ella
Watch the Sunrise from Ella Rock
Your best shot at a clear sky in Ella is early in the morning, so why not enjoy a beautiful sunrise hike?
Hiking Ella Rock is a great sunrise hike in Ella, as it is only an hour up to the top and provides a spectacular view of the rising sun against the surrounding mountainous landscapes.
As a plus, by going early in the morning, you won't get too hot as the sun becomes scorching by mid-day.
If you stay at Ella Escapade Hostel, Ella Rock is easy to reach, as the hostel is located directly across from it.
Hike Little Adam's Peak
Little Adam's Peak is a relatively easy hike in Ella, especially when compared to Adam's Peak in Nuwara Eliya which it's named after.
This hike is one of the best things to do in Ella, as it's only 15 minutes to climb up. Once at the top, there is a nice ridge you can walk along with beautiful views.
I hiked Little Adam's Peak mid-day and enjoyed it, although I can imagine watching the sunrise over the rolling hills would make the scenery all that more special.
There are many guided tours that will take you to little Adam's peak, as well as nine arch bridge.
Learn to cook the local cuisine
Sri Lankan food is incredibly tasty, so why not take a cooking class and bring home some of those flavors with you?
There are several restaurants in Ella that offer cooking classes. We did one with Lanka cooking classes, but I've also heard great things about Ella Spice Garden.
We made four different types of curries and roti. Although we were only making one big batch, the teacher was very hands-on and got us to do most of the prep.
After finishing cooking, we all sat down to eat all our delicious hard work. There was so much food in the end that we couldn't even finish it!
Visit a tea factory
The rolling hills of Ella are a photographer's dream. What makes these hills pop so much is the stunning green color created by the tea fields.
If you're trekking around the Ella, you can easily stop into a tea plantation and find out how the tea is made from the plant to cup, or you can organize a tea tour.
It was really interesting to learn about how the different types of tea are created through the refining process. The factory we visited alone produces 20,000kg of tea per year!
Check out Lipton's Seat
I'm sure you've heard of Lipton's Tea – well, this is where it all began.
Sri Thomas Lipton owned acres of tea plantations throughout Ella, and Lipton's Seat is where he used to go to look over his tea empire.
At the top, there is a statue of Sir Thomas Lipton and a small cafe to have a cup of tea while you admire the view.
Unfortunately, as you may be able to tell from the background of that photo, it was cloudy at the top when we visited. By the time we came back down, it was sunny again! That's just how things go in Ella.
It's about a 7km walk to the top, but not many travelers opt for this. Instead, you can get a tuk-tuk ride to the top and then walk back down along the beautiful rolling hills.
Walk along the train tracks to Nine Arch Bridge
In Sri Lanka, a railway track also serves as a sidewalk, and they are so much fun to walk on. Don't worry; the train makes a ton of noise before it comes, so you have time to jump off the tracks!
Ella has many railway tracks that you can use them to get around the city and nearby areas. One of the prettiest places to visit along the tracks is Nine Arch Bridge.
This bridge was constructed in 1921 and is one of the best examples of colonial-era railway construction in the country.
The train runs several times a day, so if you wait around long enough, you can also see the train pass over the bridge – it's quite the thrill!
Chase waterfalls
Don't go listening to TLC. In Ella, you can chase waterfalls until your heart's content.
If you're looking for an adventure, I highly recommend making the trek out to Diyaluma falls. At the falls, there are several natural infinity pools that you can spend the day exploring and swimming in.
The falls are about an hour away from town, so you need to either rent motorbikes or get a tuk-tuk to drive you (they are cheap to hire).
The falls are immediately visible from where the driver drops you off, but to get to the top where you can swim is a trek.
As soon as you get dropped off, the tuk-tuk driver will try to organize a guide for you, who are conveniently waiting there.
A guide will try to charge you about 1,500 rupees to walk you to the upper falls, but it's not necessary to hire one. Walk my world wrote a great blog post about getting there without a guide which we used to get there.
It's not the easiest hike. The trail is a steep climb, and it took us about an hour. But it's absolutely worth it.
Diyaluma Falls are amazing to see from the top; I had so much fun spending the day there.
Explore Ella Town
The actual town of Ella is small but has a number of accommodations, shops, restaurants, and bars. If you're looking for things to do in Ella at night, this is one of the few options.
Like most of Sri Lanka, you'll find reasonable prices, and many bars offer cheap cocktail deals late into the night. I liked cafe one love, which has a hippy vibe – offering comfy seats to lounge out on, as well as hookah and cheap cocktails.
Where to stay in Ella
The town of Ella is touristic, but this is where you'll find most of the accommodation options.
I stayed at Ella Escapade, which is about a half-hour walk from town (or 5 from the train station), but well worth the trek. It's not a party hostel but has a social atmosphere that will make you feel right at home.
I made many friends here that I ended up traveling through Sri Lanka and India with.
Mid-range: Rawana Den is a lovely hotel right in Ella Town.
Luxury: 98 Acres Resort & Spa. This gorgeous resort is located right next to Little Adam's Peak with a restaurant that offers great food with a stunning view.
Nuwara Eliya (1-2 days)
Nuwara Eliya is between Ella and Kandy. I visited Nuwara Eliya because I wanted to see the 'end of the world' viewpoint in Horton Plains National Park.
Unfortunately, it was cloudy that day, so I didn't get the best view. Regardless, the park was beautiful to hike through, and I loved meeting the friendly local deer.
The deer came right up to our van on arrival to greet us and was even there to say goodbye!
Nuwara Eliya is close to Adams Peak, a famous hike in Sri Lanka.
Every traveler I met who hiked Adam's peak was met with disappointment, as the sky was completely clouded over, so I opted not to do it at that time.
That being said, if you do get a clear view, it looks like a spectacular one. Just another excuse to go back and visit Sri Lanka, right?
There's not much to do in Nuwara Eliya aside from hiking, but it's worth a stop if you love nature.
Find hotels in Nuware Eliya here
Akumal Bay (alternate route)
As an alternative route, if you prefer to stay along the coast, you can visit Akumal Bay after Mirissa. Akumal Bay is a popular surf town in Sri Lanka, with its peak season running opposite the South Coast (from March-September).
I didn't visit Akumal Bay as I was in Sri Lanka just after the season ended, but I've heard great reviews from other travelers.
Kandy (1-2 days)
As you head farther up North, you will enter Sri Lanka's cultural triangle.
This area is named so because it includes three major sites that form a triangle. Anuradhapura to the north, Polonnaruwa to the east, and Kandy to the southwest.
Kandy is Sri Lanka's second-largest city next to Colombo.
Many travelers wonder if it's worth visiting Kandy. It was by no means the highlight of my trip to Sri Lanka, but it's definitely worth spending a day in Kandy if you're passing by.
It has some of the most important cultural highlights in the country, including the Temple of the Tooth.
Getting around Kandy
I highly recommend hiring a TukTuk driver for the day to drive you around, as the best places to see are not all within walking distance. Alternatively, you could hire a motorbike if you're comfortable driving one.
Things to do in Kandy
Take a walk through the Royal Botanical Gardens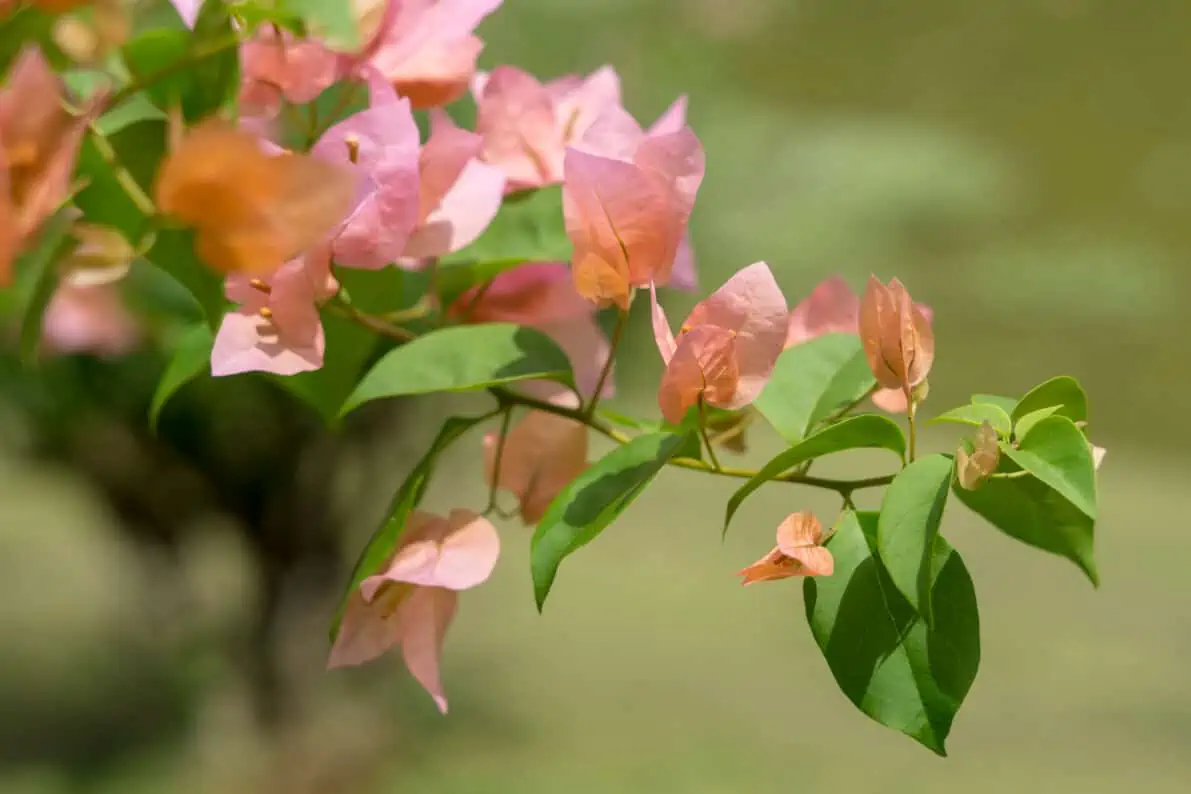 These gardens were once reserved for Kandyan royalty but are now open for tourists to enjoy.
Spend at least two hours walking around the gardens, as they are 60 hectares in total and have an impressive collection of different flowers and trees (and monkeys).
Visit the New Ranweli Spice Garden
After the botanical gardens, visit the New Ranweli Spice Garden to see how commonly used Sri Lanka spices are grown in the wild. The tour is free of charge and takes about half an hour.
It's interesting to see how the spices grow on the plants and the process of how they are made into a usable product.
They also have a small store where you can buy the spices if you want to bring some home!
Bahirawakanda Vihara Buddha Statue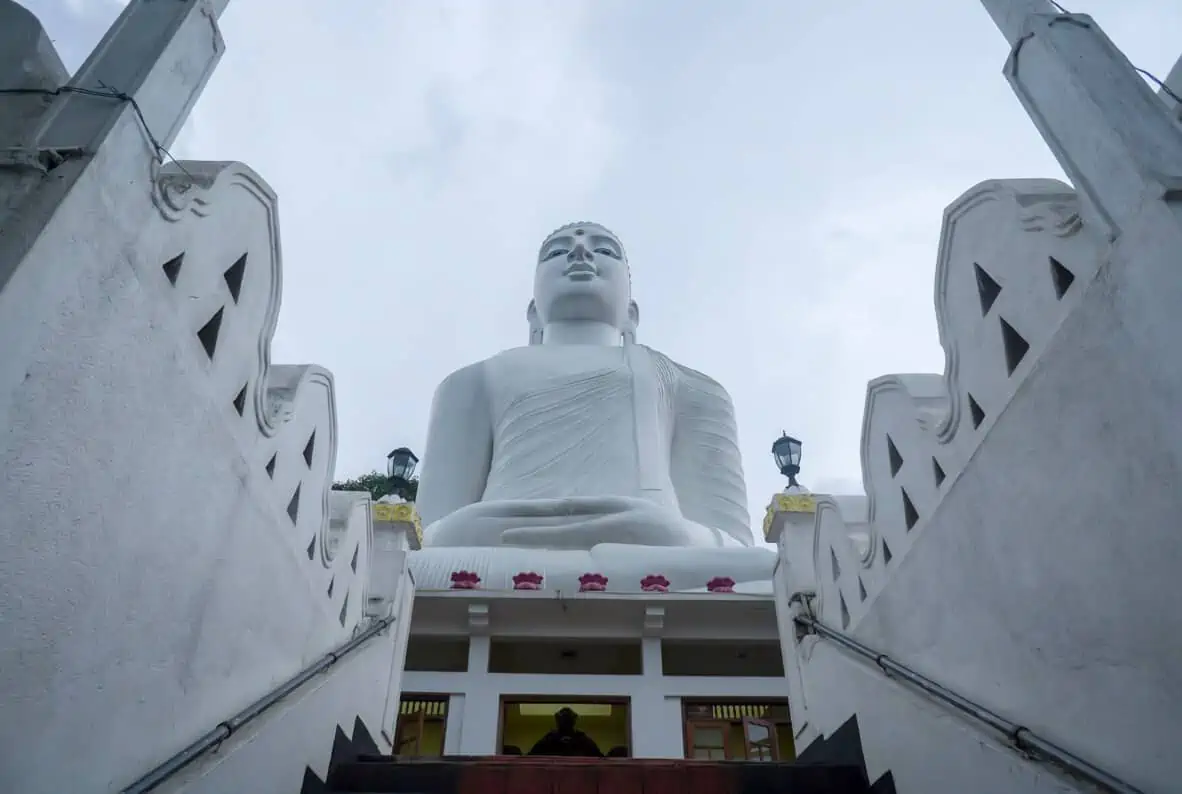 After lunch, head back towards the city center and visit the white Buddha statues on the way.
This statue can be seen from the entire city of Kandy as it stands at 88 feet in height and is located on Bahirawa Kanda hill. You can admire the statue from below or visit inside.
From the top, you can see beautiful views of the city of Kandy below.
Explore the local markets of Kandy
Next. get the driver to drop you off near the Temple of the Tooth, where there is a huge local market nearby.
I enjoyed walking through the fruit stands as the vendors will let you sample all of the exotic fruits.
The markets also have a huge selection of local spices and clothing.
Visit the Temple of the Tooth
Last but not least, end your day with a ceremony at the Temple of the Tooth.
This is a Buddhist temple located in the royal palace complex of the former Kingdom of Kandy, which houses the relic of the tooth of the Buddha. Every day, you can witness ceremonial performances inside the temple.
End your day in Kandy with supper nearby the temple, as there are plenty of restaurants to choose from. If you need a break from curry, I enjoyed the Empire Cafe, which has some western cuisine.
Where to stay in Kandy
The Guy who runs the Best Hostel is one of the kindest people I met on my trip to Sri Lanka. This says a lot because Sri Lankans are all incredibly kind.
Sri Lanka 3 week itinerary
If you have three weeks in Sri Lanka, you can continue on past Kandy towards the rest of the cultural triangle.
Sigiriya (1-2 days)
Sigiriya rock, also known as Lion Rock, is an ancient rock fortress of historical and archaeological significance.
You can climb Sigiriya, but as there's an entrance fee, many backpackers choose to hike up Pidurangala Rock instead. From there, you get great views of Lion Rock.
I hiked up Pidurangala Rock for sunrise, and it was breathtaking, literally and figuratively. The hike is challenging but only takes about an hour.
Sigiriya is also near the ancient city of Polonnaruwa. There, you can visit an archaeological park, which has hundreds of ancient temples, tombs, statues, and stupas.
It's a beautiful place to walk around, but I'd recommend going early in the morning as it gets extremely hot during the day.
There are other things to do in Sigiriya and in the nearby town of Dambulla, but two days is enough time to see the best things in Sigiriya.
Suggested Hostel: Fresco Lion Villa is an awesome hostel in the middle of the jungle in Sigiriya. The hostel only has room for about 12 guests, but this creates a lovely, homey atmosphere.
The staff cooks an amazing buffet supper every night for the guests. It's easy to make friends here and find people to explore the nearby sights with.
Find more hotels near Sigiriya here.
After Sigiriya, you can either head over to Anuradhapura for more culture or go back to the beach towards Trincomalee.
Anuradhapura (1-2 days)
Anuradhapura is the capital city of the Central Northern Province.
It's one of the ancient capitals of Sri Lanka, with a well-preserved archeological site you can visit.
Optional add-on: Wilpattu National Park (2 nights)
Anuradhapura is near Wilpattu National Park – one of the few parks in Sri Lanka where you can spot leopards.
Wilpattu National Park is world-renowned for its leopard population, but Yala National Park is more popular as the size of the park is much smaller than Wilpattu, making leopard sightings more common.
I was visiting Sri Lanka in September, when most of the blocks at Yala were closed for annual maintenance.
Given this, I figured my chances of seeing leopards would be better at Wilpattu National Park. It's also the only national park in Sri Lanka where you can see sloth bears, so this enticed me.
A unique feature of Wilpattu National Park is the "Willus", which means natural lakes. These are natural, sand-rimed water basins that fill with rainwater and attract wildlife. There are nearly sixty lakes throughout Wilpattu!
Wilpattu is the largest park in Sri Lanka at an impressive size of 1,317 square kilometers. It's also one of the oldest national parks in the country.
How to get to Wilpattu National Park
Wilpattu National Park is located on the Northwest coast of Sri Lanka, 30km West of Anuradhapura or 180 km north of Colombo.
I was coming from Trincomalee on the East Coast, so I took a bus to Anuradhapura and then a tuk-tuk to my accommodation just outside of the national park.
If you are visiting from Colombo, you could take the train to Anuradhapura and then a tuk-tuk. Alternatively, you could take a day tour from Colombo to visit Wilpattu.
Where to stay in Wilpattu National Park
Depending on your budget, there are some amazing accomodation options inside Wilpattu National Park.
For an epic glamping experience, check out Leopard Trails Wilpattu, which offers all-inclusive tents, including a private bathroom.
Thamaravila By The Elephant Stables also looks incredible, offering a 5-star hotel experience inside the park with a concierge service, tour desk, air conditioning, a flat-screen TV, and more.
For a more budget-friendly option, check out Wilpattu Tree House, which is just outside the park entrance. Sometimes the elephants even roam by the tree houses at night!
Wilpattu National Park Safari
We arrived at our accommodation in Wilpattu National Park late at night, so we opted to do one full-day safari (12 hours) the next day. This made for a long day, and I wouldn't recommend it.
A better way would be to do two half-day safaris. One in the late afternoon on the first day and another one the following morning.
An even better option to maximize your chances of seeing wildlife in Wilpattu National Park would be to book a 2-night/3-day trip.
In this scenario, you would have the opportunity to do three safaris. One in the afternoon of the first day, a full-day safari on day two, and a morning safari before checking out on the third day.
If you stay at any lodge near the park, they will be able to help you book a safari and guide. We booked our full-day safari through Wilpattu Tree House for the next morning after arriving late at night. Alternatively, you could book a safari online in advance.
Wildlife in Wilpattu National Park
You can see just about all the wildlife Sri Lanka has to offer inside Wilpattu National Park.
On my 12-hour safari, I saw black and red-faced monkeys, large groups of deer, mongoose, peacocks, storks, lizards, crocodiles, hares, tortoises, wild pigs, elephants, eagles, and sloth bears!
Sadly, I wasn't so lucky to see leopards.
We met another group of tourists who saw a leopard the same day we were in the park, but the park is large, so it comes down to being in the right place at the right time.
Still, I was happy with my experience at Wilpattu National Park because we got to see so many other types of wildlife.
One month in Sri Lanka
With 4 weeks in Sir Lanka, you can add on a visit to the northern part of the country.
Trincomalee (2-3 days)
Trincomalee is a beautiful, small town on the east coast of Sri Lanka that boasts some of the most beautiful beaches in the country.
You can easily rent motorbikes from town, which allows the freedom to go and explore the secluded beaches nearby.
During the high season (April-September), whale watching is a popular activity in Trincomalee. What makes it unique is that you can also see blue whales here!
Trincomalee is also one of the best spots to go diving in Sri Lanka, offering colorful reefs and shipwrecks.
During my dives in Trincomalee, I saw an abundance of marine life, including sea turtles, stingrays, cuddle fish, moray eels, lionfish, and colorful fish and coral reefs.
Trincomalee also has some underwater ruins you can see as one of the dive sites is below a temple, and sculptures sometimes get thrown into the water.
For non-divers, head to Pigeon Island for some of the clearest snorkeling in Sri Lanka, where you can swim alongside reef sharks and sea turtles.
Jaffna
If you have enough time, head to the capital city of the Northern province of Sri Lanka. I wasn't able to make it to Jaffna on my trip, but I've heard wonderful reviews from the few other travelers I met. It's not a popular place to visit, so you will likely only see a few other tourists there.
From 1983 to 2009, the entire region was engulfed in a civil war. The region was settled by Tamil migrants from southern India, and as a result, they have a unique character and culture from the rest of the country.
On your last day in Sri Lanka, stay in Negombo as it's closer to the airport. There's not much to do in Negombo, so just get there a day ahead of your flight to be safe.
Sri Lanka Trip Itineraries
Sri Lanka itinerary 5 days
Use these short Sri Lanka itineraries if you have limited time.
Day 1: Arrival in Negombo, continue south if time allows
Day 2: Unawatuna
Day 3: Weligama
Day 4: Mirissa
Day 5: Return to Colombo or Negombo
OR
Day 1: Arrival in Negombo, continue to Kandy if time allows
Day 2: Kandy
Day 3: Ella
Day 4: Ella
Day 5: Return to Colombo or Negombo
Sri Lanka Itinerary 7 days
Day 1: Arrival in Negombo, continue south if time allows
Day 2: Unawatuna or Galle
Day 3: Mirissa
Day 4: Mirissa
Day 5: Ella
Day 6: Ella
Day 7: Retturn to Negombo
Sri Lanka Itinerary 14 days
Day 1: Arrival in Negombo, continue south if time allows
Day 2: Unawatuna
Day 3: Unawatuna
Day 4: Weligama
Day 5: Mirissa
Day 6: Mirissa
Day 7: Udawalawe National Park
Day 8: Ella
Day 9: Ella
Day 10: Ella
Day 11: Kandy
Day 12: Sigiriya
Day 13: Anuradhapura
Day 14: Return to Negombo
Getting Around Sri Lanka
Sri Lanka is a small island which makes the travel time pretty short between places. Still, it's a developing country, and delays are common.
I took public transport most of my time there and found it easy and safe to get around.
Taking the train in Sri Lanka
Taking the train is a quintessential Sri Lanka experience and one of the best ways to get around the country.
The train in Sri Lanka doesn't go everywhere, but it does cover a large area of the country, including many of the places mentioned in this post.
Not only is it scenic, but it's one of the most affordable methods of transportation. The most expensive ticket I bought was 170 rupees/$1.50 USD, and that was for seven hours of travel.
Best train routes in Sri Lanka
It is easy to grab a train from Colombo to Galle on the south coast, which takes about two hours, and takes you along the coast.
The train from Colombo also stops at the beach town of Hikkaduwa just before Galle. I never got a chance to visit Hikkaduwa, but I've heard great reviews about it.
Even if you don't want to stay in Galle, taking the train from Colombo to Galle is a good way to reach other beach towns and get coastal views. It's just a short 15-minute drive to the beautiful beach town of Unawatuna or a 40-minute drive to Weligama, which are both great towns for surfing.
You can take the train as far south as Matara, which is close to Mirissa.
If you want to get straight to the culture instead of the beaches, take the Colombo to Kandy train.
Kandy to Ella Train
The Ella to Kandy train is Sri Lanka's most famous train journey, one that's known to be the most beautiful in the world.
This breathtaking train route passes through rolling hills full of bright, green tea plantations. The journey takes about seven hours in total.
Unfortunately, seats are not guaranteed if you are in 2nd or 3rd class. While hanging out on the train is fun, it's not something you want to do for that long.
An alternative is to take the train from Ella to Nuwara Eliya, spend a couple of days there, and then continue on to Kandy.
It's the same route, but it provides a chance to break up the journey and stop in Nuwara Eliya, where you can hike in Horton Plains National Park or climb up Adam's peak.
Booking the train
You don't need to book railway tickets in advance unless you want to travel first class. I bought my tickets at the counter right before the train arrived but was only offered second and third-class tickets.
You can reserve tickets online in advance and see the prices.
I didn't notice much of a difference between 2nd and 3rd class. More locals take 3rd class since it is the cheapest option, but generally, the train will be full either way.
You don't have to worry about train tickets selling out because I don't think it's possible. It seems they will just keep selling tickets, and people will squish in and hang out the doors in order to get on the train.
You will probably be hanging out a window, but it's all part of the experience.
Of course, the downside to this is that sometimes the train can be very packed. Out of all six trains I took, there was only one where I got a seat. The other times I had to stand for the entire journey.
In my experience, the best time to take the train is midday as fewer people travel then. Learn from my mistakes, and avoid traveling on any local holiday!
The most amazing part of being on a jam-packed train in Sri Lanka is seeing the local vendors walk through the sea of people carrying massive baskets of food on top of their heads.
The food they sell is cheap but not that good, so it's a good idea to bring your own snacks. I ate the train food and didn't get sick – it just wasn't that good.
There are no activities on the train, but the locals are social and friendly. They will be happy to have a chat with you on the train and tell you about their country, and if you're lucky, they'll share some arrack (local whiskey).
Other than that, bring a book or just enjoy the scenery. The coolest part about taking train travel in Sri Lanka is that the doors and windows stay open. It's a paradise for photo opportunities!
Search here to find train tickets in Sri Lanka.
Uber
Uber is different in Sri Lanka. Instead of using it for short trips within cities, you can only book rides for longer distances. For example, I used Uber to get from the airport to my hostel in Colombo (over an hour).
It's more expensive than getting public transport but cheaper than taxis. It can be useful for getting places not well-connected by transit, especially if you split the cost with others.
Ride Share
There are several Facebook groups you can join where people can post to ask if anyone wants to share a private car between destinations in Sri Lanka.
I did this with a group of girls from Mirissa to Ella. It's not the cheapest option, but can be a good one if you aren't comfortable taking public transit alone. These groups are also good for finding people to travel Sri Lanka with!
Bus
The bus network in Sri Lanka is well-connected throughout the country, but the bus drivers are crazy. So if you're a nervous passenger, it can be a bit tense. That being said, I survived many bus rides in Sri Lanka, and it's a very affordable option.
Busses within the cities are usually crowded with locals. Still, if you're only going a short distance, it can be an entertaining option as they blast local music, and each is uniquely decorated.
Search here to find bus tickets in Sri Lanka.
TukTuks
Within the cities/towns, getting a tuk-tuk is the easiest way to get around. You just need to barter and negotiate the price before the ride starts; otherwise, the driver will try and overcharge you at the end.
If you are feeling really adventurous, you can rent your own tuk-tuk and take it for a road trip around Sri Lanka. I drove a one for about 10 minutes, which was enough for me!
PickMe
There is an app called PickMe commonly used in Sri Lanka. It works the same way as Uber does, except you can actually use it for short distances.
Safety in Sri Lanka
As a solo female traveler, I felt safe while I was in Sri Lanka. The biggest problem for me was some unwanted attention from men, but I certainly never felt in danger.
That said, Sri Lanka has faced more problems since I last visited in 2018 with a terrorist attack in 2019.
The country was then hit by Covid-19 like the rest of the world, and tourism has been struggling since to recover.
However, the country is now open, and many travelers have reported great visits.
Here are some safety tips to follow:
Petty theft is less common here than in many other parts of Asia, though you should still take care of your belongings. Keep your bags close by in crowded areas, and lock your belongings in a safe or locker while away from your accommodation.
Never leave drinks unattended in a bar. I've heard stories of drinks being spiked at bars in Sri Lanka, so take care. I never went out to a bar alone while I was in Sri Lanka. The men can be persistent, especially under the influence of alcohol, so it's much safer to go out with a group of friends.
Be careful when walking near busy roads and especially near buses. As I said, the bus drivers are crazy drivers and do not have respect for pedestrians.
Currents can be strong in the ocean, so be careful when swimming. There are not always lifeguards, so ask a local for advice before going in the water anywhere that is not a recognized swimming spot.
There are some low-level scams where a stranger will approach you seemingly friendly and then try and pressure you to stay at their guesthouse or visit their shop. Use your judgment accordingly. The vast majority of people in Sri Lanka are well-intentioned and will simply approach you to have a chat and ask where you're from.
How much does it cost to visit Sri Lanka?
My total expenses for one month in Sri Lanka in 2018 were 288,325 Sri Lanka Rupees (2,100 CAD/1585 USD).
Note that 100,000 (480 Euros) of this was for a week of Surf & Yoga camp, which made my overall costs more expensive.
Total by Category:
Food (including water): 34820 LKR (253 CAD/190 USD)
Accommodation: 50,180 LKR (365 CAD/272 USD)
Transport: 22,840 (165 CAD/125 USD)
Alcohol: 6,600 (50 CAD/25 USD)
Tours: 56,775 (415 CAD/310 USD)
Other*: 17,100 (125CAD/90USD)
Surf Camp: 100,000 (730CAD/550USD)
*includes SIM card/data, laundry, gifts, souvenirs (mostly clothing) & ATM fees.
Not including the week of surf camp, my average cost per week was 62,775 LKR (457 CAD/345 USD).
Sri Lanka is an affordable country to travel in. This is more of a flashpacker budget.
I often stayed in private rooms and did many tours, including two safaris and four dives. I also ate out almost every meal.
You could easily get by on a shoestring budget if you're willing to stay in dorms, take public transportation, and cook for yourself sometimes.
—
Whether you're going for one week or one month, you will fall in love with Sri Lanka.
I hope you found this post useful for planning your Sri Lanka tour itinerary!