This post may contain affiliate links. By clicking and making a purchase through the links, I earn a small commission at no extra cost to you. This allows me to keep the site up to date and expand on resources. Thanks for reading!
Sri Lanka is a small island in Asia that packs a powerful punch. World-class beaches, wild elephants, ancient ruins, epic beach parties and some of the spiciest food you can find, there's no shortage of things to do in Sri Lanka. This guide will help you plan the perfect Sri Lanka itinerary, whether you are there for one week or one year!
In this post, I'll go over some of the best places to visit in Sri Lanka, when to visit, suggestions for things to do in Sri Lanka, as well as information on getting around, safety tips, and how much to budget for visiting Sri Lanka.
The suggested time for this Sri Lanka itinerary is 1 month, but as I break it down by the area you can also use this as ideas for a 1 week, 2 week, or 3 week itinerary in Sri Lanka. If you only have 1 to 2 weeks in Sri Lanka, I suggest sticking to either the South Coast, East Coast, or Central Area, rather than trying to cover the whole country.
Travel tip: Sri Lanka has a tropical climate, with two different monsoon seasons, affecting different parts of the island at different times. This is actually a positive because it means it's dry somewhere on the island at any time of year, so Sri Lanka really is a year-round destination. If you want to visit the South Coast, the best time to visit Sri Lanka is from October to March. If you want to visit the East Coast, the best time to visit Sri Lanka is from April to September.
How to plan the best one week to one month Sri Lanka itinerary
Arriving in Sri Lanka
Sri Lanka is a small island below India, but you have to fly there to get into the country. I asked about getting a boat from India to Sri Lanka but it doesn't exist unless you want to go illegally via a fisherman. Sounds fun, but India takes border control pretty seriously, so I don't recommend it.
Flying into Sri Lanka will land you in Colombo International Airport, which is actually in Negombo (about an hour away from Colombo). There's no reason to stay in either for long as there are much nicer places to visit in Sri Lanka.
If your flight lands in the morning, you can travel to another town on the South Coast the same day. When I landed in Sri Lanka I stayed in Colombo for one day before heading south and regretted it. The beaches are so much nicer in the South.
Tip: If your flight gets in late but you plan to head South the next day then it makes more sense to spend the night in Colombo since it's on the way. If you plan to head East towards Kandy, then you should stay in Negombo for the night and get the train from there, to avoid backtracking.

Accommodation in Sri Lanka
Sri Lanka has a wide range of accommodation options from budget-friendly to luxurious. You pay for what you get here, and I'll recommend some of my favorite places I stayed throughout this post. But if you're after a luxury stay, check out this post on some of the best luxury accommodations in Sri Lanka.
Sri Lanka Itinerary 1 week – Let's go to the beach
If you only have 1 week for your itinerary in Sri Lanka, you can still visit a lot of the best beach towns on the Southern Coast.
Unawatuna & Galle (2-3 days)
You don't have to go far from Colombo to be among some of the best beaches in Sri Lanka. Just two hours south you will start to hit many of the best beach towns on the South Coast of Sri Lanka.
If you take the train South from Colombo you will follow along the coastline, with palm trees and ocean right outside the train door. A fun feature of Sri Lankan trains is that the doors stay open the entire time!
My favorite town on the South Coast is Unawatuna, a small but lively beach town where you can swim, surf, relax, or party. A big part of the reason I loved Unawatuna so much is because of Camp Kush hostel. This eco-friendly hostel is in the middle of the jungle, yet minutes away from town. They offer unique accommodation options in Tipi houses.
The hostel has a super welcoming atmosphere. You will feel right at home as soon as you walk in. If you looking for places to visit in Sri Lanka and want to make quick friends, Unawatuna and Camp Kush hostel is a great place to start your itinerary in Sri Lanka.
Unawatuna is close to Galle, a popular city on the South Coast. The city is known for Galle Fort, a fortified old city founded by Portuguese colonists. Galle Fort is now a UNESCO World Heritage.
Many travelers stay in the town of Galle but I prefer Unawatuna. It's only a 15-minute drive if you want to visit Galle Fort, which can be done in one day.
Another option is to rent an affordable beach hut close to the town of Galle. I spent a night at Oynise Beach Cabins, which are adorable beach huts next to the ocean. There are only five beach huts in total so it's a quiet accommodation option, but a perfect place to stay if you want to relax. Plus they only cost $10 USD a night for your own private hut on the beach!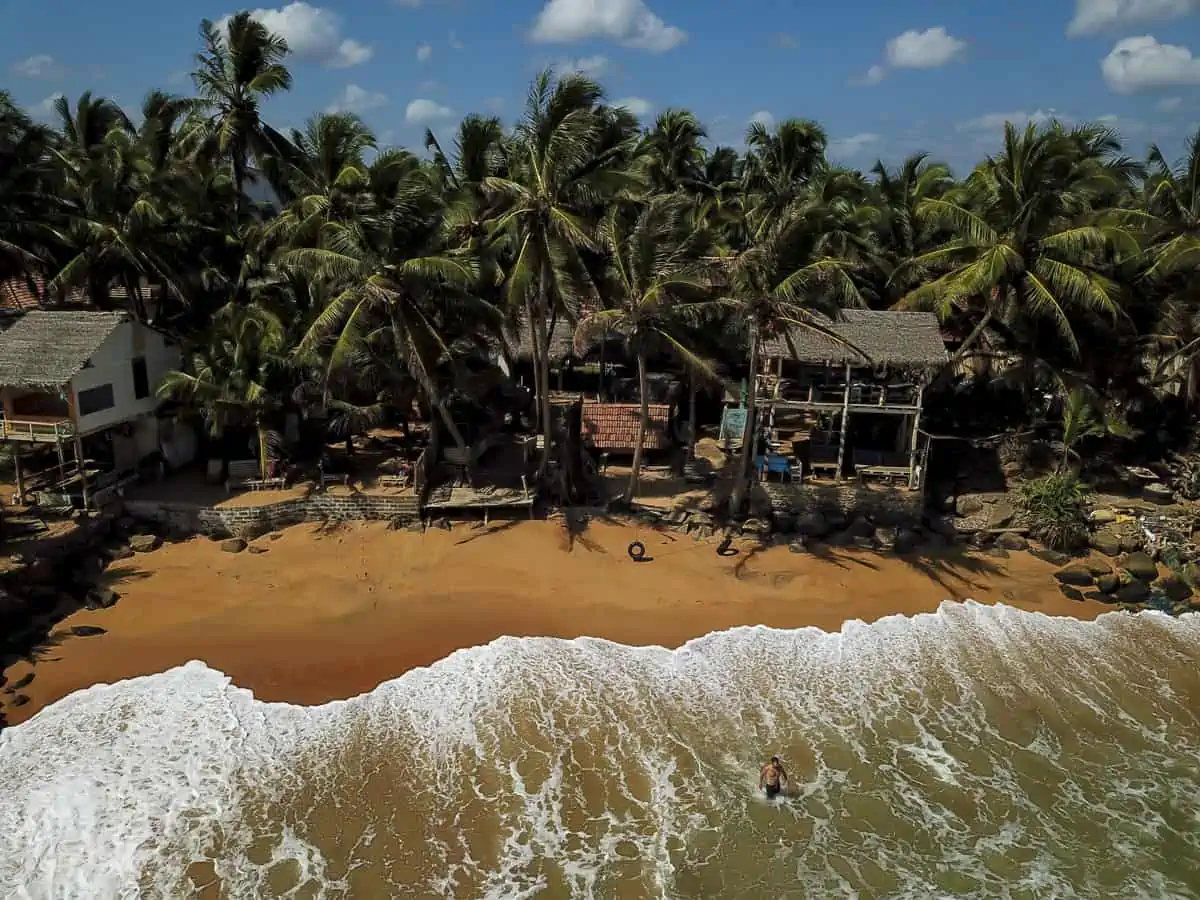 Weligama (2-3 days)
Weligama, on the South Coast of Sri Lanka, is the perfect place to go if you want to learn or brush up on your surf skills. The waves in Weligama bay are perfect for beginners, but if you paddle further out there are some bigger waves for the more advanced surfers.
Read more: Why Weligama is the perfect place to learn to surf in Sri Lanka
Weligama is a great base to stay if you only have a week or so for your itinerary but want to visit other places in Sri Lanka, due to it's proximity to many of the major attractions on Sri Lanka's South Coast. Just half an hour to the west is Mirissa, and half an hour east is Galle. You can even do a day tour to Udawalawe National Park from Weligama.
Mirissa (2-3 days)
Mirissa is one of the most popular places to visit in Sri Lanka. If you want to party this is the place to be. The beachfront is full of lively beach bars and restaurants. Mirissa is also the best spot to go whale watching on the South Coast. The whales are usually there from October – March.
During the day Mirissa Beach is a good place to work on your tan or hit the waves. Bonus, it's home to one of the most Instagramable spots in Sri Lanka.
Sri Lanka Itinerary 2 weeks – Safaris and Mountains
If you have two weeks in Sri Lanka, it's possible to include both the beaches on the South Coast and then up to the beautiful mountainous area of Ella and Kandy.
Udawalawe National Park (1 day)
Going on a safari for elephants is one of the best things to do in Sri Lanka, and Udawalawe National Park is among the top parks to do a safari. If you only have a week in Sri Lanka you can visit Udawalawe as a day tour from Weligama or Mirissa (this is what I did). If you are headed up North to Ella, it's a great place to stop on the way.
The park is beautiful and full of wildlife, we saw a ton of elephants on our safari. There's not much else to see near Udawalawe National Park and the accommodation options near the park can be pricey, so I wouldn't spend more than a day here.
Read more: Searching for Elephants in Udawalawe National Park
Ella (2-3 days)
Ella is a small town in Sri Lanka surrounded by mountains and lush green fields of tea. It is the type of place I could get stuck for weeks as there are so many wonderful things to do and hiking trails around to explore. If you're a nature lover, I definitely recommend adding this place to your Sri Lanka itinerary.
Read more: 10 Awesome Things to do in Ella
The town of Ella is touristic, but this is where you'll find most of the accommodation options. If you're looking for accommodation away from the city, check out Ella Escapade. It's about a half-hour walk from town (or 5 from the train station), but well worth the trek. It's not a party hostel but has a social atmosphere that will make you feel right at home. I made many friends here that I ended up traveling through Sri Lanka and India with.
Find the best hotel prices in Ella here
Nuwara Eliya (1-2 days)
Nuwara Eliya is between Ella and Kandy. I visited Nuwara Eliya because I wanted to see the 'end of the world' viewpoint in Horton Plains National Park. Unfortunately, it was cloudy that day so I didn't get the best view. Regardless, the park was beautiful to hike through and I loved meeting the friendly local deer.
Nuwara Eliya is close to Adams Peak, a famous hike in Sri Lanka.  While I was there, every traveler I met who did the hike was met with disappointment as the sky was completely clouded over, so I opted not to do it. That being said, if you do get a clear view it looks like a spectacular one. Just another excuse to go back and visit Sri Lanka, right?
There's not much to do in Nuwara Eliya aside from hiking, but it's worth a stop if you love nature.
Find the best hotels in Nuware Eliya here
Akumal Bay (alternate route)
As an alternative route, if you prefer to stay along the coast you can visit Akumal Bay after Mirissa. Akumal Bay is a popular surf town in Sri Lanka, with its peak season running opposite to the South Coast (from March-September). I didn't visit Akumal Bay as I was in Sri Lanka just after the season ended, but I've heard great reviews from other travelers.
Kandy (1-2 days)
As you head farther up North, you will enter Sri Lanka's cultural triangle. Named so because it includes three major sites that form a triangle. Anuradhapura to the north, Polonnaruwa to the east and Kandy to the south-west.
Kandy is Sri Lanka's second-largest city next to Colombo. Some love it while others say don't waste your time. It was by no means the highlight of my trip to Sri Lanka, but it's definitely worth spending a day in Kandy if you're passing by. It has some of the most important cultural highlights in the country including the Temple of the Tooth. And come on, you know you're taking the scenic train from Ella to Kandy!
Read more: How to spend a day in Kandy
Suggested Hostel: The Guy who runs the Best Hostel is one of the kindest people I met on my trip to Sri Lanka. Which says a lot, because all the locals are super nice. It really is the best hostel.
Sri Lanka Itinerary 3 weeks – Soak up the culture
If you have three weeks in Sri Lanka, you can continue on past Kandy towards the rest of the cultural triangle.
Sigiriya (1-2 days)
Sigiriya, also known as Lion Rock, is an ancient rock fortress of historical and archaeological significance. You can climb Sigiriya but the entrance fee to get is $30 USD so many backpackers choose to hike up Pidurangala Rock instead, from which you can get great views of Lion Rock.
I hiked up Pidurangala Rock for sunrise and it was breathtaking, literally and figuratively. The hike is challenging, but only takes about an hour and is well worth it for the amazing views.
Sigiriya is also near the ancient city of Polonnaruwa. You can visit the archaeological park which has hundreds of ancient structures, including tombs, temples, statues, and stupas. It's a beautiful place to walk around, but I'd recommend going early in the morning as it gets extremely hot during the day.
There are other things to do in Sigiriya and the nearby town of Dambulla. Two days is enough time to see the best things in Sigiriya.
Suggested Hostel: Fresco Lion Villa is an awesome hostel in the middle of the jungle in Sigiriya. The hostel only has room for about 12 guests but this creates a lovely, homey atmosphere. The staff cooks a DELICIOUS buffet supper every night for the guests. It's easy to make friends here and find people to explore the nearby sights with.
Find more hotels near Sigiriya here.
After Sigiriya, you can either head over to Anuradhapura for more culture, or go back to the beach towards Trincomalee.
Anuradhapura (1-2 days)
Anuradhapura is the capital city of the Central Northern Province. It's also one of the ancient capitals of Sri Lanka, with a well preserved archeological site you can visit.
Anuradhapura is also near Wilpattu National Park, one of the few parks in Sri Lanka where you can spot leopards. It's also the only park where you can see sloth bears.
Sri Lanka Itinerary 4 weeks
Trincomalee (2-3 days)
Trincomalee is a beautiful, small town on the east coast of Sri Lanka that boats some of the best beaches in the country. You can rent motorbikes from the town of Trincomalee (1500 LKR per day), which allows the freedom to go and explore the secluded beaches nearby.
During the high season (April-September) whale watching is a popular activity in Trincomalee. For the adventurous, dive shops in Trincomalee even offer the option to go snorkeling with blue whales.
Read more: 7 Incredible Wildlife Encounters to have in Sri Lanka
Trincomalee is also one of the best spots to go diving in Sri Lanka, offering several colorful reefs and shipwrecks. For non-divers, head to Pigeon Island for some of the clearest snorkeling in Sri Lanka, where you can swim along reef sharks and sea turtles.
Find more hotels in Trincomalee here.
A different side of Sri Lanka
Jaffna
If you have enough time head to the capital city of the Northern province of Sri Lanka. I wasn't able to make it to Jaffna on my trip, but I've heard wonderful reviews from the few other travelers I met who went. It's not a popular place to visit, so you will likely only see a few other tourists there.
From 1983 to 2009 the entire region was engulfed in the civil war. The region was settled by Tamil migrants from southern India and as a result, they have a unique character and culture from the rest of the country.
Departure from Sri Lanka
Before your departing flight out of Sri Lanka, stay in Negombo as it's closer to the airport. There's not much to do in Negombo so just get there a day ahead of your flight to be safe.
I recommend Hangover Hostel which is a clean, affordable, and social hostel just 5 minutes away from the airport.
Getting Around Sri Lanka
Sri Lanka is a tiny island which is wonderful because it makes the travel time pretty short between places. Of course, this is still a developing country and you can expect some delays. I took public transport most of my time there and found it easy and safe to get around.
Long Distances
Train: Taking the train in Sri Lanka is a quintessential part of any itinerary. One of the best things to do in Sri Lanka is to take the train from Ella to Kandy due to its gorgeous scenery. The train network connects many other parts of the country as well. It's crazy cheap (usually cost me less than a $1 for each ride), and offers beautiful views of the country.
Read more: Taking the train in Sri Lanka
Search here to find train tickets in Sri Lanka.
Uber: Uber is different in Sri Lanka. Instead of using it for short trips within cities you can only book rides for longer distances. For example, I used Uber to get from the airport to my hostel in Colombo (over an hour). It's more expensive than getting public transport, but cheaper than taxis. It can be useful for getting places not well-connected by transit, especially if you split the cost with others.
Ride Share: There are several Facebook groups you can join (just search Sri Lanka Backpackers) where people can post to ask if anyone wants to share a ride between cities. I did this with a group of girls from Mirissa to Ella. It's not the cheapest option, but can be a good one if you aren't comfortable taking public transit alone. These groups are also good for finding people to travel Sri Lanka with!
Bus: The bus network in Sri Lanka is well-connected throughout the country, but the bus drivers are crazy. They own the road or at least act as if they do, so if you're a nervous passenger it can be a bit tense. That being said I survived many bus rides in Sri Lanka. It's a super affordable option and they go often.
Search here to find bus tickets in Sri Lanka.
Short Distances
TUK TUK: Within the cities/towns getting a TUK TUK is the easier way to get around. You just need to barter and negotiate the price BEFORE the ride starts, otherwise, the driver will try and overcharge you at the end.
If you are feeling really adventurous, you can rent your own TUK TUK and take it for a road trip around Sri Lanka. I drove a TUK TUK lesson for about 10 minutes, which was enough for me 😛
PickMe: There is an app called PickMe that they use in Sri Lanka. It works the same way as Uber does, except you can actually use it for short distances.
Bus: The busses also run within the cities but are usually crowded with locals. It's an extremely cheap option for getting around a city and can be entertaining as they blast local music and the busses are decorated colorfully.
Safety in Sri Lanka
As a solo female traveler, I felt safe while I was in Sri Lanka. The biggest problem for me was some unwanted attention from men, but I certainly never felt in danger.
Safety tips for Sri Lanka
Petty theft is less common here than in many other parts of Asia, though you should still take care of your belongings. Keep your bags close by in crowded areas, and lock your belongings in a safe or locker while away from your accommodation.
Never leave drinks unattended in a bar. I've heard stories of drinks being spiked at bars in Sri Lanka, so take care. I never went out to a bar alone while I was in Sri Lanka. The men can be persistent, especially under the influence of alcohol, so it's much safer to go out with a group of friends.
Be careful when walking near busy roads and especially near buses. As I said, the bus drivers are crazy drivers and do not have respect for pedestrians.
Currents can be strong in the ocean so be careful when swimming. There are not always lifeguards so ask a local for advice before going in the water anywhere that is not a recognized swimming spot.
There are some low-level scams where a stranger will approach you seemingly friendly and then try and pressure you to stay at their guesthouse or visit their shop. Use your judgment accordingly. The vast majority of people in Sri Lanka are well-intentioned and will simply approach you to have a chat and ask where you're from.
Costs for my 1 month Sri Lanka Itinerary
My total expenses for one month in Sri Lanka were 288,325 Sri Lanka Rupees (2,100 CAD/1585 USD). Please Note 100,000 (480 Euros) of this was for a week of Surf & Yoga camp, which made my overall costs more expensive.
Total by Category:
Food (including water): 34820 LKR (253 CAD/190 USD)
Accommodation: 50,180 LKR (365 CAD/272 USD)
Transport: 22,840 (165 CAD/125 USD)
Alcohol: 6,600 (50 CAD/25 USD)
Tours: 56,775 (415 CAD/310 USD)
Other*: 17,100 (125CAD/90USD)
Surf Camp: 100,000 (730CAD/550USD)
*includes SIM card/data, laundry, gifts, souveniers (mostly clothing) & ATM fees
Not including the week of surf camp (as this was much more expensive than travelling Sri Lanka actually costs), my average cost per week was 62,775 LKR (457 CAD/345 USD).
Sri Lanka is an affordable country to travel in. This is more of a flashpacker budget. I often stayed in private rooms and did many tours including two safaris and four dives. I also ate out for almost every meal. You could easily get by in on a shoestring budget, while still being able to see all the best places to visit in Sri Lanka.
Final Thoughts
Whether you're going for one week or one year, you will fall in love with Sri Lanka.
I hope you found this post useful if you are planning to visit Sri Lanka, or inspiring if you've never thought about it before. Let me know in the comments below if you plan to visit!
Need more Sri Lanka inspo?
Like it? Pin it for later!