This post may contain affiliate links. By clicking and making a purchase through the links, I earn a small commission at no extra cost to you. This and display ads allows me to keep the site up to date and give back. Thanks for reading!
I was born on the most easterly point of North America and couldn't be happier to be from such a beautiful part of Canada. While not as popular a place to visit as the Rockies, an East Coast Canada road trip should not be overlooked.
Humpback whales dancing below towering cliffs, fresh seafood, epic hiking trails, and the friendliest people you'll ever meet are just some of the reasons to plan an eastern Canada road trip.
I grew up in St. John's, Newfoundland, and lived in New Brunswick for 18 months. I've road-tripped across the east coast more times than I can even count. It's one of my favorite parts of the world, so I created this guide to share all my favorite hidden gems with you.
This post will guide you through planning your dream Atlantic Canada. The truth is, there's no such thing as a 'perfect' itinerary – It entirely depends on the time you have available and the activities that interest you most.
This guide will share all the best places to visit on a road trip through the east coast of Canada so that you can plan out your dream trip.
It's an itinerary focused on natural attractions and adventure activities. Think national parks, hiking trails, kayaking, beaches, and wildlife galore.
To road trip around all the places I've suggested below, you would need at least two months. But don't fret if you don't have that much time – simply choose the places that interest you most.
I've also included some sample routes at the end to help you come up with a perfect Canada east coast road trip itinerary.
Want to read this later? Pin it!
Covid-19 Entry Requirements For Atlantic Canada
At the time of updating this post (February 2022), fully vaccinated foreign nationals are allowed to enter Canada for discretionary travel.
Here are the full entry requirements for Canada and the links below for the requirements of each province. Please check local regulations before making any travel plans.
East Coast Canada Road Trip From Toronto
The focus of this post is on the Maritime provinces and Newfoundland. But since I know many of you will be planning your east coast road trip from Toronto, I've made a few suggestions for places to stop on the way below through Ontario/Québec before reaching New Brunswick.
There are MANY more places to visit than outlined here, but they need a post of their own (and it's coming).
If you're starting from Toronto, make your first stop in Ottawa (a four-hour drive) or Montreal (a six-hour drive). Opt to stop at Thousand Islands National Park along the way.
Spanning across the border between Canada and the U.S., this park is one of the most beautiful places to visit in Ontario. You can either spend the night in the park or just stop for a scenic river cruise through the islands.
Ottawa and Montreal are just two hours apart, so either make a great place to spend the night if you're coming from Toronto.
I love Montreal because of its exciting nightlife and overall atmosphere. However, if you prefer a quieter city with beautiful parks where you can learn about Canada's history, Ottawa is a great option.
Fredericton, New Brunswick, is about 8 hours East of Montreal, so you could get there in a day. But if you prefer to break up the drive, a great option is to spend a night in Québec City. With its picturesque cobblestone streets lined with bistros and boutiques, you'll feel like you've been transported to Europe.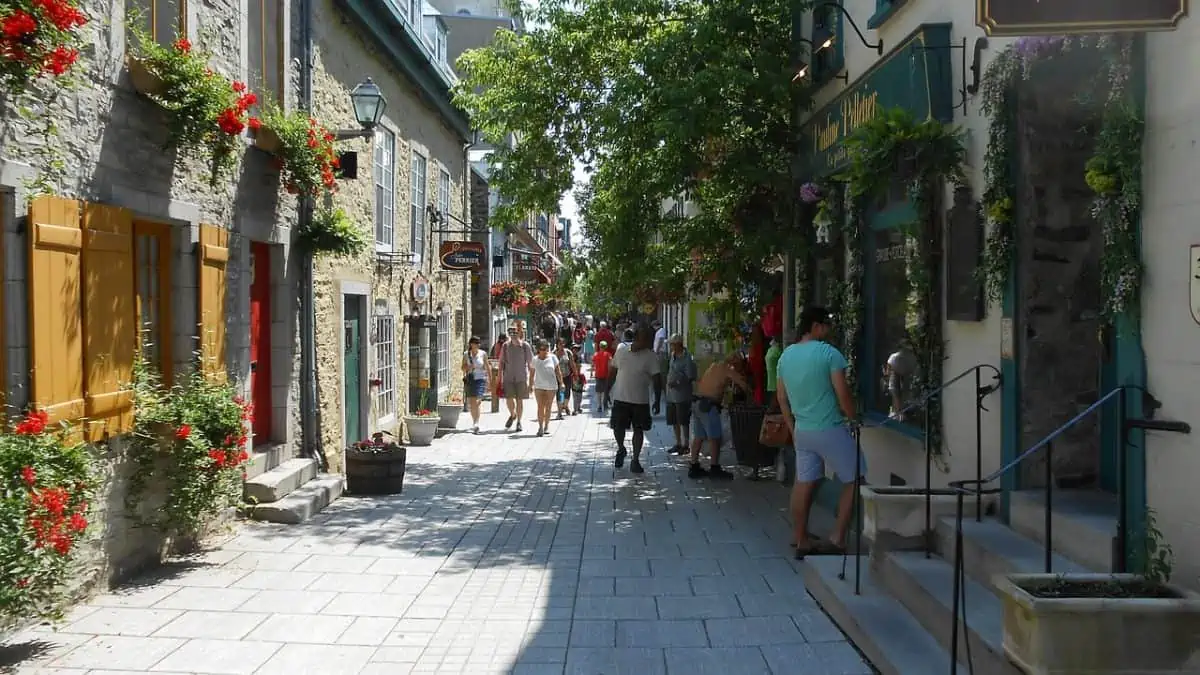 New Brunswick Road Trip
Hooray, you've made it your first Maritime province! So many people call New Brunswick a 'drive-through' province, but I couldn't disagree more after living here for 18 months. There's plenty to see in New Brunswick, and it should definitely be part of your itinerary.
Québec City to Fredericton (593 KM)
Your first destination will be the capital of New Brunswick and my fave city in the province, Fredericton. It's a full day of driving from Québec City to Fredericton, so plan to spend a night or two here so you can enjoy what the city has to offer.
Visit the Garrison District, which hosts summer outdoor concerts, movie nights, and guided history tours. From there, take a walk across the Fredericton Railway Bridge.
No longer a train route, the bridge has become a sanctuary for pedestrians and cyclists where you can get spectacular views of the city and Saint John river below. In the evening, enjoy a cold brew at one of the cities craft breweries.
Fredericton to Saint John (112 KM)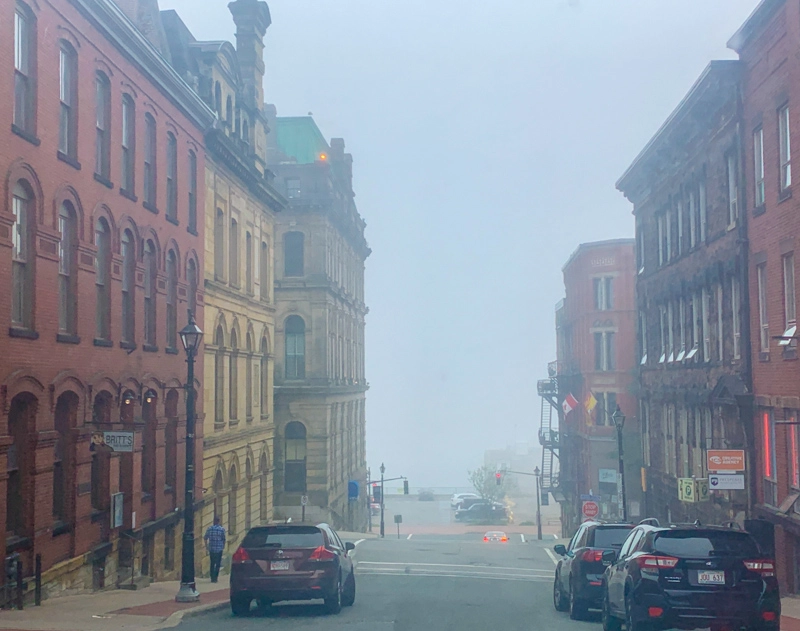 After a night in Fredericton, head to Saint John. It's just an hour's drive to reach this charming coastal town. You can either stop for lunch or spend the night in town. Whichever you choose, be sure to visit the Saint John Central Market, the oldest continuing farmers market in Canada.
Another fun thing to do in Saint John is to take a boat cruise to see the reversing falls, a unique natural phenomenon where the Bay of Fundy collides with the Saint John River.
Saint John to Fundy National Park of Canada (111 km)
From Saint John, it's an easy hour's drive to my favorite place in New Brunswick, Fundy National Park. You'll want to spend at least two days here, either camping or staying in a hotel near the park. It's a paradise for hikers and waterfall chasers!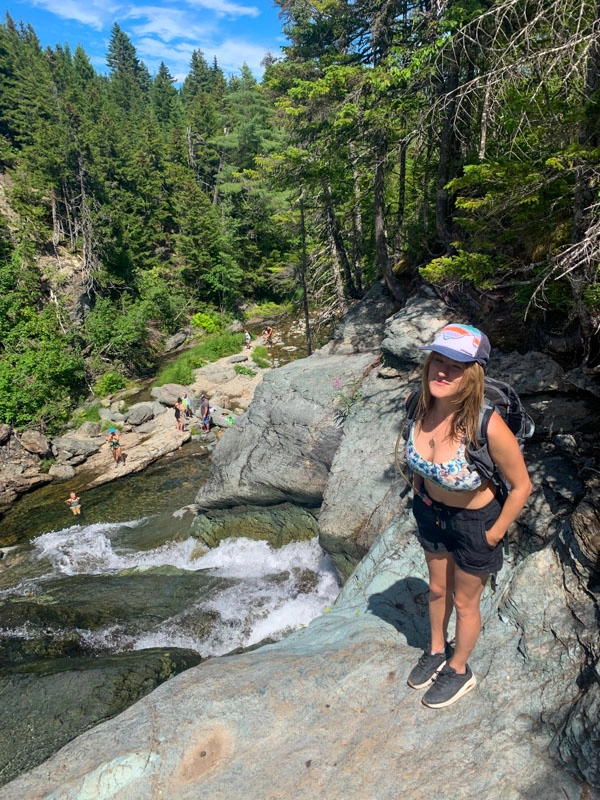 Hopewell Rocks
Another attraction worth visiting in New Brunswick is Hopewell Rocks, which is home to the highest tides in the world. The tide rises and falls 40 feet or so, twice daily!
To fully appreciate this phenomenon, visit Hopewell Rocks at low tide to walk around on the ocean floor and see the unique rock formations up close. At high tide, take an ocean kayak tour. It's incredible to see the difference!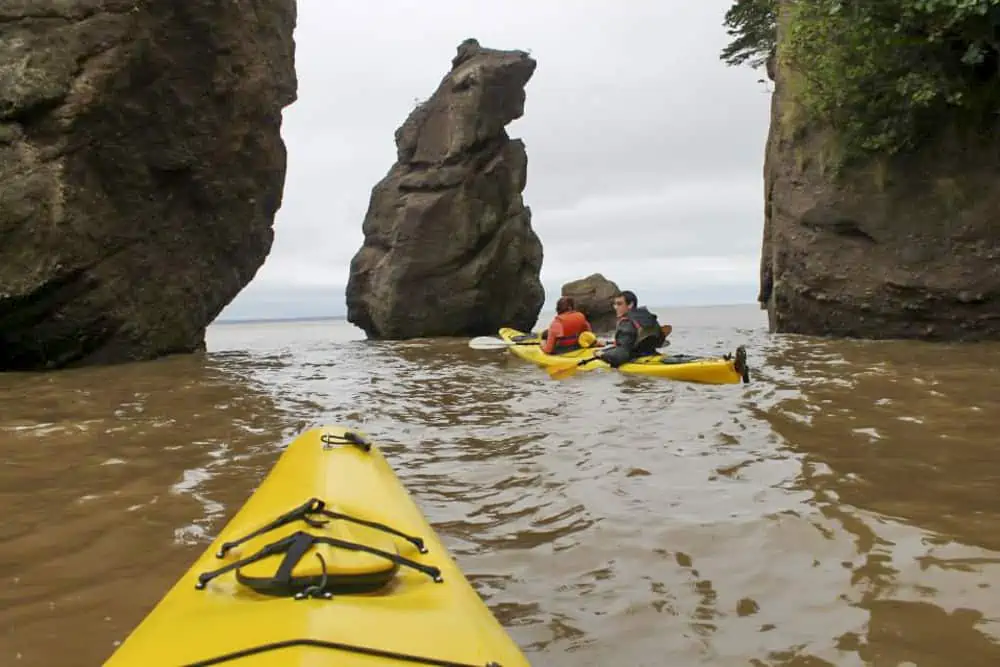 Hopewell Rocks to Moncton
After leaving Hopewell Rocks, head out for a half-hour drive to New Brunswick's most populous city, Moncton. You can spend the night here or just stop for a few hours. An excellent spot for lunch is the Tide and Boar Gastropub, one of my favorite restaurants in New Brunswick.
While in Moncton, be sure to take a drive up Magnetic hill. Park at the bottom of the hill, put your car in neutral, and it will start reversing up the hill on its own. It's magic! Okay, really it's just an illusion caused by the landscape, but it's a cool thing to experience, and kids will love it. There is also a water park near Magnetic hill.
A great day trip or alternative destination to Moncton is Shediac; it's just 20 minutes away. Shediac is home to Parlee beach, which has the warmest salt water in Canada.
It's a great place to go for your first swim in the Atlantic ocean and eat fresh lobster. You can even join a food tour to learn more about the fantastic cuisine here.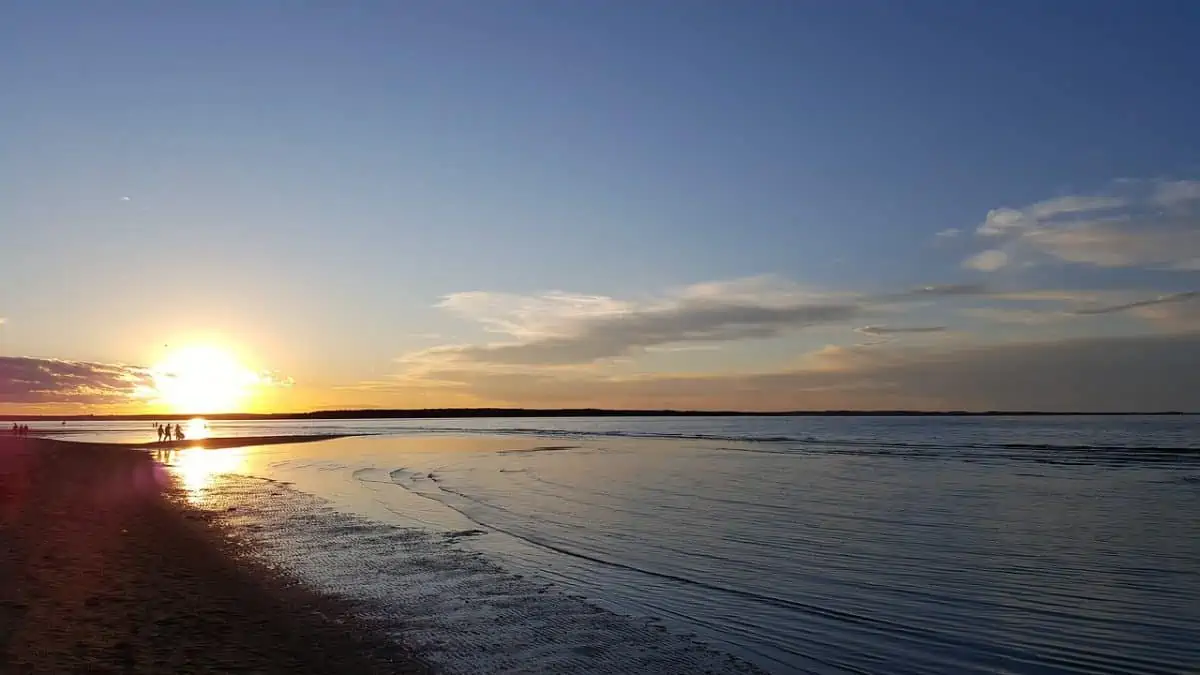 Optional Route: Acadian Coastal Drive
If you've got the time and want to see an alternative side of New Brunswick, then keep heading North. New Brunswick is the only officially bilingual province in Canada, and this part of the province is where you can fully experience French Acadian culture.
Moncton to Kouchibouguac National Park (101 km)
From Moncton or Shediac, head North towards Kouchibouguac National Park. Spend a night or two here camping to soak in the pristine wilderness. The park has great beaches, canoeing, hiking trails, and wildlife, including an adorable seal colony.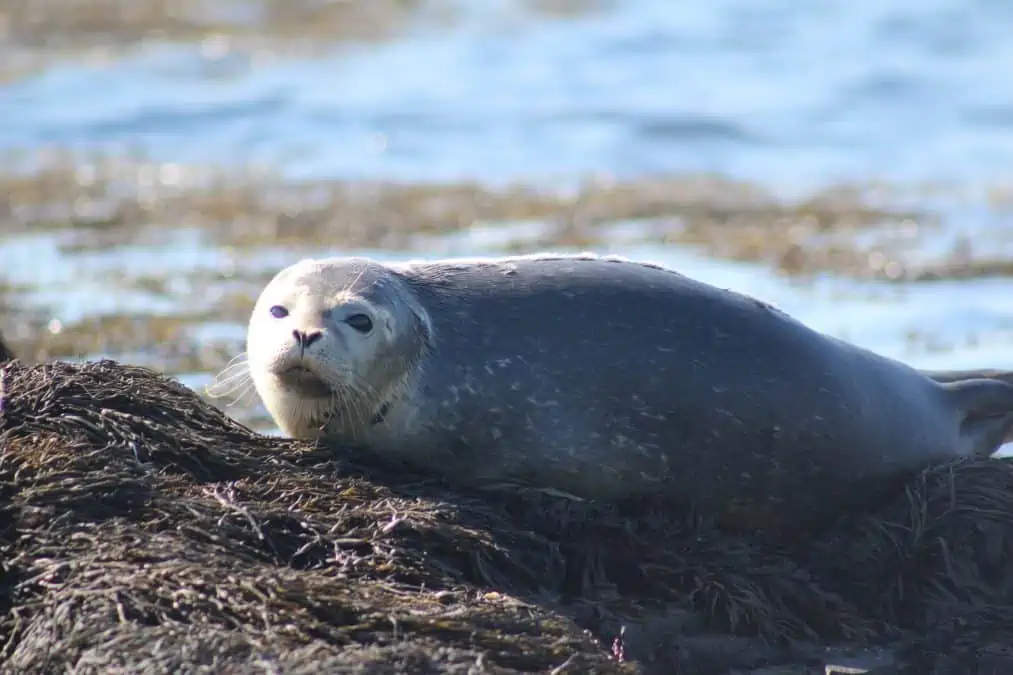 Kouchibouguac National Park to Miramichi
Just half an hour away from Kouchibouguac National Park is the town of Miramichi, which was my home for a year and a half. Miramichi is most famous for its fly fishing opportunities on the river.
Another fun thing to do in the summertime is to go on a tubing adventure down the river. In the evening, be sure to soak in the incredible sunsets.
A great place to stay in Miramichi is The Rodd. It's set right on the river and just a 5-minute walk from O'Donaghue's Irish Pub, which is a yummy place to grab a bite.
Miramichi to Miscou (138 km)
Keep heading North from Miramichi to Miscou, a beautiful island at the very northern tip of New Brunswick. There's a picturesque white lighthouse you can visit there!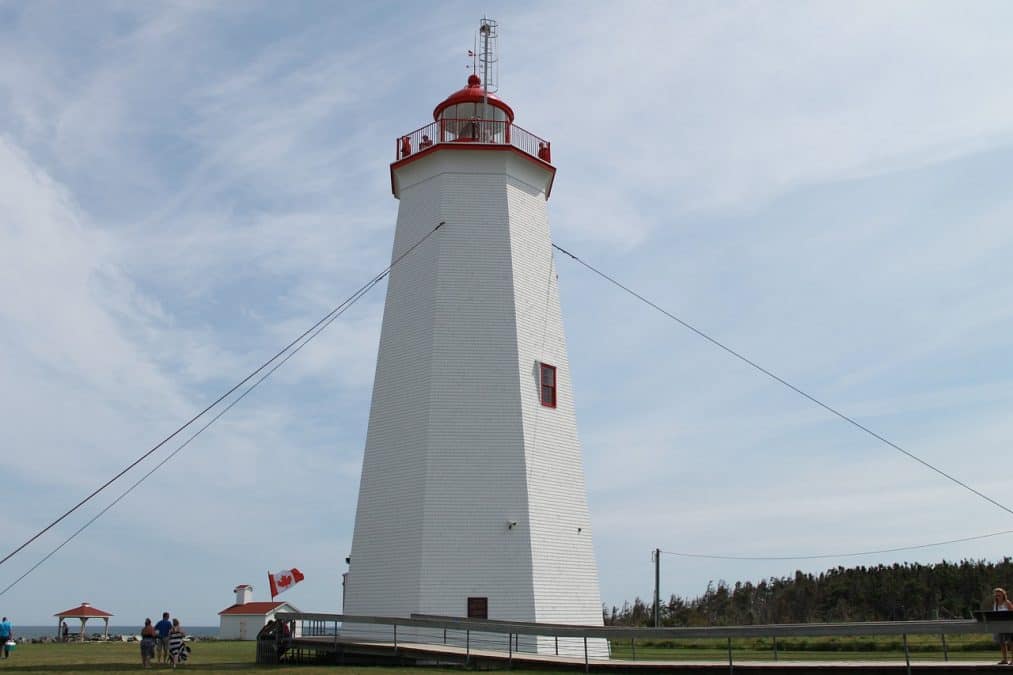 Miscou to Caraquet (60 km)
Make your way to Caraquet, the heart of Acadian country. If your visit coincides with August 15th, you'll be able to take part in some of the National Acadian Day festivities, which is sure to be a fun time.
There are several quaint B&B's in Caraquet to spend the night. Be sure to visit the Acadian Historic Village just outside Caraquet, where you can learn what life used to look like here.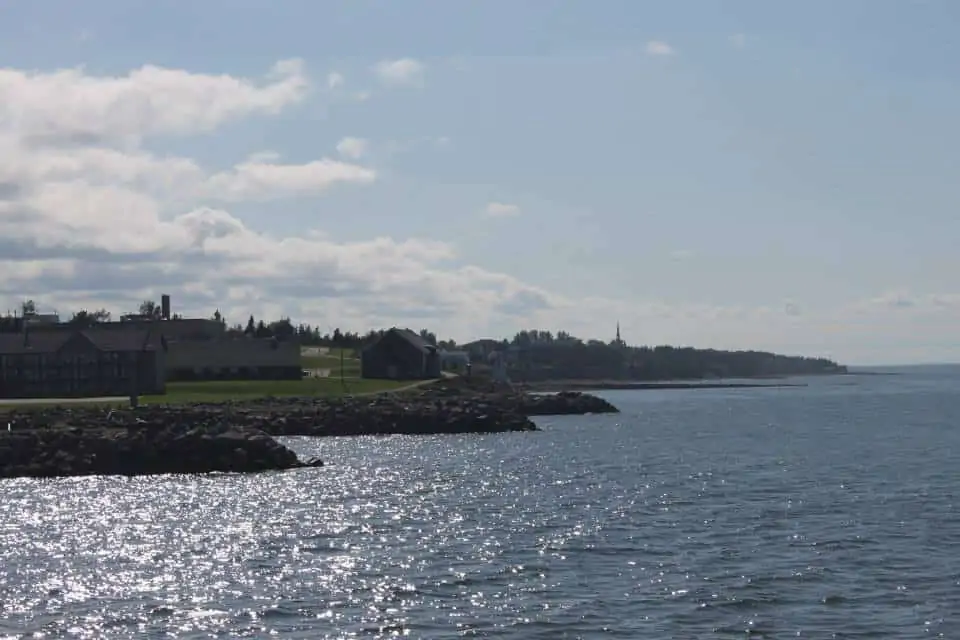 If you opt for the Acadian Coastal Drive, you'll have to return south to Moncton/Shediac, which takes about three hours from Caraquet. From there, you'll continue your east coast trip to Prince Edward Island.
Prince Edward Island (PEI) Road Trip
At just 224 km long and 64 KM wide, Prince Edward Island (PEI) is Canada's smallest province. But don't be fooled by the size; PEI has some of Canada's most beautiful scenery.
Red cliffs along the blue Atlantic ocean, golden sand dunes, and picture-perfect white lighthouses are just some of the gorgeous landscapes you will find here.
PEI connects to New Brunswick via the Confederation bridge. It's a 45-minute drive from Shediac to the start of the bridge, and it takes about 20 minutes to cross over.
While driving over the ocean, be sure to appreciate the undertaking it took to build this bridge. It's an impressive example of architecture and engineering.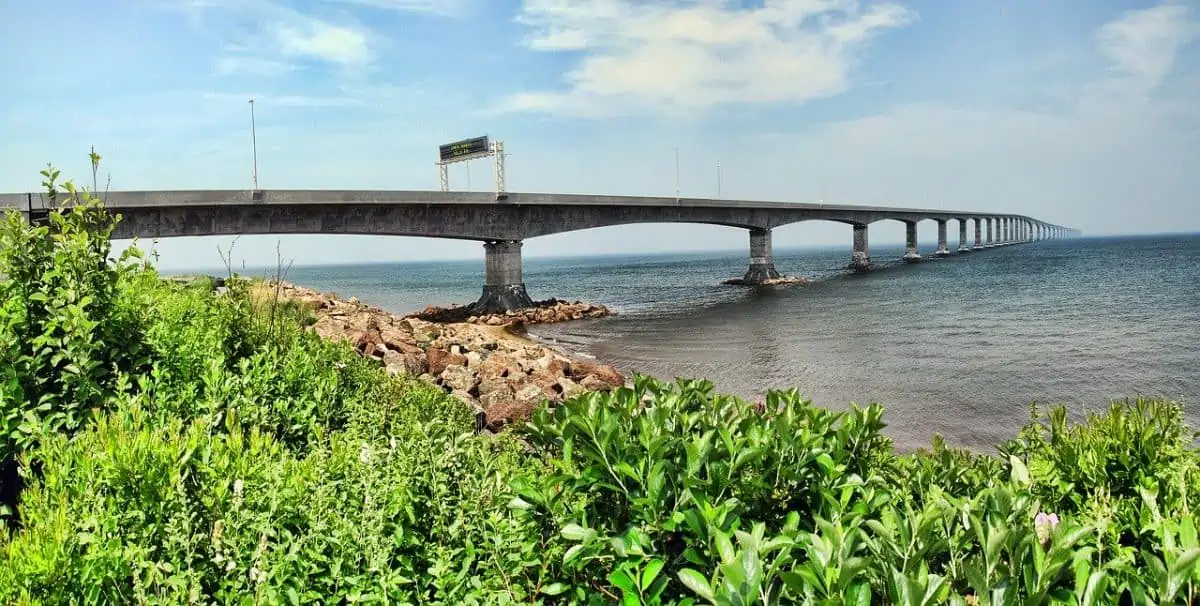 PEI isn't a big place; you could see the main highlights in one day if you really wanted to. But I suggest staying at least a couple of nights as there are some wonderful things to do here.
The province is roughly divided into three sections, with three coastal routes you can make: North Cape Coastal Drive, Central Coastal Drive, and Points East Coastal Drive.
You'll enter the province from New Brunswick at Boredon-Carleton, which is smack dab in the middle of the province, so you could do these routes in any order.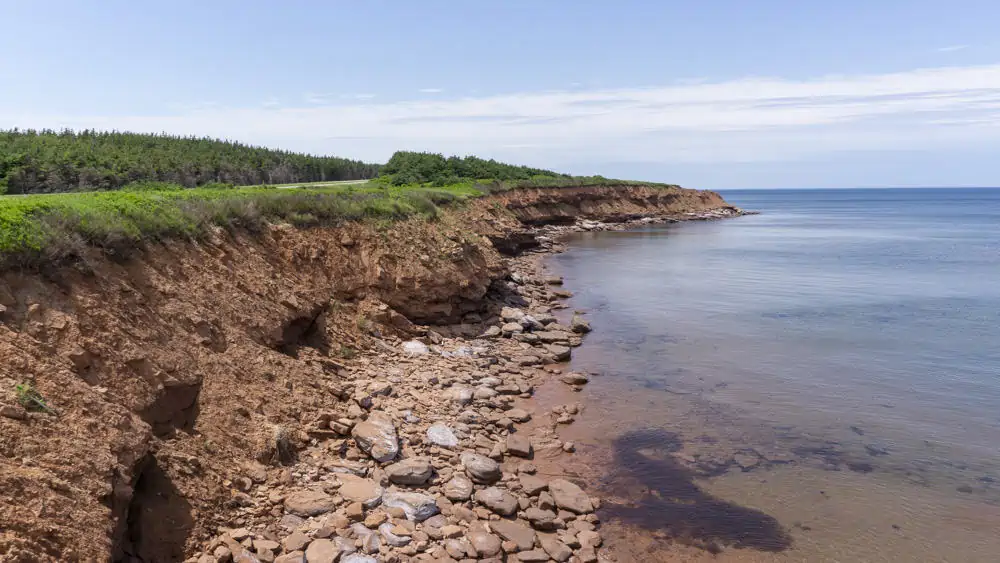 Borden-Carleton to North Cape
The North Cape coastal drive is 350KM and even has a Canadian potato museum you can visit in O'leary. PEI is very serious about potatoes! Cedar dunes provincial park is another place worth checking out and a good option for camping overnight.
If you prefer to stay indoors, A unique place to spend the night in the North Cape is the West Point Lighthouse Inn and Museum.
PEI has 63 different Lighthouses, each one with a unique history. You could fill your whole time in PEI just searching for lighthouses, and at least a few should be on your itinerary.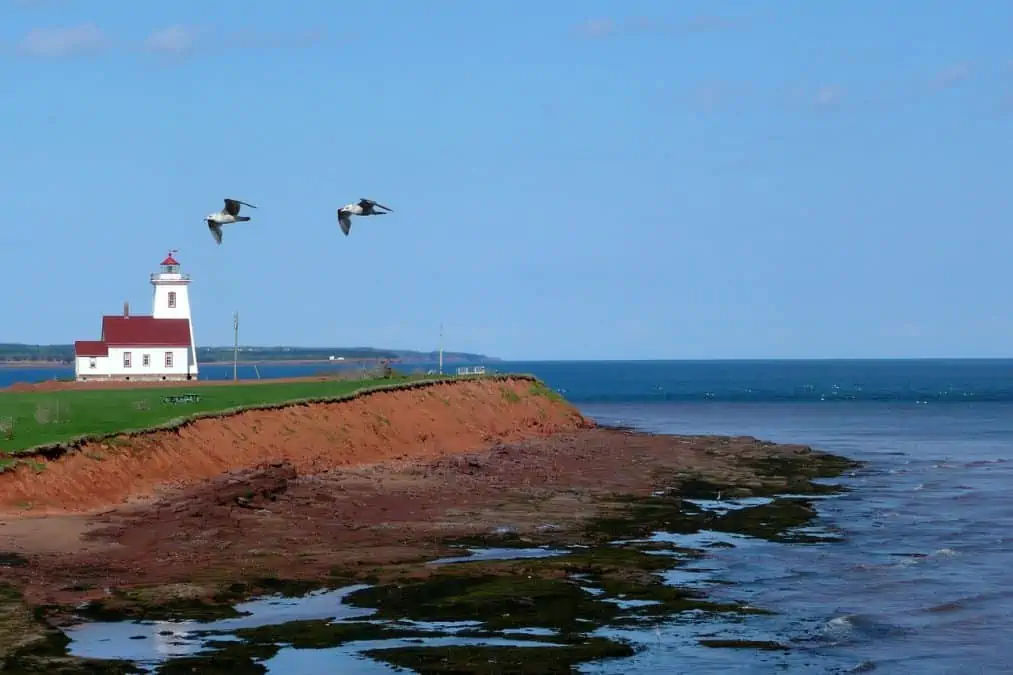 North Cape to Cavendish (129 KM)
After exploring the North Cape, head over to Cavendish, home of Anne of Green Gables. To be completely honest that has never been an interest of mine, but I know it's a big attraction of PEI, so I can't write this guide without mentioning it.
PEI has plenty of Anne of Green Gables attractions throughout the province, but Cavendish is home to Green Gables Heritage Place, which inspired the beloved tales' setting.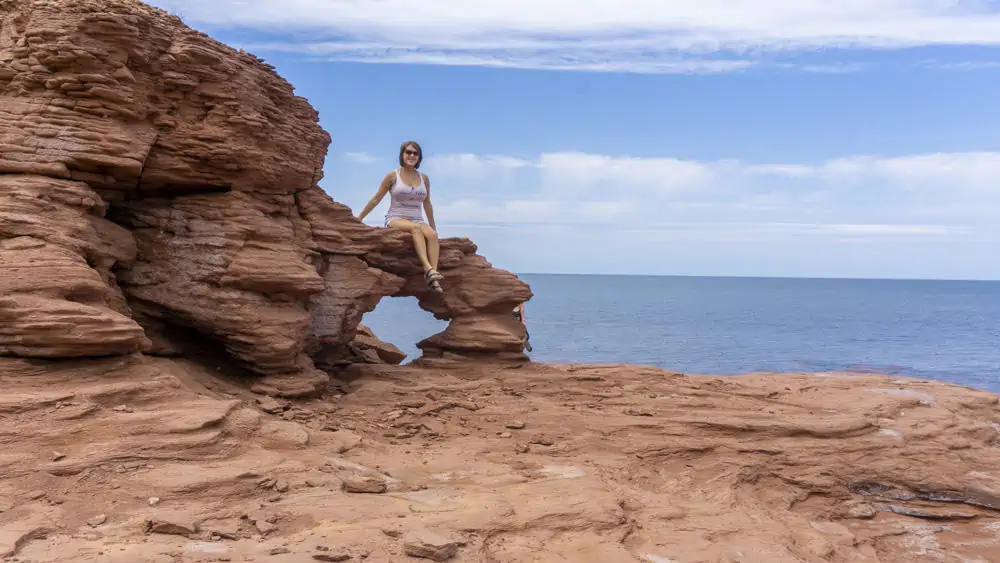 Cavendish is also famous for its beautiful sandy beaches and red stone cliffs. The cliffs here are the best place to take in these stunning landscapes.
Afterward, head over to Cavendish beach to soak in the sun along a 37-mile stretch of red sand. The red color comes from the high amount of iron in the island's sandstone, which oxidizes and rusts when it comes in contact with air.
Cavendish to Charlottetown (38 KM)
After taking in the stunning natural landscapes of PEI, head to the capital of the province, Charlottetown.
Don't expect big city lights; the population of Charlottetown is under 40,000. But that's all part of its charm! There are several accommodation options in Charlottetown to spend the night.
Start your day in Charlottetown with an ice cream cone from Cows Creamery. It was voted Canada's best ice cream spot and is one of my most treasured childhood memories.
In the afternoon, explore the local farmers market (runs on Saturdays all year plus Wednesdays in the summer), or take a bike ride by the sea. Later that evening, head out to Victoria row. This pedestrian-only street is lined with a mix of bars, shops, and restaurants.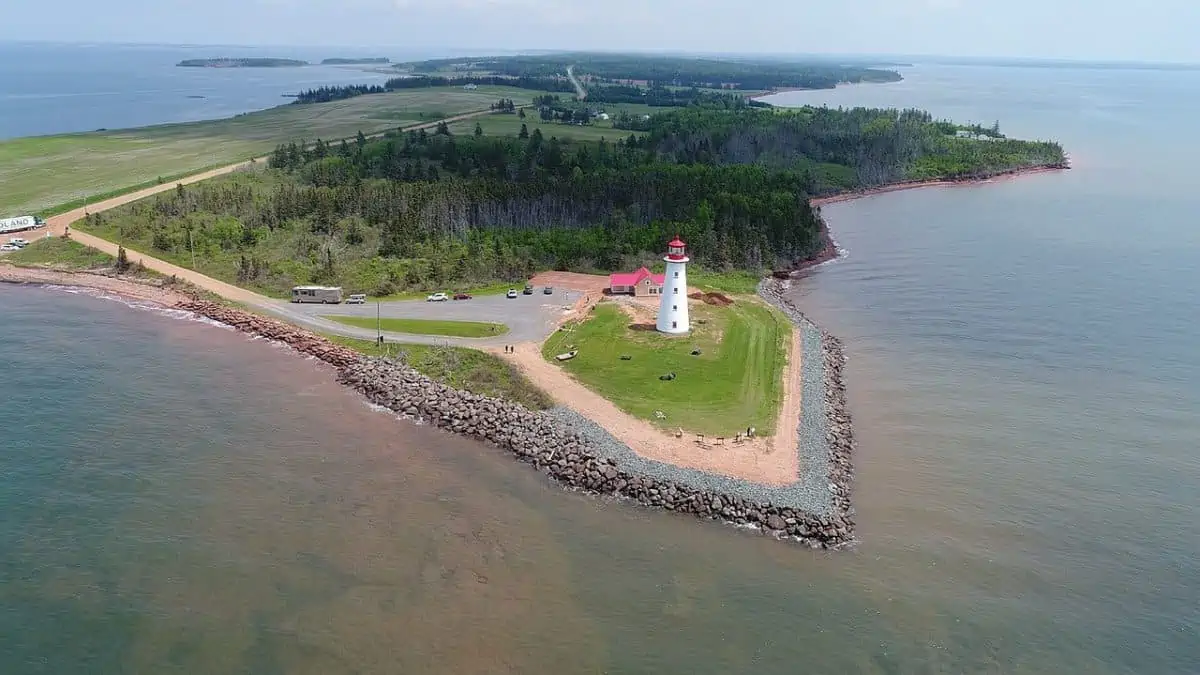 Charlottetown to Greenwich (58 KM)
Spend your last day in PEI exploring the Points East Coastal Drive. Be sure to stop in Greenwich, which is part of the PEI National Park.
This section is home to some incredible dunes as well as an extensive floating boardwalk, which goes out to a white-sand beach.
The next stop on your east Canada road trip is Nova Scotia. There are two ways to get to Nova Scotia from PEI. You can either go back via the confederation bridge through New Brunswick or take a 75-minute ferry from Wood Islands to Caribou, Nova Scotia.
The ferry costs 79 CAD for a standard passenger vehicle. However, there is also an exit fee on the confederation bridge of 48.50, so the choice is up to you. I usually take the confederation bridge as I find it more convenient.
Nova Scotia Road Trip
Nova Scotia, known as 'Canada's ocean playground,' is a paradise for outdoor lovers. Kayaking, hiking, and rafting are just some of the ways you can enjoy the beauty of this stunning province.
Charlottetown To Halifax (325 KM, via Confederation bridge)
Start your journey in Halifax, the capital city of Nova Scotia. Spend at least a night or two here exploring this vibrant city.
The Westin is a great place to stay, as it's right downtown. Across the street from the Westin is the Halifax farmers market, a great place to start your day and grab a morning coffee.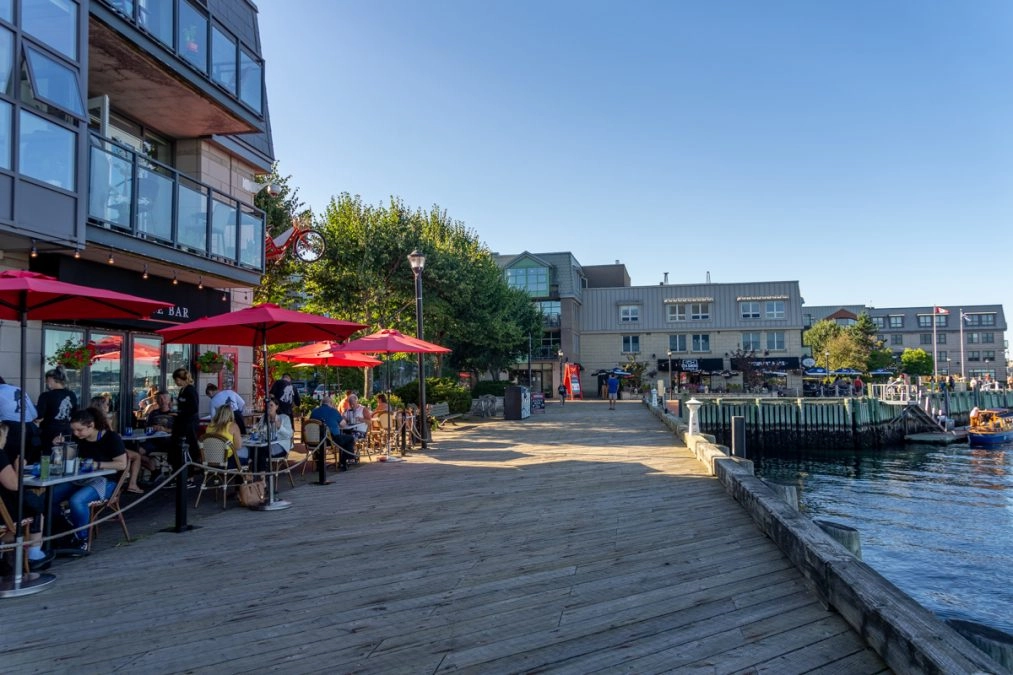 Soak in the views of the harbor from the second floor of the market and then head down to walk along the pier.
The harbourfront comes to life with street performers, public art displays, and restaurants with outdoor seating during the summertime.
Enjoy lunch here and then head up the hill to Citadel National Historic Site. From the top, you'll get gorgeous views of the harbor below. In the evening, head out to Argyle street for some live music and rest your head at one of these wonderful places to stay in Halifax.
Halifax to Peggy Cove's (75 km)
The first stop after Halifax is just 45 minutes away. Peggy's Cove is a quaint fishing village with a stunning white lighthouse.
It's a paradise for photography, with the lighthouse that often reflects in the pools of water. The best time to visit Peggy's Cove is during sunrise to avoid the crowds. Plus, the light will be incredible.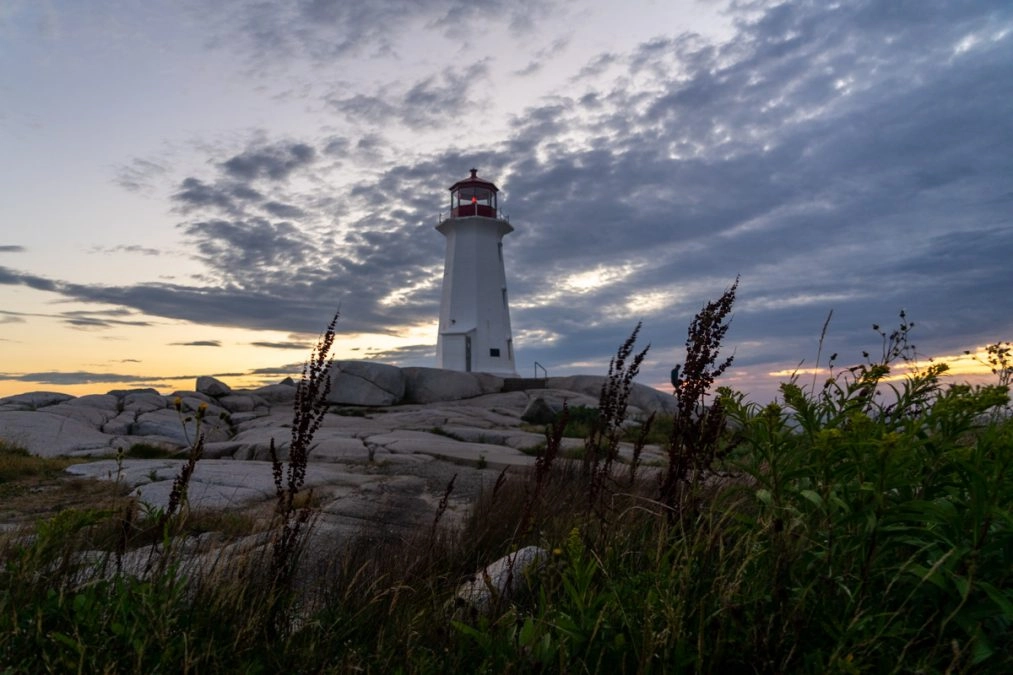 Peggy's Cove to Lunenberg (100 km)
A UNESCO world heritage site, Lunenberg is one of the most colorful towns in Nova Scotia.
Dating back to the 18th century, this historic town is full of charming architecture and gigantic tall ships docked in the harbor. Head over to the golf course across the harbor for the best views and photo ops of this adorable town.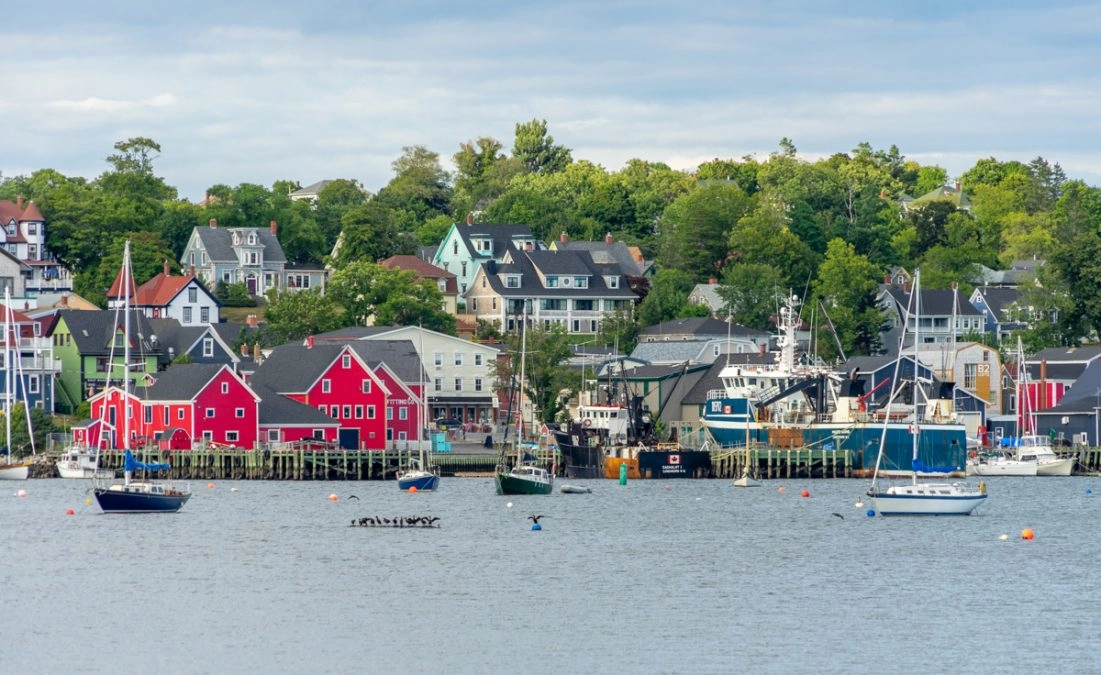 Find places to stay in Lunenberg.
A more off-the-beaten-path place to explore nearby is Blue Rocks, a small fishing village just outside of the Lunenberg. Head there for sunrise – you won't be disappointed.
Lunenberg to Kejimkujik National Park (90 KM)
Make your way to Kejimkujik National Park for some of the most pristine kayaking opportunities in eastern Canada. As well, Kejimkujik is a great place to go camping and stargazing.
Kejimkujik National Park to The Shubenacadie River (308 km)
If you love adventure, you must try Tidal Bore rafting on the Shubenacadie River. It's one of the most unique rafting experiences in the world.
Twice a day when the tide changes, the tidal bore temporarily reverses the flow of the river, creating incredible high-speed rapids. It's the only place in the world where you can experience this! There's even a Tidal Bore Rafting Resort where you can spend the night.
Cape Breton Island
Although Cape Breton Island is part of Nova Scotia, it's so unique that it almost feels like its own province. After leaving the Shubenacadie river, head 338 km east (approx four hours of driving) to Cape Breton Highlands National Park of Canada.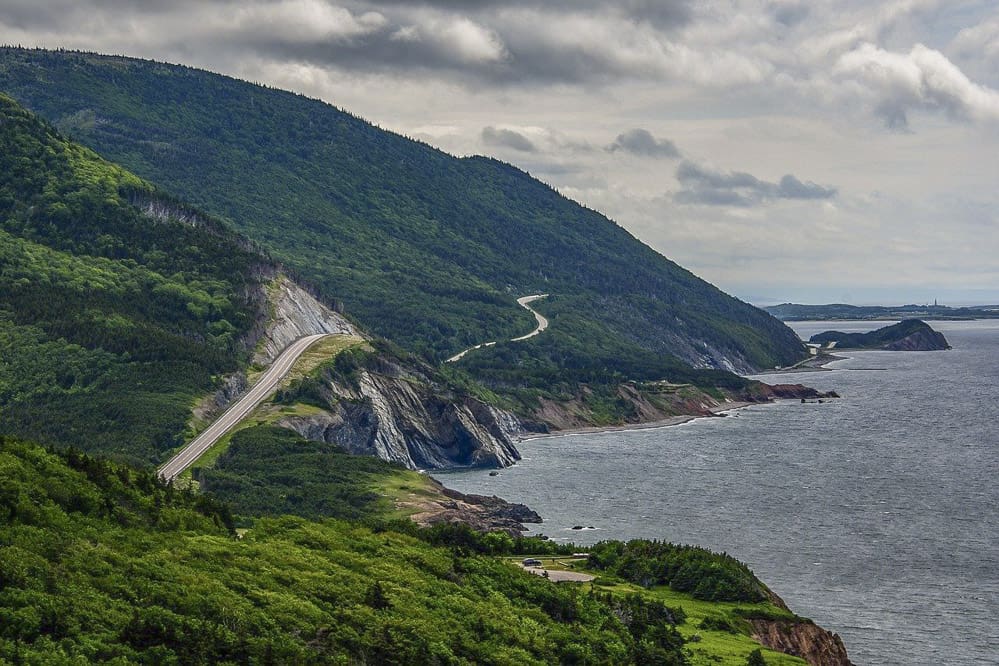 Cape Breton Highlands National Park is home to the Cabot Trail, which is continuously named one of the most beautiful drives in the world.
It's only 298km in length, but you'll want at least a couple of days to take it all in. There are plenty of unique places to stay along the Cabot Trail.
With such incredible views, you'll be stopping every five minutes for photos. Plus, there are a ton of hiking opportunities along the way. Be sure to hike the Skyline Trail for sunset.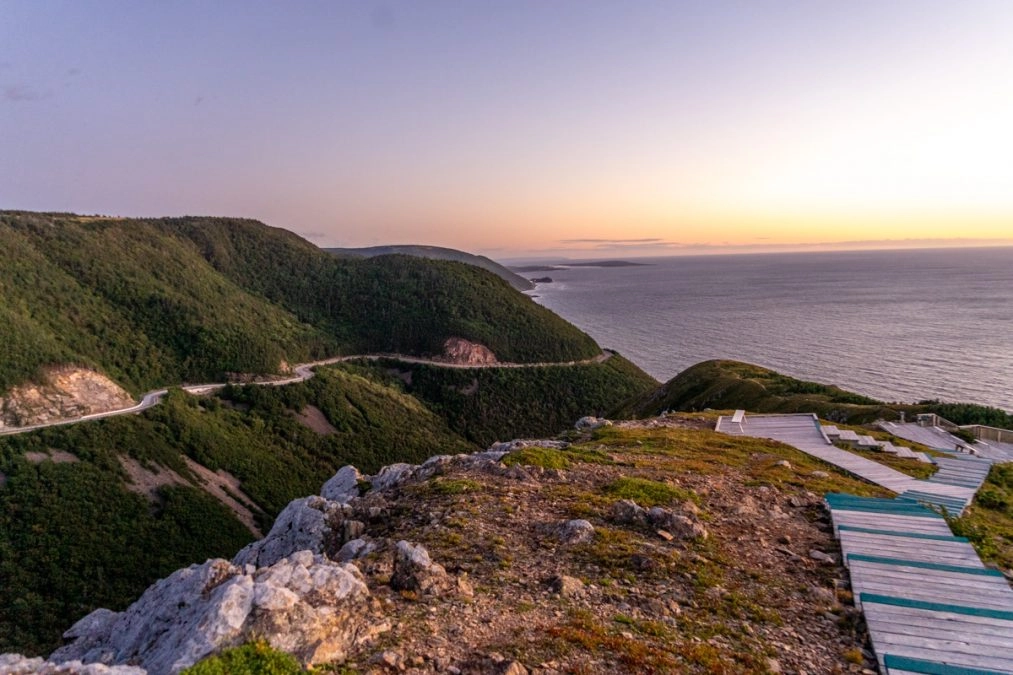 Cape Breton Highlands National Park to North Sydney (114 km)
After a few beautiful days in Cape Breton Highlands National Park, drive to the North Sydney ferry terminal.
This is where you'll say goodbye to the mainland of Canada and catch an overnight ferry to the island of Newfoundland.
Newfoundland Road Trp
Many people don't include Newfoundland on their east coast Canada trip itinerary, but it absolutely should be. Newfoundland is a great province with its own identity unlike anywhere else in Canada.
While out of the way, it will be worth making the trip there. Here's everything you need to know about planning a road trip through Newfoundland.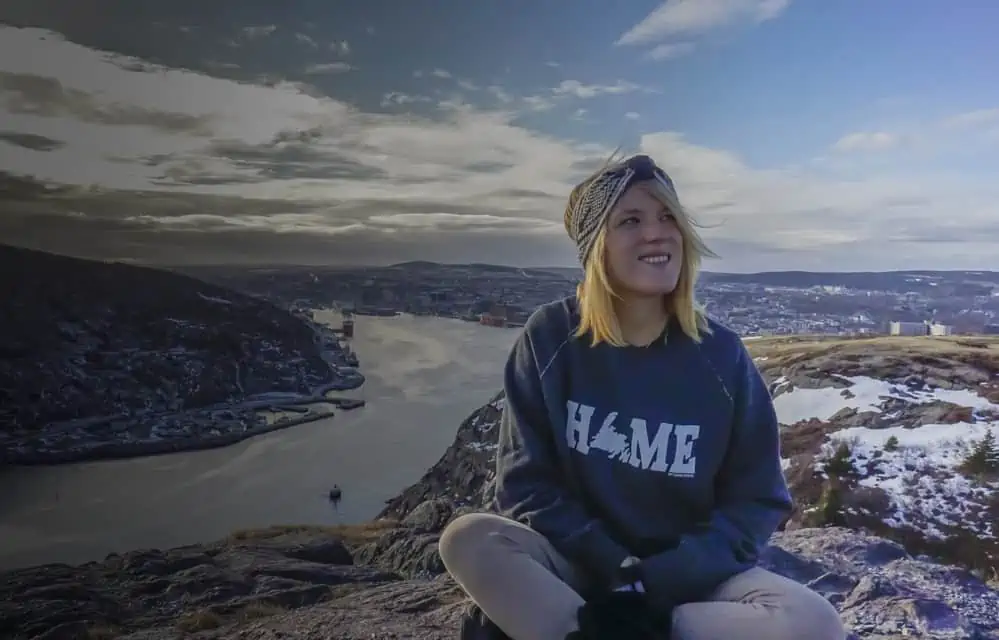 There are two ferry options for getting to Newfoundland from the mainland. Both depart from North Sydney, Nova Scotia. One goes to Argentia on the East Coast of Newfoundland, and the other goes to Port aux Basques on the West Coast.
I recommend taking the Port Aux Basque ferry because it's shorter/cheaper and allows you to see more of Newfoundland.
| | | | | |
| --- | --- | --- | --- | --- |
| Route | Cost Per Person (Adults) | Cost Per Vehicle (Autos, pickups up to 20′) | Duration | Runs |
| North Sydney, NS – Port Aux Basque, NL | $35.65 | $101.05 | 7 hours | All Year |
| North Sydney, NS – Argentia, NL | $99.80 | $207.25 | 16 hours | June – September |
Comparison Table of Ferry Options to Newfoundland
Port Aux Basque – Corner brook (219 km)
You'll arrive in Port Aux Basque early in the morning, around 7 am (assuming the ferry is on time). Drive two hours East to Corner Brook, the largest city on the West Coast.
The next few days will be camping in Gros Morne National Park, so stock up on supplies at a grocery store in Corner Brook. Sobeys or Dominion are the best options. There are some small stores in Gros Morne national park, but they are limited in supplies and more expensive.
Corner Brook to Gros Morne national park (85KM)
From Corner Brook, it's just an hour's drive to Gros Morne National Park, one of the main highlights of Newfoundland. Spend at least two nights here either camping in the park or at lodging nearby.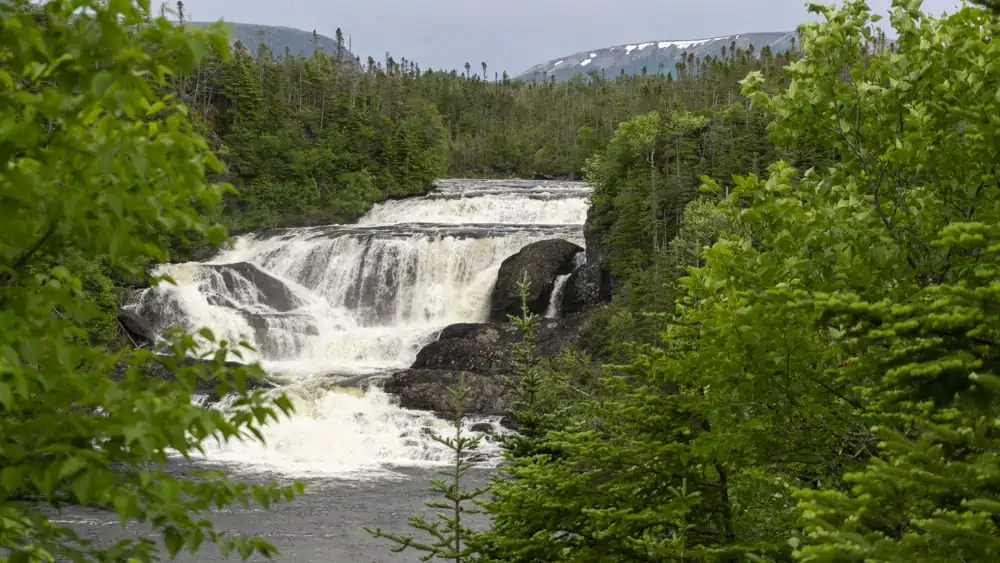 With over 100 kilometers of pristine trails, Grose Morne is the perfect place to take a hike. Challenge yourself to go 800 meters up to the summit of Gros Morne mountain.
This hike is no easy feat, as the last two hours involve climbing up steep rocks. The views at the top are worth it – this is one of my favorite hikes in Newfoundland. It's an all-day hike (16 km) that will take you between 6-8 hours.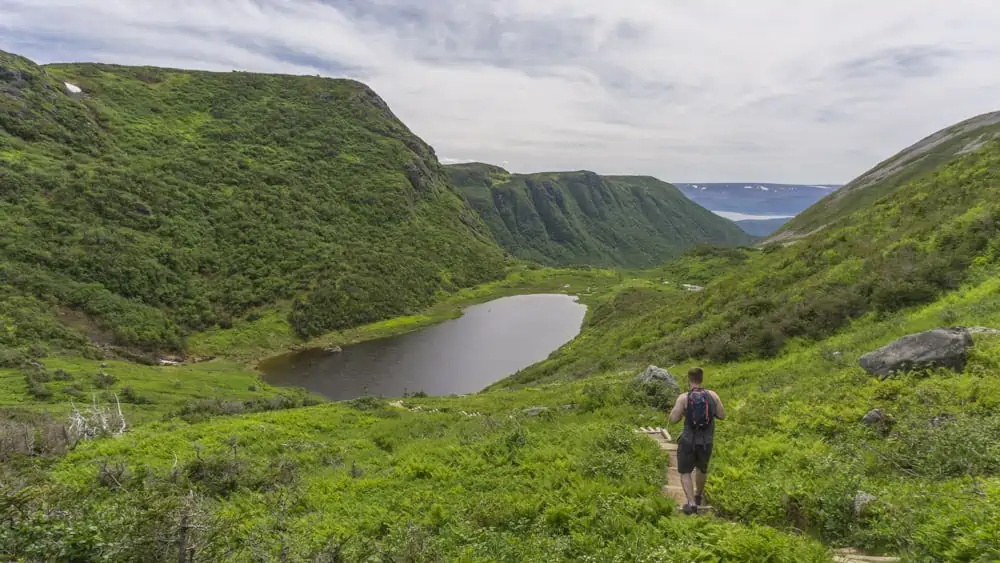 If you want a real adventure, try backpacking the long-range traverse. This epic hike takes four nights but will take you to one of the most sought-after photos in Newfoundland. This trek is not for beginners – you must attend a backcountry briefing to receive a backcountry hiking permit for this trek.
For a less strenuous activity, take a boat tour through the fjords and marvel at the beauty carved out by the work of glaciers over thousands of years.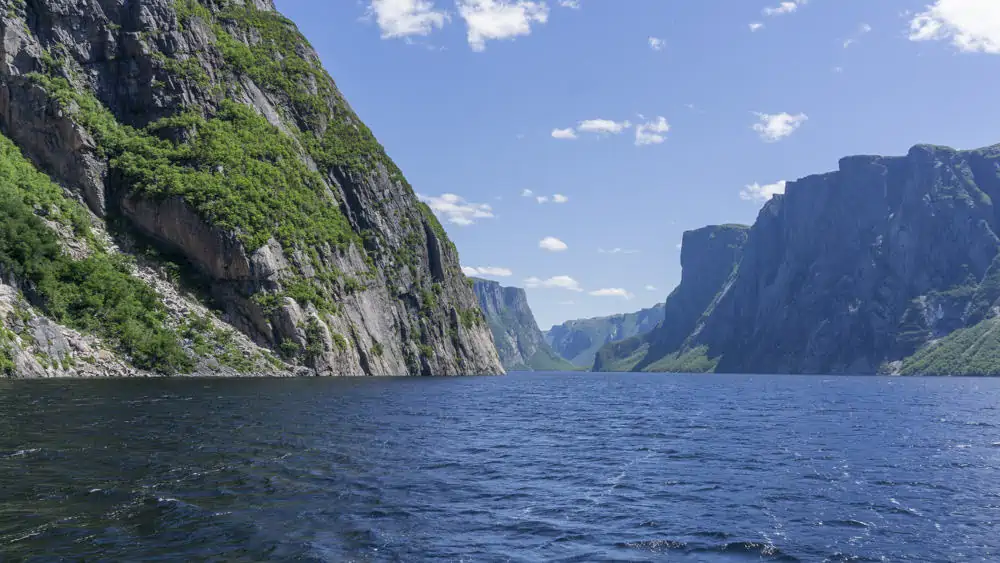 Optional route: Viking Trail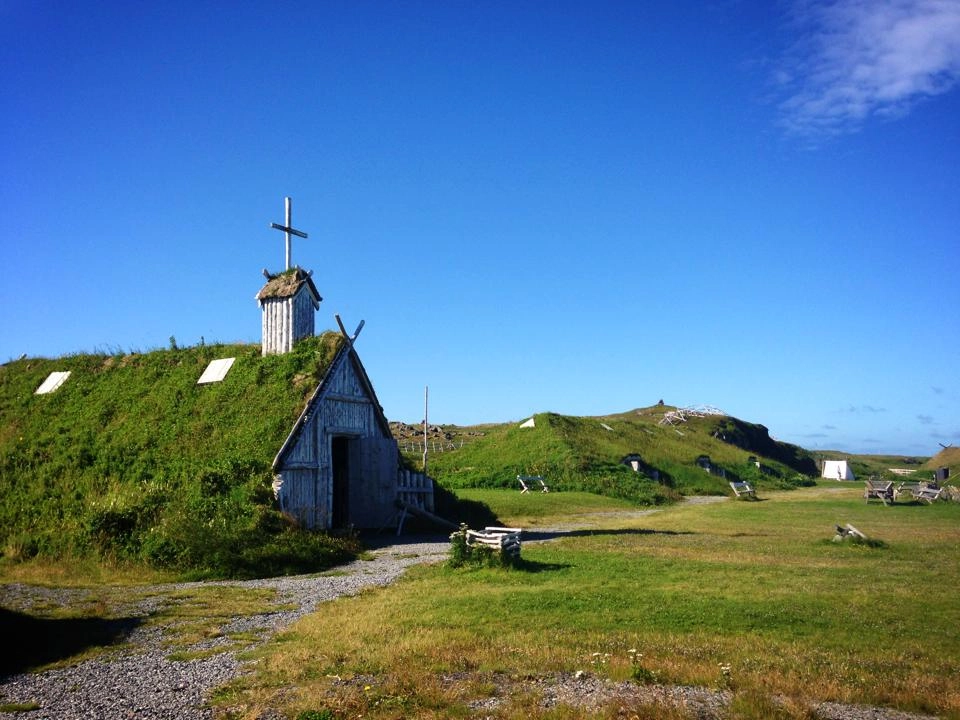 You could continue your journey down the Northern Peninsula, also known as the Viking trail, to the UNESCO world heritage site of L'anse Aux Meadows. Here you'll find remains of an 11th century Viking settlement.
I've done this route before and it's stunning, but you'll need an extra couple of days. It's about a three-hour drive from Gros Morne each way.
I recommend spending the night in St. Anthony, the largest town on the peninsula. It's one of the best places to see icebergs in the spring!
Gros Morne National Park to Bonavista Peninsula (406 km)
After a few glorious days on the West Coast, you'll continue your journey towards Newfoundland's east coast through the Trans Canada Highway (Route 1).
It's an easy drive as there is only one main highway across Newfoundland – just look out for moose along the way.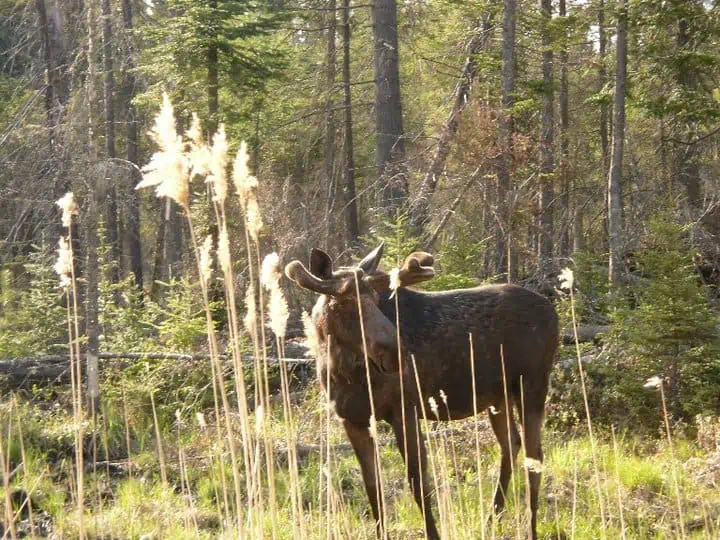 If you're craving more adventure along the way, stop along the way in Grand-Falls, where you can go whitewater rafting on the exploits river. This is a great place to stop for lunch or spend the night to break up the journey.
Optional route: Central Newfoundland and Fogo Island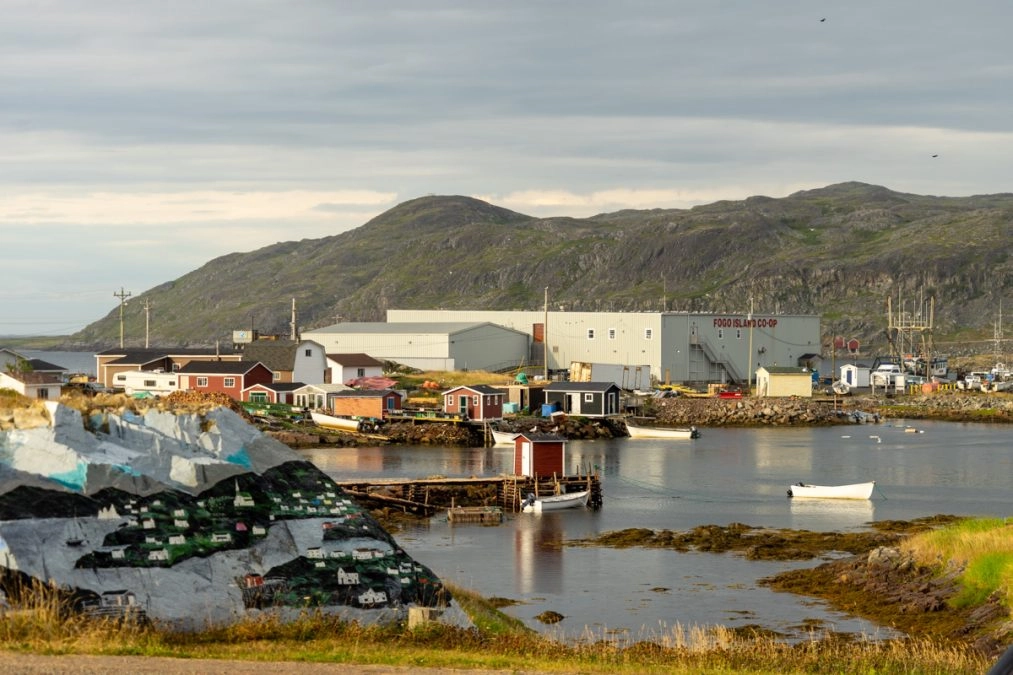 While driving across the province, you could take an optional detour to Fogo Island. This gorgeous island has become a popular spot in recent years with the addition of the 5-star Fogo Island Inn.
There's so much adventure in Central Newfoundland you could easily spend another week exploring this region!
Bonavista Peninsula
The Bonavista Peninsula is one of my favorite parts of Newfoundland. With endless picturesque fishing villages, a lively arts scene, fantastic puffing spotting opportunities, and gorgeous hiking trails, you'll be sure to love it here. Check out this video of some friendly puffins I met there last summer!
Trinity is a perfect place to spend your first night here, with several homey guesthouses to stay.
The next day, take a harbour kayak tour where you can come up close with whales and icebergs, depending on the season. Trinity is also home to some great hiking trails. Try the Skerwink trail, a 4.7-kilometer loop with beautiful coastal views.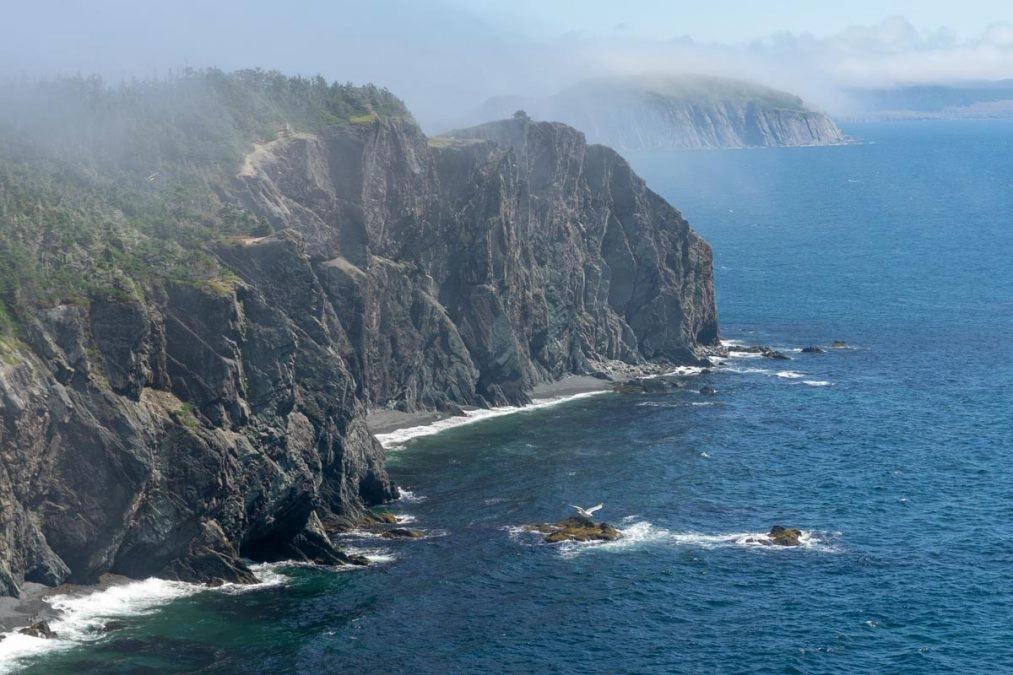 Trinity to Bonavista (50 km)
Take a day to drive around the Bonavista peninsula or spend the night. Along the way, opt to visit the Port Rexon Brewing for a delicious craft beer.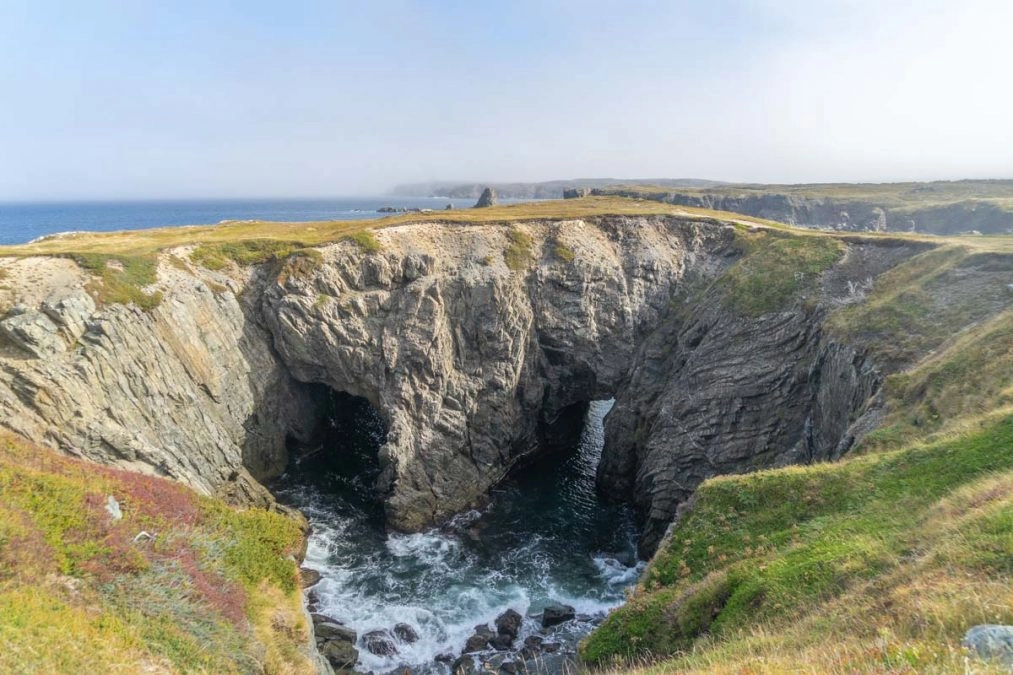 In Bonavista, take a hike in the stunning Dungeon provincial park, grab a cone at Sweet Rock Ice Cream, or head to nearby Elliston to spot puffins and whales. In the evening, enjoy a locally-sourced dinner at the Bonavista Social Club.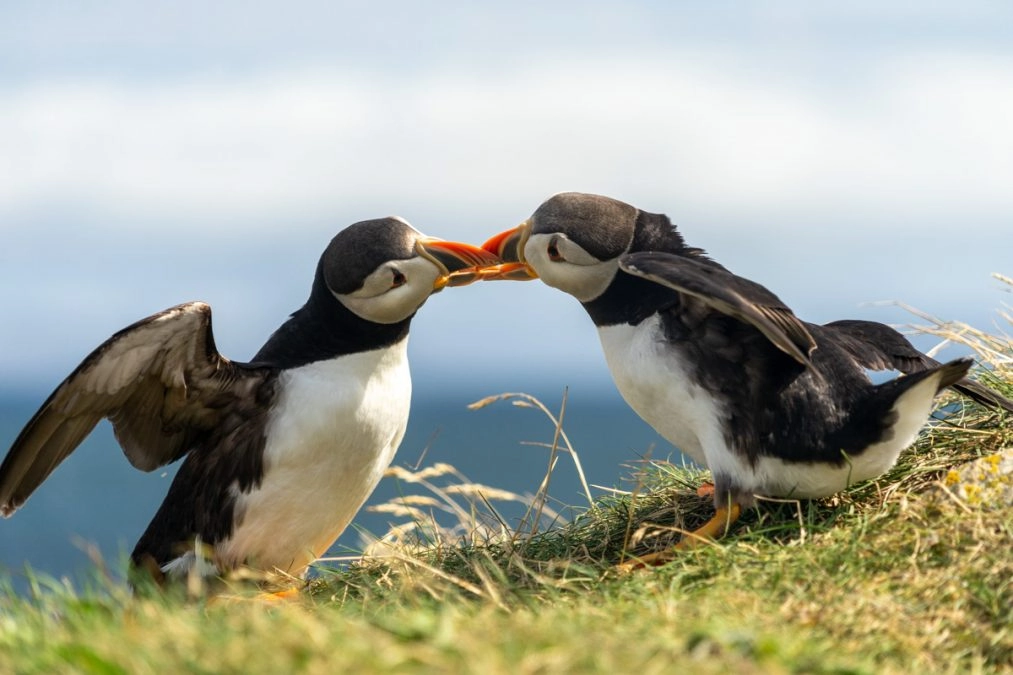 Trinity to St. John's (258 km)
Continue driving east to St. John's, the capital city of Newfoundland and my hometown.
Celebrate the end of your east coast Canada road trip by driving to Cape Spear and soaking in the ocean views. Congratulations, You've made it to the most easterly point in North America!
Stay in the heart of downtown at the Luxus Boutique Hotel or at the Cabot Guest House in Georgetown, a charming neighborhood I used to live in. If you stay here, be sure to grab your morning coffee and bagel at the Georgetown Bakery.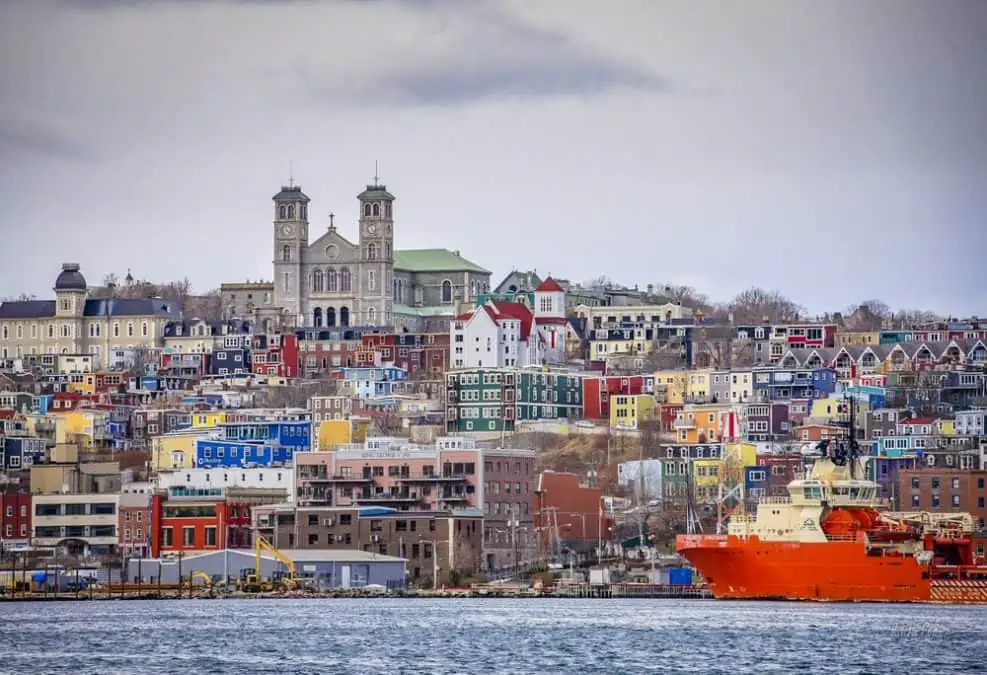 St. John's is a great city with tons of fun things to do. Hike up to historic Signal Hill, where you can get sweeping views of the St. John's narrows.
Take a walk around downtown St. John's, or visit the picturesque fishing village of Quidi Vidi which has a brewery that you can tour.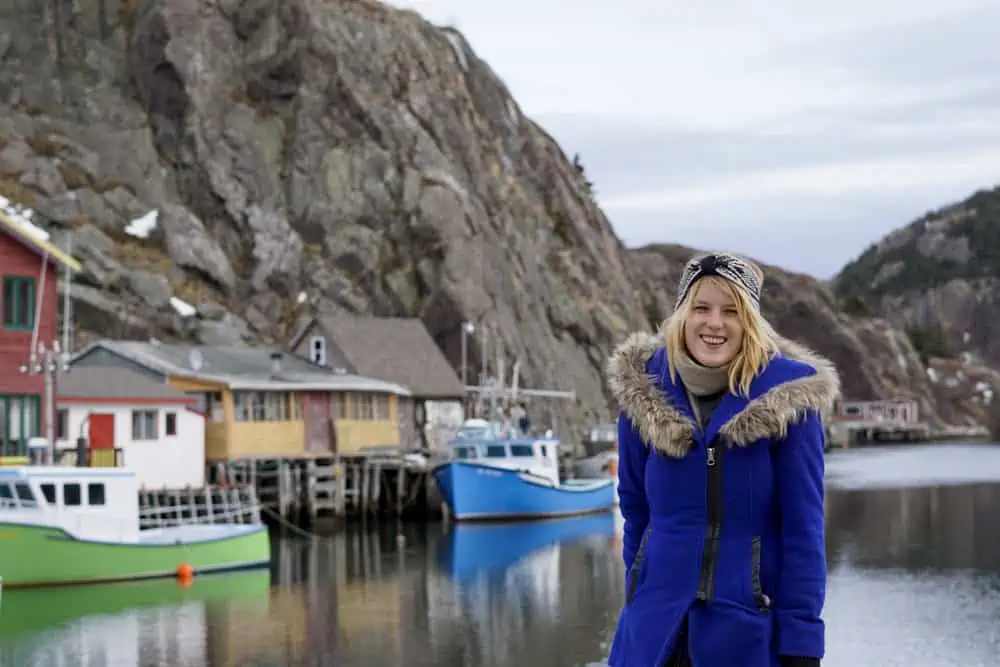 In the evening, head to The Duke for the best fish and chips in the city, then George Street for a night on the town. With the most bars per capita in Canada, St. john's has a lively nightlife and a great local music scene.
As a visitor, you must get screeched in to become an honourary Newfoundland. Christians Bar on George Street is a perfect place to do that.
The next day (assuming you're not too hungover), take a stroll along a section of the East Coast trail – there are over 336 kilometers of trail to explore that will take you through breathtaking towering cliffs with coastal views.
During the summer, the world's largest population of humpback whales makes their way to Newfoundland's coast to feed. It's one of the best places to go whale watching in the world!
Whales can often be spotted while hiking on the East Coast Trail but for a closer look, join a whale and puffin-watching cruise.
If you're a diver, you can also join a diving tour to see WWII shipwrecks, reefs, wall dives, and more! Diving is a unique way to explore Newfoundland from the ocean floor.
Sample Itineraries for a Road Trip to Canda's East Coast
With two months, you would be able to road trip all of Eastern Canada, including the optional routes I mentioned.
You could visit the main highlights in a month, but the trip would be very fast-paced with a lot of driving.
An example Canada East coast two-week road trip itinerary through the Maritimes would be New Brunswick (3 nights), Prince Edward Islands (3 nights), Halifax and Nova Scotia's South Shore (3 nights), and Cape Breton (4 nights). Alternatively, you could do Cape Breton (4 nights) and Newfoundland (8 nights).
If you just wanted to visit Newfoundland, you could fly into the province to save time. St. John's has an international airport where you can rent a car.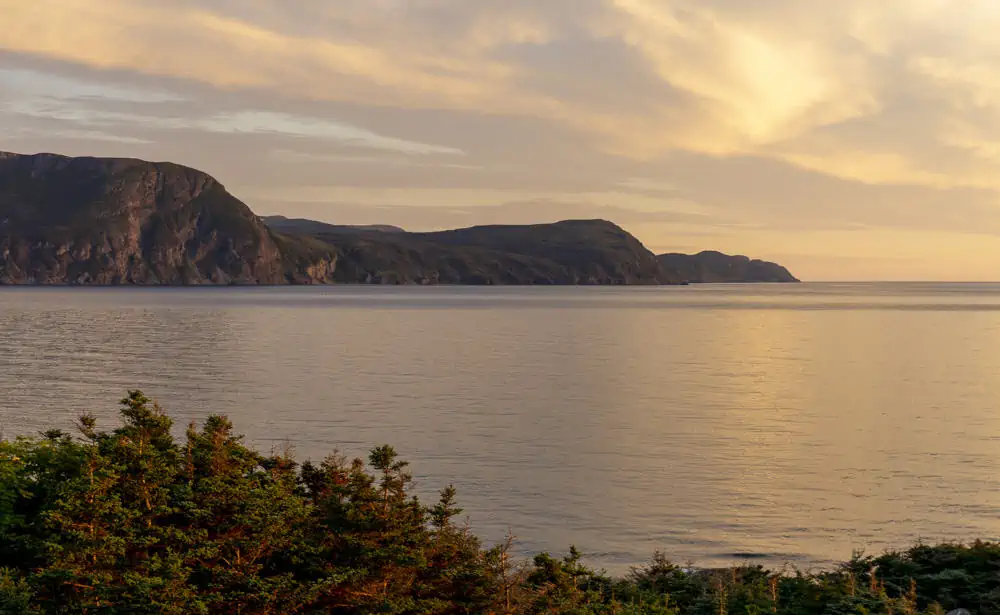 With just one week, you aren't going to be able to road trip all of the East Coast of Canada. I recommend sticking to one province, such as Nova Scotia or Newfoundland, and making the most of your time there. PEI and New Brunswick could be done together in one week.
Best Time to Road Trip the East Coast of Canada
While it's possible to visit the East Coast year-round, I would not advise planning a Canada east coast itinerary around the winter months (November-April – yes, it can really go that long!), simply because the road conditions could be dangerous.
The Maritimes are famous for their horrible winter storms. Plus, the ferry to Newfoundland often gets delayed in the winter.
Summertime is the ideal time for a road trip, but it is also the most popular. The shoulder seasons are also great options. During the springtime, you will have fewer tourists and the possibility to see icebergs in Newfoundland.
During autumn, you can see beautiful fall colors, which will make the drive breathtaking, especially on the Cabot Trail. That said, you can expect some cold nights, and even days, if you are visiting the East coast during October.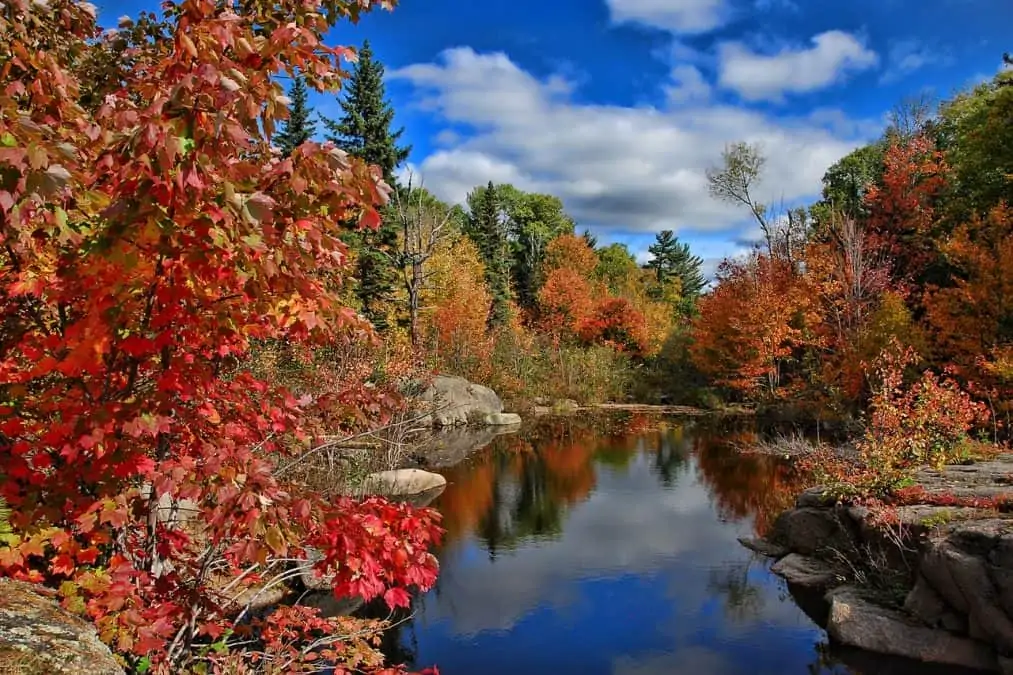 Renting a Car
If you aren't taking your vehicle for the road trip, there are many points in Atlantic Canada that you can pick one up from.
All the airports have car rental agencies inside them, so this is the easiest option if you're flying into one of the provinces from the mainland or abroad.
I do recommend renting your car far in advance of your road trip, especially in Newfoundland, as things can get quite booked up in the busy summer season.
To find the best prices on car rentals, search on Discover Cars. They will search all the main car rental agencies (Enterprise, Hertz, etc). so you can easily compare rental prices and find the best deal!
Essential Items For an Eastern Canada Road Trip
When road tripping around Eastern Canada, don't forget to bring these items with you.
Parks Canada Discovery Pass – This will get you unlimited admission for 12 months at over 80 parks across Canada. This may be worth it if you plan to visit a lot of the national parks.
Insect Repellant– they are fierce in the summertime!
Canadian cash – Most places accept major credit cards and debit but in smaller communities, you may find places that only accept cash. Bring Canadian dollars as these places will probably not exchange American money.
Blankets and Pillows – it gets cold in Canada, even in the summertime! You never know when those will come in handy.
Audiobooks for the road. I love Audible for this.
A car charger for charging your devices
A GPS or download Google offline maps for your phone. Many rural places you will be driving through in Canada do not have cell phone reception.
I know this post has a lot of information, but there's just so much to see. I hope it could help you plan and dream about a Canadian east coast road trip. If you've got any questions, just let me know in the comments below!
Where should I go on the East Coast of Canada?

There are so many places to visit on Canada's east coast! Some of the best places are Halifax, Peggy's Cove, Gros Morne National Park, Fundy National Park – check this guide for more information.
How do I plan a road trip on the East Coast of Canada?


Read this blog post! It has all the essential information you need to plan an epic road trip through the east coast of Canada.
What is East coast Canada known for?
It's known for its friendly locals, fantastic seafood, incredible whale watching, the Atlantic ocean, and beautiful landscapes.
Is Eastern Canada worth visiting?
Absolutely! While many people overlook the east coast for the Rockies, they are two completely different experiences. The east coast of Canada has some of the most breathtaking scenery in Canada, along with fantastic cuisine, friendly people, and endless outdoor adventure.
Planning a trip to Canada?
Found this post helpful? Share the love and pin!