This post may contain affiliate links. By clicking and making a purchase through the links, I earn a small commission at no extra cost to you. See my disclaimer for more information. This and display ads allow me to keep the site up to date and give back.
If you're looking for adventure in Costa Rica, you must visit La Fortuna. From hiking through lava fields, rappeling down waterfalls, or whitewater rafting through rivers, there's no shortage of fun things to do in La Fortuna.
With the backdrop of Arenal Volcano, it's easy to see why La Fortuna is one of the most popular places to visit in Costa Rica. I visited La Fortuna for the first time in 2015 and returned in 2020, and each time it was a highlight of my trip.
Here are 10 La Fortuna activities to try out on your trip! At the end, I've included some sample La Fortuna itineraries to help you maximize your time here.
More information on La Fortuna:
La Fortuna Things To Do
#1 – Gravity Falls La Fortuna
If you're looking for an epic adventure in La Fortuna, then the gravity falls waterfall jumping tour with Desafio is an absolute must! This combination tour has a bit of everything – rappelling over waterfalls, cliff jumping, hiking, and rock climbing.
The tour starts with an early pick up at 6:30 am from your hotel in La Fortuna for an hour drive out to the countryside.
Once at the site, the guides help everyone get geared up for the adventure (you can leave any belongings you don't need in the truck). From there, it's a short walk down to the top of the canyon for the first rappel.
If you haven't woken up yet, you will soon as you start the 140ft rappel down a rushing waterfall into a deep crystalline pool.
Don't worry, the guides are highly knowledgeable and there to support you the entire way down. I was terrified when I first started the rappel, but once I got the hang of it, you couldn't wipe the smile off my face.
The rest of the tour includes five cliff diving jumps ranging from 5 feet to 25 feet, swimming through a narrow canyon passage, and a small rock climbing adventure.
If you don't want to cliff jump, the guides can help you rappel down instead. The last jump from a 39 ft platform is optional, so no worries if you're afraid of heights.
I loved this tour! Not only was it full of adventure, but takes place in an isolated rainforest canyon which was absolutely beautiful.
The tour is jam-packed with fun but uses a lot of energy. Thankfully, beers and pineapple are given out right after the canyoning. This is just a starter snack, as afterward, you head back into town for a delicious buffet-style at Hunters & Gathers restaurant.
The lunch was an assortment of delicious Costa Rican cuisine, including rice, beans, chicken, yuca, plantains, and more.
What to bring on this tour:
You will get absolutely soaked, so wear something that you are comfortable getting wet like a swimsuit or athletic wear. Bring a change of dry clothes for afterward, there is a private area to change.
Sturdy shoes, preferably ones that are waterproof like these Chaco shoes.
A waterproof action camera such as GoPro. If you don't have one, the guides do take photos and videos of you which you can purchase after for $20 USD (per couple, so you can split the cost with a friend).
If I only had time to do one adventure activity in La Fortuna, this would be an easy pick. They pack in so much, plus the Desafio staff were some of the kindest and professional I met in Costa Rica.
Check the availability of Gravity Falls tour here.
# 2 – Take a dip in La Fortuna Waterfall
If you love chasing waterfalls, then you'll love Costa Rica! There are so many beautiful waterfalls to see here, and a Fortuna waterfall is one not to be missed.
Like most waterfalls in Costa Rica, there is an entry fee that you can pay at the falls. However, the line here is often long, so I recommend getting skip-the-line tickets in advance.
The trail to this waterfall is very well-maintained. Once you enter the park, there are great views of La Fortuna waterfall from the top of the staircase.
To reach the bottom of the La Fortuna waterfall, you must descend a 500-step staircase. The walk is much more difficult coming back up, so make sure to bring water with you.
You can swim in La Fortuna waterfall, but the water is chilly! No one was doing it well I was there, but I decided to go in for a quick dip.
The water was frigid but refreshing after the hike. I only stayed in for a couple of minutes because the current was so strong. Nearby there is a calmer body of water where most other people were swimming.
You can explore other small trails in the park to an orchid and butterfly garden. There's also a cafe on-site if you want to grab a bite afterward!
# 3 – El Salto Rope Swing
El Salto Rope swing is one of the best free things to do in La Fortuna.
This popular swimming spot is right outside of town, on the way to La Fortuna waterfall. It's just 1.5km from the town's church, so you can walk if you don't have a car.
It's also next to Desafio's Hunter & Gather restaurant, so if you're doing the canyoning tour, you have the option to stay in that area instead of going back to town.
At El Salto, you can use a Tarzan rope swing to jump into the water. It's a fun way to spend an afternoon in La Fortuna if you're looking for something that won't break the bank!
# 4 – Soak in Hot Springs
One of the best activities in La Fortuna is to relax in the beautiful hot springs heated by nearby Volcano Arenal. There are over a dozen hot springs in La Fortuna suited to any budget.
One of the most luxurious hot springs in La Fortuna is Tabacon Thermal Resort & Spa. Inside there are beautiful gardens and pools landscaped around the Tabacon thermal river. If you aren't staying at the resort, you can purchase a day pass for $94.
An alternative is to visit the Tabacon river across the street, about 100m down. There you'll find beautiful all-natural hot springs you can visit for free!
The only downside is that it's popular. We got here around 6 pm and it was packed, mostly with locals. So get here early if you want a good spot!
For a cheaper option, check out Paradise Hot Springs. If you aren't staying here, it's only $28 for a day pass. The facilities are beautiful, with lovely views of Arenal Volcano.
They have several pools of varying temperatures, including a swim-up bar. There weren't many other people here while I was visiting, which made it all the better!
Another popular mid-range option is Baldi Hot Springs. This spacious resort has over 25 pools and waterslides, and it's only $35 for a day pass. I visited here during my first time in La Fortuna but enjoyed Paradise hot springs more as there were fewer people.
# 5 – Zip lining La Fortuna
Costa Rica has a reputation for having some of the best zip-lines in the world, and it lives up to the hype.
There are zip-lines all over the country, and La Fortuna is one of the best places to give it after Monteverde Cloud Forest.
If you want to go zip-lining in La Fortuna, I recommend visiting the Sky Trek & Sky Tram Adventure park. They claim to have the longest and fastest lines in Costa Rica, and it certainly felt like it!
It was such a thrilling feeling to go flying through the forest. I couldn't help but scream! Plus, the surrounding views of Lake Arenal and Arenal Volcano are amazing.
The tour starts with a scenic gondola ride up the top of the zip-lining course. There are some fun photo ops at the top before you start. They have photographers who will take photos of you, which you can purchase for $35 after, as well as GoPro's you can rent with helmet mounts.
The first zip-line is short; it's just to get the hang of how it works. After that, the fun begins as you descend back down to the starting point via six massive zip-lines through the forest.
There are several guides to strap you in at each station and ensure everything is OK. It was only my second-time zip-lining, and I thought it would be terrifying, but it was so much fun!
There is a restaurant that serves nice food and has fantastic views of Arenal Volcano at the end. There are also some hanging bridges and walking trails in the park you can explore.
# 6 – Hiking in La Fortuna
Although you can see Arenal Volcano from town, you can get even better views by visiting Arenal National Park or Arenal 1968 park. The parks are home to some of the best hikes in La Fortuna.
Arenal 1968 Park
Arenal Volcano was dormant for over 500 years until a massive explosion set it off in 1968, destroying three towns near its base. The volcano continued to be active until 2010, spewing lava from the top.
Arenal 1968 is a park where you can see the remains of the volcanic explosion. It was so cool to walk through giant lava rocks on this La Fortuna hiking trail.
There are two hiking trails in the park that connect. The main loop, which takes about three hours, goes through the lava trails and a small lake. If you only take the lava trail, it takes about an hour and a half total round trip.
If you enter the park after 3 pm, they will only let you on the smaller lava trail as there isn't enough time to walk the full loop before the park closes. Unfortunately, you still have to pay the same entrance fee ($17) regardless of what trail you do.
See guided hikes in 1968 Volcano Park
Arenal National Park
Arenal National Park has mainly flat trails, so this is a good option if you're looking for an easy La Fortuna hike. Sendero Colada 1968 (3.4km) and Tucanes (2km) are the shortest hikes, which take you through secondary forests and lava fields. There are also hanging bridges to explore in the park.
There's another volcano in the park that's less known, Cerro Chato, which has a small crater lake that you can hike to. It's beautiful but extremely steep and challenging. I did it in 2015, and I don't think I've ever sweat so much in my life! As of 2017, this trail is closed to visitors until further notice.
# 7 – Whitewater Rafting
Rafting is another popular thing to do near La Fortuna. I didn't do it here, but I have gone rafting in other parts of Costa Rica, and it's a blast!
There are two different options for rafting in La Fortuna.
If it's your first time, rafting on the Balsa River in class 2 and 3 rapids is a good option. However, for a more adrenaline-pumping experience, check out this tour which takes you rafting on class 3 and 4 rapids.
# 8 – Hanging Bridges La Fortuna
A great way to enjoy the beauty of the surrounding area is to go on a hanging bridges tour. Check out Mistico Arenal Hanging Bridges Park, known for its wildlife.
Inside the park is a 3.2km trail that takes you above a rainforest. I highly recommend getting a guide if you are trying to find wildlife in Costa Rica; it makes a world of difference.
You can also see hanging bridges in the Sky Trek Adventure Park. It's separate from the zip-lining and is an additional $28 to enter that area of the park. However, the staff let us walk to one of the hanging bridges for no extra charge while waiting for our zip-lining tour. It never hurts to ask!
# 9 – La Fortuna Attactions: Rio Celeste Waterfall
Rio Celeste is one of the most beautiful waterfalls I encountered in Costa Rica. The blue color looks even better in person than it does in pictures. It makes for the perfect day trip from La Fortuna!
Rio Celeste is inside Tenorio Volcano National Park, about an hour's drive from La Fortuna. The best way to visit is with a rental car, but you can also book a Rio Celeste day tour from La Fortuna.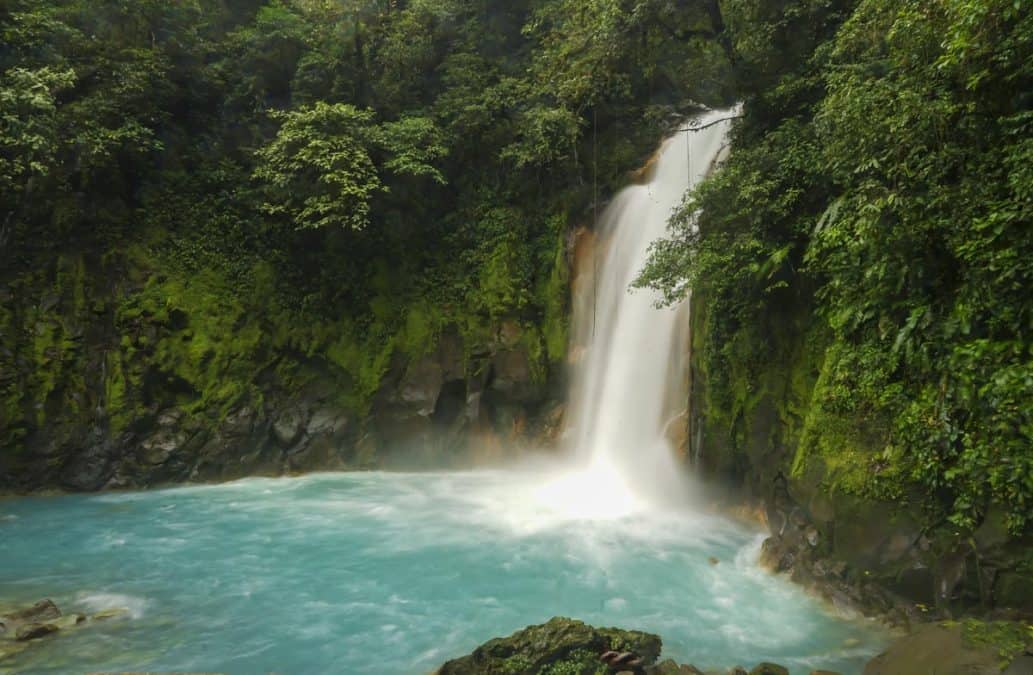 We spent about three hours hiking around Tenorio Volcano National Park, so plan for a full day if you want to visit Rio Celeste from La Fortuna.
The park only lets 1000 people per day (500 at a time) and closes at 2 pm, so it's best to get there as early as possible.
We spent the night in Rio Celeste and got to the waterfall as soon as it opened at 8 am. This meant we had it all to ourselves for about 20 minutes, so it was worth the early rise!
Parking at Rio Celeste costs 1000 CRC (2 USD) and the entrance to Tenorio Volcano National Park is 12 USD for foreigners.
Read more: How to Visit Rio Celeste.
# 10 – Discover Costa Rica's Wildlife
La Fortuna is a great place to see Costa Rica's unique wildlife. While driving back to our hostel one night, we saw a sloth, toucans, and hawk just off the side of the road.
If you want to increase your chances of seeing wildlife while in La Fortuna, visit the Cano Negro wildlife reserve. Inside the reserve, you can take a safari float down Rio Frio, where you can spo toucans, sloths, caymans, and more.
La Fortuna Itinerary
With so many things to do here, plan to spend at least two full days in La Fortuna. We spent two and a half days (three nights) and felt it was the perfect amount of time. Here's a sample itinerary for a two-day trip:
Day 1: Go on a gravity falls waterfall jumping tour with Desafio in the morning and enjoy a hot buffet lunch afterward. Opt to add in rafting for a full day of adventure.
If you're feeling energetic after lunch, check out the El Salto rope swing next to the restaurant where the tour ends. Or if you feel like relaxing, head to one of La Fortuna's hot spring spas (most are open until 9 pm).
Day 2: Take an early morning hike in either La Fortuna or 1968 Park (3-4 hours), then enjoy lunch afterward at a Soda Viquez (local Costa Rica restaurant).
In the afternoon, head over to the zip-line park (it's open till 4). Book in advance, so you don't have to wait! If zip-lining isn't your thing, head to La Fortuna waterfall for an afternoon dip.
When is the best time to visit La Fortuna?
The most popular time to visit La Fortuna is from December to April during the dry season.
During this time, the weather is warm, with temperatures averaging around 28-30 degrees Celcius. These are the months you'll see the most sun, but it can still be rainy and cloudy.
If you visit during the wet season, you'll be rewarded with fewer tourists and lower prices, but some outdoor activities may not be accessible due to heavy rainfall.
Arenal volcano is hard to see when it's rainy, so plan for a few days to give yourself the best chance of a clear day.
Getting to La Fortuna
Renting a car is by far the best way to get around Costa Rica, but there are alternatives if you can't.
From Liberia: If you have a car, it's about a 3-hour drive to La Fortuna from the Liberia airport. This is a relatively straightforward drive on well-maintained roads. If you don't have a car, you can book a shuttle transfer.
Getting to La Fortuna from Liberia via public bus is possible, but it involves several transfers. First, you need to take a bus to Canas, then Tilaran, and then to La Fortuna.
From San Jose: It's about a three-and-a-half-hour drive from San Jose to La Fortuna, and the drive is beautiful. If you don't have a car, many shared shuttles are available, which should cost around $54, or you can book a private shuttle.
Public transport from San Jose is more accessible than from Liberia. There are direct public buses which should cost around $5 and take about five to six hours.
Flying: La Fortuna also has an airport with daily flights from the capital city, San José, and Quepos.
If you are going to Monteverde before or after La Fortuna, the best and fastest way to go is via a taxi boat across Arenal lake.
Where to stay in La Fortuna
Since La Fortuna is a popular spot for tourists, there's no shortage of places to stay for any budget. If you stay at one of the hotels and springs resorts, you'll get to use the hot springs.
Budget: Selina is a popular chain of hostels across Costa Rica geared towards digital nomads (they all have co-working spaces)! The Selina in La Fortuna is in a great location, right in the center of town, minutes away from many restaurants and shops.
Selina also has an on-site restaurant and bar next to a tranquil river. Plus a pool! They have a range of accommodation options, including dorms, privates, and these unique teepees.
Another great hostel that I stayed in during my first time in La Fortuna was Arenal Backpackers Resort. They have a large pool and social atmosphere where it's easy to meet other backpackers.
Mid-range: Hotel Monte Real is an excellent option for couples or friends looking for something quieter than a hostel. It borders a river and has its own forest and frog garden, along with an outdoor swimming pool.
Luxury: Tabacon Thermal Resort & Spa is one of the most luxurious hot spring resorts in La Fortuna. With some of the highest-rated reviews of any hotel in La Fortuna, you won't be disappointed with a stay here.
Find more accommodation options in La Fortuna.
Where to go after La Fortuna
If you're looking for more adventure and hiking, then head over to the cloud forest of Monteverde. It's relatively close, and you can get there quickly via a boat taxi.
If you're craving more sun and ocean, then go to Costa Rica's Pacific Coast. Tamarindo (on the Nicoya Peninsula) is about four hours away, while Manual Antonio will take five to six hours.
For more information on planning your trip to Costa Rica, check out my ultimate guide to backpacking Costa Rica.
I hope you found this post helpful in planning your trip to La Fortuna. If you have any questions about La Fortuna or Costa Rica in general, let me know in the comments below!
Found this post helpful? Pin it for later!