This post may contain affiliate links. By clicking and making a purchase through the links, I earn a small commission at no extra cost to you. This and display ads allows me to keep the site up to date and give back. Thanks for reading!
Newfoundland is a paradise for outdoor adventure seekers. With over 29,000 kilometers of coastline to explore, one of the best things to do is get out on the water and go sea kayaking in Newfoundland. Not to mention the rivers, lakes, and ponds – the opportunities for kayaking here are endless!
If you're visiting Newfoundland from away, it's unlikely you'll have taken your kayak on the plane with you but don't worry, there are plenty of amazing tour operators across the province offering sea kayaking tours and rentals. I've done my share of them, so I created this post to share the best Newfoundland sea kayaking experiences with you.
Where can you go sea kayaking in Newfoundland?
Newfoundland is surrounded by the ocean, so if you have your own kayak the options of where you can go sea kayaking are pretty limitless. However, if you're visiting from away and don't have your own kayak, you'll have to rent one or join a guided kayak tour, which limits your options. But there are quite a few places around the province where you can go on an amazing kayaking experience.
Sea Kayaking on the Bay of Exploits with Adventures Newfoundland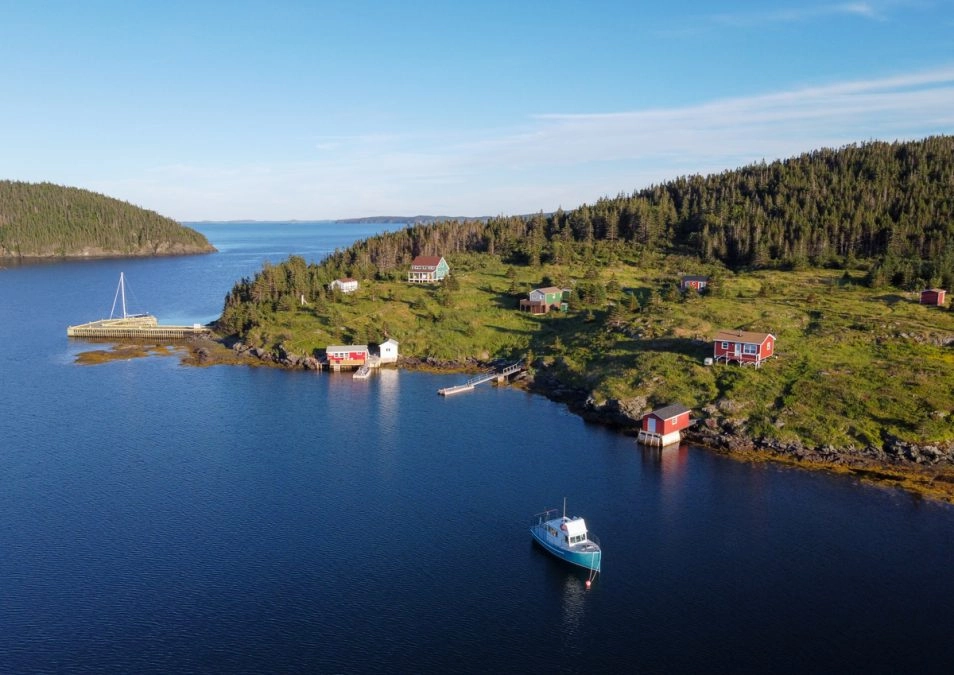 Central Newfoundland probably isn't the part of the province that comes to mind when you think of sea kayaking here, but it actually has some of the best on the island. This past summer I had the chance to finally explore Central Newfoundland on a FAM trip, which included a full day of sea kayaking at the Bay of Exploits with Adventures Newfoundland. Oh my goodness, this place is such a hidden gem!
Adventures Newfoundland does everything from half-day guided kayak tours to one-week expeditions where you can get truly lost in the wilderness. We just did a full-day trip around the Bay of Exploits, but I would love to come back and do a full expedition.
We met the owner, Paul Langdon, near Fortune Harbour where we took his boat to Exploits Islands. The boat ride was bumpy, but along the way, Paul pointed out some interesting looking rocks, which are actually 450 million-year-old lava pillow crusts along the way. Newfoundland never ceases to amaze me!
The plan was to spend the full day kayaking, but the weather was grey and windy, so Paul took us inside his cozy cabin to warm up with coffee and scones while we awaited for the weather to change, because in Newfoundland you can always count on that.
I'm glad we had the opportunity to sit down and talk with Paul because he is a wealth of knowledge of the history of the area. As he explained, long before the European settlers arrived in the area, the Beothuk Indians inhabited the land as it was a source of rich food needed to survive. However, once the Europeans came and discovered the resources of this area, conflict developed between them. As a result of this and diseases brought over by the Europeans, the Beothuk population became extinct (although this is still largely debated today). One of the amazing things about doing a sea kayaking tour with Adventures Newfoundland is that you can learn about the Beothuks and this history as you paddle the same waters that they did.
During the conversations, Paul told us about a lighthouse he was converting into a place to stay. I had to see it, so we hiked the old lighthouse from his place, which takes about an hour and ten minutes.
You can stay in the original lighthouse keepers home, which has been updated with modern features (although it's possibly still haunted). There are a ton of books there where you can learn more about the history of area, as well as old maps, paintings, and portraits of the lighthouse keepers over the years.
It's such a unique place to stay in Newfoundland! The home also has breathtaking views. It's set right on the coastline, and from the deck, you get amazing views of the Atlantic ocean and surrounding landscapes. During the summertime, it's an ideal place to spot whales.
After the lighthouse tour, we hiked back to the cabin and found the harbor full of sunshine and clear skies. As I said, the weather always changes in Newfoundland. Just wait.
We got into the kayaks and set off for a tour around the area. I was a bit worried that the ocean kayaking would be rough, but Paul's kayaks are top-quality and the bay is so sheltered that it was a breeze to cut through. My trave partner Matt may have also been kindly pulling the weight in our double kayak while I took photos, but he agreed that it was easy.
We paddled over to lower harbor where there is a graveyard where John Peyton is buried as well as a lookout you can walk up to get views of the areas. I couldn't get over how breathtaking this area is – it's one of the most beautiful places I've seen in Newfoundland! We ended the trip in a small cove where Paul brings people camping on his multi-day expeditions.
After the kayak tour we retreated back to the cabin where his wife Joanna had prepared a wonderful feed of salt fish cakes. We shared a cold beer while the sun went down. They are such a lovely couple who will make you feel right at home. At dusk, Paul took us home via boat with the sun setting while a bald eagle flew over. Newfoundland Magic!
Where to stay in Fortune Harbour
If you are joining a kayak tour with Adventures Newfoundland the best place to stay is in Fortune Harbor at the Gillepsie House. We were warmly greeted here by the owner Madonna, who cooked us a feed of freshly caught cod followed by an incredibly delicious partridgeberry cake. Well-fed, I slept like a rock in my cozy room with the sounds of the ocean and warm breeze blowing in my room that night. Madonna is such a gem, she even took us to see her neighbor's new Pygmy goats.
Click here to book a room at the Gillsepsie House
Sea Kayaking in St. John's Newfoundland
If you want to join a guided paddle near St. John's, Ocean Quest does a coastline kayaking tours which I took part in recently. It's a lovely paddle, you leave from the Sunset marina in Conception Bay South. We paddled past all the boats in the Marina, and along the coast where you can see different species of birds. The guide will take you kayaking into the open ocean which is so much fun to ride the waves!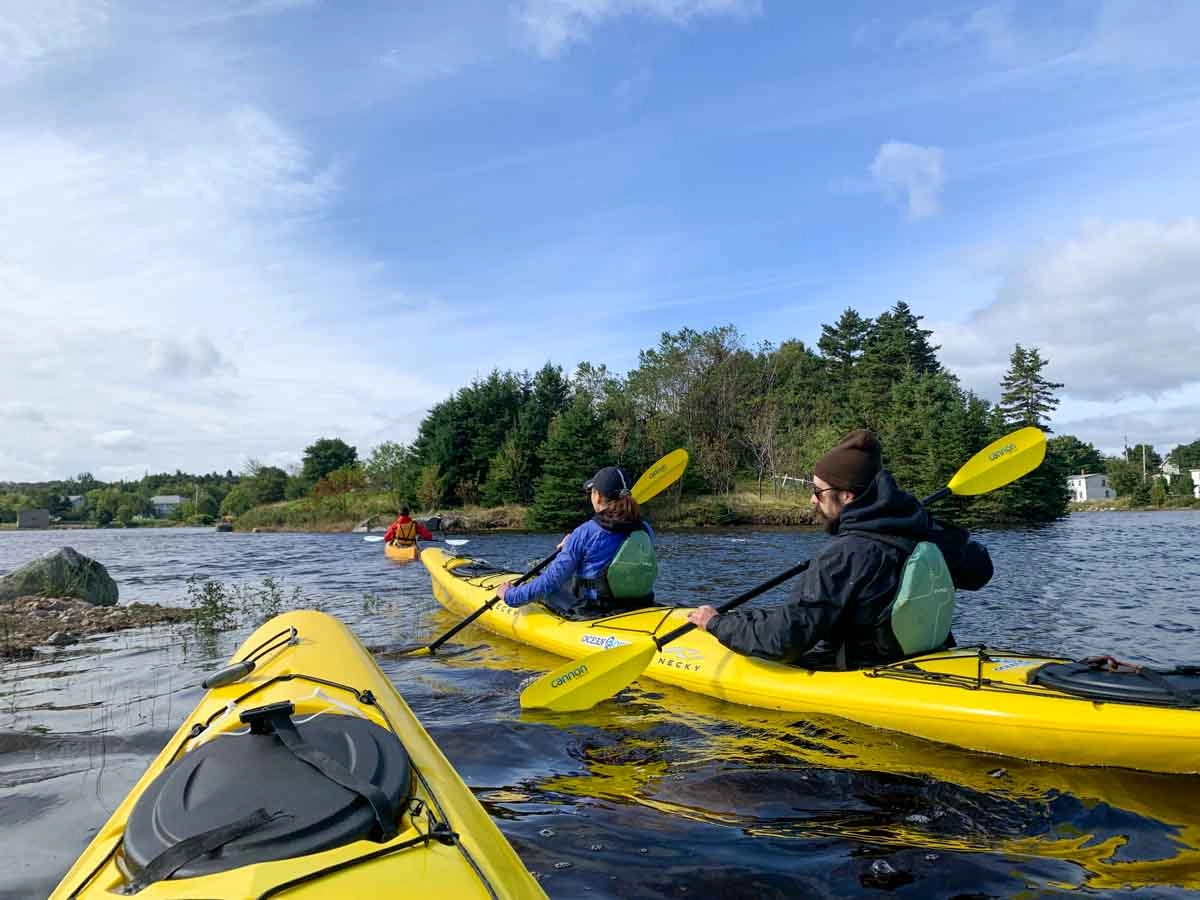 If you want to rent your own kayaks in St. John'ss, you can get them from The Outfitters which is located downtown St. John's on Water Street.
Trinity
Trinity is one of my favorite places in Newfoundland. It's not only incredibly charming, but it's also got a gorgeous coastline to explore.
Trinity Eco-Tours runs sea kayaking tours and if you time it with iceberg seasons you may be able to go sea kayaking with icebergs (the best time to see icebergs is in May). I haven't done kayaking here but I have taken boat tours along the coast here to see icebergs and it's so nice!
Click here to book a sea kayaking trip with icebergs in Trinity!
Sea Kayaking in Gros Morne National Park
Gros Morne National Park is one of the most beautiful places on the island and also the perfect place for outdoor adventures. While my favorite activity to do here is hiking, there is an ocean near the park and that means the opportunity to go sea kayaking.
If you're interested in joining a sea kayaking tour check out Gros Morne Adventures. They run family-friendly and two-hour paddles around Bonne Bay, where you can explore the coastline of the gorgeous fjords.
Twillingate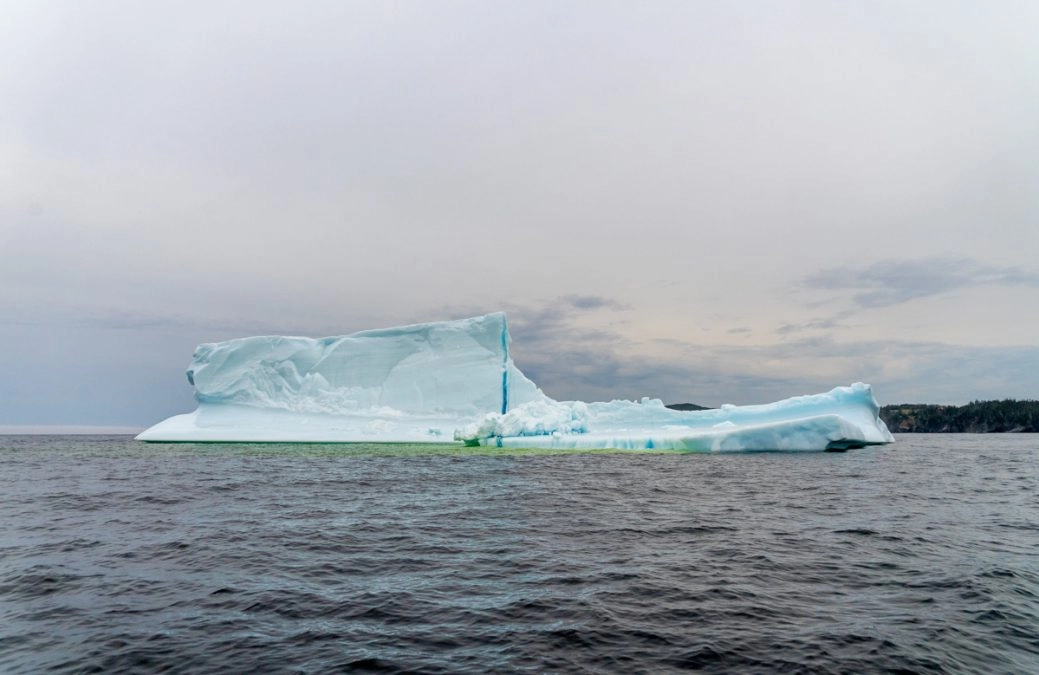 Twillingate is another magical town in Central Newfoundland. Not only does Twillingate have gorgeous coastlines, but it's part of Iceberg Alley which is one of the best places in the world to see icebergs. What makes Twillingate so special is that it's one of the few places in the world where kayaking and icebergs come together – for what's sure to be an exhilarating experience.
The peak time to see icebergs in Twillingate is in May, although they can sometimes linger into July. There is even an iceberg finder you can use to find them! But even without the icebergs, it's still worth going kayaking in Twillingate. The coastline here is just stunning! If you want to paddle along here, you can join a tour with Rock Adventures.
And yes, this is a safe activity. While icebergs are powerful and unpredictable, you can stay safe by keeping a respectable distance away – either twice the height or the length of the iceberg.
—
Sea kayaking is truly one of the best ways to experience the beauty that Newfoundland has to offer. The coastline is unparalleled to anywhere in the world, and there's no better way to appreciate that from on the water.
Enjoyed this post? Pin it for later!