This post may contain affiliate links. By clicking and making a purchase through the links, I earn a small commission at no extra cost to you. This and display ads allows me to keep the site up to date and give back. Thanks for reading!
Road to the beaches? Sign me up! I couldn't have picked a better place to start my road trip around Central Newfoundland. The Eastport Peninsula is home to some of Newfoundland's best beaches that will make you feel although you've been transported to the Caribbean. Top that off with amazing hiking trails and picturesque communities, the Eastport Peninsula makes a great weekend getaway.
This post will help you plan a perfect road trip through the road to the beaches, including tips on where to stay and what to do.
Getting to the Easport Peninsula
Eastport is three and a half hours from St. John's, making it the perfect weekend getaway destination. You'll get on the Trans Canada Highway 1 and drive for a couple of hours, where you'll eventually enter Terra Nova National Park. Look out for Moose! Continue driving and you'll see a turn off for highway 310 on the right, aka the road to the beaches.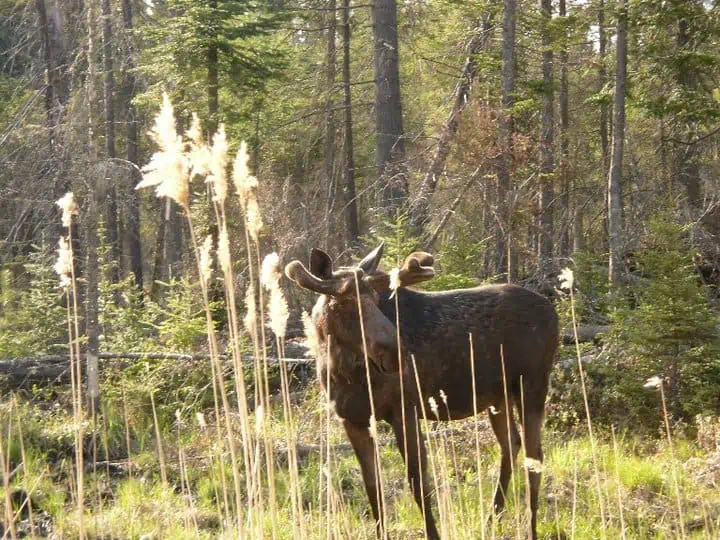 Where to Visit on the Eastport Peninisula
There are several charming communities to visit along the Eastport Peninsula. Once you turn onto Highway 310 you'll pass through Glovertown, Traytown, and Sandringham, eventually reaching Eastport.
Eastport is the main service centre for the peninsula, where you can find grocery stores, restaurants, service stations, and accommodations. It's also where you'll find the beaches' heritage centre.
Happy Adventure! – Yes, there is really a place named Happy Adventure in Newfoundland. It's right next to the ocean, and has great vantage points for whale watching.
I met my travel partner for the week, Matt from Adventure Central Newfoundland, at the Happy Adventure Inn for lunch. I was delighted to find out it's owned by Chucky, who ran one of my fave childhood fish and chips in St. John's. The food was just delicious as I remembered. In fact, it was better. The happy adventure inn and restaurant also has a gorgeous view overlooking the ocean.
At the bottom of the peninsula is Salvage, which may just be the most picturesque community in Newfoundland. I couldn't stop taking photos of all the reflecting sheds in the water! Salvage is the quintessential example of a Newfoundland fishing village.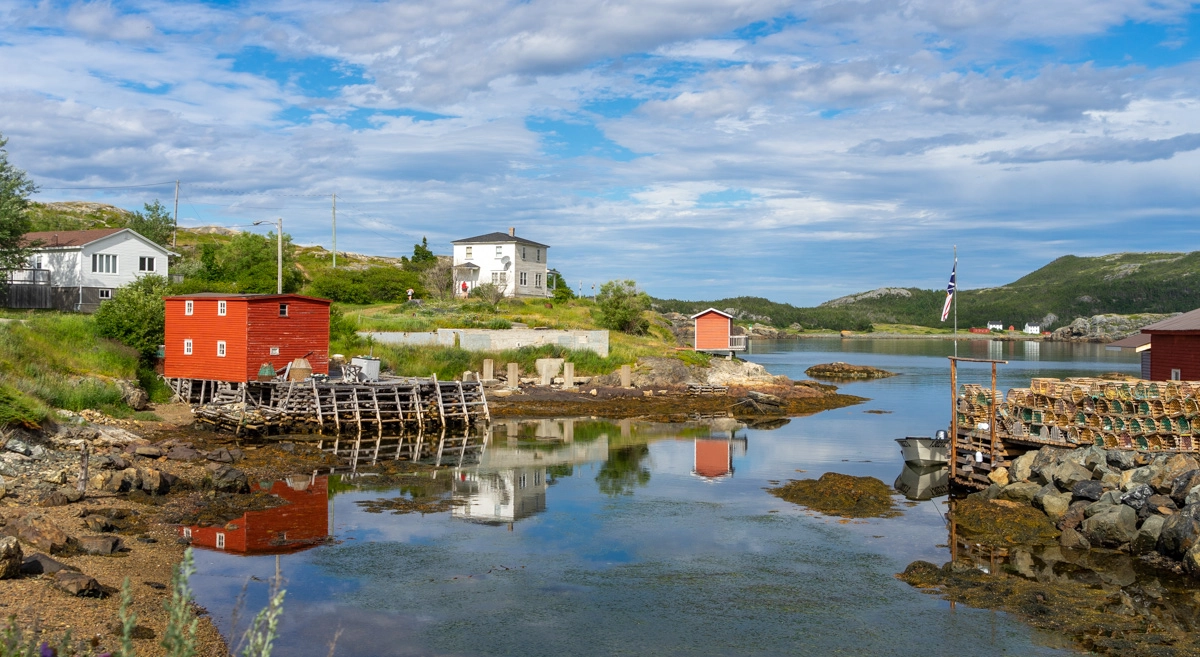 Sandy Cove is a small community near Happy Adventure. It was named for the wide beach at the bottom of the broad open cove. This is a great place to go hiking and swimming in either the ocean or Crooked Tree Park, which is a freshwater swimming hole.
Charlottetown is another community that's not on the Eastport peninsula, but nearby in Terra Nova National Park. It's a cute coastal community just minutes from the Trans Canada Highway.
Best Things to do Along the Road to the Beaches
Hiking
We spent an afternoon exploring the brand new Damnable Trail System, a network of over 30km of hiking trails along the Eastport Peninsula.
They've done an amazing job building the trails, which were largely developed from the remnants of old waking trails and hauling paths forged by the first settlers to the area. The trails were built with the principles of being both accessible and challenging so there are trails for all levels, including ones that are wheelchair accessible.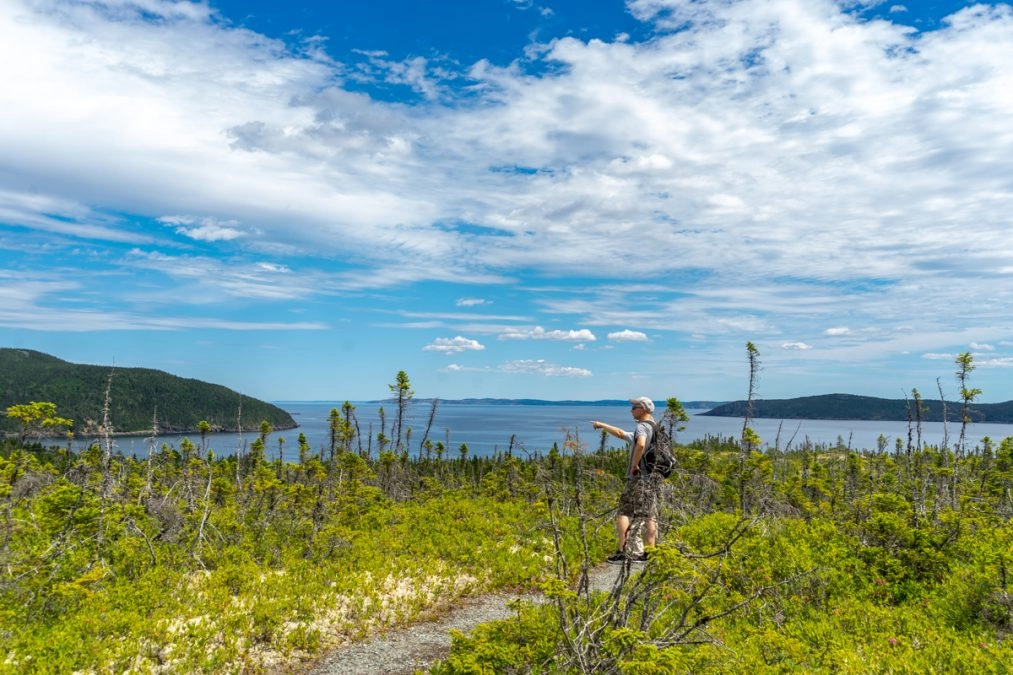 We started with the Old Schoolhouse trail, which goes through a boreal forest out to cliff edges looking over the ocean. A portion of this trail was once an old road that leads to a schoolhouse shared by both Sandy Cove and Happy Adventure. It's an easy trail and is just 2 km, making it a perfect quick hike to do in the area!
Next, we hiked a portion of the Salvage Trail, which takes you through the historic town of salvage with many off-shoot paths connecting you to lookouts. We took a section of the trail that starts right behind the fishing museum in Salvage, so we stopped in for a quick visit along the way.
The museum is pretty neat. It's an original home that was built in 1862. Inside there are still many antiques from that era, as well as photographs and death and birth records. From the museum, we hiked up one of the trail off-shoot paths which took us to a beautiful viewpoint of Salvage, and a historic graveyard.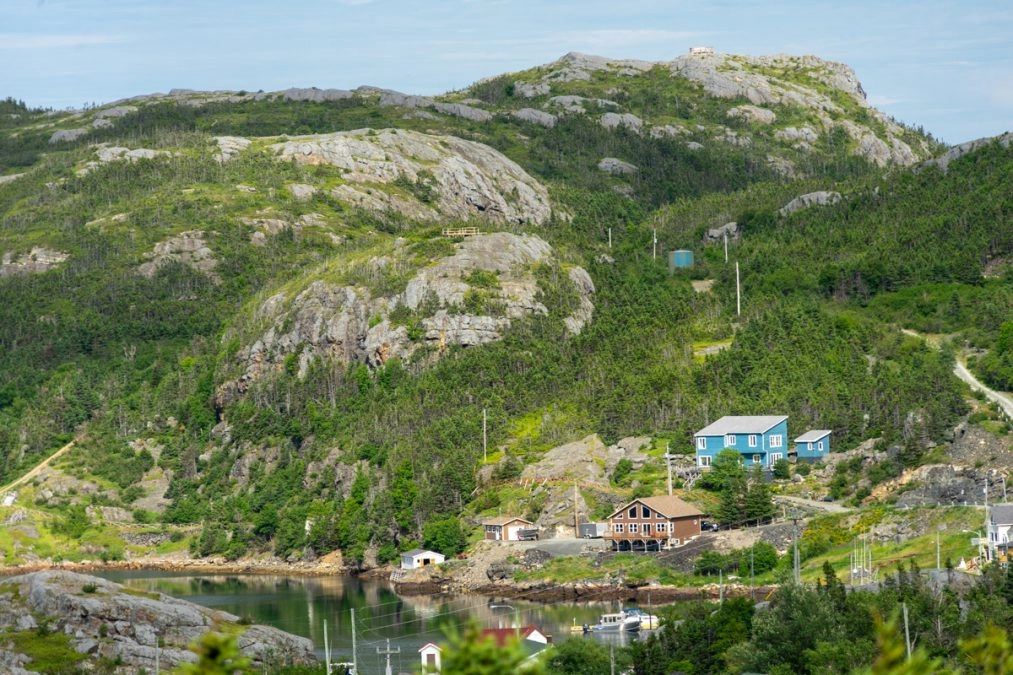 The longest trail on the Damnable trail network is the Coastal Ridge Trail, which is a continuous trail that runs between Sandy Cove Beach and Salvage. The trail is 14km and takes a minimum of six hours, so this is definitely a challenge. It's worth the efforts however, this trail passes through rugged terrain with spectacular views of the coast and surrounding islands. There is also a platform for camping along the trail if you want to spend the night.
The trails are a great compliment to those within Terra Nova National Park, which are mostly inland trails. The ones you'll find on the Damnable network have gorgeous coastal views, where you can sometimes spot whales in the summer!
Another great place you can go hiking on the Eastport Peninsula is at the Ken Diamond Memorial Park in Glovertown, which has several km of walking and hiking trails.
Explore The Beaches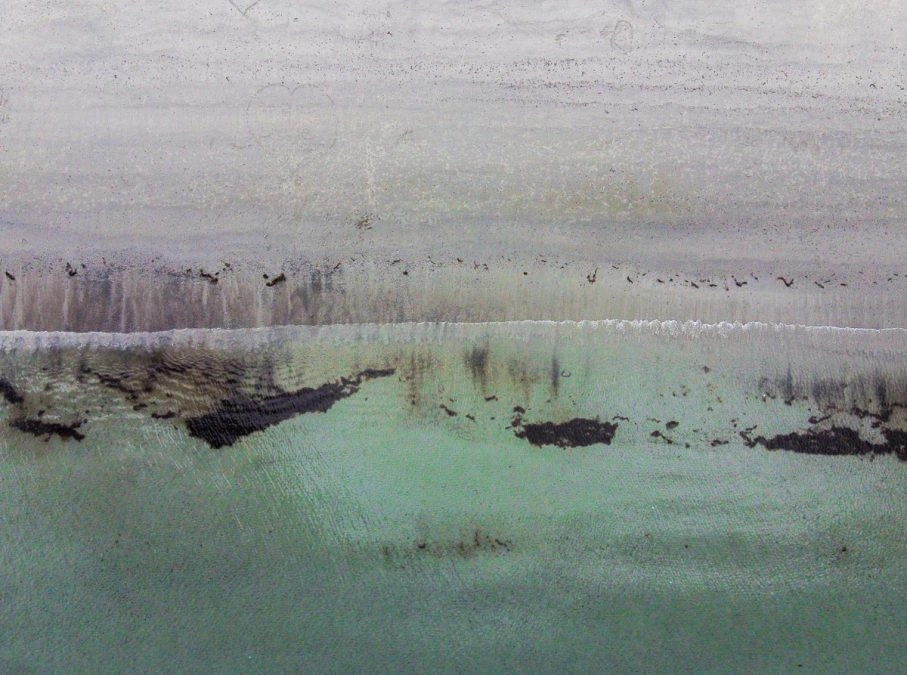 This is the road to the beaches after all! That's right, Newfoundland is home to some beautiful sandy beaches, it's not all rocky ones. I actually remember coming here as a kid with my family and have such fond memories of building sandcastles.
There are two beaches in Eastport – Northside beach and Eastport beach, which is located centrally. Northside is more secluded.
After hiking on the Damnable trail system, we went to Eastport Beach to cool off. It was a little late in the day (okay I'm a wuss) so I only made it about halfway in the water, but Matt got right in! Typically the ocean in Newfoundland is frigid, so to go in the water at all is a miracle to me.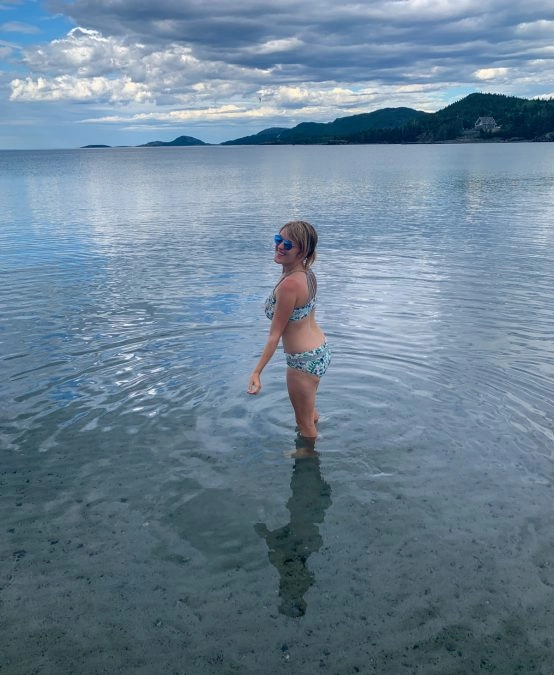 Like all of Newfoundland, you'll never know who you'll meet hanging out on the beach. While at Eastport beach a dog ran over to me which of course I started petting. Shortly after his owner came and sat near us with a box, then asked us if we were allergic to chickens. What a strange question to ask, I half expected him to pull out a BBQ chicken. Instead, a dozen or so baby chicks came out!
I was so intrigued that I had to ask him about it (okay I also just wanted to play with the chicks). He told me that he just got the chickens and that he can't leave them at home! This guy was a character, he even brings his chicks on his boat. It's the silliest thing I've ever seen at a beach, but I was delighted to be able to play with the baby chicks. The cutest part was that the doggo was very protective of the chicks!
There's another beautiful beach in Sandy Cove named Sandy Cove Beach, which is in a sheltered cove. There's also a freshwater swimming hole in Sandy Cove called Crooked Tree that was sadly closed this year due to covid, but I've heard wonderful things about it.
Other Things to do on The Eastport Peninsula
In non-covid times, the road to the beaches is a hub for festivals throughout the summer. During the last weekend of July/first weekend of August, the annual Sea Fest is held on Eastport Beach. If you're planning a future trip, be sure to check out the event calendar to see what's on!
Explore the Resettled Communities – Bonavista Bay was once home to many populated islands, but in the 1960s and 70's the Newfoundland government encouraged those communities to resettle into larger growing one. As a result, all of these once settled islands are now uninhabited with the exception of St. Brendan's island. If you're interested in learning more about this part of Newfoundland's history, Hare Bay Adventures offers a resettlement tour.
Arts & Culture – Check out the Beaches Arts and Heritage Center in Eastport, which is a cultural and performing arts centre that offers a wide variety of performances, concerts and festivals, visual art exhibits, presentations and workshops.
Where to Stay on the Eastport Peninsula
After spending the day in various communities along the Eastport Peninsula, we headed back to Charlottetown to stay at the Clode Sound Motel. They rent private cabins with kitchens inside them, which is perfect if you want to cook for yourself. If not, there's a restaurant inside the motel and the food is delicious. I highly recommend the cod au gratin! There's also an outdoor heated pool here.
Happy Adventure Inn – I mentioned this place earlier, as we had lunch at the restaurant. I haven't actually stayed here but have heard positive reviews from others, and can vouch for their delicious food and amazing view!
If you want to camp, you can stay inside Terra Nova National Park. There are both backcountry and front-country campsites available, you can reserve online here.
—
Next time you need your beach fix in Newfoundland, no need to leave the province. Just head to the road to the beaches!
Big Thanks to Adventure Central Newfoundland / Newfoundland and Labrador Tourism for making my trip here possible. As always, all opinions are my own.
Traveling Newfoundland? Don't miss these posts!