This post may contain affiliate links. By clicking and making a purchase through the links, I earn a small commission at no extra cost to you. See my disclaimer for more information. This and display ads allow me to keep the site up to date and give back.
The best laptops for remote working are reliable, lightweight, and efficient. Whether you're working from home or living abroad as a digital nomad, you'll need a quality laptop to do your remote job.
Remote working has a lot of benefits, such as the freedom to work from any location and to pick your work hours. And a wide variety of job roles are suitable for remote work, like freelance writers, virtual assistants, or graphic designers.
But all these jobs require the right tools, and a good laptop is vital for most remote workers.
The laptop you choose doesn't necessarily need to be the most expensive laptop or the latest model with all the latest advanced features. But it does need to be powerful enough to carry out the tasks that your job entails, and it also needs to be priced within your budget.
So whether you want a budget laptop to handle content creation and word processing, or a high-spec machine with the latest technology to carry out complex graphic design tasks, this guide will help you to find the right laptop for remote work.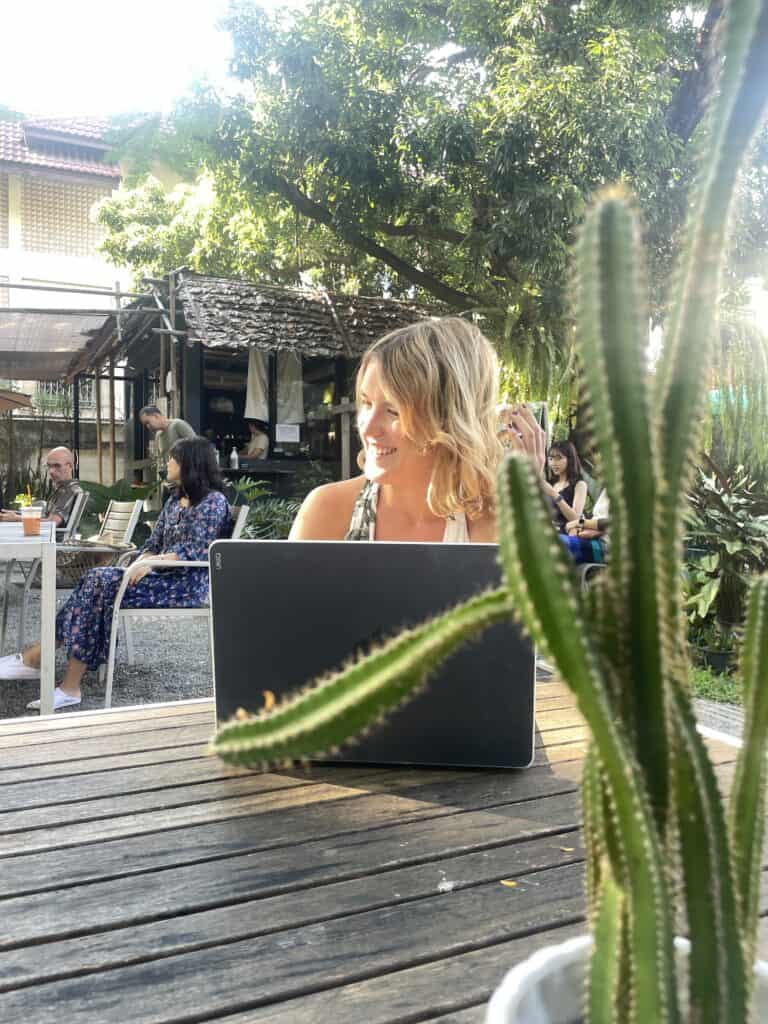 Features to consider when choosing laptops for remote working
When deciding on the best laptop for remote work, there are a few specifications to bear in mind, and you will likely have to prioritize certain features within your price range.
If you are looking for the best budget laptop for remote work, you can still find plenty of laptops with good specifications, especially if you're willing to buy one that isn't the latest model.
Operating system
Which do you prefer: Windows or Apple macOS? This is the first thing you need to decide about your new laptop for remote work. Business users generally pick Windows laptops, while creative professionals often love Apple products.
As a travel content creator, I use and love Apple products.
If you don't need to install any software on your laptop, a Chromebook could be a more affordable option. It will still allow you to check emails and browse the web.
Processor
The processor (or CPU) is the component that performs commands on your computer, so the faster the processor, the better performance you will see. But at the same time, your high-performance laptop is likely to be more expensive.
For graphic design or video editing tasks, you should buy a faster processor like the Mac M1 or an Intel Core i7. But if you will mainly use your new laptop for web-based word processing and checking emails, you could save money by buying a less powerful processor like an Intel Core i5.
Size and Weight
A heavy laptop isn't ideal for remote work, especially if you intend to work from different locations and need to move around with your laptop.
Slimmer, lighter laptops are often more expensive as they use high-end components to keep the weight down, and larger screen sizes will tend to weigh more.
RAM
RAM, or Random Access Memory, is the quick access space that your computer uses to process data. So it's essential to have enough memory for the type of work that you want your laptop to carry out.
8GB should be enough for basic office work, but you will need more if you run multiple programs simultaneously or use software for video editing or graphic design.
Some laptops will let you add extra RAM in the future, but others have the chips soldered in, which means you can't expand the RAM.
Storage
The hard disk, or storage, is where your laptop keeps your program files and documents. There are two types of storage: a traditional hard drive (HDD) and a solid-state drive (SSD). An SSD is an excellent choice because it is faster than an HDD, but that also makes them more expensive.
128GB is enough storage capacity for most remote workers. If you need more than that, you can buy a laptop with more storage capacity onboard or store your files on the cloud or an external hard drive.
Screen Size and Quality
If you're spending hours looking at your laptop screen, it's important to choose a type of laptop with a good-quality screen. Higher resolution screens will help you to avoid eye strain, and Apple products are known for their excellent displays.
Graphics Card
Most modern laptops have integrated graphics cards that will be sufficient for most remote workers. If you're planning to use your laptop for graphic design or video editing, you should check that your graphics and video cards are suitable for the task.
Battery Life
Long battery life is an essential feature for remote workers. The latest laptops have batteries that can last as long as 20 hours, but six to eight hours should be your absolute minimum.
Webcam
The increased importance of Zoom calls, video conferencing, and streaming means that web cameras are now a vital feature on many laptops for remote workers. Be sure your webcam is suitable for your needs; if you only use it for Zoom calls, you don't need a 4K webcam.
Functionality
Make sure that your type of laptop has all the functionality you need. You might want a headphone jack, USB ports to connect external devices, and an SD card slot to quickly transfer photos from your DSLR camera.
If your type of work involves photo or video editing, you might need to connect an external display via HDMI.
Price
Of course, it's vital to consider how much you are willing to spend on a laptop for remote work. If you have a large budget, you can get a top-of-the-range laptop, but you can also get a good laptop for office tasks for under $500.
Your goal should be to find a laptop with as many of the features on your wishlist as possible but without breaking your budget.
The best laptops for remote work
Once you know the specification you're looking for, it's time to go shopping. Here's an overview of the best laptops for digital nomads.
Apple MacBook Pro
If you have a generous budget and want a top-of-the-range laptop that can handle intensive processing tasks, the MacBook Pro is an ideal choice.
It comes in a range of screen sizes and configurations, and its high-speed processing will handle just about any task. The Retina display looks fantastic, and the Magic Keyboard and Touch ID manage standard functions with a single keystroke.
The Apple MacBook Pro is a high-end laptop that is beloved by creative professionals. Its power and versatility make the higher price tag worthwhile for remote workers who are graphic designers or video editors.
The price tag might make you wince, but the strength and adaptability of the MacBook Pro mean that it's worth considering.
It's the laptop I've been using for the last four years, and it meets all my needs as a travel content creator.
Specification
Processor M1 Pro or M1 Max
Display Up to 16 inches
Memory Up to 64 GB
Storage Up to 8TB superfast SSD
Weight 1.3 – 2.2 kilograms
Battery Life 17 – 21 hours
Pros
Powerful processor and graphics card
Long battery life and fast charging
Liquid Retina XDR display has excellent resolution
Includes 1080p HD webcam
Light and slim
Cons
High price range
No ability to expand storage or RAM
Faster charging is not available on the entry-level model
Scrolling can be slow
Microsoft Surface Book 3
If you prefer to avoid Apple devices, the Microsoft Surface laptop is a high-performance Windows laptop that can handle most remote work tasks.
It's small and sleek with a touchscreen display and detachable keyboard, which means you can use it as a tablet as well as a laptop.
The Surface Book 3 has enough processing power, RAM, and storage for most remote workers, and its 15.5 hours battery life makes it ideal for working on the move. You can choose from two screen sizes, and it's great for sketching and drawing as well as standard office work.
Specification
Processor 10th Gen Intel Core i7 quad-core CPU
Display Up to 15 inches
Memory Up to 32 GB
Storage Up to 512GB SSD
Weight 1.9 – 2.25 kilograms
Battery Life 15.5 – 17.5 hours
Pros
Incredible performance that can handle most software
High-quality display
Touchscreen and detachable keyboard give great versatility
Long battery life
Cons
Detaching the screen reduces battery life, as the main battery is housed on the keyboard.
Expensive compared to other laptops with a similar spec
Apple MacBook Air M1
The Apple MacBook Air M1 is the best option for remote workers who want to work on an Apple device but don't have the budget for a MacBook Pro.
It's Apple's thinnest and lightest laptop so far, which makes it particularly great for digital nomads. But the M1 chip packs plenty of processing power into the sleek aluminum case.
The fantastic Retina display offers 2560 x 1600 resolution, which looks terrific, and the high-quality HD webcam is ideal for Zoom calls and video conferencing. And the low weight and long-lasting battery make the new MacBook Air a perfect laptop to throw in a bag and head off to work in a local coffee shop or bar.
With up to 24GB of RAM and up to 512GB SSD storage, the MacBook Air will easily handle document processing and light photo editing. But this laptop may not meet your requirements if your remote work involves intensive photo editing or video editing.
Specifications:
Processor Apple M1 chip
Display 13.3-inch
Memory 8 GB – 32GB
Hard drive 256 GB – 512 GB
Weight 1.24kg
Battery Life 18 hours
Pros
Excellent processing and graphics capabilities
Thin, lightweight, and easily transportable
Useful battery life
Clear and vivid Retina display
Cons
Expensive
Not possible to upgrade RAM or storage
Only 2 USB-C ports
Microsoft Surface Pro 7
The Microsoft Surface Pro 7 is a high-quality tablet with an external keyboard, which offers real competition to Mac laptops. The Intel Core i5 processor and SSD hard drive make it suitable for most office tasks and it's lightweight enough to fit easily in your bag.
Combined with a high-resolution touch screen display, the Surface Pro 7 will suit many remote workers except those carrying out high-end graphics tasks. It is also at the more affordable end of the price range for laptops.
Specification
Processor Intel Core i5
Memory Up 16GB
Storage Up to 1TB SSD
Display 12.3"
Weight 0.77 kilograms
Battery life Up to 10.5 hours
Pros
Solid processing capability
Lightweight and slim
Touchscreen display
Affordable pricing
Cons
The external keyboard cover and Surface pen are additional costs
Battery life is not as good as other laptops
Dated design
Lenovo IdeaPad 5i
The Lenovo IdeaPad 5i is a mid-range laptop that is a good option for many remote workers. It has an Intel Core 5i processor, 8GB of memory, and a massive 1TB SSD hard drive, making it ideal for many remote working jobs.
The Lenovo IdeaPad 5i has a 16″ HD display, 11-hour battery life, and valuable features like an SD card reader and fingerprint reader. It's a solid laptop for remote workers at a very reasonable price.
Of course, you will have to compromise on specifications when you pay a lower price. This laptop only has a 720p webcam, and at 1.75kg, it's a little heavier than some of the other laptops in this guide. But if you're willing to accept those compromises, this is an excellent laptop in the budget-friendly range.
Specifications:
Processor Intel Core i5
RAM 8 GB
Storage 1TB SSD
Display 16"
Weight 1.75kg
Battery life 10 hours
Pros
Decent processing power
Large HD screen
Separate number pad makes data entry easier
Great specification for the price
Cons
Large chassis may be bulky for travel
RAM may not be sufficient for some tasks
Google PixelBook Go
The Google PixelBook Go is a Chromebook that runs on Chrome OS. There are some advantages to a Chromebook: they're affordable, lightweight, fast, and secure. But there are also some disadvantages, particularly the inability to install software on them.
So if you do your remote work in the cloud, using Google Workspace or similar, a Chromebook might be a good choice. However, if your remote work requires you to install software like Adobe Photoshop or you don't have access to a reliable internet connection, you will not be able to use a Chromebook.
The Google PixelBook Go is a fast, reliable, and lightweight Chromebook with excellent processing power and plenty of storage. There is a range of specifications, including one with a fantastic 4K Ultra HD Molecular Display.
If you don't need a high-specification laptop for your remote work, and you have a stable internet connection, this could be a great option for you.
Specification
Processor 8th Gen Intel® Core™ m3, i5 or i7 processor
RAM 8GB – 16 GB
Storage 128GB – 256GB SSD
Display 13.3″ touchscreen display
Weight 1kg
Battery life Up to 12 hours
Pros:
Solid processing power
Portable and lightweight laptop
Excellent display options
Good battery life
Cons:
Expensive compared to non-Google Chromebooks
No ability to install software
No internal SD card reader
Acer Aspire 5
The Acer Aspire 5 gives you good technical specifications at a reasonable price, making it an affordable option that's suitable for most remote workers.
Depending on your budget, you can choose from Intel Core i5 or i7 processors, and the range offers 8GB RAM, which is expandable. The 256 SSD hard drive and 15.6″ full HD screen will be sufficient for most remote workers.
This model is priced very competitively, so it's ideal if you're just getting started in remote work.
Specifications:
Processor Intel Core i5 or i7 processor
RAM 8GB expandable
Storage 256GB SSD
Display 15.6″ HD display
Weight 1.65 kg
Battery life 8.5 hours
Pros
Good specification at a competitive price
Large HD screen
Expandable RAM allows you to update in the future
USB-C and HDMI ports for connecting external devices
Cons
Web browsing can be slow
Low battery life may be a problem for remote workers
Embedded battery can not be replaced in the future
Acer Swift 3
With a powerful Intel Core i7 processor and an amazing 2K (2256 x 1504) 13.5″ screen, the Acer Swift 3 is a great laptop at a surprisingly affordable price. The specification also includes 8GB of memory and a beefy 512GB SSD, making this laptop suitable for many remote workers.
The Acer Swift 3 also has an impressive 14-hour battery life and weighs in at just 1.18kg, making it ideal for digital nomads and remote workers on the move. And there are even additional features like Windows Hello and Acer Bio-Protection Fingerprint Solution to keep your remote work laptop secure.
The Acer Swift 3 packs a big punch for a mid-range price tag and will satisfy many digital nomads and remote workers.
Specifications:
Processor Intel Core i7
RAM 8 GB
Hard Drive 512 GB
Display 13.5 2K screen
Weight 1.18kg
Battery Life Up to 14 hours
Pros
Great specification at an affordable price
One of the best-performing laptops in this price range
Lightweight design
Great battery life ideal for remote work
Cons
RAM can't be expanded
Speaker quality isn't great
HP Envy 15T X360
The HP Envy 15T X360 is a high-specification machine that you can use as a regular laptop or flip over to use as a tablet. It comes with a stylus pen for drawing or taking notes on the 15.6″ edge-to-edge touchscreen display and has an 11th-Generation Intel Core i7 processor.
Combined with 16GB RAM and 1TB SSD hard drive, it has the processing power and storage you'd expect from a laptop at the top end of the market.
The HP Envy 15T X360 is one of the most versatile and powerful laptops on the market. It is undoubtedly one of the best laptops for remote working.
Of course, the HP Envy 15T X360 comes in at a higher price than some of the other laptops in this guide. But with its sleek aluminum case, backlit keyboard, and separate number pad, you get a lot of laptop for your money.
Specifications
Processor 11th Generation Intel Core i7
RAM 16 GB
Hard Drive 1TB SSD
Display 15.6″ touchscreen display
Weight 1.97kg
Battery Life Up to 10 hours
Pros
Fast Intel i7 processor and plenty of RAM for excellent processing power
Doubles as a tablet
Good battery life
Cons
Expensive compared to some of the other Windows laptops
Heavy laptop may not be ideal for travel
Dell XPS 13
Dell laptops offer impressive specifications in a compact chassis, and the Dell XPS 13 could be the best laptop for remote workers, but it does come at a higher price.
The slim, lightweight laptop houses a powerful Intel Core i7 processor, 16GB RAM, and 512 SSD. You also get a crystal clear 13.3″ FHD display and a high-quality webcam, making it ideal for remote workers who need to jump on a Zoom call regularly. This is a premium laptop with USB-C, Bluetooth, WiFi-6, a microSD reader, and up to 12 hours of battery life.
It also weighs a slim 1.28kg, which is another reason why the Dell XPS 13 is one of the best laptops for remote working.
Specifications:
Processor 11th Generation Intel Core i7
RAM 16 GB
Hard Drive 512GB SSD
Display 15.6″ FHD screen
Weight 1.28kg
Battery Life Up to 12 hours
Pros
Great processing power, memory, and storage
Enough battery life for a full day of remote work
Slim and light, perfect if you're on the move
Sleek design looks fantastic
Cons
Average webcam
Limited port selection
Relatively expensive compared to other Windows laptops
–
So now you know all the details and specifications of the best laptops for remote working.
Whether you choose a high-end MacBook with intensive processing power, a versatile Microsoft Surface Book 3, or a budget-friendly Acer Aspire 5, I hope this list could help you find the ideal laptop for your remote work journey.
Jumping into the digital nomad lifestyle? Don't miss these posts!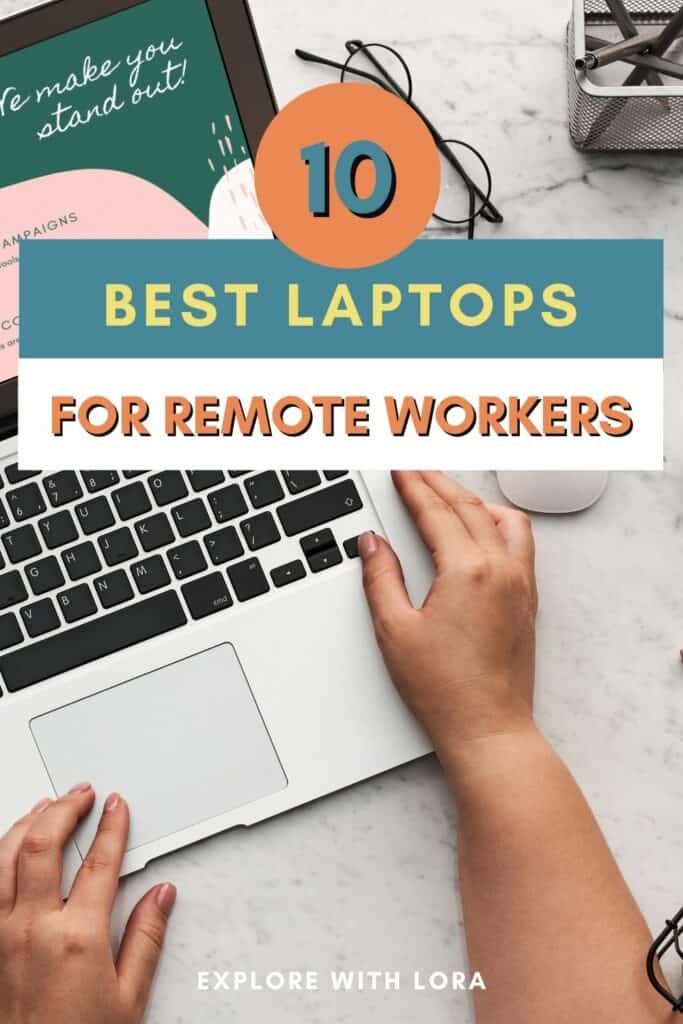 (3023 words)
Feedback
Include keyword in first 160 characters (ideally in first sentence)
Don't need conclusion heading – just seperate by –
Double check word count I asked for: