This post may contain affiliate links. By clicking and making a purchase through the links, I earn a small commission at no extra cost to you. See my disclaimer for more information. This and display ads allow me to keep the site up to date and give back.
Looking for unique places to stay in Newfoundland? I've got you covered. From 1800's historic homes to working lighthouses, these are the best Newfoundland accommodations.
Newfoundland and Labrador is one of the most unique places to visit in Canada, so you'll want somewhere equally special to stay to complement your time. In this guide, I've rounded up the best places to stay from east to west to make your planning a little easier.
Where to Stay In Newfoundland
Where to stay in St. John's Newfoundland
Most people visiting Newfoundland start their trip in St. John's, as this is where the international airport (YYT) is. It's the capital city, my hometown, and charming AF.
The best area to stay in St. John's Newfoundland is downtown, as this is where many of the attractions and top things to do are. It's where you'll find 'jellybean row,' which is the name for the colorful rows of lined houses that lead their way down the steep hills to the harbor.
Here are the top places to stay in St. John's Newfoundland:
Budget Option: City Hostel
This cute hostel is a great option if you are traveling solo in St. John's. It's centrally located downtown in a colorful row house, so you'll be within walking distance to museums, restaurants, and shops.
It's owned by two travelers who have created a friendly ambiance where you get local insider information. It may be one of few hostels in Newfoundland, but it's got an excellent reputation.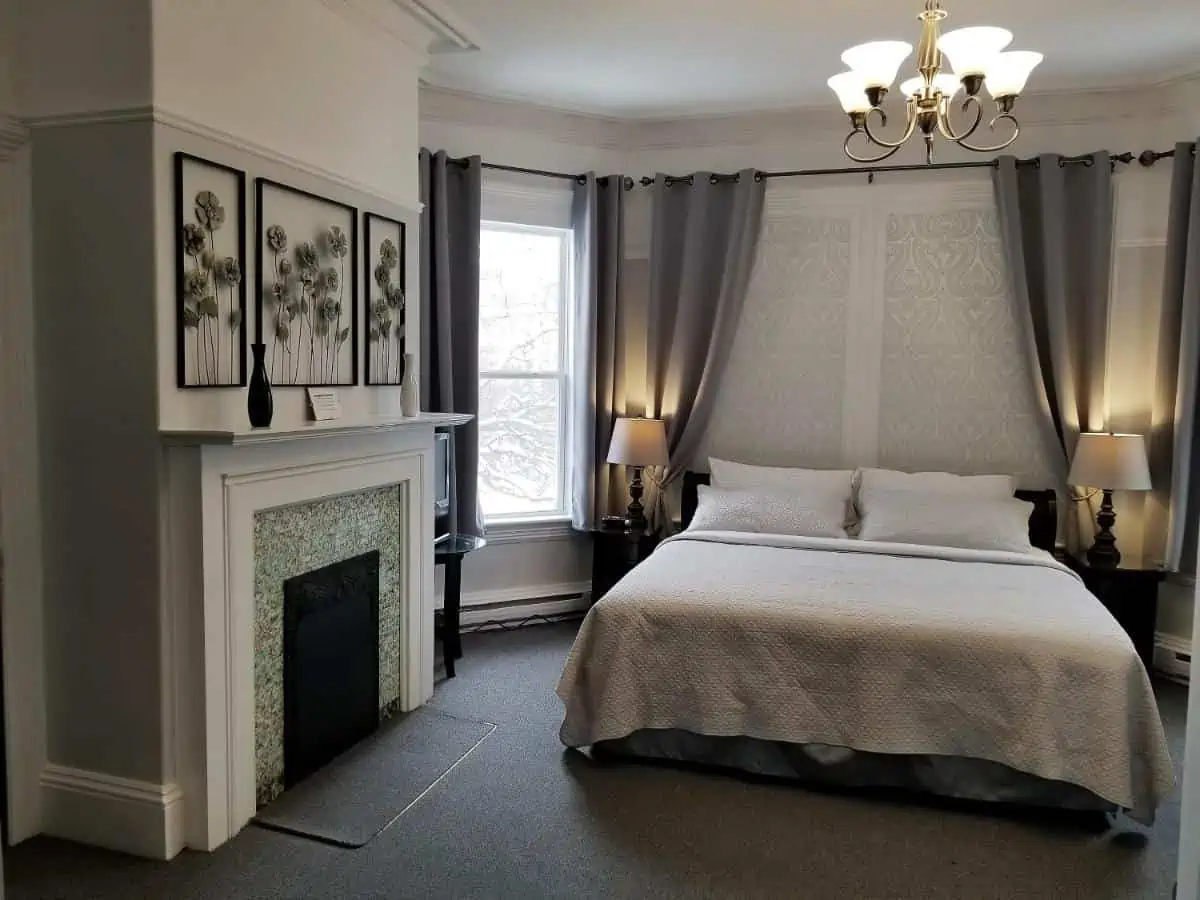 Cabot Boutique Hotel is a beautiful B&B in Georgetown, one of my favorite neighborhoods in St. John's. It's a historic home with several beautifully designed rooms – some with a hot tub!
You'll be right around the corner from the Georgetown Bakery, which has the best bagels in town.
The Alt Hotel offers affordable stays that feel like luxury. The decor inside the rooms is adorable, just look at that puffin wall! Some rooms face the harbor, offering amazing views and natural light.
Other perks include an on-site gym, friendly staff with local knowledge, a pet-friendly policy, and no check-out time, which means you can party on George Street for as long as you like!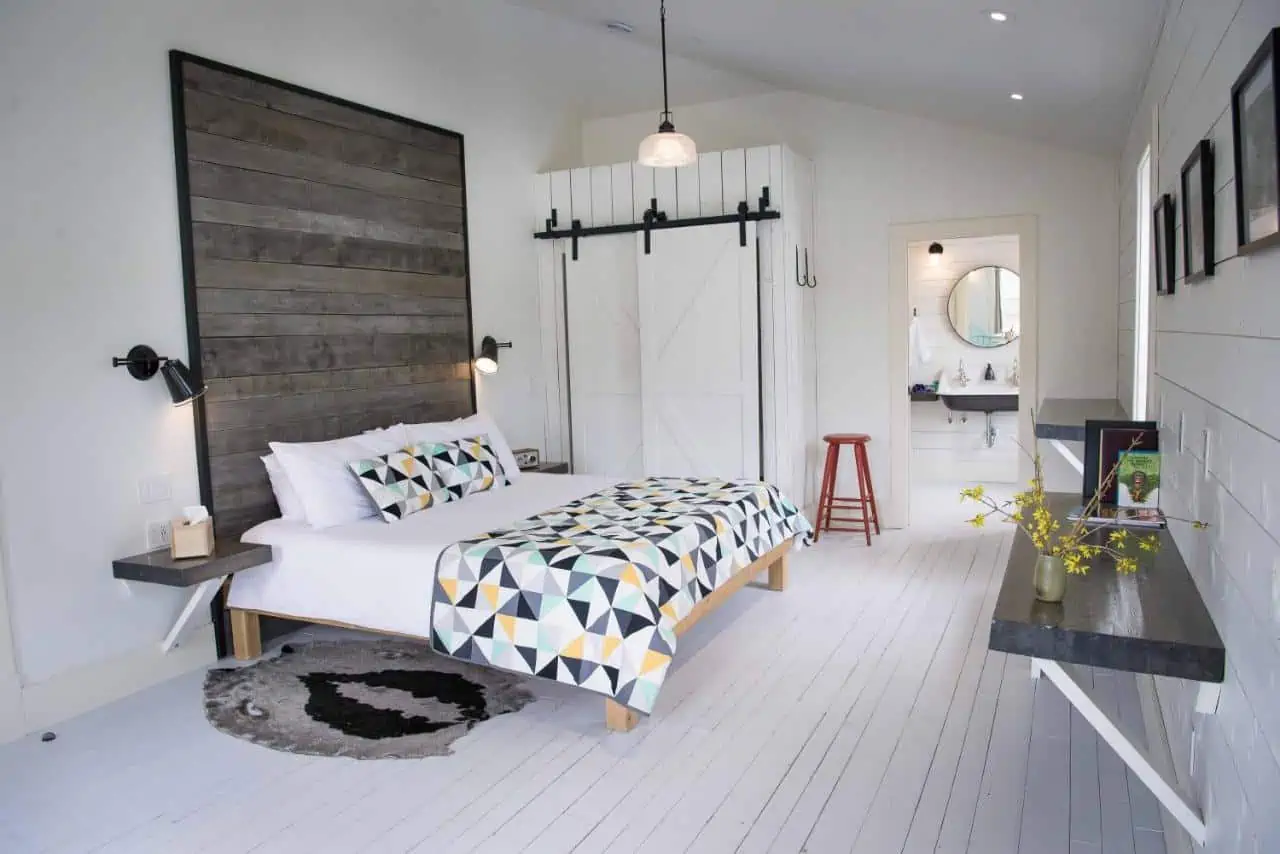 Quidi Vidi Village is one of the quaintest places to stay in St. John's. It's a small fishing village with its own atmosphere, yet still just minutes walking distance to downtown.
The best place to stay here is The Inn By Mallard Cottage. The guest houses have a design influenced by rural Newfoundland, appointed with local furnishings and decor that create an inspiring stay. And you'll be right next door to the Mallard Cottage restaurant, which has the best brunch in the city.
If you're looking for hotels in St. John's near the airport, check out the Holiday Inn Express or Comfort Hotel. The airport is only a 15 minutes drive from downtown, however, so stay downtown if you can as there isn't much to do by the airport.
Places to stay in Trinity NL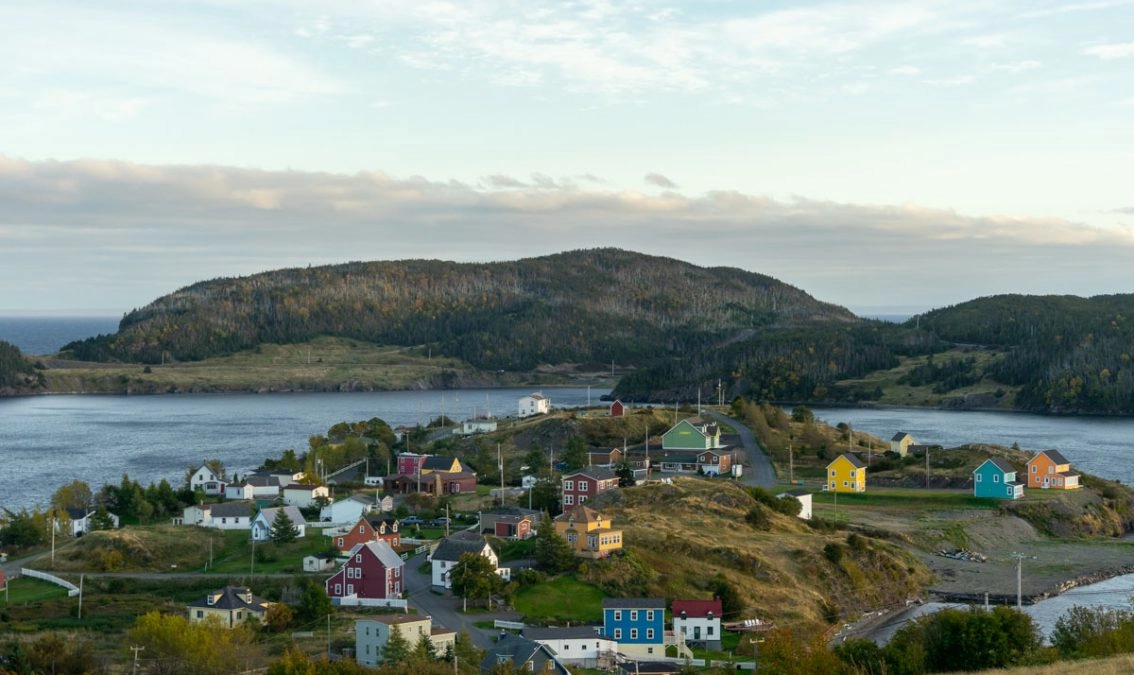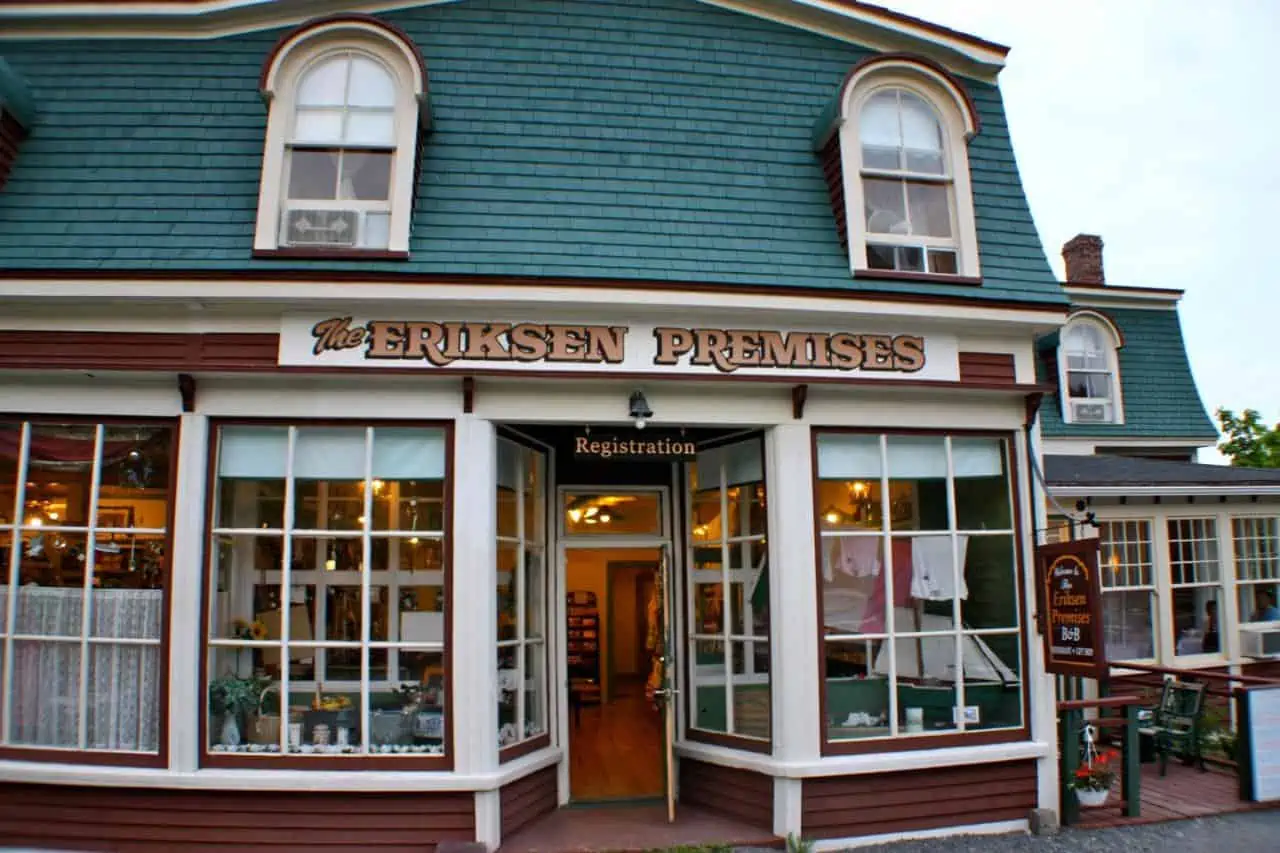 Trinity is full of charming historical homes and you can stay in one at the Eriksen Premises. This 1800s home operated for almost a century as a general store! In the early 1990s, it was restored to house a country inn and today operates as a guesthouse and restaurant.
It features 7 tastefully appointed guest rooms, as well as a casual fine dining restaurant and a gift store with locally made preserves, crafts, jewelry, & artwork. The location is perfect, right in the center of historic Trinity.
Places to stay in Bonavista NL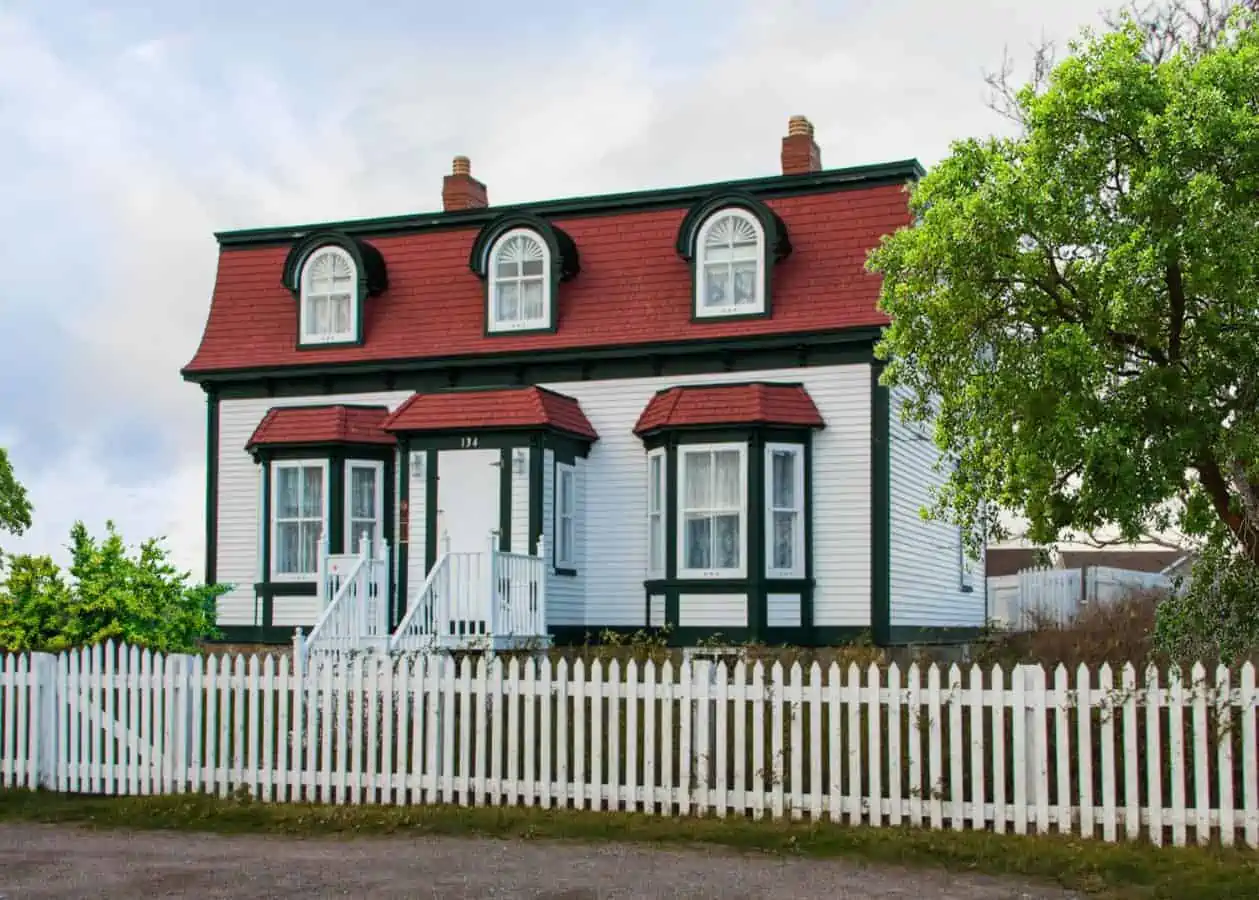 Further down the peninsula from Trinity is the town of Bonavista, which is one of the best places to see puffins in Newfoundland. It's worth spending a couple of nights here at one of the quaint accommodations.
Russeltown Inn is a beautifully restored 1887 Registered Heritage Home that's located in the heart of Bonavista. The property has been completely restored while still maintaining its historic charm.
Inside, you'll find a tasteful mix of vintage and modern furnishings, local art hanging on the walls, and comfortable king-sized beds for drifting off to sleep after a day of sightseeing.
Places to stay in Twillingate
Twillingate is one of the most magical towns in Newfoundland. From iceberg hunting to whale watching and beach boil-ups, there are so many fun things to do here. To compliment your time, you'll want an equally amazing place to stay in Twillingate.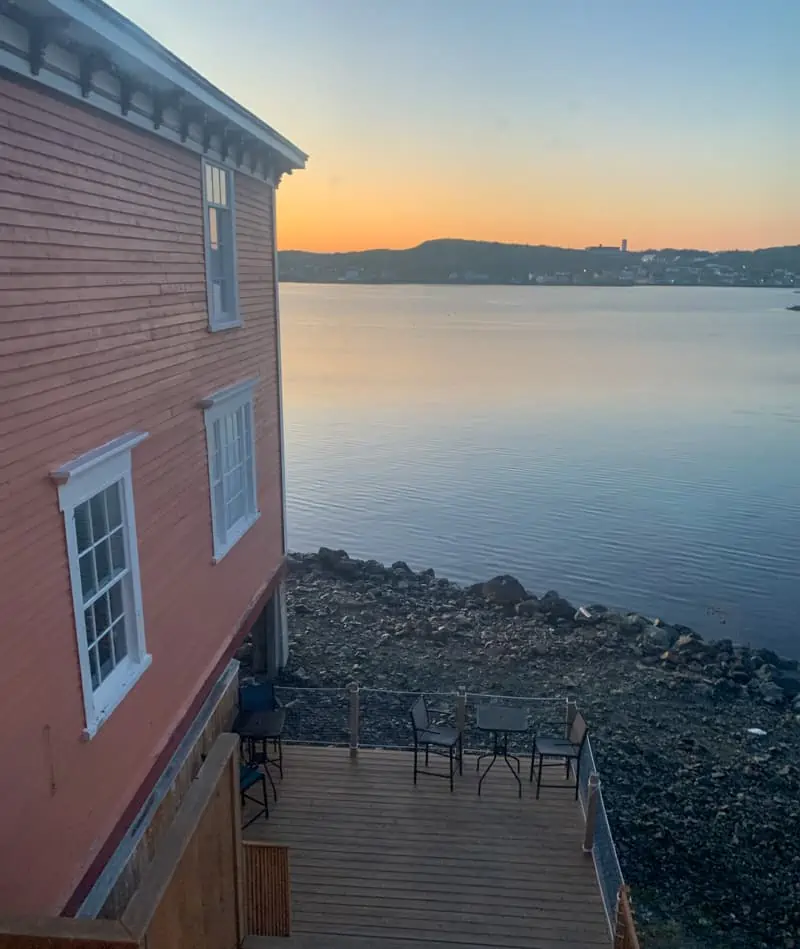 I can't say enough good things about the Hodge premises. I stayed here during my trip to Central Newfoundland and slept like a dream. It's one of Twillingate's oldest heritage buildings, with 7 distinctive guest rooms overlooking the harbor.
The rooms are beautifully decorated with locally made furnishings, and they provide you with the comfiest bathrobes. You'll love waking up here to the sounds of the birds and ocean. There's also a delicious coffee shop downstairs, so you don't have to wander far in the morning.
Places to stay on Fogo Island
I can't write a blog post about unique places to stay in Newfoundland without mentioning the Fogo Inn.
This 5-star luxury hotel completely revitalized tourism on Fogo Island and is one of the best hotels in Newfoundland. But with room rates starting at $2000, you're probably looking for a more affordable place to stay on Fogo Island.
Look no further than the Old Salt Box Co.. These quaint vacation homes give you the chance to live in a traditional Newfoundland saltbox home. They've been updated with all the modern amenities you need, while still retaining their charm.
The one in Fogo sits on the beach, so you'll get gorgeous ocean views and may even be able to spot whales or icebergs from the living room.
Places to stay in Deer Lake NL
Deer Lake is the main transportation hub on the West Coast of Newfoundland. It has the main airport for the area, so staying here is often required when landing late a night or leaving early in the morning via the Deer Lake Airport (YDF).
Deer Lake is also the start of the Viking Trail (Route 430) and the gateway to Gros Morne National Park, as it is right along the Trans Canada Highway where you turn off.
The most unique place to stay in Deer Lake is at the Upper Humber Settlement. This Newfoundland Bed & Breakfast is based on a 6-acre permaculture farm. Known as a FarmStay, the Upper Humber Settlement offers a modern farmhouse experience complete with farm-fresh breakfasts.
With just 4 rooms, this space is quiet, clean, and an ideal place to relax before or after a long travel day. Your hosts, Lauralee and Mark Ledrew are happy to show you around their farm, share local travel tips, or let you simply enjoy the quiet countryside.
Places to stay in Corner Brook NL
Corner Brook is the second-largest city in Newfoundland with a population of about 30,000. There's an airport in Deer Lake half an hour away, so this is another place many people start their Newfoundland trip.
There are plenty of hotels to choose from, but one that stands out from the rest is the Hew & Draw hotel.
This family-owned and operated boutique hotel is thoughtfully curated with Newfoundland-inspired custom furnishings that will make you feel right at home.
They also have a 24-hour fitness center, rooftop patio with hot tub, complimentary guest laundry, free wifi, and breakfast included. As a bonus, this hotel is pet-friendly! I stayed here with my foster dog Layla, and she was a big fan.
Places to stay in Gros Morne NL
No trip to Newfoundland would be complete with a visit to Gros Morne National Park. Covering an area of 1,805 square kilometers, it's the second-largest national park in Atlantic Canada and a UNESCO World Heritage Site. It's got some of the most unique geology on this planet, glacier-carved cliffs and fjords, and endless hiking trails.
Camping in the park is wonderful, but if you prefer a bit more comfort, the town of Rocky Harbour is an ideal place to stay.
One of the best places to stay in Rocky Harbour is the Fish Sheds. These oceanfront boutique cottages are designed to be cozy and peaceful. You'll love relaxing in the living room, taking in the stunning ocean views of Bonne Bay and Lobster Head Lighthouse straight from your window.
The location is in the heart of Gros Morne National Park, near local restaurants, shops, and hiking trails. Just check out the excellent reviews online!
Places to stay in St Anthony NL
If you decide to drive the Viking Trail to L'anse Aux Meadows, you'll probably want somewhere to stay overnight as it's a long drive to do just in one day.
St. Anthony, the largest town on the peninsula, is the best place to stay overnight. It's one of the top places to see icebergs in Newfoundland!
Grenfell Heritage Hotel & Suites is a great option. It's centrally located within walking distance to museums and shops. They have several suites to choose from, including some with a kitchen if you want to do your own cooking.
For an even more unique experience, book a stay at the Quirpon Lighthouse Inn on Quirpon Island. Here you'll be able to stay in a historic 1922 lighthouse inn that's still operating! You'll love watching the humpback whales from the comfortable indoor viewing station.
There you have it, the best places to stay in Newfoundland! If you know of any more unique Newfoundland accommodations to add to the list, let me know in the comments below!
Planning a trip to Newfoundland? Don't miss these posts!