This post may contain affiliate links. By clicking and making a purchase through the links, I earn a small commission at no extra cost to you. This allows me to keep the site up to date and expand on resources. Thanks for reading!
The weather is finally getting warm, and I couldn't be more excited about all the fun things to do in Toronto this summer!
If you're planning a visit to Toronto or just a resident looking for fun things to do, you're in the right place. I wanted to see if I could come up with 101 things to do in Toronto in the the summer, and it was surprisingly easy. From cultural events to weekend road trips, there's no shortage of fun Toronto summer activities to check out this year.
Here are 101 ideas for fun things to do in and around the city to help you create your own Toronto summer bucket list. Even with just 48 hours in Toronto, you can still fit in many of these activities!
2021 Update: This post was originally written in 2019. I have updated it as best I can, but due to the impact of COVID-19, some of these attractions and events may be closed, postponed, or canceled. Specifically, The City of Toronto confirmed the cancellation of all event permits prior to September 6, 2021.
I have left them for future planning as many have already announced dates past September or gone virtual. Information changes constantly, so I have linked out to each event's official page so you can get the latest info.
There are still plenty of outdoor things to do around Toronto and as the summer progresses, more things may reopen. Please follow the advice of local government authorities and stay safe. Thanks for reading! 🙂
Fun Outdoor Activities to do in Toronto This Summer
It's not just a concrete jungle, Toronto has many fun outdoor activities to do in the summertime.
1. Visit the Toronto Islands. This is my favorite place to hang out in the summer! The Toronto Islands are the perfect place to escape the city heat.
To get to the islands, catch the 13-minute ferry from the Jack Layton Ferry Terminal at the foot of Bay St. and Queens Caye.  Alternatively, you can take a 'Tiki Taxi" from Queens Quay and Spadina for $10. This is a fun way to get to the islands. They are small boats 'tiki' themed boats, playing Caribbean-inspired music along the way.
A bike is a perfect way to get around the islands. You can rent them from bike share stations in the city and bring it with you on the ferry, or you can join a guided Toronto islands bike tour.
There are beautiful beaches to relax on the islands, including a clothing-optional one at Hanlan's Point – a popular spot for the LGBTQ+ community.
2. Take in the city skyline from a boat. A perfect way to spend a summer evening in Toronto is on the water. There are several boat tour options, from tall ships to dinner cruises and open boat dance parties on the River Gambler.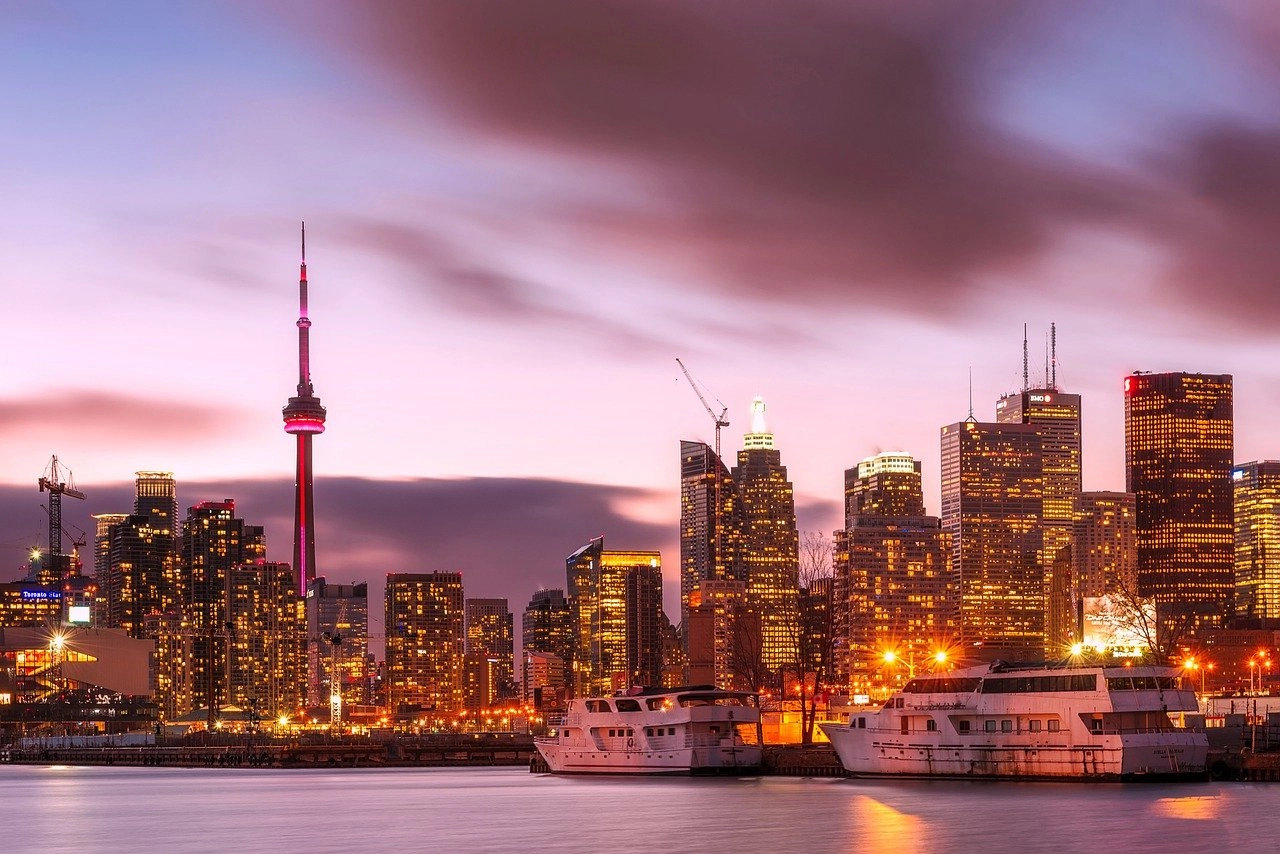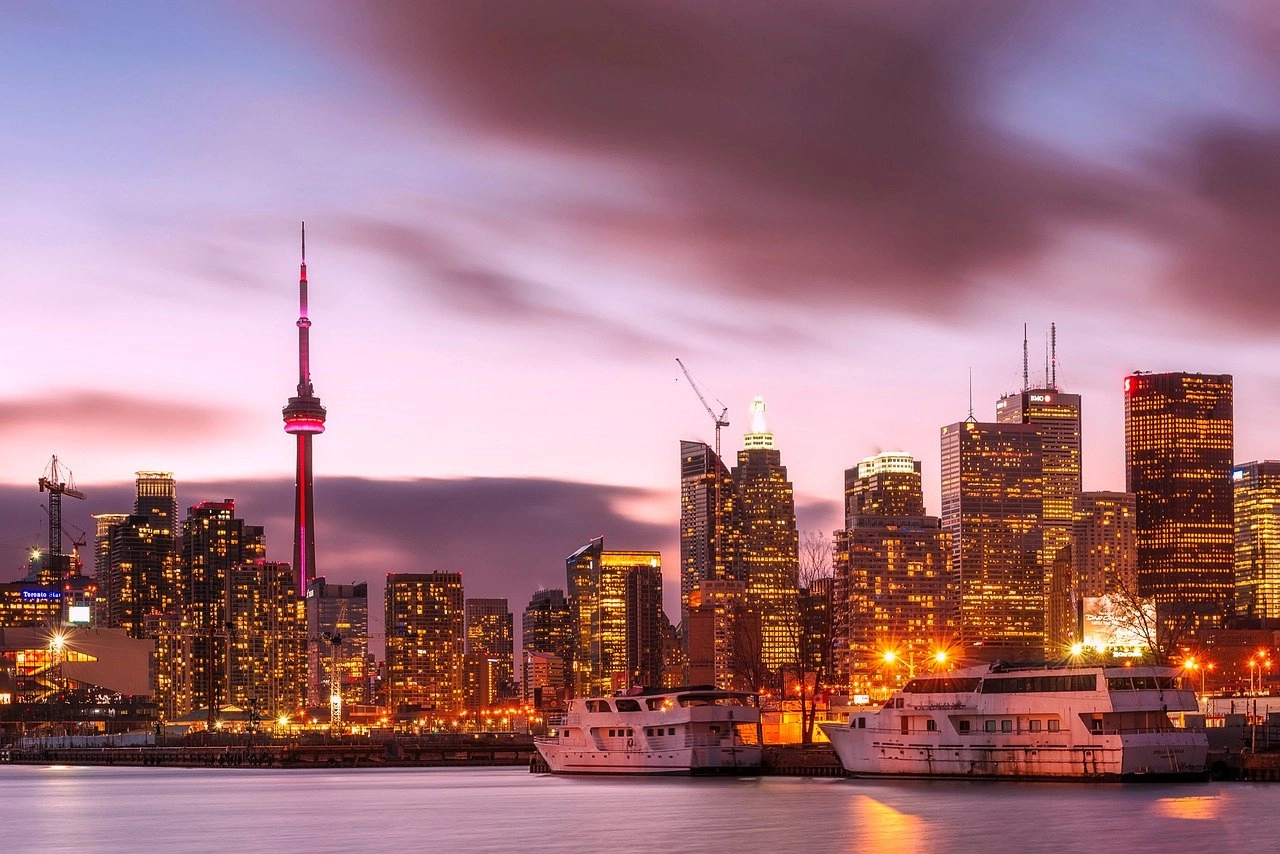 3. Explore Rouge Park. As Canada's largest urban park, there are endless trails to explore here on foot or by bike. It's hard to believe you're still in the city limits walking around Rouge Park. You can even camp there! The best part? There is a free shuttle that runs from downtown Toronto to Rouge Park all summer long.
4. Take a walk through a ravine. You don't have to go far away from the city streets to get into nature. Toronto is blessed with a large ravine system, offering residents a chance an escape from urban settlement. Some of my favorite ravine walks include the Humber Valley and Crothers Woods.
5. Visit Scarborough bluffs. This beautiful escarpment stretches 15km across Scarborough, standing above Lake Ontario. You can visit from above, but as the bluffs are fragile, the city limits how close you can get to the edge. Instead, admire the bluffs from below on the beach.
6. Walk along the CN Tower. If you want to add some excitement to your summer, consider doing the Edgewalk along the CN tower. This impressive Canadian landmark used to be the largest free-standing tower in the world. Talk about an adrenaline rush! If that's not your thing, simply take in the views from the top.
7. Bike the city. Biking is by far the fastest way to get around Toronto, and it's so enjoyable! The city is nearly all flat, so you don't have to worry about hills.
Toronto has a bike share program where you can pick up and drop off bikes at various stations around the city. There are also guided bike tours you can join of downtown Toronto.
8. Visit a botanical garden. There's nothing more peaceful than a stroll through a botanical garden. Check out the Toronto Botanical Gardens in North York near Sunnyside Park.
For something closer to downtown, visit Allan Gardens on Gerrard St. East. Afterward, take a stroll through Cabbagetown – my charming neighborhood!
9. Visit a farm. While you're in Cabbagetown, take a walk through Riverdale farm to see the cute farm animals or tulips if you're visiting during spring.
10. Kayak around the lake. Another great way to see the city skyline is from a kayak on Lake Ontario. You can rent kayaks and canoes downtown at the Harbourfront Canoe & Kayak Centre or join a guided tour.
11. Picnic in the park. There is no shortage of wonderful parks to enjoy in Toronto, and a picnic is a great way to enjoy them! Grab some snacks and a bottle of wine. The city parks are the perfect place for fun during the summer in Toronto.
My favorite parks in Toronto are High Park and Trinity Bellwoods, which also happen to be two of the best places to see cherry blossoms in Toronto. This usually happens in early May! Sugar beach is also a great place to hang out in Toronto in the summer with its adorable pink chairs.
12. Do Yoga in the Park. If you prefer a more active experience in the park, check out the Flying Yogi. This company offers yoga classes in various parks throughout the city during the summertime. Payment is made on a donation basis!
13. Join an outdoor Bootcamp. If you want to get whipped into shape while not spending beautiful days inside a gym, then an outdoor Bootcamp is the perfect thing to join!
The classes are tough, but it's honestly fun being outdoors with others. After all, misery loves company! I recommend Urban Core; I've never been so fit as when I did this boot camp!
14. Stand Up Paddle Board (SUP) on the island. If you want to practice your balance and be out on the lake, check out Toronto Island SUP.  They run SUP classes from Toronto Island.
15. Watch the sunset. Don't let the city skyscrapers take the sunset away! There are still many places where you can see the sun go down in Toronto.
Check out River Park East to see the sunset over the city skyline. Polson Pier, Leslie Street Spit, and the Toronto Islands are some other places to go for great sunset views.
16. Get involved with a beach clean-up. Help out the city and get involved in a beach clean-up! When I did this I was shocked at the amount of garbage and micro-plastic coming from the lake. We can all do our part to keep Toronto clean and beautiful!
 

 

View this post on Instagram

 
17. Sign up for a summer run. Runs aren't my thing, but I know many people who love it! Check out this Toronto Run Guide and find the perfect run to crush this summer.
18. Cool off in a pool. If you don't want to swim in the lake (I don't blame you), Toronto has a number of public outdoor pools to cool off from the heat. Be sure to check out the outdoor Olympic-sized pool in Woodbine Park!
For a pool with a view, check in to the Bisha Hotel and enjoy their incredible rooftop pool.
19. Take a helicopter ride over Toronto for the absolute best view of the city. I've done helicopter tours in Victoria Falls and Las Vegas and loved every minute of both experiences.
20. Explore the city on foot. See the best sights of the city in this small group walking tour.
21. Join a segway tour. Get introduced to the historic Distillery District in Toronto while riding the unique and fun Segway.
22. Hop-on-hop-off bus. Enjoy taking in the cities best sights at your own pace. In summer months, it comes with a complimentary harbor cruise!
Music Festivals in Toronto in the Summer
Music festivals are my favorite part of summer in Canada, and I always make it to a least a few! Luckily for me, Toronto has no shortage. Dance your heart out at these festivals:
23. Electric Island. Every long weekend in the summer Toronto Island turns into a giant dance party with great electro vibes. Follow the website for 2021 updates.
24. Promise cherry beach. Another long weekend summer special, join this electronic music and arts beach party and make some new friends.
25. Harbourfront Concerts. Every summer Harbourfront will put on a number of concerts and live events for residents and guests to enjoy by the water. Check the website to see this year's schedule.
26. NXNE. Discover new bands at this music and gaming festival across the city in various venues in June. The physical festival returns June 14 – 19, 2022.
27. Toronto Jazz Festival. 10 days of Jazz all across the city.
28. Veld music festival. Another one for electronic lovers, VELD runs on the long weekend in early August. I've never been because I'm always at Osheaga, but I hear it's a blast! The festival is set to return in 2022.
Arts & Culture Summer Activities in Toronto
29. Royal Ontario Museum. Find out at what's on at the ROM! This museum always has something interesting to see. During the summer, they host dance parties every Friday. And yes, dancing with dinosaur bones is as cool as it sounds. You can buy skip the line tickets here.
3. Art Gallery Ontario. This beautiful art gallery always has an interesting exhibit going on. If you're under 25, it's free to visit! And if you're over that age, check out the free night on Wednesdays from 6-9pm. Get tickets here.
31. Christie Pits Film Festival. Every Sunday evening during the summer, you can come cozy up in a blanket and watch a movie in Christie Pits Park. A perfect date night activity!
32. Celebrate Canada. July 1st is Canada day and the city knows how to throw a party. Find free events all over Toronto and at night enjoy the free fireworks over the city. This year, the government is hosting virtual events.
33. Celebrate Pride on the streets. Toronto loves pride and it's celebrated all through the month of June. Head to Church St during that time for what's sure to be a fun time.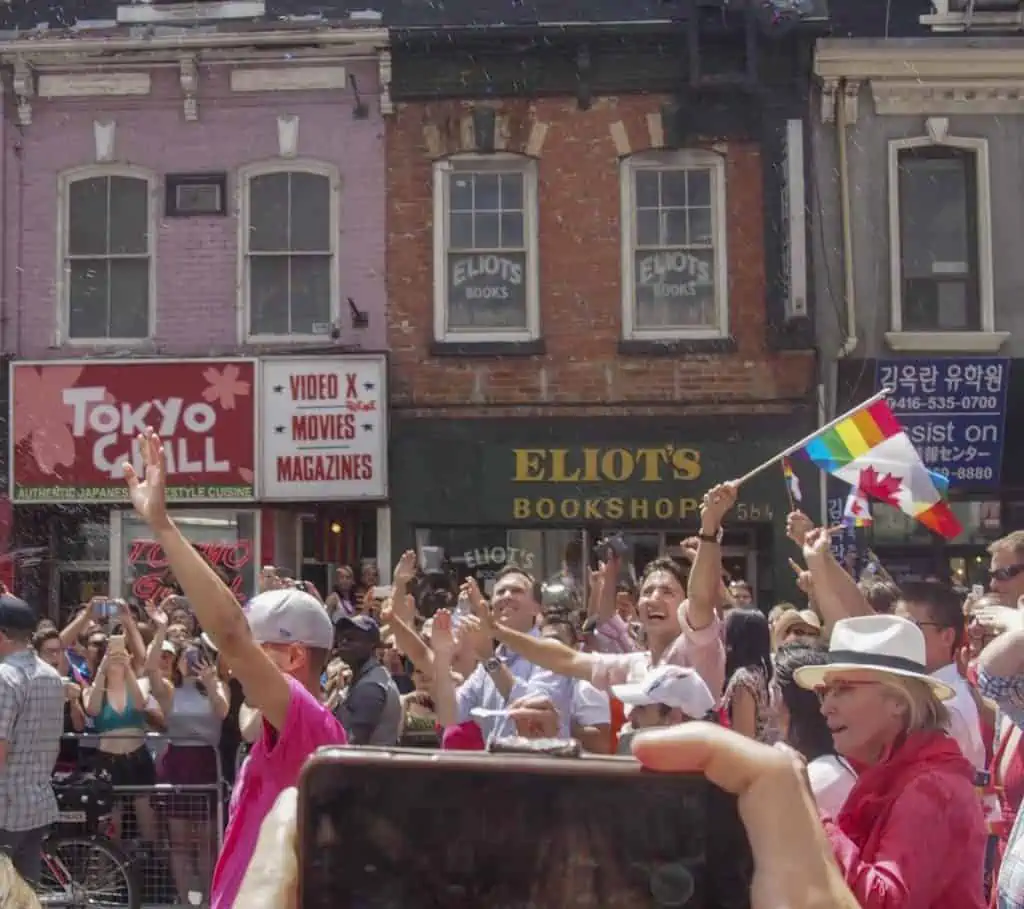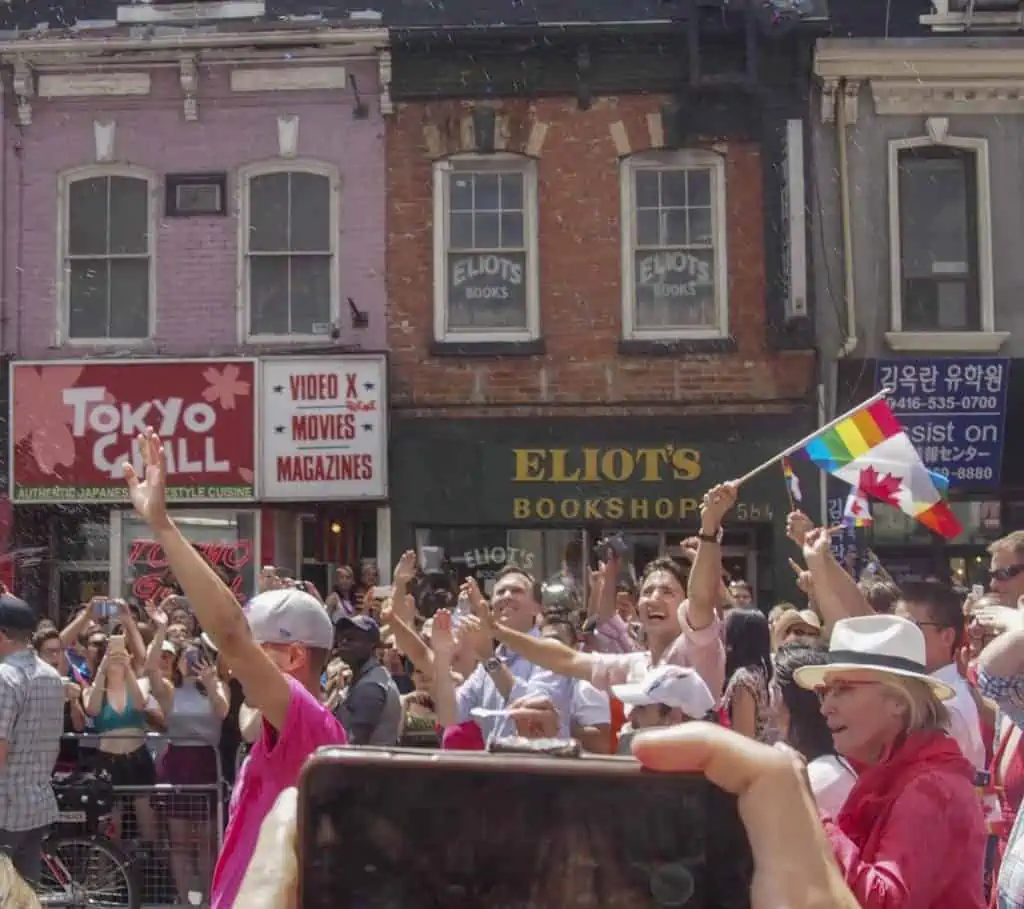 34. Toronto International Dance Festival. Celebrate the amazing world of dance across all cultures. The 2021 event will be held virtually!
35. Toronto Fringe Festival. In July theatre takes over the city during the Toronto Fringe Festival. Performances are held at various venues all around town but the 2021 event will be virtual.
36. Shakespeare in the Ruff. Visit the High Park amphitheater for a wonderful show of Shakespeare.
37. Toronto Caribbean Carnival. This exciting Carnival starts in July, celebrating Caribbean music, cuisine, and revelry. The biggest night of the event is the Caribbean Grand Parade where masqueraders wind their way from Exhibition Place to Lakeshore Boulevard. The 2021 event will be held virtually.
38. Toronto Busker Festival. See entertaining performers in Woodbine Park. The event is set to return in 2022.
39. Visit the Museum of Illusions. One ticket gets you entrance to more than 100 mind-bending rooms from holograms to vortex tunnels, to game rooms and 3D puzzles.
40. Fan Expo. Embrace your inner nerd and dress up for this year's Fan Expo at the Metro Toronto Convention Center. The 2021 event will be delayed until October 22-24th.
41. Toronto Fashion Week. Discover the latest fashion trends at Toronto during Fashion week in early September.
42. Toronto International Film Festival. This annual film festival brings in some huge names. Discover new films or attend one of the many TIFF parties around the city in September.
43. JFL42. Guaranteed laughs at this Toronto comedy festival.
Food Activities in Toronto
Toronto is a foodie paradise. From world-class restaurants to food events every weekend, there's no shortage of fun food-related things to do in the summer in Toronto.
44. Toronto Great Canadian Food Tour. Try a variety of classic dishes on this 3-hour tour, from First Nations cuisine to French-Canadian poutine.
45. Sweet delights of old Toronto tour. Sample Toronto's best Gelato, some fine handcrafted chocolates, delicious Japanese pastries and Green matcha lattes on this food walking tour.
46. Ribfest. Celebrate Canada (and Ribs) at Centennial Park. This year's event will be a drive-thru.
47. Summerlicious. This program started to showcase Toronto's diverse cuisine. It allows you to try some of Toronto's best restaurants for affordable prices. Three-course prix fixe lunch and dinner menus are offered for $23, $28, or $33 for lunch, or $33, $43, or $53 for dinner. Make reservations early!
48. Toronto Pizza Fest.   Let your carb dreams run wild and get the pizza of your dreams delivered to home this year.
49. Food Truck Fest. Food lovers rejoice. Celebrate the best of food trucks in Woodbine Park.
50. Jerkfest. A huge festival of music and food in Etobicoke. And of course, award-winning jerk chicken. Set to take place August 6th-8th in 2021.
51. Beer, Bourbon & BBQ. Another Foodie festival at Ontario Place, come taste one of the most celebrated forms of cooking.
52. Toronto Vegandale Food and Drink Festival. Come see how delicious vegan food can be at The Vegandale Fest at Garrison Common.
53. Canadian National Exhibition.  Everyone loves the ex! Indulge your inner child and play carnival games, get views of the city from the ferris wheel, and eat all the weird things. The ex is scheduled to return in 2022.
54. Eat all the ice cream. Not an official food fest, but eating ice cream in Toronto during the summer is truly it's own activity. Some of the best places to get a scoop are Bang Bang Ice cream and Bakery, Ed's Real Scoop, and Booyah.
55. Weekend brunch. Brunch and Toronto go hand and hand. The city has developed a strong brunch culture over the years with new and delicious brunch restaurants popping up in every neighborhood.
The only problem? There's almost always a line to get in the best brunch spots in Toronto. But it's always worth the wait! Some of the best brunch spots are Le Petit Dejeuner, Auntie's and Uncles, and Saving Grace.
56. Visit the St. Lawrence Market – One of my favorite markets in Canada, St. Lawrence has a wonderful selection of food stands and local farmers to support.
57. Take a wine tour with a guided sommelier and try some of Ontario's best wine.
58. Take a guided food tour through Toronto. You can choose from Queen West, The Distillery District, Kensington Market, or Little Italy.
Drinking & Nightlife
Because drinking and summer go hand and hand. Find the best places to grab a drink this summer in Toronto.
59. Toronto Craft Beer Festival – Celebrate the boom of Toronto's craft beer scene at the official craft beer festival in Ontario Place. The 2021 event is scheduled for September 24th-26th.
60. Wine Fest. Toronto's first outdoor wine festival. Come celebrate all thing wine July 24th-25th!
61. Beer Fest – Who doesn't love a beer festival? Drink all the things at Toronto's annual beer fest held annually in July. This year's event is postponed until July 22 to 24, 2022.
62. Cider Fest. This event celebrates all things cider! Their website says 'something exciting coming summer 2021' so head there for the latest updated.
63. Go for patio beers. One of my favorite summer activities in Toronto! Head to one of the city's amazing patios for drinks on a hot summer day. Some of my favorites include Amsterdam Brewery by the waterfront, Hemingway's in Yorkville, and Trinity Common in Kensington.
64. Go on a self-guided brewery tour. Even if there's not a beer festival going on, there's no shortage of breweries to check out inToronto. Make a day out of it and go on a self-guided tour of Toronto's craft breweries. Check out Amsterdam Brewery by the Water, Steamwhistle by the CN Tower, and Trinity Bellwoods Brewery by the park.
65. Join a group beer tour. Don't want to go alone? No problem! You can join a guided group beer tour which is a great way to meet people if you're traveling solo.
66. Go bar-hopping. It doesn't have to be a specific event to party in Toronto! This city has some amazing nightclubs and bars to experience every day of the year. Crawl your way through the venues on King St. West or join this epic bar crawl.
67. Spend the day at Cabana pool bar. The first time I visited Cabana pool bar, I couldn't believe I was still in Toronto. The palm trees and sunshine will have you feeling like you're (almost) in the Caribbean.
68. Take in a drag show. If you haven't watched a drag show before, Toronto is the perfect place to try. Head to the village on Church Street and praise these queens. It's a super fun thing to do in Toronto during the summer.
69. Track and Field bar. If you're looking for a fun place to go out with friends, this bar is great! Play lawn games and drink local beers.
70. Play games at an arcade bar. Another great place to go for a night out with friends. My favorites are Rec Room across from the CN tower and Get Well on Dundas West.
71. Dance at the aquarium – Why just visit Ripley's aquarium, when you can listen to music while admiring the fish?! Check out Friday night Jazz.
71. Go on a whiskey tour in Toronto and learn all about Canadian whiskey.
Neighbourhood Festivals
One of my favorite parts about Toronto is the unique neighborhoods we have. Each has its own charm, and the summer is the perfect place to embrace and celebrate them through all the different neighborhood festivals!
72. Leslieville Food and Drink Festival. Come enjoy the art, music, and food of Leslieville while supporting the local community and businesses. 
73. Dundas West Fest. Celebrate this vibrant neighborhood in early June.
74. Mel Lastman Square Festivals. This North York Square hosts festivals throughout the summer.
75. Taste of Little Italy. Head over to College Street, between Bathurst and Shaw, to sample on Italian cuisine, wine and cocktails on extended patios. Event is cancelled for 2021.
76. Junction Solstice Festival. Celebrate the longest day of summer (June 22nd) at the Junction, Dundas St W & Keele Street.  All ages, and it's free!
77. Pedestrian Sundays at Kensington. Enjoy this vibrant Toronto neighborhood car free the last Sunday of every month. Performers welcome! Kensington is also a great place to try food in Toronto.
78. Salsa on St. Clair. Join this Latin street dance party on St. Claire Ave! The 2021 event will be virtual.
79. Big on Bloor. Walk along this car-free stretch of Bloor between Dufferin and Landsdowne and celebrate local arts, community, and culture. The 2021 event will take place from July 24th to 31st with outdoor murals, window displays, public installations and other projects that encourage visitors to the area in a safe and health manner.
80. Ossfest – Ossington Ave (between Queen & Dundas St W) transforms to Ossfest with all the best things: shopping, dancing, live music, patios, eating, and drinking.
81. Taste of the Danforth – If you love Greek food, you do not want to miss Taste of the Danforth. All of the yummy things.
82. Cabbagetown Fest. My neighborhood festival! Come celebrate the loveliness of Cabbagetown on Parliament Street in September. The event is postponed until 2022.
83. Roncesvalles Polish Festival – Celebrate Polish music, food, and culture at North America's biggest Polish Festival. Postponed until 2022.
Sport Events in Toronto During The Summer
84. Go to a Jays game. Compared to most sporting events, Jay's game tickets are relatively inexpensive. It's a great way to spend an afternoon or evening during summer in Toronto. You can even bring in your own food so you don't have to buy overpriced hot dogs! We once brought a Charcuterie board. It was awesome.
85. Rugby Match. Support the Toronto Wolfpacks at an upcoming Rugby game this summer.
86. Axe-throwing. Learn to throw an ax (with a drink in your hand) at the Backyard Axe Throwing League located in Toronto Stockyards. Makes for a fun birthday party!
87. Check out a Toronto raptors game. When they won in 2019, the city exploded into a giant party.
Places to Visit Near Toronto in Summer
We all love Toronto, but sometimes a weekend away (or even a day) is needed. There are so many wonderful weekend road trips you can go on from Toronto.
Craving a longer adventure? Go on an epic road trip to Eastern Canada or take the train across Canada from Toronto to Vancouver!
88. Niagara Falls. A weekend in Niagara Falls is always a good time! The main attraction is the magnificent waterfall, but there are also many other fun things to do in Niagara Falls.
The town can feel cheesy, like a mini-Vegas, but it's loads of fun with a good group of friends. Check out Groupon to score a great deal on hotels, which often come with passes for various other attractions.
You can also join day tours from Toronto to Niagara Falls if you're short on time!
89. Explore waterfalls near Hamilton. Another waterfall attraction not far from the city – Hamilton has several waterfalls you can explore.
90. Escape to the cottage. There's nothing better to do in this summer then escape to a cottage for a weekend with friends.  If you don't know anyone with a cottage, you can gather a group of friends and rent out one on Airbnb!
Or for a more luxurious weekend, check out some of the luxury resorts you can stay in Muskoka, a beautiful area just two hours away from Toronto.
91. Boots and hearts music fest. I'm not a big fan of country music, but if you are then you want to be at Boots and Hearts, Canada's largest country festival. It's set in Oro-Medonte, the former home of Wayhome music festival (RIP). It's a nice, clean campground just a couple of hours drive out of the city. The festival is set to return in 2022.
92. Riverfest Elora. Come explore this beautiful area of Ontario and enjoy some wonderful music.  This annual festival is canceled this year but returning in August 2022.
93. Visit The Thousand Islands. This beautiful area near Kingston is a nature lover's dream. Take a boat cruise to admire more than 1,800 islands in the St. Lawrence River, between the border of the U.S. and Canada. You can also join a private tour from Toronto.
94. Camp at Algonquin Park. Get lost in the lakes and forest of beautiful Algonquin, one of Ontario's best natural parks. The canoeing and kayaking here is amazing. Plus, you might spot some of Canada wildlife including bears and moose.
If you don't have your own vehicle, you can join a tour from Toronto.
95. Or any other provincial park. If Algonquin is booked up, check out one of Ontario's many other provincial parks for a weekend camping trip. There are so many gorgeous places to go in Ontario.
96. Canada's Wonderland. Get your adrenaline rush at Canada's Wonderland featuring some of the biggest rollercoasters in Canada. If you love it, grab a season pass! It opens again July 5th.
97. Visit Wine Country. Is there really anything better than drinking wine in the summer? Take a weekend or day trip to Prince Edward Country or Niagara-on-the-Lake where you can visit beautiful vineyards and try Ontario's best wines.
98. Wasaga Beach. Check out this popular beach town just two hours outside of the city.
99. Tube down a river. Head to Elora Gorge Conservation Area just an hour outside of Toronto, and spend the day tubing down the river. If you want, add in a visit to the nearby Quarry for swimming afterward!
100. Visit Bruce Peninsula National Park. Just three hours away from Toronto and you can be transported to water that looks like a tropical paradise. It's one of the best road trips for nature lovers from Toronto.
101. Bouldering in Niagara Glen. Rock climbers rejoice! Ontario has some awesome rock climbing spots just outside of the city. Grab a crew and head to Niagara Glen Nature Reserve for a day of Bouldering. It's just outside of Niagara Falls.
There you go – 101 things to do in Toronto this summer! And the craziest part? That's not even half of the things the city has to offer. Find more fun Toronto activities below!
When is the best time of year to visit Toronto?
Summer is one of the best times of year to visit Toronto. This is when you'll experience the nicest weather and the most events. That said, Toronto during the winter is entirely different and can be special if you haven't experienced a Canadian winter before.
When is summer in Toronto?
The official summer season is from June 21st-September 21st; however, the weather usually begins to get warm by late May and often lasts until mid-October. The shoulder summer season can be a great time to visit Toronto if you're looking to save money on accommodation.
What is Toronto like in summer?
Toronto comes alive during the summertime as the weather warms up. Outdoor patios fill with people, the cities parks come alive, and there are non-stop cultural, food, drink, and sporting events to attend. It's magical.
What is the weather like in Toronto during the summer?
During summer in Toronto, temperatures can range anywhere between 20°C to 35°C (68°F to 95°F), but most days are around 30 °C. There can be heatwaves when temperatures reach 40°C+ and feel quite humid. I recommend booking a place with AC for this reason!
Where to Stay in Toronto in the Summer
There are hundreds of different places to stay in Toronto for all budget.
Budget: The Only Backpacker's Inn. One of the most highly-rated hostels in Toronto, located in the wonderful Danforth neighborhood.
You could also try Couchsurfing or Housesitting with TrustedHousesitters if you're looking for free accommodation in Toronto.
Mid-Range: Chelsea Hotel – I lived here for two weeks when I first moved to Toronto! It's in a great location near Young-Dundas square and a subway station so you can get anywhere in the city.
Luxury: The Westin Harbour Castle is located right on Lake Ontario with some rooms offering views of the water. It's centrally located right in the Harborfront area.
There are honestly so many places to stay in Toronto it can be overwhelming trying to look! I would pick the neighborhood you want to stay and go from there. Some nice neighborhoods are the Harbourfront, the Entertainment District, Yorkville, and Downtown Toronto.
—
I hope this post gave you some inspiration for your next trip to Toronto. If you know of other fun things to do in Toronto this summer that I didn't list, let me know in the comments below so I can add it to the list!
Planning a trip to Canada?
Found this post helpful? Pin it for later!