This post may contain affiliate links. By clicking and making a purchase through the links, I earn a small commission at no extra cost to you. This and display ads allows me to keep the site up to date and give back. Thanks for reading!
Cape Breton Island is one of the most beautiful places to visit on Canada's East Coast. It's home to the Cabot Trail, which is continuously ranked one of the top road trips in the world. Even though the 298km drive could be done in one day, I don't recommend it.
There are so many places to stop along the Cabot Trail that you'll want to spend at least 3-5 days experiencing it. So, that means you need somewhere to stay! This post will help you find the best places to stay on the Cabot Trail, whether you're on a tight budget or looking for some luxury.
The Cabot Trail winds through Cape Breton Highlands National Park, going alongside the Atlantic ocean through the highlands. From campgrounds to glamping domes to high-end golf resorts, here are the best Cabot Trail accommodations.
Cabot Trail Accommodations
Places to Stay in Cheticamp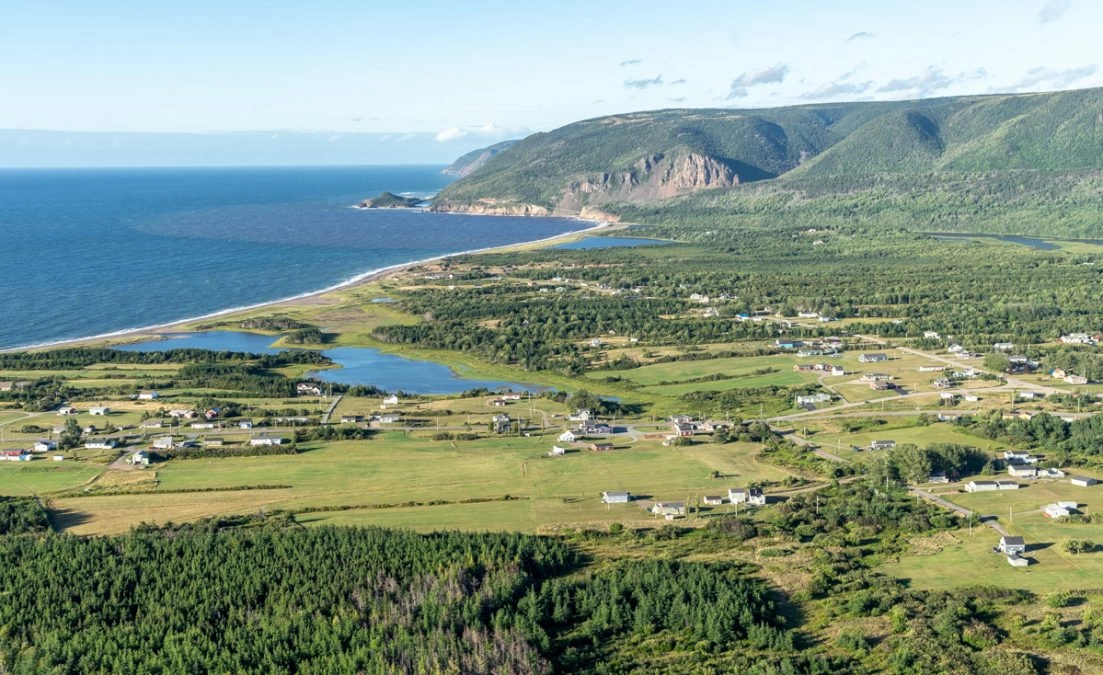 Cheticamp is a great place to start your trip on the Cabot Trail if you're coming from Halifax. It's just a couple kilometers away from the entrance of Cape Breton Highlands National Park and is well set-up for tourists with many places to stay as well as restaurants. Don't miss l'abri cafe – their brunch is amazing!
There are also many activities to do in Cheticamp itself. For example, you can join a whale-watching expedition or take a helicopter flight over the park. This was one of the main highlights of my time in Cape Breton!
I stayed at Auberge Bay Wind Suites, which are these quaint seaside apartments. The inside isn't luxurious, but it has everything you need for a comfy stay.
The location is perfect. The suites are right in the center of Cheticamp, next to the ocean and just a few km away from Cape Breton Highlands National Parks entrance. In addition, there's a cute lighthouse just outside of it that's perfect for watching the sunset and whale-watching tours nearby.
Auberge Bay Wind Suites is a great mid-range option to stay in Cheticamp.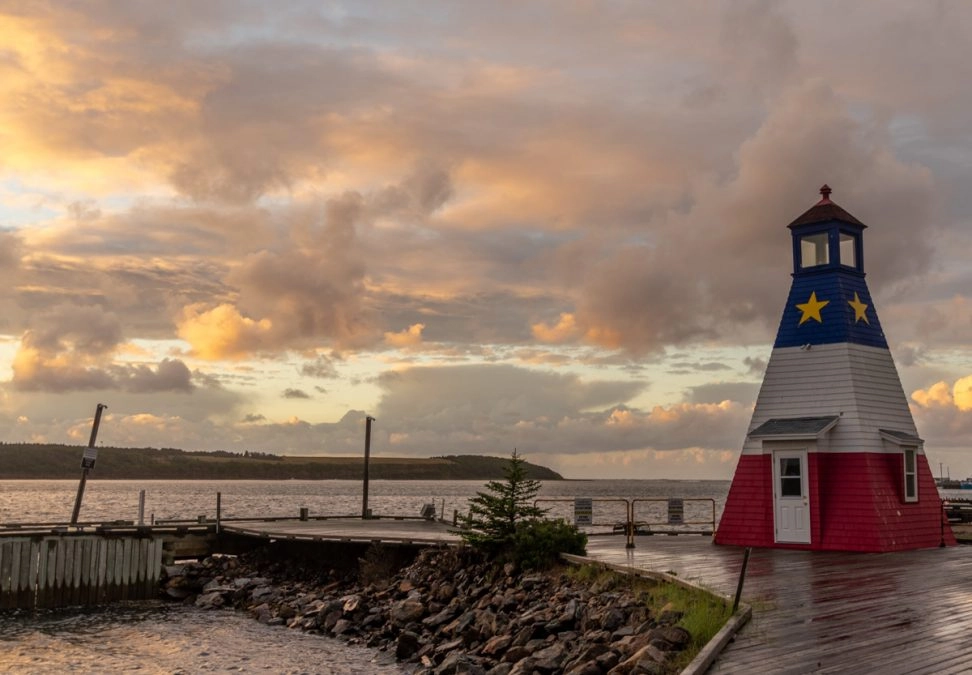 For something a little more luxurious, check out Maison Fiset House Inn in Chéticamp. This gorgeous 4-star historic hotel was originally built in 1895 and restored in 2011 into an 8-bedroom inn with all the modern conveniences you'd expect today. But, for something special, book one of the suites, which feature a king-sized bed, corner Jacuzzi, and private patio with a beautiful view of the Chéticamp harbor.
Places to Stay in Cape Breton Highlands National Park
If you want to stay inside Cape Breton Highlands National Park and truly be in nature, the best place to stay is a Parks Canada campsite! There are seven campsites throughout Cape Breton Highlands National Park in Cheticamp, Corney Brook, Fishing Cove, Macintosh Brook, Big Intervale, Broad Cove, and Ingonish Beach.
The campsites have various levels of service. The largest ones are in Cheticamp, Broad Cove, and Ingonish Beach, which offer showers and flush toilets.
These campsites also offer oTENTiks, a great option if you want a bit more comfort while still being in the wild. The tents are already set up with beds inside, so you don't have to worry about bringing your own camping gear.
The campsite near Ingonish beach looks gorgeous – imagine waking up next to this!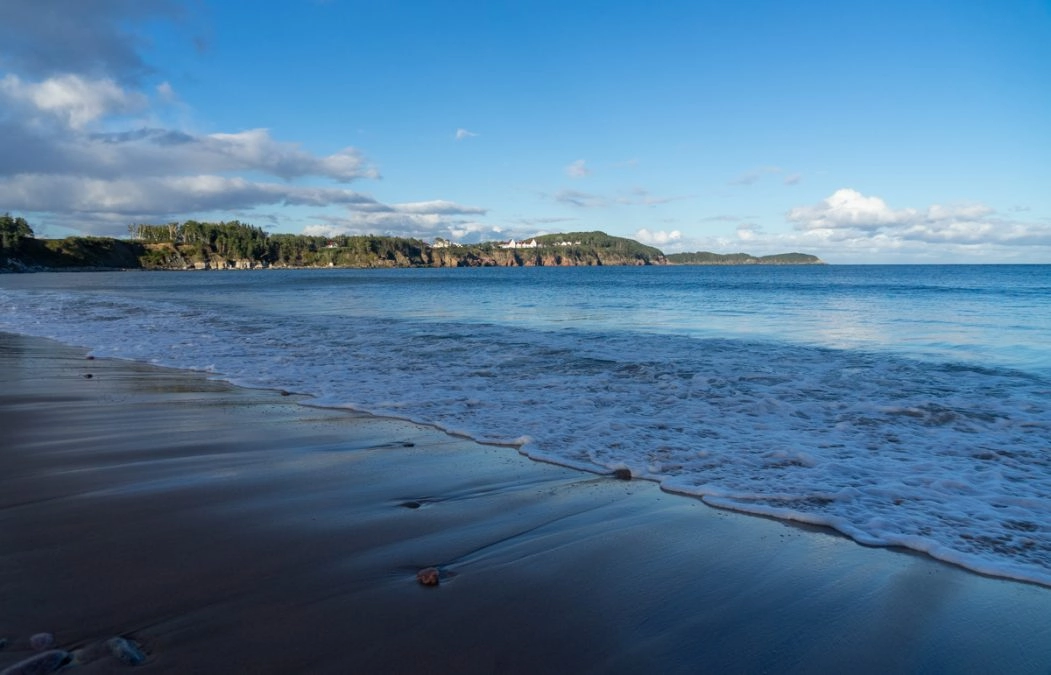 Corney Brook and Macintosh Campsite offer flush toilets but no showers, and Fishing Cove is a backcountry camping site. It's a 6km one-way hike down to the campsite, which is by a beach.
Cabot Trail Accommodation: Pleasant Bay
If you want to stay inside the park but not camp, a good option is to book a hotel in Pleasant Bay. It's a small fishing community near many of the best hiking trails in the park (including the Skyline trail). It's also where many whale watching tours depart from.
Budget: If you're traveling solo or looking for a budget-friendly place to stay, there is a HI-hostel in Pleasant Bay. I've stayed at various HI locations throughout the world, and they are always good quality!
Mid-range: A good option is Mountain View Motel & Cottages, which offers self-contained cottages with kitchens. Perfect if you're a family and want extra space!
Luxury: Another really cool place to stay inside the park is True North Destinations. These 5-star eco-conscious, luxury geodesic domes are one of the most unique places to stay along the Cabot Trail. All the domes have ocean views – I would love to wake up in one!
Top of the Island – Meat Cove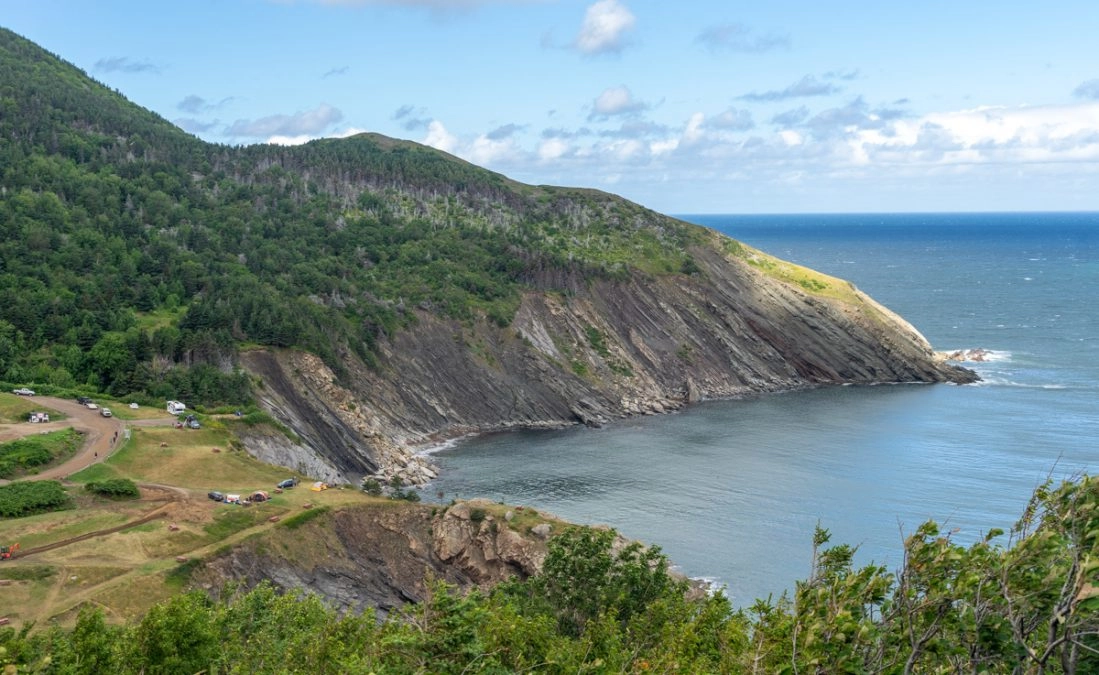 At the top of Cape Breton Island, there is a community called Meat Cove. There, I found what is possibly the coolest camping spot in Atlantic Canada.
Meat Cove Campground is literally on the side of the cliffs at the most northerly point in Cape Breton. It's off the beaten path from the Cabot Trail (you'll have to drive a dirt road to get there), but such a unique place to stay.
If you want to stay in the middle of the Cabot Trail but closer to the main highway, check out Blue Bayou. This glamping-style campground offers unique domes and tipi houses, all set amidst the beautiful nature of Cape Breton. They also offer canoes, kayaks, and SUP boards for rent.
Ingonish Accommodations
If you want to stay somewhere that feels like you're inside the park with a town's amenities, then Ingonish is a perfect choice. There are several places to stay here as well as restaurants.
One of the most beautiful places to stay in Ingonish is the Keltic Lodge at the Highlands. It's got stunning views from the property and is right next to Ingonish Beach.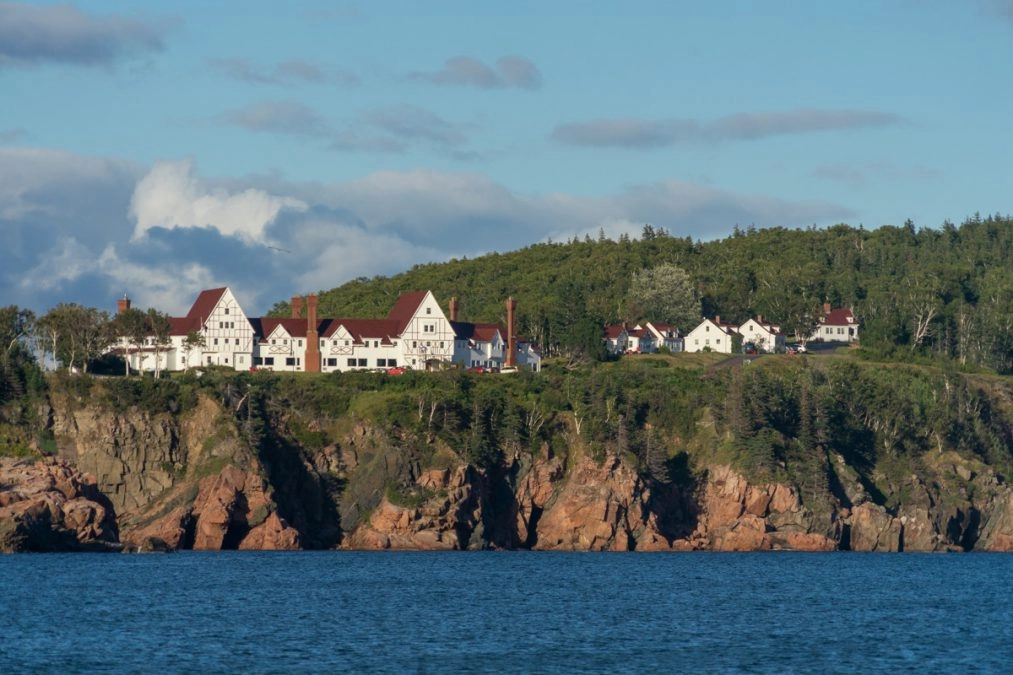 Another great option for Ingonish is 20 Acre Woods Bed and Breakfast. Situated on 20 acres of beautiful woodland, this hotel features 3 gorgeous bedrooms that each come with a 3-course breakfast with fresh coffee, juices, fresh fruit, granola, scones or muffins, and a hot entrée. They can also give you a breakfast to go if you're heading out to one of the trails nearby! With a solid 10.0 review score on booking.com, it's sure to be an amazing stay here.
Cabot Shores
About an hour south of Ingonish is another solid Cabot Trail accommodation option – Cabot Shores. It's a Wilderness Resort & Retreat Centre that makes a perfect base for exploring Cape Breton and connecting with nature.
They offer camping sites, yurts, domes, tiny homes, lodges, and even a farmhouse. It's all sustainably run, with 30% of our power generated from solar energy and an organic on-site garden from which the bistro gets its ingredients!
North River
The North River is a great place to stay if you want something quiet – it's a small community between Ingonish and Baddeck. There's not a lot to do here, but the scenery is spectacular, and it's the perfect place to go if you want to experience kayaking in Cape Breton. I booked myself a room at these extremely cozy cabins on my last night, which is basically my dream home!
The owner of these cabins built them himself, and they are so well designed. Each cabin has a theme; I stayed at the 'Octopuses Garden' (queue Beatles playing). Inside, there is a super comfy bed and two small mattresses in the top loft. They have electricity inside and built-in speakers. There's a kitchen area you can use outside, as well as a fire pit.
Best Places to Stay in Baddeck NS
Baddeck is considered the start and end of the Cabot Trail, so depending on what direction you are coming from, this is a great place to stay at the beginning or end of your road trip in Cape Breton. I recommend starting your trip in Baddeck if you're coming from Newfoundland and taking the ferry. It's just a 40-minute drive from the ferry port in North Sydney.
I stayed at Inverary resort and spa. The interior of the rooms could use some updating, but the facilities are gorgeous. Inverary resort is set right on Bras d'Or Lake, and there's a private beach with chairs to relax on. Perfect for watching the sunset!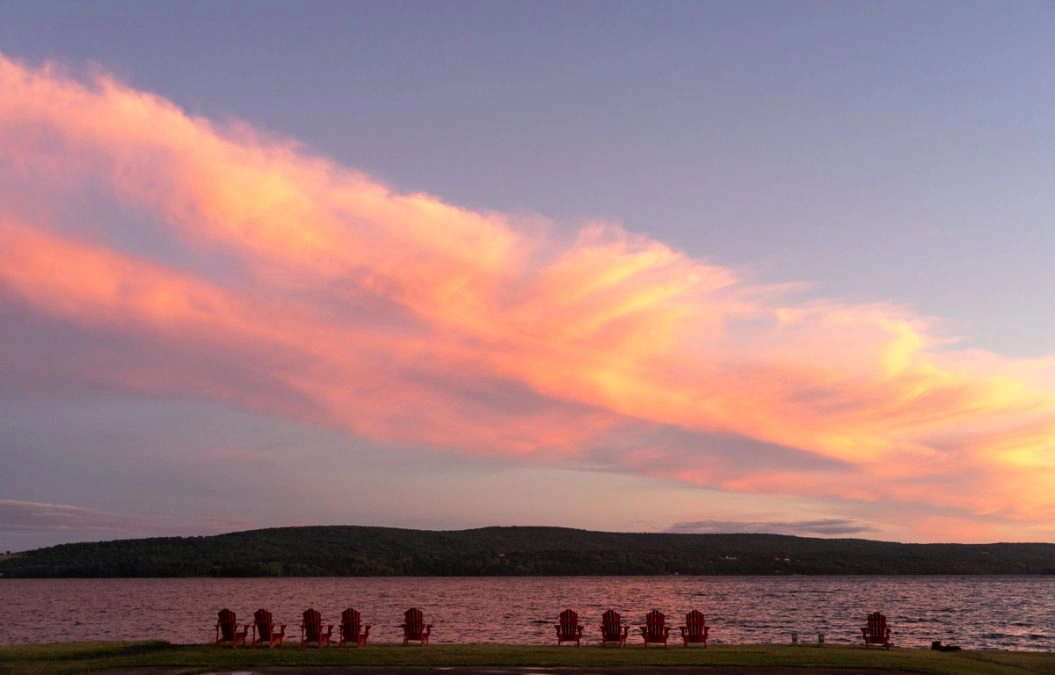 My favorite part about Inverary resort and spa is that there's an adventure center onsite, where you can rent kayaks, paddleboards, jet skis, and boats – you can even rent a floating picnic table! We paddled out to this lighthouse below one morning while staying at Inverary, which was a wonderful way to start off the day.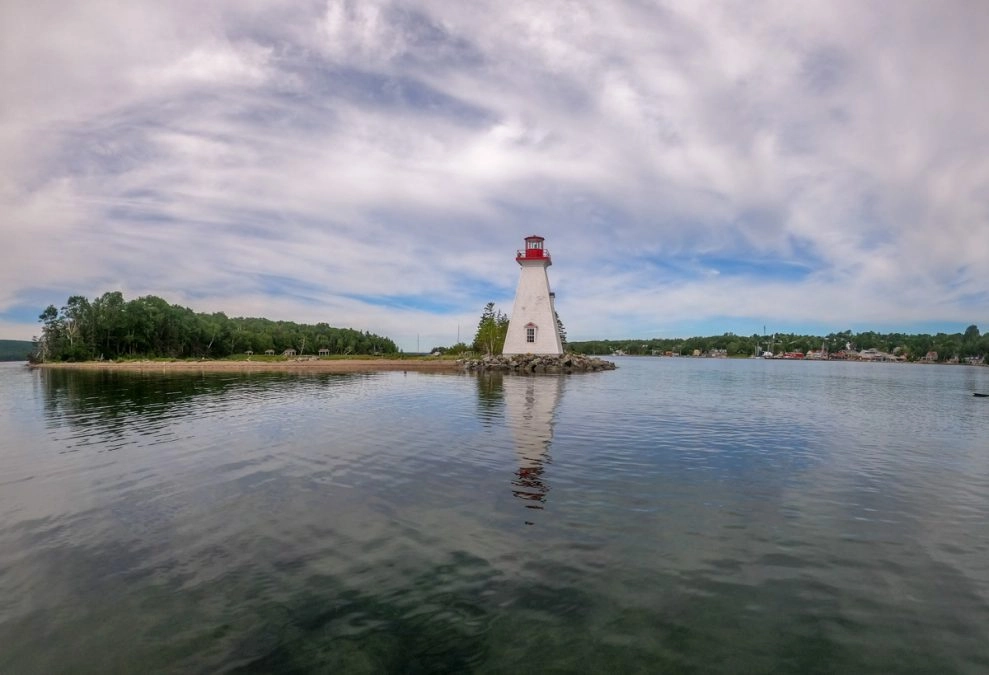 There's also an on-site spa where you can treat yourself to a massage, facial, pedicure, manicure, or all of the above! It was raining one of the days I was in Baddeck, so this was the perfect activity.
Inverary also has a restaurant on-site, which serves delicious food as well as live music daily. Lastly, they are pet-friendly. We took my foster dog, Layla, here while on the way to her new home, and they even gave me a pet-care kit when I checked in.
Another hotel with great reviews in Baddeck is the Telegraph House. I didn't get a chance to stay here, but I've heard great things about the restaurant inside this hotel. It's also got some unique history and is right next to the Alexander Graham Bell National Historic Site.
Find More Places to Stay in Cape Breton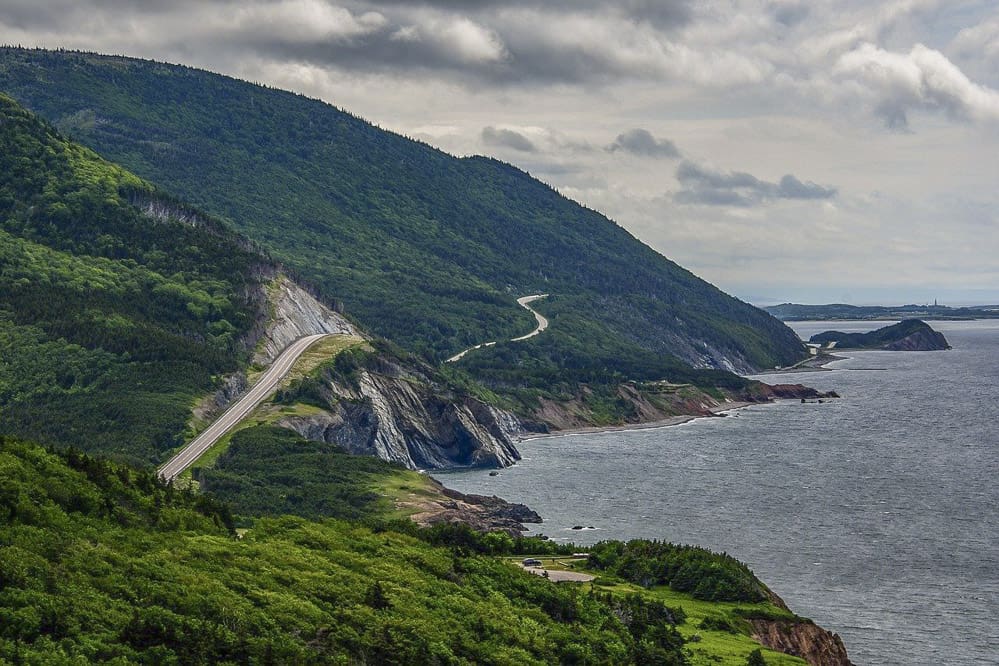 How long to spend on the Cabot Trail?
You may be tempted to drive the Cabot Trail in just one day since it's only 298km in length, but I strongly advise against this! There are so many beautiful sights to see and outdoor activities. With over 26 hikes inside the park, you could easily spend weeks here hiking alone. I spent a week in Cape Breton, mostly on the Cabot Trail, and still didn't do everything I wanted. I recommend spending at least 3-5 days driving the Cabot Trail.
What direction to drive the Cabot Trail?
There's a debate as to whether you should drive the Cabot Trail clockwise or counterclockwise. The truth is, either direction is breathtaking. I drove the Cabot Trail clockwise and found the scenery amazing. I was driving solo and had to pull over a lot because I wanted to take photos, but there were tons of safe places to pull over in the park. Pick the directions that fits best into your travel plans – you won't be disappointed by the views no matter which way you take.
I hope this guide could help you find the perfect place to stay on the Cabot Trail. For more inspiration on things to do while driving the Cabot Trail, be sure to check out this post!
Planning a trip in Eastern Canada? Check out these posts!
Enjoyed this post? Pin it for later!