This post may contain affiliate links. By clicking and making a purchase through the links, I earn a small commission at no extra cost to you. See my disclaimer for more information. This and display ads allow me to keep the site up to date and give back.
Another year around the sun. I am 31 today.
It's hard to believe a year has passed since I turned 30 – this has been a wild year. It had some big highs, with some equally bigs lows.
Low: Getting Burgled the Night of My Birthday
Two hours before I turned 30 I was driving in the back of a car through Iceland with my then best-friends and boyfriend. As the midnight sun casted an incredible twilight that lasted for hours, I remember looking out the window thinking how lucky I was.
Flash forward 24 hours later, and we were all crying and screaming at each other.
Some you probably know this story, but the crux of it is that I planned a trip to Iceland for my 30th birthday which ended in someone breaking into our Airbnb and robbing all of my belongings the night of my birthday. That's right, I got burgled in the safest country in the world. To make matters worse, it unleashed a disastrous weekend that exposed the fragility of those relationships. What should have been one of the best weekends of my life, turned into one of the worsts.
I once read that when you go to follow your dreams the universe will test you. It will throw obstacles in your way to make sure you really want it.
Well, the universe was really testing me that weekend. I was about to quit my 9-5 to pursue travel blogging and I had suddenly lost all the equipment that I'd spent years building up. Over $6,000 down the drain. This is why you should buy travel insurance.
High: TravelCon in Boston
Prior to leaving, I had made plans to travel straight from Reykjavik to Boston for TravelCon, which was my first travel bloging conference. I'm so glad that's what I immediately did after the events of Iceland; otherwise, I'm not sure I would have had the confidence to keep pursuing my dreams.
On my first day in Boston, I was sitting in a café in Boston and got a message from a girl that I knew from Instagram named Courtney. She let me know she was there too, so we met that afternoon with her and another girl she knew, Nicola.
Although the universe can test you, I also believe that it sends you the exact people when you need them most. These women, along with two others that we met that weekend named Danielle and Abby, have become four very important people in my life. After TravelCon, we started doing monthly calls which turned into weekly calls when the pandemic started. They are four amazing, inspiring women who always lift me up. I feel incredibly lucky to have met them.
Anyway, back to the conference. It was inspiring, energizing, and exactly the motivation I needed to pursue my decision to quit my job. So I went back to Toronto and did exactly that.
Highs and Lows: Pakistan
Part of the reason I decided to quit my job was that I had been invited to go to Pakistan on a month long press trip in August and wouldn't have been able to get the time off. Now, this was pretty random. My blog hadn't really taken off at this point and they had found me through Instagram. But it seemed like an amazing opportunity so I decided to go.
I booked a flight with Turkish Airlines which included a free layover in Istanbul. I spent three glorious days therel having way too much fun. I figured there wasn't going to be a lot of drinking in Pakistan so I might as well make the most of it.
I'm not gonna lie, on my flight over to Pakistan I started feeling scared. Everyone I told that I was going there looked at me like I had two heads, and I started to question my own decision. However, once I got Pakistan those concerns quickly went out the window.
I was greeted with the kindest hospitality that I've ever experienced. People are incredibly nice there, like possibly as nice as Newfoundlanders. They will continuously check to see if you're OK, almost to the point that it's annoying.
Pakistan is also incredibly beautiful. Every perception I had of the country, much thanks to the media, was challenged during my time there.
But that trip wasn't without its challenges. This is probably an overshare, but I had the worst case of travelers diarrhea that I've ever experienced in my life. It started while we were in Karachi which I didn't mind so much because we were staying at a 4-star hotel with a nice toilet. But once we started traveling around the country, which involved long, cramped bus rides and squat toilets, it really started to get to me.
I just got sicker and sicker, to the point that I didn't eat for a couple of days. I tried several courses of antibiotics, but they didn't work. I also attempted to hike to Nanga Parbat base camp (the 8th highest mountain in the world) during this time, which didn't help my condition. But no regrets, I had to try it while I was there. Eventually, I went to the hospital and they gave me antibiotics through an IV, and I was finally able to regain some strength. Going to a hospital in Pakistan isn't a good time, I don't recommend it.
Sickness aside, I'm still incredibly grateful for the opportunity to have gone there. Pakistan is insanely beautiful and I feel lucky that I got to see it. I also met some other wonderful content creators on that trip.
High: Backpacking Turkey
Since I had flown all the way to that side of the world – I decided to return to Turkey and visit the magical land of Cappadocia where I got to soar in the skies in a hot air balloon.
Somewhere in between Pakistan and Turkey, I had come across an opportunity to go on a press trip to Malawi in Africa. Again, not having much confidence in myself, I didn't think much of it when I applied so I was ecstatic to find out that I have been invited to go just a few weeks later. I love when the universe sends you signs that you're on the right path.
I decided to return to Canada in between Turkey and Africa since I was paying for my expensive apartment in Toronto anyway, and I needed completely different clothes for Africa. Also, while I loved Turkey, I was anxious almost the entire time there about the fall out with my friends from Iceland and wanted to repair things with them.
Highs: Malawi & Zambia
So there I was off again on a plane going on a press trip to Malawi, feeling the need to pinch myself because I couldn't believe I was living my dreams. As scary as it was to quit my very secure government job, none of these opportunities would have happened if I had stayed.
I spent two weeks living on a research camp in the African bush, studying the wildlife in the area. Even though we had to get up at 5:30 am every day, I felt so happy while I was there. There's just something about watching herds of elephants over your morning coffee. Nature and wildlife are my two favorites things so I felt completely aligned with the universe while I was there.
Living on the research camp in Africa was not without its faults either though. I had to shower with a bucket and avoid peeing at night so I didn't startle the elephants and get trambled on. Nearing the end of our trip two people became infected with African sleeping sickness which is a possibly fatal disease caused by Tsetse flies. They had to be taken to the hospital in Johannesburg but thankfully, they both survived. If you take anything from these stories, it should be to get travel insurance.
I decided to stay in Africa and travel for a while after, so I went to neighboring Zambia to go on my first safari at South Luangwa National Park. It was magical, and I finally lived my dream of seeing a leopard in the wild.
After that I took the longest and hottest 13-hour bus journey of my life to Victoria Falls where I discovered the power of pitching. I didn't have any work lined up there, but decided to send out some last-minute pitches and ended up doing an amazing partnership with Livingstone Adventures in Victoria Falls doing river rafting, boat cruises, helicopter rides, and more. Ask and you shall receive.
Highs: Women in Travel Summit (WITS) in Latvia
After TravelCon I became slightly obsessed with conferences so I had bought a ticket to WITS in Riga, Latvia. Due to the timing, I ended up flying directly from Zambia to Latvia via South Africa, and was almost denied entry because my passport was full (what a first world problem, hey). Side note: Make sure your passport has at least six blank pages if you are traveling through Africa.
I went on a pre-conference FAM trip and was put with an amazing group of four female travel bloggers. I'm not sure if all travel bloggers are awesome, or if I'm just really lucky. Either way, the people I've met along the way is hands down the best part about this blogging journey.
WITS was a wonderful experience and only inspired me further to continue on the path I was going. But at this point in time, I was still paying rent in Toronto yet had only been there for six weeks out of the last six months.
Enough was enough. I decided it was time to stop paying for that, move out, and become a digital nomad. So I went back mid-November and packed my life away into seven boxes which were sent to my hometown in Newfoundland followed shortly after by me and my cat.
Low: Christmas at home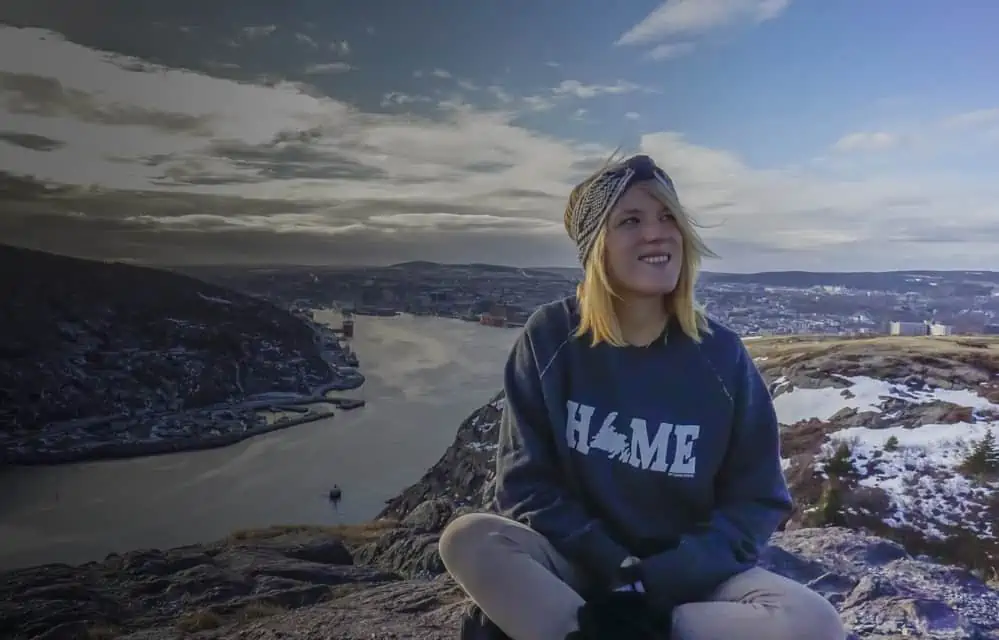 I came home at Christmas time for a few weeks of relaxation before I hit the road, or, what should have been. The truth is, coming home at Christmas just hasn't been the same since my dad passed away a couple of years ago.
This year was particularly awful. I got caught up in some high-school level drama, and while admittedly I was at fault, it was a reminder of all the reasons I left in the first place so many years ago.
Don't get me wrong, I think Newfoundland is absolutely breathtaking and there's a lot of things I love about it. It has a ton of nature, hiking trails, and wildlife opportunities. But for whatever reason, being here has always made me feel like I don't belong.
Those feelings were amplified to the max over Christmas which ultimately culminated to spending New Year's Eve crying alone in bed. Not exactly how I wanted to break in 2020. I felt so depressed, so the next day I decided to pick up my cry face and do what I do best: book a one-way plane ticket somewhere far away. I decided to go back to one of the happiest places on earth: Costa Rica.
Highs: Costa Rica
I had met this girl Iona at TravelCon and a few other Toronto blogger networking events and remembered her mentioning she was going to be traveling in Costa Rica this winter. I decided to message her to see if we could meet up, and that message turned into an amazing three-week road trip, a wonderful friendship, and attending a major music festival as media.
I was literally pinching myself that I was at this festival as media – everything I loved was colliding. The rest of the trip was perfect too. We road trip around the country, did a few more blogging collabs, chased waterfalls, and I even met a cute guy. It was everything that I needed at that time.
As soon as I left Newfoundland all of those things I was so caught up with in my head just went away. I was reminded of all the beautiful, amazing people there are to meet in this world, and I was feeling completely on the right path.
Highs: Yellowknife
I switched climates completely in February and went -80 degrees cooler to Yellowknife in the Northwest Territories of Canada. Another one of my goals for 2020 was to start housesitting more, and my friend Kathryn asked me to watch her place and dogs while they went to Mexico which I happily said yes too.
Although I was pretty isolated, I really enjoyed my time in Yellowknife. I had just come from a non-stop month in Costa Rica so I was happy to have the downtime to get ready for my upcoming trip to Europe. Plus I got to live my dream of seeing the northern lights and had two really cute dogs to keep me company.
Highs and Lows: Italy & France
After Yellowknife I went back to Newfoundland to get ready for TBEX in Italy (another conference). I was only there for two weeks and was busy getting ready for what should have been five months in Europe, so I wasn't particularly bothered.
After TBEX I was planning to spend the next few months backpacking and hiking across Europe until Propel in July, another conference I had been selected to attend in Austria that I was VERY excited about it.
At this point in time Coronavirus was a growing concern around the world, and just a couple of days before my flight, the conference got canceled. However, the organizers were still going to put on tours for the bloggers who were still going, which was about 50 of us. Obviously, at this point, none of us had any idea what was coming.
So I set off for Italy and spent a wonderful weekend in Rome with my friends Lori and Kasia. We rode bikes through the empty streets of Rome and got to visit the Colleseum and Vatican with the lowest level of tourists the country has experienced in years. It was actually a pretty special experience.
That Monday I traveled my train to Catania, only to have the entire country go into lockdown that evening. We were told to get out as soon as possible.
Me and Alex, another blogger I just met that night in Italy, decided to go to France as we still weren't sure what was happening globally. At this point, it hadn't been declared a pandemic. And walking around France, you'd never know it was happening with huge crowds gathered in squares (the country went into a much stricter lockdown shortly after leaving).
However, I was riddled with anxiety about what was going to happen. Like so much of the world, I was scared. After the WHO declared it a pandemic and Trudeau urged Canadians to come home, I booked a ticket back to Newfoundland.
My dreams were coming to a halt.
Lowest of lows: Newfoundland (am I sensing a pattern here?)
Oh boy. Where do I even start with this.
I don't even remember the first two weeks to be honest with you. I know I was in self-isolation, but I'm not sure what else I did with my time. Oh right, Tiger king.
It hasn't been all bad. In fact, I was pretty happy there for a while. I was doing yoga every day, taking online Spanish classes, and making the most of the virtual travel opportunities. I've been hiking like crazy, and have almost completed the East Coast Trail. I also got to foster a cute doggo named Layla who has stolen my heart.
I've also joined a coaching group led by Kristin of Be My Travel Muse, which has been wonderful. It's probably been the most productive I've ever been with blogging, yet I'm seeing the least results because people aren't traveling right now.
But in the last few weeks, I've cracked.
I am both an introverted and extroverted person. My introverted self is satisfied for a lifetime, but my extrovert self is screaming at the top of her lungs.
Things are starting to open back up here now, but I still don't have much of a life, and unfortunately, I'm not sure how much that actually has to do with the pandemic.
Because of the drama that happened with my friends earlier this year, I already had a ton of social anxiety about being here. The added anxiety of social distancing is not helping.
I feel like I have no community here, and trying to make friends during a global pandemic isn't easy.
And truthfully, my intention was to never move back to Newfoundland. It was to simply bring my belongings and cat here. But I still want it to feel like a welcoming place I can return to, and I hate that it doesn't. I want to feel accepted here, like it is my home. But I feel the opposite.
I don't know where to go from here. I don't even know if coming back here was the right decision – but where do you go during a global pandemic when you don't have a home? It wasn't a question I thought I'd have to face this year when I gave up mine, but life is funny like that.
I don't know what my future holds now, but I know change needs to happen, and I know it needs to happen soon. With restrictions easing and borders starting to open up, there is hope on the other side. Ideas are brewing in my head.
Stay tuned my friends.