This post may contain affiliate links. By clicking and making a purchase through the links, I earn a small commission at no extra cost to you. See my disclaimer for more information. This and display ads allow me to keep the site up to date and give back.
I can't believe how much the world has changed in just a week.
Just over two weeks ago, I was sitting at home getting ready for my trip to Catania, Italy where TBEX (a travel blogging conference) would be taking place. I have another conference coming up in Austria in July, so my plan was to stay in Europe at least until then.
Two days before I was set to leave for my trip, the organizers of the conference decided to cancel due to the outbreak of Coronavirus in Northern Italy. However, many attendees were either already there or en route, and couldn't refund their trip at this point. Given this, the sponsors of the conference in Italy decided to put on several tours and FAM trips for the people who were still going to Italy, which was about 50.
I thought about it for a long while and decided to continue with my trip. Based on the current situation, you may be wondering why on earth I would even go to Italy. It's hard to believe, but the situation looked very different then, especially for the region where I was going (Sicily). Here are some of the factors that played into my decision:
There were less than a handful of known cases in Sicily
I had all the travel booked and could not get any of it refunded at that time. My insurance company would not cover it as at the time there were no travel restrictions for this part of Italy (only the Northern region). Even when I reached out to the hotels to cancel, they told me "life goes on in Catania."
I was able to get insured for the trip including Coronavirus related issues (now this is much more difficult)
The Canadian government had no warnings against where I was going (only for the Northern regions)
I do not have to be back in Canada for anything else in the near future, so if I had to self-isolate or quarantine for two weeks I could afford the time to do so.
I was confirmed on several FAM trips and tours rock climbing, hiking, exploring islands, and doing other amazing things around Italy along with 50+ other bloggers who were still attending
Based on all those factors, I decided to go. I spent the first couple of days in Rome with two friends which was so lovely. Although there were fewer tourists there, the streets were still full of people enjoying the warm spring weather.
On Monday, I took a train to Catania and headed out to meet the other TBEX attendees for supper as soon as I arrived. I sat next to Mario, who was the main coordinator between attendees and tour operators. He was listening in on a press conference with the Italian prime minister and looked very concerned.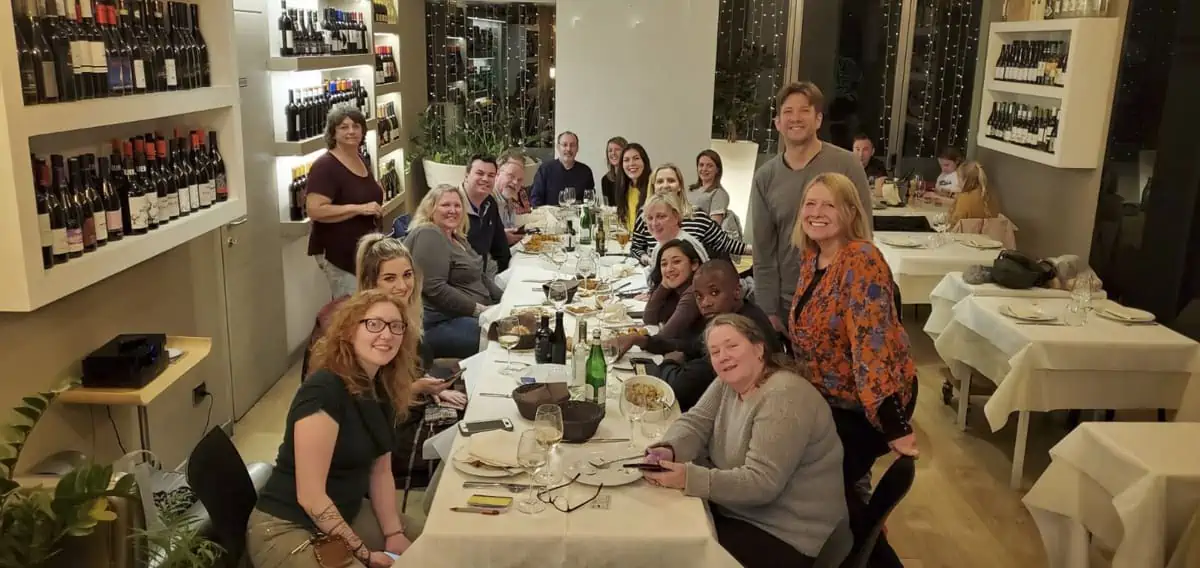 We continued eating a delicious feast of fresh fish, cheeses, and meats, while we waited for Mario to translate the news to us. He soon tells us the entire country is going into lockdown, and that we should get a flight out as soon as possible. My heart sunk.
We all started panicking and booking any flight out. I didn't know where to go but had thought about heading to Malta after Italy. Another travel blogger there said he was interested in Malta as well so we booked the flights together. At this point, there were no travel restrictions outside of Italy.
The next morning I woke up to a flight notification that my flight has been canceled. Malta had closed their borders to Italy.
I didn't know what to do. Frankly, I was panicking. More and more flights were getting canceled, and Ryanair announced they would stop all flights out of Italy on Friday. I booked a flight to London, despite not wanting to really go there, but it was a way out.
I went outside with some other bloggers and tried to enjoy the beauty of Catania. Despite the country being in lockdown, things felt relatively normal. The markets were still open, and lots of people were out on the streets. Now the government has become much more strict with the movement of people, as the outbreak continues to get worse.
As I was enjoying some wine with my new friends, I got the unsettling notification on my phone that my flight to London had been canceled. At this point, I just wanted to get anywhere else. I found another flight to Marseille leaving the next day, which I quickly booked.
I was relieved to wake up the next morning with no flight notification cancellations. The flight went ahead, and it was no problem coming into France. Everything felt normal here, and I felt rushed with joy when I first arrived. However, as the days went on I began to feel more and more anxious.
I was traveling with another blogger from the TBEX survivors crew and we had rented an Airbnb in Marseille for a few days to assess the situation.
To be honest, life in France felt completely normal. Everything was open, and the squares were still packed with people. But my gut was filled with anxiety. After just seeing the horrible situation that developed in Italy, I can't help but feel things are going to be the same in France soon. I didn't feel comfortable going outside, as it was a risk for both me and others, and staying inside and reading the news wasn't fun either.
I was planning to stay in Europe until August so it was a really difficult decision if I should try and wait it out or return back to Canada. As a digital nomad, I felt put in a really weird position. I gave up my apartment and belongings earlier this year in Toronto so I didn't have a place to return there. I was also nervous about the risks of traveling back and further spreading the virus.
My anxiety got worse and worse as the days went on and more borders closed, I knew it was time to make a decision, I was worried about staying in a foreign country for an undetermined amount of time, knowing at this point my travel insurance wouldn't cover me should anything happen related to the virus.
I talked to my family at home and we made a plan for me to self-isolate when I got back to Canada. My decision was timely, with the Canadian government urging Canadians to get home soon before commercial flights are no longer available.
Too late to go home?
Unfortunately booking a last-minute flight wasn't so easy, and incredibly expensive. Luckily I had been saving Aeroplan points for a while now and was able to find one on points. What I didn't realize is that with the crazy amount of bookings going on, my flight wouldn't ticket on time. I couldn't get a hold of the Aeroplan call center because of the insane call volume. It wouldn't even put me in the call queue.
I showed up at the airport the next day only to be told they had no record of my flight. It was devastating.
It would have cost me 3500 euros to buy that ticket on the spot, which I was worried about doing as with the current situation, my career is virtually on hold and I am dependent on my savings. I needed to get a points flight back.
Heros of the internet
I posted in a points group on Facebook about my situation and many people tried to help me. One person gave me their Aeroplan number and pin to call in the center as they have Elite status, which puts them in the priority queue. I was able to actually get in the queue and speak to an agent, who would help me purchase another ticket (through the phone they get ticketed instantly). Without this help, I don't think I would have been able to get a points flight and I was looking at thousands of dollars to buy one in cash. I also had many friends and strangers reach out to offer their help and look at flight routes for me. It's these acts of kindness that remind me we are going to be okay.
I flew to London and caught a flight from there to Toronto. It was timely, with the main airline carriers in Canada announcing that they would be stopping international flights in a couple of days.
PHEW.
I've learned a lot of things this week about pandemics and human psychology. I know I don't make good decisions under stress, and there are things I would change. But right now, I'm just grateful to be back in Canada, to have a place to go, and a family that cares about me that to re-arrange their lives so I can self-isolate. I am also incredibly grateful for the outpouring of support from strangers and friends alike sending me well-wishes and energy to get back. It has helped me tremendously to get through this insane week.
Should you still be traveling?
It's an absolutely crazy time in the world right now and I do not advise traveling anywhere right now. It's almost impossible to go into most countries, and I feel lucky to have made it back to mine. With so many borders closing, it's time to either get home or stick it out where you are. Think smartly if you have the resources to do that. Most travel insurance providers are not covering anything related to Coronavirus at this point. For myself, I wanted to be in my own country where I have support networks and healthcare. I don't know how any foreign government is going to react to the situation, and I certainly don't want to be a strain on their systems during this crisis.
This is uncharted territory for the world and decimating economies, in particular the travel industry. It's hurting so many aspects of my life, but I know I am not the only one. We are all in this together, every human, event country. There's something powerful about that, and I do believe that we will get past this. How long will it take before things return to normal again? That's unknown right now, which is causing mass global anxiety and effecting everyone's mental health.
Keeping Sane in the Meantime
Right now most of us are going to be stuck inside, much more than we are used too, and it's important to do things to help keep our mental health in check. I spent almost all of last week reading the news from various sources non-stop, and it sent me to a bad place. Limit the time that you spend reading the news about this, and pick verifiable sources. If you need information about Coronavirus, the World Health Organization and the Center for Disease and Control are the best place to go. Harward University has put out a great article on coping with Coronavirus anxiety.
Be grateful that we live in a time where we can still connect with each other online, no matter where you are. Keep talking to your friends and family online. Just because we're isolated doesn't mean we can't stay connected.
Even though my travel blog is virtually dead right now, I'm going to be using this time to make it even better for the future, along with other creative projects. It's rare we get time like this in our lives to slow down, and I believe some beautiful things are going to come out of this.
It's going to take time, but it's going to be okay.