This post may contain affiliate links. By clicking and making a purchase through the links, I earn a small commission at no extra cost to you. See my disclaimer for more information. This and display ads allow me to keep the site up to date and give back.
Looking for the best things to do in Yellowknife? As the capital of Canada's stunning Northwest Territories, it's full of adventurous things to do year-round.
During the winter, enjoy the beauty of the northern lights and unique Canadian sports like dog sledding. As the frozen land unthaws in the summertime, take a boat tour around the second deepest lake in the world or go on a world-class fishing adventure.
Whatever time of year you choose to visit Yellowknife, you won't be disappointed. I loved my trip there and want to share with you all the best things to do in Yellowknife.
Things to do in Yellowknife Year Round
Be dazzled by the Northern Lights
Yellowknife is one of the best places to see the northern lights in the world, given it's proximity to the arctic circle and stable weather patterns which give way to clear skies.
Viewing the Northern Lights is an (almost) year-round activity. The lights are accessible 240 days a year with the exception of the summer months (June, July, and August) when the sky doesn't get dark enough – hello midnight sun!
I have an entire post about chasing the northern lights in Yellowknife, but essentially, you have three options.
DIY: Rent a car and DIY! While sometimes you can see the Northern lights from Yellowknife, you'll have a better view if you drive away from the cities light pollution. Take Ingraham trail out of the city, and pull over by one of the many lakes for a spectacular view. The best time to see the lights is between 10 pm – 2 am.
Join an aurora hunting tour. If you don't have your own car or prefer to go with a group, you can join a Northern lights hunting tour. The company will pick you around 9:30-10 pm and head out of the city to 'chase' the northern lights. This is a great option as they know all the best spots for viewing the lights, and can help you take fun photos like this!
Fixed location tour. There are also several villages outside of Yellowknife catered to northern light viewing. You'll stay in one spot for the night and be comforted by a warm fire inside a cabin or teepee. Aurora village is a popular one.
All three options have their pros and cons, check out my aurora guide for more information to help you choose. If you're passionate about photography, you can also join an Aurora Photography Workshop where they will teach you the best settings for capturing the northern lights.
Be sure to buddle up with the right clothes for winter in Canada.
Yellowknife Hiking
One of the best parts about visiting the Northwest Territories is having access to so much pristine wilderness. With a landmass of over 1,300,000 square kilometers, there are so many opportunities for hiking in and near Yellowknife. While more of the hiking trails are accessible in the summer, there are still many you can access year-round. Hiking is one of the best ways to enjoy the pristine wilderness surrounding Yellowknife!
Frame Lake Trail or Niven Lake Trail – Quick hikes in the center of Yellowknife.
Tin Can Hill Loop – An easy 1.9km loop trail in town. One of the more populated trails, locals often bring their dogs here.
Prospector's Trail Scenic Viewpoint – A nice 4km loop hike, the trailhead is off Ingraham trail.
Ranney Lake Trailhead – Tale the Ingraham trail out of town until you turn left onto Vee Lake Rd. Head towards the lake and you'll see Ranney Lake Trailhead to the right.
Cameron Falls trail – Drive 47 km on the Ingraham Trail to reach the Cameron Falls hiking trail. It's about a 20-minute walk to the waterfall. If you don't have your own car, you can join a guided hike to Cameron falls which includes pickup.
Old Town Yellowknife
Old Town is the heart of Yellowknife and is a very cute area. Walk around and visit the shops, glassworks studio, houseboats, or grab a bite at one of the city's great restaurants and cafes. Here are some fun things to do in Yellowknife Old Town.
Explore the art galleries. Old Town is home to the majority of art galleries in Yellowknife such as Down to Earth Gallery, Frozen Rock Studio, and Gallery of the Midnight Sun. These are great places to buy unique aboriginal art that supports the community!
Pilots Monument. Head to the top of Pilot's hill where you can get sweeping views of downtown, old town, and great slave lake. The monument is dedicated to the bush pilots and engineers who passed away as they delivered supplies and people to remote villages and mining camps during the 1920s and 1930s.
Old Town Glassworks is a worker's cooperative that creates beautiful recycled glassware from rescued bottles on the shores of Great Slave Lake. You can browse the showroom and even sign up for a glass-making workshop. They are 2 hours long and include a brief history of the organization, a demo of cutting, grinding and polishing a glass bottle and instruction on how to stencil and etch your own personal piece of glassware. It's a great way to spend a few hours in Yellowknife and you get to take home your own souvenir! Check workshop hours for old town glassworks here.
To learn about Yellowknife's history, you can also join a Yellowknife sightseeing city tour.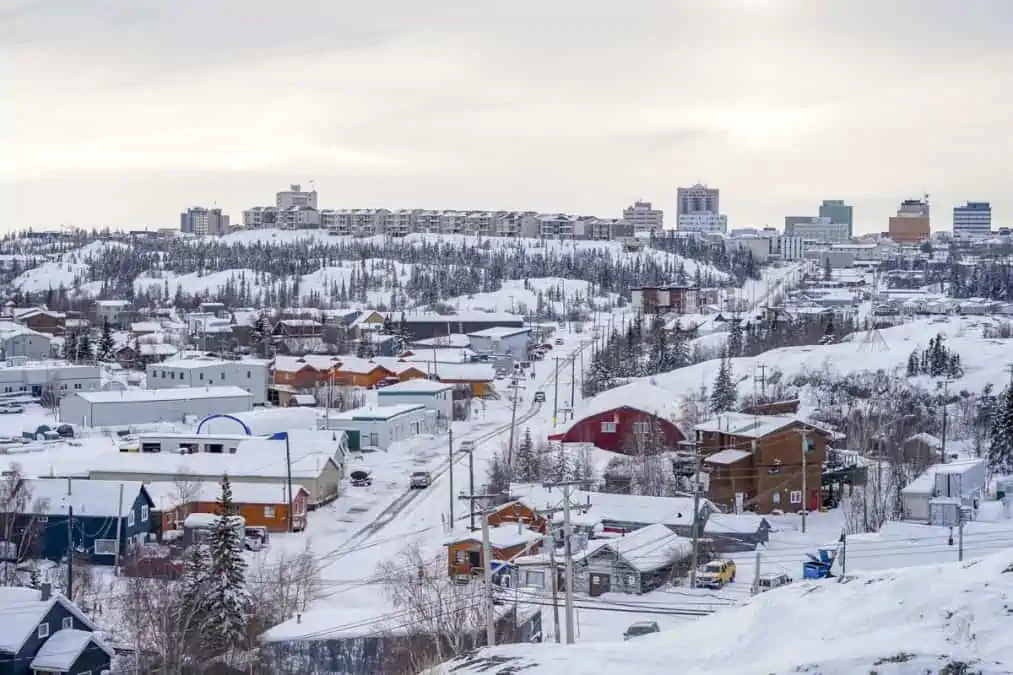 Prince of Wales Northern Heritage Center
The Northwest Territories government official museum and archives. At Prince of Whales Northern Heritage Center, you can learn about Aboriginal culture as well as the history and wildlife of the area. It's a wonderful museum that has become one of the best attractions in Yellowknife.
Admission is free and it's open daily from 10:30am – 5:00pm (9:00 pm on Thursdays).
Tour of Legislative Assembly
You can visit inside the Legislative Assembly on an hour-long guided tour provided by Public Affairs. On the tour, you will explore one of the most unique legislatures in Canada and learn about the consensus system of government that sets the Northwest Territories apart from other Canadian provinces.
Tours run weekdays at 10:30am.
Things to do in Yellowknife in the Winter
While I'm not a big fan of winter in Canada, I actually loved visiting Yellowknife in February.
Covered in a blanket of snow, the city becomes a wonderland for outdoor winter fun. Here are the best things to do in Yellowknife during the winter.
Drive on Dettah Ice Road
Despite being one of the world's deepest lakes, the ice on Great Slave Lake becomes so thick during the winter that huge 18-wheeler trucks can drive on it. The lake turns into a main road during the wintertime, linking communities such as Dettah that would otherwise take 4x as long to reach. It's fun to drive out on the ice road and see for yourself how thick it is! If you don't have your own car, you can join a guided ice road adventure.
Dog Sledding or Kick Dog Sledding
One of the most famous things to do in Yellowknife during the winter is to go dog sledding, where you are pulled by energetic huskies across the lake. I discovered the slightly different sport of kick dog sledding while I was there, which I highly recommend. Instead of simply being pulled in a seat behind, you work with the dogs to kick the sled forward while standing up. I enjoyed this more because it keeps you active (you can get very cold just sitting), and it's less work on the dogs. I went with Sundog adventures and all of their pups seemed very happy!
Yellowknife Ice Caves
During the wintertime, these beautiful ice caves form from the water that flows down from a small lake above. They are a little tricky to find, but if you go on the kick dog sledding tour I mentioned above, they will take you. There are also private guided tours to the ice caves. Otherwise, it is possible to get there on your own.
To reach the ice caves you have to get to Back Bay Cemetery, which is only accessible from the lake. If you put in 'Back Bay Ice Caves' into Google maps, it will bring you to an area to park in Niven. Park there, and take the multi-use trail from Niven towards the lake which takes about 10 minutes. At the lake, turn left and follow the shoreline for approximately 10 minutes until you reach Back Bay Cemetary. From there, it's a 5-minute walk to the Ice Caves along a rock wall.
Snowmobile Tour
If you want to explore the surrounding landscape with speed, then a snowmobile tour is an excellent choice. This thrilling excursion will guide you to the backcountry wilderness of Yellowknife. I saw snowmobiles parked by the ice caves mentioned above, so I believe some snowmobile tours stop here too.
Ice Fishing on Great Slave Lake
Ice Fishing is a big part of life up North. Great Slave Lake is full of huge fish to catch, even during the winter, as the water is still fluid below the thick layers of ice the water. Join an ice fishing tour and you will get the chance to see how this unique tradition is done, from carving out the hole in the ice to frying it up at the end.
Snowshoeing & Skiing
While there aren't many hills in Yellowknife for snowboarding, it's still a great place for snowshoeing and cross-country skiing. Hit the same hiking trails I mentioned above. If you're really adventurous, you can also try winter biking on the trails in Yellowknife!
Snowking Festival
Every March, a month-long festival is held in a castle built from snow on Great Slave Lake. It's a huge complex with a courtyard, café, auditorium, and ice sculptures. During the weeks leading up to the festival, you can see the construction of the snow castle and even join a small walking tour that will take you through the site. It's one of the main attractions in Yellowknife during the winter!
Things to do in Yellowknife in Summer
Yellowknife during the summertime is a completely new experience from the winter. As the ice melts away, it gives access to new ways to enjoy the beautiful lakes surrounding Yellowknife.
Fishing Tours
One of the most popular things to do in the summertime in Yellowknife to take a fishing tour on Great Slave Lake. As one of the deepest and largest lakes in the world with only a small population accessing it, this leaves the lake full of a variety of massive fish species. Book with the tour operator and they will take you out on a boat to the best spots to go fishing.
Yellowknife Boat Tours
Even if you don't want to go fishing, taking a boat tour is still a really fun thing to do in Yellowknife in the summertime. See Yellowknife from the harbor, pass by the colorful houseboats, and head out to Great Slave Lake where the guides will tell you about Indigenous people and the history of this region.
Kayak/Paddleboard/Canoe
For a more active adventure rent your watercraft of choice and set out on the lake. Paddling through the sheltered waters of Yellowknife's Back Bay is the perfect way to spend a summer day. You can also go on guided canoe/kayak tours where you'll learn about the history of the area.
Camping
Visiting Yellowknife in the summer is the perfect opportunity to go camping as the weather is warm enough and the daylight hours are long. Imagine kayaking in the lake under the midnight sun! Fred Henne, Prelude Lake and Reid Lake Territorial Parks all have campsites available for use.
Floatplane Scenic Tours
One of the best adventures to go on in Yellowknife in the summer is a floatplane tour. You'll meet the crew in Yellowknife's old town and will be warmly welcomed onboard the small aircraft. You'll take off from the water and head off for scenic views of the old town area and Great Slave Lake. You can also arrange custom charters and tours to take you to further away such as Nahanni National Park, a UNESCO World Heritage Site. Nahanni is home to Canada's sixth largest waterfall!
Places to Eat & Drink in Yellowknife
Despite its small population, Yellowknife has some great options for eating out and drinking. The two main airlines are Air Tindi and AHMIC Air.
NWT Brewing – A local brew company in Yellowknife serving up craft beers and delicious pub-style food. It's a lively atmosphere inside and they often have live music.
Wildcat Cafe – One of the most iconic buildings in Yellowknife, the Wildcat Cafe is a circa-1937 mining-camp log cabin serving up a range of items including brunch, burgers, and steaks. It's only open during the summer month.
Bullocks Bistro – If you want to try some of the best local fish in Yellowknife, Bullocks is the place. While on the pricier side, the portions here are generous and will fill you up for a long time. Expect a long lineup here!
Black Knight Pub – A nice place to grab a beer and pub fare in downtown Yellowknife
Dancing Moose Cafe – Cute cafe inside Yellowknife old town with great brunch options
Zehabesha Traditional Ethiopian Restaurant – some of the best Ethiopian food you can find in Canada, believe it or not!
Where to stay in Yellowknife
Explorer Hotel – One of the most popular options in Yellowknife. This hotel is in a great central location, just 5km away from the airport (with a free shuttle) and centrally located in downtown Yellowknife.
Chateau Nouveau Hotel – Brand new hotel located in a central location with access to walking trails and on-site restaurant.
If you want to reduce your costs while staying in Yellowknife, there are also a number of affordable Airbnb rooms available.
Best Time to Visit Yellowknife
The best to visit Yellowknife depends entirely on what activities you want to get up too. If your main goal is to see the northern lights, then anytime besides the summer months is best. If you want to partake in winter activities like dog sledding and ice fishing, then November-April is the time to go.
I've heard September is a great time to visit because the lights are visible but you only need a light jacket at night. I visited in the dead of winter in February, and although I'm not much of a winter person, I still loved it. I want to go back in the summertime and explore all the hiking trails and lakes!
Getting to Yellowknife
Given its remote location, the easiest way to reach Yellowknife Canada is by plane. The airport is small but has daily flights in and out. If you are flying internationally you will likely connect in Vancouver, Calgary, or Edmonton. Search on Skyscanner to find the cheapest flights to Yellowknife.
While it's possible to drive to Yellowknife this is going to take you a long time, plus the weather conditions can be volatile. That said, if you have the time and resources, a road trip to Canada's northern territories would be an incredible experience.
Final Thoughts
The Northwest Territories are such a unique part of Canada and I'm so glad to finally see it. Whether you want to see the northern lights or camp under the midnight sun, Yellowknife is the perfect destination for outdoor fun and adventure. If you have any questions about visiting Yellowknife, let me know in the comments below!
Found this post helpful? Pin it for later!