This post may contain affiliate links. By clicking and making a purchase through the links, I earn a small commission at no extra cost to you. See my disclaimer for more information. This and display ads allow me to keep the site up to date and give back.
Is there any better way to take in the view of a beautiful place than from the sky? Taking a hot air balloon ride is such a fun adventure that can make for an incredible memory of a destination. After recently taking a balloon ride in Mexico over ancient pyramids, it got me thinking about what other epic hot air balloon experiences there are.
I asked some other travel bloggers what their favorite hot air balloon rides are, and it turns out there's a lot of incredible places to go ballooning on this planet! From the plains of Africa to the mountains of Switzerland, you'll want to add these 12 incredible hot air balloon destinations to your bucket list.
Top Hot Air Balloon Experiences In The World
1. Mexico City, Mexico
As one of the largest cities in the world, Mexico City offers just about anything you could want to do, but this adventure is one you don't want to miss. What makes hot air ballooning in Mexico City such a special experience is that you get to fly over the pyramids of Teotihuacan.
I booked this tour on Viator, which included an early morning 5 am pick-up at our hotel. It's about an hour's drive from Mexico City to Teotihuacan, where we were greeted with coffee as the staff pumped the balloons full of air. We even got to go inside one while it was being inflated, which was a first for me! Our group was one of the last balloons to go up, which was nice because it meant that we got to see all the others floating in the sky.
We floated over the city of Teotihuacan, making our way towards the ancient pyramids. The views are amazing from the balloon. On one side, there were snow-capped volcanoes and on the other ancient civilizations. It was also the smoothest balloon takeoff and landing I've had yet.
Afterward, we celebrated with some champagne and were transported back by truck from where we took off. What's great about this tour is that it includes a buffet breakfast afterward and some extra time to walk around the ancient pyramids before dropping you back off at your hotel – easily one of the best day tours from Mexico City!
2. Jaipur, India
Although hot air ballooning is not something the country is famous for, India was actually the first place I ever took a hot air balloon ride and my most memorable experience to date. The adventure takes place just outside of the colorful town of Jaipur, and as far as I know, it's the only place you can do this in the country.
Unlike other balloon experiences around the world, on my hot air balloon experience in Jaipur, we were one of only three balloons that took off that morning. We set off just before sunrise and got incredible views as the sun began to peek over the hills and light up the land below.
We floated over small rural villages and as we passed by the locals stood on their roofs waving us big hellos. It was so much fun to wave back at everyone from above!
What was so memorable about this experience is that the pilot had some difficulty landing due to the winds, and eventually, we ended up landing in someone's backyard. Because this is India, the entire village came to greet us with masala chai, taking pictures of us and asking for selfies. It was one of those moments that makes you fall in love with India.
The company that runs the hot air balloon rides, Sky Waltz Balloon Safari, is reputable and safe. They are India's first fully licensed and Government approved commercial hot air balloon operation with highly experienced, internationally licensed pilots. The operating season starts on the 1st of September and finishes on April 30th!
3. Best hot air balloon experiences: Cappadocia, Turkey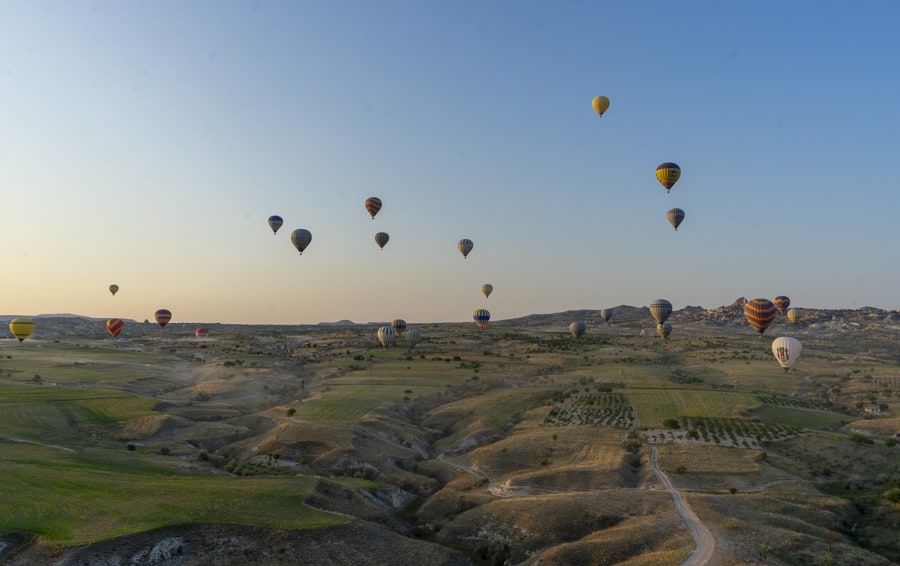 One of the main reasons people come to Cappadocia is to take to the skies over the unique landscapes of this region. Cappadocia is famous for being one of the best places for hot air balloon rides – and with good reason. A balloon flight in Cappadocia is a surreal experience worthy of all the hype Instagram makes it out to be.
The best part about a hot air balloon flight through Cappadocia is getting to see the region's stunning landscape from that point of view. We passed over Fairy Chimneys, Monk's Valley, Imagination Valley, cave hotels, and vineyards. The landscape seemed to change every minute we were in the air!
The price of a Cappadocia balloon flight depends on the time of the year, as it's based on demand. When I visited in September 2019, I paid 170 Euros, and the hostel owner told me that they can go as high as 250 Euros! But looking online now the prices are much cheaper, so perhaps they've gone down since the pandemic.
It's a good idea to book your hot air balloon ride in advance of arriving in Cappadocia, as this activity is the most popular thing to do in the area. Although lots of people manage to get one last-minute, there is no guarantee you will be able to get a spot. You can book balloon tours on Viator and Get Your Guide.
If you aren't able to go while in Cappadocia, be sure to head out at sunrise to watch the balloons fly over the landscapes. Honestly, I enjoyed this as much as the balloon ride itself.
4. Sydney, Australia
Recommended by Alyse of The Invisible Tourist
While internationally recognized for structures such as the Harbour Bridge and Opera House, a beautiful countryside experience is never far away in Sydney, Australia. The sight of hot air balloons landing in residents' extensive backyards is a common sight in Camden Valley, just under an hour from the city center.
With an hour of flight time over the valley itself, a full sunrise hot air balloon experience here lasts around 3 hours, including the preparation beforehand and a chance to walk inside the deflating balloon afterward.
Costing around AUD 280, watching the sunrise during a Sydney hot air balloon flight is such a memorable and unique experience. On a clear morning, the Blue Mountains are visible in the distance. Afterward, the cost may include a hearty breakfast at Camden Valley Inn if booked through Klook.
The special thing about the region is seeing the contrast of geometric farmland beside rugged bushland, including the accents of winding rivers under increasing morning glow. It's just breathtaking! Passengers may be surprised at how utterly silent it is a kilometer above the clouds. Make sure to add this experience to your itinerary and see a different side to Sydney!
5. Albuquerque, United States
Recommended by Laurence of Independent Travel Cats
One of my favorite hot air balloon experiences was taking a morning flight as part of the morning mass ascension at the Albuquerque International Balloon Fiesta in New Mexico.
This is the largest annual hot air balloon festival in the world, and the morning mass ascensions play host to literally hundreds of balloons. Taking off in such a large group with so many balloons filling the sky is a truly unforgettable experience.
The flights last around 60 – 90 minutes, and the only operator you can use to take off from the balloon field is a company called Rainbow Ryders. Rates for a flight during the mass ascensions are around $429 / person for a group ride.
This is definitely more expensive than normal pricing but definitely worth it for the experience, which is hard to match. You'll want to book well in advance, as rides are very popular during the festival. You can do that on the official Rainbow Ryders website.
6. Fontainebleau, France
Recommended by Kenny of Knycx Journeying
Fontainebleau is the backyard of Paris, just a 45-minute train ride away. It is a popular weekend getaway location among the Paris locals due to the spectacular Château de Fontainebleau, gardens, musical festivals, and historic natural forest.
Fontainebleau is also a great location for taking a forest hot air balloon ride to admire the scenery from above. It is easy to find balloon ride operators, covering several routes and locations. While the packages may vary, it is guaranteed that once you hopped on the balloon, you will see a breathtaking view of Fontainebleau and all it has to offer.
The natural forest in Fontainebleau has an untouched beauty for being a hunting ground of the French imperial families for centuries. Today, the area has kept its serenity with patches of farmlands, lakes, and manors scattering among the lush forest. Some balloon tours even fly over the Château de Fontainebleau, giving you a unique view of the heritage from a different angle.
Tours began before sunrise and the costs range from €150 – €280, depending on the route, duration, and the package you select. Flights may last about one hour to a half-day, such as this one on Viator.
All of these flights will have an experienced pilot who takes on a flight at different heights and a rather lively commentary of the facts and history of the surroundings. After landing, the crew will offer you some refreshments, snacks, and a sip of champagne as a toast to a successful flight before returning to the city and begins the rest of the journey in Fontainebleau.
7. Vang Vieng, Laos
Recommended by Marie of A Life Without Borders
A hot air balloon ride in Vang Vieng is an experience of a lifetime – and something you'll always remember. Considered the adventure capital of Laos, Vang Vieng offers a range of outdoor adventure activities, including hiking, caving, kayaking, and most famously, river-tubing. But it is hot air ballooning that is the real drawcard for adventure-seekers in the area.
Famed for its breathtaking surroundings, a hot air balloon ride in Vang Vieng will reward visitors with incredible views of the region's striking limestone karst mountains, snaking rivers, and emerald-green rice fields.
With dawn and dusk rides to choose from, the hour-long flight ascends over the picturesque town nestled around the pretty Nam Song river before drifting peacefully over nearby villages and rice fields.
However, the most exciting part is the unique aerial perspective of Vang Vieng's renowned karst mountains; the jagged peaks erupting dramatically all around you, offering amazing photographic opportunities.
Costing as little as USD 90 per person, a balloon ride in Vang Vieng is one of the most inexpensive in the world, making it the perfect adventure activity even for those on a budget. Bookings can be made online through Viator or through local travel agents in Laos.
8. Dubai, United Arab Emirates
Recommended by Veronika of Travel Geekery
As if hot air ballooning wasn't cool enough on its own, in Dubai you can add to the experience by witnessing the sun rising above the desert. It's a magical moment.
Balloon Adventures Dubai is the go-to company if you want to experience a hot air balloon flight in Dubai. The standard package costs 1,250 AED ($340) and includes the actual hot air balloon ride, a ride in a vintage Land Rover, and a gourmet breakfast in a Bedouin camp.
Often there's also an optional falconry show or a camel ride. For an extra 100 AED, you can enjoy a wildlife safari in a vintage Land Rover with Platinum Heritage. It's an awesome experience too!
Everything can be booked easily on Balloon Adventures Dubai's website or on Get Your Guide. A hotel pickup is included in the price, usually at quite an early hour while it's still dark.
The driver takes you to the edge of the desert which takes about 50 minutes. The actual flying experience then lasts for about an hour. There are usually two hot air balloons up in the air simultaneously, which makes for great photos!
9. Cesky Krumlov, Czeck Republic
Recommended by Martina & Jürgen of Places of Juma
Cesky Krumlov in Czech Republic has one of the most beautiful medieval old towns in Europe, attracting countless visitors from all over the world every year. You will discover many sights, great photo spots, and excellent Czech cuisine in the many restaurants on a tour through town.
But a real highlight and an activity that not everyone knows about is a ride in a hot air balloon over the town. Experiencing Cesky Krumlov and the amazing landscapes from above is simply breathtaking and a great experience that you certainly won't ever forget.
Most flights depart directly in the early morning, just after sunrise. At this time, the panorama with the red roofs of the houses is at its most beautiful. But if you don't like to get up early, you can also choose a tour in the evening. The ticket price for most tours is appr. CZK 5,000 per flight and person, which is about 200 euros. A minimum of 3 passengers and a maximum of 4 is required for the tour.
10. Masai Mara, Kenya
Recommended by Alison of Alison In Andalucia
If you're planning a safari adventure in Kenya, make sure you add a hot air balloon ride to your itinerary.
As the day began to break and the balloon began its ascent, there were already signs of life on the savannah below us. Herds of elephants, giraffes, and zebras moved silently across the plains, and hundreds of wildebeest formed a noisy convoy as they began their annual migration.
The views stretched for miles from our lofty position, although the pilot frequently dipped down to the level of the treetops for close-up views of life in the Masai Mara.
We took a flight over the Masai Mara with Balloon Safaris Limited. The cost (including transport from our accommodation and a superb post-flight champagne buffet breakfast under the acacia trees) was around USD 400 per person. We booked through our safari guide a few days beforehand, although booking in advance is recommended.
It may seem expensive for an hour in the air, but it was worth every penny. To float silently above the plains of the Masai Mara as the sun begins to rise is worthy of any bucket list. In addition, the company makes a contribution to the Masai Mara National Game Reserve for every passenger who takes a flight.
11. Château-d'Oex, Switzerland
Recommended by Michelle of The Wandering Queen
One of the best balloon festivals in the world is called the Château-d'Oex International Hot Air Balloon Festival. It is a festival that has taken place every year for nine days at the end of January in Château-d'Oex, Switzerland, near the town of Gstaad. It has been going on since 1979 and usually includes balloons from 20 different countries.
The festival has airshows, food, drinks, helicopter rides, and passenger balloon flights. The price to attend the festival is CHF 15 per day for Saturdays and Sundays, CHF 5 for Wednesday, which is children's day, and CHF 25 for admission throughout the festival.
The price for riding the balloon is CHF 390 (425 USD) per adult, which you can make a reservation in advance. Just going to the festival is a beautiful experience. All the colorful balloons with the snowy mountains in the background make it a fantastic and beautiful event.
12. Luxor, Egypt
Recommended by Milijana Gabrić of World Travel Connector
A hot air balloon ride over magnificent Luxor and spectacular Valley of the Kings at sunrise is one of the best things to do in Egypt.
Traveling sensational Egypt, visiting mysterious Egyptian pyramids and ancient Egyptian temples is a trip that everyone needs to take once in their lifetime. But when you add a sunrise hot air balloon over breathtaking Luxor and amazing Valley of the Kings, the trip qualifies to become the most memorable trip of your lifetime.
Taking a hot air balloon ride over Luxor and the Valley of the Kings means gliding over the largest open-air museum in the world. And if you do it in sunrise when the sky marvelously changes colors, the scenery is unlike any other.
The hot air balloon tour company picked me up at my cruise ship anchored in Luxor, and they took me to the site where the balloon took off. The hot air balloon ride lasted about an hour, but the views of ancient Luxor temples and the tombs of the Valley of the Kings from the ballon were out-of-this-world.
The hot air balloon tours over the Valley of the Kings are available online via GetYourGuide or Viator or via tour agencies in Luxor or Aswan.
—
Which one of these hot air balloon experiences would you love to try?
Enjoyed this post? Pin it for later!