This post may contain affiliate links. By clicking and making a purchase through the links, I earn a small commission at no extra cost to you. This and display ads allows me to keep the site up to date and give back. Thanks for reading!
Costa Rica is a paradise for waterfall chasers. While driving through the country, it felt like we couldn't go five minutes without coming up on another one. But of all the waterfalls in Costa Rica, Rio Celeste stole my heart. The blue color of the water beneath the falls is just unreal. It's something you just have to see with your own eyes to believe.
This guide will cover everything you need to know about visiting Rio Celeste in Costa Rica, including tips on getting there, hiking in the park, when to go, and what to bring with you. Jump ahead to what you need!
Visiting Rio Celeste, Costa Rica (Hours and Fee)
Rio Celeste waterfall is located inside Tenorio Volcano National Park. The park is open every day from 8 am-4 pm but you must enter before 2 pm. This is strictly enforced – they will not sell you a ticket to enter past two!
They only allow 1000 people into the park a day and 500 at a time. That means if you show up and there are already 500 people in the park, you'll have to wait until someone leaves until you can go in.
Rio Celeste is one of the most popular waterfalls in Costa Rica, so if you want any chance of having it to yourself I suggest getting there when they open at 8 am. This is what we did, and ended up having it all to ourselves for about 10 glorious minutes. The trails became busier and busier the longer we stayed in the park.
The park entrance fee is $12 USD for adults and $5 for children for foreigners. They accept credit cards including AMEX.
Parking for Rio Celeste is across the street from the entrance and costs 2000 colones (approx $3.50 USD). There are attendants in the parking lot, but I still wouldn't recommend leaving any valuables in the car. As for facilities, there is a basic bathroom at the entrance of the park, and two restaurants that sell surprisingly reasonably priced local food.
Getting to Rio Celeste
Rio Celeste is in Tenorio Volcano National Park, which is an easy hour drive from La Fortuna. The best way to get there is by renting a car. The road is completely paved now so you don't need a 4×4 to get to Rio Celeste. As far as I know, there aren't any public buses running directly to the park. If you don't have your own car, there are some shuttles going there from La Fortuna, or you can also go on a day tour.
While Rio Celeste makes a good day trip from La Fortuna, the best way to make sure you get there early is to actually stay nearby the night before. The closest town is Bijagua. Although small, there are some good accommodation options I've recommended further down.
You could also drive to Rio Celeste from Liberia, which is what we did. It took about two hours with a quick lunch break. The roads are paved, so you don't need to worry about having a 4×4.
Hiking in Rio Celeste
Hiking in Rio Celeste is relatively easy, but there are some inclines, rocks, and roots that you will have to pass through. The difficult terrain is on the second part of the trail after the waterfall trail. If you are worried about hiking, you could just do the waterfall trail which is well paved.
The first part of the park, the waterfall trail (marked on the map by 'catarata'), is very flat and nice to walk on (1.5 km total). It's actually a paved path surrounded by the beautiful rainforest. After about 20-30 minutes of walking, you'll reach the staircase that leads down to the waterfall. The staircase is steep but there's a railing to hold onto. This part makes for a great photo op.
If you've arrived early and beaten the crowds I recommend doing the waterfall trail first, as you may just get it to yourself. I could have spent all day just staring at the waterfall!
After viewing the waterfall, climb back up the stairs to continue on the rest of the trail. Unlike the first part, the rest of the trail is made entirely of dirt. This is fine during the dry season, but in the rainy reason, it can become a bit of a muddy mess. There are four more main points of interest along the rest of the trail.
Next up is a mirador (500m), which means viewpoint, of the surrounding rain forest and mountains. There's also a platform you can walk up for higher views. Unfortunately, it was pretty cloudy that day so the views weren't the best.
From there, you'll walk another few minutes to Laguna Azul (650m), which is where you can see the blue color really pop.
The next point of interest is Borbollones (700m), which is where you can see the boiling section of the river. Apparently people used to be able to soak in the hot springs but it is now prohibited due to some unfortunate accidents. If you want to visit hot springs in Costa Rica, head to La Fortuna! There are so many amazing hot spring options there, including free ones.
The last section of the trail, Tenideros (1000m), is where the two rivers meet to create the color. This is where you'll see the bluest parts of the river! The hike to this section goes over some small hanging bridges which are gorgeous to walk through with the blue backdrop.
That's the end of the trail. To get out, you just turn around and follow the same way back. The total length of the hike is a 6km round-trip. It took us about three hours, which included taking lots of photos. If the trail is muddy, it's going to take you a lot longer.
You don't need a guide to hike Rio Celeste. The path is straightforward and there are signs along the way to direct you.
What causes the blue color, anyway?
The incredible blue color is actually caused by two rivers, the Rio Bueno Vista and Quebrada Agria, meeting together. Each river on its own appears clear, but when they converge it results in this unusual bright blue color. This is due to the minerals in the water. When the sunlight hits the mix of silicon, oxygen, and aluminum, it creates this incredible shade of blue.
In other words, SCIENCE!
There's also a Costa Rica myth that the gods painted the sky blue, and then washed their paintbrushes in the river, which in turn created its vibrant blue color. I love this!
Swimming in Rio Celeste
I was sad to discover that it's prohibited to swim in Rio Celeste waterfall or any of the river areas. I found out afterward that there is a free place to swim in the river, 1 km past the park entrance on the same road. There are also many places to swim (and hot springs) in La Fortuna!
Read more: 10 Adventurous Things to do in La Fortuna
Best Time to visit Rio Celeste
The best time to visit Rio Celeste is during the dry season from January-April. However, this area doesn't follow the strict dry-rainy tropical season of Costa Rica. It can still rain any time of the year because of it's setting in the hills.
That said, there's going to be a lot more rain during the rainy season. And if you go during or right after a big rainfall, the trails are going to be very muddy and difficult to walk through. Also, the river may not appear as blue during the rainy season as the sediments run off. If it's a big rainfall and there's no sun, it may even appear brown and muddy which would be very disappointing. This normally happens during the months of October – November.
I visited Rio Celeste in January and the weather was great. It was cloudy, but I prefer this weather while hiking. Even without a bright sun, the blue color was still vibrant!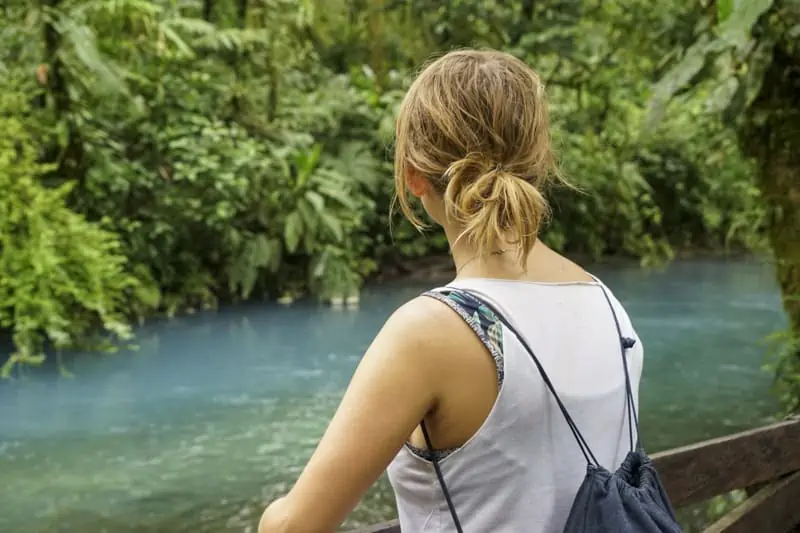 What to wear while visiting Rio Celeste
Shoes: You need a pair of closed-toe hiking shoes, as there are a lot of rocks and roots to walk around. I wore my Merrell hiking shoes and they were perfect. If you don't have the proper footwear, you can rent boots from outside the waterfall entrance for $5. You'll want these during the rainy season!
Clothing: The weather is generally hot during the day, around 28 degrees Celcius. You'll be fine in shorts and a t-shirt most days. If it's rainy, you may want long sleeve clothes to keep warm.
This area can rain any time of year, so bring a waterproof jacket or poncho in case it decides to pour. If you're bringing camera gear, bring a waterproof backpack or rain cover.
Bug spray, sunscreen, water, snacks, a camera, and pocket binoculars. There's some wildlife in the park you can see. We spotted this adorable sloth living above the waterfall!
Where to stay near Rio Celeste
If you want to spend a night near the waterfall to get there early, here are some great accommodation options:
Budget: Rio Celeste Posada Rural. This is where we spent the night before visiting Rio Celeste and it was great. Basic but everything we needed for visiting the park. The rooms are in simple private cabins, and breakfast is included with the price. We also saw toucans on the property!
Mid-Range: Celeste Mountain Lodge. This hotel has a beautiful common area with panoramic mountain views. The rooms are contemporary each with a view of the mountains.
Luxury: Rio Celeste Hideaway Hotel. This dreamy hotel is the perfect place to stay if you're looking for a little luxury. It's located adjacent to the Tenorio National Park, in a secluded rainforest. The hotel offers luxurious bungalows, an outdoor pool, and hot tubs.
Check here for all accommodation near Rio Celeste.
Final Thoughts
Rio Celeste is one of the most beautiful waterfalls to visit in Costa Rica. If you're a die heart waterfall chaser like me I recommend spending the a night nearby to get there early and beat the crowds. Otherwise, the best way to visit is on a day trip from La Fortuna. Have you visited Rio Celeste? Let me know in the comments below!
Traveling through Costa Rica? Don't miss these posts!
Enjoyed this post? Pin it for later!