This post may contain affiliate links. By clicking and making a purchase through the links, I earn a small commission at no extra cost to you. See my disclaimer for more information. This and display ads allow me to keep the site up to date and give back.
Living in a research camp with elephants and baboons as my neighbors already feels like a distant dream, but this was my life just last month. As a participant on a Biosphere Expeditions project in Malawi, I got the chance to study some of the remarkable wildlife we have on this planet.
There are many ways you can spend your vacation time, and while working on a conservation project may not seem like the most glamorous option, it's one that will leave you feeling inspired knowing that you played an active role in conserving part of our planet's biosphere. If you're interested in volunteering with wildlife in Africa, this will give you a glimpse into the pros and cons of conservation work.
This post will go over my experience as a participant on the Biosphere Expeditions project in Malawi, how you can join a future project, as well as some helpful information about traveling in Malawi.
My participation in this project was kindly sponsored by Biosphere Expeditions. As always, all reviews and opinions are my own.
What is Biosphere Expeditions?
Biosphere Expeditions is a non-profit organization that runs conservation project expeditions to all corners of the earth. They work hand-in-hand with local biologists and communities to run genuine research expeditions that champion change and protect nature. Through citizen science and hands-on wildlife conservation, Biosphere Expeditions empowers ordinary people to make a positive difference in wildlife conservation.
To sum it up, they are doing some pretty amazing work. When I saw the opportunity to join an expedition, I knew it was right up my alley.
What's amazing about Biosphere Expeditions is that the projects they run produce real results and achievements. They have a track record to back it up! In the last 20 years, some of the major accomplishments have been the creation of protected areas on four continents and the preservation of wildlife and wilderness in Peru and Poland. The work has been recognized through many awards and accolades, such as the National Geographic's 'Tour of a Lifetime' award, as well as Travel & Leisure's conservation award.
I've done my share of volunteer projects abroad, and this by far the one that I've felt the most involved with. You will be working first hand with the scientists on the projects, getting your hands (very) dirty, learning a ton, and making an impact.
Biosphere Expeditions runs conservation projects all around the world, but the one that I participated in was in the small country of Malawi in Eastern Africa.
Malawi Project
The main objective of the Biosphere Expeditions project in Malawi is to monitor the biodiversity of Vwaza Marsh Wildlife Reserve. As a participant/research assistant, we were helping the scientists with various projects in the reserve to assess the nature and patterns of biodiversity. It's important work, as these results will inform biodiversity monitoring and management, which in turn will help protect this part of Africa for future generations.
On the project, we were monitoring four of the big five African animals (elephants, buffalo, leopards, and lions), as well as hippos, primates, bats, antelope, insects, and vegetation. This area hasn't been studied much so the ongoing work is incredibly important for the preservation of wildlife there. I loved being part of it.
Vwaza Game Marsh Reserve
From the meeting point in Lilongwe, we departed for an 8-hour journey across Malawi to Vwaza Game Marsh Reserve. Malawi is relatively small, so that's about half of the country. I enjoyed getting to see the landscapes of the country as we drove through it. There are enough rest stops along the way, including a stop for lunch.
We arrived at base camp just in time for the sunset, which everyone was amazed by. As the expedition leader tried to brief us, we were all quite distracted by the beauty behind us. I remember her saying that we would get used to it, but truthfully I didn't. I loved every single sunset at Vwaza, and the viewing platform at base camp is an excellent place to watch it from. They even put on a fire every night to enjoy it with!
Base Camp
The base camp at Vwaza Marsh Game Reserve is simple and rustic, but set in a beautiful location. The main area is set facing the lake, where we would always see animals roaming by. As for the facilities, it's not anything fancy – I'm talking bucket showers. But this is all part of the experience of living and working in the bush. Even though I was super grateful for my first hot shower after two weeks, I truly loved living there.
It was an incredible experience to live so close to nature. We are so disconnected in today's modern cities, so it felt amazing to re-connect. Often at night, elephants would roam through our camp. From the viewing platform at base camp, we could almost always see wildlife, whether it was antelopes, warthogs, elephants, or a beautifully colored bird.
We slept in safari-style tents, which are shared with one other participant (it is possible to request your own). There were four bunk-beds in our tent so with only two people, it was actually quite roomy.
In the main section of the camp, there is a big common area where we would hang out and eat. There is also a small attached living room area with a couch. This is where training took place, and sometimes we would watch movies at night.
The camp has a small kitchen but Biosphere Expeditions hires a chef for the team, so you don't need to worry about cooking. As part of the food policy of the organization, all meals are vegetarian which was perfect for me.
I thought the food was delicious and was impressed at what our cook, Emmanual, was able to whip up in such a small kitchen with limited ingredients. Three meals are served each day, and there are snacks available throughout the day (fruits, cookies, tea/coffee).
Clean water is available, which is taken from a well nearby. Since a large group taking bucket showers every day consumes a lot of water, the staff will ask participants to help pump water from the well. We always did this as a team, and I actually enjoyed these moments. Local children from the nearby villages will come and say hello, and it's a great arm workout!
Training
Don't worry about needing scientific training before going on an expedition with Biosphere Expeditions. They are all about citizen science. This was a new concept to me, but essentially it means untrained non-scientists working in support of trained scientists.
Tasks are by and large simple and require much time, with relatively little technical input. In this way, scientists can gather a host of vital data with just a day or two of training for the citizen scientist. The citizen scientists, in turn, learn from the scientists and can offer help and ideas in support of getting the work done.
Unlike many of the expeditions which have just one scientist, at Vwaza we were lucky enough to be working with six different scientists. They were all amazing, passionate, kind people who I am happy to have had the chance to work with.
The first two days of the project were all about training, provided by the scientists and expedition leader. Although two days of training might sound boring, it was actually pretty interesting. We got to learn about animal appearance and behavior, data collections, scientific methods, and using the field equipment.
Activities
Over the course of the next ten days, we would break into smaller groups working on the following activities. Each day, the expedition leader posts the days activities on a board and then you can sign up for the ones you like (one for the morning and one for the afternoon). Three to four participants go out on each project along with a scientist.
Elephant observation
Elephants are one of the main animals in Vwaza, so one of the daily activities was to go out as a group to look for elephants to collect data on. Once the group found a heard, we'd stop from a safe distance to observe them and take notes about the group.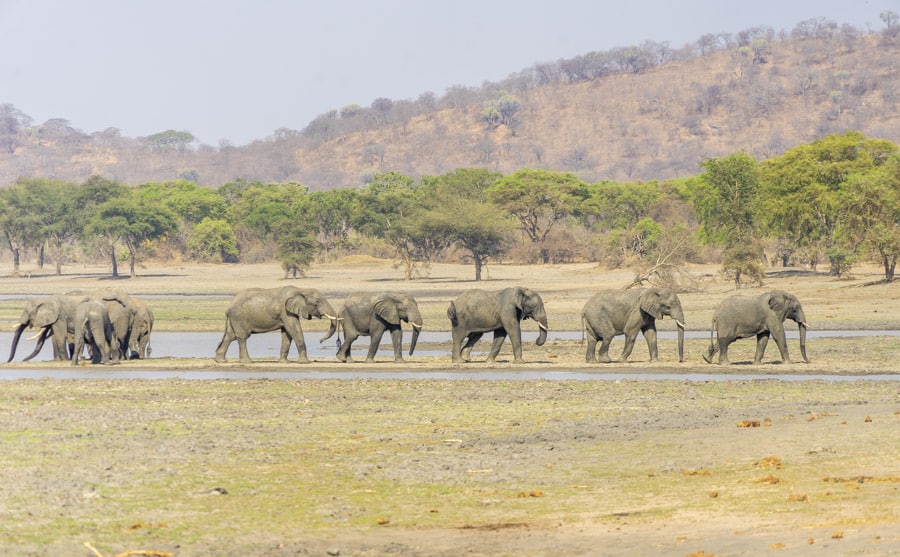 We would take lots of photos of the elephants to identify them back at base afterwards. The scientists are trying to get an accurate number of how many elephants are in the area, so each one has to be individually identified.
While we were on the project, we pushed the number of identified elephants to over 200! It's not easy to identify individual elephants as from afar they look similar. But if you zoom in on photos and look at their ears and faces in more detail, you can differentiate them by looking for things such as holes in their ears, broken tusks, ect.
Getting to see elephants daily, sometimes multiple times a day, is a remarkable experience. These amazing creatures are so emotionally intelligent, and fascinating to watch. Getting to learn more about elephants and the conservation issues they face was an eye-opening experience that I'll never forget.
Hippo Walk
The hippo walk was one of my favorite activities at Vwaza. During the walk, we'd leave base camp as a group (along with an armed scout for safety), and walk 5km along the lake to count the hippos in the area.
Counting hippos is not as easy as it sounds! Hippos love to bob their heads in and out of the water, which makes them confusing to count. Often you may think it's just a single hippo, and suddenly there are a dozen. It's much easier when they are on land, but as hippos sunburn easily, they spend most of the day in the water and graze at night.
I loved the hippo walks, because the area is beautiful to walk through. We would often see other wildlife along our walks like birds, warthogs, antelope, and elephants.
Since we were on foot, an armed scout would always guide us when elephants appeared, which happened on almost every walk. Getting to see these magnificent creatures so close was an experience that never got old.
Large Mammal Transect (LMT) driving
Vwaza game reserve is broken into various transects and during an LMT drive we would drive along one of the transects, taking notes of what wildlife we found along the way. The wildlife we typically saw were elephants, buffalo, various antelope, and warthogs.
Primate observation
Another activity at Vwaza is to observe a troop of vervet monkeys that have been reintroduced into the wild. Previously the monkeys were living in a sanctuary with the Lilongwe Wildlife Trust, but the goal of the project is to successfully reintroduce them into the wild. To monitor the success of this, the monkeys must be observed.
Before releasing the monkeys, two were given GPS collars so they can be located. During the primate observation, we would track the monkeys with GPS (Dexter and Mr. Poop) using this funny device that emits a signal as you get closer to them. Sometimes it would take a while to find the troop.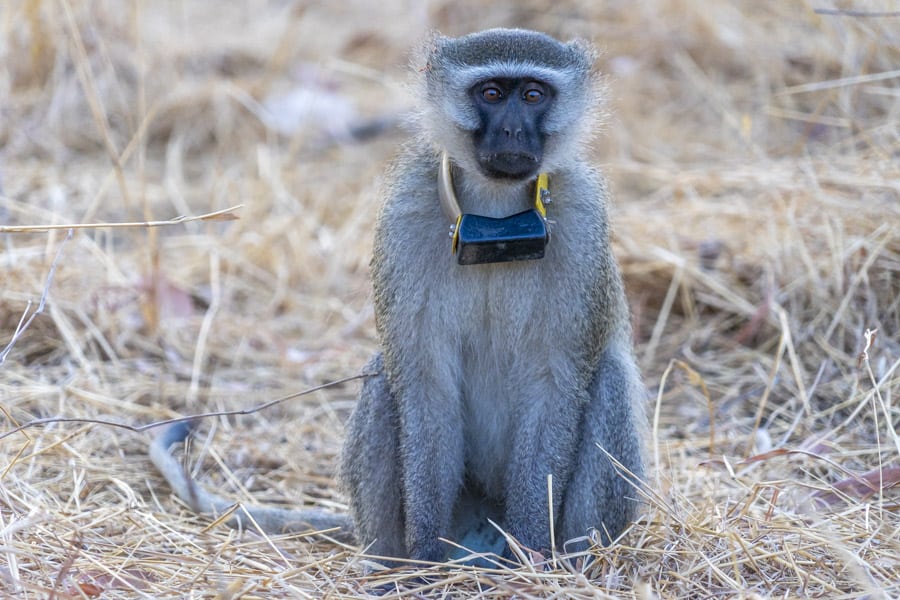 Once we located the troop, we took 20-minute observations of each monkey. They have codes for all the behaviors such as grooming, foraging, eating, etc. These behaviors give indications of the quality of life of the monkeys.
Bat Surveys
One of the species that are important to assess at Vwaza are bats. As I learned on the project, a lot of information can be gleaned from bats. They are bioindicators that can tell you information about climate change, water quality and more. Moreover, bat species in Malawi have not been properly documented since the 1950s.
To study the bats, we trapped them using harp traps and mist nets. Once bats were caught, information about them was recorded and they are set free again. The bats are only handled by the scientist, so you don't have to worry about being bitten.
Bat surveys took place at night around dusk. As a team, we set up the bat traps, and recorded data as the bats were caught. I was a bit apprehensive about bats before this project, but once I saw my first one in person it changed my opinion. I mean just look at that face!
Other activities
Here are some of the less glamorous, but still important activities we did at Vwaza Marsh Game Reserve.
Insect processing
During the bat survey, a trap was put out nearby to collect insects in the area which are then euthanized for analysis. During the insect processing, we would group the insects by most common type and take measurements.
I thought this would be way grosser than it actually was. It's kind of cool to see the insects under the telescope. The scientist who runs this project, Karen, is so passionate about insects that it almost makes you like them. Almost.
Vegetation survey
After the bat surveys, vegetation surveys were taken of the area. This was actually quite tedious. If the area was covered in thick vegetation, you had to count hundreds of branches. But, it's important to get an overall assessment of the entire eco-system.
Dung Processing
Another less glamorous task is to process elephant dung for seeds. While out in the field if we saw a fresh load of elephant dung we would pick it up for processing. I've never seen a group of people get so excited about poop before.
Again, I thought this task would be super gross, but it's not bad at all. I would go as far to say it was relaxing. Elephant poop is mostly just grass. During the processing, we picked out seeds from the elephant's poop, which is later classified. The size of the dung balls can also tell you the elephant's age – neat!
Data Entry
Of course, all the data we collect in the field had to be put into the system. Luckily, one of the girls in our group loved data entry and was happy to do this task (thanks Alex, we love you).
Camera Traps and Analysis
On the first week of the project, two teams went out to put camera traps in the northern section of the park to record the wildlife there. I had signed up for a different activity that day, so I wasn't part of this. The next week the cameras were retrieved and as a team we analyzed the images.
It was very exciting to go through the camera trap images as we were able to see a lot of the nocturnal wildlife that we can't record during the day such as hyenas and big cats. The group before us recorded a leopard!
A day in the life at Vwaza Marsh Game Reserve
This is what a typical day at Vwaza might look like as a participant on this project.
Wake up early for a 5:30 am breakfast. It gets hot fast in the reserve, so the idea is to start the activities early in the morning, before the sun is too harsh. At first I thought it was going to be painful waking up that early, but I got used to it quickly and even began to enjoy it. You wake up with the sounds of nature, and it's beautiful to see the sunrise in the morning.
After breakfast, the team starts to prepare the equipment needed for the activity and heads out by 6 am. For the next few hours, you participated in whatever activity you had signed up for – the ones mentioned above such as elephant observation or a hippo walk. Most activities end by noon, when you will return to camp for lunch.
Lunch is served at 1 pm, followed by a debriefing of the previous day's activities as a group. The afternoon activities start at 3 and only go until 5:30 pm, just in time to enjoy a beautiful Vwaza sunset.
Supper is served at 6 pm, just as the sun goes down. Most people end the day with a cold drink (beers and sodas are sold at camp). After dinner, we would usually sit around and chat, play a game, enjoy the fire and stars, or watch a movie in the living room. The days are exhausting, so most nights I was going to sleep by nine.
We also had one day off mid-way through the project during which we visited a local village nearby. It was a wonderful experience. The village welcomed us into their homes and showed us around, then we spent the afternoon dancing with them. The children were so excited that we were there and sang for us. Adorable!
Malawi
To be honest, I didn't know that much about Malawi before this project. This was my first time stepping foot on the continent of Africa, and I'm so glad that it ended up being in Malawi. The country is nicknamed the "warm heart of Africa", and it's easy to see why once you get there. The locals are so friendly, almost everyone I passed on the street said hello to me!
Malawi is also a beautiful country with a wide diversity of wildlife. Unfortunately due to the population density (Malawi is one of the most densely populated countries in Africa), poaching, and loss of natural habitat, wildlife isn't as abundant as in other parts of Africa. But that's why the work that Biosphere Expeditions is doing is so important – to ensure the preservation of the remaining wildlife for future generations.
Malawi Visa Requirements
Malawi does require a visa to get in for citizens of most countries, but many are allowed to get one on arrival at the airport. You can also arrange your visa beforehand with the embassy or through a service such as iVisa.
If you decide to get a visa on arrival, it's a good idea to print and fill out the visa form to bring with you. They don't hand them out of the plane prior to landing, and the immigration queue at the Lilongwe airport is a bit of a nightmare. There are four separate lines you have to go through, and it can be time-consuming. If you have the form filled out in advance, that will at least save you some time. If you are traveling with Biosphere Expeditions, they will send you information about this beforehand along with specific instructions on what to do when you get to the airport.
Getting to Lilongwe, Malawi
The project meets at Mafumu Hotel in Lilongwe, the capital city of Malawi. There are no direct international flights to Lilongwe, so you will likely fly via Johannesburg or Addis Ababa in Ethiopia. To find the best flight prices to Lilongwe, search on SkyScanner.
I flew through Addis Ababa and it was fine. The airport's not great, but they do have nice lounging chairs you can wait on if you have a long layover. Sadly, there are no priority pass lounges there. They only have the Ethiopian Airline lounge which is just for business class passengers.
Once you pass through immigration and collect your bags, you can get a taxi to your hotel. The rates are set at $35 USD from the airport into town. Most hotels will be able to arrange a pick-up for you from the airport, which should cost about the same.
It's best to arrive in Lilongwe at least one day before the project meets, to give yourself time to adjust to the jetlag. You don't have to stay at Mafumu Hotel, it just makes things easier for the meeting point. Check here for the best prices on accommodation in Lilongwe.
Health and Vaccines in Malawi
Malawi, like many parts of Africa, does have some health risks and precautions you need to be aware of before visiting. I am not a doctor, and these are just some general tips. You can get more detailed information on the CDC website. I always recommend making an appointment with your doctor or travel clinic so you can get the correct information and required vaccines.
Malawi is a country with malaria risk, so to prevent this you will want to get malaria medication and a strong insect repellent. The mosquitoes weren't awful while I was there, but I definitely got a few bites and was grateful to be on Malarone.
Malawi is also a country with tsetse flies that can carry the African sleeping sickness disease. Unfortunately, there is no vaccine against this and although it is a relatively rare disease, two people become infected while I was on the project in Malawi. Both were caught early and are getting the required treatment in Johannesburg.
Tropical diseases are complicated and patterns can change over time, so I can't say whether this disease will continue to be a risk there or even if this project will remain there due to the risk. I just wanted to put this information here so you are aware, and can make an informed decision if you want to visit this area of Malawi.
Packing for a conservation project in Malawi
As you are working in the African bush, you will need to have some special clothing for this expedition. Biosphere Expeditions sends out a big dossier before the project with information about what to pack.
Long Pants. While you are out in the field, you will want a pair of long breathable pants to protect yourself from both the sun, insects, and plants rubbing against you. Ones with pockets are even better, to store your equipment. These Sahara pants from REI are perfect.
Long shirts to wear in the field. Again, you want something breathable and light that will protect you from the sun and insects like these Sahara shirts from REI.
Shorts and tank tops to wear while at camp
A light sweater (it can actually be a bit chilly in the morning)
Sunglasses and Hat
Underwear and Pajamas
Towel (none are provided)
Toiletries
Bug Repellant and Sun Screen
First Aid Kit with dehydration salt and required medication
A camera to document the experience! Even with my 240mm Sony lens, I wasn't able to photograph the wildlife as close as I would have liked. If you don't want to shell out the cash for a massive lens, a much cheaper option is to get an optical zoom camera. Many participants had these in my group and I was impressed at the quality.
Half-way through the project, a woman comes by the camp who will do your laundry for less than $2 USD, so you only have to bring enough clothes for six days. You can also do laundry at camp anytime on your own.
Is Biosphere Expeditions right for you?
By traveling with Biosphere Expedition, you get to travel with a purpose. Not only is it a wonderful opportunity to visit remote and beautiful places where you can experience new cultures, but you leave with the knowledge that you played an active role in conserving part of our planet's biosphere. More to that, on an expedition, you will learn many new skills, and meet like-minded wonderful people from around the world.
I am passionate about wildlife conservation and sustainable tourism, so this project was a perfect fit for me. I learned a ton about conservation, saw animals I've dreamed about, met a group of amazing people, and developed some new skills.
I also noticed that over half of the participants in my expedition team had previously been on one or more expeditions with Biosphere Expeditions. The fact that they have such a great return rate speaks volumes about the organization.
If you are passionate about conservation and wildlife, then an expedition with Biosphere Expeditions might just be the thing for you. That said, as projects are often based in remote locations, you need to be prepared to live in basic facilities on some of them. Others, however, such as the Maldives coral reef project, the Azores whale project, the Kenyan Big Five project or wolves in Germany, have quite luxurious accommodation.
What should be clear by now is that first and foremost Biosphere Expeditions is a conservation organization, not a tour operator or holiday company, so you shouldn't expect to be pampered. But if you come prepared to put your heart into the project and make a positive difference, you should have a wonderful time.

How to join a Biosphere Expedition
If you are interested in taking part, head over to the Biosphere Expeditions website to see the current list of expeditions. You can apply for a place online. They run projects all around the world, so if the Malawi project doesn't seem like the right fit, there may be a better one for you. An overview of their projects is here.
Some of the current expeditions you can join are studying the Arabian oryx in Arabia, conservation of wolves in Germany, diving expeditions studying coral reefs in the Maldives, or a survey of snow leopards in the Tien Shan mountains of Kyrgyzstan. And that's just a name a few! Needless to say, Biosphere has some really cool projects that I would join again in a heartbeat.
Final Thoughts
I loved being part of this project. It was so cool to be a citizen scientist, and get to learn about conservation and wildlife. I felt connected with nature in a way that I never have before, and it made me realize that conservation project are something I want to incorporate more into my future travel plans.
If you have any questions about joining a Biosphere Expedition project, volunteering abroad, or Malawi in general, let me know in the comments below!
Like it? Pin it for later!