This post may contain affiliate links. By clicking and making a purchase through the links, I earn a small commission at no extra cost to you. This and display ads allows me to keep the site up to date and give back. Thanks for reading!
I'm not one to pick favorites, but if I was forced to pick my favorite country in Central America it would be Guatemala. This country has it all – 37 volcanoes, hot springs, secret jungle pools, beaches, charming cities, ancient ruins, and so much more. If you're planning to go backpacking in Guatemala, this post will help you plan a perfect Guatemala itinerary.
You could spend weeks, even months, exploring Guatemala. But even with a week or two, you can squeeze in a lot in an itinerary. If you're on the backpacker trail through Central America and traveling between Belize and Honduras or El Salvador, Guatemala is well worth a stop along the way.
I'd recommend spending at least three weeks backpacking Guatemala to explore everything it has to offer without feeling rushed. But if you don't have that much time, I've also suggested two week, 10 day, and one week travel itineraries through Guatemala at the end of this post.
Arriving in Guatemala – Where to Start your Itinerary
Guatemala borders four different countries in Central America, so depending on where you are coming from, your Guatemala backpacking itinerary starting point may differ.
Flying
If you're flying internationally into Guatemala, then you'll likely be landing in La Aurora International Guatemala Airport (GUA) in Guatemala City.
I'll be honest, Guatemala city doesn't have the best reputation so I decided to skip it and head straight to Antigua since I arrived early in the day and had plenty of time to do so. Antigua is just an hour away, so it makes a perfect first stop on your Guatemala itinerary.
From Guatemala city, you can also fly or take an overnight bus to Flores, where the Tikal ruins are.
From Mexico and Belize
If you're traveling overland from the Yucatan Peninsula in Mexico or through Belize, then the most logical first stop in Guatemala is Flores in the North. I came from Belize the first time I visited Guatemala and it was relatively straightforward using the tourist shuttle from Belize city.
If you are arriving from Mexico from the northern border, a logical first stop is Lake Atitlan or the city of Quetzaltenango, which is home to the largest market in Central America.
From Honduras
If you are traveling overland from Honduras, Rio Dulce is a good first stop in the country, as it's just two hours away from the border and is one of the most beautiful places in Guatemala.
From El Salvador
Coming overland from El Salvador, it would make sense to start your trip in Guatemala City/Antigua, or in the beach towns of Monterico and El Paredon on the Pacific coast.
Top Things to do While Backpacking Guatemala
Best Places to Visit While Backpacking Guatemala
Antigua (2-3 days)
Antigua is the perfect place to start your trip in Guatemala. It's just an hour's drive from the Guatemala City airport and you'll be headed off into adventure before you know it. I was legit camping on a volcano in less than 48 hours after arriving in Guatemala!
Antigua is one of the most beautiful towns in Guatemala, with charming cobbled streets and bright colorful buildings. It also doesn't hurt that there are multiple volcanoes looming in the background.
Must-do activity: Antigua is a great place to go volcano hiking in Guatemala. The Acatenango Volcano overnight hike is my top choice, but it's a fairly strenuous hike that takes two days. Pacaya Volcano is an easier option. It's a day hike where you can roast marshmallows on the volcano!
Where to stay: If you're looking for a fun, social hostel where you can meet other travelers than Tropicana Hostel is a great option.
Lake Atitlan (3-4 days, or more)!
Lake Atitlan is one of the most beautiful places in the country, you'll definitely want to add this place to your Guatemala travel itinerary. It's a huge lake inside a volcanic crater with amazing views of surrounding volcanoes and highlands.
It's the perfect place to kick back and relax, although there are still plenty of ways to keep active here. You can go kayaking, hiking, and even diving at high altitude. It's also a great place for yoga retreats.
Lake Atitlán is also nearby to Chichicastenango, which hosts the largest market in Central America every Thursday to Sunday. Locals travel from other villages to Chichicastenango to sell their products, so if you're looking for a souvenir to take home from Guatemala this is the place to get it.
From Antigua, it's easy to get a shared tourist shuttle to Lake Atitlan. The drive is 3-4 hours depending on traffic. You can also take a chicken bus if you're on a tight budget. The bus will take you to Panajachel, and from there you can take a boat to any of the other villages on Lake Atitlan. San Pedro (backpacker haven) and San Marcos (hippie haven) are two of the more popular ones.
Must-do activity: Hike up Indian Nose at sunrise for an unforgettable sunrise.
Where to stay: Mikaso Hotel is right on the lake and has a beautiful rooftop terrace you can sunbathe on while soaking up the view.
Quetzaltenango, known as 'Xela' (2-3 days)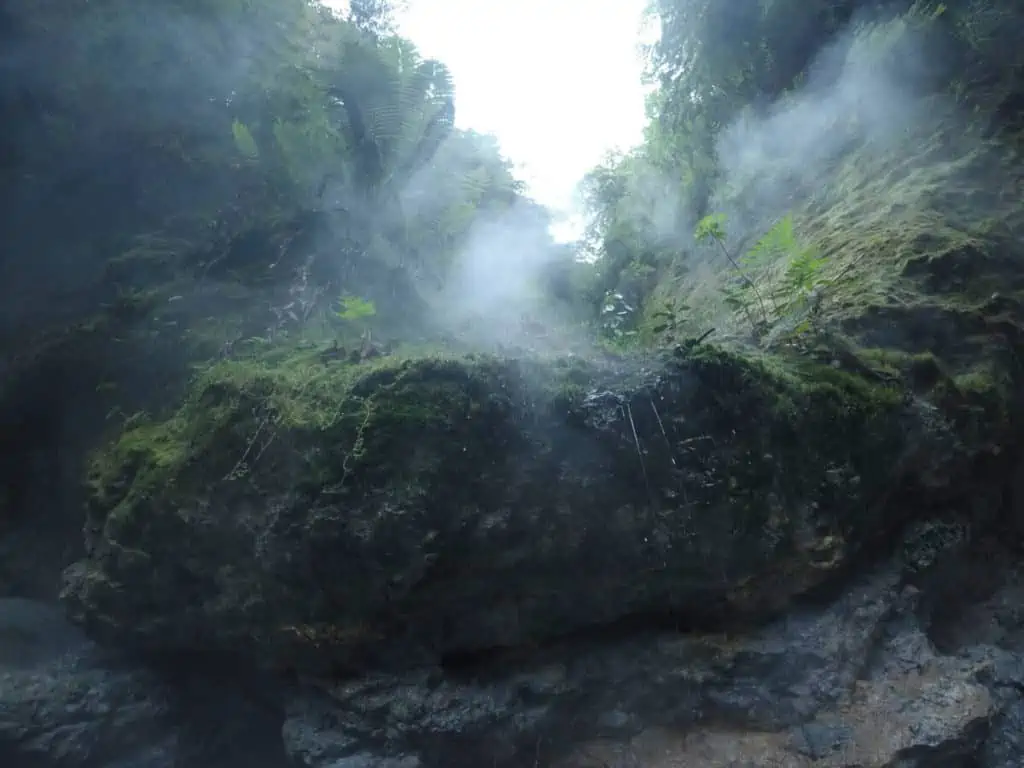 If you're interested in visiting a city in Guatemala that's not so touristy where you can get a real sense of life in the country, then head to Quetzaltenango, or as the locals call it 'Xela'.
Xela is one of the cheapest places in the country to visit and as a result, it is a place where long-term travelers go to learn Spanish and volunteer. Xela is also a great base to go volcano trekking. It's nearby to Tajamulco, Central America's highest peak. Afterward, visit the Fuentes Georginas Hot springs to sooth your legs.
Must-do activity: Visit Las Fuentes Georginas Hot Springs for an amazing day of relaxation.
Where to stay: Casa Seibel. This friendly hostel is located just two blocks away from Central Park and has beds as low as $5/night.
Semuc Champey (2-3 days)
Semuc Champey is an incredible natural attraction nestled deep in the Guatemala jungle. is a 300 m long limestone bridge that has six turquoise blue water pools. While it's definitely worth adding to your Guatemala trip itinerary, it's not the easiest place to get too.
The best way to get there is via a tourist bus from your location in Guatemala. If you are coming from Antigua or Tikal, this is going to take around 8 hours. If you are coming from Lake Atitlan or Xela, it takes 12, sometimes over. The road is bumpy and generally unpleasant, so prepare for a long day.
It's worth the journey. Semuc Champey is a stunning natural wonder that you won't believe until you see it with your own eyes. At the park, you can swim in the pools, go caving, and tube down the river. You can either book a day tour while in Semuc Champey or explore it on your own.
Plan to spend at least one full day here + a day on either end to travel there and back. I recommend spending two days so you have some time to relax between all the travel.
Must-do activity: Go swimming in the turquoise pools
Where to stay: Zephyr Lodge is an oasis in itself, with an infinity pool overlooking the jungle. It's a bit of a party place so if you're looking for something more chill check out Utopia Eco Hostel. You will spend most of your time outside of the park in the hostel, so choose wisely.
Flores (2-3 days)
Flores is a cute island on a lake in Northern Guatemala. It's most known Tikal National Park, one of three UNESCO world heritage sites in Guatemala.
Dating back to the 1st Century AD, Tikal is one of the most impressive Mayan ruins in Central America. Walking through these ancient Mayan ruins will make you feel like you've stepped back in time. Plus, they are nestled in the jungle which is great for viewing wildlife.
There are also several other Mayan sites in this area, including Uaxactún, Yaxha, and El Mirador, which you can take a 6-day jungle trek through.
The best time to visit Tikal is on a sunrise tour and sunset tour. Partly because the explosion of colors over the sky is beautiful, but also because this region becomes very hot, and if you visit in the middle of day it will be unpleasant to walk around.
Must-do activity: Visit Tikal!
Where to stay: Los Amigos is one of the most popular hostels in Flores, it's got a great atmosphere and you can book tours to Tikal directly there.
Rio Dulce & Livingston (2-3 days)
I ended up in Rio Dulce by mistake trying to make my way to Honduras and I'm so glad that I did. It's such an underrated part of the country. While Rio Dulce town is nothing to write home about, what makes a trip here special is to stay at one of the eco-lodges on the river.
Rio Dulce is a great place to kick back and relax, but there are also many things to do here including a hot spring waterfall, Castillo de San Felipe, canyons, wildlife viewing, and water activities on the lake.
Livingston is a town at the mouth of Rio Dulce near Belize. It's a completely different vibe than the rest of Guatemala. You'll feel like you've been transported to the Caribbean with incredible beaches, food, and culture.
Must-do activity: Explore Finca Paraiso waterfall
Where to stay: Dreamcatchers Eco Lodge. is a beautiful place to stay right on the river. It's right next to a however monkey preserve!
Monterrico/ El Paredon(1-2 days)
Yup, Guatemala even has beaches! They may not be the most beautiful in Central America, but it's still worth coming here to see a different side of Guatemala. Monterrico and El Paredon are two of the best towns on the coast for beaches, sunsets, and surf.
Both towns are on the Pacific coast of Guatemala. They can be easily accessed via busses from Guatemala city or Antigua.
Must-do activity: Surfing!
Where to stay: Cocori Lode El Paredon
Sample Guatemala Backpacking Itineraries
If you want to see all of the things I've suggested in this post, you're going to need at least three weeks in Guatemala. This will give you enough time to see all of these places without feeling like you're in a hurry.
This Guatemala itinerary is based on the assumption you are flying into Guatemala city, but you can always rearrange the order of places depending on where you are coming from.
Guatemala 3 Week Itinerary
If you had three weeks, you could easily fit all of this into your Guatemala Itinerary. Here is an idea what that would look like:
Guatemala City (1 night) -> Antigua (3 nights) -> Lake Atitlan (4 nights) -> Xela (3 nights) -> Flores (3 nights) -> Semuc Champey (3 nights) -> Rio Dulce (2 nights) -) -> Monterico (2 nights) -> Return to Guatemala City to catch your flight home
Guatemala 2 Week Itinerary
It's still possible to see a lot of Guatemala in 2 weeks.
Guatemala City (1 night) -> Antigua (2 nights) -> Lake Atitlan (3 nights) -> -> Flores (3 nights)-> Semuc Champey (3 nights) -> Rio Dulce (2 nights)
Guatemala 10 Day Itinerary
If you only have 10 days in Guatemala, visit Antigua, Lake Atitlan, and either Tikal or Semuc Champey.
Guatemala 7 day Itinerary
If you have just one week in Guatemala, I suggest sticking to the Antigua/Lake Atitlan region.
Getting Around Guatemala
Since there aren't many airports in Guatemala, you'll be using busses to get around the country. The easiest way to get between places in Guatemala is via the tourist busses, but if you're on a shoestring budget you can also take chicken buses. These are retrofitted school buses used to transports goods and people throughout Latin America.
You should definitely take a chicken bus at least once while backpacking Guatemala, but personally I didn't use these as my main form of transportation as they take a long time and can be quite uncomfortable. That said, I know plenty of people who used them the entire time in Guatemala. It really depends on no your budget and how much time you want to spend traveling.
For more information on safety, budgeting, solo travel, the best time to visit, and Guatemala travel tips check out my Guatemala country guide.
Enjoyed this post? Pin it for later!