This post may contain affiliate links. By clicking and making a purchase through the links, I earn a small commission at no extra cost to you. This and display ads allows me to keep the site up to date and give back. Thanks for reading!
Latvia was never a country that was on my radar, but I ended up visiting Riga for a weekend while attending the Women in Travel Summit. I had no idea what to expect, but I fell in love with the city. The architecture is beautiful, the food is delicious, and the Latvian's connection to nature is something to be admired. Riga, Latvia is one of the most beautiful European cities to escape for a city break.
Whether you're a solo traveler or on a getaway with friends, this Riga weekend travel guide will help you make the most of your time there.
Want to read this but not right now? Pin it for later!
Best Things to do during a weekend in Riga
Riga is a small city with many of the attractions walkable from each other, making it a perfect destination to explore in just one or two days. Here are some of the best areas to explore and things to do while in Riga for a weekend.
Walk around Riga
Riga Old Town
You can't go to Riga and not visit the Old Town. It's one of the most charming areas of Riga and definitely worth a morning or afternoon wandering around. Every corner I turned made me want to take another photo!
Now a UNESCO world heritage site, Riga's old town is rich in history. To gain a better understanding of Old Town, join a Riga Old Town walking tour. The guide will tell you about Latvia's fascinating history while walking through the streets where much of it happened. It's a great way to learn more about Riga!
After the tour, I spent some time walking through the charming cobblestone streets on my own. I loved getting lost wandering around Riga's old town, taking endless photos of all the colorful houses.
There are quite a few attractions to visit in Old Town but some of my favorites were Bremen Town Musicians Statue, Riga Cat House (look for the cat statue on top of a house), Riga town hall square, House of The Blackheads (a beautiful 13th-century building built by merchants for social gatherings), and Black Magic.
For the best views of Riga, head over to St. Peter's Church. This is the highest church in the city, where you can get amazing panoramic views from the 72m viewing Platform. Unfortunately, St. Peter's church is closed on national holidays which happened to be the day I tried to go. Still determined to get a good view of the city, I headed to the 17th floor of The Latvian Academy of Sciences. For five euros you can enter the panoramic viewpoint and get 360 views of Riga! This is a great alternative if you can't visit St. Peter's Church.
Art Nouveau District
For a different side of Riga, head over to the Art Nouveau district on the Northeast side of Old Town to admire the Art Nouveau buildings. This style of architecture actually makes up one-third of all the buildings in Riga!
I was surprised to find out that Riga has one of the highest concentrations of Art Nouveau architecture anywhere in the world. The best streets to admire the architecture on are Alberta, Elizabetes and Strelnieku street. If you are interested in this style of architecture, you can also visit the Art Nouveau museum and even take an Art Nouveau walking tour.
Freedom Monument
Leaving Old Town, stop to admire The Freedom Monument. It was built in 1935 to honor the soldiers killed during the Latvian War of Independence between 1918 and 1920. The freedom monument is set in between two parklands with beautiful canals running through them.
Enjoy the cities Parks
One thing I loved about Latvia is how much the locals appreciate nature, and Riga is no exception. The city is full of beautiful parks to walk through, with the canals cutting through them. The parks are a great way to walk between attractions in Riga. You can even take a sightseeing tour through the canals!
Visit Riga Central Market
After visiting the freedom monument, head over to Riga Central Market. This is one of the best places to get a glimpse of daily life in Riga. The market is made up of five pavilions made up of old German airport hangers.
It's the perfect place to grab lunch, with an indoor food court serving several different types of food including vegetarian options. It's also a great place to try some of the local delicacies. If you're interested in the food culture of Latvia (which you should be) then take a food tasting tour of Central Market to learn more about the culture and cuisine.
If you don't feel like walking…
An alternative (and really fun) way to see Riga rather than walking around is to organize a PanCar city tour. On this tour, you break into teams to go on a scavenger photo hunt through the city while driving an old school Fiat. Each team is given a list of clues that match up to a location in the city. You go to each location and take a photo, proving you were there!
There are also bonus points you can earn for completing silly tasks such as asking a stranger to marry you or walking someone else's dogs. At the end, the organizer will review everyones photos/videos and determine who has the highest score. You need a few people to do this, so it's perfect for a bachelorette or if you are visiting Riga with a few friends.
There is also a hop-on-hop-off city bus that will take you around Riga's main points of interest.
Things to do if it's Raining in Riga
Visit the Spa
After all that walking, a great way to relax and recharge is to visit one of Riga's many spas. The wellness culture is huge here! The whole country has excellent quality spas offering a wide range of treatments and wellness options.
I highly recommend Taka Spa in Riga. I spent a morning here after the conference and it was the perfect way to decompress. The facilities are sparkling clean and they have a nice pool, hot tub, sauna, and steam room. I also had an amazing massage treatment there.
Visit a Museum
Riga also has a number of museums and art galleries you can visit if it's a dreary day outside. Or if you just want to learn more about Latvia! Some of the most notable history museums include the National History Museum of Latvia, Museum of the Occupation of Latvia (KGB Building), and the Latvian War Museum. There are also some more upbeat museums including a Chocolate Museum and Aldaris beer museum.
Day Trips from Riga
There are a number of awesome day trips from Riga to go on if you feel like leaving the city.
Bog Shoeing at Kemeri National Park
Kemeri National Park is just an hour away from Riga and home to an 8000-year old bog. The best way to explore it? Bogshoeing.
Yes, that's right. Bogshoeing! I can't say bogshoeing is anything I ever imagined myself doing, but Latvia was full of surprises. This is a common activity here which speaks volumes to how much the locals love the outdoors.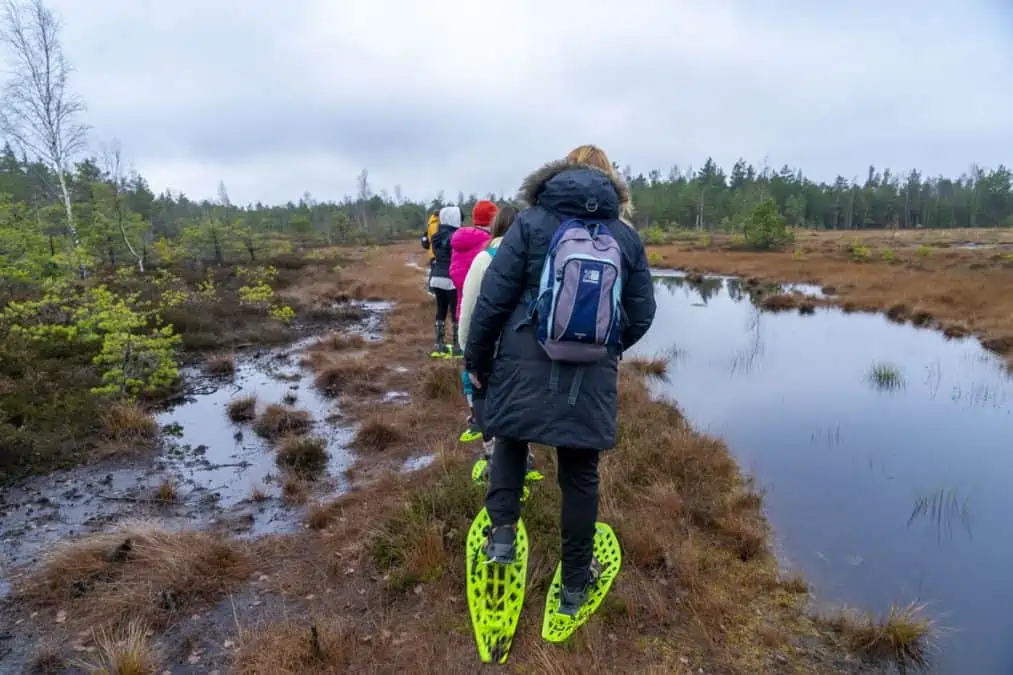 We met the guide at Kemeri National Park and he provided us with Bogshoes. They are very similar to snowshoes, allowing you to walk safely over the bog without being sucked in. We spent about an hour and a half walking around the boglands, which were surprisingly beautiful!
I loved this experience, it was so unique and a great excuse to be outside. Bogshoeing at Kemeri National Park is an excellent Riga day trip option. You can book bogshoeing tours here.
Visit the Spa and beach at Jurmala
Jurmala is a quaint seaside town just half an hour away from Riga, making it a perfect day trip. It's a lovely place to go for a stroll on the beach and soak up the fresh Baltic sea.
For extra wellness, check out the Hotel Jurmala Spa. This beautiful, large spa has multiple pools, hot tubs, steam rooms, and more. With large glass windows beaming in sunshine and a swim-up bar, you could easily spend a day (or two) here. Day passes are available, or you can stay overnight at the hotel.
Visit Gauja National Park
More then half of Latvia is forest, and there are many places to take advantage of this pristine wilderness. One of the best parks to visit in Latvia is Gauja National Park. It's the largest national park in the country yet only one hour away from Riga, making it a perfect day trip option.
Gauja National Park is a great place for outdoor activities with many hiking and biking trails. The park is also home to some historic castles and manors where you can spend the night if you want more time in the park.
Find accommodation in Gauja National Park.
Best Bars in Riga
Craft Breweries in Riga
Latvia has a relatively new, but prominent, craft beer scene. The making of beer in Latvia dates back to the Middle Ages. But through the world wars and Soviet occupation, various laws were passed restricting the brewing and selling of beer. After the renewal of independence, many Latvians retained their knowledge of brewing, which led to the birth of craft breweries in Riga.
I did a beer tasting tour in Riga at night which was one of the highlights of my weekend in Riga. Over the four hour tour, a guide took us through the Riga Beer District. We visited four craft breweries: Valmiermuiža Beer Embassy, Labietis, Ziemeļu Enkurs, and Alķīmiķis.
All of the breweries provided us with very generous sized samples, so I highly recommend eating a big meal before this tour to avoid being a mess. None of us had done this, and by the end of the night, we were devouring fried food like complete savages.
For a drink with a view, head over to the Skyline Bar on the 26th floor of the Radisson Blu Hotel.
Latvia is also home to many clubs where you can dance the night away. Kaļķu Vārti, One One, and Spot Kafe are some of the popular clubs.
Eating out in Riga
Riga has a fabulous food scene and eating out is all part of the experience of visiting Riga for a weekend. Here are some restaurants and cafes I really enjoyed while in Riga.
Lido – a chain restaurant that sells traditional Latvian cuisine. Great if you need a quick, inexpensive bite!
Central Market – Good place to sample local delicacies and grab a quick lunch
Milda – high-end authentic food from the Baltics
Shamna Ve Salta – Affordable and delicious Israeli Food
Fazenda Bazaar – Cute decor and delicious local food at a reasonable price
Maza Terapija – Vegan food! (which can be hard to find in the Baltics)
Black Magic – This building used to be a pharmacy but is now a cafe where you can try Riga's most famous drink – Black Balsam. It's the national drink of the country, a very strong liquor made of herbs.
Best Hotels in Riga
Budget: Cinnamon Sally Backpackers Hostel – a cozy, affordable hostel in a perfect location for exploring Riga. It's between Old Town and the center of Riga, near all transport hubs. It has a social atmosphere with tours and pub crawls run from the hostel. I spent a couple of nights here and felt it was great for walking around Riga!
Mid-range: Radisson Blu Hotel – This modern hotel offers great views of Riga and has a Skybar on the 26th floor as well as a gym and spa. It's a great location for walking around Riga, with the old town just 750m away.
Luxury: Gallery Park Hotel & Spa – this boutique 5-star hotel is in a gorgeous 19th-century mansion, each room elegantly decorated with French antique furniture. It's located in the historic center next to Riga's old town, offering grand views of Riga's parks and monuments.
Riga also has a number of affordable Airbnb options you can stay in.
Best time to visit Riga
Riga is a year-round destination so the best time to go depends on what you want to do. One of the most popular times to visit is during the summer months when the weather is hot. This is a nice time to visit Latvia because you can enjoy the countries amazing beaches. On the other hand, prices will be higher and you will be sharing it with many other tourists.
October is another great time to visit because the fall colors will be out, making it the perfect time to go hiking in the national parks. By November, the leaves have fallen and the weather is starting to turn cold without the magic of Christmas, making it one of the least attractive times to visit. That being said, I was in Riga during November and still had a wonderful experience. There were few other tourists there which is always a nice experience!
Visit in December and you will get to experience the traditional Christmas markets. While the following winter months are colder, this is an ideal time to visit if you want to partake in winter sports like bobsledding and snowshoeing. Latvians are active year-round, so no matter when you go there will still be plenty to do.
How to get to Riga
Flying: Riga has an international airport just 20 minutes away from the city center. There are direct flights there from many cities in Europe as well as some international destinations (I came from Istanbul). Search on Skyscanner to find the best flight deals. To get from the airport into the city center you can book a private transfer, hire a taxi, or use a ride-sharing app such as Bolt or Yandex.
Ferry: Riga is a port city and there are daily ferries going to and from Stolkholm. If you have some extra time, you could also take a 2-night round trip cruise from Riga to Stockholm!
Bus: Riga is well-connected to other surrounding Baltic states by bus. Search on busbud to find a ticket where you need to go.
Train: Riga has a central train station that connects it to many other cities in Europe. Search on Eurail to find train tickets to and from Riga.
Getting Around Riga
Once you are in Riga, the city is very pedestrian-friendly. Another great way to get around is by bicycle. There are bikes rental stations throughout Riga.
There are also public transit options for getting around provided by buses, trams, and trolley-buses. I used ride-sharing apps such as Bolt and Yandex taxi to get around Riga at night and found most rides within the city only cost a few euros.
Final Thoughts
I hope this post could help you plan an awesome weekend in Riga! It's one of Europe's hidden gems. With affordable prices and a lively atmosphere, Riga is the perfect city break to escape for a weekend. Have you visited Riga before? Let me know in the comments below!
Traveling around Europe? Check out these posts!
Found this post helpful? Pin it for later!