This post may contain affiliate links. By clicking and making a purchase through the links, I earn a small commission at no extra cost to you. See my disclaimer for more information. This and display ads allow me to keep the site up to date and give back.
Cappadocia is one of the most magical places I've visited, and should not be missed on your Turkey itinerary. If you're looking for information on visiting this region, including the best Cappadocia tours, this post has you covered!
I was skeptical that Cappadocia would hold up to its insta-worthy reputation – but it actually does. The landscapes in Cappadocia are unique to anything I've seen before. It will leave you feeling in awe. I loved exploring Cappadocia, and I've written this Cappadocia Travel Guide with the hope that it can help you enjoy it as much as I did.
Jump to: Getting There | Getting Around | Where to Stay | Best Things to Do | Hiking | Day Tours | Itineraries | Costs
About Cappadocia
Cappadocia once was full of volcanoes, but thousands of years of eruptions and erosion left one of the most beautiful and unique geological landscapes on this planet. It's an otherworldly landscape of fairy chimneys, pinnacles, and phallic-shaped rocks. The landscape, in combination with the hundreds of hot air balloons in the sky, makes this place feel like your walking in another world.
More to that, this region has a lengthy and fascinating history. Cappadocia's human history is estimated to have started as far back as 1800 BC! Due to its rocky formation, Cappadocia has been a hiding place for many civilizations over the years. Most notably for the Christians in the fourth century who hid there from Rome. The combination of history and geological formations make Cappadocia a truly special place.
Where is Cappadocia?
What many people don't realize is that Cappadocia is not a specific city. It encompasses an entire region in Turkey comprised of several towns and cities. When visiting, most people choose to stay in the town of Goreme, where the balloons take off every morning or the quieter towns of Urgup and Uchisar.
How to get to Cappadocia
Cappadocia is well connected to other points of interest in Turkey. You can get there either via bus, driving or flying.
Nearest Airport to Cappadocia
There are two airports in the Cappadocia region. Kayseri and Neysehir, which are 29/57 km away from Goreme, respectively.
Istanbul to Cappadocia Flights
To get from Istanbul to Cappadocia, the quickest and most direct option is to fly. This doesn't actually cost much more than taking the bus.
Istanbul to Cappadocia flights depart from both the IST and SAW airport in Istanbul. You can get a direct flight which takes less than an hour. If you book in advance, it shouldn't cost more then $50 USD, perhaps even cheaper. Pegasus Airlines and Turkish Airlines both operate routes to Cappadocia. You'll have to put in either Kayseri or Nevsehir into the search to bring up flights. Search on SkyScanner to find the cheapest flights.
Tip: After booking your accommodation in Cappadocia, e-mail them and ask if they can send a shuttle. Some have complimentary shuttles, while others will charge a small fee. But this will be significantly less then what a taxi will cost you from the airport.
How to get to Cappadocia from Istanbul via bus
Turkey also has an excellent network of buses running throughout the country that go to Goreme. You can get an overnight bus from Istanbul to Goreme which takes between 8-10 hours. The busses are big and comfy – they even serve you tea on them! That being said, the bus does not cost much less then a flight so they may not be the best option if you are short on time.
There are also many tour operators that run two-day tours from Istanbul to Cappadocia, which may be a good option if you don't want to deal with logistics on your own and are returning to Istanbul.
Pamukkale to Cappadocia (or vise versa)
There are also daily buses running from Cappadocia to Pamukkale (or vise versa), which takes about nine hours. I did this leaving Cappadocia.
The bus station is located in Goreme in the center of town. There you can find multiple bus companies where you can buy a ticket. I recommend buying it at least a day in advance, if not more. I booked mine the day before and wasn't able to get the departure time I wanted as it was sold out.
A note on going to Pamukkale from Cappadocia: It's best to get the latest bus departure as you arrive there very early in the morning. I got the bus at 6 pm and arrived at about 3 am – and the travertines don't open until 8 am!
An alternative to flying or taking the bus would be to rent a car in Turkey and drive to Cappadocia. This would give you the ultimate freedom to explore the area. Even if you don't rent a car to drive there, you can rent one once in Cappadocia to explore the area, which is a great way to get around!
Getting around Cappadocia
Once you arrive in Cappadocia, you have a few options for getting around to the various attractions.
Many of the things to do mentioned in this post are accessible walking from the town of Goreme or Uchuisar. Including rose valley, love valley, pigeon valley, sunrise point, Turkish baths, and the open-air museum. But to reach some of the other attractions you will need more than two feet. Here are your options:
Rent a driver – hiring a driver for a few hours is surprisingly affordable, especially if split with others. It shouldn't cost more than 100 TRY/17 USD for a few hours.
Rent a car/scooter/ATV – this gives you the most flexibility in getting around Cappadocia. You can rent classic cars from Goreme, which is a very stylish way to get around. ATVs cost a bit more, but it can be loads of fun driving through the landscapes.
Join a tour – you can join the red or green tour which will take you to many of the attractions all in one day. I've written more about this below.
Where to stay in Cappadocia
One of the best parts about staying in Cappadocia is the opportunity to stay in one of the unique cave hotels. The area is vast, and where to stay depends on your personal preference. I wrote an entire guide about finding the best hotel in Cappadocia for any budget.
There are three main areas people stay in Cappadocia: Goreme, Urgup, and Uchisar.
Goreme is the most popular town to stay in, but also the most touristic. That being said, this is where I stayed and I loved it. The chimneys found throughout the town are charming, and it's an easy place to be based if you want to do a lot of the Cappadocia tours or hiking in the area. it's also where the hot air balloons depart from.
In Goreme you can find accomodation for any budget. I stayed at Hostel Terra Visa which is only $8/night. There are many excellent mid-range options like Aydinili Cabe Hotel, or for luxury try the insta-famous Sultan Cave Suites.
Urgup is a small, sophisticated town perched on top of a hill overlooking the region. There you can find many upscale dining options, boutique hotels, and nightlife. It's a good place to stay if you prefer luxury and want to be away from the crowds.
Uchisar is another town you can stay in just a 10-minute drive from Goreme. There are a number of budget and boutique hotels here, although you will less dining and entertainment options.
Read more: The Best Cave Hotels in Cappadocia for any Budget
Best Things to do in Cappadocia
Goreme Open Air Museum
The Goreme Open Air Museum is the best place to go if you want to leave about the fascinating history of this region. It tells the story of how people used to live in these caves, which many were used as chapels during the 12th century.
Inside the cave museum, you can see many of the paintings and frescoes which are still as vibrant as they were painted thousands of years ago. If you are interested in the history of Cappadocia, this UNESCO world heritage site is the perfect place to add to your Cappadocia itinerary.
There is also a lesser-known Zelve Open Air Museum. Zelve was once a monastic settlement, and today you can visit and wander through the abandoned cave village.
Tip: If you plan to visit many museums in Turkey, it might be worth it to buy the museum pass. The Museum Pass Turkey gives you admission to 300+ museums operated by the Ministry of Culture and Tourism. It's valid for 15 days and costs 315 Turkish Liras.
Uchisar Castle
An easy trip from Goreme is to visit the nearby town of Uchisar where you can explore the beautiful Uchisar Castle. It's not actually a castle but named so because of how it looks. This unique rock formation can be seen from all over town and is one of the most well-known landmarks in Cappadocia.
The rock has been hollowed out and inside there are a network of tunnels. Many of the rooms have been taped off due to erosion but you can still explore some parts. You can go up to the very top where you will be rewarded with incredible panoramic views of Goreme and the surrounding landscapes. It's a great place to appreciate the unique landscape of this area.
To visit Uchisar from Goreme there is a mini-bus that departs every hour from the main bus station. You can also walk via the road, which takes about an hour.
Hot Air Balloon Flight over Cappadocia
One of the main reasons people come to Cappadocia is to take to the skies in a hot air balloon flight over the incredible landscapes. Cappadocia is known as one of the world's best places to go hot air ballooning, and it's well worth a spot on your Turkey bucket list.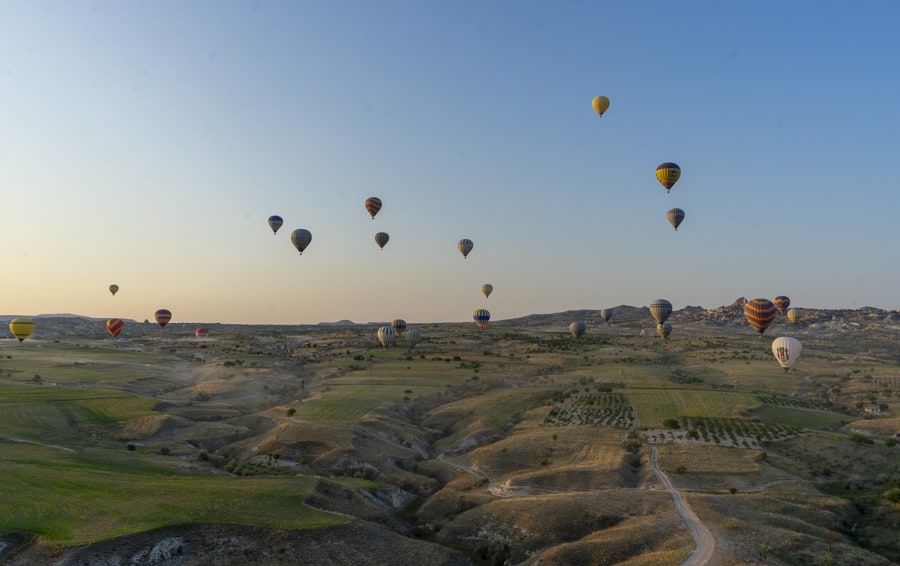 Every morning, hundreds of balloons are launched into the sky, filling the sky with bright colors over the orange and red hues of the sunrise. It's magical to watch from below, so you can imagine what it's like to be in the balloon. Given its popularity, this activity does not come cheap. You can expect to pay between 170-250 Euros, depending on the time of year (the price is dependent on demand).
If you want to do a hot air balloon ride while in Cappadocia, it's highly recommended to book in advance. This is one of the most popular things to do in Cappadocia, so many tour operators are full well in advance. You can either book online beforehand, or ask your hotel to book one for you.
It's also recommended to leave a few days in your Cappadocia itinerary if your heart is set on the balloon flight as they often get canceled. The balloon rides are managed by the Turkish air force who decide each day whether the weather conditions are suitable for a flight.
Watch the Balloons at Sunrise
If you aren't interested in the hot air balloon flights, you can still watch the balloons take off at sunrise over the valleys of Cappadocia. Honestly, I enjoyed this just as much as the balloon ride itself.
Many of the hotels in Goreme have balconies or rooftops where you can watch the balloons from. Even if yours doesn't, many hotels will let you on the top of their rooftops provided you buy a tea or something,
Alternatively, you could go to sunrise point, which is just a 10-minute walk from the center of Goreme. There is a 3 lira fee to get in. The views are well worth the early trek, it's absolutely gorgeous. At the top, they sell overpriced drinks and snacks, so it's best to get your own before or after. Or bring a breakfast picnic!
Join an ATV tour
Another option for exploring the area is to join an ATV tour, which departs around 4:30 pm every day from Goreme. The tour takes you to the 'red areas' of Goreme -rose valley, red valley, love valley, and finally sunset point for sunset. The ATV tour is very similar to the red tour, so do one or the other.
When I did the ATV tour our group was quite slow as we had all never driven before. After a while, the guide asked me if I wanted to go with his brother instead. To be honest it was a lot more fun when I got on the back with his brother. He was speeding through the areas and took me to some pretty off the beaten path places. If you get the chance to go with one of the guides, I recommend it!
Horse Riding Cappadocia
Did you know Cappadocia actually translates to land of beautiful horses? Taking a horseback ride is one of the best ways to see the stunning landscape of Cappadocia. There are plenty of tours you can book around Goreme which will take riding with a guide for a few hours. A great way to explore the area!
Explore Underground Cities
There are many underground cities you can explore in the Cappadocia region which were used as hiding posts in the 8th century. Civilizations would live underground up to a couple of months at a time and the caves were thought to house over 2,000 people. There are still underground cities being discovered all over the city, which is so interesting!
The biggest underground city you can visit is Derinkuyu. It's insane how large Derinkuyu is, and only 25% of it is open to the public! We went down six floors, and there was still more to explore.
Not surprisingly, the underground cities have a lot of tight spaces. There are some parts where you can stand tall and relax, but generally going inside involves a lot of crouching. You will be walking down multiple levels of stairs with your back to the ceiling. If you are claustrophobic or don't like tight spaces, you may want to skip the underground tours.
There's another underground city you can visit, Kaymakli underground city, which is actually connected to Derinkuyu.
See how pottery is made in Avanos
Avanos is a cute little town famous for its pottery. There you can visit a pottery shop and catch a glimpse of the beautiful art form. You can even try it yourself if you want!
The clay is sourced by the nearby Red River and the history of pottery making in Avanos goes back thousands of years. It's a fascinating process to watch and completely free. Like most touristic places, after visiting you will be taken to a store where they sell the finished products. The prices are steep so make sure you haggle!
Sunset Point
If you are free during the time of sunset in Cappadocia it is well worth it to head over to Sunset Point. This was one of the stops on the ATV tour, but you can also easily make your way there on your own.
Relax at a Turkish Bath
If you're looking for a relaxing day in Cappadocia, you can check out the Turkish Baths in Goreme. There is only one, and I did find it to be much pricier than the baths in Istanbul. I went for a massage and not the full bath as experience.
The facilities looked to be well-kept when I went for my massage. They also have an outdoor pool that you can use as part of the spa package. This would be a great thing to do in Cappadocia during the summer, as it can be very hot in the region. If you haven't tried a Turkish bath before, it's well worth the experience.
Visit one of the beautiful valleys
While visiting Cappadocia you must visit at least one of the valleys to admire the incredible landscapes. Rose valley and love valley are two of the most popular valleys to visit.
To get to the valleys, you can either join one of the Cappadocia day tours, go hiking in Cappadocia, or rent a car/scooter/ATV and drive to them. They rent classic cars from Goreme and I saw a few people with them at red valley. It looks like an amazing photo op! Both rose valley and red valley are just a 10-minute drive from Goreme or a 15-minute drive from Uchsiar.
Rose Valley Cappadocia
Both rose valley and love valley are named because of the pink-red hues that paint the landscape. During sunset, the light shines directly down on the valley, hitting the rocks and making them an even more beautiful shade of pink.
Love Valley Cappadocia
Love Valley is named so because of the phallic-looking rocks that stand there. It's well worth a look, and a perfect place to watch the sun go down.
Hiking in Cappadocia
If you love a good hike then you'll love Cappadocia. There are so many trails in this area, you could easily spend a few days just hiking. It's such a big contrast going from the sky in the balloons to the valleys below, and definitely one that you should experience while in Cappadocia.
There are organized hikes through the tour agencies you can book, or you can simply go on the hikes yourself. Rose valley, love valley, and pigeon valley are three of the most popular Cappadocia hikes.
Red Cappadocia Trail
The Red Cappadocia trail takes you through the northern part of the region. This trail starts just past the Goreme Open Air Museum. The path will guide you through Red Valley, Rose Valley, past Zelve and up Cavusin where you can grab a drink or visit the castle. On the way back you can stop at love valley, which is just across from Red and Rose valley. Of course, you can just opt to do a section of the trail like rose valley or love valley.
Pigeon Valley
Another popular hiking trail is Pigeon Valley, which starts from the town of Uchisar. You can get a local bus from Goreme to Uchisar in 10 minutes, and then hike back to Goreme via Pigeon Valley in about two hours.
Green Cappadocia Trail
To do the Green Cappadocia trail you'll need to have a car or taxi as the starting point is further away. First, you need to get to Derinkuyu underground city. From there you can then continue on to Güzelyurt which is an Ottoman-Greek town filled with centuries-old churches. From here, you can head to Ihlara Valley and hike until you reach the Selime Monasteries carved high in the mountains. This trail is similar to the stops you visit on the Cappadocia green tour, so pick one or the either.
Blue Cappadocia Trail
Another popular hiking route in Cappadocia is the blue Cappadocia trail. This route takes you along the scenic Soganli valley, which has many caves and underground cities.
Cappadocia Day Tours
There are two main day tours that you can take from Cappadocia, taking you to many of these points of interest listed above.
South Cappadocia Green Tour
The Cappadocia Green Tour is one of the best day tours you can do in Cappadocia. This full-day tour takes you to some of the most interesting places in the Cappadocia region. All these places are further away from Goreme, thus making it difficult to get to on your own without a car. The tour departs around Goreme 9:30 -10 depending on your accommodation pick-up point, and gets back about six.
Cappadocia Green Tour takes you to pigeon valley viewpoint, an onyx factory, Ilhara valley, Nar crater lake, Selime monastery, and Derinkuyu Underground city. It's named the green tour because of the gentle hike you do the lush green valley. The underground city is fascinating and should not be missed on your Cappadocia Itinerary.
Read more: Why the Green Tour should be on your Cappadocia Itinerary
North Cappadocia Red Tour
Another one of the best Cappadocia tours is the red tour, also known as the North Cappadocia tour. This full-day tour leaves Goreme around 10 am and comes back around 5. This Cappadocia tour takes you to several valleys where you can see the unique fairy shamed chimneys and mushroom-shaped pinnacles. It also visits the Goreme open-air museum, where the remains of rock-cut churches and Christian settlements date back hundreds of years. The last stop is a visit at the unique castle in Uchisar.
The red tour is a good thing to do if you want to quickly hit many of the main attractions around Goreme. But if you have the time to explore on your own it's not the most economical tour, as you can easily visit most of these attractions on your own. The green tour is a better option as it takes you to places further away from Goreme which are difficult to access on your own.
Booking your Cappadocia Day Tours
To book your Cappadocia day tours you can either visit a tour agency in Cappadocia, or most hostels/hotels will have a booking service on-site. Alternatively, you can book the tours online. One Nation Travel Agency a leading professional travel agency specializing in travel to Turkey. They have a deep understanding of Turkish culture and provide high-quality services at reasonable prices. You can book your Cappadocia tours online here with them or click here to book on One Nation Travel.
Eating & Drinking
The food in Turkey is delicious, and Cappadocia is no exception. You must try the Pide, also known as a Turkish pizza. This is a flatbread baked with various topping, I often got it with cheese and spinach. You can get Pide for as cheap as 15 lira from take-out places in Goreme. Although they will taste better if you sit down at a restaurant, and not cost much more.
A nice place to chill is Coffeedocia, which sells much more than just coffee. They have an extensive menu including healthy salads and a nice outdoor back area to lounge in.
If you aren't getting up at the crack of dawn, or just don't need sleep, there are plenty of opportunities for nightlife in Cappadocia. Fat Boys, Angel Cafe, and One Way Cafe are all good places to check out at night.
Turkish Night Show
One option to spend a night in Cappadocia is to check out the Turkish Night Show. During this, traditional dances are put on for guests along with local food and drinks. I didn't do this as I find these things to be a bit too touristy, but might be something you are interested in!
How many days should you spend in Cappadocia?
The region isn't huge, and you can see a lot in just two days (3-night stay). That being said, there is definitely enough to do here to keep you busy for more then a few days, especially if you plan to join a couple of Cappadocia tours. If you want to be sure to do a hot air balloon flight, then I recommend spending longer, in case the flight gets canceled.
Cappadocia Two Days
This itinerary will give you an idea of what you can do in 2 full days in Cappadocia. If you only have one day in Cappadocia, just choose one or mix and match the activities you want to do.
Day 1: Wake up early to go on a hot air balloon flight. It's best to book this for your first day in Cappadocia as they can get canceled due to weather. The hot air balloons go at sunrise, so even if you are on the latest flight (which I took), you can still expect to be back in your hotel/hostel around 8:30 am.
After an exciting morning on the balloon tour, have a quick breakfast and depart on the green tour. This full-day tour takes you to the underground city, green valleys, viewpoints and more, getting you back for 6 pm in time for sunset. Enjoy a sunset from one of the cities many rooftops.
Day 2: Get a good night's rest for another early rise in the morning to visit sunrise point to watch the balloons take off. Re-fuel at breakfast and take a morning hike around a valley to admire the unique geological formations up close. It gets very hot in this area so the earlier you can hike the better. The red trail, which covers rose and love valley, are the most accessible from Goreme.
In the afternoon, relax in one of Goreme's charming cafes or take a trip to the Turkish bath in Goreme where you can access the pool to escape the heat. Sign up for the ATV tour which leaves Goreme around 4:30pm. It will take you to some of the region's valleys and sunrise point. Alternatively, skip the tour and head up to sunrise point on your own.
Best time to visit Cappadocia
Cappadocia high season runs from May to September, as this is when the weather is nice and warm. On the other hand, this is the time you will run into the most tourists and thus higher prices.
It's possible to visit Cappadocia year-round. Shoulder season in April/October may be a better time with fewer tourists and cheaper prices. I was there in early September and it was still quite crowded.
Cappadocia Winter
You could also visit during wintertime, and they even have balloon flights then! I can imagine the landscape covered in snow would be especially magical to visit. Plus, you will have fewer crowds and cheaper prices. However, balloon ride cancellations are more common during the autumn and winter months so this is something to consider.
Average Costs in Cappadocia
Cappadocia, like most of Turkey, is a budget-friendly destination when it comes to living expenses. Many of the hostels will not run you more than $10 /night – and come with an included Turkish breakfast. When eating out, I was able to get most of my meals for around $5.
There are also many things you can do for free in Cappadocia, like hiking the valleys or viewing the balloons at sunrise. The more tours you do, the more expensive the trip will become. The most expensive activity for me was the hot air balloon flight at 170 Euros.
You could easily get by on less than $30 USD in Cappadocia per day, but the more tours you do will add to this. And of course, if you choose to stay in a 5-star cave hotel, this is going to make things more expensive. No harm in treating yourself though!
Solo Female Travel in Turkey
I felt completely safe during my time in Cappadocia, and turkey in general. The region is very used to tourism, so it's a great place to start if you are nervous about traveling in Turkey. It was easy to get around on English, and I met many other solo female travelers here!
If you don't want to travel solo, there are many group tours that go through this region. My favorite tour company is G adventures!
Final Thoughts
Although popular, Cappadocia is definitely a place you don't want to miss on your trip through Turkey. Between all the adventures, dreamy landscapes, and fascinating history, there's something for everyone here. If you have any questions about traveling in Cappadocia or Turkey in general, let me know in the comments below!
Like it? Pin it for later!