This post may contain affiliate links. By clicking and making a purchase through the links, I earn a small commission at no extra cost to you. See my disclaimer for more information. This and display ads allow me to keep the site up to date and give back.
There are few things I enjoy more in life than music festivals and traveling. Combine the two of them? Welcome to my paradise. Getting to celebrate the inaugural year of the BPM festival in Tamarindo, Costa Rica was nothing short of a dream come true.
BPM is a 5-day electronic music festival set in the beautiful jungle/beaches of Tamarindo, Costa Rica. It was the perfect kick-off to my month of backpacking Costa Rica; a week full of new friends, dancing, and good vibes.
This guide gives you everything you need to know to make the most of your time at BPM in Costa Rica, plus tips on making the most of your time in Tamarindo and advice on where to go after in Costa Rica.
I kindly received a complimentary media pass to attend BPM in Tamarindo. As always, all opinions are my own.
What is the BPM festival?
BPM, which stands for Bartenders, Promoters, and Musicians, is an electronic music festival that started in 2008 as a post-New Years gathering for industry professionals in Mexico. Since then, it's grown into a world-renowned event with multiple locations around the world including Portugal, Israel, and now Costa Rica!
2020 marked the inaugural year of the BPM festival in Tamarindo, Costa Rica; and what an amazing location they picked.
Why Tamarindo is the perfect location for BPM
Tamarindo is a beautiful town nestled along Costa Rica's Pacific Coast. It's a perfect location for a festival like BPM which is set outdoors.
The festival took place from January 14th-19th, coinciding with the dry season in Costa Rica. The weather was hot and dry, which was perfect for a festival like BPM where you are outside most of the day. Tamarindo is one of the best beach towns in Costa Rica, so it makes an incredible backdrop for the festival.
Aside from the perfect weather, what makes Tamarindo an ideal destination for the BPM festival is the social atmosphere. The town attracts travelers from all over the world, so it has a social and fun atmosphere where you can easily meet people.
Of the total attendees, only 10% were Costa Rican, with the other 90% coming from countries all over the world! I met people from North America, Latin America, Europe, and Asia. Many of the attendees came because they had been to previous BPM's in other locations, which speaks volumes to the festival's strong reputation.
Pura Vida is a way of life in Costa Rica, and Tamarindo is no exception to this. Translated, Pura Vida means pure life. It's a common expression in Costa Rica that replaces hello, goodbye, thank you, and more. But Pura Vida is more than just an expression, it represents the Costa Ricans culture and way of life. Simply, it means that people need to be grateful for what they have in life and not dwell on the negative.
A vacation to Costa Rica is the perfect way to relax and recharge from the daily stress of life, and BPM/Tamarindo is the perfect place to do just that!
Getting to Tamarindo
If you are traveling internationally to Costa Rica for the BPM festival, the closest airport to fly into is Liberia International Airport (LIR). It is only a one hour drive from Liberia to Tamarindo. San Jose International Airport (SJO) is about 3.5 hours away.
There are many shuttles running between Liberia and Tamarindo which should cost you around $20. BPM has an official travel partner for booking travel.
Alternatively, you could take the public bus (La Pampa). It only costs a few dollars, but it will likely take 2.5 hours or more.
From Liberia to Tamarindo: Buses depart at 3:55am, 5:15am, 8:10am, 10am, 10:10am, 11:10am, 1:10pm, 2:10pm, 4:10pm and 6:10pm.
From Tamarindo to Liberia: Buses depart at 3:30am, 4:30am, 5:45am, 7:30am, 9am, 10:00am, 11:30am, 1pm, 2:15pm, 3pm, 4:15pm, 5pm, and 6:30pm.
Rental cars are also readily available from Liberia which is a great way to travel around Costa Rica. However, if you plan to rent a car in Tamarindo after the event, I highly recommend booking in advance. They have limited availability with so many people wanting to rent cars after the festival. I ran into this problem!
Further below, I've suggested some of the best things you can do in Tamarindo, as well as recommendations on where to stay and where to travel afterward in Costa Rica.
Overview of BPM Festival Costa Rica
The BPM Festival in Costa Rica took place from January 14th-19th in 2020. Five amazing days of music with over 150 DJ's performing!
BPM Costa Rica Festival Lineup 2020
The festival lineup for the inaugural year of BPM Costa Rica was legendary, and I'm sure when they return next year it will be even bigger. Here's a complete lineup of the artists that performed at BPM Tamarindo in 2020.
The festival showcased the best of house music with over 150 national and international artists. Some of the biggest highlights were Masters at Work, Deep Dish, Sasha, Loco Dice, Luciano, Nevedogs, Carl Craig, and more. They also had a mix of local talent present which was great to see.
Venues & Stages at BPM Costa Rica 2020
The festival took place in four different locations across Tamarindo with six stages in total. It was so much fun being able to hop between the venues as they all their own unique atmosphere.
What's even more wonderful is that two of the stages were open to everyone, meaning you didn't even need a ticket to BPM in order to enter. The other stages were by admission only.
The four venues for BPM festival Costa Rica 2020 were Casa Aura, El Garito, and Tamarindo Eco Adventures which had two inside. The festival took place from 12 pm until 5 am (sometimes later) every day, so the venue schedules were split by day and night.
Day Time Venues
Casa Aura
Casa Aura is a local bar in Tamarindo where day time events took place from 12-7 pm each day of the festival. It was the perfect venue for a warm-up party during the day as it's location is right on the beach. Is there anything better than a few cold drinks while dancing in the sun with friends listening to amazing music?! I don't think so.
Casa Aura was one of the free venues that anyone could enter. There was usually not more then a couple of hundred people here at a time, which is perfect if you're looking for a smaller crowd.
Treehouse at Canopy
The second daytime stage, Canopy, was at the main festival venue at Eco Adventures which you needed a ticket to attend. It was open from 12 pm-10 pm. The stage is just to the right as soon as you walk into the festival crowds so you can get dancing right away. It's a good place to go if you want to pre-game for the bigger performances, as the Canopy stage is just a 5-10 minute walk from the other three main stages which open at 10 pm.
Although there were far fewer people at the event during the day, I really enjoyed the daytime performance. It's lovely to soak up some of the beautiful Costa Rican sunshine while dancing. One of my favorite sets was Felix Da Housecat who played at the Canopy stage in the afternoon. It was a great dance party!
Nighttime Venues
El Garito
El Garito is another venue in the town of Tamarindo which was free and open to everyone. It had nightly events from 9 pm-3 am. It was just a couple minutes away from where the BPM shuttle picks you up, so it's the perfect place to go for a drink beforehand.
The Jungle – Pod, Howler, and Monkey Stages
The main nighttime event took place at 'the Jungle' inside Tamarindo Eco Adventures. Inside the jungle they had three different stages set up – The Pod, Howling Monkey, and Dreamcatcher All of these opened at 10 pm each night, and performances were on until 5 am or later. I was often leaving the venue at sunrise!
This was my favorite venue of the festival. I loved that it was set in the jungle. All of the trees lit up was so magical to walk through and dance in!
Dreamcatcher was by far my favorite stage. They had beautiful dream catchers hanging down from the trees, creating a mystical atmosphere. It was one of the biggest stages, drawing thousands each night. Performances here often went past 5 am.
The Pod stage also had an electric atmosphere and it was where many of the biggest artists played. It's in-between the dreamcatcher and monkey stage, just a two-minute walk away to either. It was opened nightly from 10 pm to around 5 am.
Howling monkey was the smallest stage, but it was a nice one to go to when you needed a break from the big crowds.
Getting Between the jungle Stages
None of the stages at the Jungle were far away from each other, which was great for switching between them. I actually counted how long it took to walk between each stage. From the Canopy stage to The Pod was 2 minutes and 30 seconds, Pod to Dreamcatcher was 2 minutes, and Dreamcatcher to Howling Monkey was 2 minutes.
While there were usually people passing through the walkways, it was never so much heavy traffic you couldn't get through. There were also some fun photo ops along the way!
Food & Drink at BPM Festival Costa Rica
At each stage at the Jungle venue, there was a bar to buy drinks. Water bottles, red bull, and juice were $5 USD each. Unfortunately there were no free water filling stations at the event. Beer was $6, and the only option was Heiniken. Mixed drinks started at $10 while premium ones cost $15.
What's interesting about the prices at BPM is that taxes and tips are included, so you don't have to worry about tipping. However the option to tip was always given when you swiped your wristband.
There's a small food truck area across from the Canopy stage that's open late into the night, if you want to grab some food at the event. The prices are higher then what you would pay eating in Tamarindo, which is typical of a music festival.
I mostly ate in Tamarindo town as there were more food options and better prices. The venue is close enough that you can walk between the town and Jungle venue, or take the free shuttle. Some good restaurants in Tamarindo are Bamboo Sushi Club, Dragonfly Bar and Grill, La Bodega, & Sprout.
BPM Festival Costa Rica Atmosphere
The atmosphere throughout the five days at BPM was incredible. The stages were always packed with people dancing until the early hours of the morning.
The festival spanned five days and while there were many people there for the entire event, the energy was definitely higher during the weekend performances. That said each day was incredible, see the video below for the highlights from day 1 which shows the beautiful setting of BPM Costa Rica.
My favorite night of the event was Friday on day three, when many people had just arrived. The energy while Nicole Moudaber played was unreal!
Day four was also a great time, starting with a Loco Dice daytime dance party, and a 4×2 Toronto DJ set at El Garito.
Even by the last day of the festival, the energy of the crowd was still palatable. The signature closing day event, "This Is The End" brought Sasha, Stefano Noferini, and Sharam to the Canopy stage for an epic closing performance.
Aside from the amazing music, the best part about BPM was getting to meet so many amazing people from all over the world. Everyone there had such a positive energy about them and it was easy to make friends at the festival.
Pacing yourself at BPM Festival Costa Rica
Since the festival is 5-days long and each day is up to 16 hours, you'll definitely want to pace yourself. BPM goes late into the night and it's a non-stop dance party, so it requires quite a bit of energy to be there from day into night!
Personally I found it helpful to take a break in-between day and night sets, or arrive later in the evening if you want to stay out into the early morning hours.
The energy between day and night is very different at BPM. At most day time events there were only a few hundred people, while during the night time this increased to thousands. Around 12 am seemed to be the peak time, although it was often still packed at the jungle well into 5 am.
BPM Festival Costa Rica Practical Information
Getting Tickets to BPM
BPM festival tickets can be purchased online. Tickets are released in stages and each wave has a different price point. Early bird passes offer the best price and as it moves onto Tier 1 and Tier 2, etc., the festival pass price will increase.
There are several different ticket options. The 5-day pass will give you access to all the festival and stages throughout the week. They also sell a 3-day pass which gives you access to the vents on the weekend. This is a great option if you can only attend for a few days.
They also sell individual showcase tickets closer to the date of the event, but if you plan to attend more then one show then it's worth it to just buy a festival pass.
There are also free events that anyone can attend at Casa Aura in the day, and El Garito at night (see venue information above).
If you plan to go next year, I recommend buying tickets earlier to save money. The people I met who bought early bird tickets paid less than half of those who purchased the weekend of BPM.
To book a VIP bed or table, contact [email protected].
Picking up the festival pass (wristband)
Wristbands are not mailed out to you. To get your wristband, you must present the purchase confirmation email displaying the scannable barcode along with a government-issued photo ID at the BPM Box Office in Tamarindo. Information on where to pick up the ticket will be sent to you via e-mail prior to the event.
I picked up my wristband at Casa Aura the night before BPM started and it was a very quick process! When you pick up the bracelet, you can load it with money using the cashless system.
Cashless System
I loved the BPM implemented a cashless bar system, where you paid using the wristband. BPM partnered with Billfold POS so once you pick up the wristband, you can link your credit card to it. You were able to do this at the same location where you picked up the wristband via a tablet. It took about 30 seconds to do and worked flawlessly throughout the event.
If you don't want to link your credit card, you can also pre-load cash. This is a good way to budget, but you'll have to remember to ask for the credit back if you have any money left before the festival ends. Money could be topped up on the wristband at the event using tablets.
What's great about the cashless system is that it meant there was no need for bringing cash to the venue since all purchases can be made with your wristband! Plus, you get a receipt automatically e-mailed to you.
Free Shuttles
Although all of the venues were within walking distance of the main strip in Tamarindo, BPM also had free shuttles running back and forth to the Canopy and Jungle at Eco Adventures.
The shuttle picked up at the corner of Central Ave and Calle Cardinal and took about five minutes to get to the event. Otherwise, it was about a 20-minute walk from the same pick-up spot.
The shuttles didn't have an exact schedule but ran pretty frequently, I never waited more than 15 minutes for one. This was so nice at the end of the night when my feet were tired from dancing!
There were also regular cabs running from Tamarindo to the event, which cost about $10 from the same intersection.
BPM Shuttle Pick up spot
Facebook Group
There is an official BPM Facebook Page as well as a BPM Costa Rica Facebook group which is an excellent resource for finding out information about the event and connecting with other attendees. I know people who were traveling solo who used this to link up with other travelers beforehand!
What to wear
It's a festival, so you can wear just about anything to BPM! I recommend something light and breathable, as the weather is hot and there's lots of dancing. Many people just wore their bikinis! Since I was traveling afterward I was limited on my festival wear, but most days went with shorts and a crop top. I loved seeing the colorful outfits that people had at the festival! It's a great place to show off your creative side.
What to bring
I recommend bringing the minimum that you need to the event. Large backpacks aren't allowed in (maximum 12in x 12in / 30cm x 30cm), and there isn't a place to store your belonging.
An essential item I bring to any festival is a cute fanny pack! These are perfect because you can have your hands free to dance. If you're worried about theft, you could take a hidden money belt that goes inside your shorts.
Professional cameras are not allowed (unless you are media), but you can bring a non-professional camera like a GoPro or Osmo Pocket. I brought my Osmo which was so convenient because it's small enough to fit in a fanny pack yet takes amazing videos.
As I mentioned above, it's a cashless system so I wouldn't worry about bringing much cash unless you plan to get a taxi or go into Tamarindo after.
Bring your phone, external battery, sunscreen (if you go during the day), earplugs (the bass is very loud), and any other essential small items you may need. If you're a smoker, you can bring cigarettes and a lighter.
Here is a complete list of what you can and cannot bring into the event. Remember, all bags are subject to inspection.
You can find out more information about the event on the official BPM website here, or if you have specific questions you can e-mail ​[email protected]
Other BPM Festivals Around the World
If this article has got you dying to go to BPM Costa Rica but you just can't wait until next January, don't forget that BPM has other festivals around the world! Here's a list of ones to keep an eye out for as the dates get confirmed.
Other Things to do in Tamarindo Costa Rica
We arrived in Tamarindo a few days before the festival started. It was great to have those first few days to get to know the town and explore what else Tamarindo has to offer. I wish we had even more time there because during the festival the days are pretty jam-packed!
Coming from the cloud forest of Monteverde to Tamarindo was great since we had spent the last few days being very vet. Tamarindo is the opposite: a dry climate with incredible beaches to soak up the sun on.
f you're coming to Tamarindo for the BPM festival, you should definitely add on a few days to your Costa Rica itinerary to discover what else this vibrant city has to offer.
Surf
Tamarindo is known for its world-class surfing. Even if you haven't surfed before, there are qualified instructors readily available to teach you how to catch a wave. Tamarindo was the first place I ever tried surfing!
Enjoy the beaches
Tamarindo has a lovely beach with beautiful sunsets. Taking a break between the daytime and nighttime events to watch the sunset was one of my favorite things to do! They also have massages on the beach which is a great way to relax ($35 for an hour). However, there are some nicer beaches not far from Tamarindo. I recommend visiting Playa Conchal, which is a half-hour away.
Zip-lining
Costa Rica is the land of the zip-lines, and in the same location as the event (Eco adventures) you can try it! A couple of my friends did this and said it was a blast. If you're only in Tamarindo this is a great thing to do but if you're traveling elsewhere in Costa Rica, I'd save the zip-lining for there. Monteverde is the best place in the country to go zip-lining, while La Fortuna is a close second.
Diving
Tamarindo is nearby to the Catalina islands which offer great diving opportunities, although I think the best place to go diving in Costa Rica is Uvita.
Sunset Catamaran Tour
Another popular thing to do in Tamarindo is to enjoy a sunset Catamaran tour. On the tour you'll get the chance to sail along the Pacific coast and snorkel in the coral reefs, with a beautiful sunset from the boat as you return to Tamarindo.
Where to stay in Tamarindo during. the BPM Festival
There are many types of accommodation options available in Tamarindo including hotels, hostels, beach houses, condos, and Airbnb.
If you are looking for a social place with other festival attendees and close proximity to the festival, then I highly recommend Selina! I was hosted here and it was the PERFECT place for attending the festival as a solo traveler. As soon as I arrived, I met other travelers who were attending the festival. I already had a crew to go with before the festival had only begun thanks to Selina!
Selina is in a great location for attending BPM, just a two-minute walk from where the free shuttle drops you off. From Selina, you can walk to Casa Aura in 10 minutes, El Garito in 5, and Eco Adventures in 20. Selina is right on the main drag of Tamarindo, so there are plenty of restaurant options nearby.
Selina Tamarindo has both dorm and private rooms available. All of the rooms are in separate houses each painted with beautiful graffiti. They also have AC in each room which is essential at this time of year!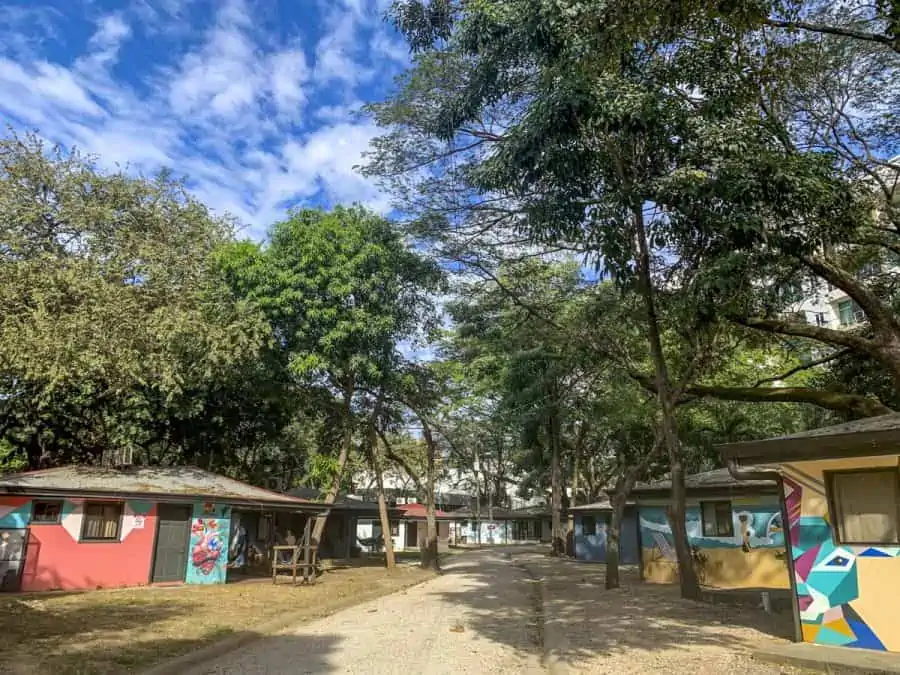 The best part about Selina in Tamarindo is the outdoor pool which was perfect for staying cool in the heat. It was always a social atmosphere there and where I met many people. However, you don't have to worry about it being too loud to sleep, as there are quiet hours past 10 pm.
They also have an on-site restaurant and bar next to the pool, and even had special events and DJ's going on for BPM. Selina also has an on-site tour desk where they can help you book tours in Tamarindo including surf lessons. You can also just rent surfboards, which is one of the best things to do in Tamarindo!
If you're looking for more private or luxury accommodation, there are a range of amazing Airbnbs to book in Tamarindo. Renting one of these with friends while attending BPM would be such an experience!
If you're planning to attend BPM in Tamarindo next year, I highly recommend booking your accommodation in advance. Everything was sold out by the time the festival had started, and I even had friends leave early because they had nowhere to stay. The same thing goes with booking transport on afterward – it's important to book in advance! I had to go back to the Liberia airport just to pick up a rental car because there were none available in Tamarindo.
Where to go in Costa Rica after the BPM Festival
While BPM is an epic experience, Costa Rica is a wonderful country and it's worth taking the time to explore other parts of it outside of Tamarindo. The best way to get around the country is to rent a car, but there are also shuttles available. If you love beach and surf, head further down the Nicoya Peninsula to Nosara or Santa Teresa. If you want a new landscape and epic adventures, head to Arenal Volcano at La Fortuna, Rio Celeste for Waterfalls, Manual Antonio for Adventure, or the Cloudforest of Monteverde.
For more inspiration, check out my Ultimate Guide to Planning a Trip to Costa Rica.
Getting to combine two of my biggest passions was a great way to start my trip in Costa Rica. If you love house music and traveling, attending BPM is an amazing addition to any Costa Rica itinerary. Or if you can't wait for next year, don't forget that BPM also hosts amazing events in Portugal and Israel!
Do you have any questions about attending BPM or Costa Rica in general? Let me know in the comments below!
Enjoyed this post? Pin it for later!