This post may contain affiliate links. By clicking and making a purchase through the links, I earn a small commission at no extra cost to you. This and display ads allows me to keep the site up to date and give back. Thanks for reading!
One of the main reasons people come to Cappadocia is to take to the skies in a hot air balloon over the unique landscapes of this region. Cappadocia is known as one of the world's best places to go hot air ballooning – and with good reason. Riding a hot air balloon in Cappadocia is a surreal experience worthy of a spot on your bucket list.
If you're thinking about taking a hot air balloon flight in Cappadocia, read this first! It will tell you everything you need to know to make the most of your hot air balloon flight experience, including tips for when to go, how to book, and what to bring.
Can't read this right now? Pin it for later!
Every morning, hundreds of balloons are launched over Cappadocia, filling the sky with bright colors over the orange and red hues of the sunrise. Even if you don't ride a hot air balloon, witnessing this sight at sunrise is an experience on its own.
What to expect on a Cappadocia Hot Air Balloon Flight
The day of your flight you will have to wake up bright and early. The flights were very busy at the time I went in early September, so they had two take-off times. I was on the later slot, which unfortunately I didn't have a choice about. I would have preferred to have been on the earlier flight, as by the time we were up in the air the sun was already rising.
The driver picked me up from the hostel at 5:45 am, and we drove to the site where the balloons take off from, which is just 10 minutes away from the center of Goreme. It takes a while for them to get the balloon ready for take-off, but there is tea, coffee, and snacks while you wait.
It was my second time in a hot air balloon (my first time was in India), so I knew what to expect. Getting into the balloon this time was actually much easier, as they allowed us to do it from upright. Previously I had to get in the basket on its side and then it was put upright – this is very bumpy!
Pro Tip: Be the last of your group to go in the basket. If you let others go first, you'll be on the outside corner giving you unobstructed views.
Being in a hot air balloon is surprisingly relaxing. After the initial take-off, you just gently float through the air. The views from above are just stunning, especially when you see all the other balloons floating beside you. We flew to a maximum of 800m, soaring high in the glorious morning sky.
If you're wondering how a hot air balloon works, it's because heat rises. By heating the air inside the balloon with the burner, it becomes lighter than the cooler air on the outside. It truly feels like magic!
The best part about a hot air balloon flight through Cappadocia is getting to see the stunning landscape of the region from that point of view. We passed Fairy Chimneys, Monk's Valley, Imagination Valley, pigeon houses, cave houses, and vineyards. The landscape seemed to change every minute we were in the air!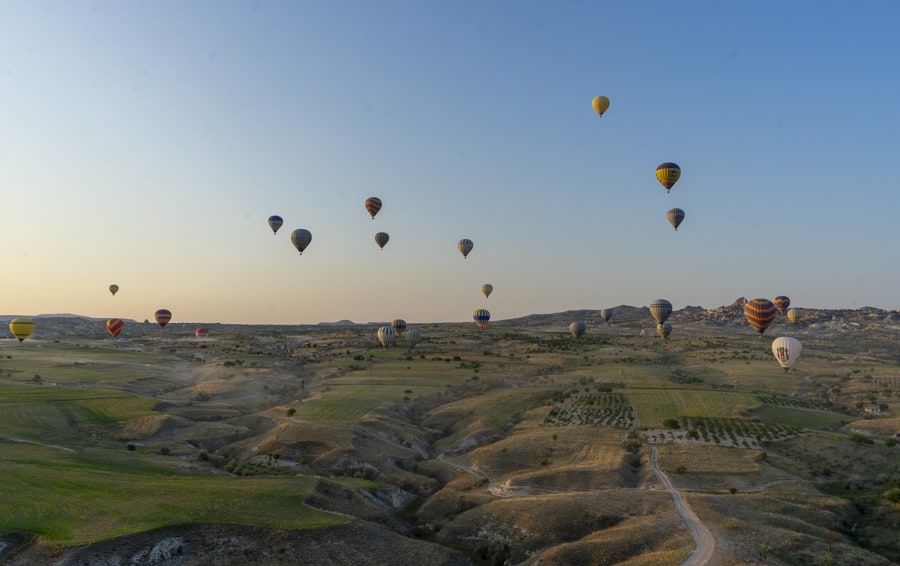 The ride lasts about 25 minutes in total, depending on the wind. I wish it could have been longer! The pilot will slowly start to descend the balloon, and look for a safe place to land. Hot air balloon landings take place on any large, flat(ish) areas – we landed in an empty field.
Landing is the most difficult part about a hot air balloon ride, as you will be required to tuk yourself into the basket and hold on while the pilot lands. Once the balloon lands, you need to stay inside it until the crew comes to safely let you out. The pilot is in contact with the other employees via radio, who will meet you at the landing site with a trailer.
Once out of the balloon, it's time for champagne! The crew will pop a bottle and share it around to celebrate your new adventure. They even served us fresh grapes, which are in season during September. Yum!
I loved my flight over Cappadocia. Along with the views, I was impressed with how skilled the pilots were at navigating the balloon. There are so many close together, I can't help but wonder how they don't bump into each other! Going a hot air balloon flight is one of the main reasons people come to Cappadocia, and is a must-do if you're in the area.
Check latest prices and book your hot air balloon flight
Cappadocia Hot Air Balloon Price
The price of a Cappadocia hot air balloon flight depends on the time of the year, as it's based on demand. But generally speaking, they aren't cheap. When I visited in September 2019 I paid 170 Euros, and the day after I went the hot air balloon flight prices went up to 180. The guy at my hostel who I booked it through told me they can go as high as 250 Euros!
It's also important to note that the more people in the balloon, the cheaper the flight will be. But being in an extremely crowded balloon can also hinder the experience, so make sure you know how many other people will be in the balloon before you book.
They also have hot air balloon flights in other regions of Turkey like Pammukale, which are cheaper then Cappadocia.
Do you need to book in advance?
It's a good idea to book your hot air balloon ride in advance of arriving in Cappadocia, as this activity is the most popular thing to do in the area. Although lots of people manage, there is no guarantee you will be able to get a spot if you just show up.
If your hearts set on a hot air balloon flight, then it's strongly advised to book in advance. This is especially true if you are only going to be in Cappadocia for a short period, as you may have to wait a few days to get on a flight due to cancellations (more on that below).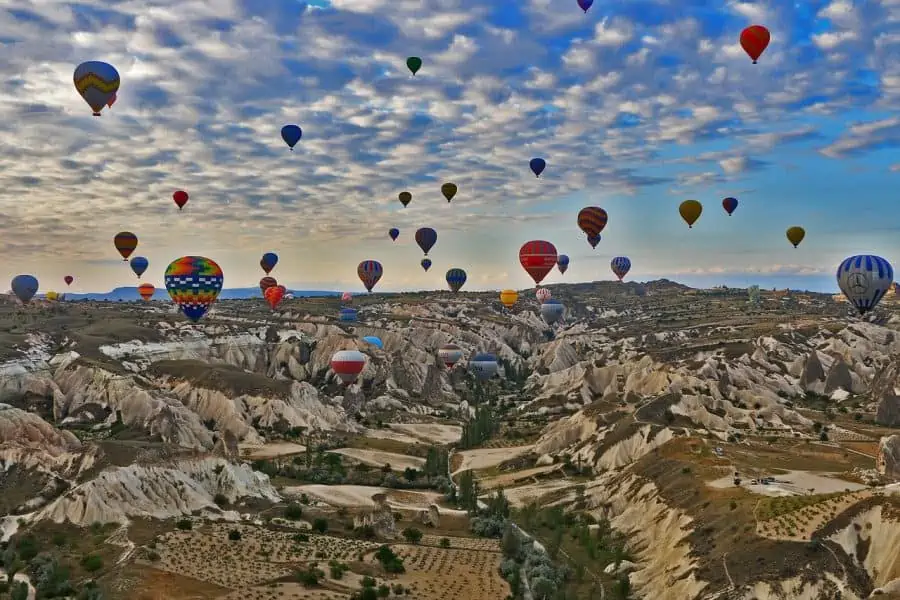 How to book a hot air balloon flight in Cappadocia
When I booked my room at Hostel Terra Vista, they sent me an e-mail asking if I wanted to make a reservation for the balloon flight. If you contact your hotel in Cappadocia, they should be able to arrange it for you.
You can also book it yourself beforehand, either directly through one of the balloon agents, or online right here.
Another important factor to consider when planning a hot air balloon flight in Cappadocia is that they are often canceled. The balloon rides are managed by the Turkish air force who decide each day whether the weather conditions are suitable for a flight. It's for your safety! It's not uncommon that this happens, so it's really important to leave a few days extra in your Cappadocia itinerary in case you need to reschedule the flight.
What happens if my flight gets canceled?
If your flight is canceled, you have to try to reschedule with the company you booked with. But due to the popularity of the flights, there is a good chance they will already be fully booked for the next day. When that happens, you will have to reach out to the other hot air balloon companies to see if they have any space.
If you can't get on a hot air balloon flight during your time in Cappadocia, remember that this area has much more to offer. Make the most of your time there, and discover some of the other activities Cappadocia has.
Read more: Best Things to do in Cappadocia
Is riding a hot air balloon safe?
Cappadocia is one of the most highly regulated places for hot air ballooning and boasts an excellent safety record. To fly here, pilots must train for around five times as long as in other parts of the world. All of the balloons are registered and get regular safety checks.
That said, accidents have happened in the past. Although many safety measures are put in place, like most adventure activities, there is some level of risk. Make sure you choose an experienced balloon company and protect yourself with travel insurance.
If you have a fear of heights, this experience may not be for you as you will be 800m off the ground. That said, most people don't find the experience scary as there is little motion while in the air, and the views keep you distracted.
Cappadocia hot air balloon season
Cappadocia is one of the few places in the world where you can go hot air ballooning year-round. That's right, you can go in a hot air balloon over a snowy landscape! Imagine how magical that would be?
The only thing to consider about going hot air ballooning in the wintertime is that the chances of your flight getting canceled are much higher, due to more frequent high winds. If you plan to go during the wintertime, it's best to leave a lot of leeway in your travel plans for cancellations.
Hot air balloons fly in Cappadocia approximately 250 days of the year. Although there's never a 100% guarantee, the best season to go hot air ballooning in Cappadocia is from April to November, as this is when cancellations are less likely.
What to bring on a hot air balloon flight
If you're taking a hot air balloon flight during April-November you'll still want to bring layers and something warm to wear. Even in the summer, it can be quite chilly in the morning before the sun is up, especially when you're up in the air. I only wore a light long sleeve top and regretted not bringing my sweater. During the rest of the year, you'll definitely want to bundle up as it can get very cold in Cappadocia.
Tip: Carry a GoPro on a Selfie Quick Pod Stick so you can get shots of yourself in the balloon!
Looking for a hotel in Cappadocia?
One of the best parts about visiting Cappadocia is the chance to stay in one of the region's unique cave hotels. Find your dream cave hotel here!
For my full list of recommendations, check out my post on the best cave hotels in Cappadocia.
Final Thoughts
The hot air balloon rides do not come cheap, but for this once in a lifetime experience, it's one of the best things you can add to your Cappadocia itinerary. If you haven't done a hot air balloon flight before, then Cappadocia is the best place you could try it. Let me know in the comments below if you've been on a hot air balloon before!
Continue planning your trip to Cappadocia with my other posts on this magical area:
Like it? Pin it for later!