This post may contain affiliate links. By clicking and making a purchase through the links, I earn a small commission at no extra cost to you. See my disclaimer for more information. This and display ads allow me to keep the site up to date and give back.
Costa Rica was the first country I visited in Latin America and the reason I fell in love with that part of the world. The people are kind, the scenery is gorgeous, and the wildlife is abundant.
Although pricier than its neighboring countries, Costa Rica is a great introduction to this region of the world as it's safe and has a well-established tourism industry.
If you're backpacking or traveling through Costa Rica and looking for help planning the perfect Costa Rica itinerary, this post has you covered!
This Costa Rica travel guide will go over the best places to visit in Costa Rica, things to do, places to stay, and tips for getting around. I've also included sample one-week, ten days, and two-week Costa Rica itineraries at the end.
Top Activities to do in Costa Rica
Places to Visit on your Costa Rica Itinerary
Liberia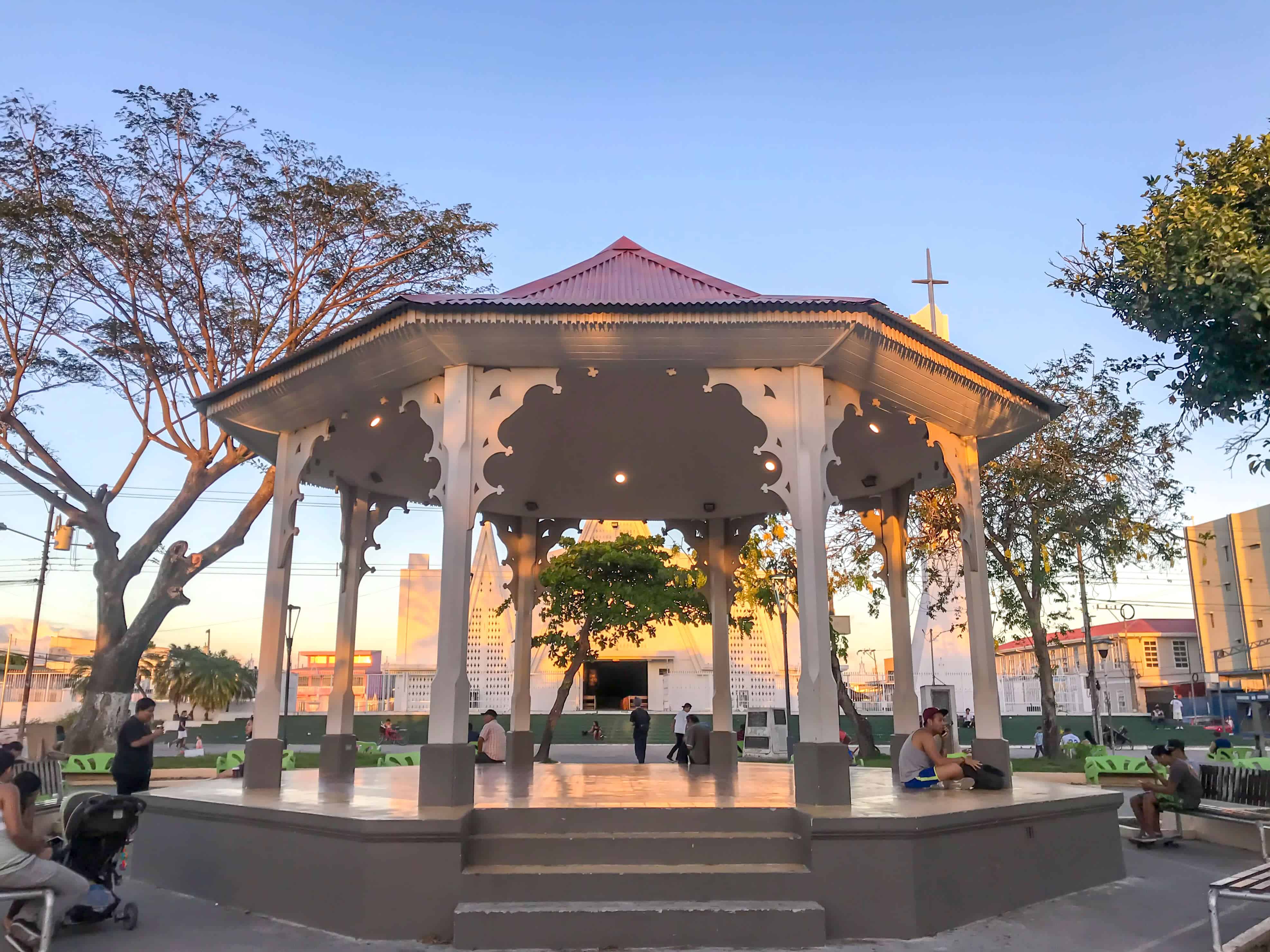 If you are flying into Costa Rica Liberia airport or coming from Nicaragua you'll be landing in Liberia. There really isn't a lot in Liberia, it's called la Ciudad Blanca (the white city) as it has roads made of white and dusty material.
If you do spend some time there, nearby Liberia is a waterfall worth checking out called Llanos de Cortez. To get there via public bus head to main bus terminal in Liberia and take any bus going to Bagaces or Canas. It takes about 20 minutes and then you have to walk 2km down a flat road.
The waterfall is gorgeous. There's a huge pool underneath it you can swim in and you can even get under the waterfall, but the current is quite strong. I got there just before noon and I was leaving it was starting to get much busier, so get there early if you want to avoid crowds.
Tamarindo
Tamarindo is just an hour and a half drive from Liberia. There is a local bus for around $2 that takes about 2-3 hours, or you can book a shared shuttle. This is a great place to start your Costa Rica itinerary, especially if you are planning to travel down the Pacific Coast.
Tamarindo is a lively surf town on the South Guanacaste section of the Pacific Coast of Costa Rica. There you can find restaurants and bars, shopping, gorgeous sunsets, and endless yoga and surf schools.
Tamarindo is a busy town and great if you're looking for nightlife and shopping. Tamarindo is also a great place to learn to surf as the waves are beginner friendly and the water is warm. You can book lessons online or in-person town which should cost around $50 for a two-hour private lesson, or $25 with another person.
Tamarindo is also home to the BPM music festival which happens in January. This 5-day electronic music festival is an amazing addition to your Costa Rica itinerary if you love festivals! Dancing in the jungle for five nights straight was so much fun.
Favorite activity: Learning to surf
Suggested Hostel: Blue Trailz Hostel & Surf Camp, located on the main street of Tamarindo, this hostel has a great atmosphere for meeting other guests and is well-kept. Plus, they have a surf school next-door and guests get a discount!
Suggested Hotel: The Coast Beachfront Hotel, this hotel is right on the beach, so you don't have to go far from your room to be in the ocean. The staff are friendly, and there's an outdoor pool on the property to cool off.
Find more accommodation in Tamarindo.
La Fortuna
La Fortuna is a good place to start your Costa Rica itinerary from either San José or Liberia. I loved the drive from San Jose; you leave the loud city behind and ascend into the natural beauty of Costa Rica.
This road is curvy but nothing unmanageable. La Fortuna is a great place to start your Costa Rica trip, especially for nature lovers and adventure-seekers.
The biggest attraction of La Fortuna is the Arenal Volcano National Park, which is a forest surrounding a volcano that has a great assortment of wildlife and exotic plants.
There are many adventure tours you can do in this area, including white-water rafting, zip-lining, hanging bridges, rainforest walks, and waterfall-repelling excursions. I'd recommend staying at least two full days here as there is so much to do!
Favorite activity: Waterfall Canyoning
Recommended Hostels: Arenal Hostel Resort. This hostel is in a great location, just 150m away from the bus station. They offer both dorms and private rooms with AC. It has a great atmosphere and the dreamiest hammock lounging area to relax in.
Recommended Hotel: Volcano Lodge Hotel & Thermal Experience, if you're looking for a bit more luxury in La Fortuna, this hotel has it all. The outdoor thermal pool overlooking Arenal Volcano is the perfect place to relax after a day of exploring.
Find more accommodation in La Fortuna.
Read more: 10 Adventurous Things to do in La Fortuna
Rio Celeste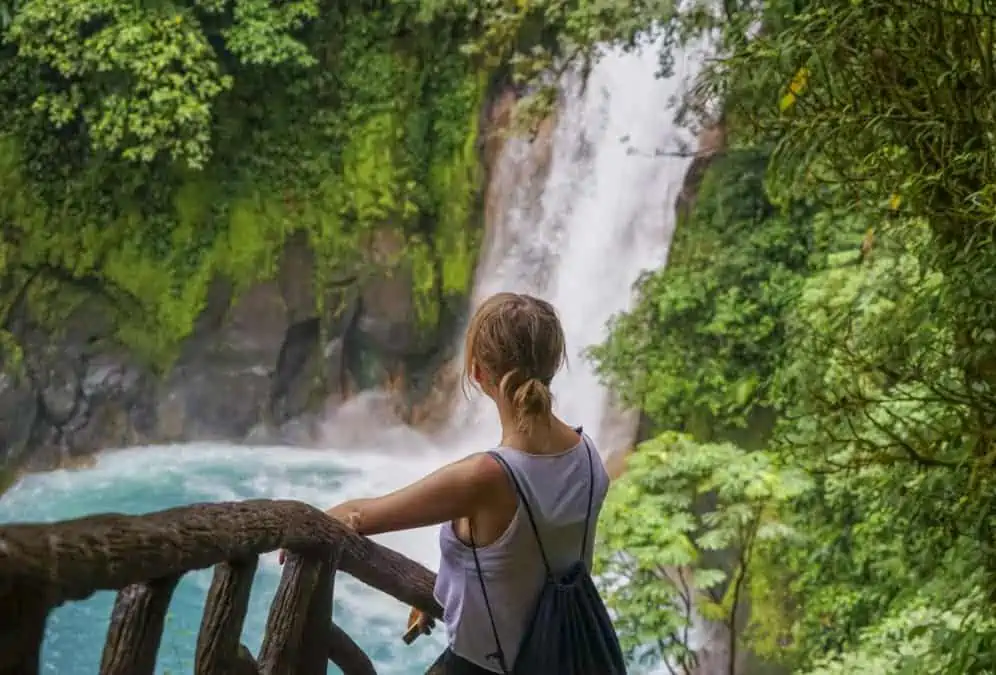 Rio Celeste is one of Costa Rica's most beautiful waterfalls. It's about an hour away from La Fortuna and many people visit as a day trip. However, I recommend spending the night nearby instead and getting to the falls earlier, as they become very busy during the day and will cap the people in the park at 500.
We had the waterfall all to ourselves when we got there but by the time we were leaving the park was packed with people.
Monteverde
After an adventure-filled trip to La Fortuna, head to the mystical and relaxing Monteverde cloud forest. This was the worst drive we had in terms of road conditions as parts of it aren't paved, but nothing the 4X4 couldn't handle. Once you arrive in Monteverde you will feel the magic of this place. You can also get a boat transfer between the two places, which is an easier way.
In the Monteverde cloud forest, there are moments where you are actually in the clouds as they pass through the forests. There are a number of activities to do in this area, ranging from gentle hikes through the cloud forest to horseback riding at sunset. For those that crave more adventure, there are zip lines, canopy tours, and suspension bridges all in the beautiful setting of the cloud forest.
Read more: The Best Things to do in Monteverde
Favorite activity: Zip-lining through the cloud forest
Suggested Hostel: Camino Verde Hostel and B&B, just a short walk from the main town, this charming home has an amazing outdoor patio overlooking the surrounding landscape that's perfect for socializing with other guests.
Suggested Hotel: Chira Glamping looks like such a unique accommodation option, perfect for the setting of Costa Rica. These gorgeous high-end dome tents overlook the surrounding beauty and have all the amenities of a hotel inside. Some even come with their own hot tub!
Find more accommodation options in Monteverde.
Nosara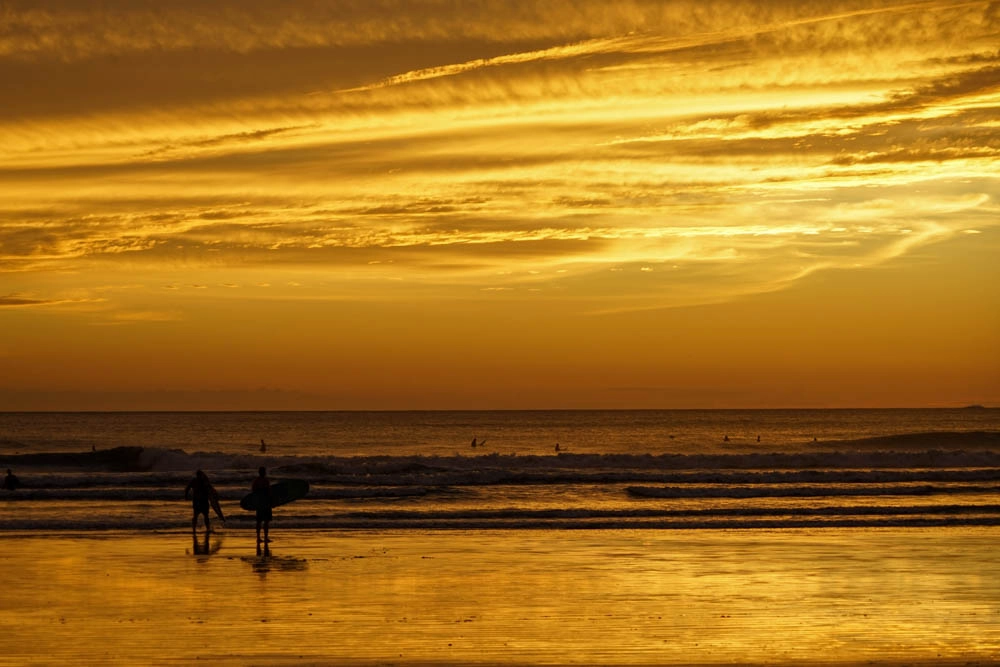 Nosara is another dreamy surf and yoga town on the South Guanacaste. It isn't the easiest place to get without a car. There is a small airport there. I came from Tamarindo to Nosara via car and the roads were very bumpy – I made it in a normal car but was worried I was going to pop a tire on the way!
Once you get there however it's the most relaxing place. The yoga here is amazing, they have qualified instructors from all over the world. There's also a beautiful beach here which is perfect for surf.
Where to stay: Staying at Selina in Nosara is an experience in itself. It's like a resort for backpackers. It's away from town, but you won't even mind because it's so beautiful you'll want to stay. They have several pools to lounge in, as well as a yoga studio with daily classes.
Santa Teresa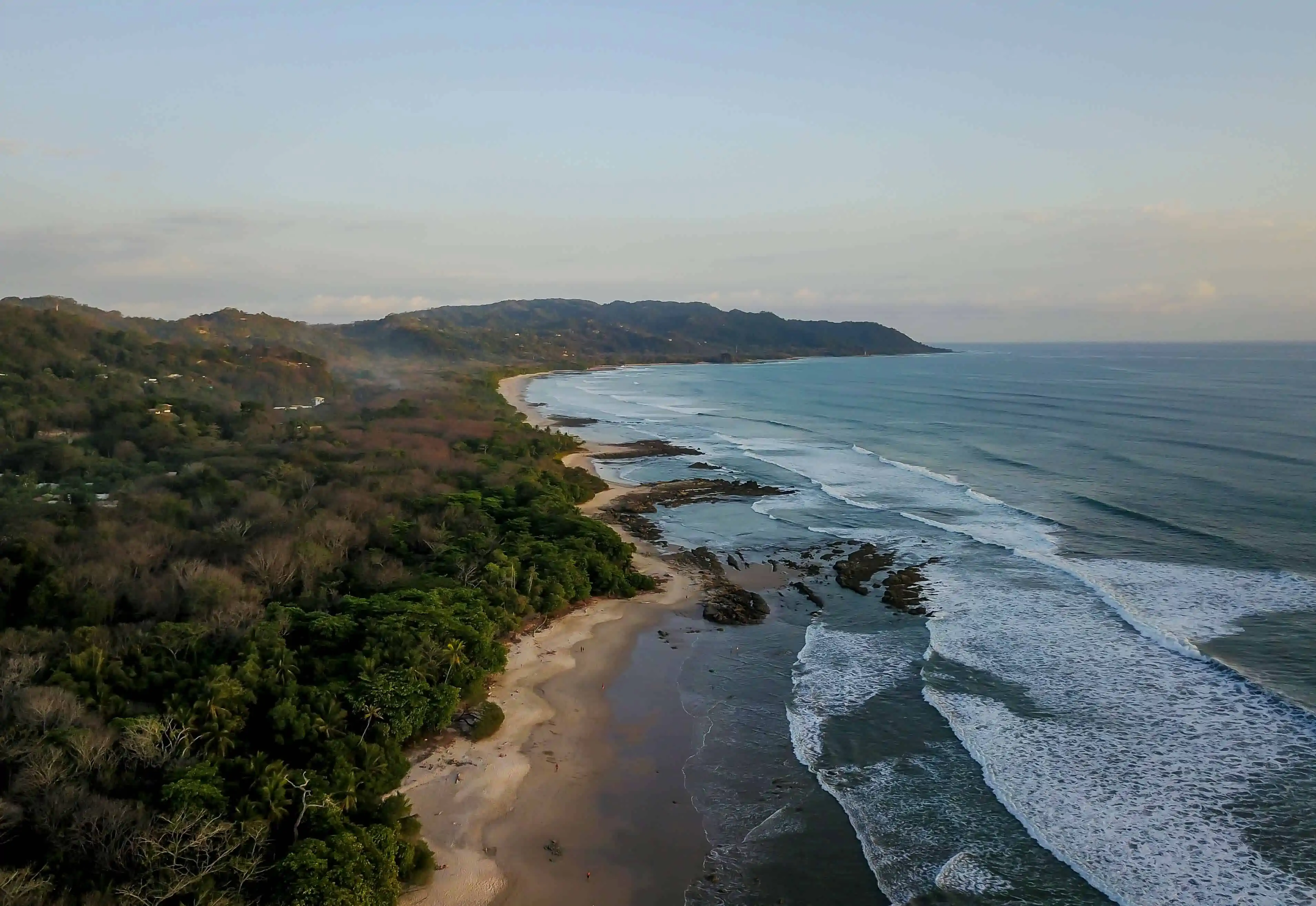 Further down the Nicoya Peninsula is the sleepy town of Santa Teresa. Much more laid back then Tamarindo but has a great bohemian vibe that's perfect for surf, yoga, and watching sunsets on the beach.
The main beach in Santa Teresa goes on for miles and is full of gorgeous white sand to relax on, soak up and the sun, and watch the surfers. The beach goes on for some miles, so a sunset horseback riding exertion is a great activity to explore this area.
Favorite Activity: Horseback Riding at sunset on the beach
Suggested Hostel: Casa Zen Hostel & Yoga Center – This laid-back boutique hostel is perfect for yogis to come and practice. Just a short walk from the beach, it's also a great place to stay if you want to surf.
Suggested Hotel: Casa Marbella is set higher up in the mountains, and offers an outdoor pool that overlooks the surrounding beauty. Along with clean rooms and friendly service, this is a great place to stay in Santa Teresa.
Find more accommodation in Santa Teresa here.
Jaco
Jaco is another surfing town on the Pacific coast. During the day you can find surf lessons and schools readily available in town. At night, it becomes a haven of beach parties and night clubs. There are also a number of casinos here which attracts a certain kind of crowd.
Jaco wasn't my favorite town in Costa Rica, but many people go here. If you like to surf and party, it's a good place to be.
Find accommodation in Jaco here.
Manuel Antonio
From Santa Teresa or Montezuma, head towards Manuel Antonio, home to one of Costa Rica's most famous national parks, Manuel Antonio National Park.
At the park, you can find a wide variety of flora, fauna, and wildlife. Guided wildlife tours run from the park's entrance where you will have the opportunity to see the diverse wildlife of Costa Rica including the most famous animal, the sloth. At the end of the tour the guide will leave you at a gorgeous beach with turquoise water where you can swim or relax.
Favorite Activity: Wildlife Watching in Manuel Antonio National Park
Suggested Hostel: Hostel Vista Serena, this hostel is set on a mountain surrounded by jungle, and as such boasts amazing views from the outdoor seating area. It also has a wonderful atmosphere, I met a lot of great people here.
Suggested Hotel: Shana by the Beach Hotel. As the name suggests, this hotel is located close to the beach, and also to Manuel Antonio National Park. It's surrounded by lush vegetation, so you might even spot monkeys from the premises!
Find more accommodation in Manuel Antonio here.
Read more: Sun & Surf on Costa Rica's Pacific Coast
Uvita
Uvita is on the South Pacific Coast of Costa Rica, just an hour south of Manual Antonio on a well-paved highway. It's become one of my favorite parts of the country, with ample opportunities for diving, surfing, and wildlife watching in Corcovado National Park.
The main beach in Uvita is in a protected marine park, where thousands of humpback whales migrate every year. It's one of the best places to go whale watching in the world!
Puerto Viejo
The Caribbean coast of Costa Rica is unlike anywhere else in the country, due to the influence of the Caribbean. It's well worth adding to your Costa Rica itinerary, especially if you are heading to Panama afterwards (it's close to the border).
Puerto Viejo is the main town on the Caribbean coast of Costa Rica. I loved it there! Surfing is available but the conditions are favorable for advanced surfers as the waves can be much rougher than the west coast.
The nightlife in Puerto Viejo is lively, check out reggae bar for entertainment on the weekends. Puerto Viejo is also home to The Jaguar rescue center which is a great place to see Costa Rica wildlife up close and support an organization that helps with wildlife conservation.
Tortuguero National Park is another place on the Caribbean coast of Costa Rica that's worth adding to your itinerary. It's one of the best places for wildlife spotting in the country!
Favorite Activity: Visiting the Jaguar Rescue Center
Suggested Hostel: Sel & Sucre. I had shown up in Puerto Viejo with no accommodation booked and ran into the owner of this hostel who happily hosted us. This hostel has a good social atmosphere, the rooms are clean, showers are hot, and the location is great. It's right next to the ATM, bus station, and supermarket. Plus, the restaurant underneath sells delicious food!
Suggested Hotel: Umami Hotel. This adult-only hotel has such a dreamy ambiance to it. And that outdoor pool is perfect for escaping the heat!
Read more: Best things to do in Puerto Viejo, Costa Rica
From Puerto Viejo, you can get back to San Jose in just a couple of hours, but there is only one road between the two cities so I recommend going back to San Jose the night before or with plenty of leeway time just to ensure you make your flight. From Puerto Viejo, it's just an hour drive to the Costa Rica-Panama border.
Suggested Costa Rica Itineraries
To visit all of the places I've suggested without feeling rushes, you would want to spend at least one month in Costa Rica. However, you can still plan an amazing Costa Rica itinerary even with just one or two weeks.
Costa Rica Itinerary 7 Days
The first time I visited, I planned a Costa Rica 1 week itinerary. We rented a car in San Jose, and did the following Costa Rica road trip:
Day 1: San Jose to La Fortuna
Day 2: La Fortuna
Day 3: La Fortuna to Monteverde
Day 4: Montevede to Jaco
Day 6: Jaco to Manuel Antonio
Day 7: Manuel Antonio
Day 8: Return to San Jose to fly home
It was a pretty fast paced itinerary, with a lot of driving. But as I said, I enjoyed the driving as much as the destinations itself. If you don't want to do a lot of driving, you could instead just visit La Fortuna and Monteverde, skipping the pacific coast.
Costa Rica Itinerary 10 Days
The second time I visited Costa Rica I was backpacking and taking busses. I had around 10 days and my Costa Rica itinerary looked like this:
Day 1: Liberia (I came from Nicaragua)
Day 2: Liberia to Tamarindo
Day 3: Tamarindo
Day 4: Tamarindo to Santa Teresa
Day 5: Santa Teresa
Day 6: Santa Teresa to Manuel Antonio
Day 7: Manuel Antonio
Day 8: Manuel Antonio to Puerto Viejo
Day 9: Puerto Viejo
Day 10: I left from Puerto Viejo to Bocas Del Toro in Panama, but you could get also go back to San Jose if you are flying
With a 10 day Costa Rica itinerary, you have some flexibility of where you can visit in Costa Rica. I chose to spend my time on the Nicoya Peninsula/Caribbean coast that time because it was the places I hadn't visited before. If it's your first time in Costa Rica, La Fortune and Monteverde make great additions to a Costa Rica itinerary.
Costa Rica 2 Week Itinerary
On my most recent trip to Costa Rica, I spent almost a month there. The first part was in Tamarindo for the BPM music festival and checking out some of the beach towns on the Nicoya Peninsula. Afterwards me and a friend rented a car and did another Costa Rica road trip, which involved some back and forth. It wasn't the most efficient itinerary, so here's a suggestion of what to do instead:
Day 1: Liberia to Rio Celeste
Day 2: Rio Celeste to La Fortuna
Day 3: La Fortuna
Day 4: La Fortuna
Day 5: La Fortuna to Monteverde
Day 6: Monteverde
Day 7: Monteverde
Day 8: Monteverde to Manuel Antonio
Day 9: Manuel Antonio national park
Day 10: Manuel Antonio
Day 11: Manuel Antonio to Uvita
Day 12: Uvita
Day 13: Uvita
Day 14: Depart home
With a two week Costa Rica itinerary, you have even more flexibility of places you can visit. If you prefer beaches over adventure, you could simply spend your time on the Pacific Coast, Caribbean coast, or both. Just note that the roads on the Nicoya Peninsula are very bad, so factor in lots of travel time.
You could also simply just visit one place for the week. Costa Rica is the perfect place to kick back and relax on the beach.
Arrival in Costa Rica
By Air
If you're arriving into Costa Rica by air from another country you will either fly San Jose International Airport (SJO) just outside of San Jose, or Liberia International Airport (LIR) just outside of Liberia in the North of Costa Rica. There are also 14 domestic airports in the country you can catch a connecting flight too.
From Liberia, a good place to start your Costa Rica itinerary is Tamarindo, which is just an hour and a half drive away. It's a lively beach town with a great backpacking atmosphere! If you prefer volcanoes and hot springs over beaches, then head to Monteverde, which is just a three hour away.
San Jose is centrally located, so you can get to any part of the country from there via driving, tourist shuttles, or public transit.
I haven't found much in either city sticking around for, so I'd opt to hit the road as soon as you can. There are many more beautiful places in Costa Rica to explore!
Overland
If you go backpacking overland through Central America, you will have to pass Costa Rica while traveling between Nicaragua and Panama. Many backpackers choose to pass over Costa Rica quickly because of the higher prices, but I never understood this. Costa Rica was one of my favorite countries in all of Central America. It's a shame to skip through it!
Nicaragua to Costa Rica
Costa Rica is very easy to access if you are coming from Nicaragua. The border is just half an hour away from San Juan Del Sur.
You have to take a taxi or bus to the border (30 minutes from San Juan), and then walk by foot through immigration to leave Nicaragua where you pay a $3 USD exit fee (2018 price). After going through, you can get on a bus going to Costa Rica but it will stop shortly after to let you out to go through Costa Rica immigration. It took me about an hour when it was all said and done. You can book transportation from Nicaragua to Costa Rica here.
Once you are in Costa Rica, there are a number of buses to take you onward. Liberia is not far from the border, but there isn't that much to do there. If you are short on time, I'd head straight for the beaches on the Pacific Coast or into the cloud forest of Monteverde.
Panama to Costa Rica
The Costa Rica-Panama border is another easy crossing. It's located on the Caribbean Coast of Costa Rica near Puerto Viejo.
The easiest way to get across is book a tourist shuttle that will take you from Puerto Viejo, Costa Rica, to Bocas Del Toro, Panama, but if you want to save some money, it is possible to do it on your own.
The town where you cross the border from Costa Rica to Panama is called Sixaola, which is located on the Caribbean coast of Costa Rica.
Traveling onwards, most backpackers stop in Bocas Del Toro as it is close to the border.
Getting around Costa Rica
Rent a car – Costa Rica Road Trip
I've done a road trip around Costa Rica twice now. It's a magical place to drive through – I enjoyed the drives between places as much as the destinations themselves. If you can, I highly recommend renting a car in Costa Rica.
Getting a rental car in Costa Rica is not even that expensive. In January 2020 we rented a car for two weeks and it was just over $200. If you are traveling between a lot of places and add up all the costs of shuttles, this is significantly cheaper. Especially if are sharing it with someone. Plus, can you really put a price on the freedom of a road trip?
What makes a car rental in Costa Rica expensive is insurance. The agencies will try to convince you to get it, but we simply opted out because I had it through my credit card. Most credit cards cover car rental insurance, so don't overpay!
You can reserve your rental car online beforehand and pick it up at the airport in either San Jose or Liberia.
If you are planning a road trip in Costa Rica, I recommend renting a 4×4 car as some of the roads in Costa Rica are not well maintained. Having a 4×4 will make your life so much easier and allow you to get off the beaten path, especially if you are traveling through the Nicoya Peninsula or around the cloud forest area near Monteverde. If you are only traveling on main highways, you'll be okay with a regular car.
The car rental companies will also try to sell you a GPS at a day rate which is unnecessary. We got this the first time I rented a car in Costa Rica and it was a complete waste of money, as we ended up using our phones more for directions. Download the area of Costa Rica on google offline maps or maps.me before your trip – it's free and more accurate.
Public Bus
Buses are the cheapest way to get around the country and popular with backpackers. Shorter bus trips under 3 hours will cost you about $3 and longer trips will cost you closer to $10. The Costa Rica tourism board have a detailed schedule and guide online. Search on Busbud to find the cheapest bus fares.
Tourist Shuttles
Tourist shuttles are another way to get between places and can be more convenient than taking public buses, as they usually pick you up at your accommodation and are much quicker. Ask your hostel/hotel about transfers onwards between cities or book online beforehand.
However, tourist shuttles are not that cheap in Costa Rica and will quickly eat your budget. You can expect to pay around $50 USD for a shuttle that takes three hours. If you're moving around, you can see how that adds up! This is why we ended up renting a car.
Taxis/Shared Ride Services: Taxies are available throughout Costa Rica. Services such as Uber are available in major cities.
Safety in Costa Rica
Costa Rica is one of the safest countries to go backpacking in Central America. I never felt in danger here, and the locals are extremely kind and welcoming.
Still, petty theft, such as bag snatching and pickpocketing, is a common form of crime in all of Central America so it's important to be aware of your surroundings.
I always recommend travel insurance, especially if you're doing a lot of adventure activities. I use and love SafetyWing!
Costa Rica travel tips
The official language of Costa Rica is Spanish. However, many locals speak English, and you will be able to get by without speaking Spanish. That said, it's helpful to know some basic Spanish. The locals will appreciate you making an effort.
Visa requirements: Citizens of most Western countries, including the USA, Canada, and the EU, don't need a visa in advance. You will be given a 90-day visa on arrival.
Staying Connected – SIM cards can be picked up easily in Costa Rica (or you can use an eSIM), which is usually cheaper than roaming from your home plan. Claro and Movistar are the main carriers.
Make sure your phone is unlocked and bring your passport with you when you go to pick up the SIM card.
Power Sockets – Costa Rica uses Type A and Type B power sockets, so you won't need a converter if you're traveling from North America.
Drone Laws – You don't need a permit to fly a drone in Costa Rica for non-commercial use. It's relatively relaxed, I flew my drone all over Costa Rica with no issues. Just avoid flying over crowds and always keep your drone within sight.
Best Time to Visit Costa Rica
Most people visit Costa Rica during the dry season, which runs from mid-December to April.
The benefit of visiting during this time is that it's generally non-stop sunshine which is perfect for enjoying the country's amazing beaches, but on the other hand, it's the most expensive time to visit.
In some parts of the country, such as Monteverde, you can always expect rain but it is much worse during the rainy season.
If you visit during May-November, prices will be cheaper, and they'll be fewer crowds. Even during the rainy season, it isn't always raining in many parts, and the temperatures are still warm.
Life in Costa Rica – Pura Vida
The locals in Costa Rica are some of the friendliest and most laid-back people you will ever meet. The main greeting in Costa Rica is "Pura Vida," which translates to pure life in English, but its meaning is more than just a phrase.
Pura Vida represents the Costa Rican culture and way of life. Simply, it means that people need to be grateful for what they have in life and not dwell on the negative.
Locals strive to live a stress-free, laid-back life, and their motto exemplifies how they live.
A vacation to Costa Rica is the perfect way to relax and recharge from the daily stress of Western life, and a road trip is a fantastic way to explore this country at your own pace.
—
I hope this post gave you some inspiration and ideas on where to go backpacking in Costa Rica.
Traveling through Central America? Check out these posts!