This post may contain affiliate links. By clicking and making a purchase through the links, I earn a small commission at no extra cost to you. This allows me to keep the site up to date and expand on resources. Thanks for reading!
Looking for the perfect gift for a hiker in your life? I've got you covered. There's nothing more enjoyable than being in the outdoors, connecting with nature on a hike. But when you're outdoors, you are also in the elements. And that often requires having some outdoor gear! Whether you're shopping for a loved one or just want to spoil yourself, this post will inspire you with gift ideas for hikers.
Since my birthday is coming up, I thought it would be fun to do a gift guide round-up. Normally I'd recommend travel gifts, but since travel for some places is off the table right now and hiking has become my life, I figured this birthday gifts for hikers list would be perfect.
Gifts for a Hiker Under $25
Don't have a large budget but still want to get the hiker in your life a gift? No sweat, there are plenty of amazing gifts for hikers under $25!
SmartWool Socks – Let's face it, who doesn't secretly love getting socks as a gift when you're an adult? I recently stepped into a giant puddle wearing SmartWool socks while hiking around St. John's and was super impressed at how quickly they dried. I've also heard great things about darn tough socks.
Buffs are an amazing hiking accessory. It saved me while I was hiking in Yellowknife this winter in -40, as you can just pull it up to cover the part of your face that's exposed. They are super multi-functional for the outdoors, making it a perfect gift for a hiker.
Six Function Whistle – This is just a really useful and cute hiking accessory. It functions as a whistle, thermometer, magnifier, LED light, compass & signal mirror. Also super useful for travel!
Hat – Hair is annoying as hell while hiking. These cute hate are perfect for keeping everything in place while on the trail.
Stuff sack – this stuff sack is the perfect gift for a hiker who goes camping/backpacking as they help you store and organize your gear. This was so useful while I was trekking in Nepal.
REI Gift Card – If you don't know what to get the hiker in your life an REI Gift Card is always a safe gift for people who like to hike. There's an endless supply of items they will want from there, I guarantee it.
Gifts for Women Who Hike
These hiking gifts are specific for that bad-ass woman you know who lives on the trails!
Patagonia Fleece – No outdoor women can ever have enough fleece sweaters. Ever. These really helped me in Yellowknife when I was out in -40 trying to photograph the northern lights.
Patagonia Nano Puff – This amazing jacket packs up light but keeps you warm which is perfect if you're hiking in the mountains where the climate can be cooler. Also a great item for travel in colder regions, like trekking in Nepal.
Kula Cloth – Okay so this is a pretty unique gift but I just came across it and think it's an awesome product. Following the principles of leave no trace, this item allows you to pee outdoor without disposing of toilet paper.
Rain Jacket – I'm obsessed with this rain jacket because it folds up small but is extremely protective of wind and rain once on. It has saved me so many times, especially while I was hiking in Patagonia.
Day Pack – while some women's closets may be full of shoes and purses, mine is full of backpacks. And I can't seem to get enough of them no matter how many I buy! This 36l pack is perfect for day hiking.
Outdoorsy Jewelry – Most women who love nature will appreciate hiking-inspired jewelry like this cute mountain necklace
Stand to pee device – because squating is annoying as hell.
Cute graphic tee's – Any outdoor lover will appreciate these cute outdoors inspired t-shirts
Useful Gifts for Hikers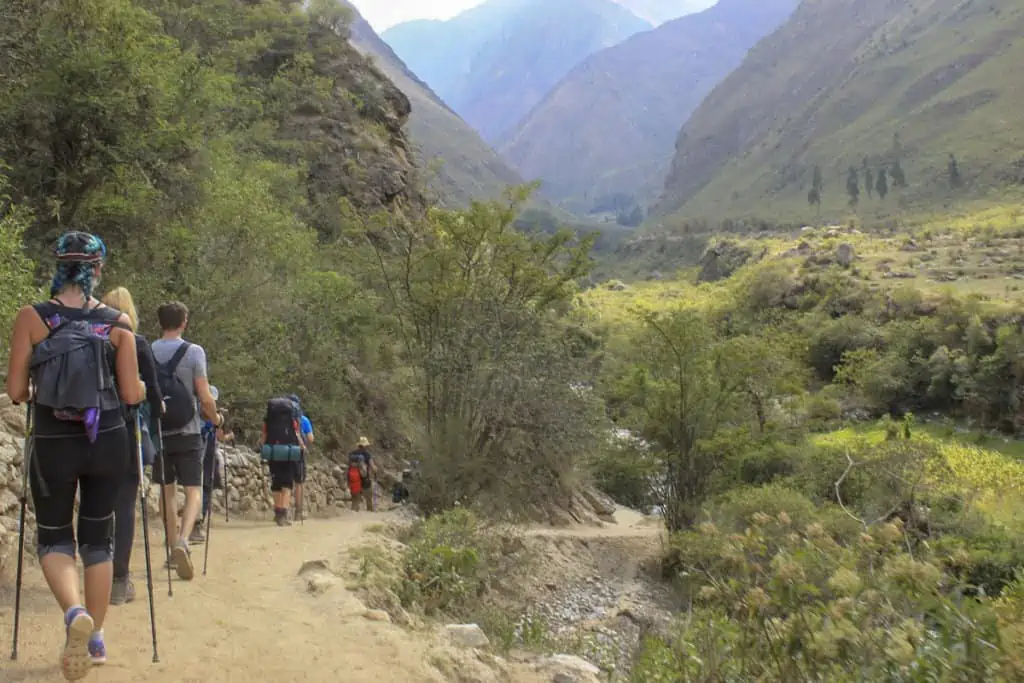 These presents for hikers are all useful items that every hiker should bring with them when they hit the trails, following the 10 essentials.
Headlamp. you may be wondering why you should bring a headlamp if you're going hiking during the day, but it's so important. You never know what will happen, and you don't want to be hiking in the dark! Don't depend on your phone battery, as it will likely die on your hike.
Fire Starter Kit – Another essential item for every hike, in case you need to make an emergency fire. This one can be used for 12,000 strikes and is super lightweight thus making it easy to pack for day hikes.
Piranha Knife – This lightweight knife is a perfect gift for hikers as it can cut through just about anything but doesn't add much weight to the bag. A swiss army knife is also a good hiking gift ideas.
Solar Battery Bank – This battery bank is a perfect gift for hikers and campers who are always outdoors. Phones die quickly outdoors so you'll want something to charge them with. This solar-powered battery bank is perfect as it can be charged again using the power of the sun. This was so useful while I was hiking the Inca Trail in Peru.
Snacks! I can guarantee you anyone who loves hiking loves snacking because that's half the fun. Did you know hiking burns up to 500 calories an HOUR? Just one of the amazing benefits of hiking. Hikers constantly need to replenish those calories so snacks are an ever needed thing.
Some great snacks for hikers are cliff bars, fairtrade chocolate, moon cheese, dried fruit, freeze dried meals, and trail mix.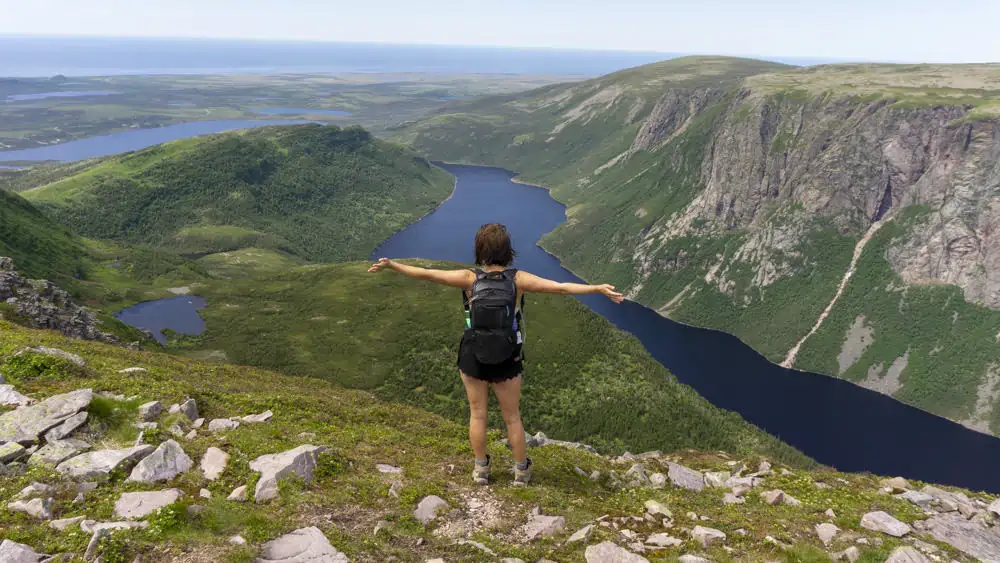 Insect Repellant – Ok ok, I know it's not the sexiest gift, but it's another hiking necessity, and that shit ain't cheap when you're out in the woods all the time.
First Aid Kit – Every hiker should have one of these with them whether it's their first hike or 100th. This first aid kit has all the basics that you need.
Sunglasses – If they're anything like me, constantly losing sunglasses is an annoying and expensive problem. Get polarized!
Garmin inReach mini satellite responder – For the hiker that goes off the grid, this Garmin inreach mini 2-way satellite responder can be a lifesaver.
Hydration Pack – If you're going on longer hikers, hydration packs can be so useful because you can bring significantly more water, and it makes it so much easier to stay replenished on the trail.
Aeropress coffee maker – Okay, so good coffee may not be an ESSENTIAL item for a hike, but if you're a coffee addict like myself then it basically is.
Trekking Poles – Honestly I'm not crazy about trekking poles but I know many hikers who swear by them. They can be helpful for going down difficult terrain!
Gifts for Eco-Friendly Hikers
These gifts for outdoor women are perfect for sustainable hikers who are conscious of their footprint.
Steripen – this amazing portable water filtration system can take any water and make it drinkable. This is the perfect lightweight item to take hiking in case you run out of water and aren't sure about the source.
Reusable Utensil Set – This is a perfect alternative to taking disposable plastic on the trail.
Stasher Reusable Silicone Bags – Plastic bags are great for putting bulk snacks in, but are terrible for the environment. These reusable silicone bags are a perfect solution because they can be washed!
Beeswax Food Wraps – another way to take food on the trail without having to use disposable plastic! Plus, they have cute prints.
Gotoob bottles – these can be used for pretty much anything from shampoo and conditioner to condiments! Perfect for minimizing your plastic consumption.
HydroFlask Reusable Bottle – Hydration is key while hiking! I love these HydroFlask water bottles because they keep your water cool for up to 25 hours! Or visa versa, they can keep a liquid warm for up to 12. This is perfect for tea-loving hikers who may be in a colder climate.
Books for Hikers
If you're not comfortable buying gear as a gift for the hiker in your life, get them an inspiring book about hiking instead!
Wild by Cheryl Strayed – After the death of her mother and divorce, Cheryl Strayed decided to hike the Pacific Coast Trail by herself with no prior experience. The journey takes her from the Mojave Desert all the way to Washington, helping her to heal in the process. This book helped me overcome my own grief of my father, but anyone will find it inspiring.
Into Thin Air: A Personal Account of the Mount Everest Disaster by Jon Krakauer – This book will have you at the edge of your seat. Into Thin Air is the true story of Jon Krakauer's experience in the 1996 Mount Everest Tragedy, that killed eight climbers.
A walk in the Woods by Bill Bryson – One of my fave travel writers. Bill Bryson decides to hike the Appalachian trail and takes readers on a hilarious journey with him.
Fun Gifts for Hikers
These are just fun hiking gift ideas!
This lightweight hammock is a perfect gift for a hiker who likes to chill. Especially if they are hiking and camping, this is great for relaxing in afterward and enjoying that beautiful hard-earned view.
Mini Phone Tripod – this mini tripod is a perfect gift for solo hikers who love to take photos!
All-Weather Notebook – A great gift for hikers who love to journal. It's all-weather and lightweight which is perfect for taking on the trails where it might be exposed to elements.
Take-a-wine bag – for the wine lover hiker. No one wants to carry a full glass bottle with them, but this product solves that problem so you can enjoy a class of vino while soaking in the view.
Cairn Subscription – This is an outdoor adventure subscription box packed full of goodies any hiker will love. A subscription is an awesome gift idea because it keeps giving!
National Parks Pass – This national parks pass gets you into more than 2,000 federal recreation sites across the United States and it's good for a year. Perfect for the hiker who loves to explore!
Plan an adventure – As an adventure junkie, nothing would swoon me more than someone giving me an adventure. I truly believe that experiences make the best gifts. Tinggly is an amazing company I discovered earlier this year that allows you to buy experiences you can gift to someone.
Outdoor classes – Another great idea for an experience gift is to buy them a class that will help them improve their outdoor skills.
—
Hopefully this post could help you find the perfect gift for the hiker in your life, or just for yourself! I adore hiking gear and would be thrilled to get any of these hiking gifts as a birthday present. Happy shopping!
Pssst – If you're looking for more hiking inspo, check out these 80 inspiring hiking quotes, or learn about the benefits of hiking that will motivate you to get outdoors!
Found this helpful? Pin it for later!