This post may contain affiliate links. By clicking and making a purchase through the links, I earn a small commission at no extra cost to you. See my disclaimer for more information. This and display ads allow me to keep the site up to date and give back.
Choosing eco-friendly travel products is a great way to be a more responsible traveler.
As travelers, we are privileged to be able to explore this beautiful world of ours. But the impacts of tourism on the planet can't be denied, so it's more important than ever to travel with sustainability in mind.
Being a more responsible traveler means choosing products and companies actively helping the environment.
Here are some of my favorite sustainable travel products, plus tips on traveling more responsibly.
Best eco-friendly travel products
Reusable water bottle
In Canada, we consume two billion water bottles annually – that's 5.3 million daily! There's no need for this, especially when we have access to some of the freshest clean water in the world.
The reality is that most of these plastic water bottles aren't properly recycled. Instead, they end up in landfills and then in the stomachs of our beloved whales.
Avoiding single-use plastic bottles is one of the easiest ways to be more eco-conscious. Get a reusable bottle and fill it up before you leave the house.
I've been using the Earthwell water bottle by Grayl. It's great because it's double-insulated and keeps purified water cold for up to 72 hours, beer cold for up to 32 hours, and hot drinks for up to 20! No matter what type of adventure you're going on, it has you covered.
If you need to refill, find a water filling station (usually in parks), or ask a local shop to get you some from the tap.
Water bottles are one of the most-loved items that I travel with. Almost every airport I've visited has had a water refill station, meaning I've probably saved thousands of dollars by not buying water at airports. I don't think I'm exaggerating – have you seen the price of water at airports?!
Water filtration bottle
In Canada and the United States, we are fortunate to have access to drinkable tap water, but this isn't the case in many parts of the world.
But don't let this stop you from using a reusable water bottle while traveling! Many hostels or hotels will have filtered water available for guests, which you can use to fill up your bottle.
If you can't find clean water, there's still a way to avoid plastic bottles. I introduce you to the magic of the Grayl filtration bottle.
This amazing device purifies any water through the filtration system, leaving you with clean drinking water. And yes, it works. I was skeptical as well, but I've used it before with water from the tap in Thailand and had no issues.
Reusable coffee mug
If you're a coffee lover like me, you'll also want to add a reusable coffee cup to your travel pack, which will help you avoid disposable cups from coffee shops.
I like this collapsible coffee mug which is perfect for minimalist traveling.
Reusable Straw
Another single-use plastic culprit you'll come across while traveling are plastic straws. In many countries, they give you multiple straws with one drink which is wildly unnecessary.
To avoid this, bring reusable straws with you. Simply put it in your bag and take it out when you get a drink.
I like these metal straws because they fold nicely into a compact case and are easy to wash with a stainless steel straw cleaning brush.
Bamboo cutlery set
Durable, sustainable, and lightweight, this set of reusable utensils is the perfect addition to a sustainable travel kit.
It's made with natural materials and will help cut down on the need for any plastic cutlery at home or while traveling.
Reusable Bags
There's no need to be using single-use plastic bags these days. Whenever I head to the grocery store, I always bring my reusable shopping bags.
It's easy to forget, so to help remember, hang it on the back of your doorknob.
Reusable bags are perfect for travel, too, because they come in small sizes that can be easily thrown into your backpack. I like these bags that fold into fun fruit shapes.
Collapsible food containers
Take it a step further and travel with these collapsible food containers to minimize the amount of plastic packaging from takeout, which is inevitable when traveling.
Solar charger
If you're anything like me, you're probably pretty dependent on your phone while traveling, so having a backup battery is key for long bus rides when you don't have access to an electrical outlet.
This solar charger is perfect because you can recharge it without electricity. Also super convenient for camping trips and van life.
Reef-Safe Sunscreen
If you love marine life as much as me, then one thing you'll want to put in your sustainable travel pack is a bottle of reef-safe sunscreen.
Regular sunscreen contains an ingredient called oxybenzone which breaks down the corals, causing them to lose their nutrients and eventually die. It can also harm fish when it comes in contact with them.
This problem can be easily avoided by using reef-safe sunscreen.
I recently started using Indie Lee mineral sunscreen, which I've been pleased with. It blends in much better than other reef-safe sunscreens I've used.
I used it during my cruise with Captain Cook in Fiji to protect the coral reefs we were snorkeling and diving in. I didn't get any sunburns, which is impressive considering we were in the sun all day.
Eco-friendly insect repellent
Insects, particularly mosquitos, can be a real pain while traveling. You'll want to use an insect repellant to avoid getting dengue and other mosquito-borne illnesses while traveling.
Use a non-deet option that's better for your skin and the environment.
Eco-friendly luggage
These eco-friendly luggage pieces are ideal for keeping all your sustainable products in.
Eco-friendly bags
When choosing your luggage, look for eco-friendly bags made with recycled material.
Fjällräven is an excellent sustainable brand that has made durable backpacks and outdoor gear since 1960. Their signature design Fjällräven Kanken backpack is a great choice.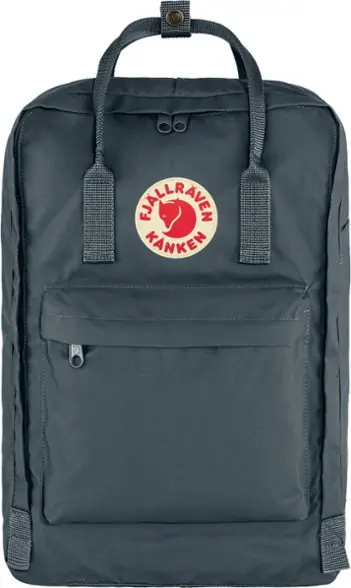 Another great option is Osprey Europe. All their bags are vegan, and they incorporate recycled and sustainable materials where possible. They are a leading sustainable brand with durable, high-quality material backpacks.
For anyone traveling light, the 55L Fairview is perfect.
Packing cubes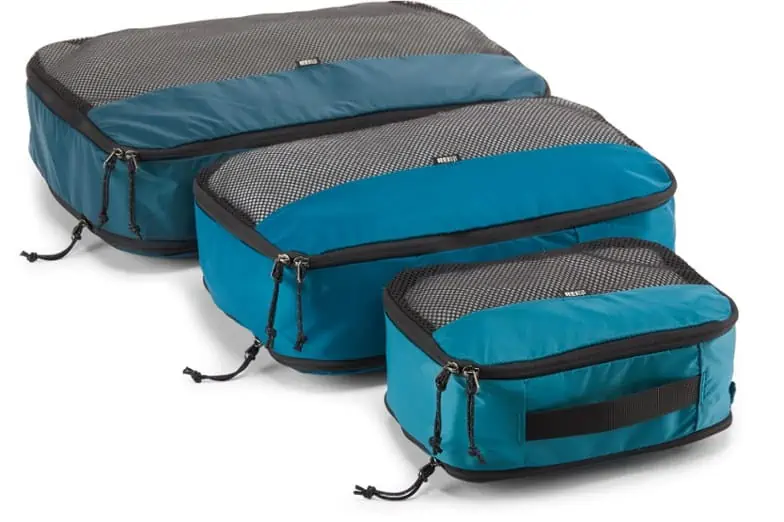 Packing cubes help you pack more in your back and keep things organized. Look for a packing cube designed with durable material and an easy open and close mechanism that allows you to expand and minimize the size.
These packing cubes check all the boxes and are certified bluesign®, making them a sustainable choice.
Sustainable toiletry bag
Keep your eco-products organized with a sustainable toiletry bag. These black hole bags from Patagonia are perfect. They come in three different sizes and are made from weather-resistant, recycled polyester fabric that's been Fair Trade Certified™ sewn.
Eco-friendly toiletries
Waterless shampoo and conditioner
I switched to a waterless based shampoo, conditioner, and body wash this year which has been a game changer.
These shower essentials by Everist are fantastic – they are all carry-on sized (100ml), so you can bring them through airport security. But with a 3x concentrate inside, you get a lot of use out of one bottle.
I got the shampoo and condition in August and still have plenty left at the time of writing in December. You only need to squeeze a pea-sized amount of product into your hand, and when mixed with water, it's more than enough to wash your hair.
All products are plant-based and cruelty-free. To make it even better, Everist is a 1% for the planet member, and the company is climate neutral certified. These are products you can feel good about using!
Eco-friendly body wash
Again, I can't say enough good things about Everist. See all the reasons I love them above.
Just like the shampoo and conditioner, I am very happy with the results of the body wash. It has a wonderful therapeutic smell, and I always come out of the shower feeling fresh and clean.
Bamboo toothbrush
Next time you need to replace your toothbrush, opt for a bamboo toothbrush instead to avoid contributing to the millions of plastic toothbrushes that end up in landfills each year.
These bamboo toothbrushes are just as effective but made of plant-based materials and are cruelty-free.
Natural dental floss
Minimize your plastic consumption further by using Better & Better Natural Floss, made of natural, vegan ingredients.
Each floss bobbin lasts around two months with a 1X per day flossing routine. The packaging is zero plastic and fully recyclable.
Zero waste deodorant
Native deodorant contains natural ingredients (no paraben, no aluminum) and never tests on animals. Better for you, better for the environment.
Scrubba wash bag
This scrubba wash bag is perfect for doing laundry while you're traveling. My sister gifted me one for Christmas years ago, and it's cleaned my clothes many times.
You simply fill the bag with water, clothes and soap, roll and clip it, let out any air, rub it to wash, then rinse and dry. It uses much less water than a washing machine, so this is a great way to minimize your environmental impact.
Reusable menstrual cup
A reusable menstrual cup will not only help you cut down on waste but also hassle.
The OrganiCup is washable, reusable, and is an excellent alternative to tampons and menstrual pads. Because there's nothing worse than trying to find tampons in a new country!
Reusable makeup wipes
Rather than single-use makeup wipes, try these reusable makeup remover pads that can be rewashed.
They are made of 70% bamboo and 30% cotton, so they are gentle on your skin. One set of 10 rounds replaces up to 2,000 traditional, disposable cotton rounds or balls! Plus, they are compostable.
Tips for traveling more sustainably
Choose alternative forms of transportation
Instead of flying, consider if there are alternative forms of transportation you can take, such as a bus, boat, or train.
I spent last summer traveling Europe by train, which saved me a lot of money using the Eurail Global pass and significantly cut down my carbon emissions. It also avoided the headache of flying during all the post-pandemic summer airport chaos.
Some countries like France are even banning short-haul flights, which is great to see.
Once you've reached your destination, consider biking or taking public transit instead of renting a car or using taxis.
Biking is one of my favorite ways to explore a new place! Not only is it zero emissions, but it's a fun way to get around that's good for your health.
Offset your carbon
Since I travel the world full-time, one of my most significant carbon emissions is flying.
I try to only travel by plane on long-haul flights from one continent to another and use boats or buses once I'm in a region, but still, I fly more than I'd like.
So the next best thing I can do is offset my carbon emissions to reduce my carbon footprint.
I add up all my carbon emissions using this calculator. It gives your total emissions and the option to buy carbon offsets.
Your purchase gets invested in third-party verified carbon offset projects that combat climate change.
Many airlines now allow you to offset your carbon for a small extra cost while booking a flight, but I prefer to do this myself.
If you take a lot of road trips, you can also add up your car emissions.
Eat and shop local
Eating and shopping locally is one of the best ways to be a sustainable traveler.
If you only shop or eat out at big-name restaurants, your tourism dollars probably aren't doing much.
If you shop at local markets, this makes a big difference. In many countries, the farmers will be at the markets, so you are directly helping them.
It also helps to eat at small, locally-owned restaurants. By spending your money at these places, you'll help support the local economy. Plus, you'll probably have some really cool experiences. All of my best food travel experiences have been at locally-owned restaurants!
The same goes for buying souvenirs. Try to find smaller shops with locally made goods rather than mass-produced crap from China. These items usually make for much better souvenirs anyway!
One of my favorite items I've bought abroad was a carpet from a rural village in India. The profits went directly back to the community, and it was a beautiful souvenir
Support sustainable tour operators
Something I always try to do when booking tours is to support ethical and sustainable tour operators – one of my favorites is Traverse Journeys.
Sadly, when it comes to wildlife tourism, many animals are abused for the tourism industry. The best thing you can do when you see an unethical practice, like elephant riding, is not to support it. They only offer this because tourists are willing to pay for it.
But does that mean you have to avoid animal tourism altogether? Absolutely not! Wildlife encounters are one of my favorite things about traveling, and there are plenty of ways to see wildlife ethically by choosing responsible practices and companies.
Volunteer in your local community or abroad
A great way to give back while traveling or at home is to volunteer on projects with a positive environmental impact.
Beach cleanups are easy to join almost anywhere in the world. I was shocked by the number of microplastics I found while cleaning up the beach in Toronto, and the situation is much worse abroad.
If there's no beach cleanup, you can simply go and start picking up trash off the beach. You'll be surprised how many people will join you.
If you are looking for a way to enrich your time abroad, getting involved in an environmental volunteer project is a great thing to do.
I loved volunteering at a wildlife sanctuary in Bolivia and participating in a conservation project in Malawi.
—
While I realize there are bigger issues that need to be addressed to combat climate change, I still think it's important to do our part as travelers to protect this earth.
But remember, no one is perfect, and what's most important is that you're making an effort to be more eco-conscious. You don't need to do it all at once, but adopting just one of these positive changes will make a difference.