This post may contain affiliate links. By clicking and making a purchase through the links, I earn a small commission at no extra cost to you. This and display ads allows me to keep the site up to date and give back. Thanks for reading!

Traveling alone for the first time, or even the 100th time can feel completely overwhelming! I was scared shitless on my first solo trip to Ireland, but I went anyway and it changed my life forever.
But that trip was not without mistakes. Throughout the years I've made my share of them, so I wanted to write this post to share some tips that may help you if it's your first time traveling solo.
Even though there's been a 65% drop in international travel this year due to Coronavirus, I know many of you are still planning future travels for when restrictions lift. Here are some things to keep in mind when you're ready to hit the road.
1. Pack light
Even for a globetrotter, this can be a daunting task when you're planning to trek an unfamiliar region. But seriously, take half the clothes you think you will need.
You will be carrying everything and this can become cumbersome if you're moving around a lot.
On my year-long backpacking trip, I took a 75l bag that was completely jam-packed which was the bane of my existence, because it became the size of me and was impossible to carry.
Be selective and pack only the necessities. For example, having an ultra-light windbreaker with a hood can be your best travel partner when traveling to Thailand. It comes in handy due to heavy unexpected rains.
While researching is significant, the basic principle is to pack less. A good rule of thumb is a week's worth of clothes. Laundry is available everywhere. So is everything else you need.
2. Arrive early in the day
It can be overwhelming arriving into a foreign country alone, let alone at night time. It's easier to get a sense of your bearings, arrange transportation, and stay safe during the day.
Try to ensure your flight gets in before it gets dark outside and pre-arrange how you plan to get from the airport to your hotel.
I don't recommend trying to navigate public transport if it's your first trip, this can add a lot of unnecessary stress and often only save you a bit of money.
Ask your accommodation if they are able to arrange pick-up at the airport. Trust me, you will be so happy not to have to figure out where you're going after getting off an international flight.
3. Get vaccinated
This is another essential tip to add to your pre-journey routine. There is no fun in falling prey to a disease or illness in a foreign country. As Benjamin Franklin said, "An ounce of prevention is worth a pound a cure."
Exotic destinations are beautiful, but they often have risks. Thankfully many are preventable with vaccines. You can check on the CDC website to get an idea of what vaccines you might need, but make sure to visit your family doctor or travel clinic to get vaccinated before you go.
4. Protect yourself with travel insurance
The truth is, anything could happen when you go out on a trip. Everyone figures they won't catch any disease or illness or become ill during a trip, but it happens. It's happened to me a lot. From getting robbed in Iceland to my recent bout of dengue fever in Barbados.
Taking travel insurance gives you that good sense of safety and leaves you feeling safe and calm during the trip.
Travel insurance protects you financially if you get sick or hurt while abroad. It can even cover the cost of someone from your home coming to be with you in the hospital, which you may want if you are traveling alone.
Travel insurance can also protect you from unexpected events that disrupt your trip, theft, lost belongings, travel delays, and more.
I use and recommend World Nomads.
Read more: Do you really need travel insurance?
5. Make copies of your passport
Make extra copies of your passport and important travel documents before you leave. Keep these somewhere separate from the original.
Send copies to your e-mail as well. It will make your life a million times easier should your passport get stolen. This happened to me in Budapest on my first backpacking trip!
6. Take extra cards and emergency cash
Take an extra bank or credit card with you. It can difficult to get them replaced overseas so this will help in case they get lost or stolen.
It's also a good idea to take some emergency cash as sometimes ATM's don't work or are hard to find. USD is widely accepted around the world.
7. Lock it up
When you get to your accommodation, lock up your valuables. Most hostels will have lockers, but you usually need to bring your own lock. Hotels usually have safes in the room.
When you go out to explore, only take what you need. If you're carrying a bag, take an extra lock to put on the zippers to avoid pickpockets. This is my favorite lock!
8. Conceal your valuables
If you're out for the day, keep your valuables well concealed in pockets or bags that are not easily accessible to pickpockets. Check out Clever Travel Companion which makes 100% pickpocket proof travel gear.
It's okay to take your camera out to take photos but use your judgment of where you are. Try to avoid showing off any valuables/electronics if you're walking in a street alone. I've actually had my iPhone snatched out of my hand while walking down the street in Quito Ecuador!
9. Don't be afraid to haggle
When I first started traveling I was nervous to haggle, and it led to me constantly getting ripped off. Haggling is completely normal and expected in many developing countries.
When locals see that you are a tourist, they will likely charge you double the price. Don't be afraid to negotiate back, the worst they can say is no. In my experience, walking away almost always guarantees you get the price you want.
10. Utilize technology
There is nothing wrong with using your phone in times of needs. Some of my favorite travel apps are Offline Google Maps (directions), Google Translate (language barrier) and XE Currency (instant currency converter).
At the same time, don't spend all day looking at your phone! Use it when needed but otherwise soak in your wonderful new surroundings.
Read more: 20 Free Apps to Help you Travel
11. Avoid taxis
Taxis are expensive, especially if you're covering the cost alone. They are also notorious for ripping tourists off in many countries. If you can, use a ride-sharing app such as Uber so the price is known beforehand.
If you do need to get a taxi, negotiate the price before getting in or ask them to use the meter so there are no surprises at the end.
12. Try social accommodation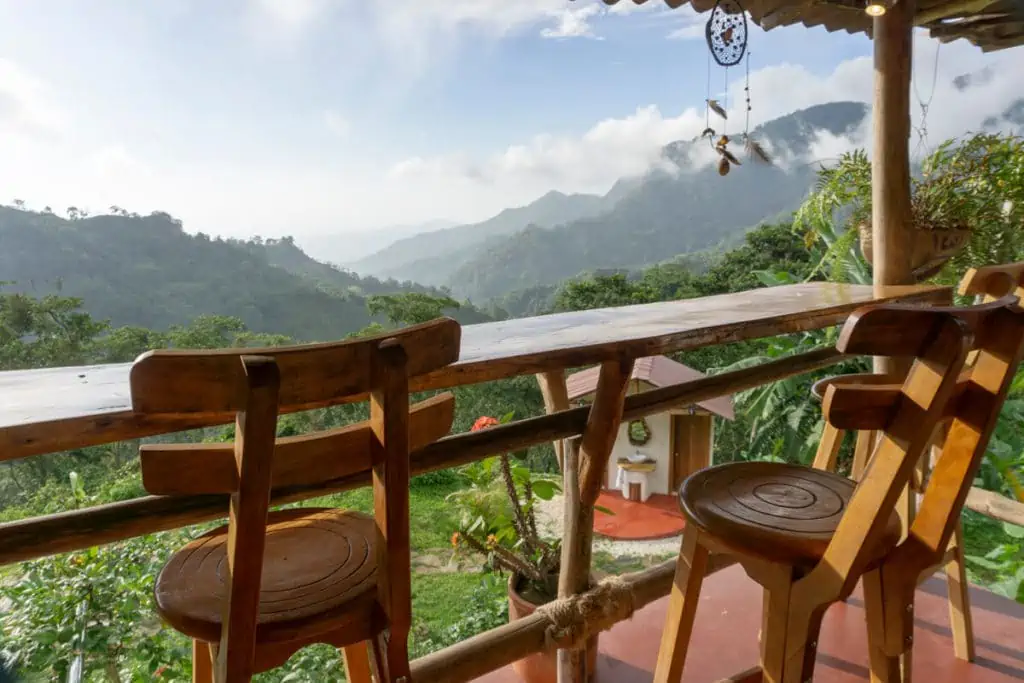 Hostels are one of the easiest ways to meet people as a solo traveler. Hostels usually host day tours, pub crawls,  family-style dinners, and other events to create a social atmosphere. I use Hostelworld where you can easily find the highest-rated hostel and read real reviews. 
13. Use meet up groups
If you don't want to stay in hostels, there are plenty of other ways to meet others. Here are some meet up groups you can use to connect with other travelers:
14. Take a free walking tour or join a group tour
Most cities offer free walking tours. These are a great way to get your bearings and meet other travelers. Ask reception or Google free walking tour of the city you are in. These are especially common in European cities and a great way to discover good photo spots!
If there's no free walking tour, you can also pay to join a group tour. It doesn't have to be a one-week commitment, you can just join a day tour. This is a great way to meet other people, as the tour is naturally going to bond guests. I use Get Your Guide to find day tours wherever I am.
15. Do your own thing
One of the joys of solo travel is having the freedom to do exactly what you want. If you're unsure of what that is, now is the perfect time to discover. If you hate museums, don't go just because someone else tells you it's a must-do. Embrace your freedom!
16. Don't over plan
Over-planning can be as a bad as lack of planning. If it's your first solo trip, plan out the first few days so you don't feel overwhelmed. Book your accommodation, schedule your airport pickup, arrange a few tours, and take the necessary steps to make things easy on yourself in the beginning.
After that, plan out a few 'must-do' activities, but leave room for spontaneity! You'll never know what opportunities will come your way.
17. Bring ear plugs and a sleeping mask
Earplugs and a sleeping mask are essential if you are going to be sleeping in shared dorms. Even if you aren't, you never know what noise you might encounter. These accessories are also great for sleeping on planes and trains, I always have them in my bag.
18. Take lots of photos
Don't be afraid to look like a tourist by taking photos. You will want the memories to look back on, and you may even discover a passion for photography!
Read more: The Best Cameras for Travel Photography
19. Take time to rest
It's okay to take time to rest while you're traveling. It's normal to start to feel tired, and even become sick of sightseeing.
This is especially true if you are on a long trip. You will burn yourself out if you force yourself to see everything when you don't want to go out.
If you're feeling drained, stay in bed and watch movies, go to a cafe and read a book, or visit a spa. Do something that makes you feel relaxed and reenergized.
20. Let go of expectations
Things don't always go as planned when you travel. It's important to let go of expectations and go with the flow. Keeping a positive mindset is crucial, even when things go wrong.
—
Smile and be proud of yourself! Going on your first solo trip is a huge accomplishment and you should feel super proud of yourself for having the initiative to do it.
You may feel scared or unsure at times, but this is completely normal. Keep smiling and stay open to new opportunities. You're about to go on a life-changing experience!
Enjoyed this post? Pin it for later!