This post may contain affiliate links. By clicking and making a purchase through the links, I earn a small commission at no extra cost to you. This and display ads allows me to keep the site up to date and give back. Thanks for reading!
Photography and travel go hand in hand. I love the feeling of capturing a perfect sunset or a wild animal, leaving you with a great memory to take home.
I love a good travel quote, and this one sums it up for me. Taking photos is one of the best ways to remember a trip without leaving an impact. Plus it leaves you with something to share with your friends and family, or maybe even for a blog!
With so many different types of cameras out there, it can be daunting knowing where to start. I created this post to share with you all the photography gear that I use while I'm traveling. I've gone through a lot of cameras over the years and these are the products I truly love and believe can help you take better photos of your travels.
My Favourite Travel Camera
When people ask me about a camera for travel, I always recommend the Sony a6000. Mirrorless cameras are perfect for travel because they are lightweight and compact, but still take comparable (dare I say better) quality photos as a bulky DSLR.
I used to be a Canon girl and will never look back. While almost every camera brand has its own line of Mirrorless cameras, Sony is leading the way in this technology. The Sony a6000 is the perfect starter camera if you're just getting into travel photography.
If you want something more advanced then the full-frame Sony A7II is a great step up. I recently upgraded and love it. But I would just go with the a6000 if you're just starting out
Invest in lenses rather than a better body, they make a world of difference in your photos. Having different lenses will allow you to capture so much more than what the standard 18-55mm that comes with the Sony a6000 can. Plus they work on both cameras, so when you're ready to upgrade to something new, the lenses come with you!
My favorite lens for travel is the Sony 24mm-240mm because it's so versatile. 24mm is wide enough to capture most scenes and the 240mm is perfect for those close-up wildlife shots. I used to carry around multiple prime lenses with me traveling and it just wasn't practical switching between them all the time. Someday I hope to own the Sony 600mm F4 lens too, it would be incredible for capturing wildlife.
If you aren't ready to shell out the cash for the 24-240mm lens but want something to capture wildlife, then the Sony 55-210 is a great starter telescope lens at a much more affordable price point.
If you are more into street and landscape photography then the Sony 16mm prime lens is an excellent addition to your camera. It's a wide-angle lens so you can fit a lot into one shot, plus it's one of the cheapest Sony lenses out there!
.
Understanding How Your Camera Works
If you are interested in becoming a better travel photographer then I definitely recommend taking a course to understand your camera's settings. There's not much point in buying a better camera if you're going to leave it on the auto setting. The best way to learn these skills quickly is through a travel photography class. I loved Nomadic's Matt's Travel Photography class because it's all online. This way you can learn as you travel with practical assignments that get sent over e-mail. It takes you through so many of the elements of photography including composition, light, editing, and advanced photography techniques like astrophotography and night photography. It even has a component for mobile photography!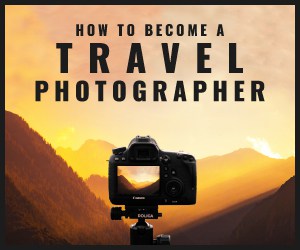 Best Camera for underwater/action sports – GoPro Hero 7
I've been a big GoPro fan for a long time, and these cameras have come a long way in recent years. I take all my diving footage on my GoPro, and it does an amazing job. They are also handy for action sports, or any situation that your camera might take a hit. I've dropped my GoPro so many times and it still functions the same. Plus, they are small and easy to carry around!
When it comes to GoPro's, accessories make all the difference. They make an accessory for just about anything you can think of (biking, snowboard, ect). For diving, I love the red filter because it fixes the colour distortion from being underwater. You will also need a diving suit for your GoPro if you plan to go past 10m, otherwise they are waterproof without a case. I also love this waterproof extendable pole which has a spot for the GoPro smart remote.
.
Aerial Photography – Drones
If you really want to up your photography game, especially if you are creating travel videos, drones can be a huge asset. BUT be aware that travelling with a drone can be a huge pain in the butt. This is because each country has its own regulations when it comes to drone use. In many countries, they are prohibited and you risk the drone being confiscated if you bring it into the country. All that said, they are awesome when you can use them. They take incredible aerial photos that you just can't get any other way.
I travelled with the DJI Mavic Pro on my year-long trip around the world and got some incredible snaps from it. The DJI Mavic Air came out right after I bought the Pro and I probably would have bought the air instead, just because it's more lightweight/compact. But travelling with the Mavic Pro wasn' t that bad and I had it in my bag for over a year! The battery lass longer in the pro which is a huge advantage, but you could also just get extra batteries for the Mavic Air.
Camera Accessories to help you take better photos
Lens Filters – If you are going to invest in a good camera and or lens, I definitely recommend getting a basic UV lens filter. This will help with the quality of your photos in sunlight and also protect your lens from scratches! Another handy filter to have for travel is the neutral density filter which reduces light. This will help you take those dreamy waterfall photos when the water looks all smooth AF. I like the Gobe filters not only because they are high quality, but they minimize packaging with their products and plant 5 trees for every product bought. Yay, social responsibility!
Tripod – If you want to get into nighttime and astrophotography then you definitely need a tripod. Anything with low light requires the shutter to be open for a long time. Unfortunately, when you have the shutter open for longer than 1/60th of a second the photo will come out blurry, due to the natural shakiness of your hand. Tripods are great for solo travellers as you can take photos of yourself without having to ask strangers, which we all know never come out great.
I love the MeFoto Backpacker Air Tripod because it's compact, lightweight, yet functions well and expands to a full tripod. I took this with me travelling for a year and it wasn't a bother at all. Plus it comes in a bunch of fun colours so you can personalize it to your taste!
Editing Your Photos
They say editing is half the work of a photo and I would 100% agree. Editing can make a photo go from great to AMAZING in a matter of a few simple changes. I use Adobe Lightroom
to edit my photos and would recommend it to anyone looking to up their photography game. Adobe also has a Lightroom mobile app where you can store presets to make Instagram perfect pictures in a flash.
Again, it will make a world of difference if you learn how to edit your photos properly through a photography class. Superstar Blogging Travel Photography class will teach you how to edit in lightroom.
Protecting Your Gear
Bags
I use the Lowepro Backpack to carry around my camera and lenses most of the time when I'm out shooting. I love this product because the camera is kept inside a zipper in the back, making it very theft-resistant. It's a great place to store other small valuables like your passport and money too! The bag is super comfy to wear and has an easy to access top compartment where you can store other belonings. And two water bottle holders on the side! LowePro makes quality bags, I've had mine for over 5 years and it still functions the same.
After a while, I really wanted something more stylish to carry around my camera in for occasions where a bookbag wouldn't be a great look. Then I discovered Kelly Moore bags! These stylish bags are PERFECT for those looking for a nice bag that actually protects your gear. Each bag has padding included for your camera and lenses, but are also super cute. I have the Luna Day Bag and get compliments on it all the time. Plus its 100% vegan leather, win-win!
Insurance
If you plan to invest in expensive photography equipment then you should also invest in insurance to cover your belongings in case of theft or damage. I had World Nomads on my year-long trip which gave me peace of mind that in the event something happened to my stuff I would be protected. I did end up having my GoPro stolen in Guatemala and World Nomad's reimbursed me for the full value.
Unfortunately, on a recent trip to Iceland, I made the mistake of not buying the insurance and then got burgled in the safest country in the world. I lost everything and am now at the painful point of having to buy it all back. Learn from my mistakes, get insurance. Theft can happen anywhere. I like World Nomads because they cover stolen items.
Conclusion
I hope this post gave you some ideas on what camera gear to buy when you're getting into travel photography. Let me know if you have any questions about the products in the comments below!
Like it? Pin it for later!