This post may contain affiliate links. By clicking and making a purchase through the links, I earn a small commission at no extra cost to you. See my disclaimer for more information. This and display ads allow me to keep the site up to date and give back.
Downsizing to the Nomatic 40L travel bag was one of the best decisions I've ever made. It's done wonders for my back yet is so well designed that I don't even feel like I'm missing the space from my former 75l bag. Here's my Nomatic 40L travel bag review to help you decide if this is the right travel bag for you.
Why I decided to get the Nomatic 40L Backpack
When I went backpacking around the world for a year, I took a 75L Deuter Bag. The saleswoman at the outfitter store told me the bag would be too big for my frame, but I neglected to listen.
Of course, I stuffed it with way more clothes than needed and picked up even more along the way. The bag became so large that I would have to get people to help me put it on!
When I came back from that trip, I knew I had to find a better bag. I spent a lot of time researching different travel bags for digital nomads and decided to go for the Nomatic 40L travel bag. I'm so happy with my decision, as this bag has fully lived up to my expectations!
This post is not sponsored by Nomatic; I purchased the bag myself.
Nomatic 40L Travel Bag Review
Key Specs: 40L | 4lbs 8oz | 9″ H x 21″ W x 14″ D | 15" laptop sleeve | Waterproof materials
The Nomatic Brand
First off, I love this brand. Nomatic started as a Kickstarter, with the mission to create "the most functional gear ever to inspire confidence for life on the move." So many people believed in this company that it raised over 1.7 million dollars! And now they are creating a range of incredible travel gear all made in Utah.
Features of the Nomatic 40L Backpack
The Nomatic travel bag is systematic and well designed, offering over 20 features that make it one of the most functional bags for digital nomads ever made. Check the video below for a full overview of what features the bag has to offer.
Carry-on Size
One of the best features of the Nomatic 40L backpack is that it is carry-on-sized. If you're a frequent flyer like myself, this can lead to substantial cost savings over time. Baggage fees add up, and avoiding them is one of the best ways to save money on flights.
Traveling with carry-on luggage only has many other advantages too. For example, you can save a lot of time, as you don't have to worry about waiting in line at the bag drop or missing the luggage drop cut-off times.
You can simply head to the exit when the plane lands instead of waiting by the baggage carousel, which always feels like an eternity. Plus, you don't have to worry about airlines losing your bag, which has happened to me several times!
Electronic Storage
Laptop sleeves are essential if you're a digital nomad working online, and this bag offers excellent protection for my Apple MacBook. It features a 15″ laptop sleeve inside the front compartment that's easy to access. There's also a smaller tablet sleeve which is great for an iPad or Kindle.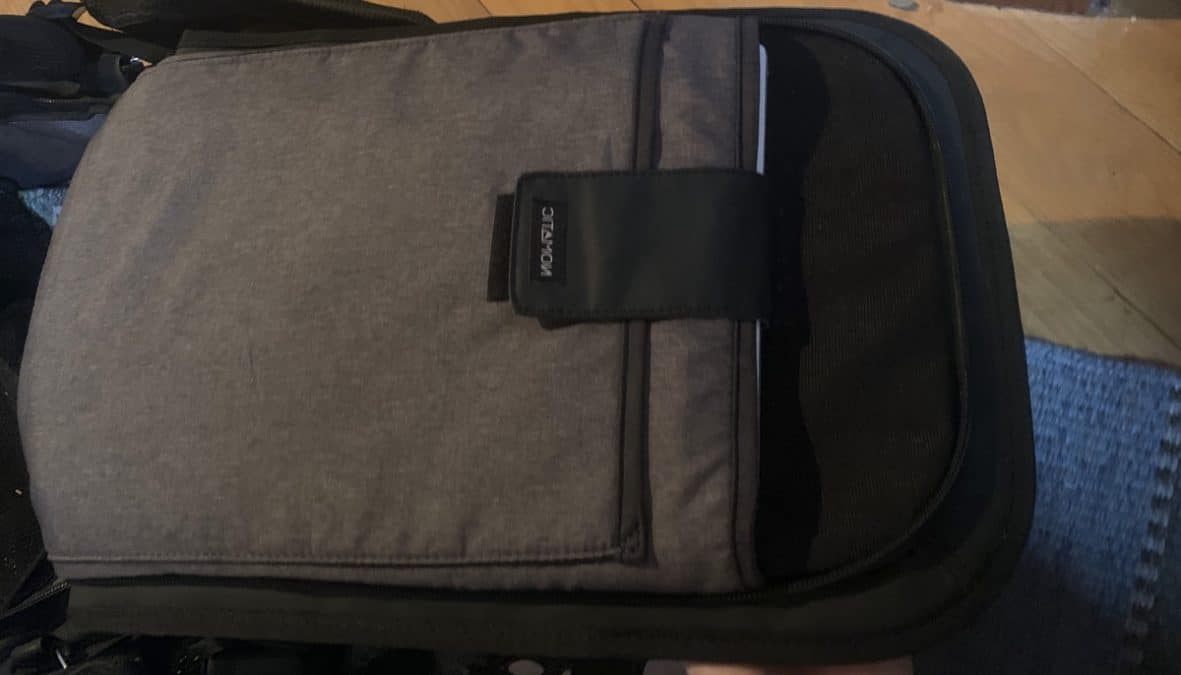 One of the side compartments is for all your tech gear and does a great job of keeping your cords organized with multiple pockets and slips, including an RFID safe pocket that will keep your credit card information safe from theft.
The other side has an easy-to-access side pocket that perfectly fits a notebook or journal. Although, I use this extra space for my toiletries.
Waterproof Exterior & Water Resistant Zippers
The bag's exterior is 100% waterproof, which means you don't have to stress if you get caught in the rain or snow, which happened to me all the time in Ireland and Patagonia.
While I don't recommend submerging this bag in water, I've been caught in the rain with this bag many times and have had no issues with water getting inside. In addition, the zippers are water-resistant, which means they won't rust even if they do get wet.
The Nomatic 40l bag also has a water-resistant pocket at the top where you can store your water bottle.
I always recommend traveling with a reusable water bottle as it will save you money and is more environmentally friendly. In the worst-case scenario that your water bottle leaks inside the water bottle pocket, you can rest assured knowing the rest of your gear is safe.
The only thing I find annoying about this pocket is that it can be challenging to fit your bottle in if you leave it as the last thing to pack.
Separate Shoe Compartment
I'm obsessed with the separate shoe compartment at the bottom of the Nomatic 40L travel bag.
As someone who often goes hiking, my shoes get dirty, and I don't want to put them back with the rest of my stuff in the main compartment. The bottom compartment solves that problem.
It's pretty roomy; I can fit a pair of hiking shoes along with sandals inside it.
Nomatic Travel Bag Volume
The material on the Nomatic backpack is thin yet durable, which leaves lots of room inside for your belongings. So even though the bag is just 40L, you can fit A LOT.
Nomatic says that the bag is designed to fit enough clothes for 3-7 days of travel. However, I've taken this bag for months and months of travel with no issues.
Since most of my clothing is light, I usually pack enough clothes for about ten days of travel + many accessories.
If you are traveling in colder climates with bulkier clothing, 3-7 days may be more realistic. Remember, laundry is accessible everywhere in the world!
Removable Waist Straps / Duffle Strap System
Another feature I love about the Nomatic bag is that it easily converts from a backpack to a duffel bag.
When using the bag as a backpack, you can attach the removable waist straps, which helps take the weight off your back.
The waist straps also have built-in pockets perfect for storing items you need to access quickly. But when you want to carry it as a duffle, you can easily take the waist straps off.
Nomatic Laundry Bag
The Nomatic 40L Travel pack comes with a mesh laundry bag, a perfect accessory for backpacking.
Traveling light means you'll have to do laundry and keep your dirty clothes separate from your clean ones, and the laundry bag allows you to do just that.
The bag collapses into itself and perfectly fits inside the shoe compartment's bottom. Then, when you take it out, you can hang it on any hook in the room.
Can Buy Additional Accessories
The Nomatic 40L travel bag comes with a laundry bag and removable waist straps, but Nomatic also sells other accessories that can bring your packing game to a new level.
I have the Nomatic toiletries bag, which has been a game-changer for keeping my toiletries organized. I also love how it fits perfectly in the bag above the shoe compartment!
They also sell packing cubes and shirt organizers, which are great for keeping your clothes organized while on the road.
100% Customer Satisfaction & Amazing Customer Service!
Nomatic offers a 100% customer satisfaction guarantee and will fix any defects of their responsibility, free of charge.
I contacted them last year, which was an extremely positive experience. Unfortunately, one of the clips attached to the waist straps had fallen off my bag and gotten lost, so I couldn't use them.
I contacted customer service to get a new part, and to my surprise, they sent me an entirely new bag for no charge! Amazing!
Is the Nomatic 40l Travel Backpack right for you?
Traveling with just a 40L back isn't for everyone, but it works for me. If you're an aspiring digital nomad or long-term traveler looking for a bag that will help you pack light, I can't recommend this bag enough.
However, if you're someone who needs to travel with a ton of stuff, then this bag may not be for you. It also isn't a great bag for hiking, as that's not the design intent. Instead, check out some of these other backpacks for digital nomads.
The Nomatic 40L travel bag is often on sale; at the time of writing, it's listed for 25% off on their website. You can also check the price on Amazon.
With a 100% customer satisfaction guarantee and lifetime warranty, there's no reason not to try out a Nomatic travel pack. It's been a game-changer for me this year, solving many of my travel pains.
Is Nomatic 40L a Carry On?
Yes! The size dimensions of the nomatic backpack 40l are 9″ H x 21″ W x 14″ D, which are considered carry-on for most major airlines. However, this will not meet the requirements of smaller, budget airlines like Ryanair. Find more information about the Nomatic carry-on bag in this post.
Is Nomatic a good brand?
Yes, Nomatic was started as a kickstart with the mission to create "the most functional gear ever." So many people believed in this company that it raised over 1.7 million dollars, and now they are producing high-quality travel bags for digital nomads like the 40l nomatic backpack.
Where are Nomatic bags made?