This post may contain affiliate links. By clicking and making a purchase through the links, I earn a small commission at no extra cost to you. See my disclaimer for more information. This and display ads allow me to keep the site up to date and give back.
If you love waterfalls and vineyards, then you should start planning a Niagara Falls road trip! I remember visiting here for the first time as a kid, marveling at the sheer amazement of the power of Niagara Falls. Returning as an adult, coming here still brings up those same powerful feelings of wonder and awe.
Over the years, I've made countless road trips to Niagara falls with friends, boyfriends, and family. It's a quintessential Canadian road trip that makes for a perfect day trip or weekend getaway. This Niagara Falls road trip planner has everything you need to know about visiting this world wonder!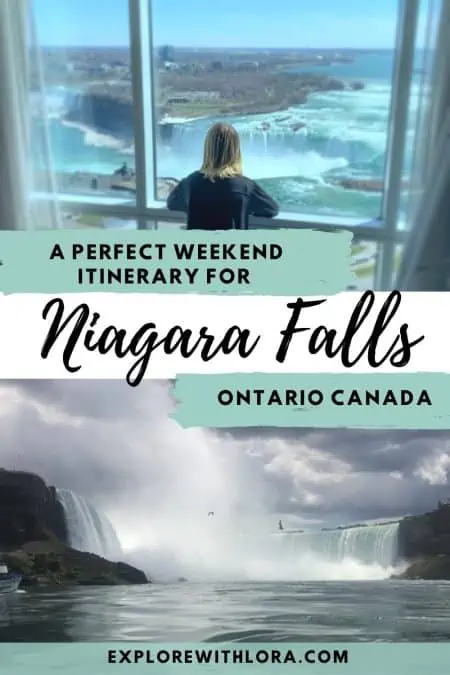 Toronto to Niagara Falls Road Trip
Niagara Falls is just 128 KM from Toronto, but it's likely going to take you at least two hours to drive to Niagara Falls because traffic leaving Toronto is notoriously awful. So if you can, avoid driving to Niagara Falls between 7-10 am or 3-6 pm. You'll end up saving so much time.
If you don't have your own car, regular bus tours run there from Toronto. You can also book a ticket with Busbud.
If you're looking for places to stop on the way to Niagara Falls from Toronto, you could make a detour in Hamilton. It's known as the world capital of waterfalls with over 100 that you can see hiking the Bruce Trail, so this is a great place to stop for nature lovers!
From Hamilton, it's just an hour's drive to Niagara Falls.
Things to do in Niagara Falls: Adventure Activities
Niagara Falls is a city in Ontario, Canada, but across the border/river, there is Niagara Falls, New York. Confusing! For this article, I'm going to focus on the best things to do in Niagara Falls, Canada, since this is where I've spent most of my time.
If you are coming from the American side – you can get to Canada in ten minutes by following the rainbow bridge. Just remember your passport!
Marvel at the Wonder of Niagara Falls
One of the best things to do on a Niagara Falls road trip is to go and marvel at this world wonder. There are three different waterfalls, Horseshoe Falls (the Canadian Falls), American Falls, and Bridal Veil Falls.
The cool thing about visiting from the Canadian side of Niagara Falls is that you can see all three waterfalls at once – not to brag or anything.
Every evening beginning at sunset, Niagara Falls is transformed into an incredible, multi-colored water and light masterpiece. You can see the falls illumination schedule for the year here.
During the summer, they also put on regular fireworks which make it even more magical. It can get hectic around this time, so you'll want to arrive early (around sunset) to secure a spot.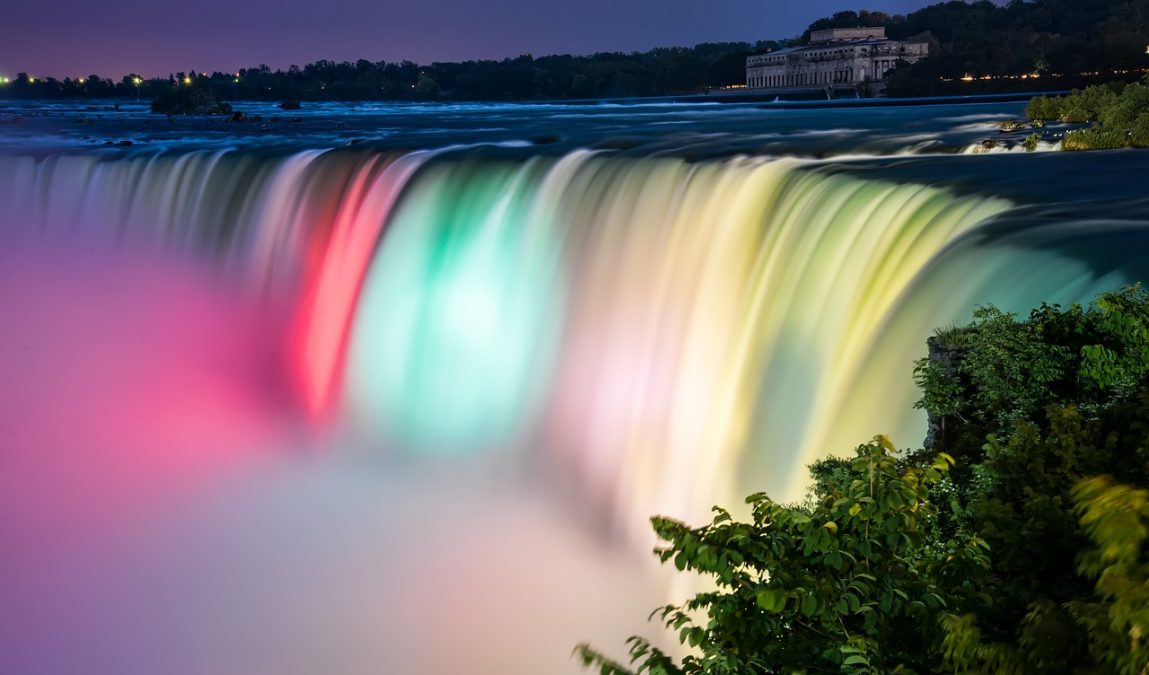 Although I've since seen many other world-wonder waterfalls, including Iguazu Falls in Argentina and Victoria Falls in Zambia, Niagara Falls is still one of my favorites.
While the falls are lovely to look at it (and free to visit), you wouldn't expect me to leave it at that. This is an adventure travel blog after all!
Here are some ways you can truly experience the wonder of Niagara Falls, inside and out.
Niagara Hornblower Cruise – Voyage to the Falls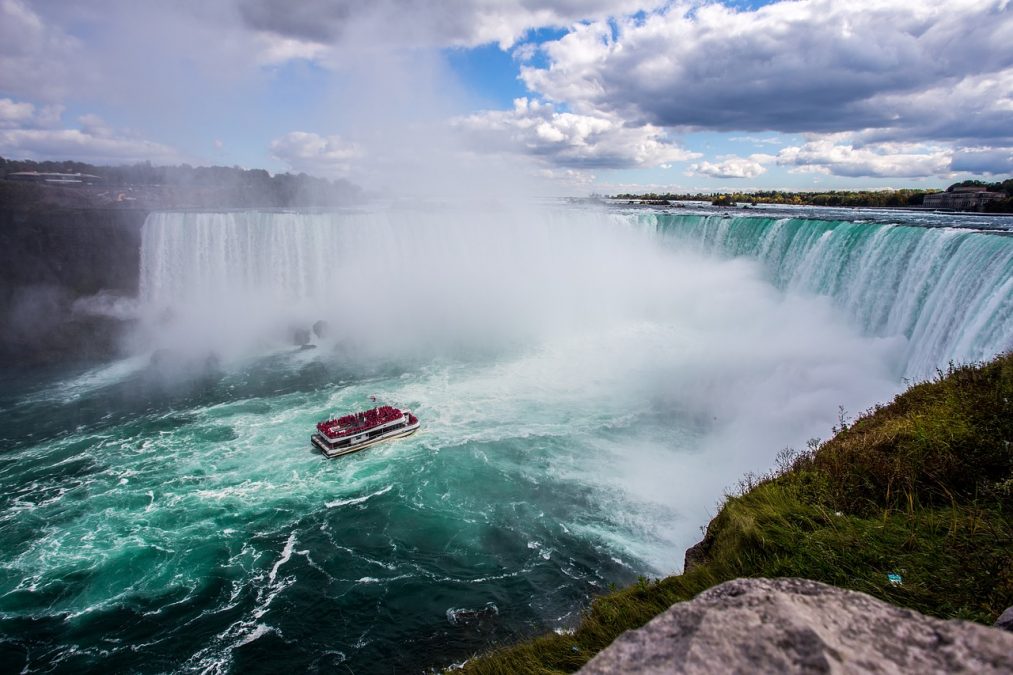 The Niagara Hornblower Cruise, or as I fondly remember it the Maiden of the Mist, is a boat cruise that takes you up close and personal with horseshoe falls.
It's a 20-minute journey and you can expect to get very, very wet. Don't worry, they provide ponchos! It's so much fun to feel the spray of this powerful waterfall.
Go on a helicopter tour of Niagara Falls
Riding a helicopter is truly a remarkable way to see a waterfall. I took a helicopter over Victoria Falls, Zambia, and the birds-eye view was unlike anything else I've experienced – you couldn't wipe the smile off my face.
You can do the same at Niagara Falls by taking a helicopter ride which will give you epic views of the waterfall and surrounding region.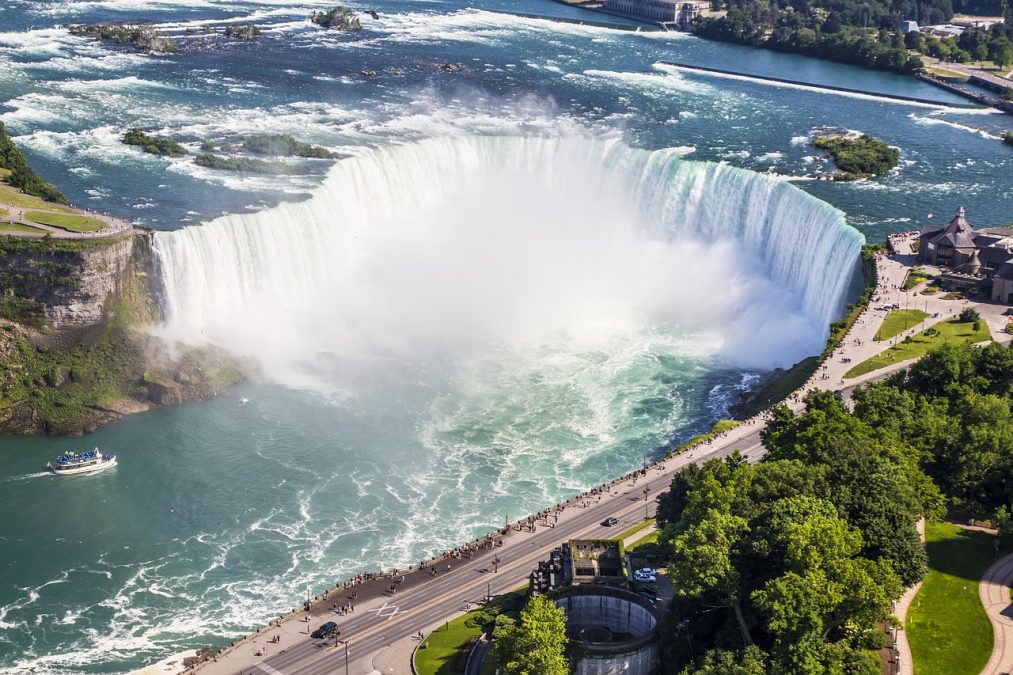 Zip-line over the falls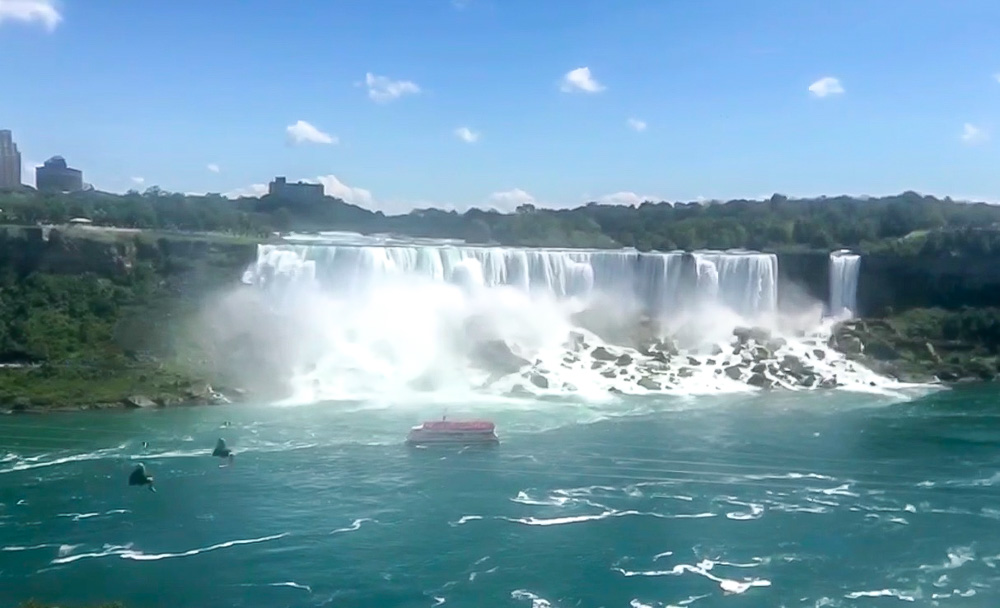 If you want a quick dose of adrenaline, take a zip-lining tour over the falls. Starting at 67m high, you'll soar right past the American Falls and Bridal Veil Falls on the left, then land on the observation deck at the base of Horseshoe Falls with speeds up to 70 kph+.
The entire experience takes about 60 seconds. While not as long as some of the epic zip line adventures in Costa Rica, it's a pretty memorable way to see Niagara Falls.
Journey Behind the Falls
You've flown above it, you've gotten next to it, what else could there possibly be left to do?
Get behind it!
Yes, it's possible with this very cool tour.
The experience starts with a 125 ft descent down an elevator where you'll land behind horseshoe falls.
You'll then walk through 130-year-old tunnels in the bedrock, coming out on an observation deck right next to the falls where you can witness them in all their glory.
Jet Boat through the River
Ride an open-air jet boat through Niagara Falls class five rapids. While scenic, don't expect a relaxing ride. These boats cut through the water at high speeds, which will leave you soaking wet. Although not as wet as I was after river rafting class five rapids on the Zambezi River in Zambia!
Can't decide which adventure you want to go on? Do multiple of them! On this epic half-day tour, you'll get to ride the Hornblower Niagara Cruise, descend 125 feet underground and explore the tunnels below the Horseshoe Falls at the Journey Behind the Falls, and ride on the yellow bug elevators at Skylon Tower to enjoy a breathtaking vista!
Relaxing Things to do on a Road Trip to Niagara Falls
While the waterfalls are the main attraction in the Niagara region, there are a few other ways to enjoy the nature of this area.
Butterfly Conservatory & Botanical Gardens
Visit the Butterfly Conservatory and you can feel like you're walking through a rainforest. This climate-controlled room is full of thousands of butterflies that will most likely land on you. They like human sweat; it's weird.
Next to the butterfly conservatory is a beautiful botanical garden where you can stroll around and admire the gorgeous flora and fauna.
Hike or Rock Climb on Niagara Glen Nature Reserve
Just a few km away from Niagara Falls is the stunning Niagara Glen Nature reserve. This is the perfect spot to go day-hiking with several trails that overlook the whirlpool on the Niagara River.
Niagara Glen Nature reserve is also a great place to go rock climbing. Bring your own crash pad as there are many bouldering spots along the escarpment.
The best part about the Niagara Glen Nature Reserve is that it's completely free to visit, which you may appreciate after a night at the casino.
Bike through Vineyards at Niagara-on-the-lake
Niagara Falls is part of the greater Niagara Region, which includes Niagara on the Lake. It's a well-known wine-producing region, so taking a wine tour is the perfect thing to do here.
The easiest way to get to Niagara on the Lake is by driving; it's just a half-hour drive from Niagara Falls. As you leave behind the falls, you can see the landscape change from the Niagara escarpment into the stunning vineyards of Niagra on the Lake. If you don't have your own car, you can join a guided wine tour.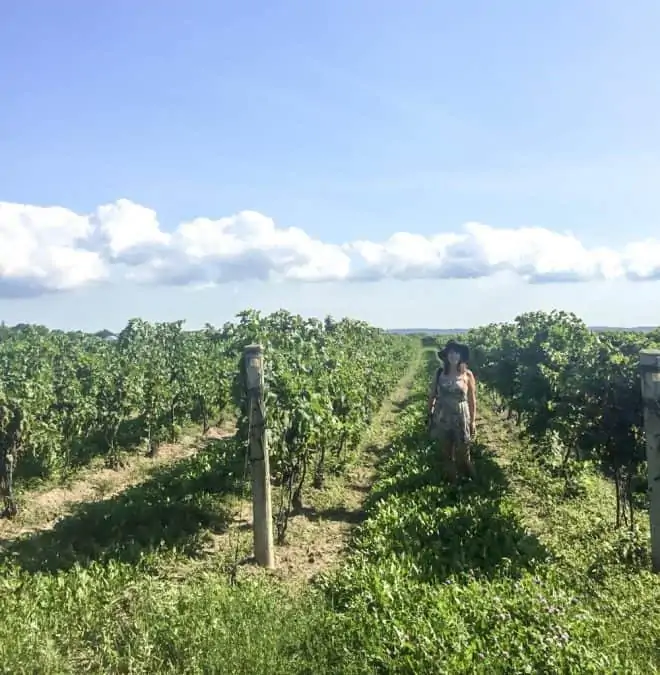 After visiting the vineyards, take a stroll into the town of Niagara on the Lake. It's super cute and has some great restaurants for eating out! There are also many B&B's and hotels to stay in Niagara on the Lake.
Eating and Drinking in Niagara Falls
The hub of nightlife in Niagara Falls is around Clifton Street. It attempts to be like a mini-vegas, with casinos for adults and arcade palaces galore for kids. That said, if you take it for what it is, Clifton street can be an enjoyable time, especially with a group of friends.
There is a Ferris Wheel on Clifton street which you can go on for some lovely views.
While we were walking the streets the night before my birthday, my friend sneakingly bought tickets for us to take the Ferris wheel at midnight. There's just something perfect about turning a year older on top of a Ferris wheel; I recommend it if you happen to be there on your birthday!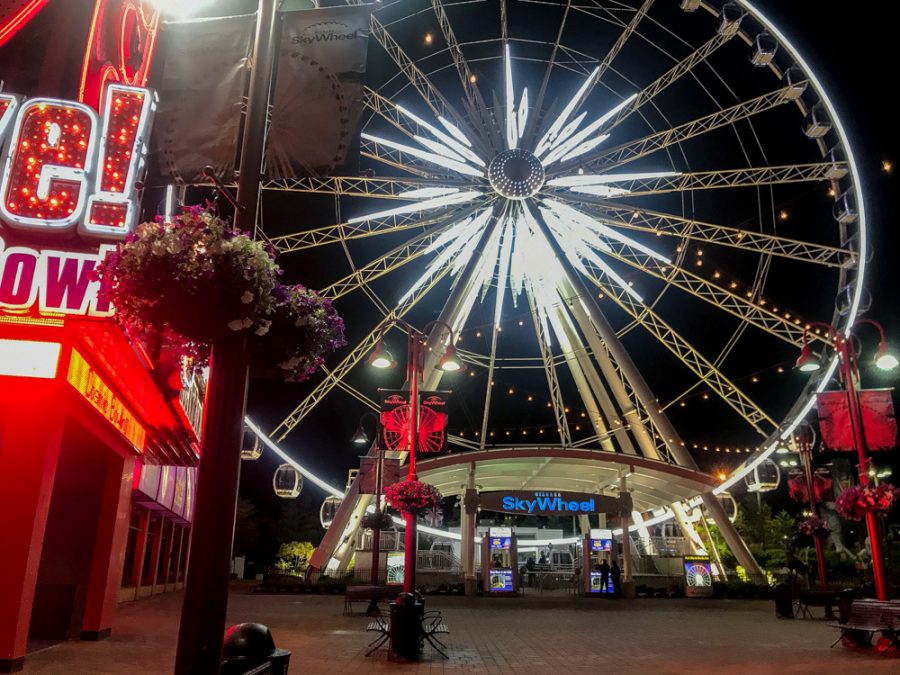 You can drink inside the casinos, and there are clubs to go out to afterward. But to be honest, I didn't find any of them particularly impressive. If you're a craft beer lover, check out Niagara Brewing Company on Clifton street.
Best Restaurants in Niagara Falls
Niagara Falls has an eclectic restaurant scene where you can get food from about any region in the world. Napoli Ristorante Pizzeria has delicious pizza and fresh pasta, while the Kasbah serves delicious farm-to-table Mediterranean food, including vegetarian options.
If you're looking for a restaurant with good food and a view of the falls, then check out the Rainbow Room in Crown Plaza. IHOP also has an excellent view of the falls, but remember that you will be paying for that view in the food price!
The only bummer about celebrating a birthday in Niagara is that many businesses don't honor the free birthday gifts they usually give you (I'm looking at you, Boston Pizza). If you happen to be in Niagara on your birthday, Denny's does provide complimentary breakfast.
If you want a sweet treat, hit up Sweet Jesus for a delicious Ice Cream cone.
Where to Stay in Niagara Falls
Niagara Falls has a ton of accommodation options for all budgets. If you're looking for one with a great view, check out Marriott on the falls. My ex brought me here to ask me to be his girlfriend, and it was pretty swoon-worthy. In the end, we weren't a great match, but it was a very romantic weekend!
Other hotels in Niagara Falls known for their views are Raddison Niagara Falls, Hilton Niagara Falls, and Sheraton on the Falls. While these are all big-name hotels, you can score surprisingly good deals, especially if you are traveling during the off-season or in the week.
Another way to save money on accommodation/tours in Niagara Falls is to buy a package on Groupon. Even though these seem marketed towards couples, I recommend doing this with a friend.
On my 28th birthday, me and a friend bought a Groupon and set off for a romantic night at the falls. We got a sweet hotel room at the Travelodge with a heart-shaped hot tub; it even came with a box of chocolates and a bottle of wine. It was cheesy AF and the perfect way to turn 28.
Best Time to Road Trip Niagara Falls
The falls can be visited year-round, but the most popular is during the summer (June-September). This is when Ontario gets its best weather, so it's a good time to enjoy the outdoor adventure activities. However, it's also when the falls will be most crowded.
That said, visiting Niagara Falls is one of my favorite things to do in Toronto in the summertime.
I've visited the falls during winter and still enjoyed it. They were half frozen, which was pretty magical to see. Although it was cold, the fact that the hotels were half the price and there were hardly any other tourists made up for it. It's one of the best places to go in Ontario in winter!
Just note that the weather can be unpredictable in Canada during the winter, which may delay your plans and driving time.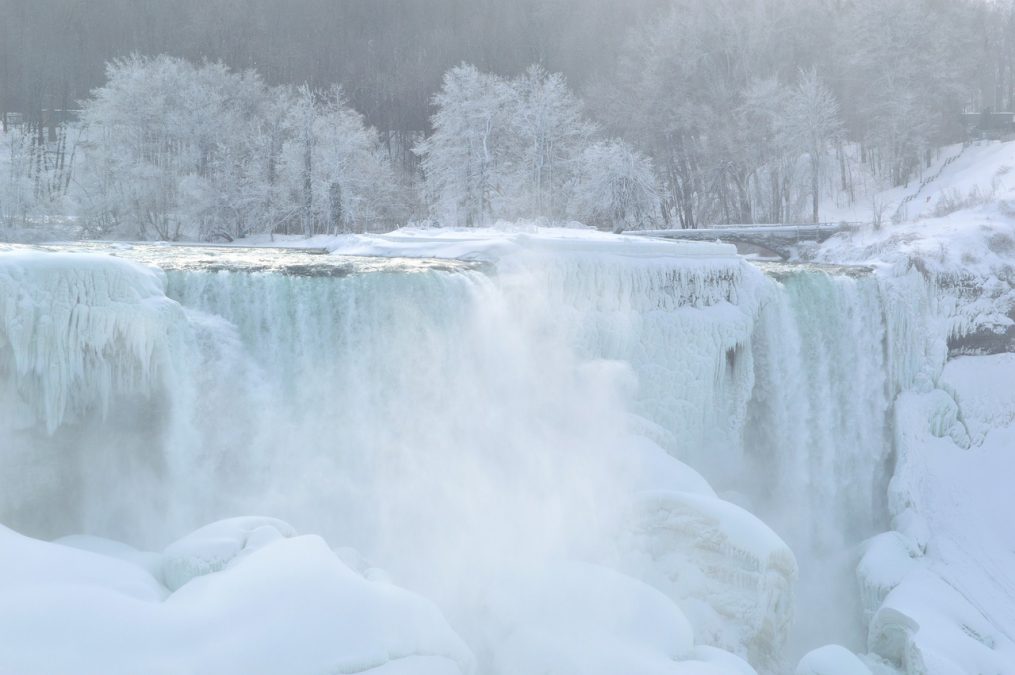 I've also been to Niagara Falls in spring/fall and experienced similarly low prices and fewer crowds. Fall is a beautiful time to visit because you can see the leaves change color, which is perfect if you want to go hiking around the Niagara Glen area.
Getting Around Niagara Falls
If you're staying in downtown Niagara Falls, you will be able to walk almost everywhere, as this is where many of the top attractions are. A WEGO Bus can take you to the major attractions if you don't want to walk. Niagara on the Lake is about half an hour away, but tours will take you there if you don't have a car.
How Long to Spend in Niagara Falls + Sample Itinerary
While you can drive to Niagara Falls as a day trip from Toronto, there's so much to do here that I would spend at least a night, and ideally a weekend.
As a sample weekend itinerary, you could drive up to Niagara Falls from Toronto on a Friday night and spend that evening exploring Clifton Street and watching the nightly light show on the falls. The next day, set off for a day of adventure at the falls. You could zip-line, take a boat cruise, and Journey behind the falls all in one day. At night, enjoy dinner with a view at one of the cities restaurants.
The next day, check out of your hotel and head out to visit the Niagara Glen Nature Reserve for a light hike, then visit Niagara on the Lake for a winery tour. Return to Toronto that evening, feeling satisfied with a weekend of adventure.
When is the best time to visit Niagara Falls?
The summer season is the most popular time to visit Niagara Falls, as this is when you'll get the warmer weather. However, visiting Niagara Falls during the winter should not be overlooked as you may get the chance to see the falls frozen over which is magical!
Is it free to go to Niagara Falls?
Yes, it's free to see Niagara Falls, and it's open 365 days a year!
Which Niagara falls view is better?
Call me biased, but I think the Canadian side is where you get the better view! There you can see gorgeous panoramic views of the American Falls, Horseshoe Falls, and Bridal Veil Falls. On the American side, you'll get a closer look at American and Bridal Veil Falls.
Which country owns Niagara Falls?
Niagara Falls is owned by both America and Canada. The American and Bridal Veil Falls are entirely in the US, but Horseshoe Falls flows in both countries are the more popular tourist attraction.
—
If you're looking for a fun weekend getaway from Toronto, then Niagara Falls is a perfect choice.
Enjoyed this post? Pin it for later!