This post may contain affiliate links. By clicking and making a purchase through the links, I earn a small commission at no extra cost to you. See my disclaimer for more information. This and display ads allow me to keep the site up to date and give back.
For years people have been telling me to go to Colorado and this summer, I finally had the chance to go there. I spent a month living in Denver followed by a Colorado road trip, which was my favorite part of my time there.
Colorado is the most beautiful state I have visited so far. While driving through it, I had to pull over the car to take photos constantly and couldn't stop saying wow.
The cutest mountain towns, natural hot springs, turquoise lakes, red rocks, and abundant wildlife are just some of the attractions you'll see here. If you're looking to plan an epic Colorado itinerary, I got you covered.
Getting Around Colorado
If you want to explore a lot of Colorado, then it's best to rent a car. If you're just visiting Denver and the surrounding towns then you could get away with public transit, Ubers, and day tours, but otherwise, you'll want a vehicle. And there's no better way to enjoy the beauty of this state than with the freedom of a road trip!
I booked two rental cars in Colorado through Avis and Enterprise from the Denver Airport, which were both great experiences. I had a jeep on the road trip portion of my trip, which made the experience more pleasant, especially when driving on gravel roads to hiking trailheads. But you could get away with having a standard economy car in Colorado if you want to reduce costs.
Best Places To Visit On A Colorado Itinerary
Denver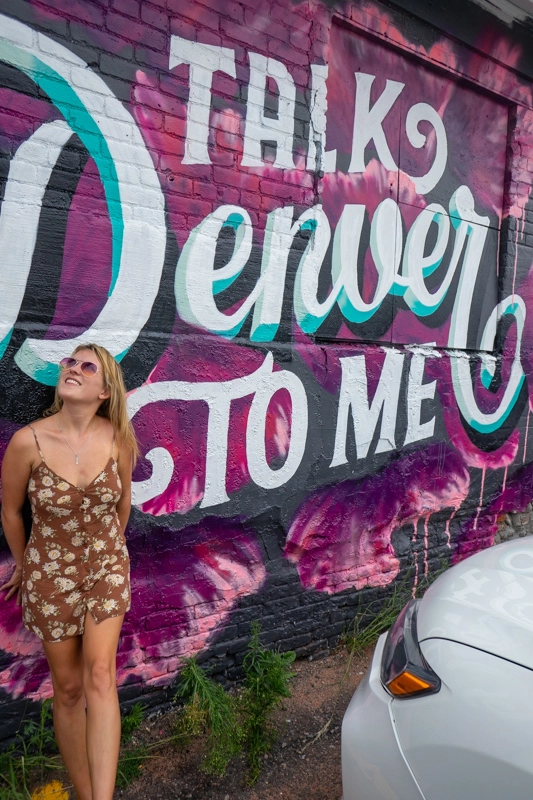 If you're flying internationally into Colorado you'll be landing in Denver International Airport, so spend a few days getting acquainted with this fun city! As the capital of the state, Denver is a great place to kick off your Colorado itinerary.
Plan to spend 2-3 days in Denver; a weekend is the perfect amount of time to enjoy the best of what it has to offer. I have already detailed the best way to spend a weekend in Denver in this post, so check it out for recommendations on where to eat, stay, and play.
Some Denver highlights include shopping on the 16th street mall, admiring the street art in RiNo, seeing a show at Red Rocks, drinking at one of the many breweries, eating at food halls, or exploring some of the surrounding cities on day trips.
Where to stay: The Oxford Hotel Downtown Denver if you're feeling fancy, or the Ember Hostel if you're on a budget. There are also plenty more options in between the two.
Ps. If you're looking to save money on accommodation in Colorado, try out house sitting. I did three housesits during my time here in Denver and Aspen which saved me thousands of dollars. There are always lots of housesits in Colorado! You can sign up for TrustedHousesitters here and get 25% by using my link.
Rocky Mountain National Park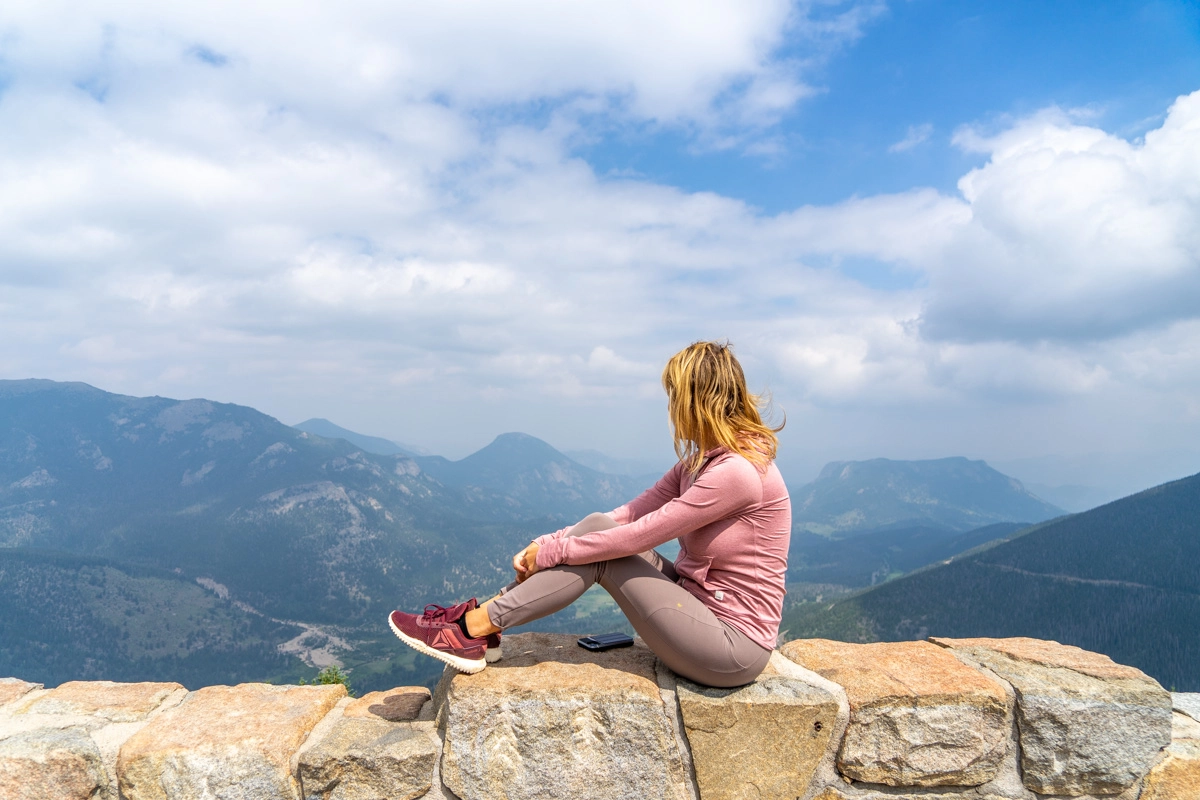 Start your Colorado road trip in one of the state's most popular national parks – Rocky Mountain! Although the park is only an hour from Denver, there are a few stops you can make along the way to turn this into a full day of exploring.
You'll pass by the town of Boulder on the way which has become one of the most sought-after cities to live in the US. This is a great place to grab some breakfast before a day of adventuring!
On the way to Rocky you'll go through Estes Park, so you can either stop to explore here for a couple of hours or head right into the national park. One point of interest here you may want to stop for is the Stanley Hotel; it was the inspiration for the movie The Shining.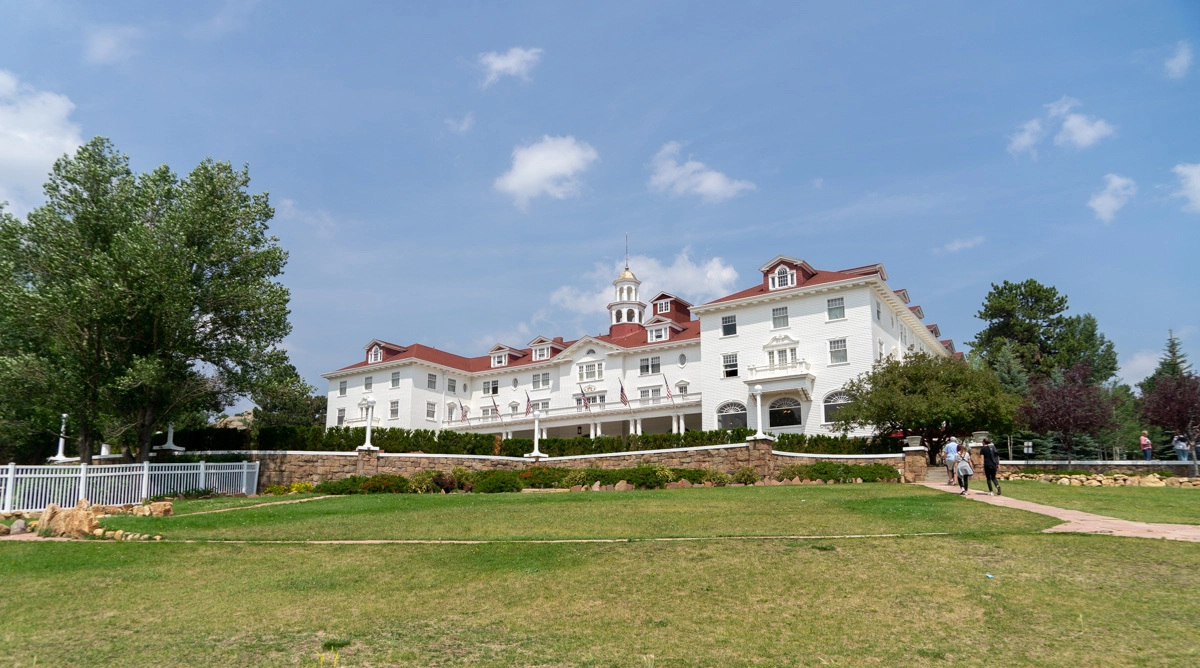 Rocky Mountain National Park is now using a timed entry system and permits are sold out well in advance, so make sure to plan ahead if you want to visit. They release 25% more for the next day at 5 pm the night before here, but these sell out within minutes so you have to be on the ball. If you can't get a permit, another option is to take a tour.
I joined this tour because I couldn't get a permit which ended up being a fantastic experience. It's a full-day driving tour from Denver, but the guide was awesome and made it fun, with plenty of stops in the park.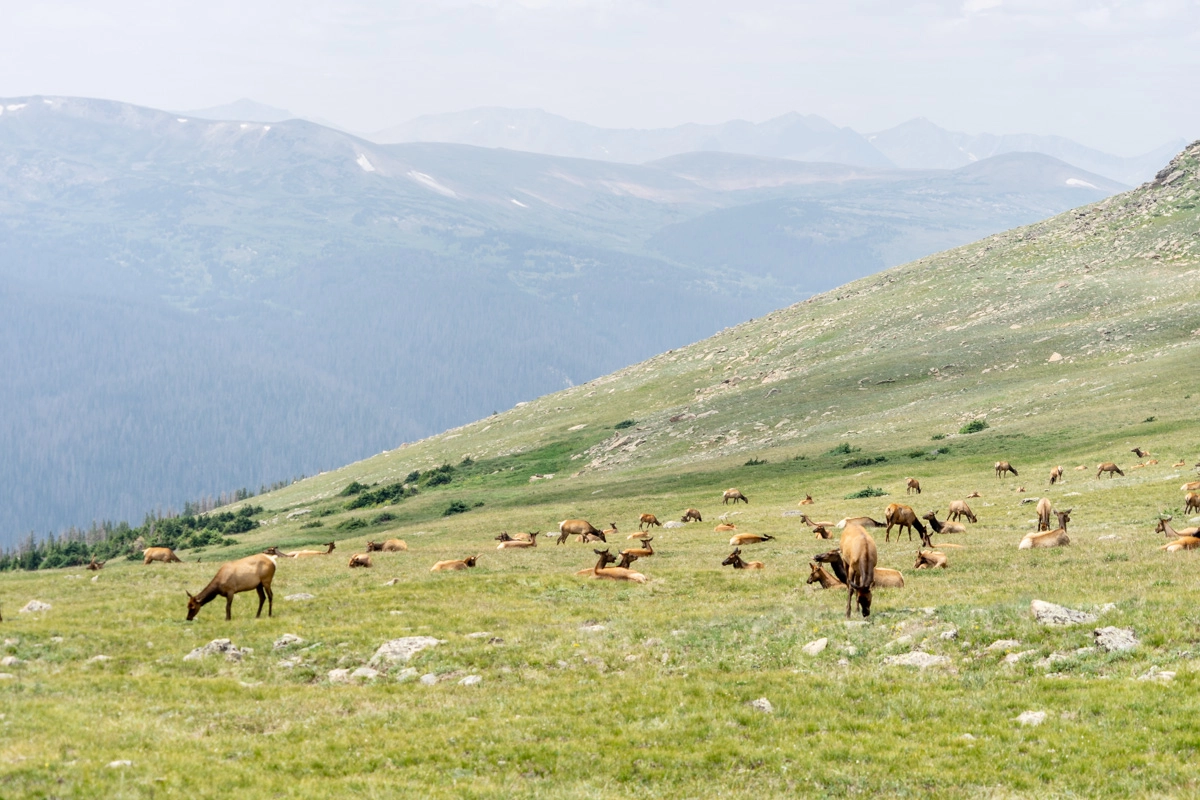 The park is beautiful and full of wildlife. We saw a huge herd of elk grazing, as well as pikas!
The Alpine Visitor Center was another neat place in the park. It has awesome views of the mountains and a short hike you can do where you get a great view of the road that winds through the park. It has the highest elevation of any National Park Service Visitor's Center at 11,796 feet above sea level!
You can either visit Rocky Mountain National Park as a day trip from Denver or spend a few nights in the park, giving you time to explore more of the hiking trails. The park offers camping (you need to book long in advance) or you can stay just outside of it in Estes Park.
Breckenridge/Frisco
Since I did Rocky Mountain National Park as a day trip, I started my Colorado road trip from Denver heading to Frisco. However, if you wanted to combine it and see a different road, you could loop around Rocky Mountain National Park coming out through Grand Lake. It's Colorado's largest and deepest natural lake!
Breckenridge and Frisco are two lovely mountain towns just an hour and a half from Denver, making them a great place to start your Colorado road trip. Breckenridge is a popular ski resort in the winter, but it's home to fun activities like mountain biking, stunning hikes, scenic drives, zip-lining, and river rafting in summer.
I actually stayed in and preferred Frisco, which is a historic mining town 15 minutes away. The main street here is so cute. It's a great base for hiking, located near several 14ers (mountains with an elevation higher than 14,000 feet).
Find accommodation in Breckenridge and Frisco.
Independence Pass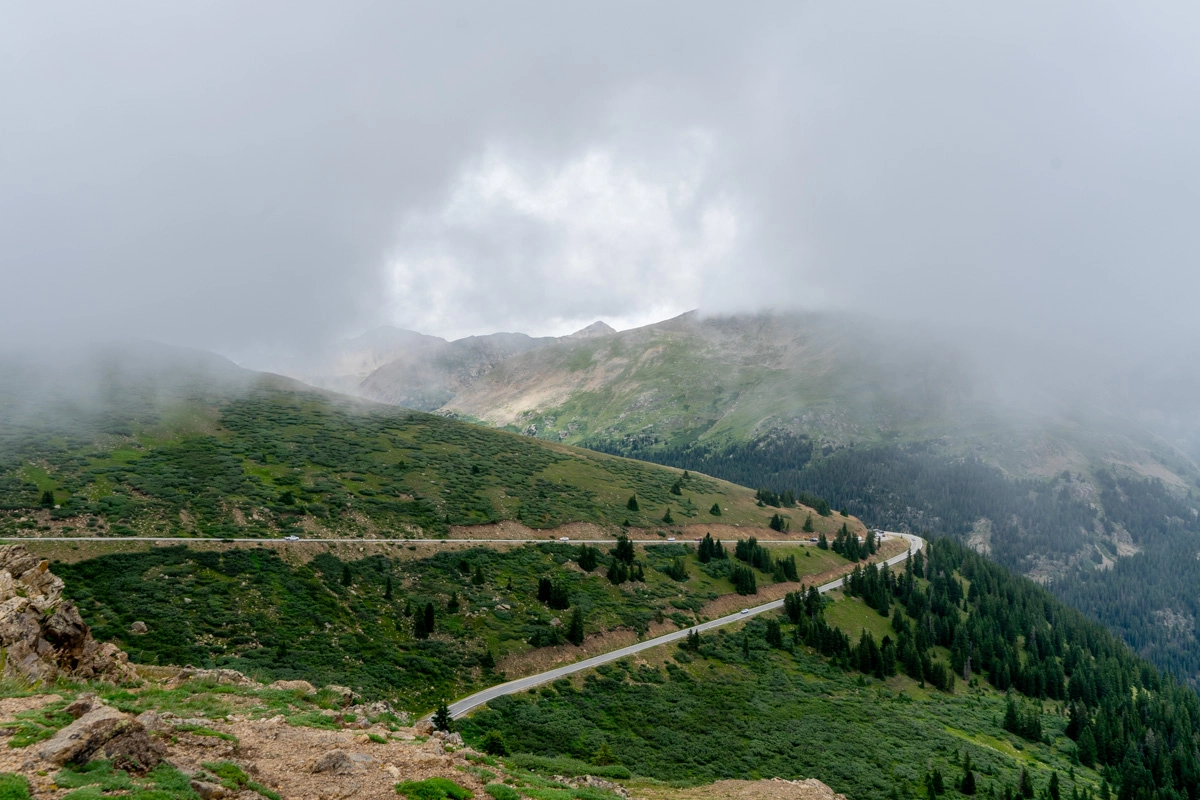 From Frisco, head towards Aspen. Although your GPS will likely tell you to use the I-70, take Independence Pass instead. It's such a beautiful drive with many scenic viewpoints you can pull off to soak in the views. It takes you to an elevation of 12,095 feet!
Be sure to stop for photos or hike the Interlaken trail at Twin Lakes and take in the views at the Continental Divide Viewpoint. While the pass is only 32 miles total, the turns are quite sharp so you'll want to take your time driving here. It took me about 3 hours, stopping a few times for photos.
Aspen (Maroon Bells)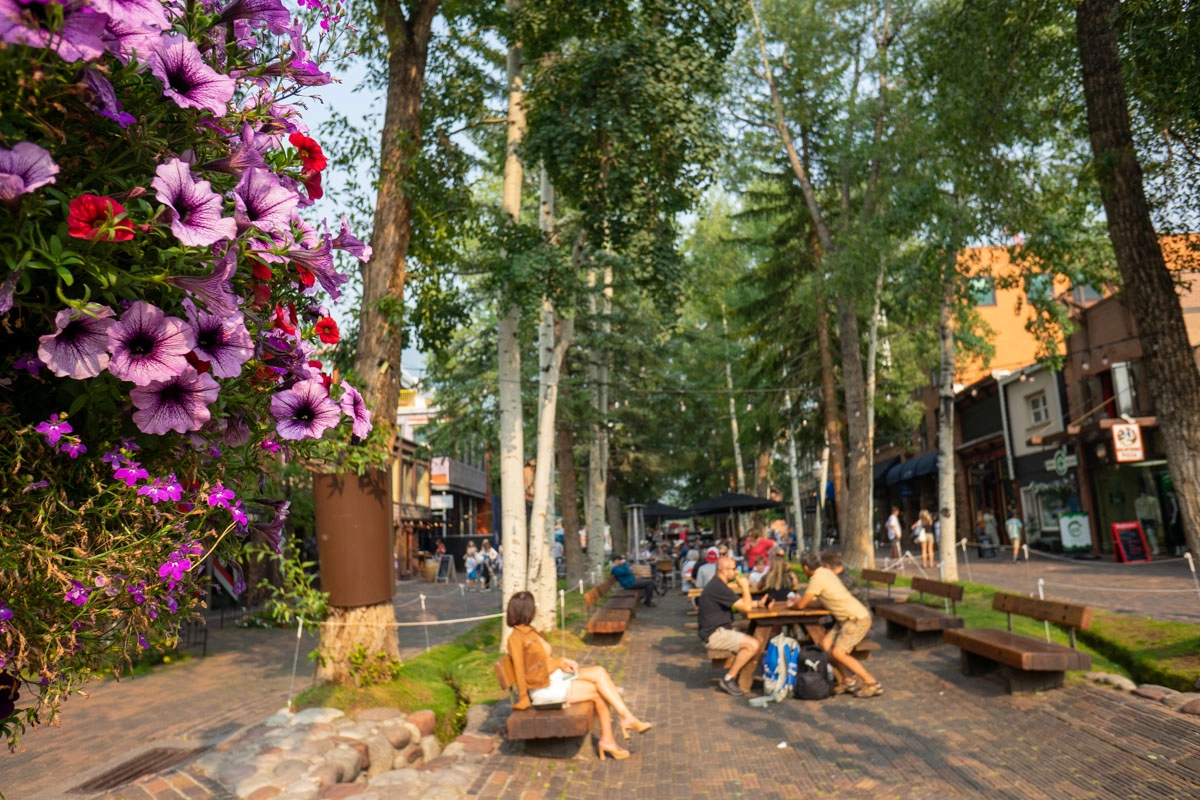 Aspen is one of the most well-known towns in Colorado and truthfully, it was my least favorite. I found it a bit pretentious, BUT it's home to Maroon bells which are absolutely worth stopping there for. It's one of the most photographed places in the U.S.!
I recommend going as early in the morning as possible as this is when you can see the mountains reflecting in the lake which is breathtaking. Permits to drive your own vehicle to Maroon Bells sell out long in advance, but you can get a shuttle bus there if you don't plan ahead. This still requires making a reservation, but I was able to do it the day before.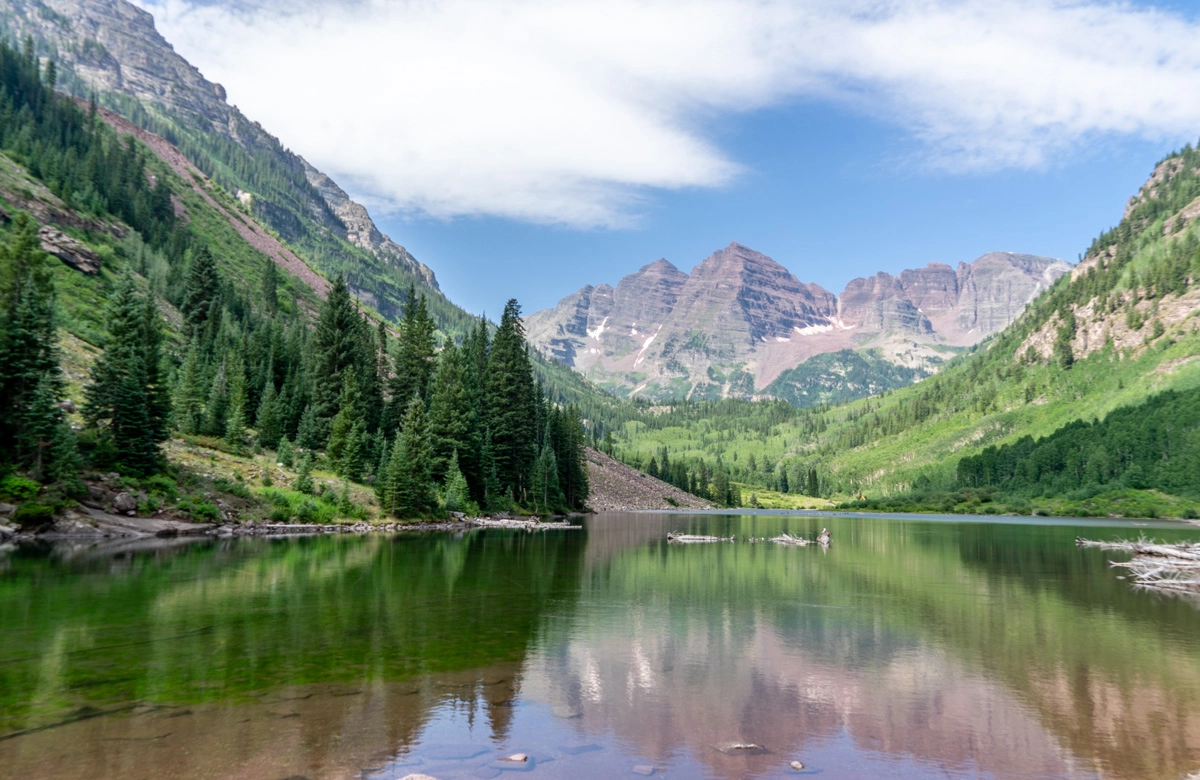 You'll see Maroon Bells as soon as you start walking from where the shuttle drops you off, and there are easy walking trails that go along the lake in front of the mountain range where you can get beautiful views of the reflection.
There are also more difficult trails that you can take for an alternative view. I hiked the trail to Crater lake, which goes through a beautiful forest of Aspen trees.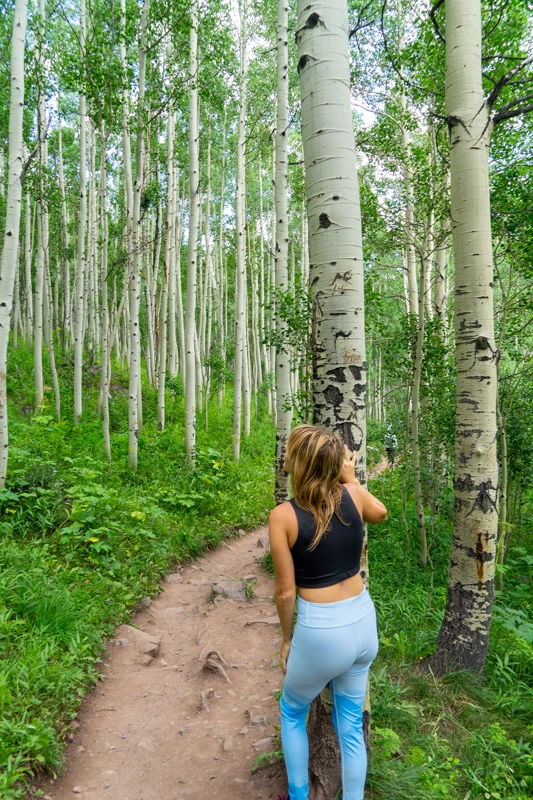 Accommodation in Aspen can be pricey, so as an alternative you could stay in a smaller town nearby like Basalt or Glenwood Springs. I actually found an amazing housesit in Snowmass just 20 minutes from Aspen through TrustedHousesitters.
Glenwood Springs
The town of Glenwood Springs is a fantastic place to check out some of Colorado's best natural hot springs. Skip Glenwood Hot Springs – we went here first but then quickly turned around when we saw the giant pool of screaming children.
Instead, go to Iron Mountain Hot Springs. There are several different pools here, each with varying temperatures, all overlooking the scenic river and mountains. We even saw a marmot here!
Aside from hot springs, Glenwood Springs offers river rafting, hiking, and biking down the 14.4-mile Glenwood Canyon Recreation Trail. Hanging Lake is the most popular hiking trail here, but it now requires a reservation due to its popularity.
Ridgway/Ouray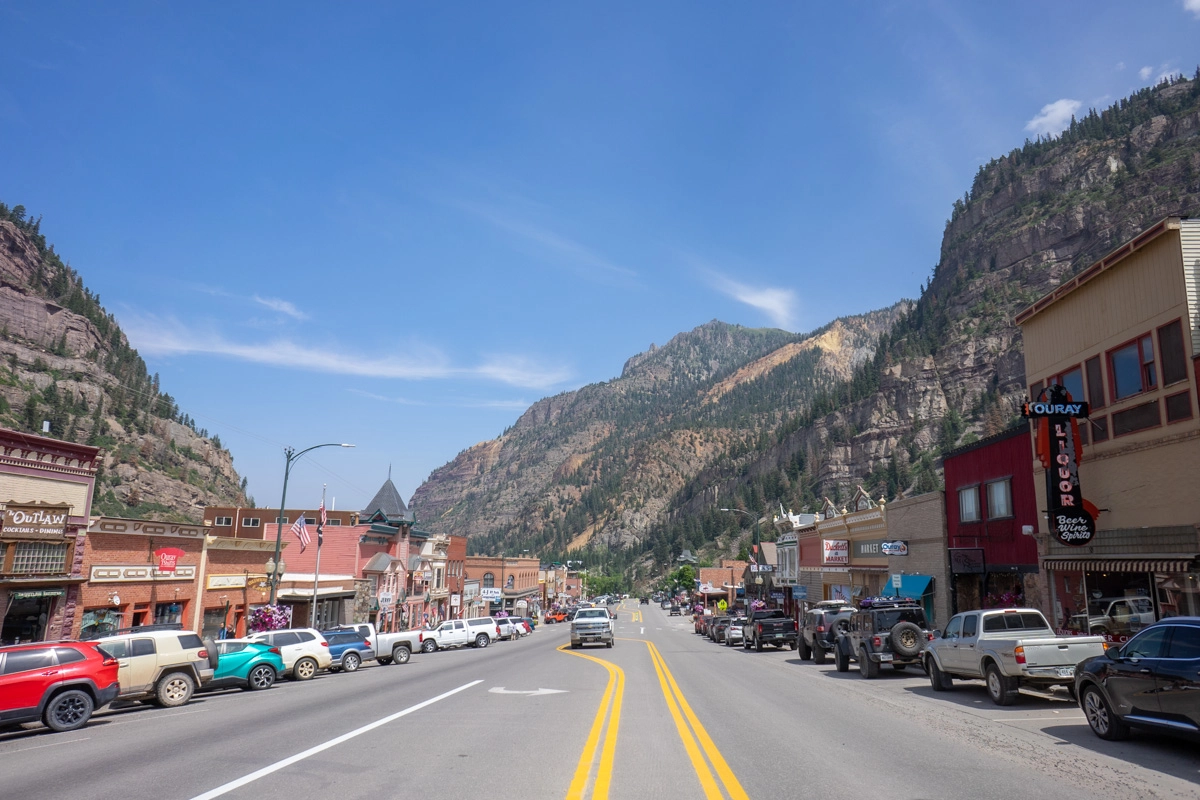 From Aspen, make your way to Ridgway or Ouray (15 minutes apart). It's another beautiful mountain drive, passing near Black Canyon of the Gunnison National Park.
Unfortunately, I didn't have time to stop here, but you could add this one if you have some extra time in your Colorado itinerary. It's one of the least visited National Parks in the U.S.! The park is home to a very deep canyon of distinctive black rock, with several hiking trails to enjoy.
One of my favorite places I stayed during my Colorado road trip is these glamping tents through Basecamp 550, between Ridgway and Ouray. The tents feel more like a hotel room, with a super comfortable double bed and fireplace to keep you warm. They also have adorable tiny homes!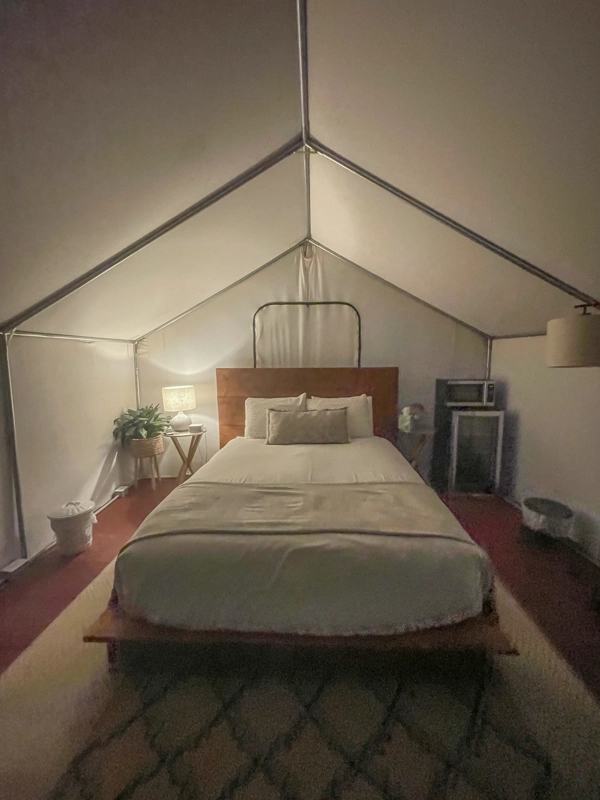 Basecamp 550 is also a great place to stay if you want to hike Colorado's famous blue lakes trail in Ridgway. To get to the trailhead, take CO Road 7 off the 62 (marked on Google maps). This road is not paved and has a ton of potholes. While I saw standard cars there, I was super happy to be driving a jeep.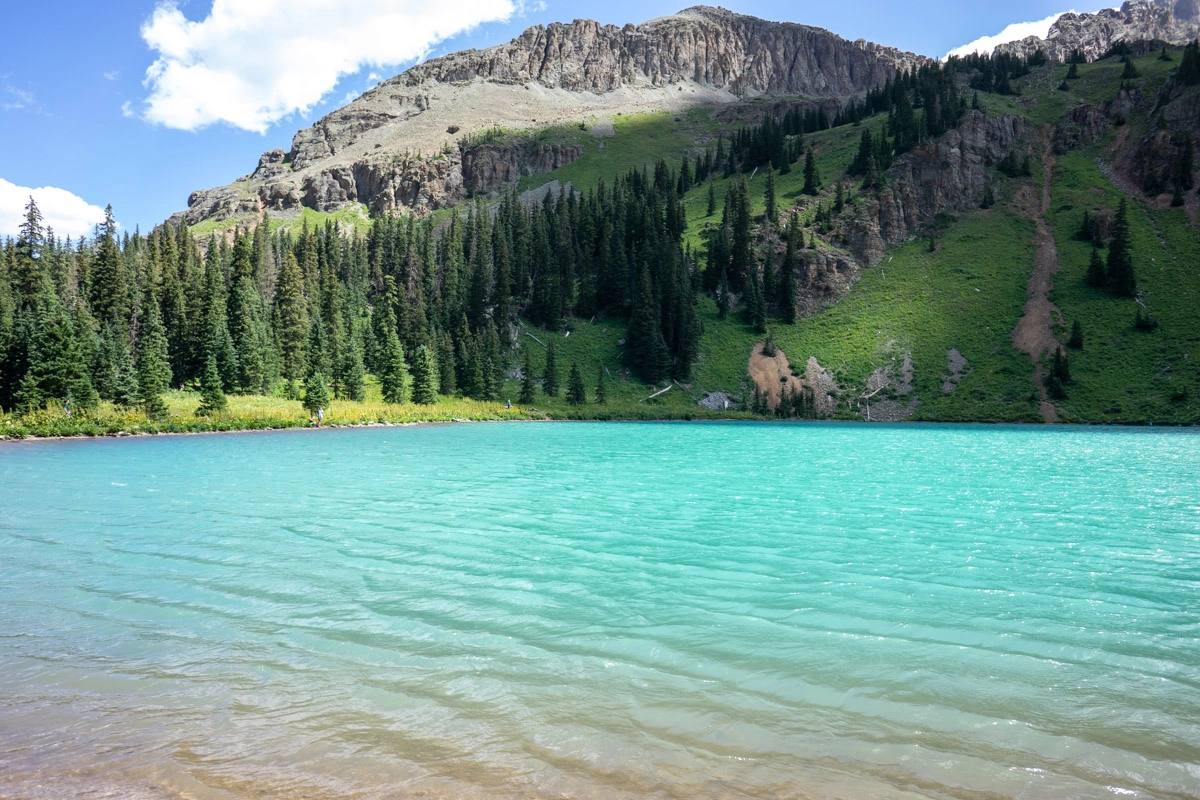 The first part of the trail climbs just over 1,500 feet to the lower lake, which sits at 10,950 feet. It took me an hour and a half to get there. The lazy part of me wanted to turn back, but I pushed on the middle and upper lakes and am so glad I did because the views of the first lake from above are so much better.
It's a steep climb to the middle lake which sits at 11,540 feet. The mountain scenery hiking towards it is amazing, and the third upper lake is just another 150 feet further. If you're feeling really adventurous, you can also continue to climb all the way up to Mount Sneffles (14,150 ft).
Telluride
Telluride has to be one of the most beautiful towns in Colorado. I visited as a day trip from Ridgway, which is an incredibly scenic drive. There's a beautiful viewpoint you can pull off right before you get into town!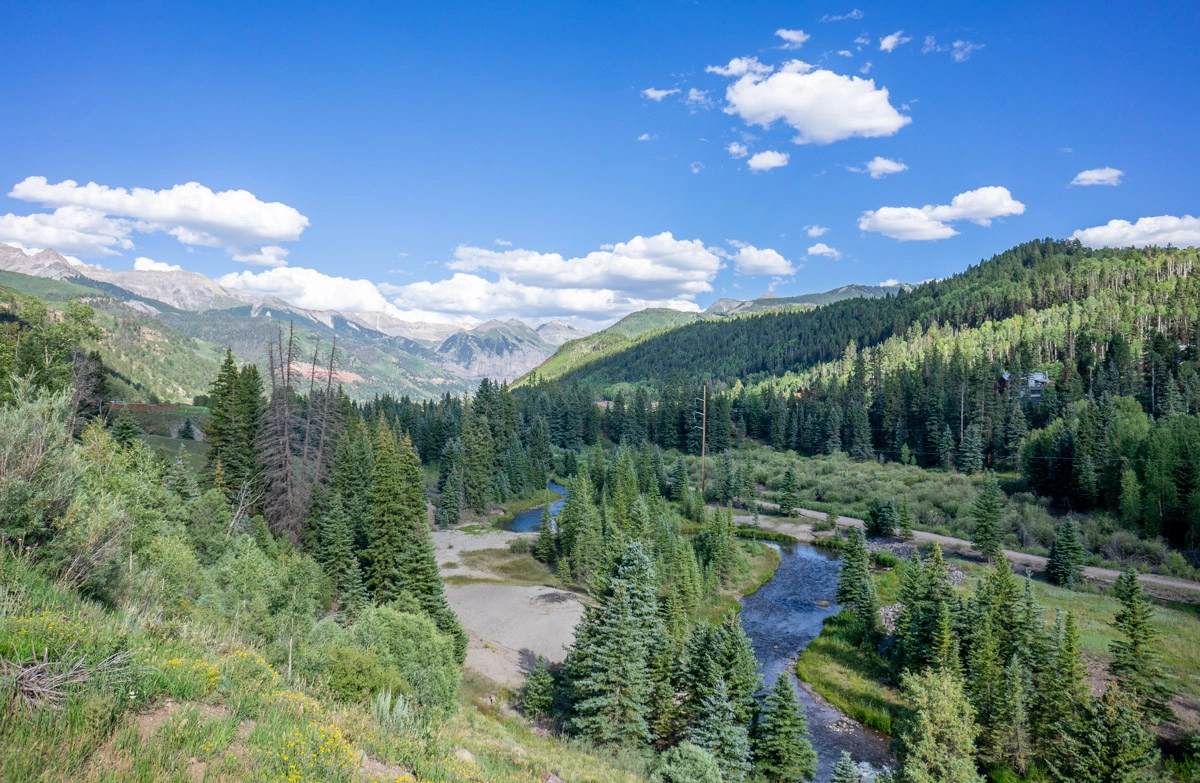 Telluride is known for its outdoor recreation opportunities, including hiking and mountain biking in the summer and skiing and snowboarding during the winter. But even if you're not that into sports, it's worth coming here to walk around and be charmed by its Victorian-era houses, quirky shops, and fantastic restaurants with al fresco dining.
Be sure to take advantage of the free gondola that takes you up to hiking trails. But, even if you're not hiking, it's worth taking it for the views of Telluride from above.
If you want to spend some time exploring Telluride, there are plenty of places to stay here; I just found the accommodation options near Ridgway to be more affordable.
Silverton (Million Dollar Highway)
I spent a whole day driving from Ridgway to Great Sand Dunes, stopping many places along the way that I'll highlight next. This was one of the longest days of driving and in hindsight, I wish I had broken it into at least two nights so I could have spent more time at these places.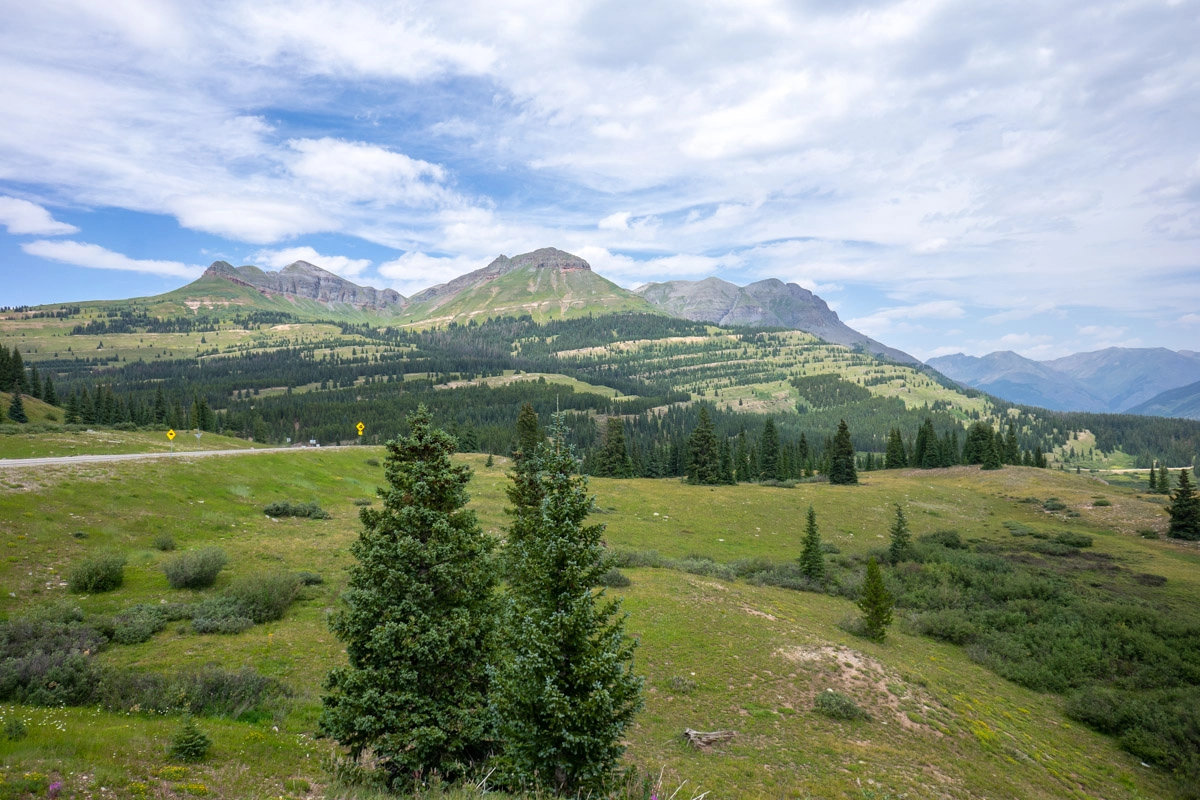 The drive from Ouray to Silverton on the Million Dollar Highway is one of the most beautiful in the state, with hairpin turns over the mountains.
Silverton is a former mining town and unlike many others which have been polished up, it retains its rugged historic charm. This is a great place to stop and walk around and enjoy a meal at one of the restaurants.
Durango (Mesa Verde National park)
From Silverton I drove to Durango, a larger town with several good restaurants, breweries, and bars. Mesa Verde National Park is only a 40-minute drive away from here, which is one of the best places to visit in Colorado if you're into history.
It's an archeological site known for its preservation of the dwellings and history of the Ancestral Pueblo People who lived here from 600 AD to 1300 AD. At the park, you can see over 600 cliff dwellings. Sadly I didn't have time to stop here, but I've heard fantastic things.
After Durango I headed towards Pagosa Springs, a nice town set on the San Juan River. It's most famous for its hot springs but what's cool about this town is that you can actually enjoy hot springs for free on the river! Parts of the river are heated up from the springs and other parts are cool, which is a neat phenomenon to experience.
Colorado Itinerary: Great Sand Dunes National Park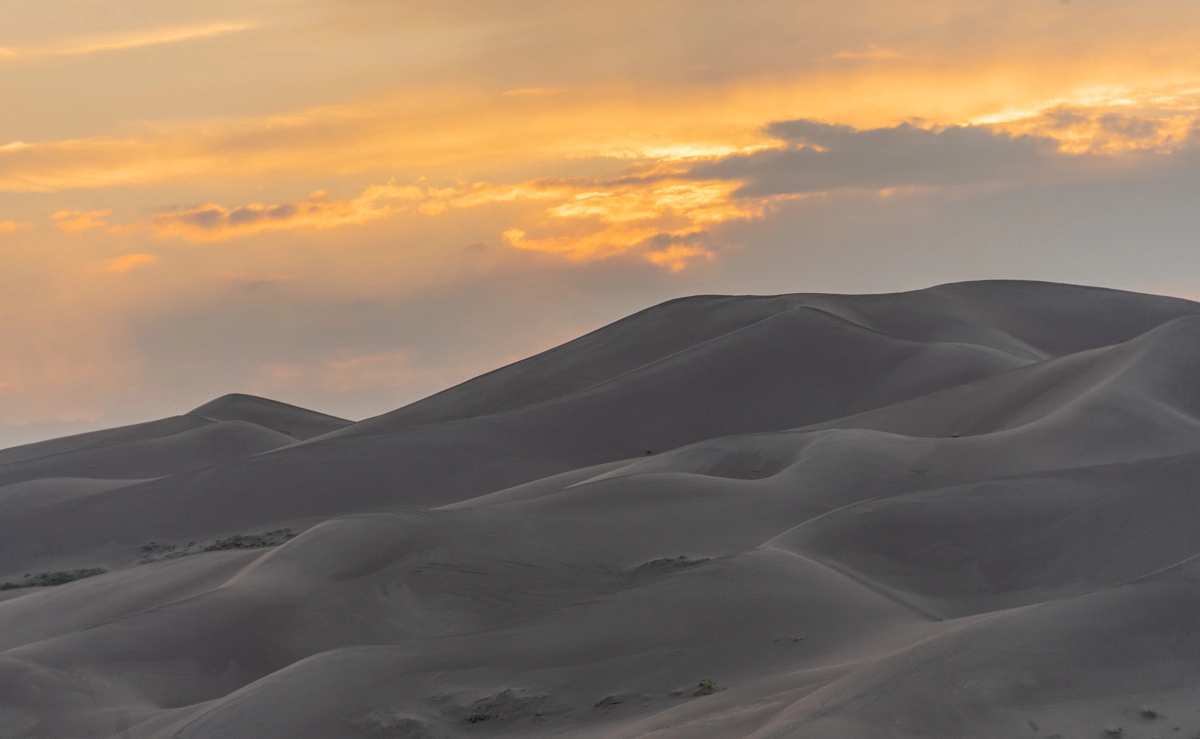 From Pagos Springs, it's a two-hour drive to get to Great Sand Dunes National Park. The landscapes become rather flat and boring for the last part of the drive, so it's hard to believe when you see the Sangre de Cristo Mountains appear with 30 miles of dunes in front of them. It's one of the most unique landscapes in Colorado! While I was visiting in August the sunflowers were also in full bloom, making the scenery even more spectacular.
The best thing to do here is rent sandboards, go hiking up the dunes, and then slide back down. You can't rent boards in the park but just outside it at Great Sand Dunes Oasis. This is also where I stayed – it's a good option if you aren't camping in the park as it's right outside the main entrance.
They offer camping spots, basic cabins, and small apartments. Aside from that, most accommodation options are in Alamosa which is half an hour away.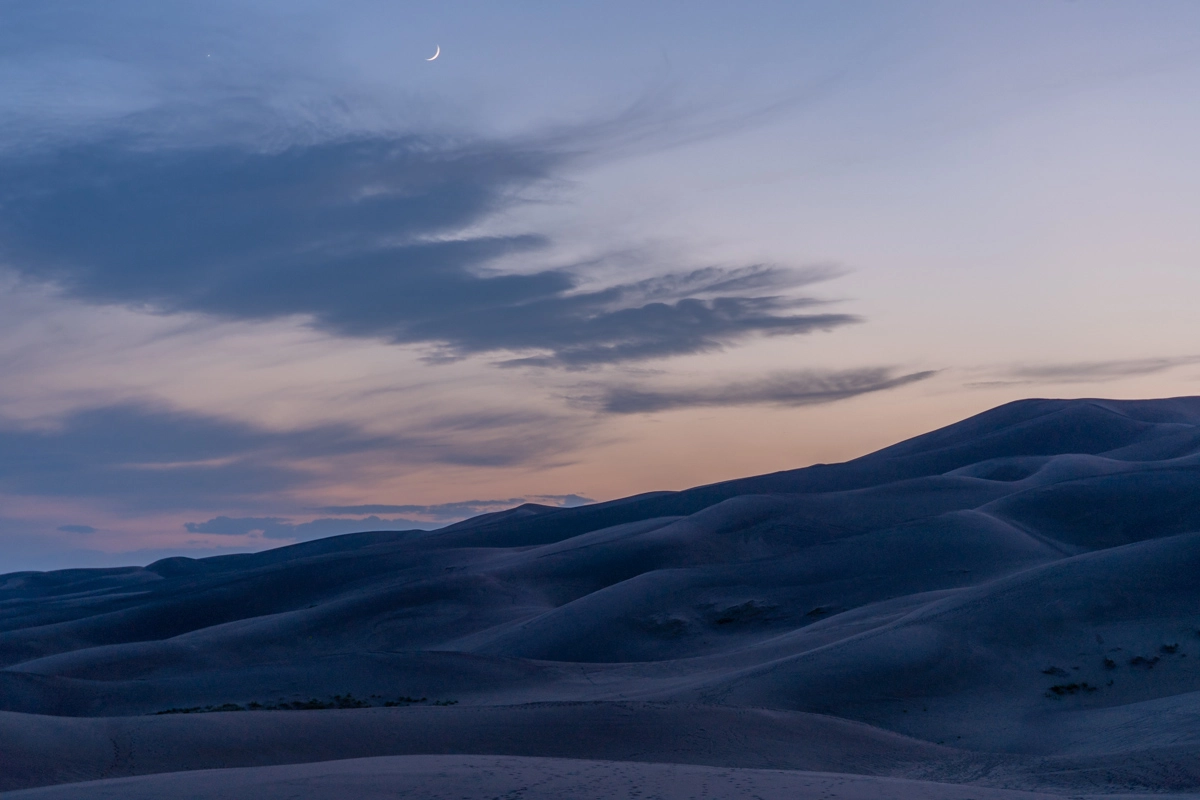 Great Sand Dunes National Park is also a dark sky preserve, so take advantage and do some stargazing here. Unfortunately, while staying there, I accidentally locked myself out of my apartment and because the reception was closed, I had no choice but to stay outside all night (luckily, I had my car).
It was around the time of the Perseid meteor shower, so I ended up stargazing all night. My camera was enjoying my hotel room for me so I don't have any photos to share with you, but it was spectacular.
Colorado Springs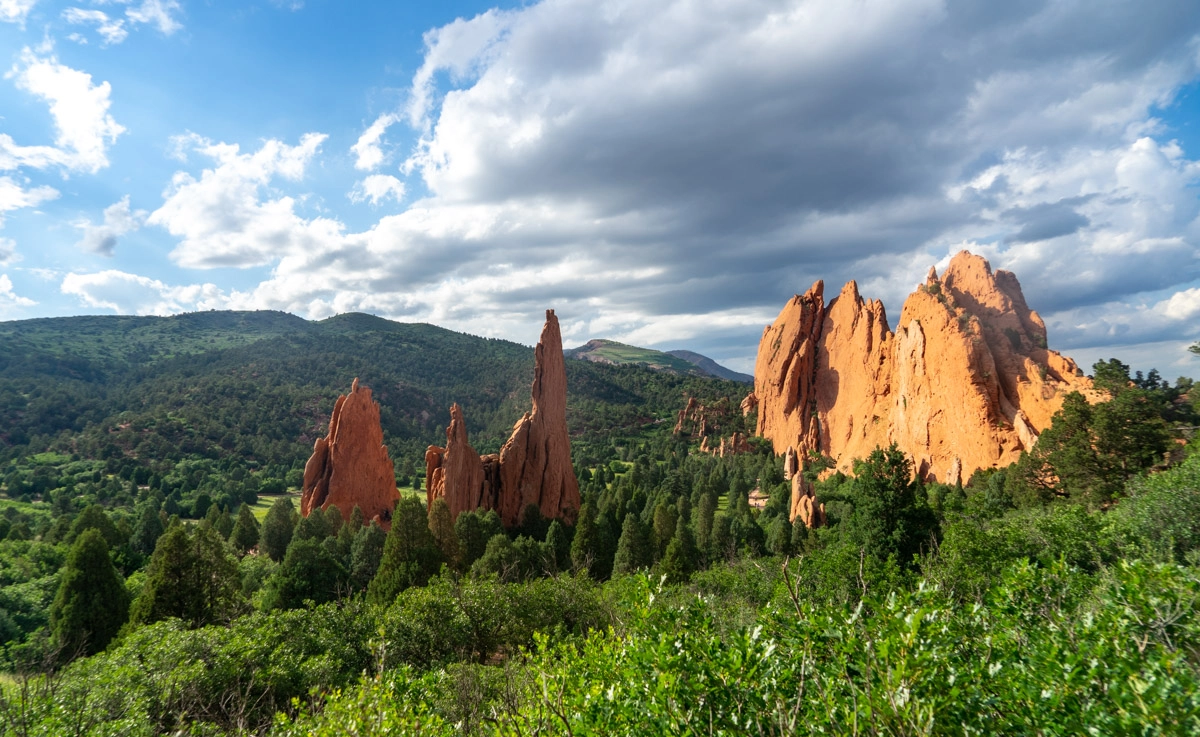 The drive back from Great Sands Dunational Park to Denver isn't overly exciting after so much mountain scenery, but you can break it up by stopping in Colorado Springs, home to Gardens Of The Gods.
It's completely free to visit and offers 15 miles of hiking trails ranging from easy to moderate, where you can see magnificent red rocks. You can even go climbing on them!
Another place worth stopping here is Pikes Peak Highway. Nicknamed America's highway, this scenic drive will take you up to a 14,000 ft mountain. The drive takes about half an hour, or there's also a train you can take. It's crazy seeing the landscapes change as you can go up the mountains – but learn from my mistakes and bring a sweater with you for the top. It was actually snowing!
From Colorado Springs, it's just an hour back to Denver.
Discover more things to do in Colorado
Colorado Road Trip Itineraries
How much time would you need to see all these sights on a Colorado road trip? A 10 day Colorado itinerary would give you enough time to see most of these places but be very fast-paced, changing locations every day. I think two weeks would be a more realistic amount of time. Of course, the more time the better! A two-week itinerary could look like this:
Day 1-2: Denver
Day 3: Rocky Mountain
Day 4: Breckenridge or Frisco
Day 5: Drive to Aspen through Independence Highway
Day 6: Aspen (Maroon Bells) & Glenwood Springs
Day 7: Drive to Ridgway or Ouray
Day 8: Blue Lakes Trail
Day 9: Telluride
Day 10: Mesa Verde National Park
Day 11: Drive to Great Sand Dunes National Park
Day 12: Great Sand Dunes
Day 13: Colorado Springs
Day 14: Back to Denver
On a 5 day Colorado road trip itinerary, I would stick to Denver and visit the surrounding areas like Rocky Mountain National Park and Breckenridge, which are less than two hours from the city.
With a 7 day Colorado itinerary, you could visit Denver as well as Breckenridge and the Aspen area or head south and visit Colorado Springs and Great Sand Dunes National Park.
I hope this post could help give you some inspiration on where to visit in Colorado! Have you visited the state before? Let me know your favorite places in the comments below!
Enjoyed this post? Pin it for later!