This post may contain affiliate links. By clicking and making a purchase through the links, I earn a small commission at no extra cost to you. See my disclaimer for more information. This and display ads allow me to keep the site up to date and give back.
As much as I talk about wanting to live on a sailboat but the truth is I've never been on a sailboat for longer than a day trip. So when the opportunity came up for a three-day sailing trip through Belize with Raggamuffin tours, I had to find out if the sailor life is the life for me. Spoiler alert: It's awesome!
Raggamuffin Tours, based out of Caye Caulker, runs a three-day sailing tour from Caye Caulker to Daidringa (never in reverse). There are over 265 Cayes (pronounced keys, meaning island) in the waters of Belize, which means there is an awful lot of exploring to be done.
Raggamuffin tours take you on an epic journey snorkeling, fishing, and island hopping through some of the most beautiful spots in Belize. In this post, I'll go over what you can expect on a Raggamuffin tour to help prepare and make the most of the tour!
Ps. This post is not sponsored by Raggamuffin Tours. I paid for this tour myself!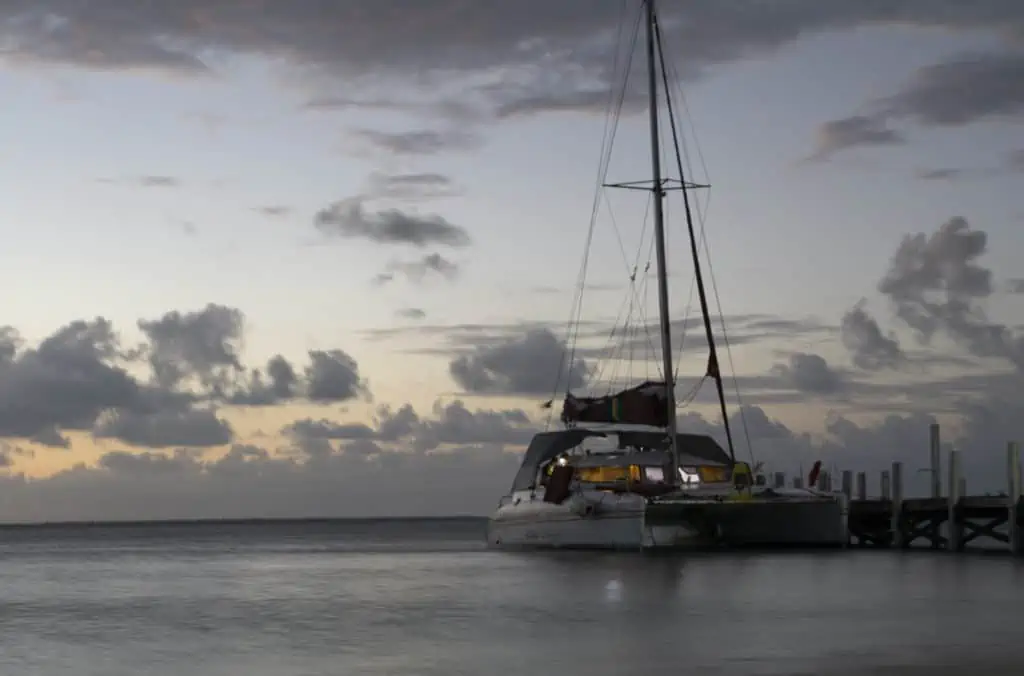 How to Book a sailing trip in Belize with Raggamuffin Tours
To find out more information about Raggamuffin tours, read reviews, or book a tour visit their website or the tour office in Caye Caulker. If you knowf the dates you want to take the tour then I recommend booking it in advance, as they do book up especially during peak season (mid-November to mid-May).
In typical fashion, I booked my trip to Belize only a few days before my flight departed. I contacted Raggamuffin right away to request the trip only to find out they were full. However, they advised me to visit the office when I arrived in Caye Caulker, in case someone canceled. It wasn't until the last minute, literally minutes before they departed, that one person didn't show up and I was able to take their spot. Thanks, Mark!
The cost of the tour is $400 USD which is all-inclusive. You can pay part of this on credit card but they require you to pay at least $100 in cash. The cost of the tour covers everything, as they supply all food, booze, activities, and accommodations.
Caye Caulker
The Raffamuffin tour office is in Caye Caulker, Belize, about a 5-minute walk from the main pier. Caye Caulker is a small, laid back island. You can walk or cycle around the entire island, there are no cars there!
Getting to Caye Caulker: Take a taxi to the ferry terminal in Belize city from the international airport. The cost of the taxi is $25 USD, which is a government-set price. At the ferry terminal, you can catch a boat to Caye Caulker which takes about an hour. There are a number of companies that run and the cost of the ferry is $25 USD Return. It is possible to book online in advance, but the boats are so frequent that you won't have a problem to show up and catch one.
Where to stay: The first time I visited Caye Caulker I stayed at Dirty McNasty's Party Hostel. This place is exactly as it sounds. If you want a party hostel, it can be a good time, but otherwise, I'd recommend somewhere else. This time around I stayed at Yuma's House, which has much more of a chill vibe. It's still a social hostel, but you can actually sleep there.
Find more accommodation options in Caye Caulker.
Day 1: Departure from Caye Caulker to Rendezvous Caye
The staff will ask you to be at the office at 7:30 am if you have a large-sized bag so they can store it under the boat. If you only have a small-sized backpack then you can take it on the boat with you and show up 8:30 am instead.
They don't provide breakfast that morning so grab something in Caye Caulker before you go. Right next to the Raggamuffin tours office is a lovely cafe called Ice and Beans. They do great Iced Lattes and bagels! View this post on Instagram
I was traveling solo but met one of the guys on the same tour while diving, so we boarded the boat together and met our fellow sailing mates.
I expected the crowd to be mostly backpackers, as this was the case in the other boat trips I've taken through the San Blas Islands and with TAO in the Philippines. However, Raggamuffin tours is somewhat different.
There were a representative number of backpackers, but also three families on the boat, so the age range was anywhere from 16-50! All the said we all got on well with each other and had a great time. I mean can you really go wrong with endless rum, sunshine, and a sailboat?
We got to know each other quickly as the crew hands out generous amounts of never-ending rum punch. But if you want to have some time to yourself, there's space for that too.
There is a catamaran at the front of the sailboat which seems like the prime spot to be, but it's also the riskiest spots in terms of getting sunburnt. The safest spot is at the back of the boat to where the captain sits, it's fairly shaded there. You can go to the inside of the sailboat but there isn't much space to move around. Luggage and supplies take up the rooms and the kitchen is occupied by the chef making amazing food, so you don't want to disrupt him!
So, what can you do on the sailboat besides drink rum?
Snorkel
Raggamuffin tours take you to some pretty epic snorkeling spots. Belize has the largest second barrier reef in the world, and the coolest part about taking a sailing tour is that you get to stop at several marine reserves that aren't easily accessible otherwise.
I feel like diving has kind of ruined snorkeling for me, but even these sites impressed me. During our snorkels, we saw spotted eagle rays, stingrays, turtles, and many beautiful and healthy coral reefs. We also saw dolphins from the boat!
One of the snorkeling spots is next to Goff's Caye, a beautiful little island that you can swim to and explore.
Fishing
If you love to fish then this trip is for you. They have hand lines, trawling rods, spin rods and a spear gun on board, and encourage you to fish while we sail through the waters. The crew are also legends at spearfishing and will take groups to try it out during snorkeling stops.
I'm not into fishing, but the people who participated loved this aspect of the trip. Plus, you'll become everyone's favorite if you catch something yummy to eat! Whatever you catch become's the chef's 'catch of the day' special, and gets served to everyone at supper. Don't worry – there's still lots of food to eat even if no one catches a fish!
Learn to sail
The crew is happy to teach you some tips about sailing and can definitely use a deck-hand if you want to get involved. The captain of the boat, Jerry, is an awesome friendly guy.
Rendezvous Caye
The first night we slept on Rendezvous Caye, which is not much more than a sandbar and a few palm trees. There aren't any structures on the island so the crew brings tents for everyone along with sheets. Our group was at the max size which meant some people had to share a tent, but there were a few people that got their own. The tents are easy to set up and the crew is there to help you if you need it.
We arrived at the island just before sunset so we all got to watch the beautiful Caribbean sunset from our own private island. After another delicious meal, the booze keeps flowing on the island and we all had a great time. I loved getting to camp on our own island. Falling asleep to the sounds of the ocean, waking up to the sun, talk about paradise!
Day 2: Rendezvous Caye to Ragga Caye
The sun will wake you up bright and early for the second day where you will continue the journey from Rendezvous Caye to Ragga Caye. The activities on the second day are much the same as the first. Two stops for snorkeling, plus fishing, lots more rum, and just relaxing on the boat. Don't worry about being bored as the three day sailing trip is well-broken up by snorkeling stops and island exploration, so you never feel at sea for too long.
The second day we got to visit Tobacco Caye, where there are actually a couple of restaurants/bars. Everyone was excited to get some cold beer, and there were a few dogs on the island which excited me. After talking to the owners the restaurant I found out that you can actually stay on Tabacco Caye and go diving from there. This seems like it would be a cool experience and I'd love to try sleeping there for a few nights if I go back to Belize.
Ragga Caye
Later that afternoon, you arrive on Ragga Caye where you spend the night. On this island, they have structures set up to sleep in so you don't have to camp. There are three private bungalows which you can pay extra to reserve, it's $100 per couple. There are only three cabanas and they book up quickly so make sure you tell them in advance! Across from the bungalows, there is a building with four separate dorm rooms, each with two bunk beds inside it.
If you don't want to stay in the dorms you also have the option to set up your tent from the night before anywhere on the island. But the dorms are nice. Actually nicer then some hostels I've stayed at, so I was happy to stay there. No one on my crew bothered to set up a tent the second night. The biggest advantage of getting a private cabana is that you get your own bathroom. The dorm folk share two washrooms and they got gross, fast.
Ragga Caye also has a kitchen/dining area, so the chef prepares an even more impressive meal for everyone that night, followed by, of course, more rum. One of the aspects I was most impressed about on this tour was the quality of the food that the chef was able to prepare. He had a two-burner stove confined in a tiny sailboat kitchen yet fed us meals with 8 components. Meanwhile, I struggle to make rice at home! 😛
Day 3: Ragga Caye to Dangriga
After having breakfast on Ragga Caye the crew takes you on a small tour around the area. The first stop is a small island full of frigate birds which you can admire from the boat.
From there, we visited a manatee reserve area. I was SO excited about this, but disappointingly, we didn't see any manatees that day. It is nature after all, and there are never any guarantees.
After the manatee reserve, you have the option to go for a final snorkel followed by a stop at Saltwater Caye. This beautiful island has a sand bar that goes out into the ocean which just looks like perfection. We all floated in the turquoise water soaking up the final piece of paradise!
After all the fun in the sun, you sail back to Ragga Caye for a final lunch and then two speedboats come to pick everyone up to take you to Dangriga. The speed boat takes about half an hour.
Where to go after Dangriga
It doesn't seem like there's much going on in Dangriga and no one from my tour stayed there afterward. Most people went to Hopkins or Placencia, which are about one to two hours away, respectively.
There are local buses you can catch about a 15-minute walk from where the boat drops you off, or you can arrange a taxi/shuttle. I didn't book any transport in advance but as soon as I got off the boat I met a local who was driving to Placencia, and he took me and my friend for the cost of the bus!
Placencia is a nice town and the spot to be if you want to try your luck diving with whale sharks. If you want to go diving in the blue hole, head back to Caye Caulker or San Pedro!
Another place you could head after is San Ignacio, just two hours away and home to some impressive Mayan ruins. Or if you're on the Central America backpacker trail, head over to Guatemala, a country full adventure!
Tips to make the most of your Raggamuffin Tour
Sea Sickness – No one on my tour was badly affected by seasickness but a couple of people including myself felt nauseous on the first day (could have also been the beers from the night before…). The crew has seasickness tablets on the boat but they made me super sleepy. Another girl on my tour had these motion sickness patches that you place behind your ear and swore by them. Might be worth it if you're prone to seasickness!
Insurance – No one likes to think about something bad happening on vacation but the truth is they can and it's important to protect yourself in case of an emergency. If an accident happens and you have to be taken back to the mainland to go to the hospital then it's not going to be cheap so protect yourself with travel insurance. I recommend World Nomads as travel insurance for Raggamuffin Tours as they cover a wide range of adventure activities, and are easy to claim with (speaking from experience)!
Extra food/booze – I didn't bring any snacks with me and at no point did I regret that. The chef does an amazing job of preparing three meals a day as well as mid-afternoon snacks (ceviche). They also have chips and cookies which get handed out throughout the day.
I wouldn't bring snacks unless there is something specific you want. As for booze, unless you only want to only drink rum then I recommend bringing your other drink of choice. They do supply you with generous amounts of local rum and mix (coke, Fanta, sprite, juice, etc.) but it's super sweet and I got sick of it after a while. A couple of people on my boat brought beers in a cooler and I was super jealous.
Cash – You don't have to bring much cash with you on the trip. There are two islands you visit on the tour where you can buy drinks and a few souvenirs but that's it. Bring some cash to tip the guys at the end and for the bus/taxi onwards from Dangriga.
What to bring – It's no problem to bring all your bags on the sailboat but the crew will store large-sized bags under the boat, and you won't be able to access them during the trip. Pack what you need for the three days in a smaller bag which you will have access to. Here's what I recommend bringing on a Raggamuffin tour:
Packing List for Raggamuffin Tours in Belize
Suncreen – Bring so much sunscreen! The Caribbean sun is hot, hot, and hot and I've never seen as many people get sunburnt as I have on this trip. I was constantly applying it and still got burnt. Bring more sunscreen then you think you need!
Sarong – great for lying on the beach and protecting you from the sun.
Sun hat & Sunglasses
Towel – A towel for after swimming. I recommend the microfiber towels as they pack super light!
Moisturizer/after sun
Refillable water bottle – I love hydro flask because they keep your drinks cool for 24 hours
Reusable Straw – Straws are great for drinking out of coconuts but the plastic ones are terrible for the environment. Take a reusable straw on your trip to cut back on your environmental footprint!
Clothing: 1 – 2 pairs of shorts, 2-3 tops, 2 – 3 swimwear, & 1 pair long sleeve shirt/pants for mosquitos
Fins if you want them for snorkeling (masks and snorkel are provided)
Sandals and Reef Shoes (the corals can be painful), and rash guard for snorkeling if you want extra protection from the sun
Toiletries
Kindle – The sail boat is the perfect place to kick back and relax with a good book. Safe on space and bring a kindle with books downloaded beforehand. Plus the new Kindle is waterproof so you don't need to worry about getting it wet!
A deck of cards for playing games at night
Portable battery bank – I love this one because it's small and can charge your phone up to six times!
A camera to capture the moment! GoPros are great for snorkeling.
An open and adventurous mind!
I could definitely get on board with sailing life. Spending three days exploring the beautiful islands of Belize and snorkeling in some of the best reefs in the world was such a fun experience. I loved the Raggamuffin tour and would recommend it to anyone heading to Belize!
Like it? Pin it for later!