This post may contain affiliate links. By clicking and making a purchase through the links, I earn a small commission at no extra cost to you. See my disclaimer for more information. This and display ads allow me to keep the site up to date and give back.
If you're looking for bucket list-worthy outdoor adventures, then Canada is the place for you. From coast to coast, Canada has an incredible range of adventure activities.
From whale watching on the East Coast to skiing Olympic trails in the West, you won't have trouble keeping active here.
With summer just around the corner, I've rounded up the best adventures in the country to inspire your Canada bucket list.
25 Bucket List Places to Visit in Canada
British Colombia Bucket List
Bear Safari in Bella Coola
Recommended by Christa Rolls of Expedition Wildlife
Spotting bears in the Great Bear Rainforest is the ultimate outdoor adventure in Canada for wildlife-lovers! Outside the remote village of Bella Coola, Tweedsmuir Provincial Park supports one of the largest populations of bears in Canada.
Bears are drawn to the Atnarko River from early summer until mid-October to feast on spawning salmon, a hearty meal for bears to store up fat for winter. The best way to see bears safely is to go on a river rafting tour with an ethical guide. Here, you'll spot bears walking and foraging along the river banks – seeing and photographing them from the water is such a rush!
Alternatively, there are bear viewing platforms at various locations along the river. For example, the Belarko bear platform is open during the height of bear-viewing season and is surrounded by electric wire for visitors' and bears' safety.
The region is also filled with epic hiking trails, whale watching opportunities, and more. Step into the wilds of British Columbia and add a bear safari to your Canada bucket list!
Explore Tofino Island
Recommended by Luke of The Coastal Campaign
On the west coast of Vancouver Island is the awesome little surf town of Tofino. As well as being home to some of the best waves on the west coast, Tofino is also surrounded by a maze of islands and waterways just waiting to be explored.
You can explore the nearby islands on a kayak or venture further afield by jumping on a boat. There are many boat tours that leave directly from Tofino, each offering a variety of different activities. Our top choice for getting out and exploring the rugged coastline is to visit the Tofino hot springs, which is a 1.5-hour boat ride from Tofino.
The boat trip is like an entire tour in itself. The scenery is incredible, with mountains, forests, beaches, and islands in abundance. This area is also teeming with wildlife, so keep an eye out for whales, bears, wolves, sea otters, and more on the journey.
Once you reach the hot springs, it is a 30-minute walk through an old-growth forest which eventually opens out into the natural hot springs which overlook the ocean. Relaxing in the natural hot pools is a great way to spend a few hours before heading back on the boat to spot some more wildlife on the way home.
Book a 2-day tour of Tofino Island from Vancouver here
Zip-lining in Whistler
Recommended by Wendy Lee of Empty Nesters Hit The Road
Most people think of Whistler as a ski destination, but this lush, rugged, and mountainous section of British Columbia is home to many other adventure activities including zip-lining.
A few years ago our family headed to Whistler for a long weekend in the summer and signed up for a Ziptrek Ecotour. We had never been ziplining before, so we were both excited and nervous. When we arrived, we were fitted with harnesses and given a safety briefing. Then we began the walk to our first of five zip lines. Our group consisted of two families with a total of four kids. While the adults hung back wondering why we had signed up for this tour, the kids raced to be first in line. But once I stepped off the platform and slid onto the zipline, I was sold!
Over the next few hours, we lost our inhibitions and embraced each new line with eagerness. At the final zipline, the guide suggested we flip upside down for an extra rush of adrenaline. We ended the tour exhausted and exhilarated. To this day this remains one of our family's favorite memories–definitely a bucket list adventure in Canada.
Book a Whistler Zip-lining Tour Here
Traveling from British Colombia to Alberta? If you're driving from Vancouver to Banff or Jasper, then consider yourself lucky because this is one of the most beautiful drives in Canada. Along the way, you'll pass through emerald lakes, canyons, glaciers, and more. Make sure to pick up your Parks Canada Discovery Pass before hitting the road, this will get you entry into all of Canada's national parks at a discounted rate.
Alberta Bucket List
Skiing in the Rockies
Recommended by Rhonda of Adventure Alberta
The Canadian Rocky Mountains are well known by outdoor adventurers who flock there in the summer to hike, bike, and paddle, but the area is just as much fun in the Canadian winter when skiing becomes the focus.
Downhill skiers and snowboarders will find plenty of ski areas to choose from in the Rockies of Alberta and British Columbia, as they are home to some of North America's finest ski resorts.
Several of Alberta's top ski resorts can be found in Banff National Park. Sunshine Village has some of the best snow in Canada, plus a ski-in, ski-out hotel on the hill. Lake Louise Ski Resort is consistently highly rated and attracts skiers from all over the world because of its impressive amount of skiable terrain.
British Columbia has some outstanding ski areas as well, most notably the Fernie Alpine Resort. There are five bowls and 142 named runs on the resort's 2,500+ acres. Fernie also gets one of the highest annual snowfalls of any resort in the Rockies.
With so many incredible ski areas, a winter trip to the Canadian Rockies is a must-do bucket list experience in Canada!
If you're taking part in winter activities, be sure to pack the right Canadian winter clothes!
Hike on a Glacier
Recommended by Maggie McKneely of Pink Caddy Travelogue
It's not every day that you have the opportunity to hike right to the toe of a glacier! These massive rivers of ice are a natural phenomenon, and no Canada bucket list is complete without seeing one up close and personal.
One of the best ways of doing that is by taking the Plain of Six Glaciers trail in Banff National Park. The 8-mile round-trip hike starts from Lake Louise's lakeshore, where it meanders for a couple of miles through the pine forests next to the lake. Then it veers off and begins the trek uphill, eventually reaching the "plain of six glaciers," a moon-like landscape that was carved by, you guessed it, six different glaciers.
What makes this hike particularly epic is that it has not one, but two rewards at the end. First, the trail takes you to the very foot of Victoria Glacier. Victoria Glacier feeds Lake Louise, and once you're this close to it, you can actually hear it "roar" every now and then! The second reward is the tea house, which serves tea, coffee, and delicious soups, sandwiches, and chocolate cakes throughout the summer. (Note: it's cash only, so make sure to bring some with you!)
You can book a guided tour of the Plain of Six Glacier here. For more hiking inspiration, check out this guide to the best hikes in Banff National Park!
Cruise to Spirit Island
Recommended by Dhara from It's Not About the Miles
One of the most popular things to do in Jasper National Park in Alberta is the Maligne Lake Cruise to Spirit Island. You've almost definitely seen photos of the postage stamp sized Spirit Island: it is one of the most photographed places in Canada. And the only way to get to the little island is via the water. You can either do the scenic cruise or kayak several hours to the island if you are feeling energetic.
The Maligne Lake Cruise is worth doing not just to see Spirit Island, but also to enjoy the fabulous scenery surrounding the lake from the water. As you cruise, you will see mountains on either side, their tops covered with snow even in summer, and a number of glaciers. The boathouse at Maligne Lake is very picturesque, and the color of the water, a surreal blue-green, will take your breath away.
But Spirit Island is definitely the star attraction of the cruise. You cannot step onto the island, but you can take lots of photos from the shore. And if you are a serious photographer, you can join a photography cruise that arrives at the island when the light is perfect and lets you stay longer.
Book a Maligne Lake Cruise here. For more ideas on beautiful places to visit in Alberta, check out this post.
Dog Sledding
Recommended by Cindy Baker of Travel Bliss Now
One of the ultimate outdoor adventures in Canada is dog sledding through the glistening snow of the Rocky Mountains.
Invented by native people in the north, this is a classic Canadian experience. There are reputable tour operators in the Canmore, Banff and Lake Louise areas. But you should always do your homework before selecting one. Professional operators should provide photos and detailed descriptions on the care and feeding of their dogs on their web sites.
Tours range from two to eight hours and, in some cases, you can even have the thrill of driving the sled. All tours begin with instruction on proper dog sled etiquette. It's a common misconception that you say "mush" to get the dogs to run. Instead, you should say "hike", as in a football game. And then, you're off into the pristine wilderness, with only the sounds of the sled runners gliding through the snow and happy dogs barking. It's an experience you won't soon forget.
Saskatchewan Bucket List
Grasslands National Park in Saskatchewan
Recommended by Lotte of Phenomenal Globe
One of the most underrated parks in Canada is the Grasslands National Park, one of the two national parks found in the province Saskatchewan.
The most accessible part of the park is the West Block, which can be accessed via one of Canada's most charming little towns called Val Marie. Be sure to stock up on groceries in Val Marie and pick up a map of the park at the Visitor Center.
This expansive park has plenty to offer, you can do one of the beautiful hikes (such as the 70 Mile Butte trail), join one of the interesting tours or drive the Badlands Parkway (please note this road is located in the East Block instead of the West Block).
From personal experience I can highly recommend joining one of the Bison Facilty Tours (held from July to September) where you'll learn about these fascinating animals from one of the passionate people working for Parks Canada.
Another highlight of the Grasslands National Park are the splendid stargazing opportunities. Because the Park is so remote, there is very little light pollution and on a clear night you can easily see the Milky Way and countless stars…
Altogether the Grasslands National Park offers many outdoor adventures and I highly recommend putting this place on your Canada bucket list!
Manitoba Bucket List
Search for Polar Bears in Churchill
If you want to see polar bears in Canada then Churchill Manitoba is the place to go. Every year during the migration season, hundreds of polar bears pass through Churchill. It's one of the best places in the world to see polar bears in their natural habitat.
There are a few ways you can see the polar bears. You can either join a day tour in purpose-built buggies, or stay in transportable tundra lodges. During a polar expedition, you may also see other wildlife including arctic foxes and Caribou. As a bonus, Churchill is one of the best places to see the northern lights in Canada! This is one of the ultimate bucket list wildlife experiences to have in Canada, it's very high on my list.
Book a polar bear tour from Churchill here.
Ontario Bucket List
Explore Tobermory Grotto
Recommended by Liliane Fawzy of My Toronto, My World
Bruce Peninsula National Park is a fantastic and beautiful park for those visiting Canada. The Georgian Bay shoreline is some of the most beautiful nature that Ontario has to offer and it is particularly known for the crystal blue waters in the area.
One of the absolute best things about the park, and something that should be on all bucket lists, is exploring the Tobermory Grotto. The Grotto is a natural cave carved into the bedrock that is filled with crystal blue water that begs to be explored.
To reach the Grotto, it's a 20-30 minute walk from the parking lot (which you have to reserve in advance!) before you reach the cliff edge. You will have to climb down from the top to the grotto. The hike down looks incredibly daunting but once you figure out how to do it you'll have no problem making your way down. If you just can't handle the climb down then swimming around to the cave entrance from the nearby beach is also an option!
Tobermory Grotto makes a great road trip from Toronto!
Marvel at the Wonder of Niagara Falls
Recommended by Stephanie Craig of History Fangirl
One of the most popular honeymoon destinations in the world, Niagara Falls is a fabulous outdoor wonder that straddles the border between Ontario and New York state.
Seeing the falls in person is awe-inspiring. The water is actually split across three different waterfalls: American Falls, Canadian Falls, and Bridal Veil Falls. Canadian Falls is also referred to as Horseshoe Falls based on its shape.
While here, you can take a ride on the Hornblower, the Canadian ship that sails up to the falls. Thrillseekers can also do the zipline over the falls, which packs an extra punch of adrenaline.
If you want to see the falls at night, you're in for a real treat! They are lit up with a spectacular light show and are colored in bright neon colors. There are also fireworks on weekends and holidays during the summer.
Niagara Falls is a great, kitschy place to explore. Beyond experiencing the falls themselves, you can enjoy the festive town atmosphere, shop for Niagara Falls souvenirs, and enjoy the locally produced wine.
Book a zip-lining tour over Niagara Falls here. If you're planning to visit Niagara Fall from Toronto, check out this guide on how to plan an adventurous road trip to Niagara Falls!
Explore the World's Largest Freshwater Island at Manitoulin
Recommended by Lindsay Davis of I've Been Bit
Did you know that the world's largest freshwater island is located in Canada? It's true! If that alone doesn't put it on your bucket list, then read on.
So what all is there to do? Enjoy incredible views from epic lookouts like those that await you at the top of the Cup and Saucer Trail. Learn about the history, traditions, language, and culture of what is now Canada's first inhabitants at the Ojibwe Cultural Foundation. Admire the incredible artwork of some Northern Ontario artists at the Perivale Gallery, one of Ontario's top art galleries.
Chase some waterfalls like the majestic beauty of Bridal Veil Falls. Indulge in some delicious eats at the School House Restaurant which was indeed an old school house. I'm barely scratching the surface here, that's how much there is to see and do on Manitoulin Island! Let's just say there's a reason the Indigenous refer to it as Mnidoo Mnis which translates to spirit island. Come and discover the magic that awaits you.
Hike the Bruce Trail
Recommended by Stephanie from The World As I See It
If you're looking for one of the most amazing things to do in Ontario, then grab your hiking shoes to hike the Bruce Trail. At 900 kilometers long, the Bruce Trail is one of Canada's top hiking trails as well as its oldest marked hiking trail.
The Bruce Trail spans Ontario's incredible Niagara Escarpment, from Niagara to Tobermory, and also includes over 400 kilometers of side trails. Along it, you'll find a wealth of natural wonders with everything from waterfalls to gorges and sea caves to epic clifftop views of Georgian Bay's crystal blue waters.
Whether you're a local or a visitor, hiking the Bruce Trail is on many outdoor enthusiast's hiking bucket list. But when planning your Bruce Trail thru-hike be prepared to take around thirty days. And know that there is everything from bears to bugs and even poisonous snakes along the trail.
Don't be dismayed if you can't hike the entire thing in one go as there are a bunch of amazing Bruce Trail day hikes that will help you gradually hike its full length. So, don't forget to put hiking the Bruce Trail on your Canada outdoor bucket list!
Quebec Bucket List
Ice Canyoning in Mont-Saint Anne
Recommended Ashley of My Wanderlusty Life
One of the coolest things to do in Canada (pun intended) is ice canyoning in Quebec. While regular ol' canyoning is essentially just rappelling down rock formations and waterfalls, ice canyoning is doing so in the winter.
Your day ice canyoning in Quebec will include a trek through the winter wonderland of Mont-Saint-Anne, rappelling down various smaller waterfalls and formations, and culminate in a rappel down the 42-meter (138-foot) frozen Jean Larose Falls. You'll glide down the mountain with ease getting great experience with the adventure of rappelling and get to see unique ice formations up close.
You'll hike through beautiful, silent, snow-covered forests and get sweeping views of the landscape. You'll learn about ice formations, local wildlife, and forest ecosystems. And your group will be led by two extremely experienced guides who really make the act of climbing backwards down a frozen waterfall by a string a comfortable and exciting endeavor.
The best part is that this experience isn't just for the experienced outdoor adventurer–even beginners and first-timers can enjoy this amazing bucket list activity.
Outdoor Adventure at Montmorency Waterfall
Recommended by Carine & Derek of We Did It Our Way
Montmorency Falls Park is one of the most unique parks in Quebec and in Canada. Located about 15 minutes away from Quebec City, this park and its 83-meter waterfalls are amazing to visit all year-round. But they're extra special in the winter!
There's a ton to do at the Montmorency waterfalls, so don't worry about getting bored! You can hike above and around the falls using the bridges and stairs that take you from top to bottom. Plus, there are platforms all around to give you unique vantage points of these majestic waterfalls.
If you want to take a different way up, you can go ice climbing in the winter. You can also snowshoe or hike all the way to the bottom of the falls as the river below freezes solid in the winter. There's also a cable car that will give you amazing views of the waterfalls all year round. If you're looking for an adrenaline rush in the summer months, you can hop on the zipline over the falls.
Whether you visit these falls in the summer or the winter, there's so much to keep you busy here. But make sure you take a moment to enjoy these stunning waterfalls. They are quite unique and powerful!
Book a zip-lining tour or cable car in Montmorency Falls.
New Brunswick Bucket List
Kayak the Bay of Fundy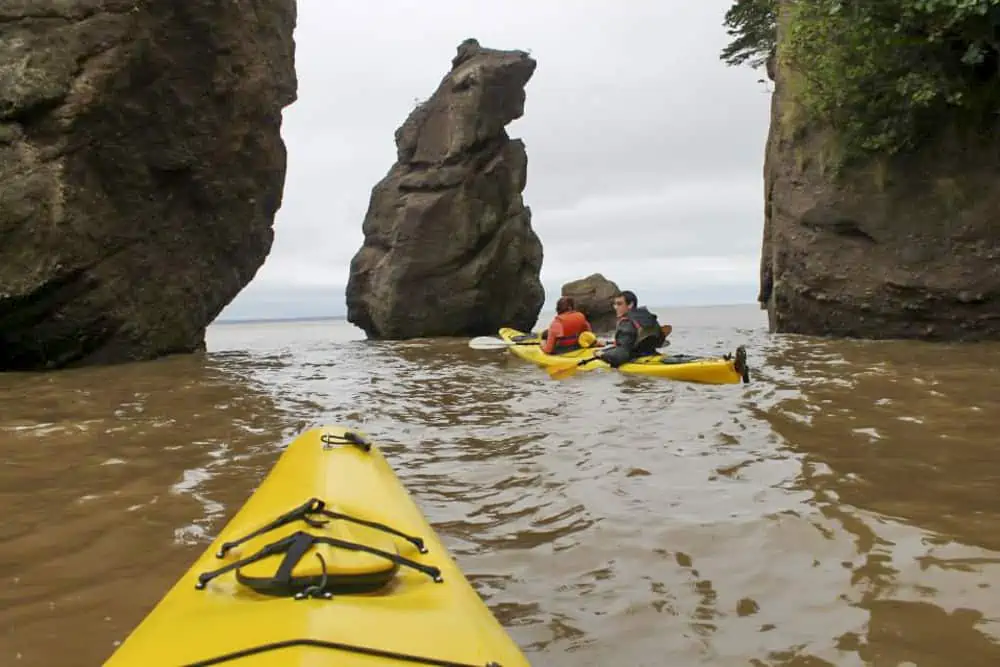 If you're visiting New Brunswick, don't miss Bay of Fundy National Park. It's one of the most beautiful parks in Atlantic Canada. What makes the park so unique is the area around Hopewell Rocks, where you can see the tides rise and fall 40 feet or so -twice daily!
While the water is high, a great way to explore it is by joining a kayaking tour on the ocean. Back on dry land when the water recedes, you can walk around on the ocean floor and see the unique rock formations up close. It's a pretty unique experience to be able to kayak and walk on the same spot in one day!
Prince Edward Island Bucket List
Bike Across the Island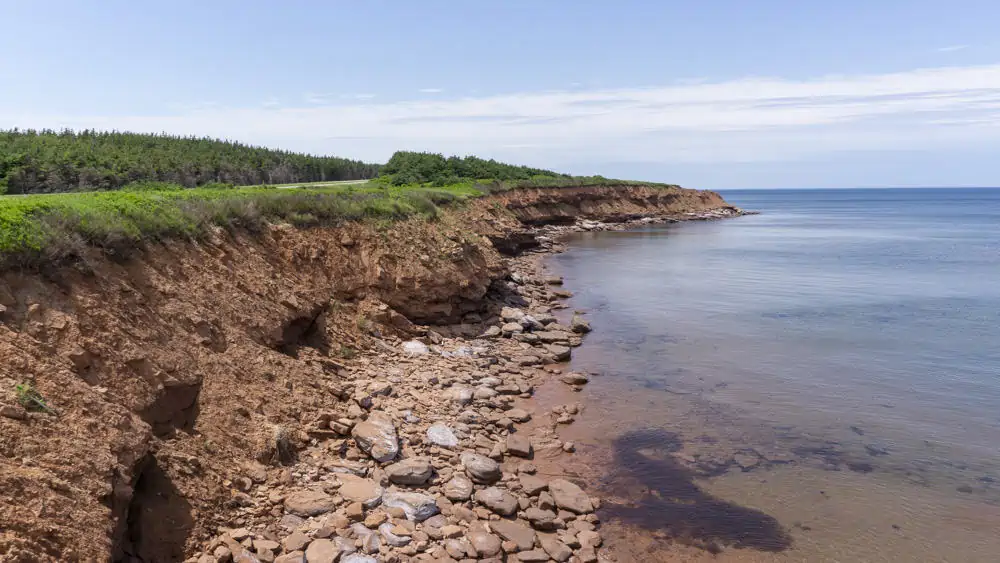 Prince Edward Island is the smallest province in Canada, and it also happens to be relatively flat. This creates the perfect opportunity to go on a cycling adventure across the entire island.
The landscapes in PEI are beautiful. You'll pass by red cliffs towering over the Atlantic blue ocean, bright green pastures, and gorgeous white lighthouses. Even a bike ride through part of the province is a great way to soak up the beauty of it, and of course, Anne of green gables.
More to that, on a visit to Prince Edward Island, you'll be treated to wonderful East coast hospitality. There are charming accommodations across the island where you'll be welcomed with open arms after a day of biking.
Nova Scotia Bucket List
Tidal Bore Rafting
You can also visit the Bay of Fundy from Nova Scotia, where there is the opportunity to go on one of the most unique rafting experiences in the world. Twice a day, when the tide changes, the tidal bore temporarily reverses the flow of the river, creating incredible high-speed rapids. You'll get soaked and dirty – but it will be so much fun.
Drive the Cabot Trail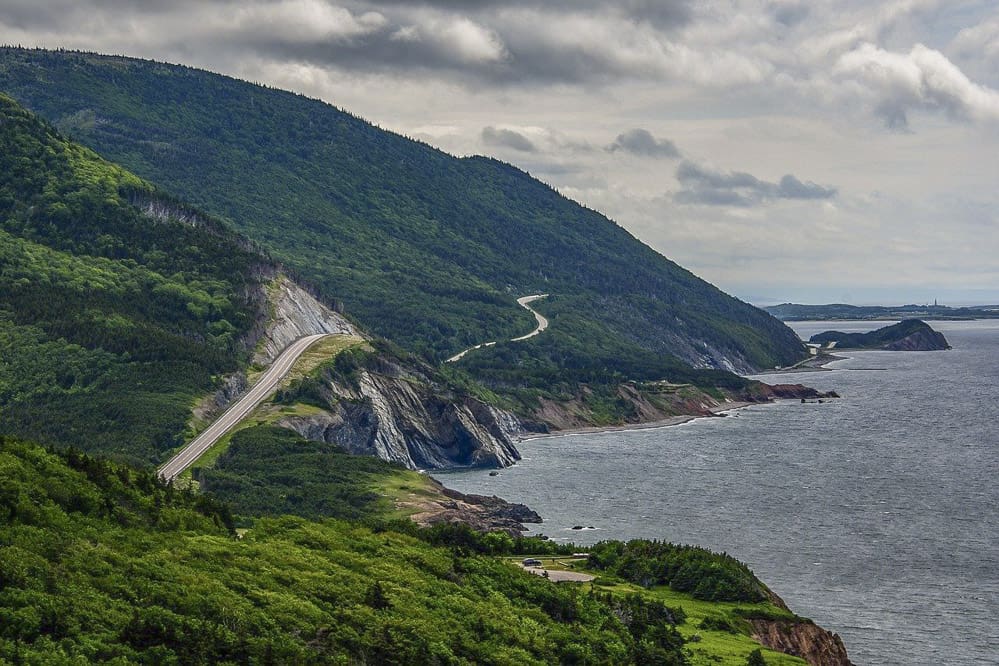 Driving the Cabot Trail in Nova Scotia is one of the best parts of an East Coast Canada Road Trip! It's a scenic drive that has become world-famous for its breathtaking views.
Although the trail is just under 300km in length, you'll want to take between 3-5 days to complete it. Part of the reason is you'll be stopping for photos every five minutes with so much beauty. On top of that, there are endless opportunities for outdoor adventure, including hiking, kayaking, whale watching, ziplining, boating, and horseback riding. One of the best hikes on the Cabot Trail is the Skyline trail – try it at sunset for an unforgettable sunset.
Newfoundland Bucket List
Search for Icebergs
Recommended by Christina of Travel2Next
Newfoundland is a remote province on the east coast of Canada that is perfect for outdoor adventures, such as kayaking and hiking. The coast of Newfoundland is also a place where you can experience the unique phenomenon known as the iceberg parade.
Each year, more than 40,000 icebergs of various sizes float from Greenland towards the south past Newfoundland along a corridor known as Newfoundland's Iceberg Alley. The icebergs are amazing to see, and some are as tall as a multi-story skyscraper.
The best time to view these along the Newfoundland coastline is from late May to early June, with the final icebergs usually melting near St. Anthony in early August. Going on a boat tour is an outdoor adventure on the water that will give you a close look at the icebergs.
Twillingate is Canada's iceberg capital and one of the most popular places to see icebergs. Other good places are Cartwright, Battle Harbour, Point Amour (all in Labrador), St. Anthony, and St John's.
Book an iceberg kayak tour here
Go Whale Watching
Later in the summer, Newfoundland becomes one of the world's best places to go whale watching. It's home to the world's largest population of Humpback whales that make their way to the coast of Newfoundland each year to feed. This is just one of the many reasons you'll fall in love with Newfoundland.
It is common to see whales in the ocean while hiking along the coastline in the summer. There are also whale watching tours you can take to see these amazing marine animals up close.On a whale-watching tour, you may also see puffins and bald eagles! Some of the best places to see whales are in Witless Bay Ecological Reserve, Trinity/Bonavista, and Gros Morne National Park, which is also a UNESCO world heritage site.
Book a whale watching and puffin tour in Newfoundland.
Hike The East Coast Trail
The East Coast Trail is a 336 km trail that goes along the East Coast of Newfoundland. It connects several communities, including the capital city of St. John's. While it is possible to hike the trail in its entirety at once, this is quite an undertaking. You can also just hike sections of the trail as day hikes, which is what I am doing this summer.
Some of the most beautiful hikes I've done on the East coast trail so far are Stiles Cove Path from Portugal Cove to Flatrock, which is 15 km and features several waterfalls.
Another great hike to do is Mickeleens path from Bay Bulls to Witless Bay. It's 7km and doesn't have much elevation change, so it's perfect if you're looking for a light hike. It has stunning views of red cliffs alongside the Atlantic ocean as well as Cape Spear lighthouse.
Most of the trails on the ECT are linear, so I recommend parking a car at each end to avoid having to hike in and out.
Northwest Territories
Chase the Northern Lights
I had never seen the northern lights until this year when I went to Yellowknife in the Northwest Territories. Chasing the aurora borealis in Yellowknife is something I'll always remember! Because it's so close to the arctic circle and has relatively stable weather conditions which give way to clear skies, Yellowknife is one of the best places in the world to see the northern lights.
You can see the northern lights year-round except for the summer months because it never gets dark enough. If you are going to visit during the winter, be prepared for freezing weather. It was -45 while we were out some nights, but it was still worth it to see this incredible show of nature. The best time to see the northern lights is from 10 pm to 2 am. you can either DIY by renting a car and driving outside of the city light pollution. or join a northern lights hunting tour.
Go Kick Dog Sledding
Kick dog sledding was such a fun thing to do in Yellowknife. It's similar to traditional dog sledding, but instead of sitting in the back of a sled, you are standing on two ski-like structures. You kick along with the dogs, so you are working together to pull the sled. Personally I enjoyed this more then the dog sledding tour I did in Canmore because it's more interactive. You'll want to be moving to stay warm in Yellowknife during the winter!
I did the tour with Sun Dog Adventures, and they were great. The dogs looked well taken care of and happy, and the guides were all lovely. The tour also included a stop to explore the ice caves of Yellowknife, as well as hot chocolate to warm up after. Dog sledding is a unique thing to do that should definitely be on your Canada bucket list.
Across Canada
Take the Train Across Canada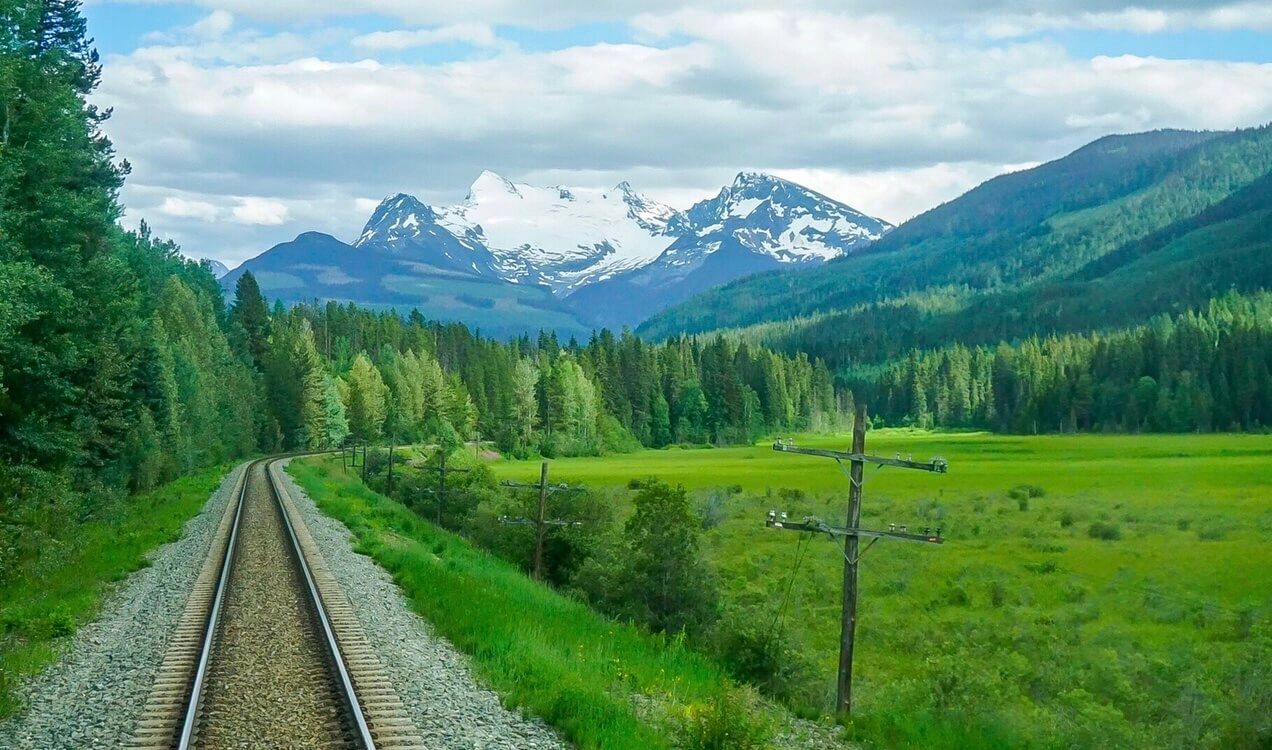 If you've got the time, taking the train across Canada is one of the best ways to see the country. You'll get to see the incredibly diverse landscapes change in front of your eyes. The train journey is broken down into two parts. The Ocean, which starts in Halifax Nova Scotia, takes you along the Atlantic Coast all the way to Montreal.
The other train, The Canadian, goes from Toronto to Vancouver through Northern Ontario, the Prairies, and the Rocky Mountains. This was my favorite train of the two. After Edmonton, they attach an all-glass dome cart, which is spectacular while going through the Rocky Mountains. The food on the train is fantastic; they cater to the region you are in. Taking the train across Canada is one of my all-time favorite bucket list adventures I've had in Canada!
Final Thoughts
As a lover of the great outdoors, I couldn't be happier to have Canada as my backyard. It's got some incredible outdoor adventures from coast to coast that seem to never end. Compiling this list has only given me more ideas for items to but on my Canada bucket list. What about you? Which one of these adventures do you want to do? Let me know in the comments below!
Love it? Pin it for later!