This post may contain affiliate links. By clicking and making a purchase through the links, I earn a small commission at no extra cost to you. See my disclaimer for more information. This and display ads allow me to keep the site up to date and give back.
Costa Rica is a wildlife lover's paradise. It's one of the most bio-diverse places in the world! The country has over half a million different species, and it's estimated that around 5% of the world's land-bound species live in Costa Rica.
For a relatively small country, that's pretty impressive! What's even better is that 25% of the country's land is protected. To inspire your trip, I made this Costa Rica wildlife guide on where to see Costa Rica mammals, birds, and reptiles.
With ample national parks as well as sanctuaries, wildlife is sure to be a highlight of your Costa Rica itinerary. The amount of wildlife you can see in Costa Rica is one of the main reasons I fell in love with the country! The Costa Rica tourism board even made this hilarious ad which totally made me want to go to Costa Rica when I was grinding at my 9-5.
Can't read this right now? Pin it for later!
Costa Rica Mammals
Let's start with the cutest, here are some adorable Costa Rica Mammals you can see in the country.
Sloths
Sloths are probably the mammal that Costa Rica is most well known for. The country is are home to both the two-toed and three-toed sloth. They aren't the easiest to spot, as they blend in well with their surroundings and barely move. That said, I still saw many sloths while in Costa Rica. The good news is they won't run away when they see you!
One of the best places to spot sloths (and wildlife in general) is Manuel Antonio National Park in Manuel Antonio. This is where I saw my first sloth in Costa Rica, and it even had a little baby with it – awww! I've also spotted sloths in the trees above Rio Celeste waterfall.
While driving in La Fortuna, we came to a traffic jam which was just a local who had spotted a sloth and several birds so he broke out his telescope to show everyone. Moments like this make me love Costa Rica!
For a guaranteed sighting of a sloth, you can visit one of the various sloth sanctuaries in the country, such as the Sloth Sanctuary in the province of Limon. I also saw adorable baby sloths while visiting the Jaguar Rescue Center in Puerto Viejo.
Monkeys
There are four species of monkeys in Costa Rica: Squirrel, Capuchin, Spider and Howler monkeys. During a trip to Costa Rica, you are very likely to see at least one of these types of monkeys, if not more.
Capuchin monkeys love to hang out at the beach at the end of Manuel Antonio National Park, so this is one of the best places to see them.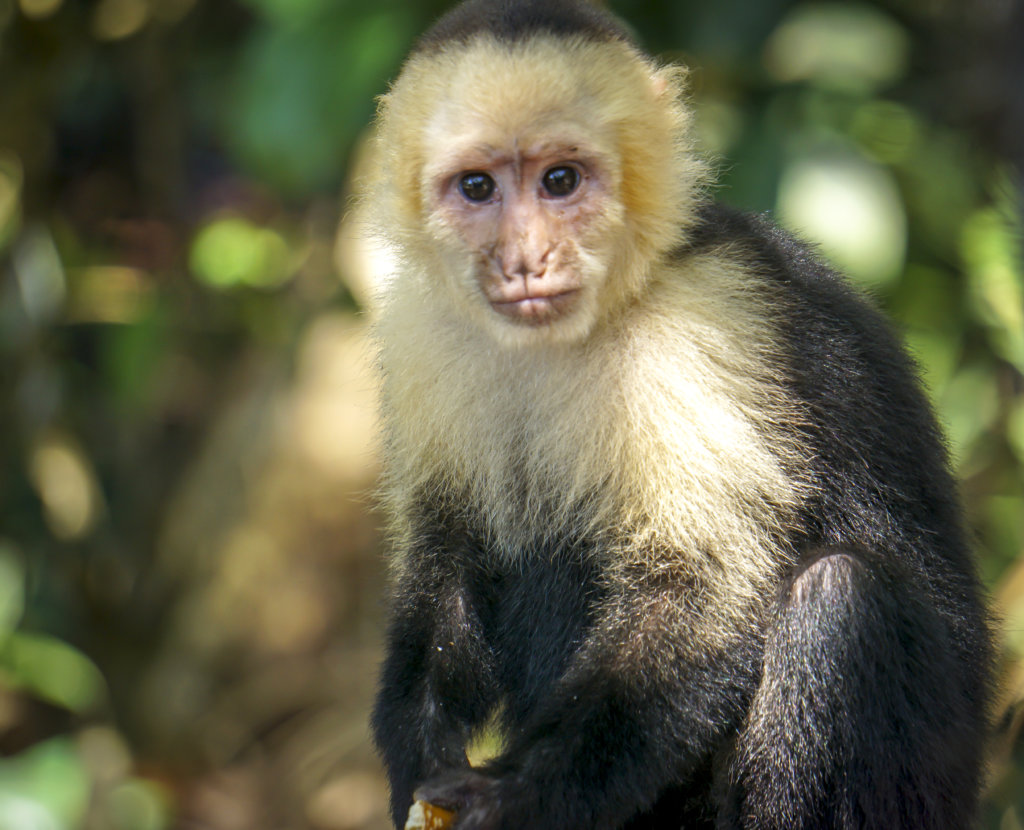 Howler monkeys can be found across the country and will likely serve as your alarm clock if you're sleeping near the jungle. Their noise can carry up to 5km! They are also the largest monkey species in Costa Rica. I've spotted these guys walking through the streets in Tamarindo, as well as in Corcovado National Park.
I've also spotted squirrel monkeys in Corcovado National Park, which is home to all four species of monkeys in Costa Rica. The only monkey I've yet to see in Costa Rica is spider monkeys.
Coati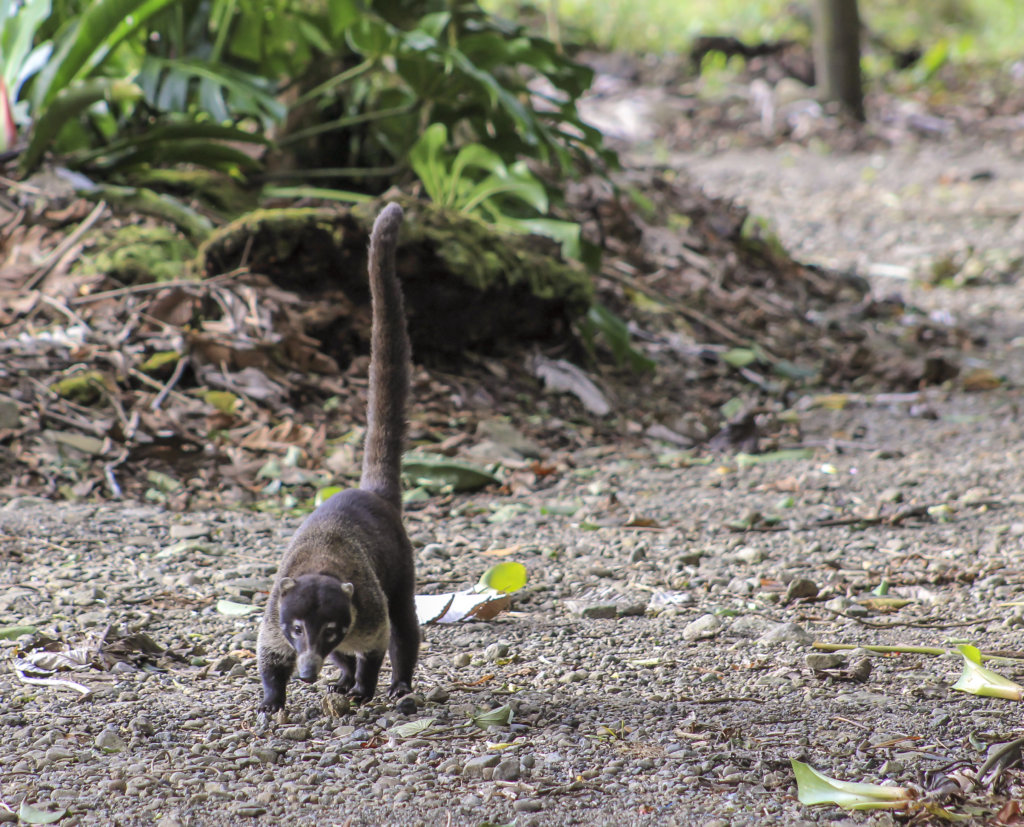 I didn't know what a coati was before I came to Costa Rica. Known locally as a pizote, they are Costa Rica's equivalent to a racoon. They are pretty easy to find and can be found throughout the year. I've actually been roadblocked from a large group of coatis while I was driving from La Fortuna to Monteverde. Costa Rica also has their own species of racoons!
Anteater
Costa Rica has has three species of anteater – lesser, giant and silky. I've only seen one in a wildlife sanctuary, but boy was it cute. Look how chill this guy is! He's definitely living the Pura Vida lifestyle.
Deer
This surprised me, but Costa Rica is home to deer! I've only see them once, while in Manuel Antonio National Park.
Big Cats: Jaguars and Ocelots
One of the most remarkable Costa Rica mammals you can see is the Jaguar, however you would have to be extremely lucky to spot one of these in the wild. They are the world's third largest feline, and currently endangered.
Jaguars live a solitary existence in dense rainforests, which makes sightings of them extremely rare. Your best odds are on the Osa Peninsula in Corcovado National Park, and Amistad national park.
Ocelots are another cat you can see in Costa Rica. They are mid-sized felines, about the size of a dog. In Costa Rica they can be found in the rainforests of Corcovado, Monteverde, and Santa Rosa. Like most cats, you'd be lucky to see one in the wild.
Tapir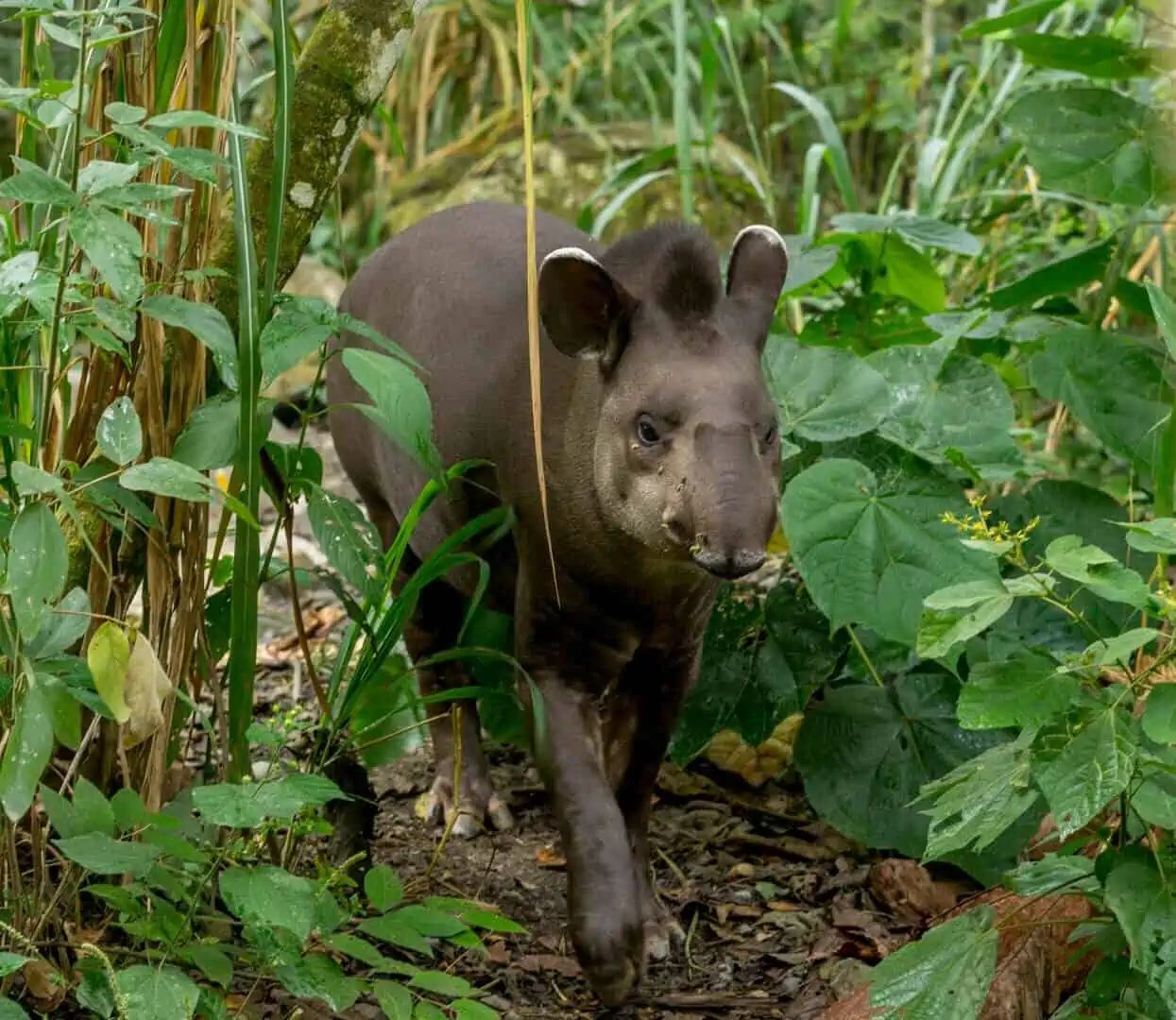 The tapir is the largest land mammal found in Central America region. There are under 1,000 living in Costa Rica, so they are pretty rare to see. Your best chances at spotting them are in Corcovado National Park. I wasn't lucky enough to find one while i was there, but I did work closely with one while at La Senda Verde wildlife sanctuary in Bolivia.
Some other small mammals you can see in Costa Rica are Paca, Agouti (rodents), Opossums, racoons, Peccary, armadillos, Jaguarundi (small cat), and bats.
Marine Animals in Costa Rica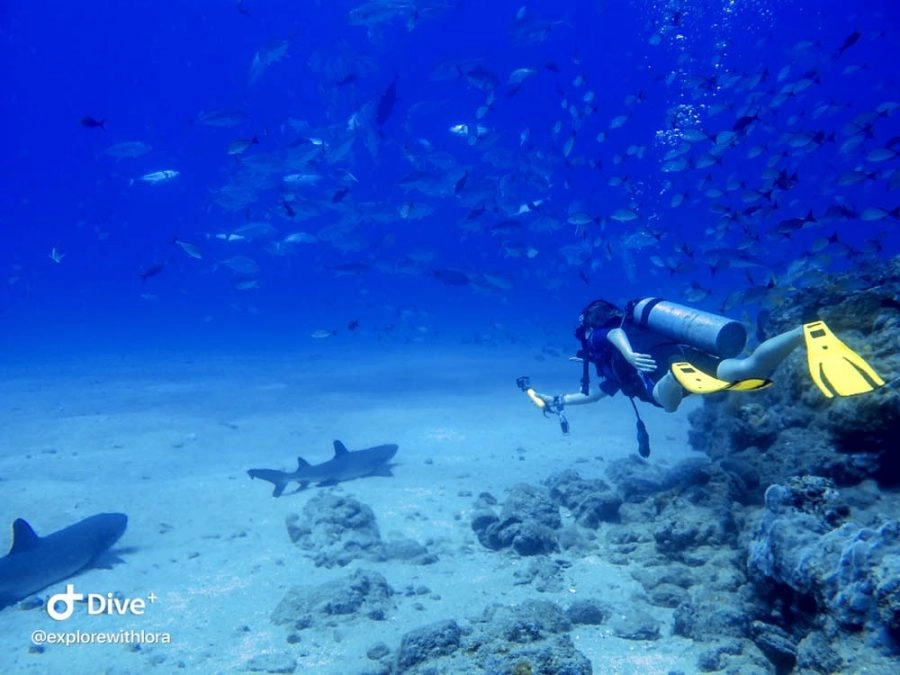 The animals in Costa Rica's ocean are just as good as what's on land. I finally had a chance to go diving at Cano Island and it did not disappoint. During the dive, we saw white tip reef sharks, sting rays, moral eels, sea turtles, sea horses, manta rays, and more.
Whales & Dolphins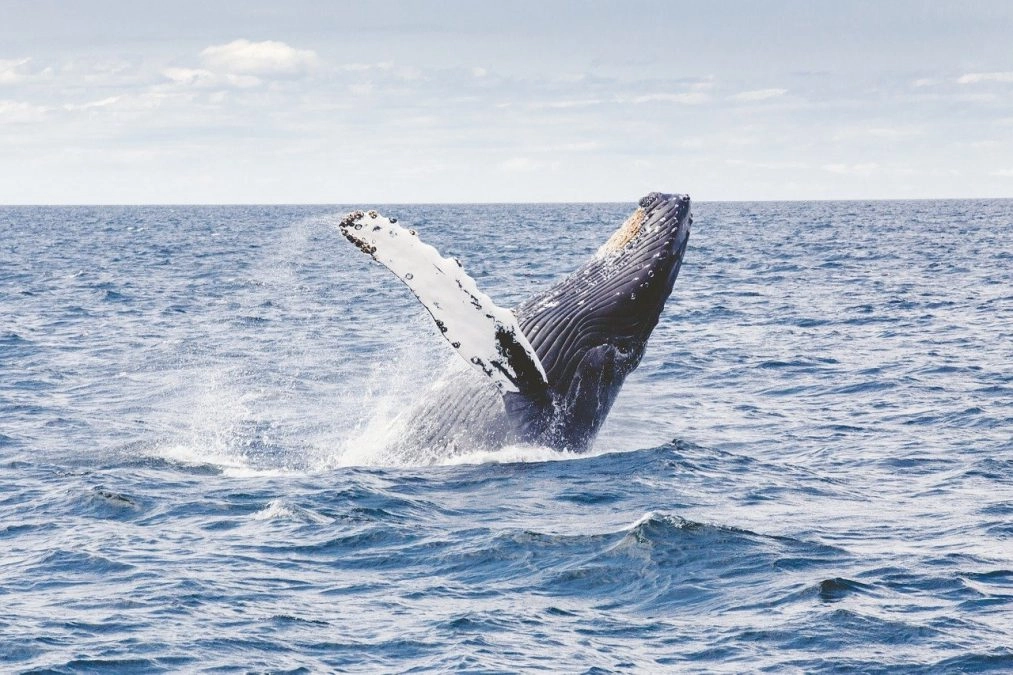 Whales and dolphins can be found on the Pacific Coast of Costa Rica. Humpback whales are the most common, but orcas and blue whales are also around. Humpback whale season is from July-March and dolphins can be seen all year. I'm bias and think Newfoundand is the best place for whale watching in the world!
The best places for whale watching in Costa Rica is Marino Ballena National Park in Uvita, Corcovado National Park, and Drake Bay. I've seen dolphins while on Catamaran tours from Manuel Antonio.
Birds in Costa Rica
I've never really considered myself to be much of a birder but the colours of the birds in Costa Rica are so extravagant it's hard not to be drawn to them. If you are looking for birds, I strongly recommend going with a guide.
Toucans
Toucans are almost symbolic with Costa Rica. They are relatively easy to spot in a range of different places around the country. Head to one of the lowland rainforests such as Carara national park or Arenal Volcano National Park in La Fortuna.
Hummingbirds
Hummingbirds of varying colors are found all around Costa Rica, and make for a beautiful photo. Just use a high shutter speed, because they move so quickly! I've seen hummingbirds in Monteverde and La Fortuna.
Resplendent Quetzal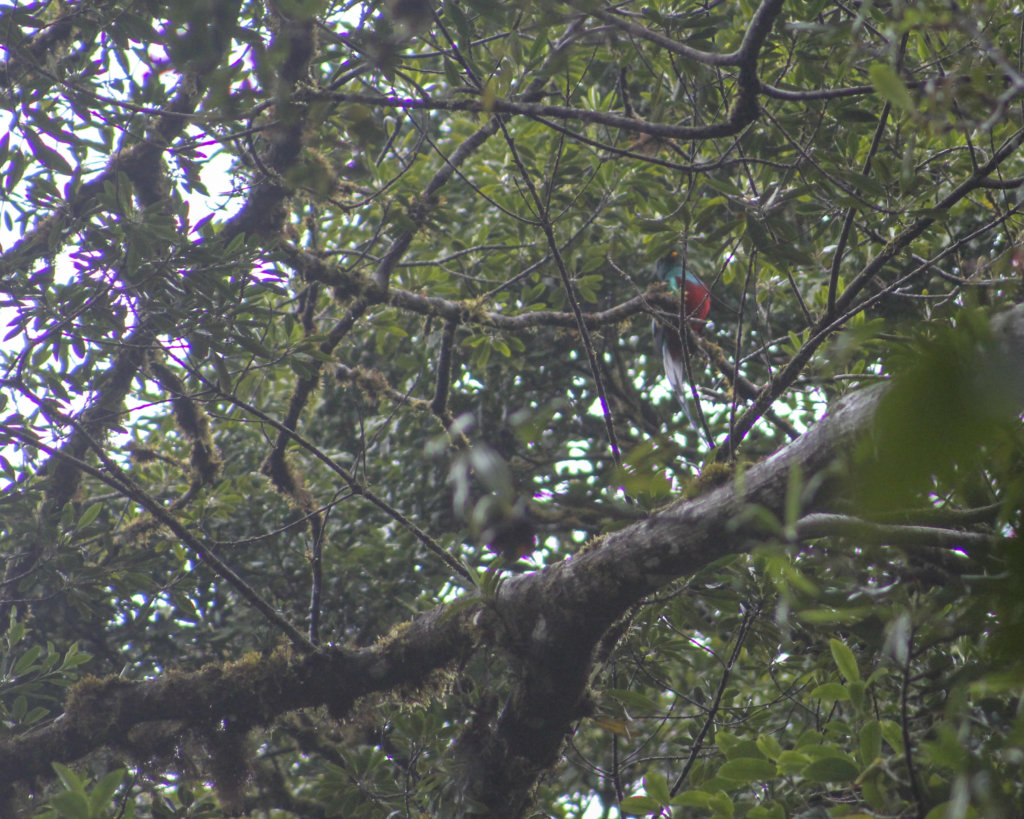 Considered to be one of the most beautiful birds in the western hemisphere, the resplendent quetzal is one of top birds to see in the country. It's known for its bright green body and vibrant red on it's chest.
The Quetzal lives in many of the Costa Rica's national parks but the park most known for spotting them is in the cloud forests of Monteverde, which is exactly where I saw it.
Scarlett Macaws
Scarlet Macaws are an endangered species in Costa Rica, there are only about 1,500 remaining on the Pacific coast. They are usually found in pairs. I've spotted them in Corcovado National Park!
Owls
Costa Rica has 14 species fo owls. I haven't seen any in the wild here, but I did meet this guy at the Jaguar Rescue centre on the Caribbean coast. He was actually successfully rehabilitated back into the wild but comes back every few months to visit his friends at the sanctuary. I know, my heart is melting too.
Amphibians & Reptiles
Frogs
Costa Rica has some very cool looking frogs that can be found throughout the country. The country is particularly famous for the red eyed tree frog. Your best bet at seeing one of these is joining a night walking jungle tour in Manuel Antonio!
Turtles
Costa Rica is home to four species of turtles including Leatherback, Hawksbill, Olive Ridley and green. Turtles can be seen on both the Pacific Coast and Caribbean Coast of Costa Rica.
One of the best places to see green and hawksbill turtles in in Tortuguero National Park on the Caribbean coast. I didn't have the chance to see go here, but I did see turtles not far from while kayaking in Puerto Viejo.
I've also seen green sea turtles while diving at Cano Island, which is on the Pacific Coast. It's one of the best places to go diving for marine life in Costa Rica!
Caimans and Crocodiles
American crocodiles are in Costa Rica and can be quite massive, growing upwards of 25 feet! You can find them throughout Costa Rica. I've also seen caimans hanging out at the beach in Tamarindo, as well as in Corcovado National Park.
Lizards
Another common creature, Costa Rica has a number of different lizards you can see. One of the most famous is the Jesus christ lizard, which gets its name by how they walk across water. I was lucky enough to see this in action while on a coffee tour in Manuel Antonio.
Iguanas
The Iguanas in Costa Rica are shockingly large. I was taking money out of an ATM one time and saw a huge iguana in a tree nearby, so I started taking photos of it. By the time I turned back to the machine, the ATM had eaten my card! So yeah… don't get distracted by iguanas here.
Snakes
Snakes are another common reptile you can see in Costa Rica. I saw the most snakes while on a night tour in Manuel Antonio. We saw four viper snakes in a two hour tour, which is pretty crazy.
Insects
Not really my thing, but you can see some crazy spiders in Costa Rica. They are found just about everywhere, but I saw the weirdest looking ones at Manuel Antonio National Park.
One type of insect that I was happy to see in Costa Rica is butterflies. They have some beautiful types, including the famous blue morpho butterfly, which is one of the largest in the world.
Costa Rica in general has a lot of insects, but I'm guessing that's not what you came here to learn about so I'm going to leave it at that.
Best Places to See Wildlife in Costa Rica
If you find yourself in Costa Rica, here are some suggested spots for spotting wildlife in their natural habitat. You've probably already figured this out from how much these places have been mentioned in this post!
Costa Rica Wildlife Sanctuaries
If you want to guarantee seeing wildlife in Costa Rica, then head to one of the countries many wildlife sanctuaries. Just do your research and ensure the organization is actually helping the wildlife, rather than keeping it unnecessarily to exploit for the tourism industry. You can also volunteer with wildlife, which is a great way to give back while traveling.
One of my favourite wildlife sanctuaries is the Jaguar Rescue Foundation. They provide temporary or permanent homes for ill, injured and orphaned animals that would otherwise not survive in the wild, with the goal of rehabilitating them back into their native habitat. It's one of the best things to do in Puerto Viejo!
Is getting a wildlife guide worth it?
If you are going into a park to see wildlife, I highly recommend getting a guide. During my first trip to Costa Rica I was stubborn and convinced myself I didn't need a guide, but I barely saw anything while in the parks. Once I started paying for a guide, it made a world of difference.
Not only are they amazingly talented at finding Costa Rica mammals, but they carry huge telescopes with them that will help you see the birds and mammals that are further away. Plus, they provide you with lots of interesting information about the wildlife of Costa Rica!
If you are interested in learning more about Costa Rica mammals or want a book to accompany you on your trip there, here are some suggestions:
—
Costa Rica is such an amazing place for wildlife. Every time I visit this country I find a new mammal and I fall in love with it all over again. If you're looking for a country full of wildlife for your next vacay, this is the place.
Enjoyed this post? Pin it for later!