Dominica
The tiny island of Dominica may be the Caribbean's best kept secret. Known as the "nature isle," it's home to hot springs, volcanoes, rainforests, beaches, and the second-largest boiling lake in the world. If you're an adventure traveler, you need to put Dominica on your list.
Bucket List Dominica Experiences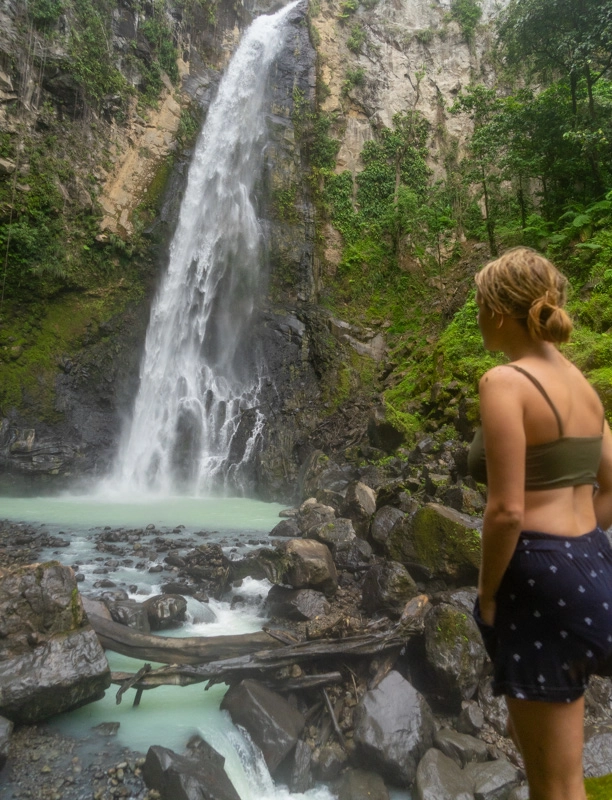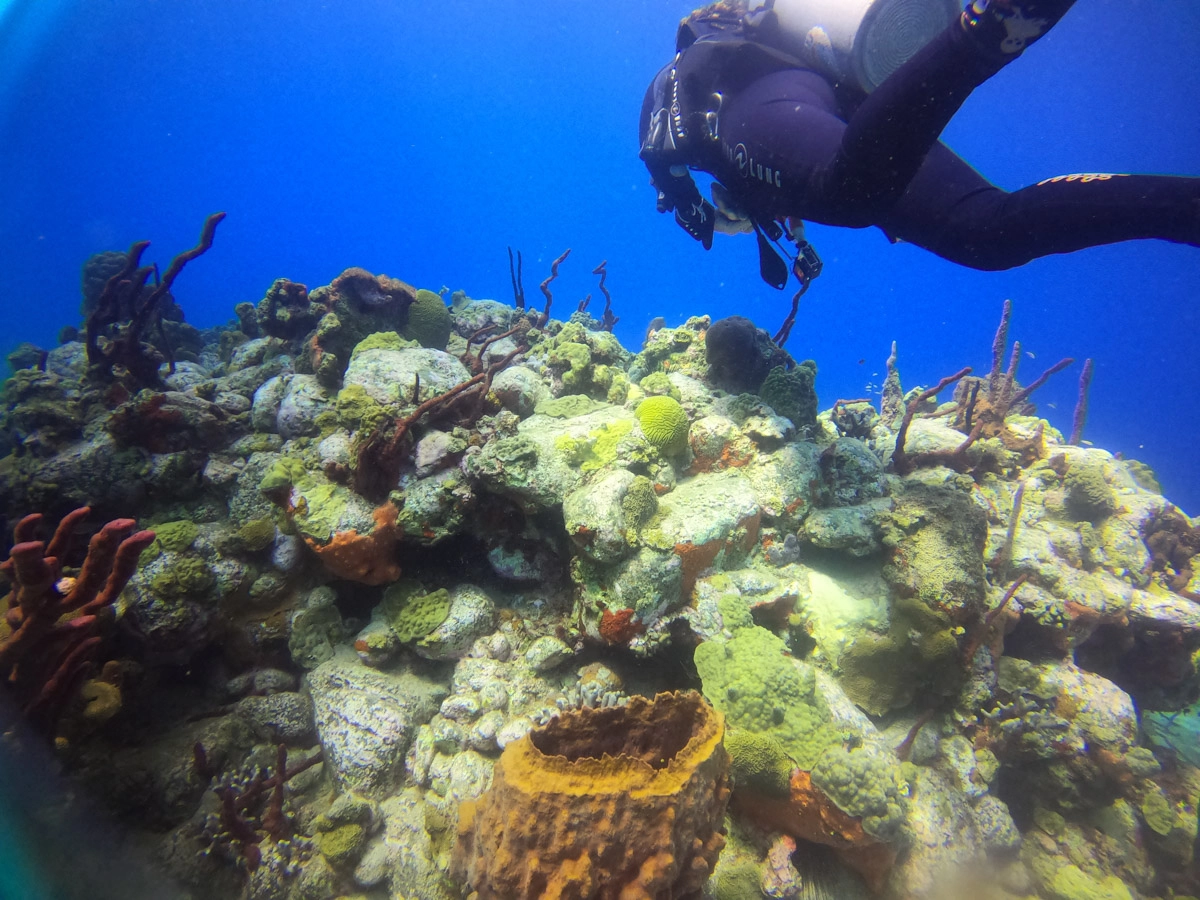 Quick Facts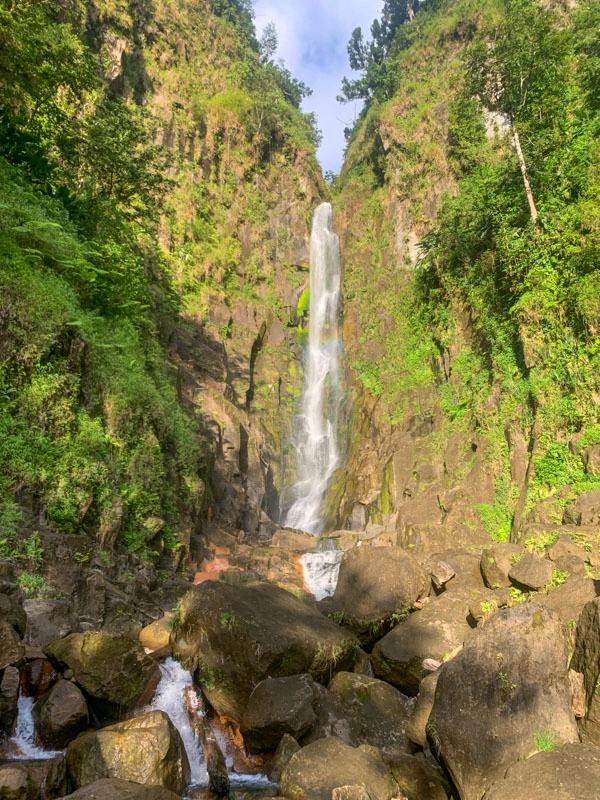 Language: English is the official language of Dominica and is widely spoken. In addition, many locals speak Dominican Creole, which is a Antillean Creole based on French.
Visa requirements: Many countries including the United States and Canada can enter Dominica without a visa and stay for up to 180 days.
Covid-19 requirements: Dominica is open for tourism and is one of the safest countries in the world to visit. Testing and quarantine requirements are based on your countries risk level. You can find more info here.
Staying Connected – Buying a SIM card in Dominica is easy and affordable. Flow and Digicel are the two main carriers which have shops in Roseau and Portsmouth. They have 4G data and it works in most of the island.
How to get to Dominica
Flying: Getting to Dominica is not as easy as other Caribbean islands because they don't have an international airport. There is only one small working airport, Douglas-Charles Airport (DOM) on the northeast coast. To get there, you will have to fly into a Caribbean island with an international airport like Barbados or Antigua and then take another flight or passenger ferry (see below).
I flew to Dominica from Barbados InterCaribbean on and then flew from Dominica to Antigua on Winair. There's also Caribbean Airlines. Don't let the extra flight deter you – the plane rides between the Caribbean islands are so scenic, and Dominica is worth the effort!
By Boat: In non-covid times, getting to Dominica by boat is a great option. Since the island is close by to a few others, you may get to Dominica by ferry service from the French islands of Guadeloupe, Martinique, as well as St. Lucia via the L'Express des Îles ferry service. The ferry service shut down during Covid-19 and has not restarted.
Dominica is also a popular cruise ship destination. Many companies run cruises that go to Dominica including Royal Caribbean, Princess, Celebrity Cruises, and Carnival. Cruise ships are currently not running there due to Covid-19.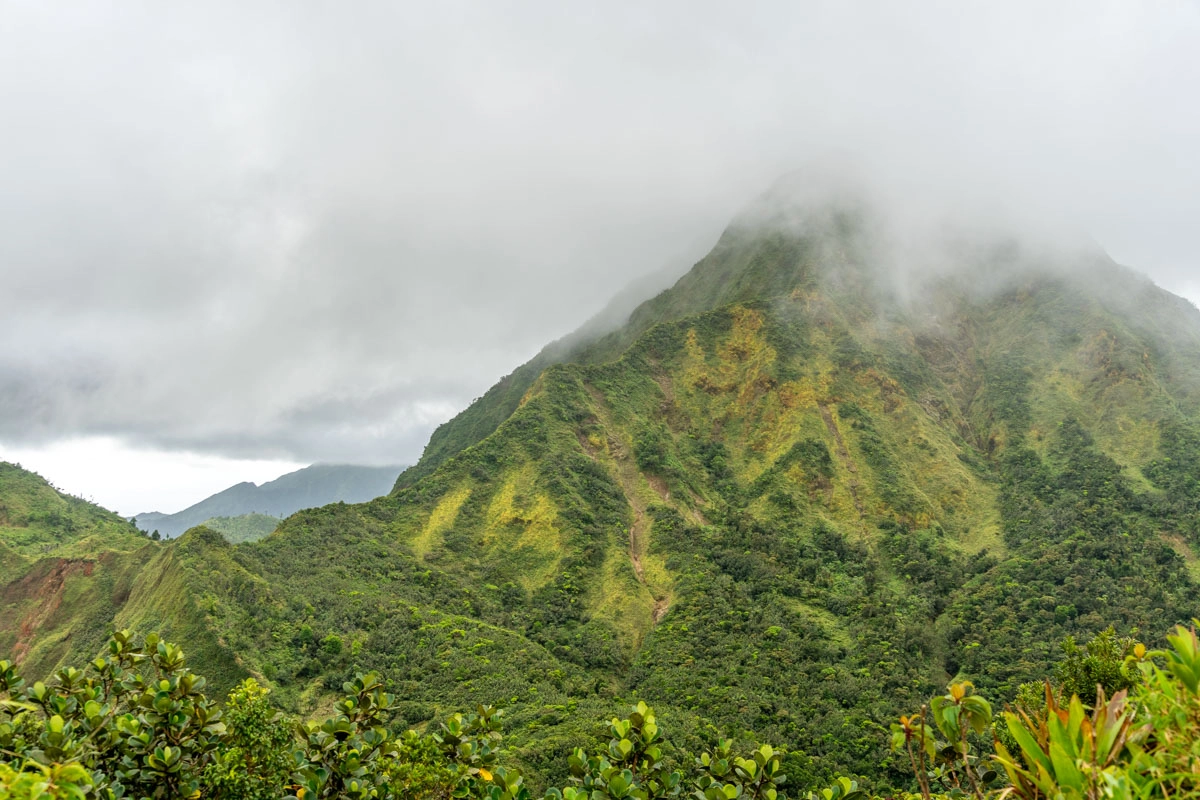 Getting Around
Without a doubt, the best way to get around Dominica is by car. There are so many different natural sights to see and having a rental car allows you the flexibility to visit them all without having to worry about bus schedules. Plus the roads are so scenic and a car means you can stop for photos whenever you want!
There are busses that go around the island but from what I understand they only come every few hours to more remote places, so I imagine this would make planning a hike very difficult.
If you do rent a car I highly recommend getting a 4×4. While the main roads in Dominica are actually well paved, the side roads that lead to many of the attractions are not. Without a 4×4, we would not have been able to visit many of the waterfalls.
We rented a brand new 4×4 Suzuki from Island Car Rental for 1400 USD for the month. While expensive, it was absolutely worth the freedom.
If you don't want to rent a car, you could also hire a taxi and or guide to take you around. During our quarantine safe in nature tours, we had someone take us out for a full-day private tour (12 hours) which included transportation and a guide to various attractions around the islands. It was $150 for two people.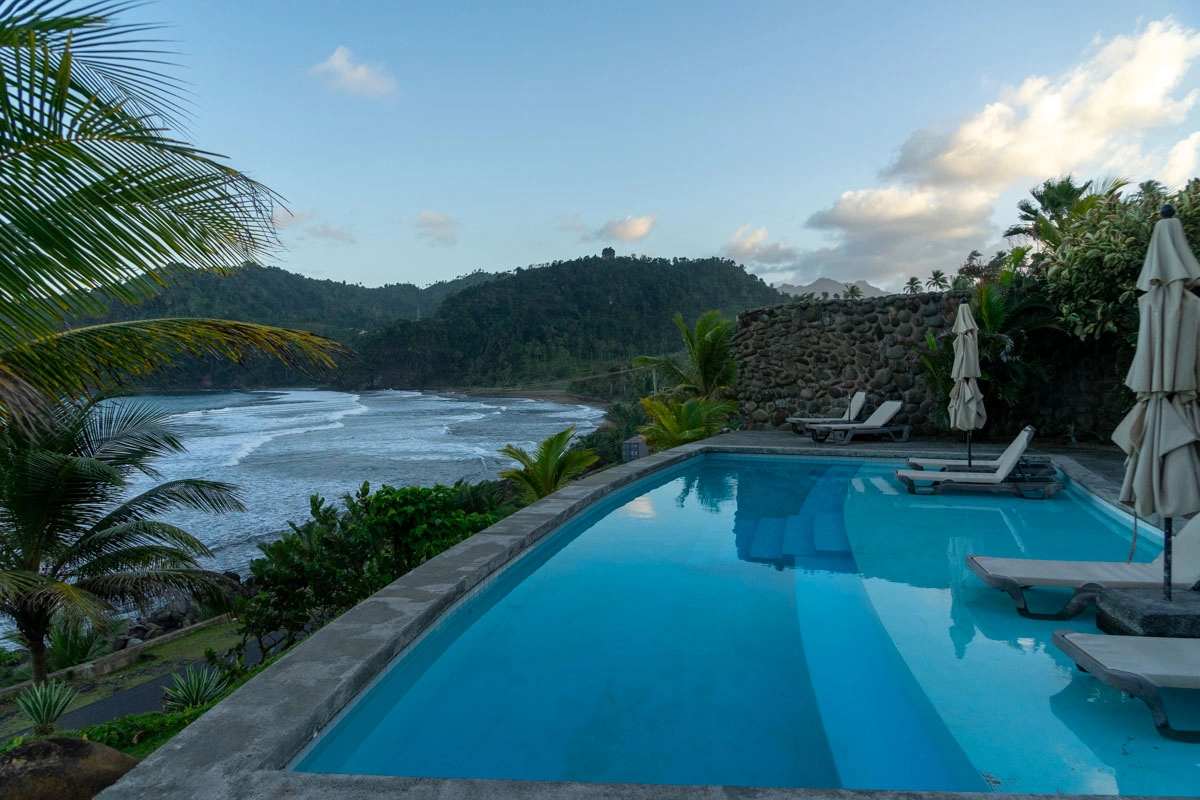 Costs: Accommodation, Food, and Tours
Like most of the Caribbean, Dominica is not a super cheap destination but the costs here are lower then many of the other nearby islands. All prices listed are in USD.
Budget: There are a few guesthouses throughout Dominica where you can find rooms for 60 a night (double occupancy). I highly recommend Soufriere Guesthouse… Airbnbs and VRBO are another great options for finding affordable accommodations. I stayed in a nice studio apartment just outside of Roseau for 45/night.
Mid-range: A standard hotel room or basic apartment in Dominica will cost you anywhere from 75-150.
Luxury: Dominica is actually home to one of the Caribbean's best luxury hotels, Secret Bay, which costs upwards of 2,000/a night . But don't worry – there are a number of other beautiful resorts and luxury hotels to stay in Dominica which range from 200-400/night.
In this guide, I share the best accommodation options for every budget.
Food
Dominica is not world-renowned for their cuisine, but I enjoyed eating at the local restaurants. A typical plate consists of chicken or fish served with sides (vegetables, rice, lentils, etc.) and costs between $10-15. If you are ordering western cuisine at higher-end restaurants, expect to pay $30 per plate with a drink.
You can save a lot of money by buying your own groceries and cooking which is what I did. A weeks worth of groceries for two people will cost you around $75 in Dominica. There's a local market in Roseau where can get fresh veg and fruit for great prices, plus it's fun to walk around!
Water: You can drink the tap water in Dominica in most places – just ask the accommodation when you check in. Bring a reusable water bottle with you so you can fill up on the move. This is one of the best ways to save money in Dominica as bottled water will cost you between $1-3 per bottle. Plus it's a ton of plastic that doesn't have to be used!
The best part about visiting Dominica is that most of the attractions are natural and don't cost much to visit. You can buy a weeks pass that gets you into almost all the main sights for 12 USD or a single site pass for 5. There are a few privately owned waterfalls but they don't cost more than a few dollars to visit. Here are some examples of the cost of other tours in Dominica:
Whale-watching (private boat for two people): 85 USD
Two-tank Dive – 110 USD
Intro to free diving course – 125 USD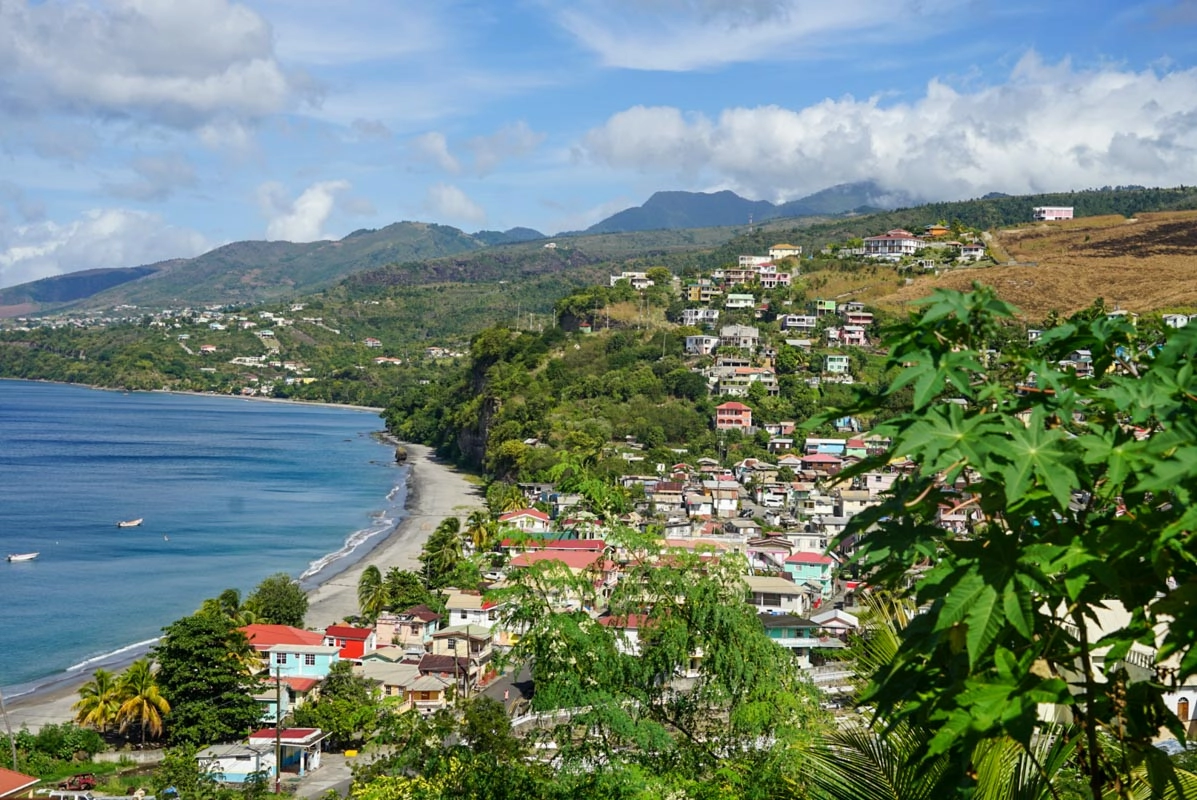 Safety & Solo Travel
Dominica is overall a very safe country to travel. Most activities here revolve being out in nature so you're at higher risk of getting lost on a hike rather then petty theft (which did happen to me, so get a guide if you aren't comfortable hiking on your own). I rarely saw other people on the trails while I was hiking and the rocks can be quite slippery so if you decide to hike alone, make sure to bring a communication device in case you need to call for help.
Like anywhere, crimes do happen occasionally so you should follow common sense safety rules and stay vigilant in crowded places – especially if you are drinking. Don't leave your belongings unattended on the beach, and get travel insurance to protect yourself. I use and love SafetyWing.
Best Time to Go
Dominica's high season starts in mid-December and goes until May during the 'dry season'. However over 70% of Dominica is covered in rainforests which mean it's never completely dry. I visited for a month in January-February and every couple of days it would rain, especially in the higher altitude areas.
June to the end of November is less popular because it's the Caribbean Hurricane Season, which can badly affect the weather in Dominica. Hurricane Maria destroyed 90% of the country just 3 years ago! Severe thunderstorms during hurricane season may cause landslides or disruptions to travel plans, so this is something to keep in mind. On the plus side, you'll get cheaper prices and see fewer crowds.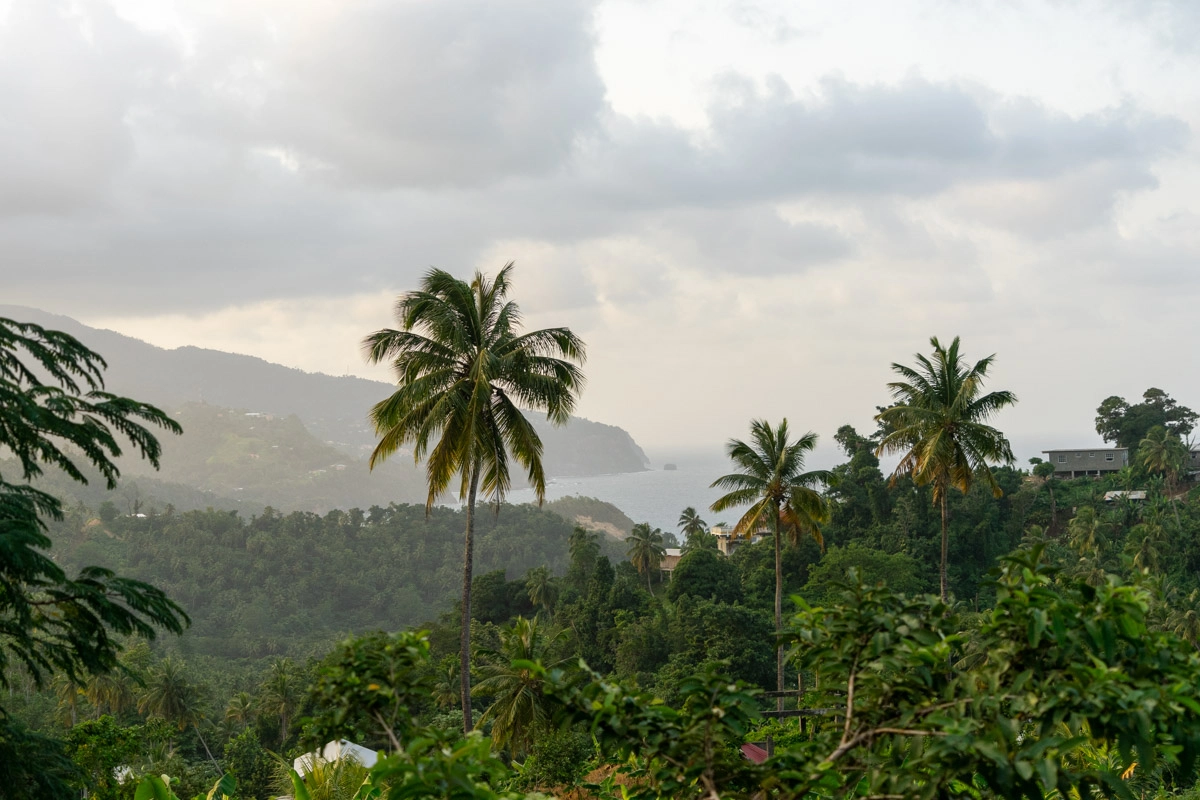 Climate and Packing Suggestions
Dominica is a tropical country with warm temperatures day and night. You'll likely be out adventuring most of the time, so bring comfortable clothes for hiking, hiking shoes, swimwear, flip flops, and sun-protection. You'll definitely want to bring rain gear too, especially if you're coming here during the rainy season.
In general, the style in Dominica is very casual. While there are some nicer restaurant, dressing up is not required. Pack light clothes that you'll be comfortable wearing in the heat.
The rest of this post contains affiliate links. By booking through these links I earn a small commission which allows me to keep the site up to date and expand on the resources. As an Amazon Associate, I earn from qualifying purchases.
Booking Resources
SkyScanner – Need to find a cheap flight? SkyScanner is my favourite search engine for finding flight deals as it includes a lot of low-cost airlines that other booking engines miss.
Booking.com – My go-to site when comparing prices on accommodations. It often has the cheapest prices of any booking site as well as free cancellations.
Airbnb – If you are looking for a cheaper room to rent then a hotel or your own apartment, Airbnb is a great option.
HostelWorld – My favourite search engine for browsing hostels. It has an easy to use interface with trusted reviews and recommendations.
TrustedHousesitters – Get free accommodation around the world in exchange for housesitting adorable pets.
Rome2Rio – Want to find the best way between point a to b? Rome2Rio will tell you every possible way to get between two places whether it's by plane, train, bus, or ferry. They compare all the options by time and price, making it easy for you to choose the best one.
Get Your Guide – Wanna book a day tour? Browse Get Your Guide to find the best tours in each city.
G Adventures – Rather join a guided tour through the country? I've used and love G Adventures because of their commitment to responsible travel. Great way to meet people if you're traveling solo!
World Nomads – Don't forget to protect your trip! I use and love World Nomads travel insurance because it covers a wide range of adventure activites.
Dominica Essentials
Posts About Dominica