This post may contain affiliate links. By clicking and making a purchase through the links, I earn a small commission at no extra cost to you. See my disclaimer for more information. This and display ads allow me to keep the site up to date and give back.
Wondering about whale and dolphin watching in Tenerife? I spent months living in Tenerife as a digital nomad, and going out on boats to see whales and dolphins was one of my favorite things to do there!
When it comes to whale-watching in Europe, Tenerife is one of the best places to go. The warm waters of the canaries give way to a rich marine habitat where you can see over 20 species of cetaceans!
Whale watching in Tenerife is one of the best things to do here, so be sure to add this to your itinerary.
If you want to go whale and dolphin watching in Tenerife, this post has everything you need to know and tips for choosing a responsible whale-watching tour operator.
Tenerife whale-watching tours
You can't see whales from shore in Tenerife as the water isn't deep enough, so you'll have to join an eco whale-watching Tenerife tour if you want to see these magnificent creatures up close.
Most Tenerife whale-watching tours depart from the south of the island. In this next section, I'll give an overview of the areas with recommendations on the best whale and dolphin watching tours In each one.
Whale Watching Los Cristianos
Los Cristianos is a popular neighborhood in the south of Tenerife for digital nomads.
This tour is an excellent choice for an eco-friendly boat that leaves Los Cristianos. It takes you out on a spacious wooden yacht with a knowledgeable guide that can tell you about the ecosystem and the habits of the resident dolphins in front of the cliffs of Los Cristianos.
You can feel good on this tour as they collaborate with the non-profit organization Sea Shepherd UK, so the standards are even higher than what the law requires. Plus, part of your ticket is donated to Sea Shepherd, an organization working to conserve the world's oceans and marine wildlife.
Whale-watching Costa Adeje
The main place to join a whale-watching boat trip in Tenerife is Puerto Colon in Costa Adeje.
This eco-friendly tour leaves Puerto Colon on a catamaran equipped with fuel-efficient technology designed to reduce its carbon footprint.
It takes you out to the Teno-Rasca Whale Sanctuary, which is Tenerife's official conservation zone that protects vulnerable marine wildlife and habitats.
You'll get to spot dolphins and whales in their natural habitat, benefiting from the guide's expert commentary and underwater audio equipment so you can hear the sounds of the whales. You'll also get the chance to swim in the ocean before heading back to shore.
Drinks and a small sandwich are included on the 3-hour tour, and there's also an option to book an extended 5-hour trip with lunch to explore more of the coastline, including Los Gigantes Cliffs and the bay at Masca Beach.

Whale Watching Tenerife Los Gigantes
Los Gigantes is a beautiful area in Tenerife famous for its 600m+ towering cliffs and natural pools. It's a great place to go whale and dolphin watching in Tenerife, as you'll also get to enjoy the stunning landscapes.
This 3-hour sailing tour is one of the best Los Gigantes whale-watching trips as you'll be onboard a gorgeous sailboat, which is not only more comfortable but better for the animals as it's less disturbing than motors.
If you're staying in Los Gigantes, this tour is perfect as it leaves right from the pier. You'll cruise out into the ocean to search for dolphins and pilot whales in a small group of no more than nine people.
It also includes a stop for snorkeling in a small cove with marine life, with freshly made sandwiches waiting for you on the boat to enjoy as you cruise back to shore. This is luxury whale watching!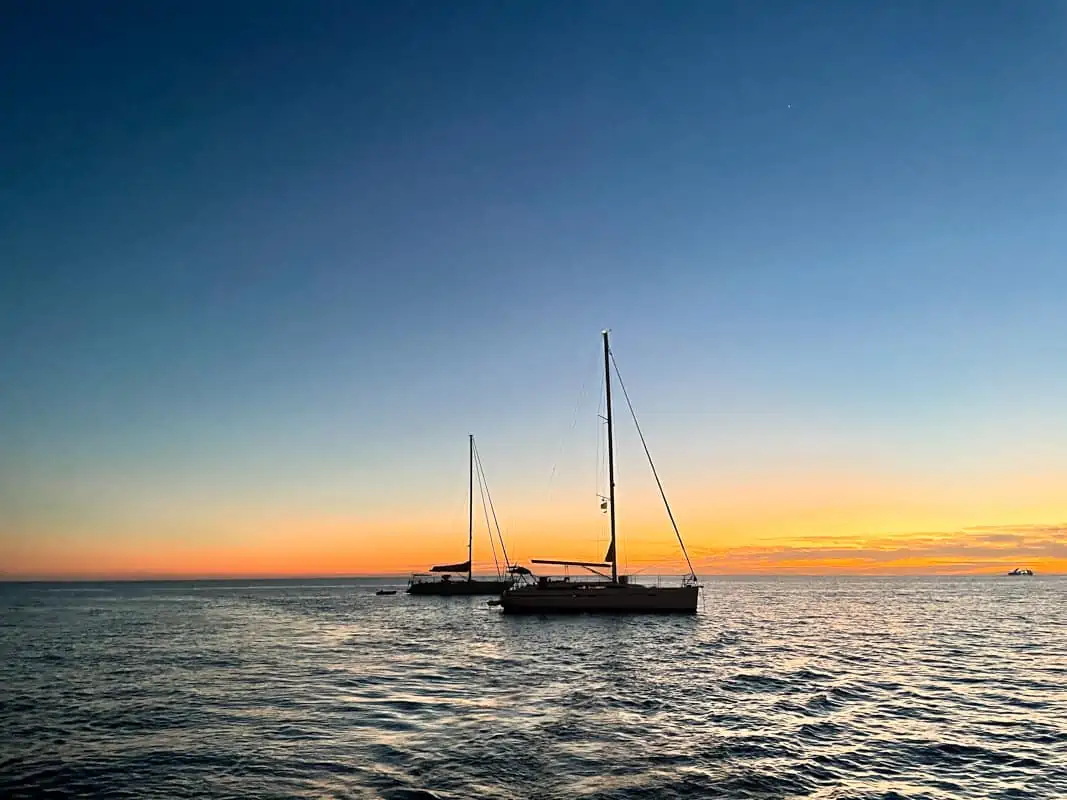 Kayaking with Dolphins Tenerife
Kayaking with Dolphins in Tenerife is one of the best ways to see them as it has a low impact on the environment with zero noise or pollution. It's a much less invasive way to see the dolphins up close, which means they are more likely to come to you.
You can book a dolphin kayaking tour online here, leaving the Los Cristianos port. It goes early in the morning when the ocean is most calm, taking you out to sea where the dolphins are. You'll spend an hour with them, which is sure to be a memory you'll never forget.
Where is Tenerife?
Tenerife is in the Canary Islands, off the coast of western Africa. It's the largest and most geographically diverse of the seven islands and has a unique ocean environment where you can see several species of marine animals.
Tenerife is the third-largest volcanic island in the world. El Teide, the famous volcano in the middle of the island, is the tallest mountain in Europe, rising almost 8km from the ocean floor.
This creates a steep underwater topography and ecosystem between Tenerife and La Gomera, where whales and dolphins feed to a depth of up to 2,000m. Lucky for us, it makes for accessible whale watching from the south of Tenerife.
Tenerife's unique position in the Atlantic Ocean is also along the migratory route of several larger species of whales that you can see from November to February.
Whales in Tenerife
Over a dozen whale species have been spotted in Tenerife, including pilot whales, Bryde's whales, sperm whales, humpbacks, fin whales, and blue whales. However, many of these are rarely seen and only come during migratory periods.
The type of whale you are most likely to encounter are pilot whales. Tenerife is home to an estimated 400+ pilot whales who live year-round in the waters between the island and neighboring La Gomera. Bryde's whales are also commonly seen during the migratory period.
You have a 99% chance of seeing pilot whales when you take a whale watching trip in Tenerife, which I can attest to. Of the five boat trips I took in Tenerife, we saw pilot whales every time. And I never got sick of it!
Pilot whales are easily seen as they tend to relax at the surface during the day (they hunt at night). However, it's not the most exciting whale watching as you won't see any breaching or tail flips as you do with humpbacks in Newfoundland.
Dolphins in Tenerife
Tenerife is also home to resident bottlenose dolphins who live in the water year-round, so they are commonly spotted on tours.
Other dolphin species you can see in Tenerife include Atlantic spotted dolphins, Risso dolphins, common dolphins, and orcas (killer whales).
Whale and dolphin watching is one of the best things to do in Tenerife, so don't miss out!
Tenerife whale watching season
Tenerife is a year-round whale-watching destination due to the resident pilot whales and bottlenose dolphins
If you want to see other species of cetaceans, the best time of year for Tenerife whale watching is from November to February, when you can see migratory whales like humpbacks.
One of the most appealing aspects of Tenerife is the year-round warm weather. Even during winter in Tenerife, you can still expect temperatures between 22-25 degrees Celsius in the south of the island.
Responsible whale watching in Tenerife
Whales and dolphins are heavily protected in Europe. As a tourist, it's important to do your part and choose a responsible whale-watching tour operator, which I've recommended below.
To help you choose a responsible whale-watching tour, Tenerife Tourism has created the "Blue Boat Flag," which is given to vessels authorized for whale and dolphin watching that comply with local regulations and the codes of conduct for approaching cetaceans. Make sure to look for this flag when you book your whale and dolphin-watching tour.
Below, I have recommended several whale and dolphin watching tours in Tenerife, which are all responsible and eco-friendly.
Tenerife has several marine amusement parks, like Loro Park, where you can see captive whales and dolphins. However, I do not recommend visiting these parks as the animals are often taken out of the wild and kept in cruel conditions. Instead, go see them in the wild where they belong.
FAQ: Whale watching in Tenerife
Can you Whale Watch in Tenerife?

Yes! Tenerife is one of the best places to go whale watching in Europe as they have a resident population of pilot whales that live there year-round and several species of migratory whales.
When can you see whales in Tenerife?

You can see whales in Tenerife year-round, but the best time to see migratory whales like humpbacks and blue whales is from November to February.
Are there killer whales in Tenerife?

Yes, there are killer whales in Tenerife, but these are more rarely seen, so you'll have to be lucky!
Is it better to whale watch in the morning or afternoon?

The weather and sea conditions are typically better in the morning, so it may be a better time to go if you are prone to seasickness. However, the time of day does not affect your chances of seeing whales in Tenerife.

Can you go swimming with dolphins in Tenerife?
No, it is forbidden to swim with Dolphins in Spain to protect them.