This post may contain affiliate links. By clicking and making a purchase through the links, I earn a small commission at no extra cost to you. See my disclaimer for more information. This and display ads allow me to keep the site up to date and give back.
Even though I'm from the east coast of Canada (Newfoundland), some of my favorite memories traveling in Canada are the road trips I've taken through the Canadian Rockies. Every spare chance I got while living in Edmonton, I'd hop in my car and explore a new place in Alberta or British Colombia.
I've done the Vancouver to Banff drive many different times, experimenting with various routes each time. Spoiler alert: no matter what way you road trip Banff to Vancouver (or vise versa), the views will be gorgeous.
There are so many different routes you can drive from Vancouver to Banff. If you're going round-trip, I recommend taking a different way there and back so you can see more of the incredible scenery in the Canadian Rockies.
To help you decide what route is best for you, I've rounded up my three favorite driving routes from Vancouver to Banff with the main highlights.
While these drives take 12 hours or less, doing it in one day would be a shame because there are so many fun stops along the way. You could turn any of these drives into an extended Canadian Rockies road trip.
Alright, let's plan your dream Vancouver to Banff road trip!
Can't read this right now? Pin it for later!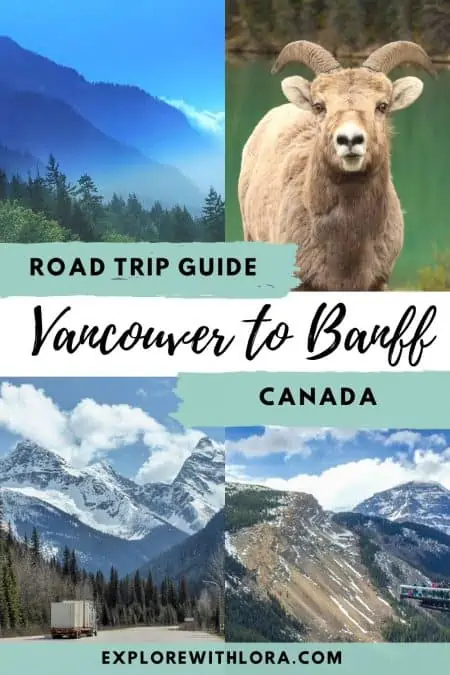 Vancouver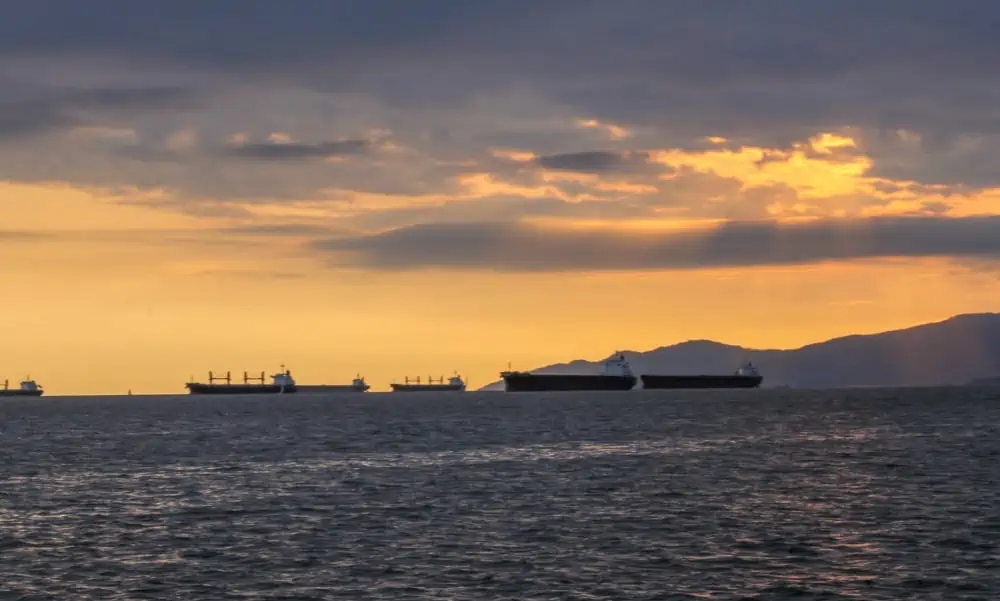 First, you'll need to get yourself to Vancouver. If you're not driving from somewhere else or coming in on a cruise, then you can fly into Vancouver via the YVR airport. Search on Skyscanner for the best flight deals.
YVR is the second busiest airport in Canada and has a ton of incoming flights from international destinations, especially Asia. Vancouver is a beautiful city, so you'll definitely want to spend a few nights here.
There are plenty of places to rent a car in Vancouver as well as campervans. Although the latter is more expensive to rent, it could save you money in the long run because you won't have to pay for accommodation. But if you aren't feeling the campervan life, no worries, there a ton of accommodation options on each of these Vancouver to Banff drives.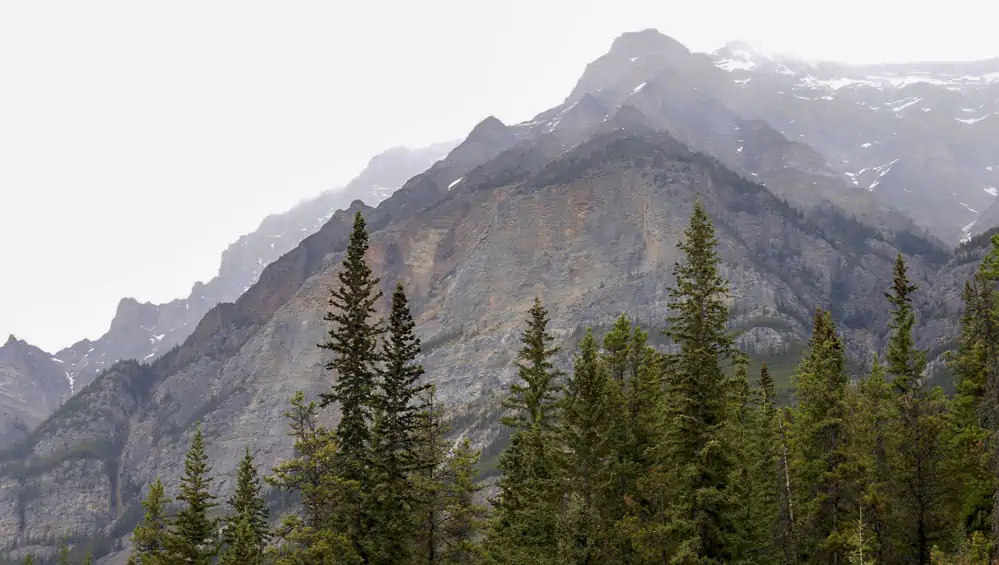 Best Driving Routes From Vancouver to Banff
Vancouver to Banff Road Trip Itinerary 1 – National Park Heaven
The shortest distance from Vancouver to Banff is the route that goes along the Trans Canada Highway One (the highway which goes across Canada). It's not only the shortest option but one of the best because it goes through four stunning national parks, including Glacier National Park of Canada, Mount Revelstoke, Yoho, and Banff. It's a perfect Canadian Rockies road trip route featuring big mountains and adventures.
While this drive can be done in one day, you'll want to stretch it out to fully enjoy these stunning national parks. I've included a ton of stops in this itinerary, but pick and choose what pleases you.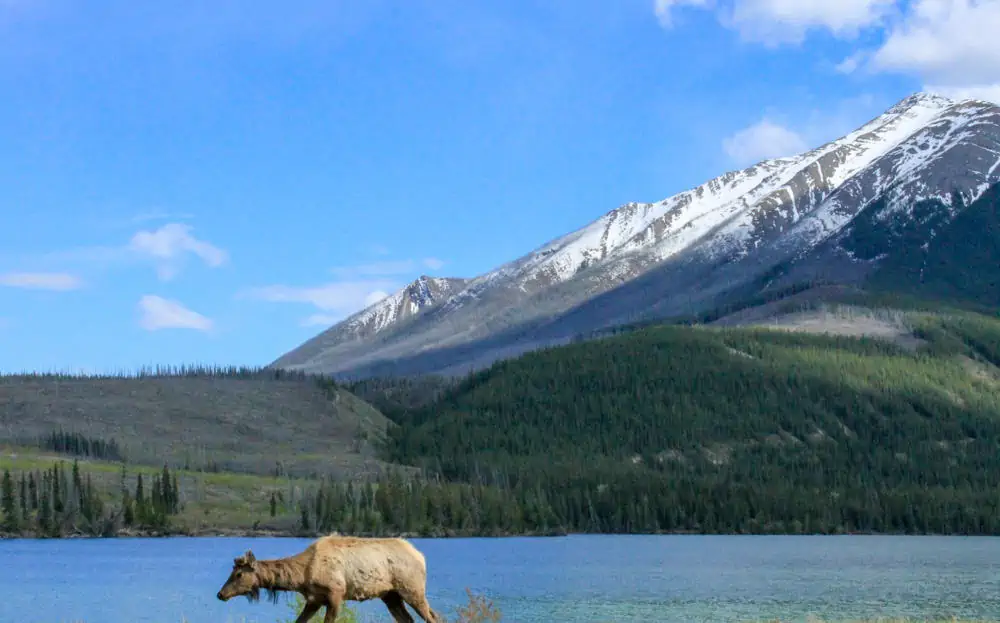 Vancouver to Hope (153 km)
You'll leave Vancouver on Highway 1, the main road that goes across Canada. Avoid leaving during peak rush hour in the morning or afternoon, or you'll be starting your road trip in heavy traffic.
After about two hours of driving, you'll reach the town of Hope, which is a good place to stretch your legs or grab a snack. Afterward, there's a choice of route you can take between highway 5 or continuing along the TCH Highway 1.
Hope to Kamloops via the Coquihalla Highway (203 km)
You can either continue along highway 1 through the Fraser Canyon or take the Coquihalla Highway (BC-5N) to connect from Hope to Kamloops. It's a faster freeway that goes straight over the mountains, so it cuts down on the driving time by about an hour.
Honestly, both ways are beautiful. Highway 1 is a slower, winding road with stunning views of the Fraser canyon. I passed through this way while taking the train across Canada and thoroughly enjoyed this section.
Highway 5 is a faster route, that also has gorgeous mountain views. When I did the Banff to Vancouver drive for the first time I took the Coquihalla Highway, and I'll never forget it.
As we entered the highway, it was misty and foggy — you couldn't see a thing. But by the time we got to the other side, the sun was shining and the views were unreal. The mountains are crazy! This is the shorter route, so it's the best option if you're worried about time.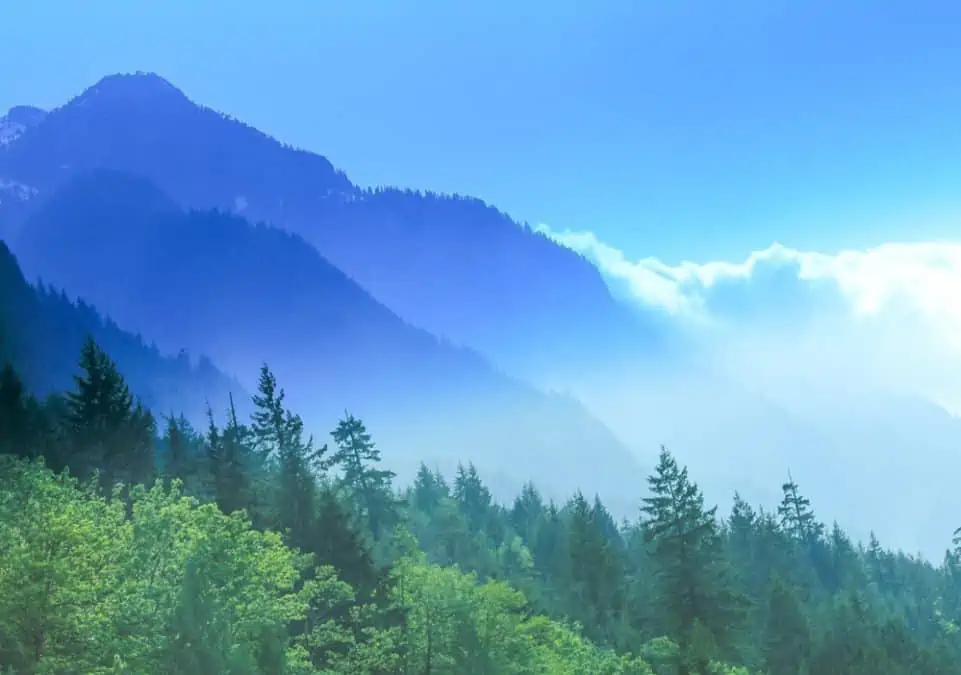 If you take highway #5, Coquihalla Canyon Provincial Park is a great place to stop along the way. There's an easy 3.5 km hiking trail you can take to see the old Othello tunnels.
This route will also take you through Merritt, which is known for its fishing opportunities. There are over 200 lakes in the area stocked with rainbow trout! If you're tired of driving, Merritt is a nice place to spend the night with many places to stay as well as a friendly visitor center.
Whichever route you choose, you'll end up in Kamloops. It's the second-largest city in interior British Colombia and is known for it's hiking and mountain biking opportunities, as well as thrilling white water rafting tours.
Kamloops is also a wine-producing region, so wine tours are a fun thing to do here! Given its size, there are over 50 hotels in Kamloops.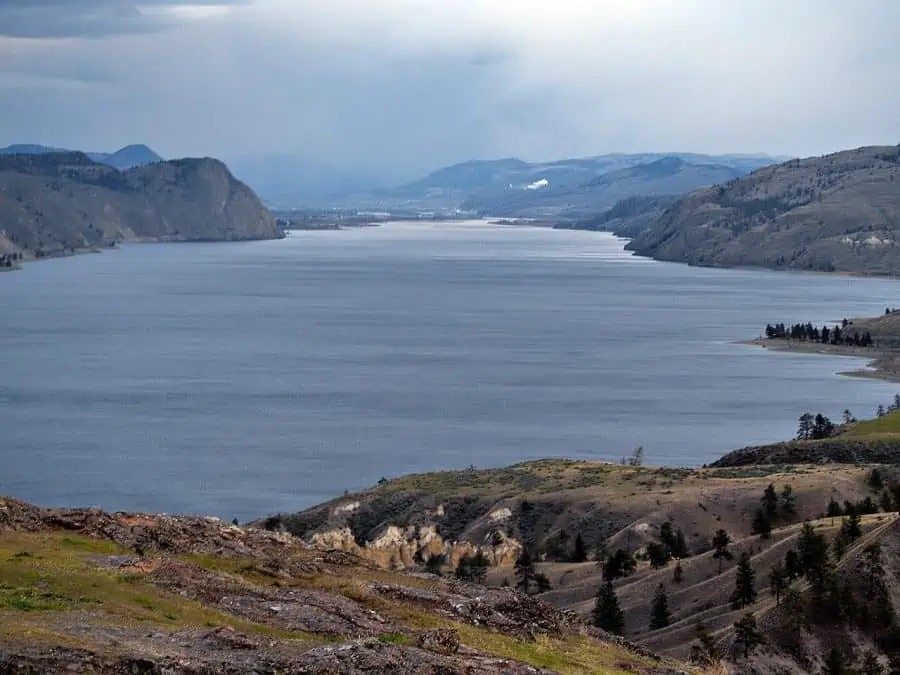 Kamloops to Tsútswecw Provincial Park (72 km)
After Kamloops, continue on Highway 1. Just a short detour off the highway is Tsútswecw Provincial Park. The indigenous word 'Tsútswecw' translates to many rivers, so expect to find lots of those here!
Although this park does not offer camping facilities, it has a gorgeous 26 km trail system used for hiking and mountain biking in summer, and cross country skiing and snowshoeing in winter.
If you're road tripping in early October, this park is well worth a stop because it's home to Adams River, which has one of the largest Sockeye salmon runs in North America. Witnessing this phenomenon is an incredible wildlife experience.
Continuing on to Revelstoke, you'll pass along Salmon Arm and the famous Shuswap Lake. I once spent a week house boating on this lake which is a VERY fun way to spend a summer week in BC. Surprisingly, renting a houseboat is not that expensive if you split it with a large group of friends.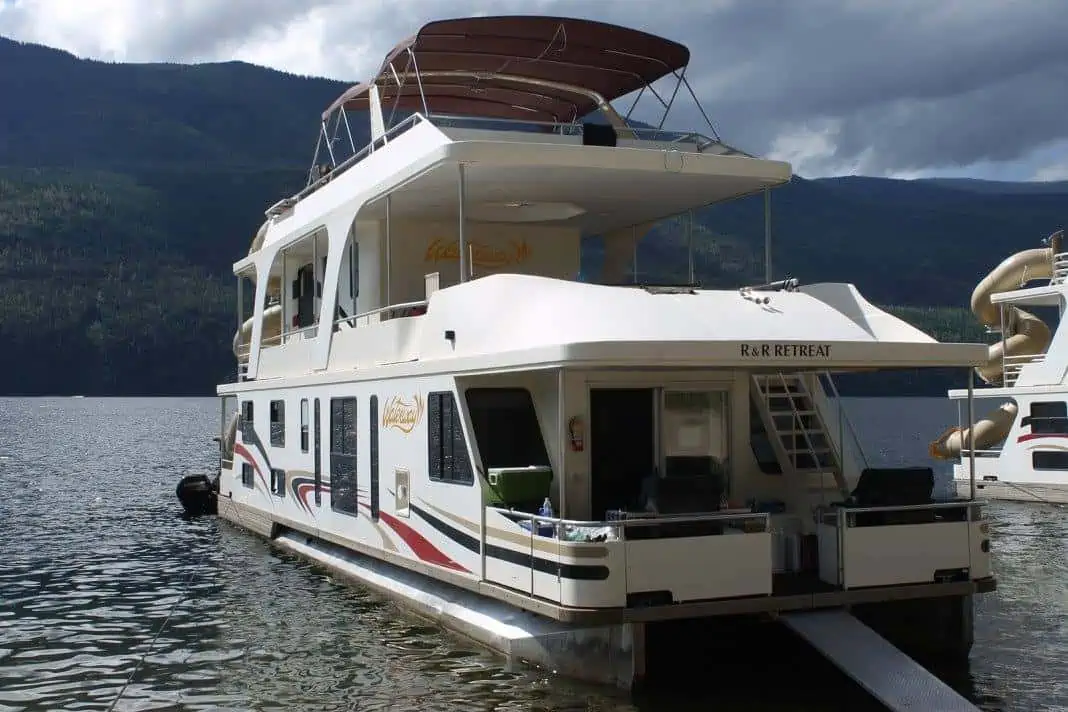 Tsútswecw Provincial Park to Revelstoke (156 km)
True to its name, Revelstoke is a mountain town that's sure to get you stoked with all it has to offer. Revelstoke was named a must-do trip on National Geographic's Ultimate Adventure Bucket list.
It's one of the best destinations in Canada for Winter sports, with an average snowfall of 40-60 feet per year. Revelstoke is also where you can go heli-skiing!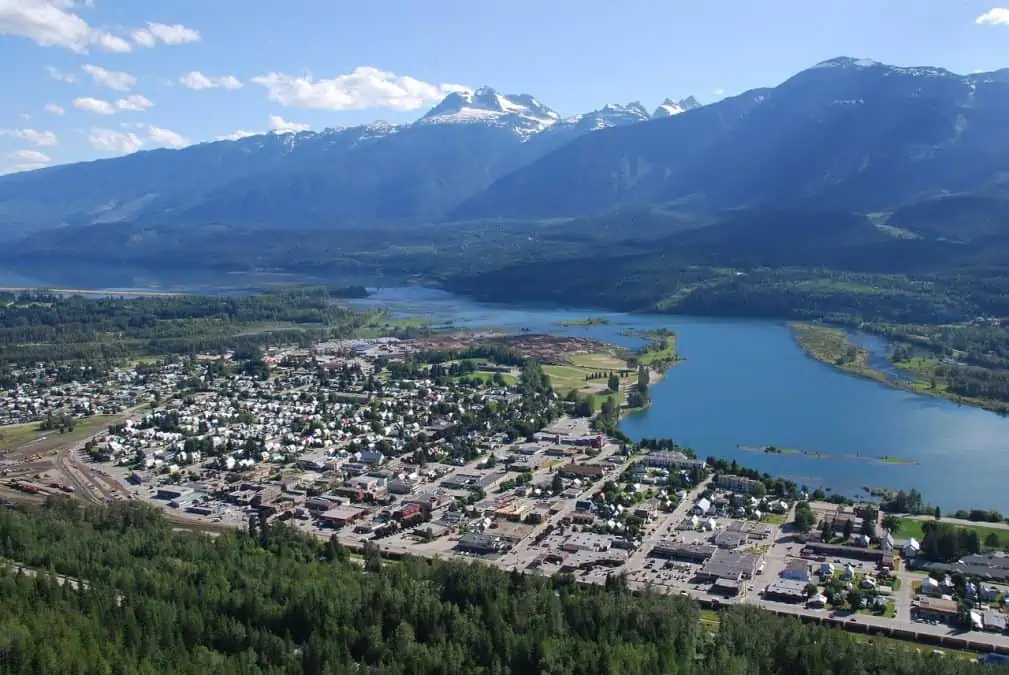 Revelstoke is an awesome destination in the summer, with ample hiking opportunities on Mount Revelstoke, white-water rafting, and incredible alpine mountain biking trails.
You can either stay in the town of Revelstoke or go camping at Mount Revelstoke National Park.
Revelstoke to Glacier National Park (47 km)
After leaving Revelstoke, you'll drive through Rogers Pass National Historic Site to reach Glacier National Park. Not to be confused with the American glacier national park just on the other side!
It's a great place to go hiking and if you want to spend the night Parks Canada has three campsites at Glacier National Park.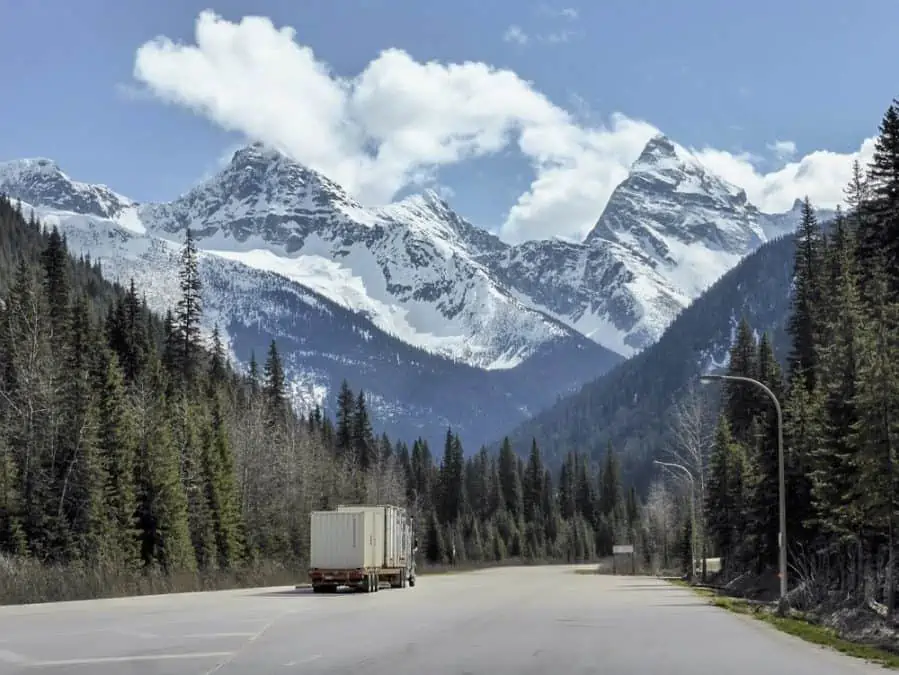 Glacier National Park to Yoho National Park (171 km)
Although Yoho National Park is right next to Banff, don't skip through it. There's so much to see here! Yoho is most famous for Emerald Lake, and you can even stay right on the lake at Emerald lake lodge.
Be sure to check out the natural bridge and Takakkaw Falls as well – it's the second-highest waterfall in Canada!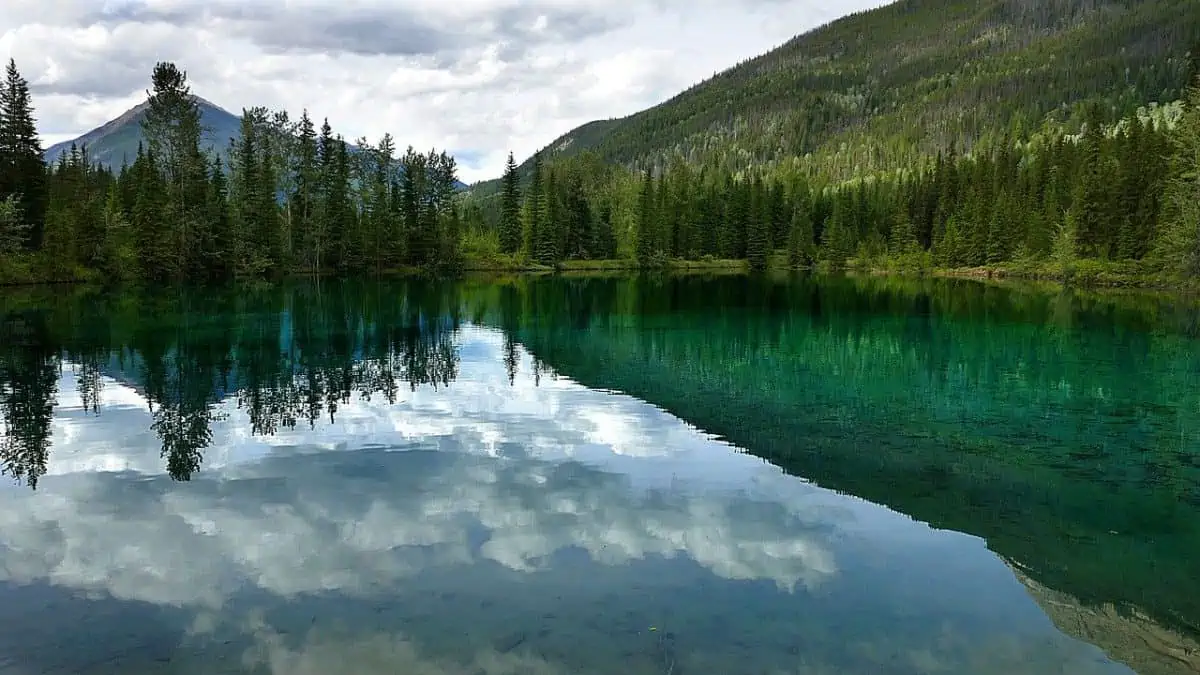 After leaving Yoho National Park, you're just a couple minutes drive from Banff National Park, one of the most popular places to visit in Canada! Further below, I've made some recommendations on what you can do there.
Vancouver Banff Road Trip Itinerary 2: The Northern Route Via Jasper
One of my favorite driving routes to Banff from Vancouver is going North through Jasper National Park. This Canadian Rockies itinerary takes you through several stunning provincial parks and Jasper, which is one of my favorite places in Alberta.
While the fastest way to get on this route from Vancouver would be to take the same Trans Canada Highway 1 to Kamloops, where is the fun in that? Instead, go via Whistler so you get to drive the world-famous Sea-to-Sky Highway.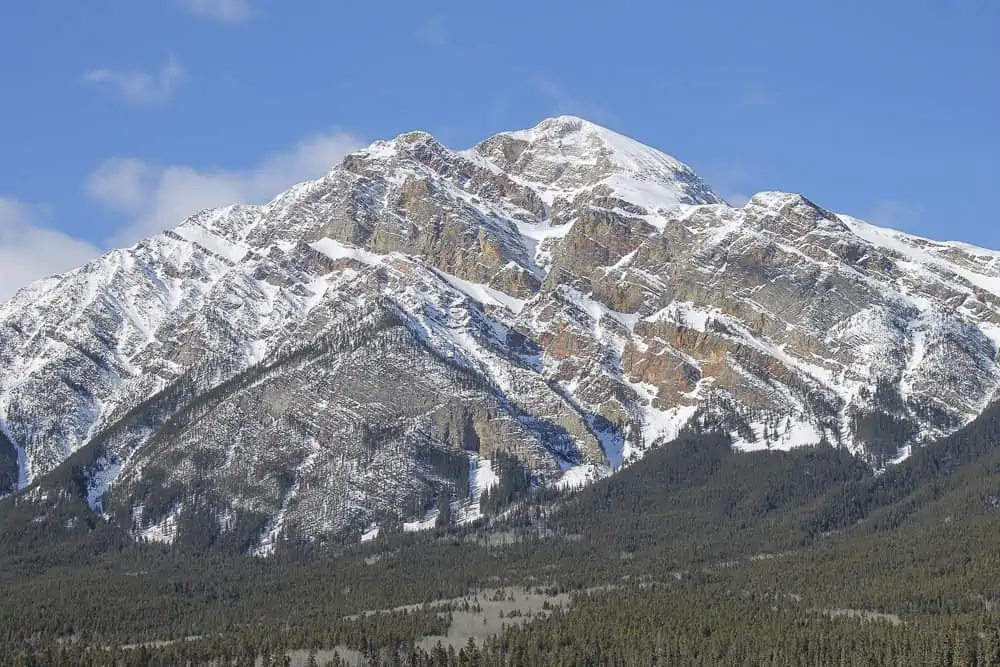 Vancouver to Whistler (121 km)
Leaving Vancouver city via Lion's Gate Bridge, you'll take Highway 99 towards Whistler. Along the way, you can detour to Porteau Cove Provincial Park, which has become a popular spot for diving. Even if that's not your thing, the pier is a beautiful spot to stretch your legs, with views of the surrounding mountain ranges over the lake.
You'll want to make a stop at the Sea to Sky Gondola, where you can get a birds-eye view of Howe Sound. If you want something more active, you can also hike to the same viewpoint via the Sea to Summit trail. This isn't an easy hike though; it's a 900m ascent over 7km. At the top, there is also a suspension bridge you can walk on. It's next to a lodge that serves food if you're hungry afterward!
Squamish is famous for its outdoor recreation opportunities. One beautiful hike to do is the Stawamus Chief, which is a giant granite dome that pears over the town of Squamish.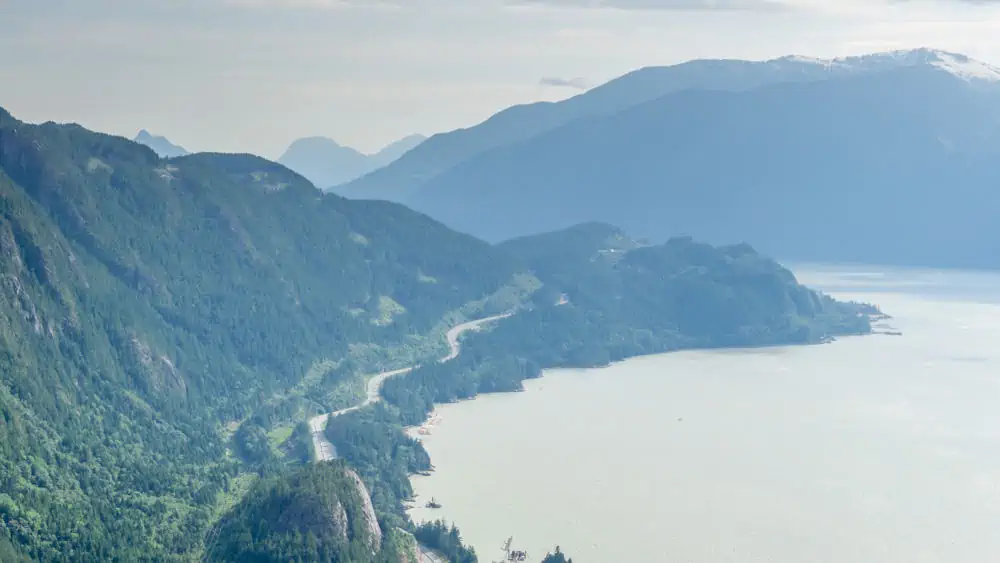 Continue on Highway 99, and you'll end up in Whistler, one of North America's top four-season resorts. Whistler served as the official mountain resort of the 2010 Olympic Winter Games, so the slopes are pretty epic.
In the summertime, Whistler is a great place to go zip-lining, hiking, and kayaking. It's also a perfect place to spend your first day, with over 300 places to stay.
Whistler to Kamloops (299 KM)
Continue the drive on highway 99, and you'll pass through Pemberton. It's a beautiful little mountain town that used to be home to one of the best music festivals in Canada (RIP Pemberton Music Festival). Along this road, you'll pass through many scenic mountain views, including Mt Seton and Mt Brew.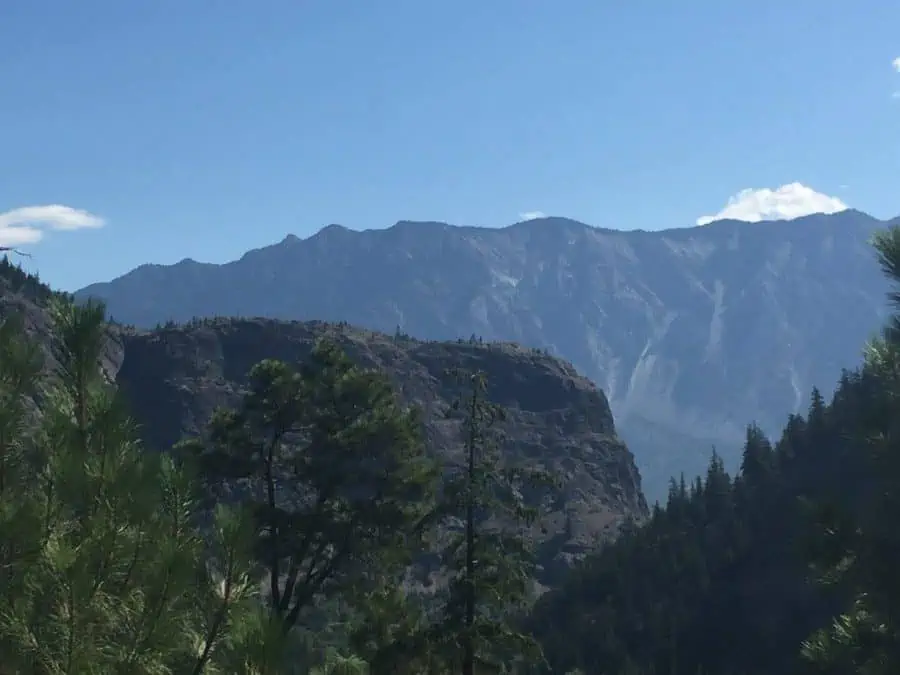 Spend the night in Kamloops or continue on Wells Gray National Park.
Kamloops to Clearwater/Wells Gray Provincial Park (123 km)
Clearwater is known as the gateway to Wells Gray National Park. Surrounded by the Trophy Mountains, it's full of unspoiled natural beauty and wildlife. Clearwater also has exciting opportunities for white-water rafting.
There are a number of places to stay in Clearwater, or you can camp in Wells Gray Provincial Park. It's a great place to go hiking with over 41 different waterfalls inside the park!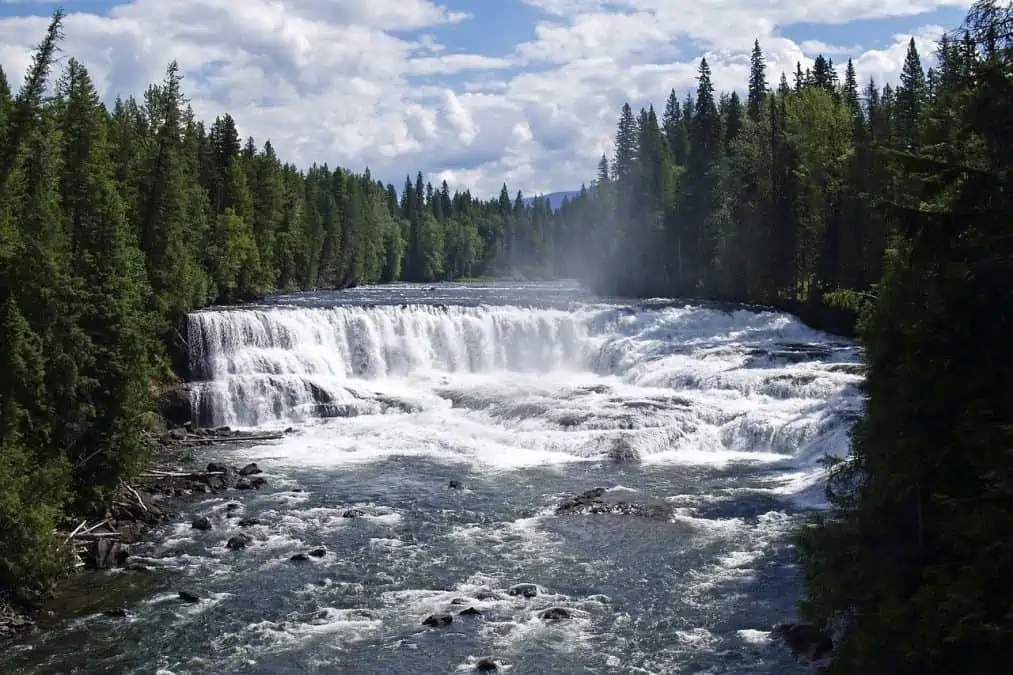 Wells Gray National Park to Valemount (197)
Valemount is a perfect small mountain village to spend the night if you're tired of driving as it's right off the highway.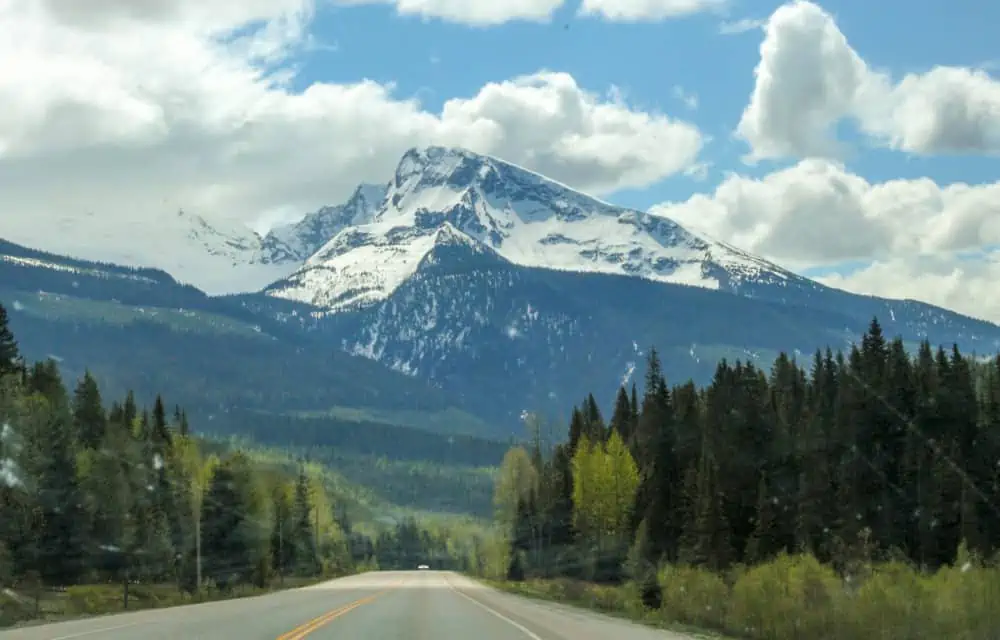 Mount Robson Provincial Park (33 km)
Mount Robson Provincial Park is just outside of Jasper, but if you don't want to stay here be sure to admire the stunning mountain ranges as you drive through. Going through here on the train across Canada was incredible! Shortly after Mount Robson, you'll enter Alberta.
Jasper National Park (26 km)
Jasper National Park is hands down one of the most beautiful places in Alberta. I actually prefer this park over Banff because it's larger and there are fewer tourists.
Your chances of seeing the northern lights in Jasper are good because it's so far North. Plus, the park is a dark sky preserve which means there's no artificial light to obscure the view. In Mid-October, Jasper National Parks hosts a dark sky festival!
Like any good mountain town, Jasper is packed full of adventure. It's full of spectacular hiking trails, but If you're short on time take the Jasper Skytram for incredible views of the surrounding landscape and mountains.
Some of the best things to do in Jasper are alongside the Icefields Parkway, so I'll touch on those below.
Jasper has many hotels and lodges to stay in.
Jasper to Banff via the Icefields Parkway (227 km)
The best Alberta road trip is from Banff to Jasper (or vice versa) through the Icefields Parkway. In fact, National Geographic named this one of the best road trips in the world.
You will pass through ancient glaciers, cascading waterfalls, and emerald lakes surrounded by forests. This road alone is the reason you should choose to drive to Banff via Jasper National Park.
Valley of the Five Lakes
Leaving Jasper there's a beautiful stop just ten minutes away at the valley of the five lakes. There's a gorgeous hike there which takes about two hours (4.5 km).
Athabasca Falls
From the valley of the five lakes, it's a 20-minute drive to Athabasca Falls. There's a quick walk (1km) you can do along an interpretative trail where you can learn about the Athabasca River and the waterfall. You can also walk along the ridge to get this beautiful photo!
Athabasca Falls to Athabasca Glacier (75 km)
Keep driving along the parkway and you'll come to one of my favorite spots, the Colombia icefields, or Athabasca Glacier.
You can actually go hiking on the glacier or admire it from above on the Glacier Skywalk, an incredible glass walkway that offers stunning panoramic views.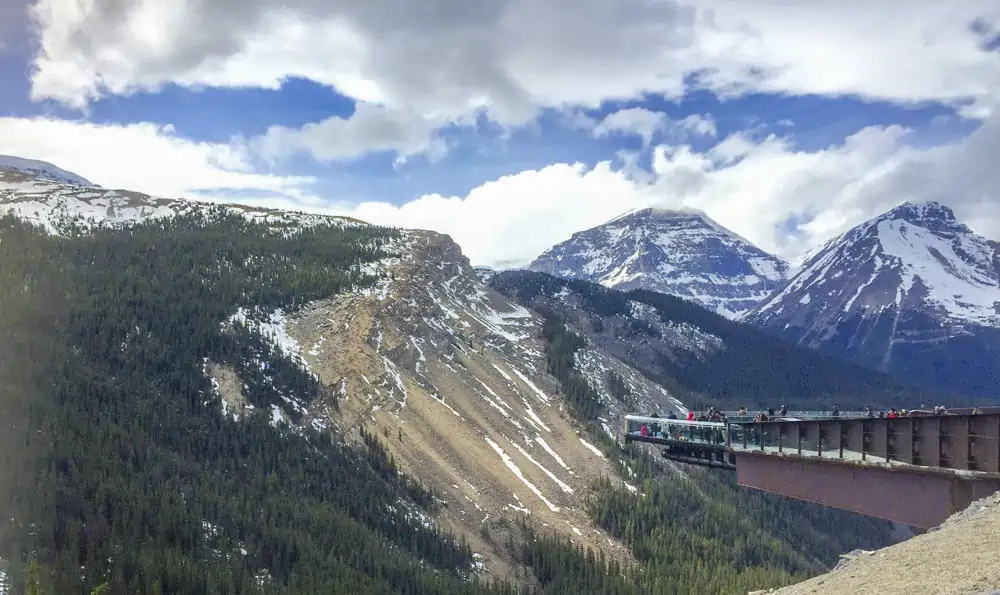 Bridal Veil Falls (15 km)
Because can you ever have enough waterfalls? It's easy to miss this stop but makes a great roadside stop. Bridal Veil Falls is a beauty 1200m waterfall.
Lakes, Lakes, and more Lakes!
From there it's a series of three beautiful lakes that are all pretty close by. In order from Jasper to Banff you'll come by Waterfowl Lakes, Peyto Lake, Bow Lake, Lake Louise, and Moraine Lake.
At this point you will officially be in Banff National Park, finishing off your Epic Vancouver to Banff Northern route road trip.
Banff to Vancouver Road Trip Option #3: Winery & Hot Spring Route
If you're more into wine and hot springs then active adventures, the Southern wine route may be for you.
Vancouver to Manning Provincial Park (218 km)
The route starts the same, taking highway #1 out of Vancouver to the town of Hope. Once there, you'll diverge and follow highway 3 east.
Located in the heart of the Cascade mountains, Manning provincial park is the perfect place to start your southern Canadian Rockies road trip. It has excellent opportunities for hiking and kayaking. You can camp within the park, and there are also lodges nearby.
Manning Provincial Park to Osoyoos (180 km)
Just two hours away is your next stop, the wonderful town of Osoyoos. Known as Canada's desert, Osoyoos is situated on Canada's warmest freshwater lake.
Osoyoos is in the South region of the Okanagan valley, almost bordering with the United States. It's home to many of BC's best wineries and beautiful lakes so it's a great place to spend a few days soaking up the wine and warmth.
From Osoyoos, you could either cut up North to Kelowna and follow the same TCH Highway 1 to Banff, or continue South towards Cranbrook.
Osoyoos to Nelson (263 km)
Nelson is a charming little town surrounded by the Selkirk Mountains and on the shores of Kootenay Lake. There's a lot of outdoor recreation as well as places to stay.
Nelson to Cranbrook (230 km)
Cranbrook is a lovely town with the main highlight being St. Mary's river, where you can go on epic whitewater rafting adventures or fly-fishing for trout. It's not a huge place, but there are over 20 places to stay.
Cranbrook to Radium Hot Springs (144 km)
Continue driving along route 93/95 and you'll come across the Fairmont hot springs, which is a beautiful spa to visit. As you drive north, you'll pass Windermere Lake, which is a destination known for its paragliding and hand gliding.
My favorite hot springs in this area are Radium Hot Springs. They are the perfect place to relax for an afternoon, right inside Kootenay National Park, surrounded by the Sinclair Canyon.
Radium Hot Springs to Golden (94 km)
Next up is Golden, a gorgeous town near Banff that sits right on the Colombia River. Whitewater rafting on the Kicking horse river is a popular thing to do here.
Golden to Banff (73 km)
After Golden, you're less then an hour away from Banff!
Alternative Ways to get from Vancouver to Banff
There are several alternative routes, detours, and side trips you can make if you are driving from Vancouver to Banff by car, but those are my three favorite routes.
If you don't want to drive from Banff to Vancouver, there are other options for getting between the two.
Train from Vancouver to Banff
You can take the Rocky Mountaineer train from Vancouver to Banff. It takes two days to reach Banff and includes an overnight stop in Kamloops. The train only operates from mid-April to mid-October; you can check the current schedule here.
You can also take the VIA rail train 'the Canadian' from Vancouver to Jasper and then get a bus from Jasper to Banff (the company that runs busses between them is called Sundog).
You could also hitchhike! That's what I did one summer, and it was super easy to get rides along the icefields parkway.
Vancouver to Banff by Bus
There is a bus that runs from Vancouver to Banff, check on Busbud for schedule and ticket prices.
Vancouver to Banff via flight to Calgary
If you're short on time, the best way to get between Vancouver and Banff is to fly from Vancouver to Calgary and then drive to Banff, which is an hour and a half away. It's worth spending a day or two here too, there are lots of fun things to do in Calgary and nearby Canmore.
Search on Skyscanner for the best flight prices! Air Canada and West Jet are the two main Canadian airlines. Once in Calgary, you could either rent a car at the airport in Calgary or take one private transportation to Banff.
Things to do in Banff
Yay, you've made it to Banff! Welcome to one of Canada's most beautiful towns. There is so much to do in Banff, including some incredible hiking trails.
Banff is an adventure seekers paradise, with opportunities for rock climbing, rafting, dog sledding, and more.
Where to Stay in Banff
Parks Canada operates 13 campsites in Banff National Park, and it's a magical place to camp. If you prefer the comfort of a roof over your head, there are plenty of accommodations options in Banff.
Budget: Banff International Hostel – If you are on a budget or just want an easy way to meet other travelers, then Banff International Hostel is a great option.
Mid-range: Moose Hotel & Suites – This is a great place to stay in the town of Banff. I spent a weekend here and loved the log style structure as well as the outdoor hot tub.
Luxury: Fairmont Banff Springs – because who doesn't want to stay in a castle? If you can afford it, staying at the Fairmont Banff Springs will make your trip to Banff unforgettable.
Essential Things to know abou a Vancouver to Banff Road Trip
Best Time to Road Trip Vancouver to Banff
The best time to drive from Vancouver to Banff is during the summer between June and September. This is when the road conditions will be the most favorable, although you can never count on reliable weather in the mountains.
I've driven from Vancouver to Banff in May and had no issues. But if you're driving during the shoulder season, you need to be prepared that there may be some rain and possibly snow.
If you're driving during the winter, snow is almost a guarantee, and this can significantly delay you should a snowstorm happen. That said, it's still possible to drive from Vancouver to Banff in the winter. And if you're interested in winter sports in the mountains, then this is an ideal time.
What Vehicle You Need for Road Trip Vancouver to Banff Road
You don't need anything more than a standard vehicle for any of these Vancouver to Banff driving routes. However, if you are traveling with a family or for a long time, you may want something comfy such as an SUV.
If you are driving in the winter, make sure your vehicle has snow tires! This is mandatory in Canada. If it's terrible weather conditions, an AWD vehicle will be of great help!
Another great option for a road trip to Banff from Vancouver is in a campervan.
Vancouver to Banff Drive Time
The fastest drive time from Vancouver to Banff is road trip option 1, which takes about 12 hours.
Time Zones
While driving from Vancouver to Banff you will be going from the Pacific Standard Time to Mountain Standard Time when you enter Alberta, which is one hour ahead.
Wildlife
Wildlife is prevalent on the Vancouver to Banff drive, especially in the rocky mountains. While this can add magic to your road trip, it's essential to be vigilant while driving. Wildlife is most active at dusk and dawn, so pay extra attention at these times.
Some wildlife you may see along the way are bears (black and grizzly), bighorn sheep, mountain goats, elk, and moose (although moose are more common on an east coast Canada road trip).
While it can be exciting to see a bear, it's important to remember to not get close to them. You will often see visitors with their cars pulled over to take photos of bears. This is not safe. They may have their cubs nearby and can be very protective, so it's best to maintain your distance. In general, bears like to avoid conflict and are usually calm.
Tours from Vancouver to Banff
If you're looking to join a group tour from Vancouver to Banff, check out this Canadian Rockies tour with G Adventures from Vancouver to Calgary! It take you some amazing places including Banff and Jasper national park.
I did a group tour with G adventures in India and loved it. They are a fun, ethical company that typically takes you to off the beaten path places.
Packing List Vancouver to Banff Road Trip
When driving to Banff to Vancouver, don't forget to bring these items with you:
Parks Canada Discovery Pass – This will get you unlimited admission for 12 months at over 80 parks across Canada.
Insect Repellant– they are fierce in the summertime!
Canadian cash – Most places accept major credit cards and debit but in smaller communities, you may find places that only accept cash. Bring Canadian dollars as these places will probably not exchange American money.
Blankets and Pillows – it gets cold in Canada, even in the summertime! You never know when those will come in handy.
Audiobooks for the road. I love Audible for this!
A car charger for charging your devices
A GPS or download Google offline maps for your phone. Many rural places you will be driving through in Canada do not have cell phone reception.
The Vancouver to Banff drive is one of the best road trips to go on in Canada. No matter what way you decide to drive Banff to Vancouver, the views will not disappoint.
If you've got any questions about this road trip or know a cool spot to add to these itineraries, let me know in the comments below!
Found this post helpful? Pin it for later!