This post may contain affiliate links. By clicking and making a purchase through the links, I earn a small commission at no extra cost to you. This and display ads allows me to keep the site up to date and give back. Thanks for reading!
Wondering what the best road trips from Toronto are? I lived in Toronto for five years, and well I love exploring the city – I equally loved exploring the surrounding area. I've been on countless Toronto road trips and am sharing the to ones in this guide.
There's no shortage of amazing road trips from Toronto – the only problem is deciding which one to go on! Located in the heart of the Great Lakes, Toronto is the perfect gateway to the beautiful nature Ontario has to offer.
Whether you're looking for a fun day hike or want to explore an entirely new city, these 20 Toronto road trips will inspire your next adventure.
Renting a car in Toronto
Toronto was my home for years, and I adore it (especially during the summertime). Yet as an outdoor adventure addict, I often found myself craving to escape into the wilderness. Thankfully for us city dwellers, there are many beautiful places to visit in Ontario, not far from Toronto.
If you don't have a car or a friend to sweet talk into driving, the best way to get to the places listed in this post is to rent a car.
There are many car rental places throughout Toronto, including the downtown core. To find the best deal, search on Discover Cars as they will search all the car rental agencies in the city for you.



If you're planning a road trip that includes crossing into the United States, check with the car rental company that you're allowed to do that and ensure you have the proper documentation in the car.
If you can't rent a car, there are still other options. Check out the Park Bus, which runs shuttle busses from Toronto to several places mentioned, including Algonquin, Bruce Peninsula, Elora Gorge, and more.
Tip: The worst part about taking a road trip from Toronto is the hellish traffic leaving the city. There will almost always be some traffic, but if possible, avoid going during rush hour (7-10 am, 3:00-6 pm). If you can, you'll save yourself a lot of time and headache.
Short road trips from Toronto
These road trip destinations from Toronto are close enough that you can visit them in one day, but of course, you can always turn it into an extended trip and stay overnight. All distances and timings are listed for one-way trips, so keep the return journey in mind when making your plans.
1. Chase Waterfalls in Hamilton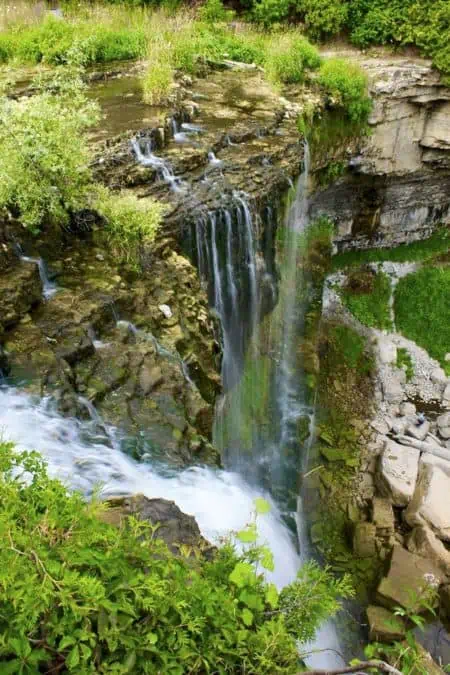 Driving time: 44 miles (72 km) – 1 hour
Did you know there are over 100 waterfalls in Hamilton? If you're a waterfall lover like myself, then a day trip to Hamilton is one of the best scenic drives near Toronto.
One of the most unique waterfalls to see in Hamilton is the Devil's Punchbowl – a 37-meter-high waterfall in the center of a canyon. Tew's Falls are close by, the tallest waterfall in Hamilton at 135 ft high.
Hamilton is just an hour away from Toronto (assuming you don't get stuck in traffic), so you can easily see a few waterfalls in a day. But if you want to see more, you can always stay overnight in Hamilton. Along with beautiful nature, Hamilton has thriving art, music, and craft beer scene to explore.
2. Outdoors Sports & Relaxation in Blue Mountain
Diving time: 106 miles (171 km) – 2 hours
Blue Mountain is a year-round destination for outdoor activities in Ontario.
During the winter in Ontario, it becomes one of the best places for downward skiing and snowboarding. In summer, you can go golfing, mountain biking, and hiking.
The best places to stay overnight are in Collingwood, one of many charming small towns in Ontario. It's home to the luxurious Scandinave Spa, my favorite spa in Ontario.
There are indoor and outdoor hot tubs, cold pools, steam rooms, saunas, and relaxation areas, which you can cycle through for as long as you please.
The spa is open year-round and is busiest during the summer. I visited in winter on a frigid and snowy Canadian winter day. I thought it would be unpleasant being in the outdoor pools, but watching the snowfall over me while soaking in the hot tub was a magical experience.
3. Frolick in a Lavender Field in Milton (75 km)
Driving time: 46 miles (75 km) – 1 hour
While these images may look strikingly similar to the south of France, this lavender field is just an hour away from Toronto.
Located between Milton and Guelph, Terre Blue has become an Instagram hot spot in recent years. The Lavender bloom peaks during the summer, making it an ideal Toronto summer day trip. Be sure to end your trip with a visit to the ice cream shop so you can indulge in the famous lavender to cool off from the heat.
4. Rock Climbing in Rattlesnake Point Conservation Area (63 km)
Driving time: 39 miles (63 km) – 45 minutes
If you're looking for a nice place to go hiking that's not too far away from Toronto, then head to Rattlesnake Point in Halton.
Following along the Niagara Escarpment, this area has beautiful views of the valley below with 13km of trails to explore. It's also one of the best places to go rock climbing in the province, with three designated rock climbing sites. If you're not ready to leave nature behind, you can also camp here overnight and enjoy the magnificent stargazing.
5. Tubing in Elora Gorge Conservation Area (115 km)
Driving time: 71 miles (115 km) – 1 1/2 hours
Elora Conservation area is one of the best day trips from Toronto. It has beautiful hiking trails and a river that you can go tubing down. You can rent the tubes there and spend a few hours floating down the river, soaking in the natural beauty of the gorge.
It's also home to the Elora Quarry, which has been turned into a public swimming hole. It's jam-packed in the summer, so get here early if you want to avoid the crowds.
Afterward, make a stop in town to explore the quaint locally owned cafes, art galleries, and one-of-a-kind shops. Famous Group of Seven painters A.J. Casson called Elora "Ontario's Most Beautiful Village."
6. Caledon Cheltenham Badlands (64 km)
If you want to escape somewhere completely different that's still close to Toronto, head to the town of Caledon. This hidden gem is home to the beautiful Belfountain Conservation Area, a local farmers market, and is the gateway to the Cheltenham Badlands.
I thought badlands were only in Alberta! This unique area is actually a result of overgrazing in the 1930s. But still, It's incredible that you can drive less than an hour away from Toronto and be in such a different landscape.
7. Marvel at the Wonder of Niagara Falls
Driving time: 120 miles (193 km) – 2-3 hours
I can't write an article about scenic road trips from Toronto and not mention Niagara Falls. This magnificent world wonder is one of Canada's top bucket list experiences, and it's just two hours away from Toronto. What makes it so unique is the combined height and volume – 168,000 cubic meters of water goes over the Falls every minute!
A road trip to Niagara Falls is so much fun, especially with a group of friends. The Falls border with the United States, and you can visit Niagara Falls from both. However, most people agree that the Canadian side is the more scenic as you can see all three waterfalls (Horseshoe, Bridal Veil, and American Falls). Turn it into an extended road trip and visit New York if you have the time!
Niagara Falls is full of outdoor adventure. You can go zip-lining over the falls, take a helicopter ride for epic views, ride an open-top jet boat, or even journey behind them on a boat cruise. I highly recommend the latter; just prepare yourself to get soaked.
Looking for a place to stay in Niagara falls with epic views? Check out Marriott on the falls!
8. Bike through Vineyards at Niagara-on-the-lake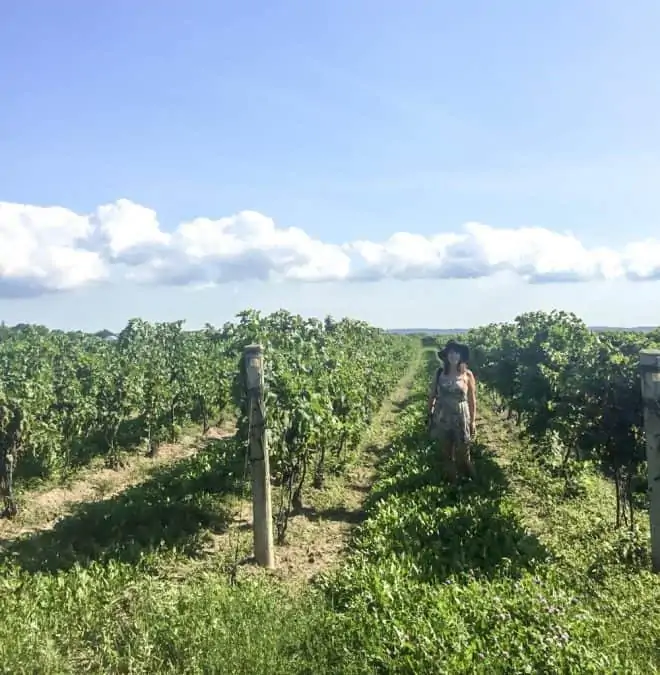 Driving time: 90 miles (129 km) – 2 hours
Nearby to Niagara Falls is Niagara-on-the-lake, a famous wine-producing region in Ontario.
The two towns are connected via the Niagara Parkway, a short but sweet drive. As you leave behind the falls, you can see the landscape change from the Niagara escarpment into vineyards of Niagra on the lake.
You can combine the two into one road trip and visit Niagara-on-the-Lake as a separate day trip from Toronto. If you want to enjoy sampling the wineries without worrying about driving, it's best to stay overnight. There are many cute B&Bs to stay around Niagara on the Lake, or you can take a day tour from Niagara Falls.
Weekend trips from Toronto
These road trip ideas from Toronto are all 2+ hour driving time from the city, so they are ideal for a weekend getaway.
9. Algonquin Provincial Park
Driving time: 190 miles (306 km) – 3 hours 20 minutes
Just a few hours away from Toronto is one of Canada's most beautiful destinations – Algonquin provincial park. Covering over 3,080 square miles of rugged Canadian Shield, Algonquin is home to rivers, dense forests, islands, diverse wildlife, and over 2,400 lakes!
Algonquin Provincial Park is a great place to see Canadian wildlife. Some animals you may see here include black bears, deer, moose, bald eagles, beavers, and various species of birds.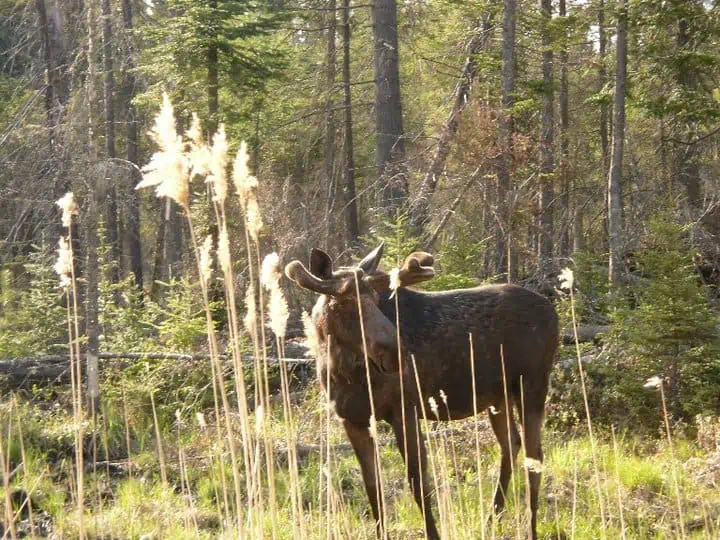 Algonquin is also one of the best places in Canada to go canoeing, with over 990 miles of canoe routes that follow lakes, streams, and portage trails. Many people do multi-day backcountry portaging trips in Algonquin, as it allows you to see sights simply not accessible by road.
On your road trip from Toronto to Algonquin Provincial Park, make sure to take Highway 60 into the park. It's a scenic drive, but wildlife sightings are common so drive slowly!
10. Kawartha Highlands Provincial Park
Driving time: 86 miles (139 km) – 1 1/2 hours
If you don't want to go as far as Algonquin but want to experience Ontario's incredible paddling opportunities, check out Kawartha Highlands Provincial Park. It's the largest park in Southern Ontario after Algonquin, with an oasis of paddling routes and cycling trails to explore.
11. City explorer: Ottawa and Montreal
Driving time: (278 miles (449 km) to Ottawa 123 miles (198 km) more to Montreal – 4 -7 hours
While a city may seem like a weird thing to add to a list of road trips for outdoor lovers, Ottawa fits the bill. Although it's the capital city of Canada, it's one of the greenest cities in the country.
Gatineau Park is a short drive away from downtown Ottawa, a beautiful green space that has more than 165 km of hiking trails to enjoy. A great time to visit Ottawa is in May during the Canadian tulip festival. Come then, and you'll be able to admire over one million tulips blooming throughout the city.
For an extended road trip, keep driving towards Montreal. It's my favorite city in Canada, with the richest arts and culture in the country.
12. Prince Edward County
110 miles (177 km) to Prince Edward County / 162 miles (261) km to Kingston / 3 hours
Prince Edward County is one of Ontario's most up-and-coming tourist destinations with unique attractions around every corner, making it the perfect setting for an Ontario road trip. The county is on an island accessible by four bridges or by ferry.
While many of these attractions are family-friendly, PEC is particularly well-loved by couples celebrating a special milestone and friend groups planning a sophisticated girls' getaway.
Beach bums will adore the plethora of white sand beaches, including the protected shores of the ever-popular Sandbanks provincial park, one of three provincial parks in the area. It also happens to be home to a plethora of vineyards and restaurants; just follow The Taste Trail for a gastronomic experience.
From Prince Edward County, you can head back to Toronto or carry on to Kingston and the Thousands Islands.
13. Kingston and Thousand Islands
Driving time: 220 miles (354 km) / 4 hours 30 minutes
From Prince Edward County, you can easily add Kingston to your plans, or you can do it as a separate road trip from Toronto as there is much to do in both areas. You can get to Kingston by ferry, which is a fun way to break up your road trip.
Kingston is a city rich in history, nick-named 'the Limestone City' for its elaborate 19th-century buildings that you can see walking around the historic center. You'll feel transported to Europe! It is also home to one of Ontario's UNESCO World Heritage sites, Fort Henry, where you can step back in time and experience 19th-Century military life.
Continuing on the St. Lawrence River from Kingston and you'll reach Thousands Islands National Park, home to a group of scenic islands along the St. Lawrence river that span the border of Canada and the U.S.
The top thing to do here is to take a scenic river cruise through the islands, but it's also home to quirky museums, wonderful restaurants, fishing, and picturesque towns and castles.
14. Bruce Peninsula National Park
Driving Time: 185 miles (298 km) / 3 hours 40 minutes
When I saw photos of Bruce Peninsula National Park, I couldn't believe it was in Ontario. The color of the water makes it look like the Caribbean! With the towering cliffs rising from the turquoise water of Georgian Bay, it's no surprise this has become one of the most popular Ontario road trips.
You'll want to make the hike in early in the day to avoid big crowds, and if you want to camp in the park, you need to book well in advance. Along with the stunning landscapes, the park is a dark sky preserve, so it's a dream for stargazing. Lastly, you can spot a range of wildlife here, from black bears, deer, and coyotes to smaller residents such as chipmunks and porcupines.
15. Rent a cottage in Muskoka
Driving time: 129 miles (208 km) – 2 hours
If you're looking for a relaxing weekend getaway from Toronto, head up to cottage country in Muskoka. The best things to do here revolve around nature, as there are endless hiking trails and activities like mountain biking, cycling, and every watersport activity you might be interested in.
The best way to visit cottage country is to get invited to someones' cottage, but if you're visiting from away, this may not be so easy (although Canadians are known for being friendly, so you never know).
If not, you can choose from a wide array of accommodation styles to suit your needs. Just to give you a brief snapshot, you could easily enhance your trip with a stay in a rustic cabin, a monstrous lakehouse, a chalet-style lodge, or a fancy couple's resort. This area has some of the most unique stays in Ontario!
Gather up a few friends, rent a car, and enjoy a blissful weekend in one of the most beautiful areas of Ontario. Cottage country life is all about lakes and campfires.
16. Georgian Bay Islands National Park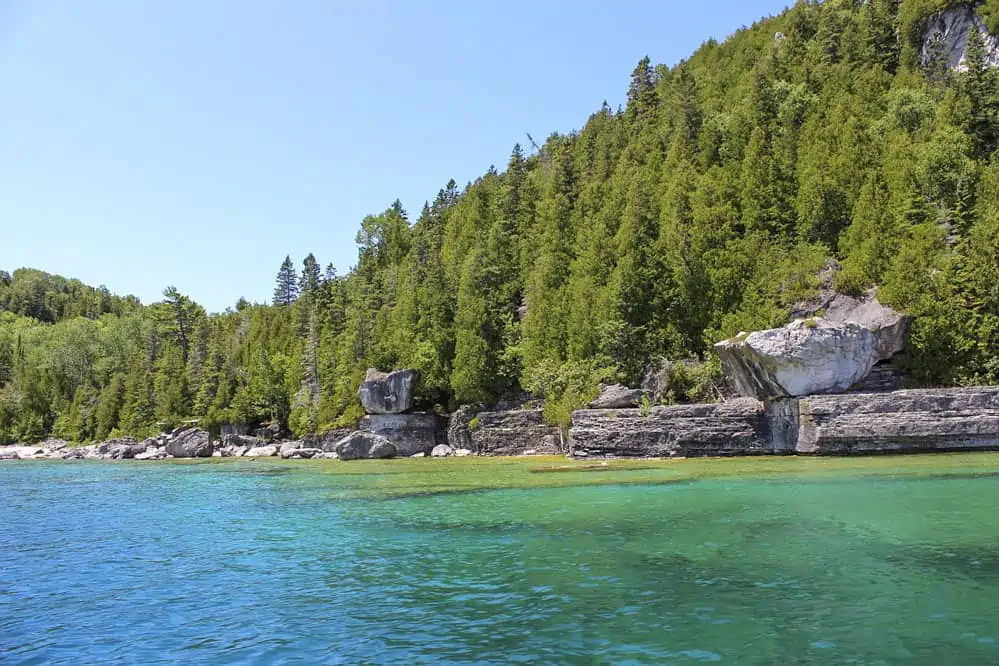 Driving time: 110 miles (178 km) – 2 hours
You know a national park is going to be amazing when it's only accessible by boat. Georgian Bay is the world's largest freshwater archipelago, and Georgian Bay Islands National Park is the best place to explore this untouched paradise.
Take the daily boat over for the weekend and immerse yourself in the beautiful nature around you. This park was one of the inspirations for the group of seven, and after spending some time here, it's guaranteed you'll leave feeling inspired too.
Awenda Provincial Park (170 km)
I hadn't heard of Awenda Provincial Park until a friend asked me to go camping there over Victoria day weekend. It's such a gem.
Just a two-hour road trip from Toronto, Awenda Provincial Park is great for a low-key camping weekend. It has beautiful beaches, dramatic sunsets, and relaxing hiking trails. I did the bird-watching hike organized by the park, which was so much fun. If you're looking for a unique Ontario park with few crowds, Awenda is an excellent choice.
—
Final thoughts: Best road trips from Toronto
It's easy to think of Toronto as not being close to nature, but the truth is there's an abundance of it not so far away. Ontario is a province that continually surprises me with its natural beauty.
I hope these road trip ideas from Toronto could inspire you to get outside and enjoy this stunning province!
Found this post helpful? Pin it for later!