This post may contain affiliate links. By clicking and making a purchase through the links, I earn a small commission at no extra cost to you. This allows me to keep the site up to date and expand on resources. Thanks for reading!
Toronto was my home for the last three and a half years, and I adore it, especially in the summertime. Yet as an outdoor adventure addict, I often found myself craving escapes into the wilderness. Thankfully for us city dwellers, there are so many beautiful places to visit in Ontario not that far from Toronto. If you're looking for a day trip or weekend escapes from the city, I got you. Here are some ideas for road trips from Toronto that will satisfy your outdoor wanderlust.
Can't read this right now? Pin it for later!
Leaving on Road Trips From Toronto
The worst part about going on road trips from Toronto is the hellish traffic on the highways leaving the city. There will almost always be some traffic, but if possible, I strongly advise not driving during rush hour (7-10 am, 3:00-6 pm). If you can avoid driving at those times, you'll save yourself a lot of time and headache.
If you don't have a car or a friend to sweet talk into driving, the best way to get to these places is to rent a car. There are many car rental places throughout Toronto, including the downtown core.
If you can't rent your own car, there are still other options. Check out the Park Bus, which runs shuttle busses from Toronto to several of the places I mention in this article, including Algonquin, Bruce Peninsula, Elora Gorge, and more.
Day Trips from Toronto
These places are close enough from Toronto that you can visit them in a day.
Chase Waterfalls in Hamilton (68 KM)
Did you know there are over 100 waterfalls to explore in Hamilton? If you are a die-hard waterfall chaser like myself, then a day trip to Hamilton is the perfect Toronto escape.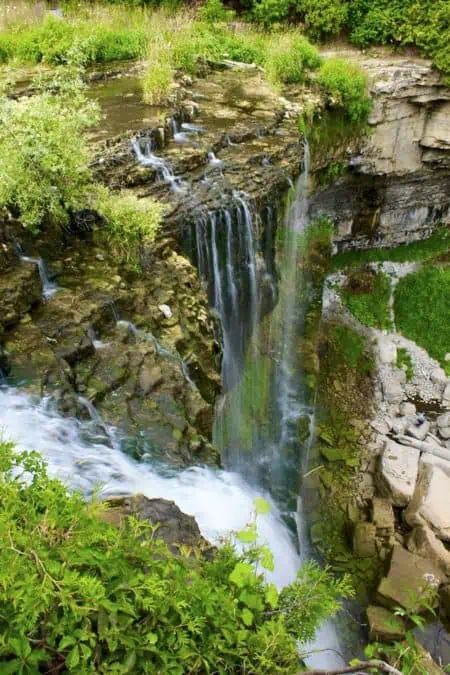 One of the most unique waterfalls to see in Hamilton is the Devil's Punchbowl – a 37-meter high waterfall that's in the center of a canyon. Another waterfall I love in Hamilton is Tew's falls. It's the tallest waterfall of all the ones in Hamilton (135 ft) and pours down into a beautiful gorge. If you want to see all of the waterfalls in Hamilton, then try hiking the Bruce Trail.
Hamilton is just an hour away from Toronto (assuming you don't get stuck in traffic), so the waterfalls can easily be done in a day. However, you can always stay overnight in Hamilton. Aside from its wonderful nature, Hamilton has thriving art, music, and craft beer scene, making it a perfect weekend getaway destination from Toronto.
Outdoors Sports & Relaxation in Blue Mountain (171 KM)
Blue Mountain is a year-round destination for outdoor fun. During the wintertime, it becomes one of the premier places for downward skiing and snowboarding in the province. In the summer, Blue Mountain is a popular place for golfing, mountain biking, and hiking.
The best places to stay overnight are in Collingwood, one of many charming small towns in Ontario. My favorite place to visit in Collingwood in the Scandinave Spa. This luxurious adult-only spa is the perfect place to relax for a day, especially during the wintertime in Ontario.
Scandinave Spa has indoor and outdoor hot tubs, cold pools, steam rooms, saunas, and relaxation areas, which you can cycle through as long as you please. The spa is open year-round and is a popular place during the summer. I visited during the wintertime on a particularly cold and snowy day. I thought it was going to be unpleasant being in the outdoor pools, but watching the snowfall over me while soaking in the hot tub was a magical experience. It's a great destination in the wintertime!
Frolick in a Lavender Field in Milton (75 km)
While these images may look strikingly similar to the south of France, this lavender field is just an hour away from Toronto. Located between Milton and Guelph, Terre Blue has become an Instagram hot spot in recent years. The Lavender bloom peaks during the summer, making it a perfect day road trip from Toronto during July and August. Plus, the sell Lavender ice cream there to cool off with. YUM!
Rock Climbing in Rattlesnake Point Conservation Area (63 km)
If you're looking for a nice place to go hiking that's not too far away from Toronto, then head to Rattlesnake Point. Following along the Niagara Escarpment, this area has beautiful views of the valley below with 13km of trails to explore. It's also one of the best places to go rock climbing in the province, with three designated rock climbing sites. If you're not ready to leave nature behind, you can camp here overnight.
Tubing in Elora Gorge Conservation Area (115 km)
Tubing, anyone? Elora Conservation area is just an hour and a half away from Toronto and is the perfect place to spend a summer day. It has beautiful hiking trails as well as a river that you can go tubing down. You can rent the tubes there and spend a few hours floating down the river, soaking in the natural beauty of the gorge.
Elora is also home to the Elora Quarry, an old quarry that has been turned into a swimming hole. Elora Quarry is a popular place in the summertime, so get here early if you don't like crowds.
Party on Wasaga Beach (146 km)
Located on the shores of Georgian Bay, Wasaga Beach is one of the most popular summer destinations in Ontario. Bring your beach towel, a cooler full of drinks, and some good friends for a day of fun in the sun. During the summer, Wasaga beach hosts many festivals, including the 4-day Xscape Music Festival.
Find places to stay near Wasaga Beach.
Cheltenham Badlands (64 km)
Badlands in Ontario? I thought these were only in Alberta! It's incredible to me that you can drive just an hour away from Toronto and be in a completely different landscape. The Cheltenham Badlands, in the town of Caledon, are actually a result of overgrazing in the 1930s. Still, it's a remarkable landscape to walk around a place that will make you feel although you're on another planet.
Marvel at the Wonder of Niagara Falls (128 km)
If you're a die-hard waterfall chaser like myself, then Niagara Falls it the perfect day trip from Toronto. There are even regular bus tours that run there if you don't have your own car.
A road trip to Niagara Falls can make such a fun weekend getaway, especially with a group of friends. It can also make a romantic getaway weekend if you're a couple. Niagara Falls is right on the border with the United States, so it's a good place to stop if you are doing an extended road trip to New York.
Niagara Falls is also the PERFECT place for adventure. Just admiring the waterfall in all it's glory is an adventure in itself, but there are also many ways to enjoy it with a touch more adrenaline. You can go zip-lining over the falls, take a helicopter ride for epic views, ride an open-top jet boat, or even journey behind the falls on a boat cruise. I highly recommend the latter, just prepare yourself to get soaked. It's a blast!
Psssst.. looking for a place to stay in Niagara falls with epic views? Check out Marriott on the falls!
Bike through Vineyards at Niagara-on-the-lake (132 km)
Nearby to Niagara Falls is Niagara-on-the-lake, which you can travel to on the same day via the Niagara parkway. Although it's only half an hour's drive, spend some time soaking in the views along this beautiful road. As you leave behind the falls, you can see the landscape change from the Niagara escarpment into the stunning vineyards of Niagra on the lake.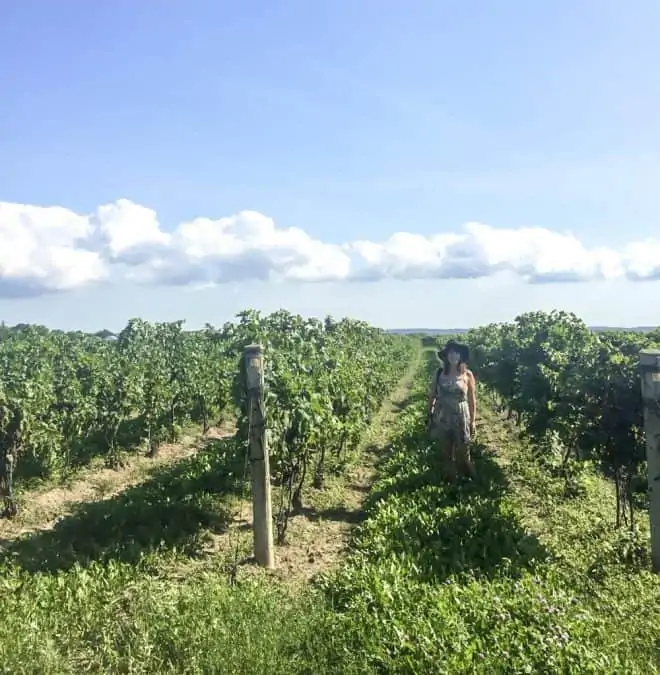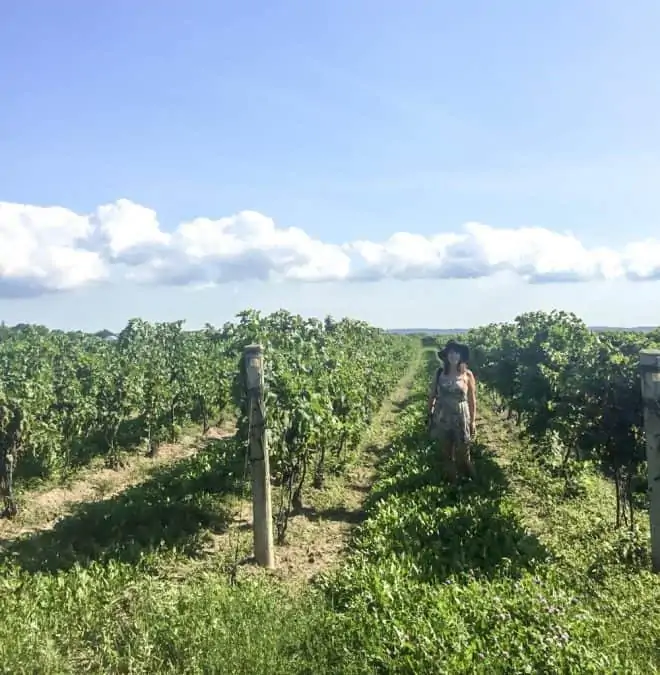 I visited Niagara on the Lake as a day trip from Toronto with a friend. We stopped at several wineries (samples are free), and while I loved it, being a DD was kind of annoying because it limited my wine intake.
A better way to enjoy Niagara on the Lake would be to plan a weekend getaway with your bay or friends. You can even take a guided wine tour or bicycle ride through the vineyards – cuuute! There are also many B&B's and hotels to stay in Niagara on the Lake. It's a nice town, with great views of Lake Ontario.
Weekend Road Trips from Toronto
If you're craving a more extended getaway into nature, then head to one of these incredible destinations that make for perfect weekend road trips from Toronto.
Algonquin Provincial Park (300 km)
Just a few hours drive from Toronto is one of Canada's most beautiful National Parks – Algonquin provincial park. Covering over 3,080 square miles of rugged Canadian Shield, this gorgeous park is home to lakes, rivers, forests, and a diverse wildlife population.
Algonquin Provincial Park has excellent chances of seeing some of Canada's best wildlife. Some of the wildlife you might see here include black bears, deer, moose, bald eagles, beavers, and more.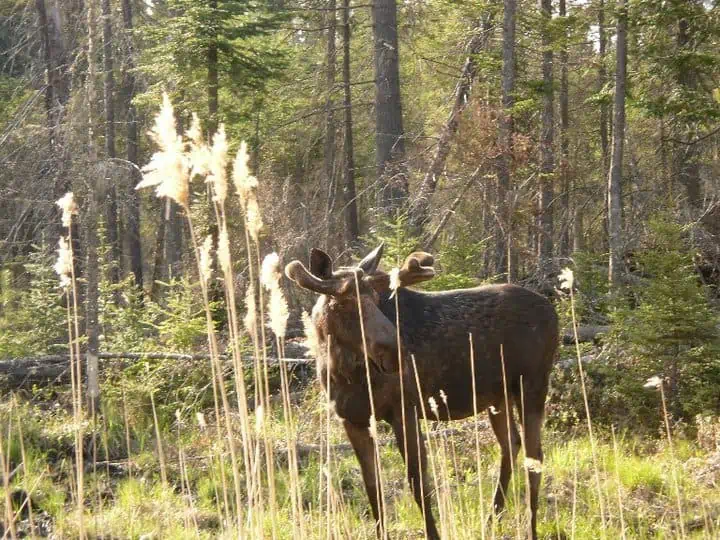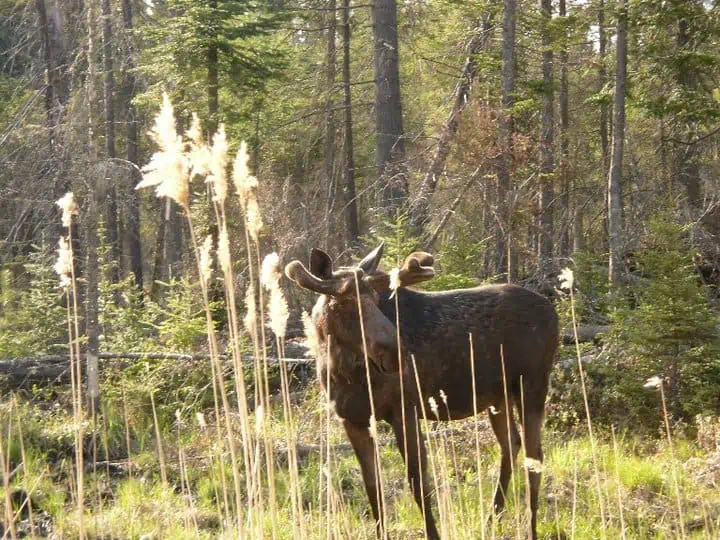 Algonquin is also one of the best places in Canada to go canoeing, with over 990 miles of canoe routes that follow lakes, streams, and portage trails. Many people do multi-day backcountry portaging trips in Algonquin, where you can truly get lost in nature.
On your road trip from Toronto to Algonquin Provincial Park, make sure to take The HWY 60 corridor through the park. The highway takes you from the East Gate to West Gate of the park with scenic views. I saw black bears along this road!
Kawartha Highlands Provincial Park (209 km)
Just 90 minutes from the GTA, and you can be an oasis of paddling routes and cycling trails. Kawartha Highlands Provincial Park is the largest park in Southern Ontario after Algonquin but much closer and less busy, making it a perfect alternative weekend road trip from Toronto. It should take you between two and three hours to get there from Toronto.
Ottawa (406 km)
I used to work for the government of Canada, so I've spent a lot of time living in hotels in Ottawa. While a city may seem like a weird thing to add to a list of road trips for outdoor lovers, Ottawa fits the bill. Although it's the capital city of Canada, it's one of the greenest cities in the country.
Just a short drive away from downtown Ottawa is Gatineau Park, a beautiful green space that has more than 165 km of hiking trails to enjoy. A great time to visit Ottawa is during May when the tulip festival takes place. Come then, and you'll be able to admire over one million tulips blooming throughout the city.
Toronto to Thousand Islands (318 km)
I came across a thousand islands national park while on an Eastern Canada road trip. I hadn't heard of it before but saw a sign for boat trips through the thousand islands while driving by. It sounded fun, so I detoured to the park for a few hours. It was a great choice – the boat cruise through the thousand islands is gorgeous.
Thousands Islands National Park Spans across the border between Canada and the U.S. You can either spend the night in the park or just stop for a scenic river cruise through the islands.
Bruce Peninsula National Park (289 km)
When I saw photos of Bruce Peninsula National Park, I couldn't believe it was in Ontario. The color of Lake Huron there appears like a tropical paradise! I had wanted to visit the Bruce Peninsula, but road trips with friends always seemed to fall through. So one day I woke up on a bright summer day, walked over to a car rental shop, and drove there myself.
Bruce Peninsula National Park is the perfect place to go hiking. With the towering cliffs rising from the turquoise water of Georgian Bay, there are endless photo ops here. Definitely do Lion's head loop!
I only spent a day in Bruce Peninsula National Park and wished I spent the weekend (or longer). The park is also a dark sky preserve, so it's the perfect place to spend a weekend camping or in the comfort of a lodge.
Escape to Cottage Country (178 km or so)
Ahhhh cottage country, the pinnacle of weekend escapes and road trips from Toronto. Cottage Country is the name of the area in Ontario North of the major urban centers in Southern Ontario. Although it's commonly associated with the Muskoka region, cottage country can also refer to other areas with access to abundant freshwater lakes and rivers such as the Kawarthas and Northern Simcoe County.
The best way to visit cottage country is to get invited to someones' cottage, but if you're visiting from away, this may not be so easy. Don't worry – there are some beautiful Airbnbs you can rent in cottage country. Gather up a few friends, rent a car, and enjoy a blissful weekend in one of the most beautiful areas of Ontario. Cottage country life is all about lakes and campfires.
Prince Edward County (203 km)
Wine and beaches, anyone? Just a 2 1/2 hours road trips from Toronto, Prince Edward County makes for a perfect romantic or girls weekend getaway.
With over a dozen conservation areas and three provincial parks, Prince Edward County is the ideal road trip destination from Toronto for outdoor lovers. It also happens to be home to some of the best vineyards in the province. Nothing goes better with nature than a glass of wine.
Find places to stay in Prince Edward County.
Georgian Bay Islands National Park (178 km)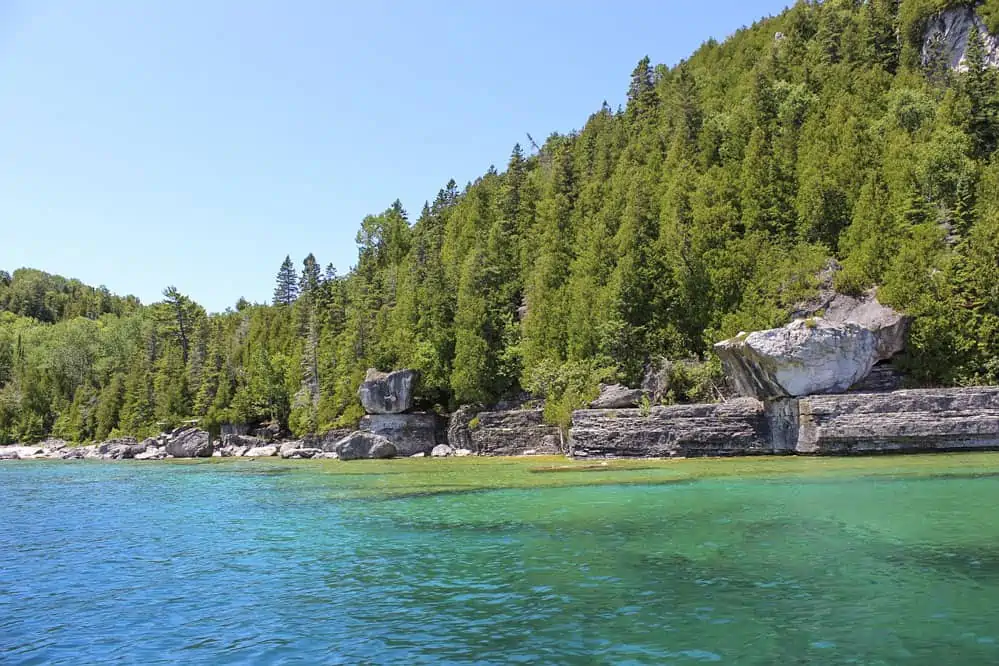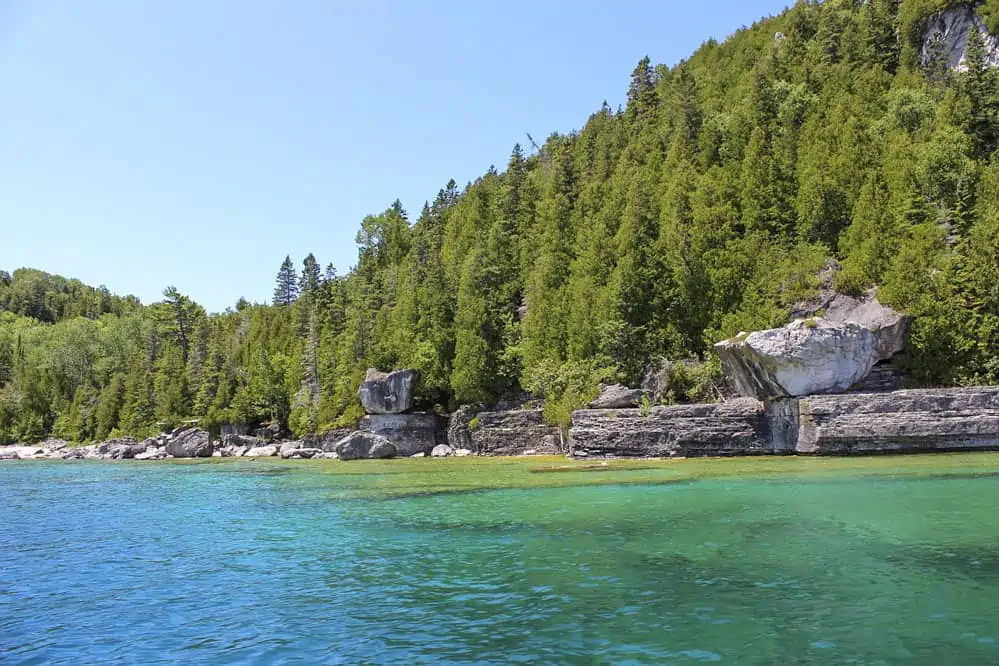 You know a national park is going to be amazing when it's only accessible by boat. Georgian Bay is the world's largest freshwater archipelago, and Georgian Bay Islands National Park is the perfect way to explore this untouched paradise.
Take the daily boat over for the weekend and immerse yourself in the beautiful nature around you. This park was one of the inspirations for the group of seven, and after spending some time here in it's guaranteed you'll leave feeling inspired too.
Awenda Provincial Park (170 km)
I hadn't heard of this park until a friend asked me to go camping there over Victoria day weekend. It's such a gem. Just a two-hour road trip from Toronto, Awenda Provincial Park is the perfect place to go for a low-key camping weekend. It has beautiful beaches to watch the sunset, as well as great hiking trails. I did a bird-watching hike organized by the park, which was so much fun!
Final Thoughts
It's easy to think of Toronto as not being close to nature, but the truth is there's an abundance of it not so far away. Ontario is a province that continually surprises me with its natural beauty. I hope these ideas for road trips from Toronto could inspire you to get outside and enjoy this stunning province!
What's your favourite Ontario road trip? Let me know in the comments below!
Planning a trip to Canada?
Found this post helpful? Pin it for later!