This post may contain affiliate links. By clicking and making a purchase through the links, I earn a small commission at no extra cost to you. See my disclaimer for more information. This and display ads allow me to keep the site up to date and give back.
I never knew how beautiful Alberta was until I moved to Edmonton for work. Every weekend, I would get in my car and explore a new part of the province. There was a never-ending amount of amazing places to visit in Alberta!
Whether you are planning a road trip through Alberta or just a weekend getaway from Calgary or Edmonton, this post will inspire you with ideas on the best attractions in Alberta.
Waterton Lakes National Park
Waterton Lakes National Park is in southern Alberta, about three hours south of Calgary. The landscape of the park is where the prairies meet the Rockies, so the scenery is gorgeous.
A great way to see the park is through a horseback riding tour where you will pass rocky mountains, crystal clear lakes, and acres of wildflowers.
Waterton National Park borders Montana's Glacier National Park, which is one of my favorite national parks in the USA. Combining the two of them makes for a perfect road trip.
Elk Island National Park
Elk Island National Park is just a 40-minute drive East of Edmonton. Come during the day to spot Bison, hike the trails, kayak the lake, or just chill out on the beach. The sunset from the beach is spectacular and the perfect way to end a day at Elk Island.
You can camp overnight at the park or drive out at night to see the stars and northern lights. Elk Island National Park is a dark sky preserve so the night sky there is incredible. You may even spot the northern lights there if the geomagnetic activity is high.
Check out Aurora Watch to find out real-time info on the probability of witnessing an aurora in the area. If you are a real northern lights chaser, sign up for e-mail alerts to find out when the Aurora may be visible.
Canadian Badlands in Drumheller
The badlands of Drumheller are such a unique and fascinating part of Alberta. This is the area where the dinosaurs once roamed. As a result, it's full of some incredible rock formations and fossil beds including Hoodoos.
You can take a hike at Horseshoe Canyon or visit the Royal Tyrell Museum to learn about the dinosaurs that once lived in Alberta. Edmonton to Drumheller is just three hours away, or one a half from Calgary. Not a long distance to travel back in time!
Places to visit in Alberta: Abraham Lake
Head to western Alberta to view this stunning turquoise lake during the wintertime. It's similar to the other glacial lakes in the Rocky Mountains, with beautiful milky blue waters and surrounding snow-tipped peaks, but has a unique twist.
During the winter, methane gets trapped under the ice, which creates an unusual natural phenomenon of stacks of bubbles. Outdoor enthusiasts and photographers come to see this every winter! The best time to capture this is from mid-December to the end of January.
I visited Abraham lake during February, so unfortunately just missed the bubbles, but the lake was still beautiful to visit. You can walk across it with photo opportunities galore of the mountain ranges, or bring your skates for a little winter fun.
Canmore
Canmore is a gorgeous town next to Banff. From beautiful hiking in the summer to snowboarding in the winter, Canmore is an all-year destination.
Camp here during the summer and you will see the most stunning sky full of stars, and if you're lucky the northern lights.
During winter, try dog sledding through the rocky mountains with the cutest doggos. Halfway through the dog-sledding trip, you will stop to warm up with hot chocolate and get the chance to pet your new four-legged friends.
Bow Valley Provincial Park – Kananaskis Country
Kananaskis Country is a park west of Calgary, Alberta in the foothills of the Canadian Rockies. It's a completely underrated part of Alberta. There are way fewer people here than Banff, but the scenery is just as good. Kananaskis Country is just 40-minutes away from Calgary so it makes for a perfect quick escape into nature.
Banff National Park
Banff National Park is one of the most popular places to visit in Alberta, and with good reason. It's absolutely stunning and has an endless supply of things to do year-round for outdoor enthusiasts.
Banff is not only an excellent getaway for Canadians, but also for Americans since Alberta is next to Montana and the Calgary international airport (YYC) has direct flights to and from many American cities. Getting to Banff is an easy one-hour scenic drive from Calgary, with well-marked highways that lead to the main town. If you're driving from Vancouver to Banff, you can turn it into an epic Canadian Rockies road trip.
Here are some of the beautiful places to visit and go hiking in Banff National Park.
Grassi Lakes
Grassi Lakes is a 3.2-km easy hiking trail that provides gorgeous views of Canmore, Alberta. This trail winds past a waterfall where it eventually leads to two breathtaking turquoise lakes. If you keep going past the lake viewpoint, you will come across Grassi Lakes waterfall, which is the perfect place to cool after hiking.
Johnston Canyon
Johnston Canyon is an easy, 2.2km hike between Banff and Lake Louise that takes you to a waterfall. Hiking through Johnston Canyon, you'll pass through breathtaking limestone cliffs and canyons. You'll walk along sturdy iron catwalks suspended from the canyon wall, where the waters of the creek flow beneath your feet. Along the way, you'll find strategically placed lookouts where you can take in the sights, including both the lower and upper falls.
Johnston Canyon is just a half-hour drive from Banff. The trail stays open all year, but if you're heading there in the summer, it's best to go early as possible as the trail is very busy.
If you visit Johnston Canyon during the winter, you'll be rewarded with fewer people and different scenery, as the snow covers the forest and rocks. Nearby the upper falls, you can watch ice climbers make their way up to the top.
Whatever season you go, Johnston Cayon is sure to be a highlight of your trip to Banff.
Lake Louise
Lake Lousie is world-famous for a reason; it is one of the most beautiful lakes in the world!
If you come during the summer, you can go kayaking or canoeing around Lake Louise, which offers amazing views.
During the winter, Lake Louise becomes even more picturesque as the snow falls over the mountain. The water freezes over, which means you can go skating around the lake.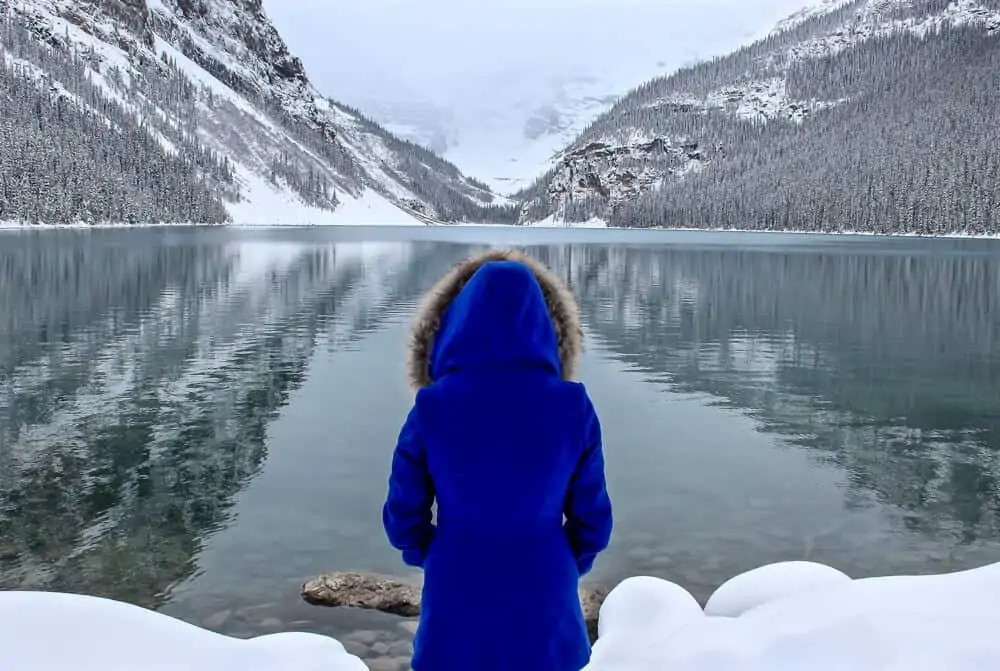 Icefields Parkway
The best Alberta road trip is from Banff to Jasper (or vise versa) through the Icefields Parkway. National Geographic named this one of the best road trips in the world.
Along the drive, you will pass through ancient glaciers, cascading waterfalls, and emerald lakes surrounded by forests. If that isn't enough to please your eyes, there are also over 53 species of mammals you can spot, including bears, bighorn sheep, mountain goats, and elk. The Icefields Parkway is a must-do on a Canadian Rockies road trip.
Jasper National Park
Jasper is one of my favourite places on earth. The park has so much beauty, and there are endless activities to do there from morning to night.
Some of the main activities to are hiking in Jasper, dog sledding, skiing/snowboarding, and the chance to spot some of Canada's best wildlife. I've had great luck spotting wildlife in Jasper, including once seeing a grizzly bear.
Northern Lights
Jasper is far North so your chances of spotting the northern lights here are high. It's also one of the world's largest dark sky preserves, which means there's no artificial light around to obscure the view. The best chance at seeing the aurora borealis is September through mid-May.
In Mid-October, Jasper National Park hosts a dark sky festival where visitors can come to view the incredible sky and participate in hands-on science and astronomy event.
Jasper SkyTram
The Jasper SkyTram is the largest in Canada and provides breathtaking views of Jasper national park below. You start the journey at the lower station (1258m), where you will board the tram and take a 7-minute ride up to the top. The tram goes up to an elevation of 2263m and offers incredible views all along the way. At the top, there are viewing platforms for taking photos.
Glacier Skywalk
Try the Glacier Sky Walk, a 1-km walk to a glass-floor observation platform that overlooks a 28m drop. From the viewing platform, you can see giant glaciers in the Colombia Icefields as well as the stunning Sunwapta Valley. Along the walk, there are information signs to help you learn about Alberta's unique geological past.
Athabasca Falls
Twenty minutes south of Jasper on the Icefields Parkway, you can stop and see the incredible Athabasca Falls. There are several viewpoints in this area where you can feel the spray of this 23-meter waterfall as it pours into the canyon below. Flowing from the glaciers of the Columbia Icefield, the Athabasca River is the most extensive river system in Jasper.
There is a train station in Jasper National Park which you can either take West to Vancouver or East to Toronto as part of the train route across Canada.
There are so many beautiful places to visit in Alberta. While I don't miss Edmonton much, I do miss taking road trips through Alberta.. Have you been before? What are your favorite spots? Let me know in the comments below!
Like it? Pin it for later!