This post may contain affiliate links. By clicking and making a purchase through the links, I earn a small commission at no extra cost to you. See my disclaimer for more information. This and display ads allow me to keep the site up to date and give back.
In contrast to glitzy Toronto or fast-paced Montreal, the Canadian Rockies feature a wild, rugged scenery that combines British Columbian and Albertan ranges. Boasting hot springs, prairies, lakes, and snow-capped peaks, it should come as no surprise the Rockies draws thousands of local and international visitors each year. And the best way to experience the scenery is with a Canadian Rockies road trip!
With connecting mountain chains that run all the way to Albuquerque, the Rockies also happen to be home to large concentrations of wildlife. Southmost sites such as the Frozen Lake, North Fork Flathead River, Long Knife Peak, Forum Peak, and Cameron Lake actually border Montana in the United States. Additionally, the Canadian Rockies house numerous river systems such as the Athabasca, Bow, North Saskatchewan, Fraser, and Columbia Rivers.
To make sure that they can soak up plenty of those wondrous sights in very little time, such as the incredible locations around Banff National Park, most people choose to tour the Rockies by car or RV. Rest assured that the roads are in excellent condition, and there are plenty of visible signposts to help you navigate around the mountains.
It's important to know that you'll need a Park Pass if you plan to tour the National Parks. Best of all, there are plenty of camping sites and hotels for various budgets scattered across the Rockies, perfect for those taking an extended trip in the area.
Here are some of the very best road trips that you can take across the Canadian Rockies.
This post was written by Alesha and Jarryd of NOMADasaurus.
Best Road Trips Through The Canadian Rockies
Canadian Rockies & Vancouver Island Road Trip
This particular road trip from Vancouver to Banff will take you across quaint little mountain towns, lush lakes, and rugged coastlines. It's recommended to allocate yourself between 10 and 14 days to properly soak up all the sights.
Most people tend to kick off their road trip from the Tsawwassen Ferry Terminal, where you can hop on a 90-minute ferry ride to Swartz Bay.
Take a drive through Victoria before heading over to Vancouver's West Coast, where you might just spot those elusive Canadian black bears. The ocean around Clayoquot Sound is teeming with marine wildlife, so if you plan your trip just right, you can even spot some whales from the shore.
Trek across Whistler and Sun Peak towards the Monashee Mountains' snow-speckled tips. From there, you will be treated to mesmerizing views of the Pyramid Falls, Mount Robson, and the Albreda Glaciers.
At the very heart of the Canadian Rockies lies the Icefields Parkway that demands quite a bit of strength and stamina to cross through, but most people will tell you that the hike up to the Ice Explorer's Glass Platform is more than worth it.
If you want, you can also take a short cruise down the Devil's Gap in Lake Minnewanka, where you will be treated to unblemished views of the Canadian Rockies from the water.
End your road trip with a visit to Banff National Park, where you can explore the rugged landscape on horseback before catching a ferry back home.
Prairies and Canadian Rockies Road Trip
A road trip across the Canadian Rockies isn't usually considered complete until you check out the gold-hued Prairies that lie a quick drive east of the mountains.
After exploring all the awesome things to do in Calgary, start touring the Rockies' Icefield Parkway to drive past Jasper, Maligne Lake, and Edmonton to reach historic North Battleford.
Known for its reconstructed Period architecture, this area also offers intimate little eateries where you can fuel up with a hearty meal before continuing your way towards Saskatoon.
While in Saskatoon, you may wish to check out Wanuskewin Heritage Park, which is considered one of the oldest hunting sites near the Canadian Rockies. Afterward, drive through Regina and Moose Jaw until the terrain gradually morphs into the Prairies' distinctively yellowish tint.
Indeed, one of the most popular sites in this region is the Dinosaur Provincial Park which lies just a stone's throw from the Alberta Badlands. Showcasing the world's greatest collection of dinosaur fossils, this park also features proximity to the Canadian Badlands.
A three hours' drive from the Alberta Badlands takes you directly into Maple Creek which, at 214 mi, is known for having the highest elevation in the country.
This particular spot in the Rockies is nestled between Labrador and the Rocky Mountains, which means that you'll get to enjoy an absolutely spectacular view of the surroundings. It's recommended to set aside at least five days for this particular road trip.
Canadian Rockies State Parks Road Trip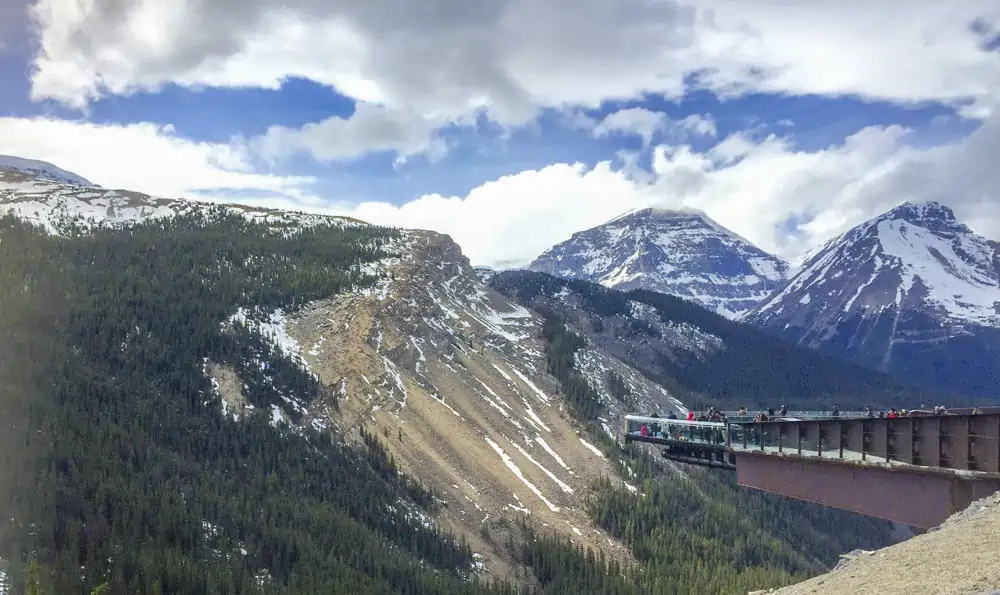 The Canadian Rockies can be an excellent jumping point to the many awe-inspiring parks that dot the surroundings. Road trippers who would like to explore the State Parks can debut their trip from Jasper National Park, a UNESCO World Heritage Site spanning 11,000 square kilometers. It's entirely possible to explore all the Parks in 5 to 7 days.
This park lies less than 25 miles from Disaster Point and has quite an impressive bighorn sheep population. On your way to the next park, don't miss a visit to the Miette Hot Springs, where you can enjoy a relaxing dip in one of the gloriously warm mineral pools.
A three hours' drive from Jasper takes you into Banff National Park, which is found at the very heart of the Canadian Rockies. Founded way back in 1885, this park, like most in the Rockies' Parks, has well-paved roads despite the rugged scenery, so you can soak up most major sights in very little time.
Drive uphill to Tunnel Mountain, which overlooks Sulphur Mountain's Hot Springs. Since this mountain is also found right at the corner of Spray River, you can always park your vehicle and take a relaxing walk by the riverside.
A little over four hours by car takes you to Elk Island State Park. Because it lies just 35 minutes from Edmonton, this park is ideal for road trippers short on time.
In fact, it's quite a popular spot near the Canadian Rockies for star gazing since this park boasts incredible views of the Milky Way away from the city lights. This park additionally houses plenty of elk, bison, and over 250 different species of birds.
Canadian Rockies Wildlife and Wineries Road Trip
Wine connoisseurs who also happen to be fans of the great outdoors will undoubtedly find their joy in road trips that seamlessly combine winery tours with the very best of the Canadian Rockies. The best way to plan this trip is to start from Okanagan, known for its bountiful wineries, orchards, and lakes. You may wish to set aside between 7-10 days for this trip.
After sampling some of Okanagan's best wines, head north towards Shuswap Lake, particularly renowned for its scenic shorelines that offer ample space for a lakeside picnic.
From there, pass through Craigellachie and head into Glacier National Park, home to the iconic Rogers Pass. From the pass, you will be able to spot plenty of mountain goats, caribou, and grizzly bears.
Take the Yoho National Park's Mountain pass that will lead you right into Lake Lodge, known for its towering peaks. If you've got a bit of time to spare, check out the park's icy mountains, spectacular waterfalls, and the Kicking Horse River's natural bridge.
At Lake Lodge, you'll also be privy to Moraine Lake, which happens to be one of the most popular spots in the Canadian Rockies.
Thanks to the abundance of activities available at Moraine Lake, road trippers usually like to make a stop there for the night. Around the lake, you'll see even more wildlife such as moose, coyotes, black bears, wapitis, wolves, and sheep.
Canadian Rockies Lakes Road Trip
The Canadian Rockies' awe-inspiring scenery is punctuated by its many lakes, with the most popular being Emerald Lake in Yoho National Park. According to locals, this particular lake was accidentally discovered by a Canadian guide back in the 19th century.
As the name suggests, Emerald Lake earns its unique color thanks to the glacial rock flour that's poured into the lake from a neighboring glacier.
This is an excellent site to stretch your legs or stop for an Al Fresco lunch since the lake features over five kilometers of shoreline with wooden sitting areas dispersed through the woodsy terrain.
From there, take a four-hour drive across the Rockies to Kinney Lake which, incidentally, happens to be a well-kept secret in the area. As such, this is the ideal place to visit when you want to get away from the crowds. Because it's surrounded by Mount Robson and Whitehorn Mountain, this area provides plenty of hiking opportunities. Kinney Lake is home to the Berg Lake Trail, an easy hike that leads to a charming little campground.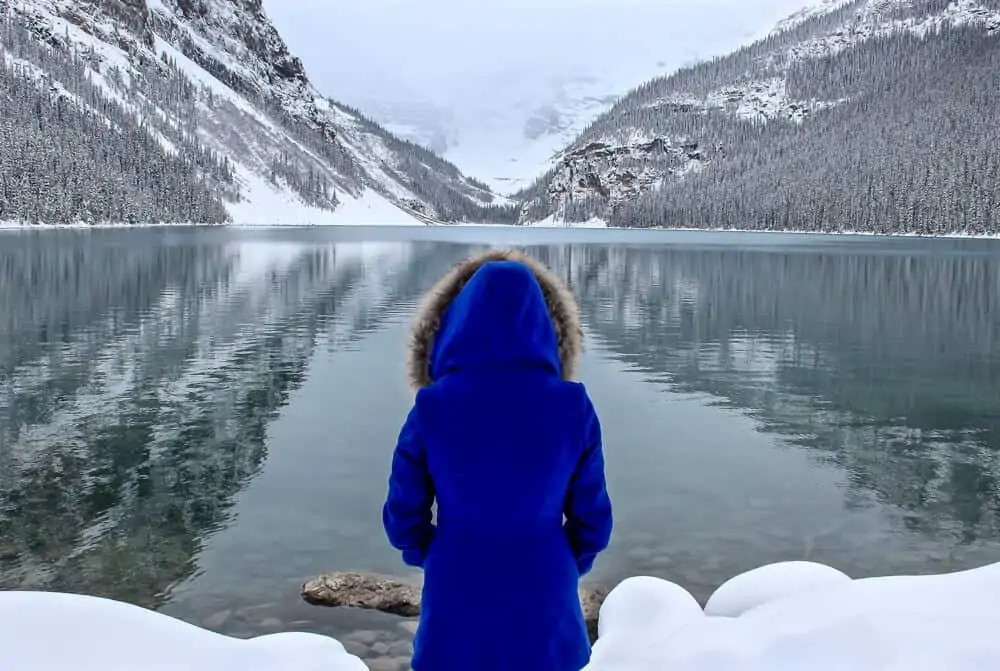 A three-hour drive away is Lake Louise, undoubtedly the most sought-after lake in the Canadian Rockies. Fringed by snow-capped peaks, this lake is quite a sight to behold even in the dead of Canadian winters, which is why it draws visitors virtually all year round. Just past the lake is the Lake Louise viewpoint, which provides dazzling views of Mount Victoria.
Experienced hikers will be glad to know that the lake is also a starting point for challenging trails like the Plain of Six Glaciers and the Lake Agnes Trail. Afterward, you can always drive back through the Lake Louise Drive that will take you directly into Lake Louise Village.
It's recommended to give yourself a full week to properly explore the main Canadian Rockies lakes.
—
There you have it, five stunning road trips through the Canadian Rockies! Which one would you love to go on?
Alesha and Jarryd are travel writers, photographers, and creators from Australia traveling the world together non-stop since 2008. Their passion for adventure travel, sustainable tourism and van life has seen them visit some of the most remote destinations on the planet, seeking out incredible landscapes and unique cultures. You can follow their adventures on NOMADasaurus and Van Life Theory.