This post may contain affiliate links. By clicking and making a purchase through the links, I earn a small commission at no extra cost to you. This and display ads allows me to keep the site up to date and give back. Thanks for reading!
Peru is a country that explodes with culture, history and natural beauty. It's hard to visit the country and not immediately fall in love. My trip to Peru was action-packed with some of the best trekking I've ever done, but it got me wondering what other adventures there are to do in Peru that I might have missed. So I asked the travel blogging community about what they thought the best adventures in Peru were, and boy did they deliver!
This post will go over the top adventures to have in Peru as recommended by some pretty awesome travel bloggers. It features the best treks, cultural immersion experiences, wildlife encounters, and other outdoor activities in Peru.
Trekking Adventures to have in Peru
Treks near Cusco, Peru
Ausangate Trek 
Recommended by Alya of Stingy Nomads
During our last trip to Peru we spent a month in Cusco and did several treks in the area, yet our favorite was the Ausangate trek. It's a 4-5-day high altitude hike through remote areas in the mountains, with a one day detour from the route where it's possible to visit the Rainbow Mountain.
The hike is quite challenging and requires a certain level of fitness and good acclimatization, the whole route is above 4000m with two passes over 5000m. The total distance of the trek is 70km. The trek is a circuit route that starts and finishes in a small town of Tinqui, about 100 km from Cusco. It's easy to get there by a direct bus that goes from Cusco to Tinqui.
It's possible to complete the Ausangate trek with or without a guide. There are no special permits for the route, entrance fee of US$4 is paid at the exit from Tinqui. Ausangate is a wild hike so trekkers have to carry all the necessary gear and food with. Water can be obtained on the way but it's recommended to use a water filter, purifying tablets or LifeStraw.
The scenery on the hike is simply breathtaking; bizarre mountain formations, lakes of different colors from turquoise blue to green and even pink, hanging glaciers, colorful Rainbow Mountain (if you do a detour), hundreds of alpacas on green pasture fields and no people. The Ausangate trek is a highly recommended activity in Peru for those who like hiking, adventure, and mountains.
Salkantay Trek
Recommended by Mitch of Project Untethered
Despite being super touristy, you cannot go to Peru without seeing Machu Picchu. You just can't. That said, there are some adventurous ways to get off the beaten path.
The best one? Go on a trek. Instead of getting carted up the mountains in trains and buses jam-packed with tourists, you can take a multi-day trek through the mountains to get there.
The "Inca Trail" is the most well-known trek. However, that also means it's become overrun with tourists—often requiring you to book at least 6 months in advance.
If you want a quieter, more relaxing experience in nature (for a fraction of the cost), I highly recommend opting for the alternative 4- or 5-day Salkantay Trek.
Not only is it a more personal experience in the mountains, but you'll also have the opportunity to make great friendships with your small group along the way (perfect for solo travelers).
It's a challenging trek, but anyone with an average fitness level can do it. You can go as slow or as fast as you want.
Many tour operators in Cusco offer the trek, but I'd recommend going through OkiDoki Tours (it's also a hostel). During the trek, I spoke with hikers from other tour companies and realized our equipment was much higher quality than everyone else's (for about the same price).
During the trek, your tents and meals are prepared for you. All you have to carry is a small backpack with personal items. If you work while traveling, you can lock your laptop and other valuables up in your Cusco hostel while you're on the trek.
But whatever you do, learn from my mistake—be sure to protect your feet from blisters! Walking for days through the mountains with painful bubbles all over your feet makes for a bittersweet experience. That said, I'd do it again in a heartbeat—blisters and all!
The Archaeological Site of Choquequirao
Recommended by Steph of Worldly Adventurer
Rising out of the jungle in the Vilcabamba mountain range around 100 kilometers west of Cusco, the archaeological site of Choquequirao is quite possibly Peru's best-kept secret. With just one-third of these vast Inca ruins yet extracted from the jungle that has claimed them for the past five centuries, their full scale is still being discovered. Despite this, the sight of expertly engineered crop terraces and water channels used as religious shrines pack quite a punch when seen from the viewpoint above.
Only a handful of international visitors arrive each day thanks to the challenging – but oh so worthwhile – hike to get here. The two-day, 32-kilometer trail is considered to be one of the toughest in Peru, in no small part due to the 1,500-meter descent into the Apurimac canyon on the first day, followed by a steep, 1,800-meter climb back out the next day. The ruins themselves sit on a plateau at 3,000 meters above sea level – a little higher than nearby Machu Picchu.
You can easily spend a day or even two exploring the ruins, where you'll find yourself surrounded by few – if any other tourists – and can camp at a spot right beneath the site itself. The route is well-marked, although be sure to bring all your food and camping equipment as there are only a handful of places where you might get hold of basic supplies en-route.
If you're feeling truly adventurous, you can convert the trek into a nine-day adventure hiking all the way to Machu Picchu,along parts of the Inca road that few tourists ever experience.
The Inca Trail
The Inca Trail is a 42 km four-day trek that starts near Cusco, takes you through the Andes Mountains, and culminates in the ancient city of Machu Picchu. Hiking the Inca trail to Machu Picchu is among the best travel experiences I've had to date. The trek is unique as it's the original path used by the Inca Empire. Throughout the trail there are ancient ruins, so it truly feels although you are walking through history. The trek also takes you through the most breathtaking scenery, passing through snow capped Andes mountains,  lush jungle, and mystical cloud forests.
[irp posts="206″ name="Everything you need to know about Hiking the Inca Trail"]
Rainbow Mountain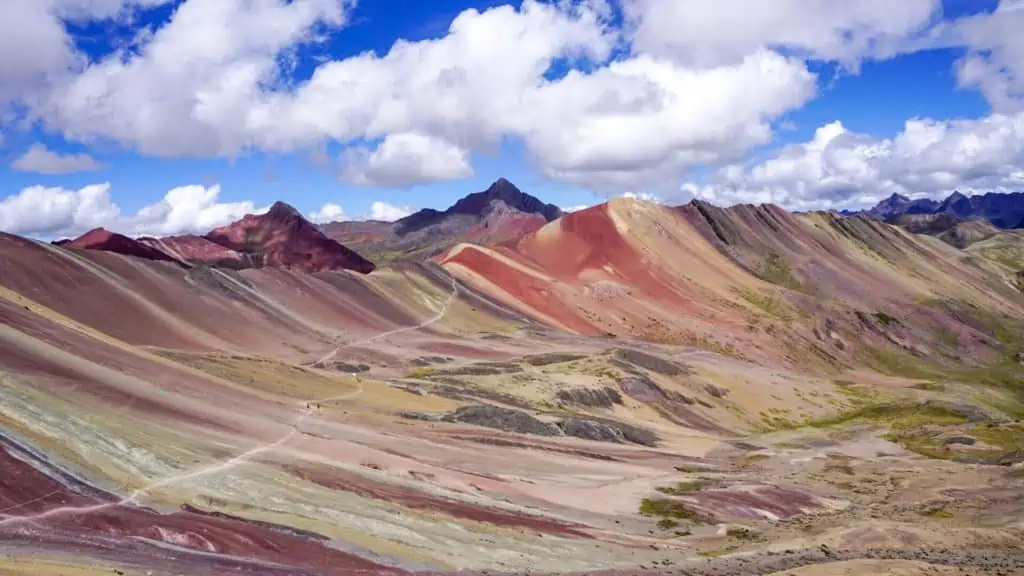 If you're short on time it is possible to hike Rainbow Mountain, one of Peru's most popular treks, in just one day. The trek has only become open to tourists in recent years, but has become very popular in that time due to its unique and colourful geological features. The total length of the trek is 11km round trip but many people find it challenging due to the altitude. The trail starts at just under 5000m and goes up to 5200m.
It is a good idea to spend a few days in Cusco before trekking rainbow mountain in order to acclimatize. Although challenging, the trek is well worth it and the beautiful views along the will keep anyone motivated to the top. The trail passes through snow capped mountains, fields of llamas, and colourful valleys.
Rainbow mountain itself is not visible until the end of the hike but as you reach the summit the landscape explodes with color below. Most of the tour companies arrive the trail head around the same time (9am) making the trail crowded, but for those with the flexibility of a car it is possible to skip the crowds by arriving earlier or later in the day. Crowded or not, trekking rainbow mountain is an incredible adventure to go on while visiting Peru.
[irp posts="1263″ name="Hiking Rainbow mountain"]
Treks near Arequipa, Peru
Colca Canyon
Recommended by Demi of Around The World With Her
The highlight of my time in Peru was definitely hiking in Colca Canyon. The second deepest canyon in the world, the Colca Canyon trek offers you a chance to see some stunning scenery and the rare Andean Condor. The canyon is located around 5 hours away from the city of Arequipa. You can hike in the canyon for only a day, or do a multi-day trek. You also have the choice of going alone or taking a guided tour.
I chose to go without a tour and made my own way there by bus from Arequipa to the town of Cabanaconde. Here, I stayed a night in the Pachamama hostel who are great at giving solo hikers some information and a free map. The next day I made my way down into the canyon, which was very steep! The views on the way down were spectacular! That night I stayed at Llahuar lodge and met some other hikers, and used the natural hot springs!
The second day I continued through the canyon and stayed another night a little further on. The third day was a very early start, around 4 am, for the strenuous hike back up. I was rewarded with a few Condors flying overhead in the early morning, and a feeling of great achievement 4 hours later after I climbed the 1200 meters back up! I was happy I chose to go it alone and only met a few other people (and dogs!) along the way. This made for a very peaceful hike in nature!
El Misti Volcano
Recommended by Clare of Travels in Peru
When I first arrived in Arequipa the first thing I saw was El Misti Volcano, it was covered in snow at the top and for me was the perfect shaped volcano. After some time I found out that it is possible to do an overnight hike to the summit, something I am told that is only done by tourists and not locals!
I arranged to do a tour, though you need to carry your own tent, water etc to the top.  Normally it's between 15-20kg. It is possible to do yourself, but it will add another 6-7km to the start/finish of the hike as you get dropped off by the road and not at the start of the hike as it's on private land.
We got picked up early morning and drove out to Misti to start our hike at 3,500 meters, that afternoon we hiked for 5 hours to get to basecamp at 4,500 meters. There it was amazing to watch the sunset before we had dinner and then bed. We were then up at 2 am to start the hike to the summit. The first few hours you are hiking in the dark and going slowly due to the altitude so you don't get exhausted. After around 6 hours and losing 4 of our group of 7 to the altitude we finally made it to the summit.  
What an amazing feeling it was to be stood on the top of Misti, looking down at Arequipa and seeing how far we had climbed to a height of 5,822 metres!! I stood there and cried, so happy I had made it to the top on one of the toughest hikes I have ever done because of the altitude and the distance. Honestly if you are in Arequipa I would certainly recommend it, just be prepared mentally for how tough it is.
Treks near Huaraz, Peru
The Cordillera Huayhuash Circuit
Recommended by Meagan from Mountains with Megan
If you're looking for a remote and challenging trek to do in Peru, the Cordillera Huayhuash Circuit might be for you. It's less visited than it's Cordillera Blanca counterpart, and the region has been made famous by the perilous mountaineering book Touching the Void.
The biggest appeals of the Cordillera Huayhuash Circuit are that it's not yet popular, so there won't be crowds of hikers. It has endless amounts of towering, snow-capped mountains and pristine, turquoise, alpine lakes. One of the campsites even has a hot spring where you can soak your weary body.
This trek takes on average 9-10 days to do. It can be done independently or with a guide and mules. Because of the high altitude, I would encourage only those who are experienced with multi-day hiking at high elevations to do this trek independently.
The trek is entirely a wilderness experience. You will be sleeping in a tent every night and eating only what has been carried in. Be cautious of the effects of altitude on your body, and make sure you are staying hydrated and well fed.
The city of Huaraz will be the launching off point from where you will head for the mountains. You can find a trekking agency that operates out of there. Or if trekking independently, you can get supplies and buy bus tickets to the mountains from there. Don't forget to bring cash along on the trek because locals charge small campsite fees for the use of the land.
For more information on this trek, check out my guide to the Cordillera Huayhuash Circuit. 
Santa Cruz Trek
Recommended by Miguel from Travelsauro
Located in the Huascaran National Park, the Santa Cruz Trek is becoming one of the most popular trails in Peru. Why you'll love it: this hike winds its way through the valleys of the Cordillera Blanca while passing beautiful turquoise lakes, huge cliffs, terrific valleys, and impressive glaciers. If you are traveling around central Peru, you shouldn't miss this adventure, even if you aren't an experienced hiker.
Let me tell you that the trek is not technically difficult; it can be completed in 4 days, and it's even doable without a guide. You won't find any villages along the trail which means that you'll need to bring your own gear and food. If you need to rent some hiking gear, you'll find everything you need in Huaraz. Also, consider buying a good map. Although the path is well marked, it is always good to be sure where you go.
Keep in mind that the highest point of the trail is at 4750 meters, and most of the trail takes place over 4000 meters. Give yourself plenty of time to acclimate before you go. There are several lagoons near Huaraz that you can visit in a day trip. Just perfect for a gradual acclimatization.
Cultural Immersion Experiences to have in Peru
Stay with a Quechua community in the Peruvian Andes
Recommended by Gábor from Surfing the Planet
Peru is one of the most amazing countries we have ever visited with amazing landscapes and wonderful cultural heritage, mostly reflected in Machu Picchu, the sacred city of the Incas. Nevertheless, our best experience was spending a few days in a real Quechua village between the Andes. Our friend who hosted us in Cusco recommended this adventure, and we are immensely grateful to him.
To get to the community, we had to go first to Ollantaytambo, a small town near Cusco with several Inca ruins. From there in the absence of any available public transport, got a lift from social workers of the local municipality, who were visiting these communities to bring them vaccines, milk and other commodities. It took 3 hours on a horrible road to get to the community where we stayed for a few days.
It was amazing to see all local people dressed in their traditional and colorful clothes. We participated in their daily routine during those days. We helped in the selection of all the different potatoes, herding sheep and cooking delicious soups. The family we stayed with and the members of the community were all very kind with us in spite of the difficulties in communication (we speak Spanish fluently, but most community members only spoke Quechua).
Take part in the Inti Raymi Celebration at Sacsayhuamán
Submitted by Laudy and Jerome Shaw of Travel Boldly
The Inti Raymi celebration at Sacsayhuamán just outside of Cusco, Peru is a feast for the senses. The recreation of the ancient Incan festival to commemorate the "return" of the sun that they feared might be leaving them as the days grew shorter and shorter as the winter solstice in the Southern Hemisphere approached. It was in 1944 that the modern day recreation was first held at Sacsayhuamán using indigenous actors and incorporates amazing costumes, pageantry, and music. The Festival of the Sun is celebrated on the 24th of June each year. The Incas believed that the sun stood still between June 20th and 23rd. The 24th was the first day the Incan astronomers could detect the sun moving higher into the sky.
Legend has it that Inti, the Incan god of the sun, would throw a lasso around the sun and tie it to the Intihuatana or "hitching post of the sun," a rock altar at Machu Picchu. The Inti Raymi Festival celebrates this amazing feat. It is a visually rich festival rich set against the giant hewn boulders that form the fortress walls of Sacsayhuamánn. The historical recreation is one of the most photogenic of festivals anywhere in the world. Inti Raymi offers us a glimpse into the regal life of the ancient Incan ruling class.
The original Inti Raymi began in 1412 and ended with the last Inti Raymi in 1535. It was banned as a pagan ritual by the conquering Spanish. Inti Raymi was the most prominent of four ceremonies conducted in Cusco. In Incan times the celebration was held in the central plaza of Cusco. Inti Raymi was preceded by three days of near-fasting and purification rituals by the Sapa Inca, who was the head of the Incan Empire. In ancient times the celebration included the sacrifice of llamas and occasionally children.
You will want to make reservations for accommodations in Cusco well in advance. I recommend arriving in Cusco a few days in advance to get your bearings, acclimate to the altitude and figure out your travel arrangements for the day of Inti Raymi. The least expensive grandstand seating for the ceremony at Sacsayhuamán will exceed US$100. You can watch the festivities from the two hills overlooking the festival. There is no charge to enter either area. You should come prepared for the entire day's stay with plenty of water, food, and something to sit on.
See the Carajia Sarcophagi in the cliffs
Recommended by Wendy of The Nomadic Vegan
While most visitors to Peru head straight for Cusco and Machu Picchu, there are some amazing adventures to be had in the north of the country too. The Incas were not the only pre-Colombian civilization in Peru. Others, such as the Chachapoya people, have also left behind mysterious cities, fortresses and burial places, including painted sarcophagi that they placed high up on the inaccessible cliff faces of Karajía.
The Chachapoya were known as the Warriors of the Clouds because they lived in the cloud forests of the Amazon region and ruled their own nation from there until the Inca conquered them. When a warrior died, his body would be placed inside a larger-than-life-sized painted sarcophagus, called a "purunmacho".
The sarcophagi are made of just clay, sticks and grass, yet they have been preserved for more than 600 years, and even some of the decorative painting has still survived.
Several companies in the city of Chachapoyas run day tours to Karajía, which is often combined with a visit to a nearby cave full of stalactites and stalagmites. You will be driven to a town called Cruz Pata, from where you will walk the rest of the way to the site. This takes about 40 minutes and is not a difficult walk, althought the path is sometimes quite muddy.
When you see the sarcophagi perched high up on a ledge in the cliff, you will wonder how the Chachapoya ever managed to reach that spot. Apart from a few archaeologists, almost no one has been able to follow in their footsteps in modern times. A trip to see the Karajía sarcophagi offers a rare glimpse into a mysterious and awe-inspiring culture that most visitors to Peru know nothing about.
Wildlife Encounters to have in Peru
Spot wildlife in Manú National Park
Recommended by Manuk of Groetjes uit Verweggistan (With Love from Far Away)
Looking for an adventure a little bit off the beaten track? What about a part of the Peruvian jungle which has not yet been discovered by many? From Cusco, you can visit the amazing jungle called Parque Nacional Manú (National Park Manú). You can make different trips, depending on how much time you have. You can see a lot in 4 days, but if you have time I recommend going longer. We spend 6 days in the jungle and had an amazing adventure.
From Cusco, you take a van to the National Park. This takes almost a day, but you see many different landscapes on your way and ascend through a cloud forest. The next day you will go on a boat and go all the way to the reserved zone of Manú. This is the most interesting part. No one lives in it, which means the wildlife are undisturbed. Only specific tour organizations are allowed in to protect it.
We did amazing things in the park. We peddled over a lake to see giant otters and saw many many birds, different monkeys, and caymans. We went on night walks to see insects and snakes. We had a great English-speaking guide and a wonderful staff to cook us meals. I would go again in a heartbeat!
You can book this adventure in Cusco. If you want to take a bit more time and visit the reserved zone, check if the company really enters it (because not all of them are allowed in there). The part you can visit when you do a shorter visit is called the cultural zone, in which you can already see a lot of wildlife. We saw many birds like hummingbirds in the cultural zone and animals like the capybara.
Cruise the Peruvian Amazon
Recommended by Brett Love and Mary Gabrett of Green Global Travels
The Amazon Rainforest has a total area of approximately 2,100,000 square miles, about 60% of which lies within Brazil's borders. Unfortunately, that country has been exploiting its natural resources for decades now, and its continued reliance on slash-and-burn agriculture is increasingly causing irreparable damage to this once-pristine environmental treasure.
For a true taste of the Amazon's world-renowned biodiversity, you'll instead want to head to Iquitos, Peru and take a river cruise that will take you up to 600 miles along the mighty Amazon River and its many tributaries. There are a lot of different tour operators that offer such trips, catering to a wide array of budgets. But we went with International Expeditions, an eco-tour operator that has been offering Amazon River cruises for nearly four decades now.
Their new luxury Amazon vessel, the Zafiro, carries just 38 passengers in total. But the ship comes equipped with all the necessities, and then some. The company also has lots of community-focused CSR (corporate social responsibility) initiatives, from conservation education programs at school in Iquitos to water filtration and infrastructure development (including building schools) in many of the Ribereños villages along the river.
Guests have an opportunity to venture into remote stretches of the Pacaya-Samiria Reserve (where large ships are not allowed to go), visit an Amazonian manatee rescue center, pend time in the villages, get blessed by a traditional Amazonian shaman, hike in the forest, and take daily Zodiac excursions tours with expert field guides.
No words can adequately describe the feeling of seeing countless Howler Monkeys, Pink River Dolphins, Caiman, Iguanas, tropical bird species (unclipping the Hoatzin, a.k.a. Punk Rock Bird), and occasional big cats as you glide through the legendary forest. Spending time with the welcoming Ribereños who live there is a memory we'll treasure forever.
See Macaws in a clay lick
Recommended by Alex of the Lavorato Lens
While my husband and I were in Peru, we spent a few days in the Tambopata region of the Amazon. One activity we fell in love with while we were there was bird watching (I know, this sounds kind of lame, but trust me, when you see the birds that are in the Amazon, you'll understand). We had so much fun learning their different calls and attempting to spot them through the thick trees.
One activity we truly loved was hiking to a clay lick to see macaws. Throughout the day, macaws eat seeds, which is full of alkaloids. In order to neutralize the alkaloids, the macaws seek out these clay licks early in the morning, and they actually feed on the clay.  We were able to see dozens of Scarlet Macaws, both flying around the area and feeding on the clay lick.
This activity was provided by our lodge, Refugio Amazonas, as well as many other eco-lodges in the Amazon. Be sure to ask your lodge before making reservations if you will be able to take a hike or boat ride to a clay lick if this is something you want to do.
Other Active Adventures to have in Peru
White Water Rafting on the Apurimac River
Recommended by James from Travel Collecting
White water rafting on the Apurimac River in Peru is considered one of the ten best river rafting trips in the world, and it is easy to see why.  A four-hour drive gets you to the start of the trip. After a lesson in rafting techniques, you are off, with an experienced guide in each raft to navigate.  Almost immediately you enter the Apurimac Canyon, also called the Black Canyon.  Its towering walls your companion over the next three days. If you are lucky, you may see condors circling high overhead. 
This trip is not for the faint-hearted.  Rapids are classified by number, with VI being unnavigable.  Typical whitewater rafting trips go through Class III rapids, and this is a fun bumpy ride.  Class IV rapids are about as big as most rivers get, and these require a great deal of care and experience to navigate through successfully.  The Apurimac River, however, has several Class V rapids.  These are serious stuff – and seriously fun if you're looking for adventure.
Before each of these rapids, everyone needs to pull over and take a look at the water and rocks and learn exactly what to expect and what to do at each stage of the rapid.  The risk of falling overboard is very real.  The actual experience is a crazy melee.  Everyone is frantically paddling, water is splashing, the raft is bumping, and people are shouting.  It is often impossible to see through the water all around and half the time you paddle air, as the raft bucks and dips and rises.  It is pure insanity – and there is very little as exhilarating and adrenaline-inducing as this.
Trips leave from Cusco, and are there are several companies in town, so it is easy to arrange.
Sandboarding in Huacchina
Recommended by Claire of Tales of a Backpacker
One of the best adventures in Peru has to be sandboarding in Huacachina.  Huacachina is an oasis in the Peruvian desert near Ica and is a mecca for backpackers who want to have fun on the dunes by day and party at night!  Every hostel in Huacachina can arrange a sandboarding tour for you to include a ride on a dune buggy and a go at sandboarding.
I took the tour arranged by my bus company Peru Hop, and the buggies picked up our group from the hostel and drove over to the dunes.  The dune buggy driver clearly loved his job, speeding up and over the sand, spinning round and round and giving us the ride of a lifetime!  Thankfully there are harnesses in the buggies so strap in!
Once we'd had our fill of bouncing around in the buggy, we stopped at the top of a dune to try sandboarding.  The boards were very basic, a piece of wood with a couple of straps to hold onto as we zipped down.  This isn't 'real' sandboarding, although if you want to give that a try with the proper gear there is a sandboarding school in town.  Instead, this is really for first-timers who sit on the board and slide down.
I was terrified at first, but the feel of the wind (and sand!) in my hair and the surge of adrenaline made me forget my fears.  It was a hell of a rush!   We went down another couple of dunes, each one taller and steeper than the first, and although I fell off in the sand, I had a whale of a time.  Before heading back to the hostel, we drove to watch the sunset over the dunes – a perfect end to a fabulous afternoon sandboarding!
Ps. There is more to just Huacachina then sandboarding, check out all the Huacachina tours and activities!
Conclusion
It looks like I'm going to have to plan a trip back to Peru because there are so many treks and adventures I still need to do there. Thanks so much to all the bloggers who helped contribute to this article, it grew my love for Peru even more.
Let me know if you're planning a trip to Peru in the comments below. I hope this post could give you some inspiration for some adventures to go on while you're there. Or if you've already been to Peru let me know what your favorite activities were, I'd love to hear about your experience!
Like it? Pin it for later!