This post may contain affiliate links. By clicking and making a purchase through the links, I earn a small commission at no extra cost to you. See my disclaimer for more information. This and display ads allow me to keep the site up to date and give back.
Costa Rica's Pacific Coast is an absolute paradise. Endless white sand beaches, surf towns at every turn, picture-perfect sunsets, and some of the countries most spectacular national parks. It's the perfect place for surfers and yogis to go while visiting Costa Rica.
Costa Rica's Pacific Coast can be broken into six parts: North Guanacaste, South Guanacaste, Nicoya Peninsula, Central Pacific, South Pacific, and the Osa Peninsula. After spending weeks traveling through Costa Rica's Pacific coast, here are some ideas for the best places to visit.
Northern Guanacaste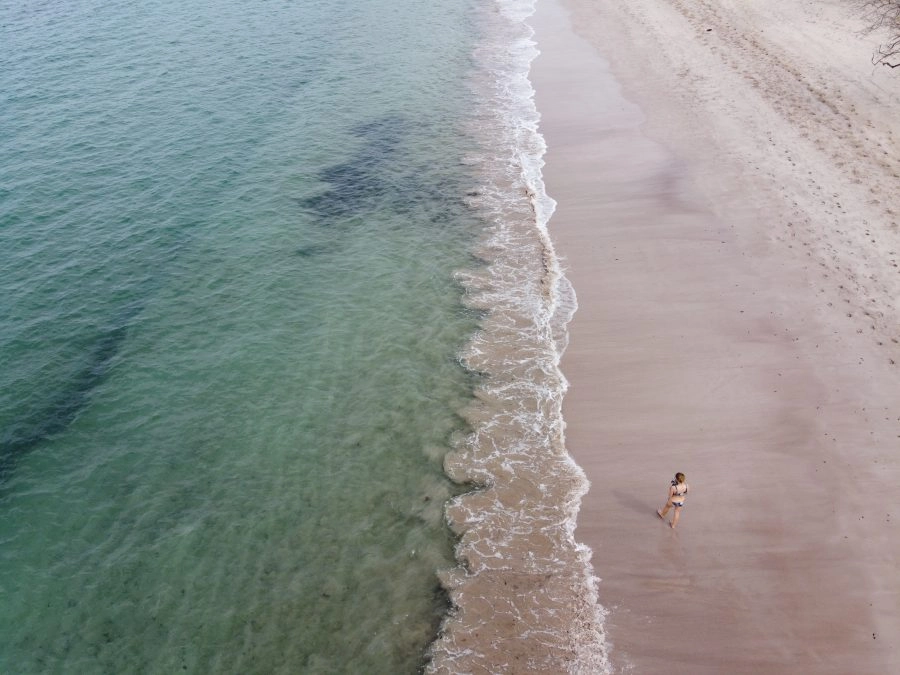 Costa Rica's Pacific Coast starts in the province of Guanacaste, bordered by Nicaragua in the North and the Nicoya Peninsula in the south. It's an easy place to start your trip in Costa Rica as the capital city is Liberia, which is home to one of the main international airports in Costa Rica. Some of the country's best beaches are just an hour's drive away from the airport!
The beach towns in Northern Guanacaste, such as Playa Hermosa, are home to some of the most luxurious resorts in the country. You won't find many hostels here as this area isn't that popular with backpackers, but there are lots of beautiful beaches.
My favorite beach in Northern Guanacaste is Playa Conchal. If you are staying in Tamarindo, you can take a day trip out to Playa Conchal, which is well worth it. The beach is much nicer than the one in Tamarindo.
Southern Guanacaste
Tamarindo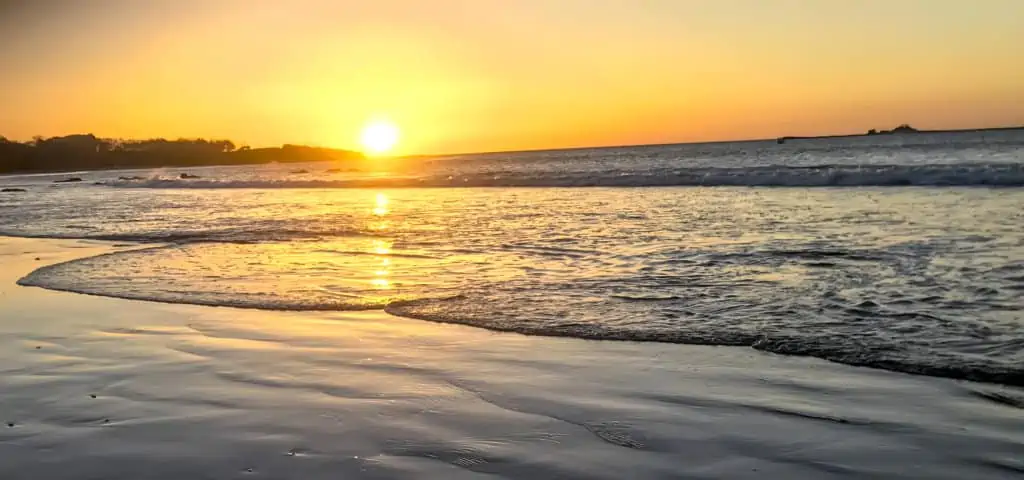 Tamarindo is one the most popular places to visit on the Pacific Coast of Costa Rica, where you can expect to find big name hotels as well as a developed hostel scene. This is a great place to start your journey onto the Pacific Coast as it is easily accessible from the airport in Liberia. You can book an airport transfer here.
Tamarindo is also easily accessible from Monteverde, another must-see place in Costa Rica. I took a shared shuttle from Monteverde to Tamarindo on my last visit to Costa Rica, and it took three hours.
Tamarindo gets mixed reviews from backpackers; some people love it while others don't because it is so touristy/Americanized. Tamarindo is a party place, so if you're looking for nightlife, it's perfect.
But for those seeking a more laid-back atmosphere, head further south to a beachfront town like Playa Avellanas. It's just a short drive from Tamarindo in Guanacaste province.
Things to do in Tamarindo
I enjoyed my time in Tamarindo, especially most recently when I attended the BPM Music Festival. This 5-day electronic music festival is set in the jungle just a 10-minute drive away from the city of Tamarindo. It's so much fun!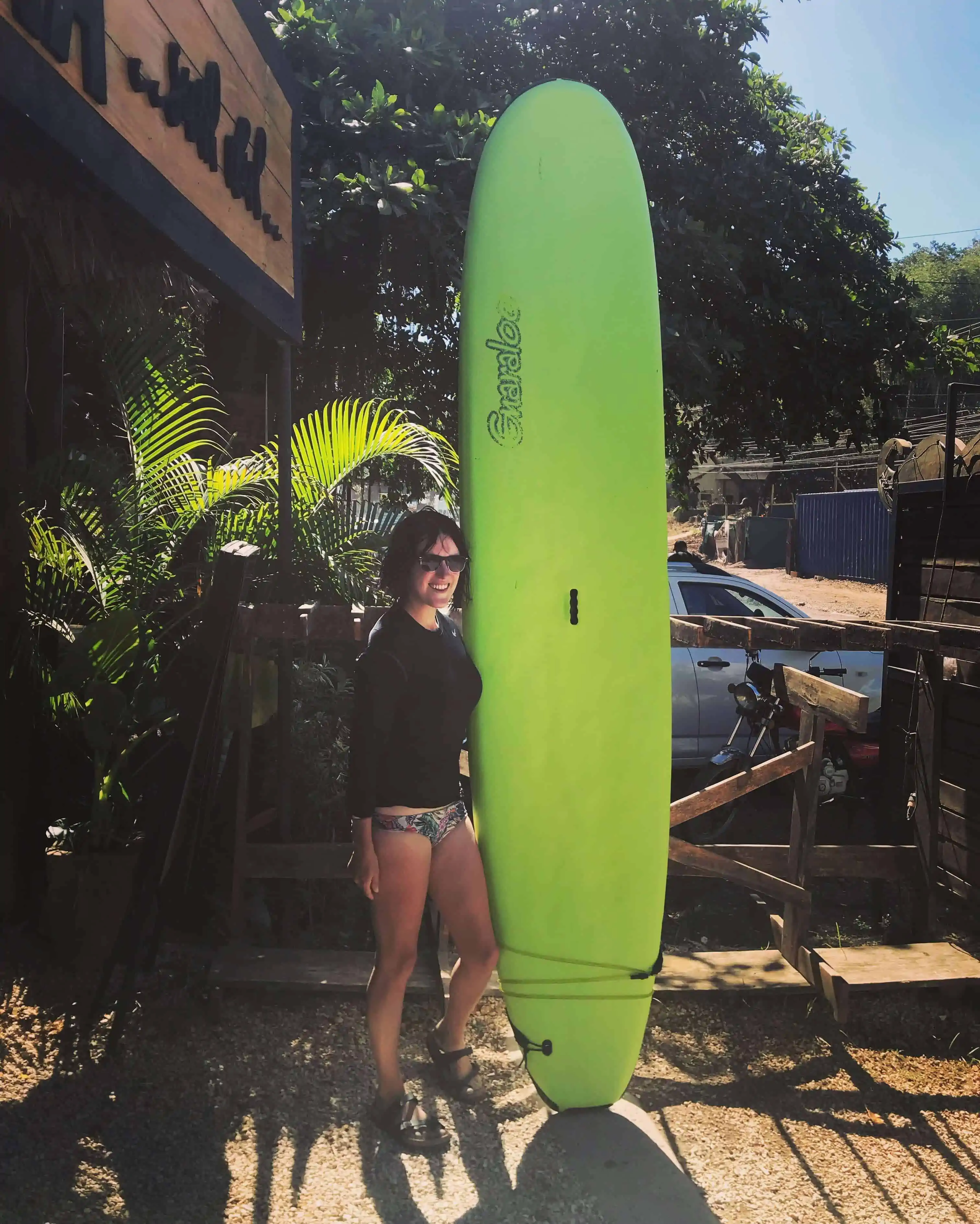 Tamarindo is also the perfect place to learn to try a surfing lesson.
I took my first ever surf lesson here which I was so scared of at the time, but my instructor Carlos was awesome and patient. I wiped out a million times at first but after a while started to catch some waves (once I stopped putting my front foot forward first). Other than surfing, the beach is beautiful to just relax on and enjoy the gorgeous sunset.
Eating out: Eating out in Tamarindo can be pricey for a backpacker budget. If you eat at a restaurant on the main street you can expect to pay 10-20 USD for a meal. To save money eat at 'Sodas' (which just means local restaurant) where you can get a typical plate for around $5. Always eat local if you want to save money, or just buy groceries and cook for yourself which can save you a huge amount of money in Costa Rica!
Where to stay in Tamarindo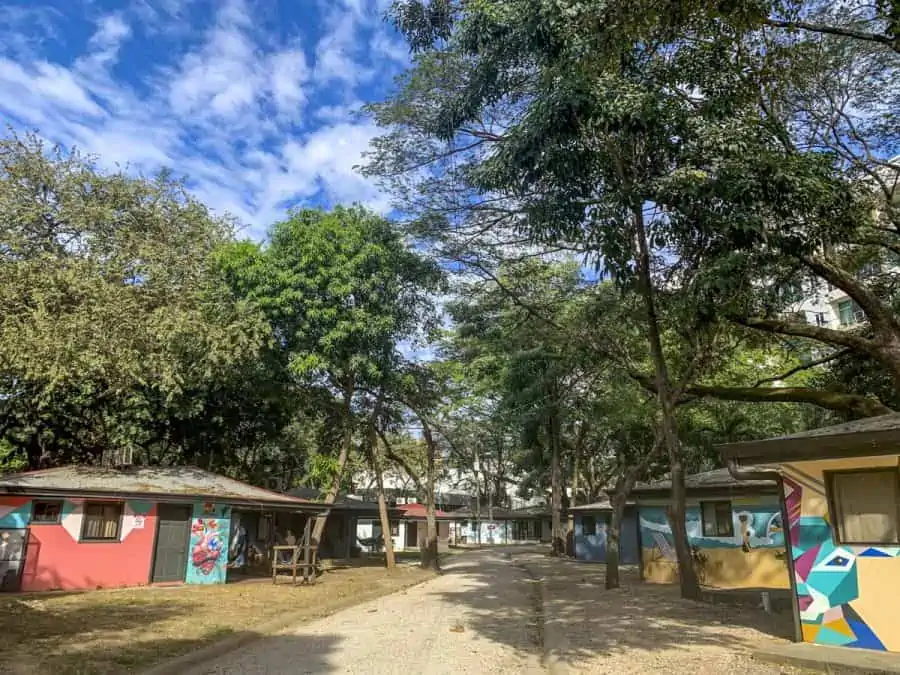 Selina is the best hostel to stay in Tamarindo. It's centrally located, close to the beach, and has a great atmosphere for meeting people. The pool is awesome! You can also rent surf boards here or organize surf lessons. Selina is a chain throughout Central America including several on the Pacific Coast of Costa Rica, so I'll be recommending this place a lot!
Nosara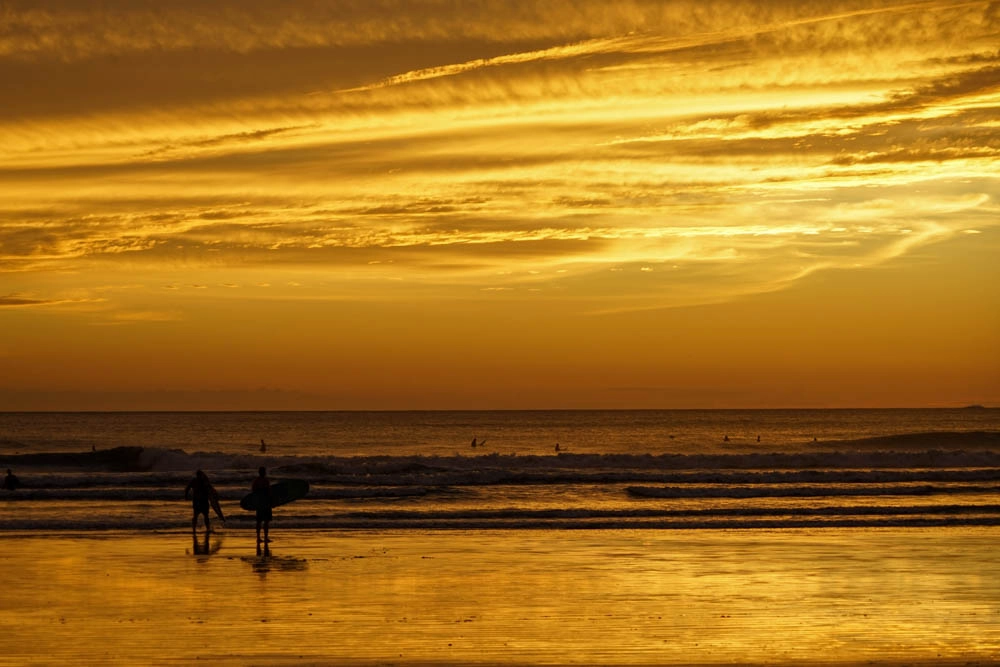 I finally had the chance to visit Nosara on my most recent visit to Costa Rica's Pacific Coast and am so glad. This place is special!
Getting here from Tamarindo is somewhat tricky. It's only 70 km away, so I figured I would rent a car and just breeze my way down the coast. The road had other plans for me. It's a mess, especially if you aren't driving a 4×4 car. I was super nervous driving along this road that I would blow out a tire, but I made it in with the car intact.
It was all worth it though, Nosara is a hidden gem. Well, it's not so hidden anymore. It's become discovered over the last few years and there are now many expats living here. On the flip side, it means there are so many qualified yoga teacher here. I did one of the best yoga classes of my life in Nosara!
It's also a great place for surfing. Many people come here to do surf camps or if you already know how just to practise. Even if you don't surf, the beach is beautiful to hang out on and watch the surfers. Everyone in Nosara is super down to earth and chill, I met a lot of nice people here.
Where to stay: Selina in Nosara is one of the nicest hostels I've ever stayed at. It's more like a backpackers resort than a hostel. They have three pools, a ton of room options, a huge restaurant and dining area, an amazing chill space, and a yoga studio. It's a little far from the beach, but you probably won't even want to leave.
Samsara
Samsara is just half an hour away from Nosara and has a similar atmosphere. I only had a chance to visit it briefly during the day but have had many friends tell me wonderful things about it!
Nicoya Peninsula
The Nicoya Peninsula in a section of Costa Rica's pacific coast that comprises some of the most popular beach towns in the country due to its ideal surfing conditions, perfect sunsets, and laid back towns.
Santa Teresa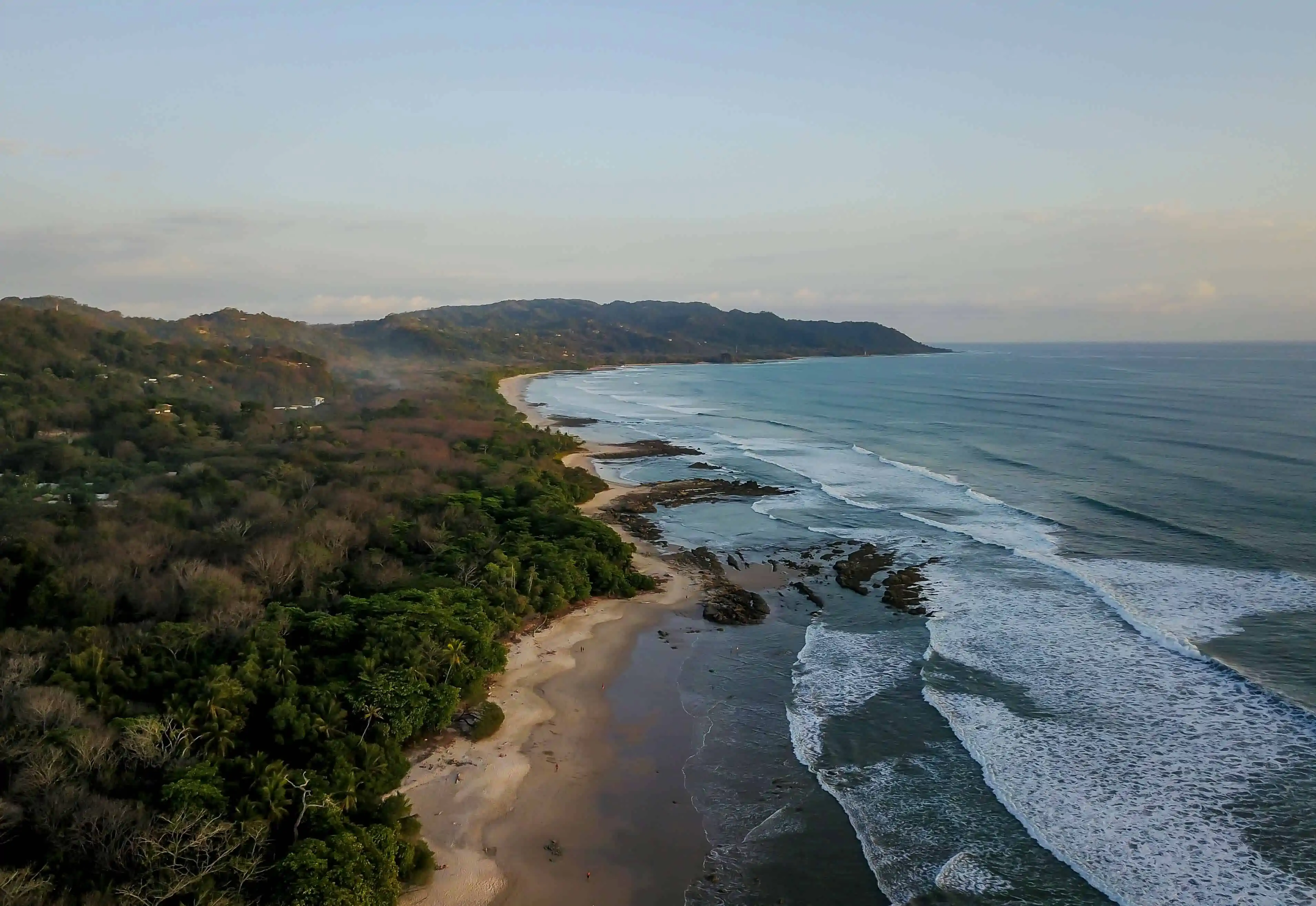 Santa Teresa is more laid back then Tamarindo but has a great bohemian vibe and is perfect for surf, yoga, and watching sunsets on the beach. The beach there is one of my favourites in Costa Rica!
I wanted to travel there by local bus from Tamarindo to save money but it is complicated. I was told I would have to go back to Liberia and that it would be a full day journey of switching busses, so I splurged on a tourist shuttle! The journey to Santa Teresa is about 4 hours from Tamarindo by tourist bus.
Playa (beach) Santa Theresa is gorgeous, it's miles and miles of endless perfect beach. I spent almost all my time there; whether it was horse back riding, surfing, swimming, tanning, or just admiring the breathtaking sunsets. Here is drone footage of Santa Teresa beach:
Things to do in Santa Teresa
Surfing in Santa Teresa is one of the most popular things to do here. The waves are much bigger then Tamarindo so I was nervous to try surfing again, but it actually went much better than my first time and I was able to catch a few waves.
There are multiple surf schools in Santa Teresa that offer surf camps or you can just stay at the schools (most of them are hostels) and book the lessons yourself. From talking to other people who bought packages in advance it appears that it is is more cost-effective to book the accommodation and lessons yourself on arrival.
In Santa Teresa You will find daily sunrise and sunset yoga classes at every turn. I was lucky enough to meet a yoga instructor who gave me a session on the beach. It felt zen to do yoga next and hear the sounds of the ocean.
Aside from yoga and surf there are other activities available. You can visit nearby Montezuma which has a beautiful waterfall, take a snorkelling or diving trip to Tortuga island, or go horseback riding through the beach. I loved the horseback ride at sunset, it was a beautiful experience.
Most people spend all day surfing in Santa Teresa which leaves little energy left for the evening so the nightlife is not nearly as prevalent as Tamarindo. That being said there are still lots of bars and you can definitely find a party if you're looking for it.
Thursday and Saturday are the biggest nights to go out here. I met a few locals while I was there and spent my evenings hanging at their place drinking beers and cooking pizzas over a fire, which was a lovely change from the bar scene. If you're looking to eat out, Pizza Tomate has tasty Italian food and Funky Monkeys has a delicious Taco Tuesday special!
Where to stay in Santa Teresa
Where to stay: Selina, of course! There are actually two Selina's in Santa teresa as the town stretches the length of the beach which is over 2KM. There is a Selina in the South of Santa Teresa, and a Selina in the North.
Some other towns you may want to visit on the Nicoya Peninsula are Mal Pais, Montezuma, Paquera, and Tambor.
Central Pacific Coast Costa Rica
Jacó
I visited Jacó on my first trip to Costa Rica in 2014 but skipped it without hesitation this time around as it was my least favourite place. Jacó is a busy surf town known for its lively nightlife, casinos, and prostitutes (not really my jam).
If you can't make it anywhere else on the Pacific Coast and want a taste of surf/beach life on your Costa Rica trip then Jaco may be worth a night or two, but if you have the time I'd just go somewhere else. Most places have nicer beaches, surfing, and things to do.
Manuel Antonio
The main attraction of Manuel Antonio is Manuel Antonio National Park. However there are a number of other things to do in Manuel Antonio including night walks to see wildlife, chocolate tours, rafting, zip-lining, and more. It's a great place for adventure!
Manuel Antonio National Park is one of the top places to visit on the Pacific Coast of Costa Rica. There is so much wildlife to see here including sloths, monkeys, lizards, deer, and hundreds of bird species. I would definitely recommend this place if you are a wildlife and nature lover.
Where to stay in Manuel Antonio
The first time I visited Manuel Antonio I stayed at Hostel Vista Serena which is an awesome hostel with incredible views of Manuel Antonio. This second time I visited we ended up stumbling upon Hostel Manuel Antonio which is next to the parks entrance and minutes away from the beach. This hostel is super clean and the staff are super nice, they even took us on a free night walking tour to find sloths!
Of course on my third time, I had to try out the Selina in Manuel Antonio and it did not disappoint. Another hostel that felt like a resort, this huge complex has three gorgeous pools to relax on and an awesome co-working space.
Getting from Santa Teresa to Manuel Antonio
If you're travelling from Santa Teresa to Manuel Antonio you can get there by an expensive shuttle ($70), or take public transport which cost me about $12 in total. It was a pain as you have to transfer several times but worth the difference in costs.
From Santa Teresa you have to catch the 6am bus to Cobano, transfer there on another bus which goes to the ferry terminal, then take the ferry across to Puerto Viejo (this part is so pretty). From Puerto Viejo, you have to take a taxi to the bus station as it's too far to walk, and then get on a bus going to Quepos (the schedule showed busses that run every 1-2 hours). Quepos is close to Manuel Antonio, you can either get a taxi or a local bus from there.
South Pacific Coast of Costa Rica
I just visited the South Pacific of Costa Rica for the first time in January 2020 and it did not disappoint. The Costa Ballena area is stunning. My favourite place was Uvita, which is just an hours drive from Manuel Antonio.
Uvita
Uvita is a gorgeous eco-friendly town perfect for wildlife, diving, and surf. It's one of the best places in the world to go whale watching. It's also one of Costa Rica's top scuba diving destinations, as you can explore Cano island which has amazingly clear water and beautiful coral reefs.
Uvita also happens to be a great place for surf. With the jungle backdrop the sunsets here are amazing. It's not a party place, there are hardly anywhere to go out here.
Dominical and Ojochal are two other beach towns on the South Pacific Coast of Costa Rica you can visit. Dominical is just half an hour away from Uvita and is home to one of my favorite waterfalls in Costa Rica – Nauyaca Waterfall!
Osa Peninsula
Corcovado National Park
The Oso Peninsula is mainly made up Corcovado National Park, which is Costa Rica's largest national park. It's one of the most bio diverse places in the world, so if you want to see wildlife in Costa Rica, this is the place. I loved hiking through here, we saw so many monkeys and toucans! The beaches here are also crazy beautiful.
—
Those are the places I've been lucky enough to explore on Costa Rica's Pacific Coast so far, and I'm sure there's many more beautiful beach towns out there to explore. Tell me, what are your favourite spots on Costa Rica's pacific coast?
Psst – looking to explore a different side of Costa Rica? Don't forget to check out the Caribbean coast!
Enjoyed this post? Pin it for later!